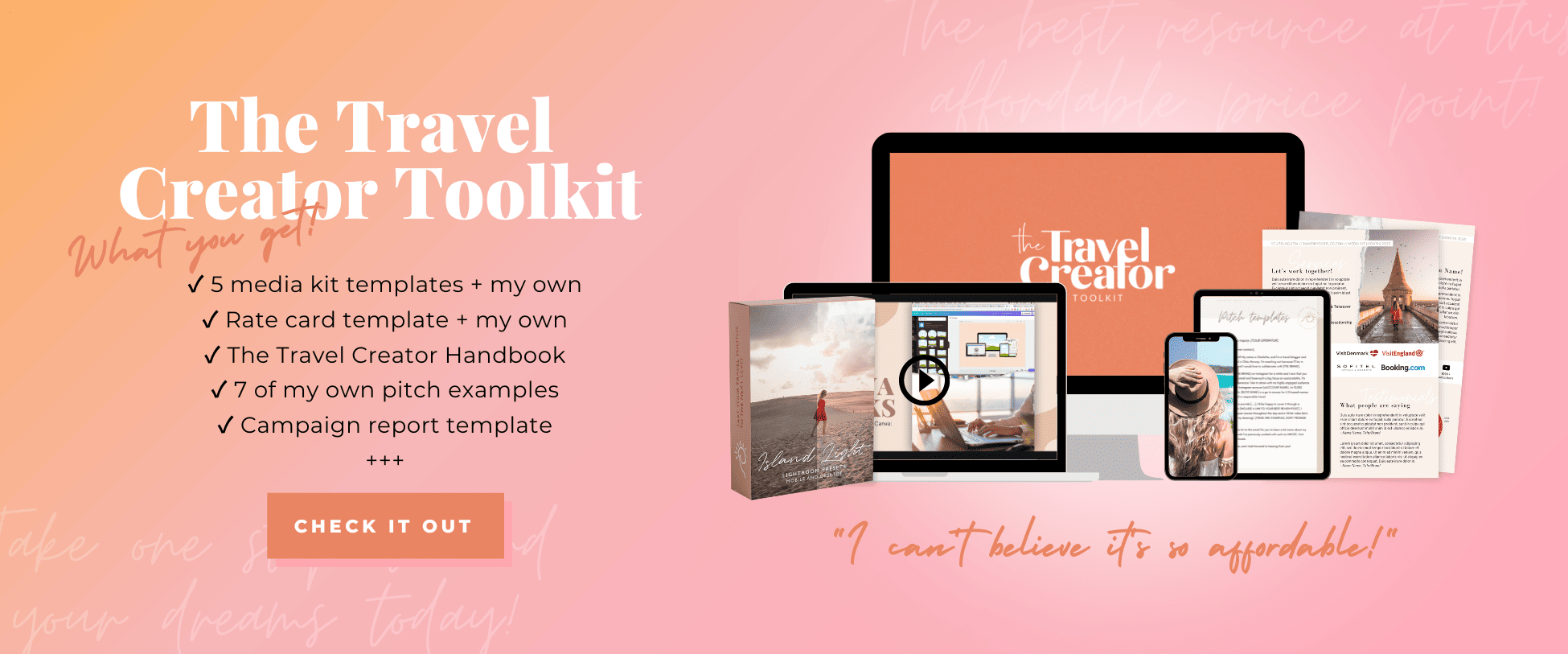 This post contains affiliate links. I will earn a small commission if you purchase through them, at no extra cost to you.
This Sri Lanka two-week itinerary is mainly based around the beach, but I think I still managed to cover most of the must-see attractions the island has to offer.
When I visit a country for the first time, I like to see and do as much as possible. So this is somewhat of a fast-paced itinerary. That also means this itinerary is largely based on hiring drivers as opposed to relying on public transport. But the time saved was well worth the extra money in my mind.
Tip: If you are more of a nature/hiking person, then maybe skip Talalla Beach and stay a couple of extra days in Ella.
🌟 Remember to always get insurance before you travel to Sri Lanka or anywhere else. Safetywing is an affordable subscription travel insurance that you can purchase even after departure. You can read my full review here.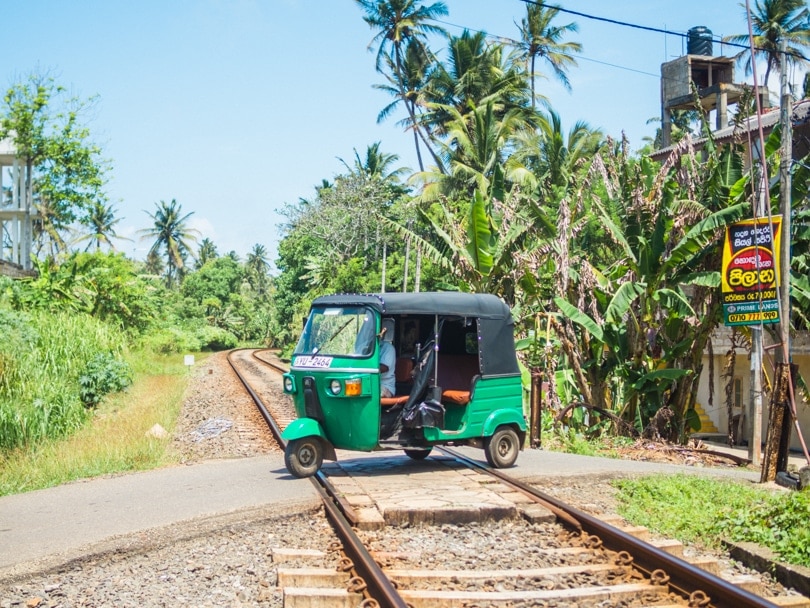 Two-week Sri Lanka itinerary
Start the day off with a walk into the town center and find a tuk-tuk driver that can be with you the whole day. Remember to ask around for prices, we got quoted from 2500 to 5000 Rs. We ended up with a driver that charged 3000Rs / $20, as he seemed super passionate about the city and eager to show us around.
The first stop is the Royal Botanical Gardens. Try to get there as early as possible to be able to enjoy the beautiful grounds in peace and quiet. They open at 7.30 AM. After a couple of hours surrounded by nature, find your driver and head for the Ceylon Tea Museum. There you'll get a tour of one of the island's earliest tea factories and of course a cup of tea.
Now it's time for lunch. Ask your driver to recommend a restaurant, jump on Tripadvisor and find one yourself or do as we did, enjoy some delicious fried goodies from the street vendors. The best samosa and roti we had during our whole trip were in Kandy! Finish the day off at the large Bahiravokanda Vihara Buddha statue for some stunning city views at sunset.
Ask your hotel to arrange a driver for the next day, we got a great deal at 12000 Rs / $80.
Day 2 – Polonnaruwa & Sigiriya Rock
Wake up early at about 6 in the morning and head for Polonnaruwa. The drive is three hours each way, so remember to bring water and snacks, and wear comfy clothes. Because the ancient city is located in a desert area it gets super hot inside, so wear a hat of some sort and be sure to bring sunscreen. For more tips and recommendations, read my Polonnaruwa guide here!
After two/three hours in the city, you're probably getting quite hungry. Stop at a restaurant on your way to Sigiriya Rock or enjoy some local dishes in the parking lot of Gal Vihara as we did.
The drive from Polonnaruwa to Sigiriya Rock is about one hour 10 minutes, which means you'll spend the hottest part of the day in an air-conditioned car. Relax and recharge before starting the 45 min hike up the rock. Take your time, I don't want you to sweat to death!
The last mission of the day is to buy a ticket for tomorrow's train ride to Ella. When arriving back in Kandy, ask your driver to stop at the train station before he drops you off at your hotel.
Day 3 – Kandy to Ella
If you didn't get a ticket last night, arrive at the station a couple of hours early to secure a spot on the train. Choose between first, second and third class. I would suggest second class, a lot cheaper than first and you'll be able to hang out the window to get those great shots.
Sit back, relax and enjoy the journey from Kandy to Ella. The journey is said to be "the world's most beautiful train ride". I haven't been on that many trains in my life, so I can't say for sure. But the experience was pretty spectacular, even when it was raining.
After about six hours you'll arrive in Ella. As I said, you need to decide if you want to stay here or head straight to Arugam Bay like we did. If you want to spend your time at the beach, find a driver at the train station. We found two other travelers looking for transportation, so we ended up sharing a van. The little over three-hour drive only set us back 3000Rs each.
First of all, be sure to read my guide to the top 10 things to do in Arugam Bay. After a lot of sightseeing and traveling so far this trip, spend this day exploring A-Bay and relax on the beach. There are also a lot of great restaurants in Arugam Bay, some of which I talk about in this post. And if you want to do some shopping, A-Bay is a great spot to do so. I got a tailor-made bikini, so fun!
Day 5 – Arugam Bay
Ask your hotel to help you arrange a safari in Kumana National Park, about 50 minutes south of A-Bay. There are many different companies offering different kinds of packages, some short and some whole day adventures. So if you want to spend a bit more time researching, ask around for prices. Our hotel manager set the whole thing up for us and arranged for the car to pick us up at the hotel. We paid 12.500Rs, which included entry to the park, a guide and the car all to ourselves.
Get up early and find a tuk-tuk driver that will take you to Kudumbigala Monastery, located on the outskirts of Kumana National Park, about 30km south of A-Bay. It was built all the way back in 246 BC as a refuge for Buddhist monks that wanted to get away from the hustle and bustle of the cities. The view from the top alone is worth the hike, just be aware of the wild animals.
After lunch back in town, it's time for some water activities. A-Bay is a great place for surfers at every level. Peanut Farm, about 15 minutes south, has a great beginner wave in addition to a more advanced one. It seemed to be the spot of choice for the surf schools, at least there were a lot of soft boards in the water. If you are a more seasoned surfer you should also check out Pottuvil Point, Whiskey Point and Light House, all north of the bay.
Further south you'll find Elephant Rock and Okanda. If you haven't booked a school in advance I would walk down the main street and ask around for prices. Safa Surf Camp is supposed to be awesome! If you don't want to learn to surf, all these beaches are great just for sunbathing, Peanut Parm is my favorite.
It's now time to move on to the next beach. The drive from Arugam Bay to Tangalle takes about 4 hours. Spend the rest of the day exploring the incredibly beautiful beach. Remember to arrange for a driver to pick you up at about 7AM tomorrow.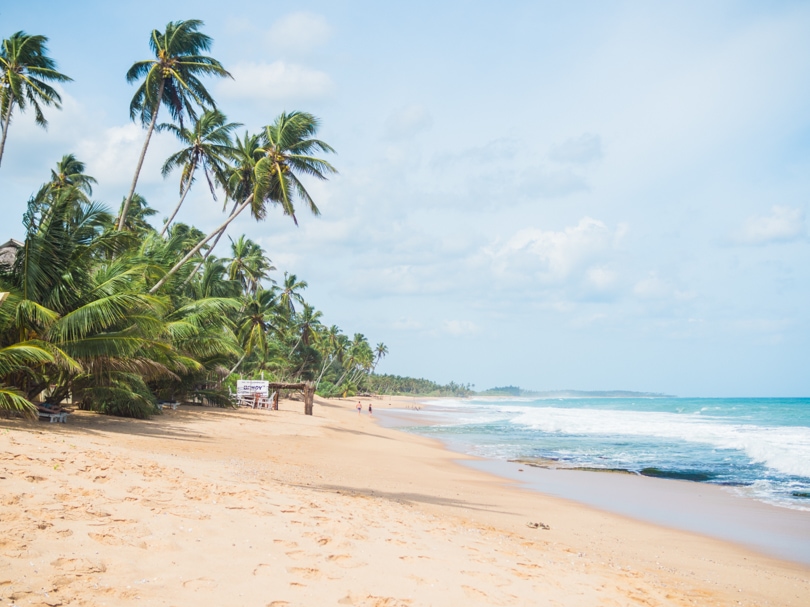 Wake up early and head for the colorful Buddhist rock monastery, Mulkirigala Raja Maha Vihara. The guides in the temple charge about 1000Rs / $6.
Back in town enjoy lunch at one of the many great seafood restaurants and spend a couple of hours soaking up some sun at the beach.
Finish the day off with a sunset boat ride through the mangroves on Tangalle Lagoon. Some hotels in the area offer free canoes, but I would suggest supporting the local fishermen that will happily take you out in their boats for about 1000-2000Rs / $6-13.
If you feel like it, allow yourself to sleep in and enjoy a slow morning. Then drive to Talalla, another gorgeous beach only 40 minutes west of Tangalle. Go for a swim in the crystal clear turquoise water and have fish and chips for lunch at Sun Bay Lanka seafood restaurant (pictured below).
Treat yourself to an Ayurveda massage at Talalla Beach Bungalows before dinner.
Ask your hotel to call for a tuk-tuk driver or go out to the main road and hail one yourself. Head for the picturesque Dondra Lighthouse, located on the southernmost tip of the island. If you want to save some money you can take your chances on a local bus instead of a tuk-tuk. Brig your swimwear as there are several small beaches in the area.
Finish the day off with dinner and drinks at Hotel Panorama while enjoying the most stunning view of the sunset.
Day 11 – Unawatuna
Arrange for a driver to take you to Unawatuna, only one hour west of Talalla. We stayed at a place called Nature Villa, which I highly recommend. As the name suggests, it felt like we were in the middle of a jungle, but in reality only a three-minute walk from the beach. Monkeys jumped from tree to tree above us, chipmunks played on our roof and monitor lizards chilled in the sun just across the creek.
After settling into your hotel, spend some time at the main beach and enjoy an early lunch. I can recommend the tuna filet and chicken wrap at Catamaran restaurant right on the sand.
Find a tuk-tuk and drive down the coast. Stop at beaches like Weligama (where you can see the traditional stilt fishermen) and Midigama, before spending the rest of the day at Mirissa Beach. Many of the beaches in this area are also great for surfing.
Back in Unawatuna have dinner at Jina's Vegetarian and Vegan Restaurant, one of my favorites in Sri Lanka. If you want one of the Indian main courses you should order it earlier in the day. We, however, liked the Mexican dishes the best.
Day 12 – Unawatuna
Spend the morning at Jungle Beach, just five minutes from Unawatuna. After some hours in the sun and exploring the jungle, find a tuk-tuk and head to Galle Fort.
The 400-year-old Dutch fort is recognized by UNESCO as a world heritage site. Inside the walls, you'll find a maze of narrow streets, dotted with colonial villas, quaint cafes, galleries and boutiques.
Have a juicy burger and some iced tea at "The Original Rocket Burger", a cool retro restaurant just a couple of streets over from the lighthouse. Sit down at the table out on their balcony and do some people-watching.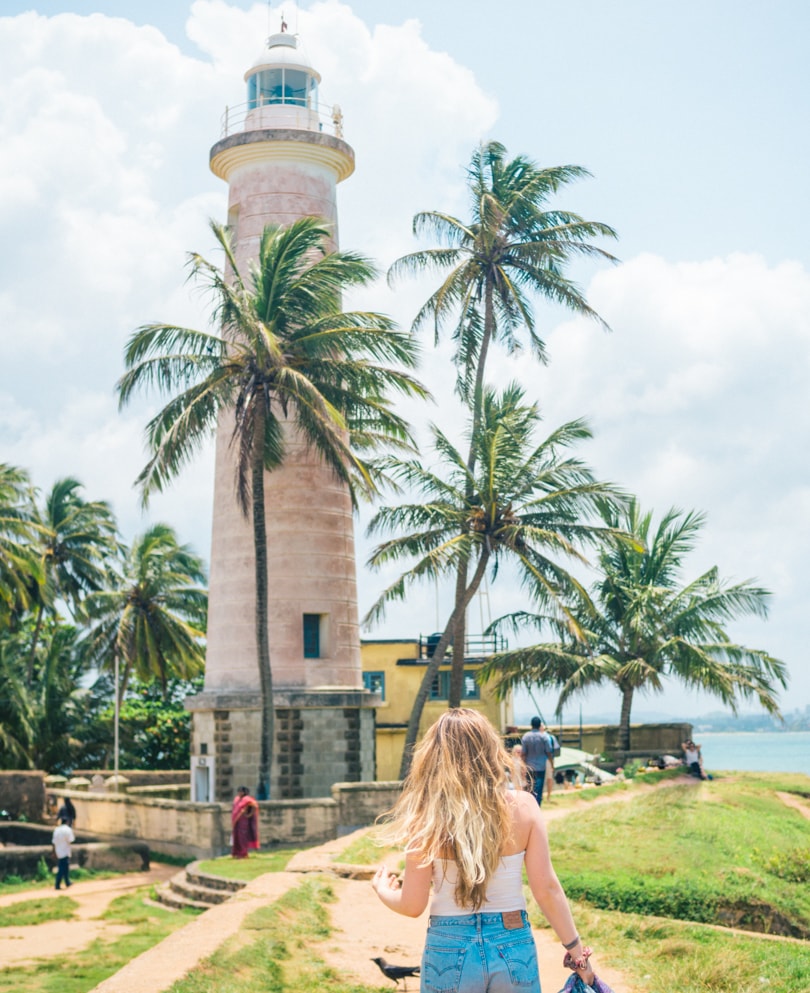 Day 13 – Unawatuna
Spend the day at Dalawella Beach, one of my favorite places in Sri Lanka. Sit down for a relaxing lunch at Wijaya, a cool beach restaurant that specializes in pizza. Yum! Be sure to also check out the fun palm tree swing, a little further up the beach.
In the afternoon find a tuk-tuk and go visit the Dog Care Clinic. The work they do on the island is incredible and desperately needed. If you are able to make a donation, it will be greatly appreciated.
Depending on when your flight leaves, this might be your last dinner on the island for now. Mati Gedara is the perfect place to round off your trip. Their traditional Sri Lankan buffet is both extremely delicious and cheap. Right across the street, you'll find mmmh Surcé & Salé, where you should finish the night off with a Nutella Crépe.
Day 14
Spend the last day of your trip at the beach you liked best, as you can see there are many to choose from. If you have the time, stop by the Sea Turtle Farm & Hatchery. If you're lucky you'll get to set a small turtle free on the beach.
---
I hope you can put this Sri Lanka itinerary to good use.
Remember to pin it for later!