This post may contain affiliate links. I will earn a small commission if you purchase through them, at no extra cost to you.
At the bottom of a lush river valley running through the village of Tampaksiring, lies one of Bali's largest ancient temple complexes, Pura Gunung Kawi. I visited for the first time early in the morning one day in the middle of January. The sky was blue and the morning fog was still laying low over the surrounding rice terraces. You could only see the contour of Balinese workers in the distance as the sunlight illuminated the palm trees making them shine in all colors of the rainbow.
An old man was sweeping away leaves from the pathways, he smiled as we walked past, uncovering the few crooked teeth he had left. Fragrant smoke from the incense used in the beautiful flower offerings filled the air. All with rippling sounds from the Pakerisan river in the background, which made for such a calm and spiritual atmosphere. Wow, what a magical place!
I know I've already talked about Gunung Kawi Temple in the Ubud guide, but I thought it deserved a post of its own as well. It truly is the most magical and my favorite temple in Bali.
Remember to always get insurance before you travel to Bali or anywhere else. I recommend Safetywing, an affordable subscription insurance that you can purchase even after departure. Read my full review here.
How to get to Gunung Kawi from Ubud
Tampaksiring is a small village about 15km northeast of Ubud, easily reached on your own by motorbike. If you don't want to drive by yourself you can book a driver online here. This is really a full-day customizable tour, which means you have the driver for 10 hours and you can go wherever you want. It's the perfect option if it's your first time in Bali and there's a lot of places on your Bali bucket list.
The drive from Ubud is pretty straightforward and takes about 30 minutes. Follow the main road up to the north side of the village, there you'll see a sign that reads something like "Objek Wisata Gunung Kawi".
You know you are in the right spot when you see several local stalls selling the typical Balinese souvenirs like wood carvings and sarongs. There is a small parking area available for the modest sum of 2000 Rp. and the entrance fee including sarong hire was in 2019 15k Rp / 9 nok / $1.1.
The pre-Hindu temple of Gunung Kawi isn't the only significant historic structure in Tampaksiring, the little village is also home to the holy springs temple, Tirta Empul. The area still has a majestic atmosphere and the locals will happily tell you about ancient legends and tales of royalty from a period in Balinese history most of us know little of today.
Related post: The ultimate 2 week Bali itinerary + Nusa Lembongan & Penida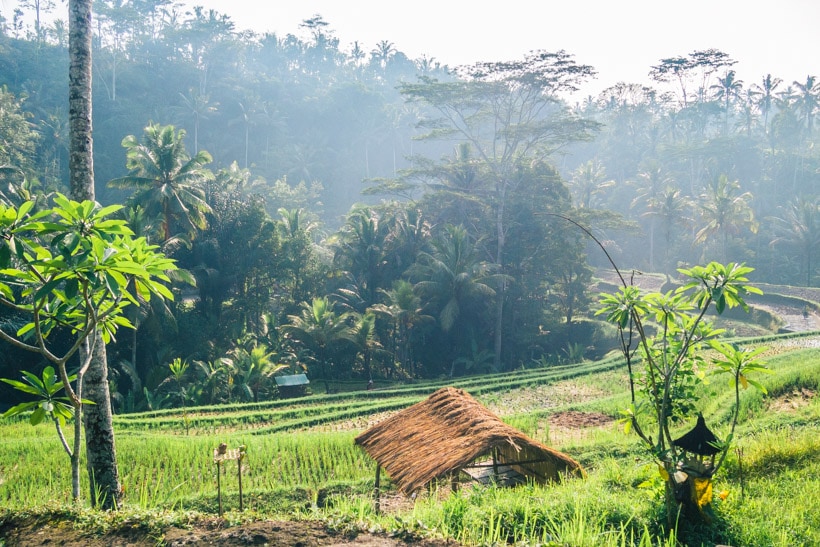 What to expect at Gunung Kawi Temple
Just past the ticket office, there is a steep, stone stairway that leads all the way down to the river. At one point it cuts through solid rock, there you have to sprinkle some holy water on your head before you can enter the actual temple grounds. Take your time on your way down as the stunning view of the rice terraces are really an attraction in itself.
Gunung Kawi consists of 10 seven-meter high shrines, called candis, cut out of the rock face to imitate actual statues. The candis are divided into three separate areas. Four of them can be found on one side of the river and then the largest cluster of five on the other side. But what is often overlooked by visitors is the tenth candi, set about one kilometer back from the other two clusters. So be sure to explore every inch of this incredible place as you'll probably find a lot of interesting things to look at that you wouldn't notice at first glance.
The candis are believed to be constructed early in the 11th century by King Anak Wungsu in honor of his father, King Udayana. But the candis are not tombs, like many believe, as they have never contained human remains or ashes. Today they are considered to be symbolic accommodations to house the members of the royal family whenever they visit during temple festivals. However, there is still some mystery surrounding their actual intentional purpose.
Related post: 17 things you should know before going to Bali!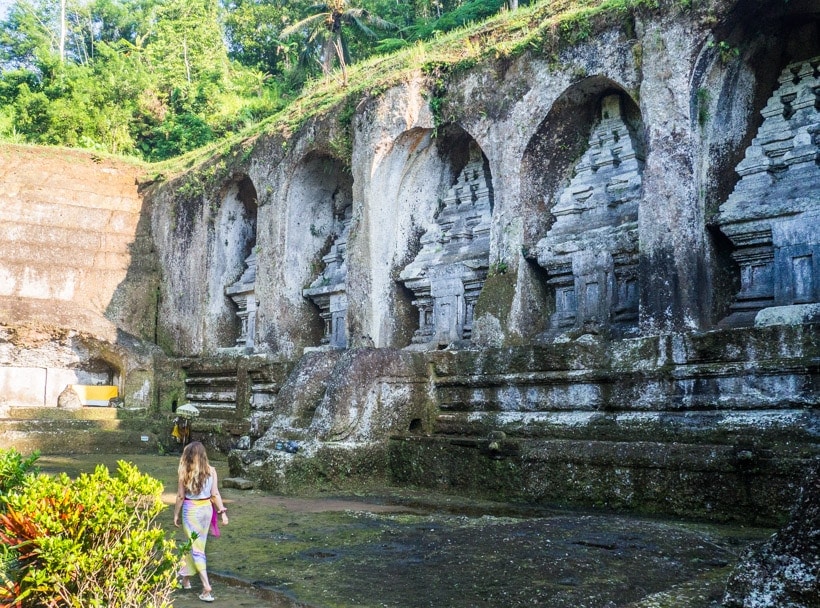 As you wander through the stunning temple grounds, between shrines, ponds, palm trees and offerings, you can't help but get a regal, almost magical feeling. I think I have to go as far as saying that Gunung Kawi isn't only my favorite temple, but my favorite of all the Bali attractions I have explored so far.
And it really is magical here, however, I should also add that it was hot and humid like I've never experienced before. We were sweating like pigs the whole time we were there, hence all the photos from behind. And the climb back up the almost 300 steps was no walk in the park, to say the least. So, unfortunately, this is not a place easily accessible for anyone with reduced mobility.
Related post: Bali Budget Breakdown: How much do two weeks in Bali cost?
Gunung Kawi Temple tours
Here are a few highly-rated tours that include Pura Gunung Kawi as well as some other Ubud and Bali highlights.
Bali – Archeological Museum & UNESCO Temples Private Tour: For my fellow history buffs, this is the tour for you. Explore the ruins of the former capital of Bali and learn about the UNESCO-listed site of Tukad Pekerisan. Then continue to Gunung Kawi and Pura Samuan Tiga before ending the day with a guided tour of the Bali Archeological Museum.
Bali All Inclusive tour – Ubud Rice Terraces, Temples & Volcano: Discover the sacred temples of central Bali (including Gunung Kawi) and learn about their symbolism and architectural features. Visit an arts and crafts village and try your hand at some traditional wood carving. Enjoy an Indonesian lunch while overlooking Mt. Batur in Kintamani + much more.
Ubud: Half-Day Semi-Customized Private-Tour: Experience the beautiful scenery of Ubud and its surrounding areas. Customize your half-day tour from a list of popular attractions such as Gunung Kawi, Ubud Art Market, Tirta Empul, Goa Gajah + many more.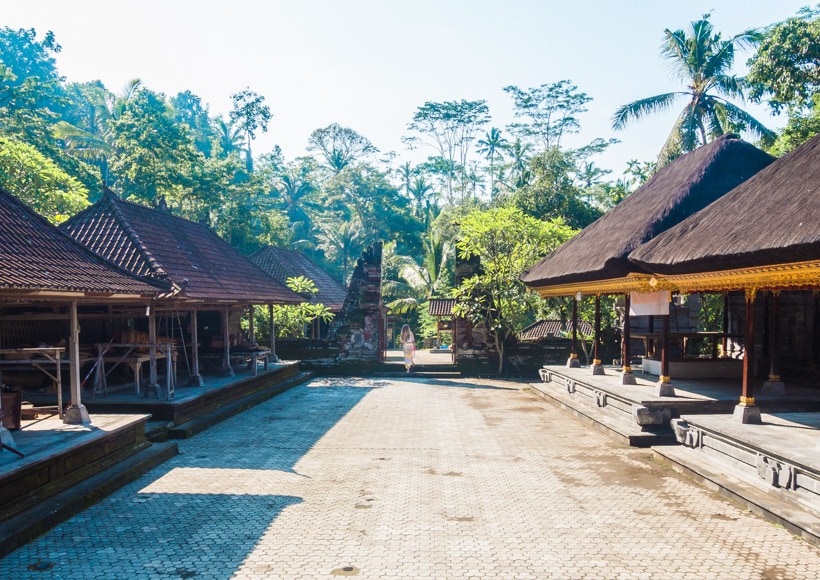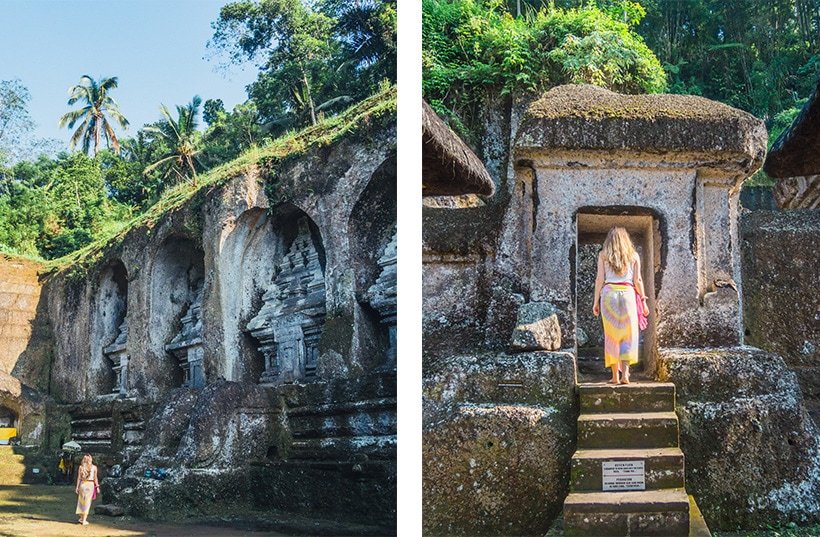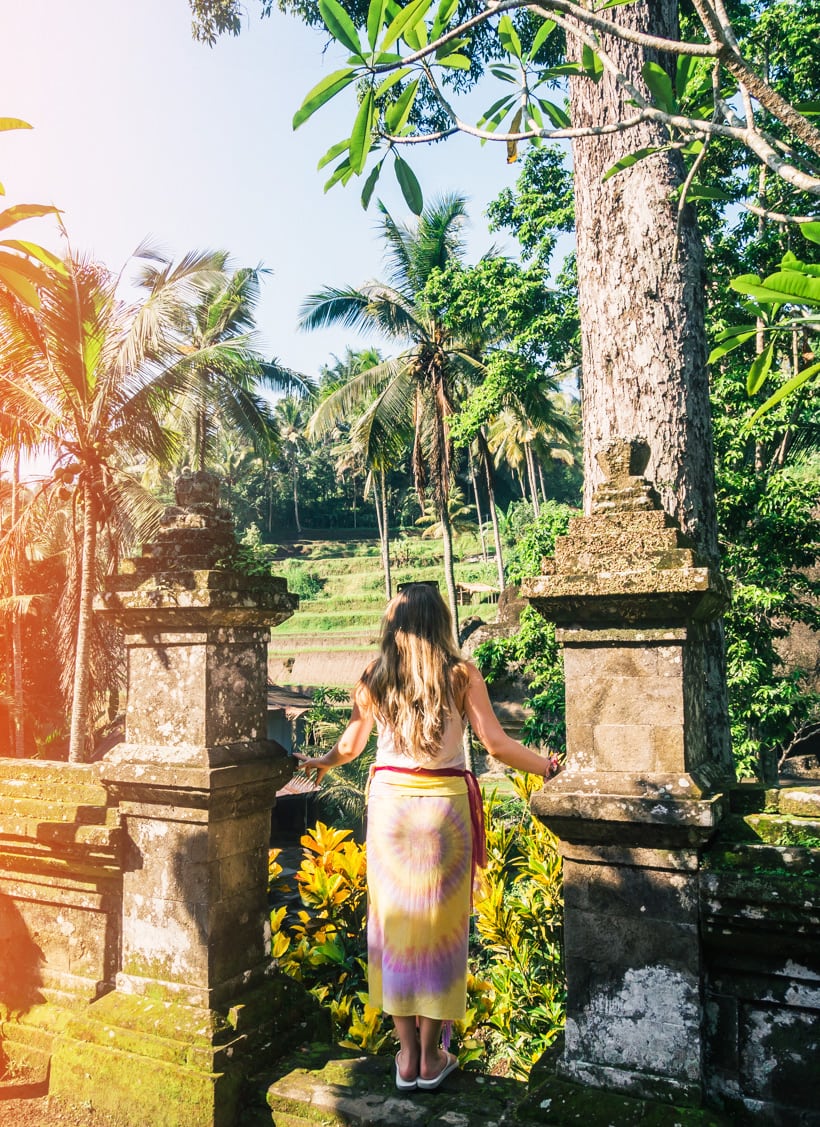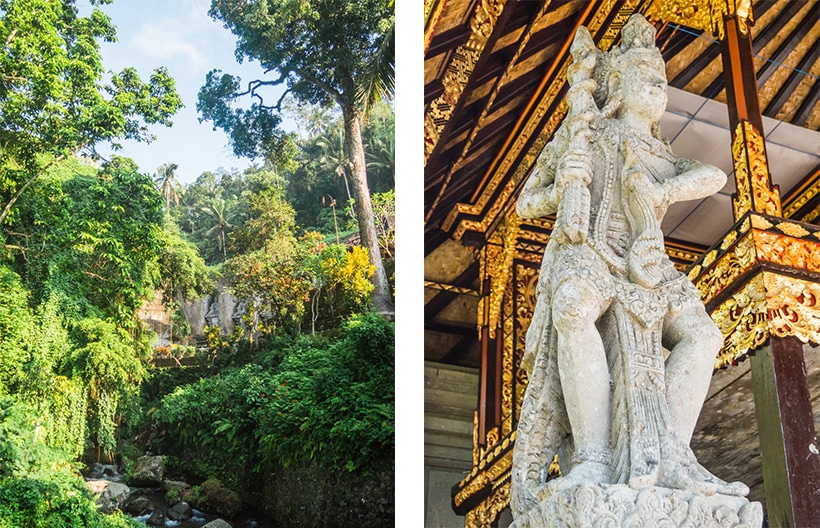 ---
Have you been to Bali? If so, what's your favorite temple?
Remember to pin for later 😉