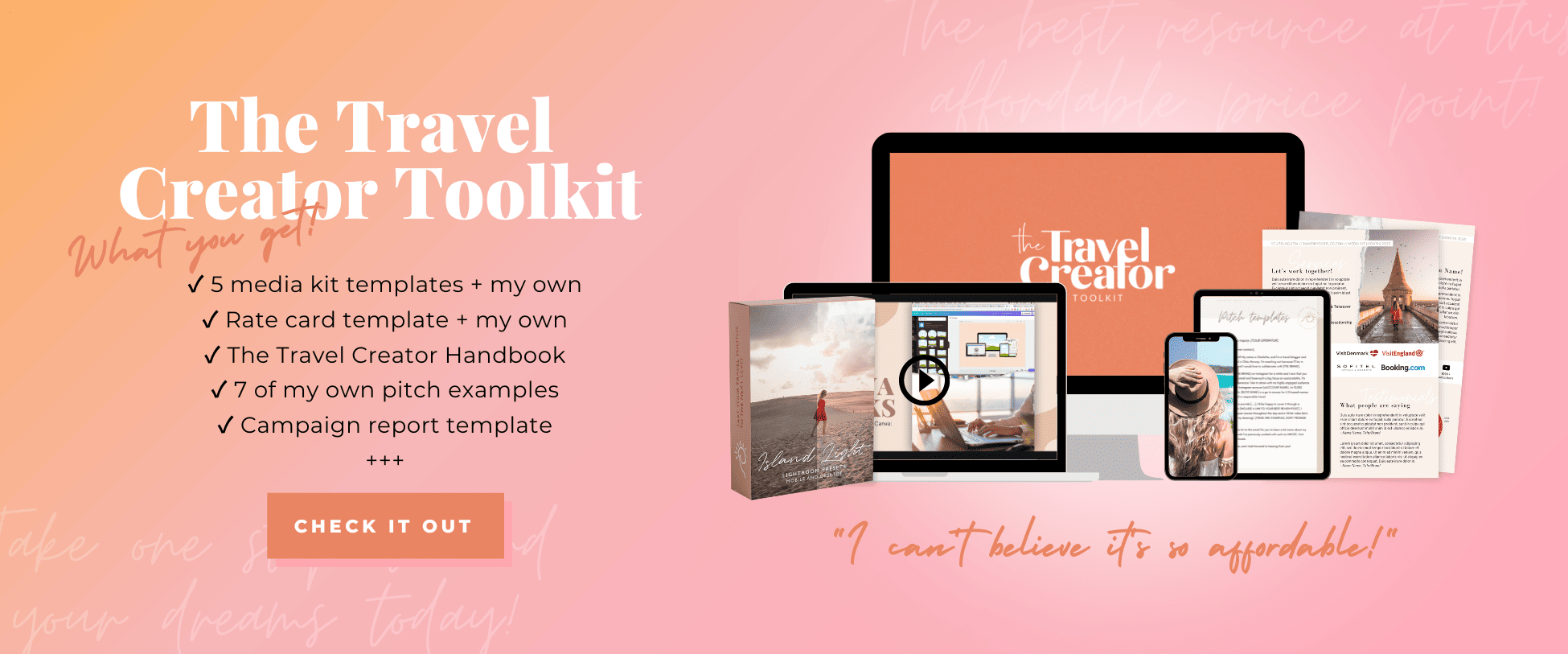 This post contains affiliate links. I will earn a small commission if you purchase through them, at no extra cost to you.
Have you ever scrolled through Instagram and wondered how the heck people are creating such beautiful photos? Everyone is so creative and talented. They must have expensive cameras or have the money to hire professional photographers to follow them around. Right!?
Today I want to bust the myth that you need an expensive camera to be able to work as a full-time blogger/Instagrammer/content creator. And I'll also let you know what I consider to be one of the best cameras for new travel bloggers.
I spent so much time in the early days of this Instagram journey, frustrated and annoyed that I wasn't able to create photos that I considered to be good enough to post. For years, I compared myself to the top travel Instagrammers. How do they come up with such creative angles and perspectives? How do they always look so flawless?
It took me a while to understand that it wasn't about mimicking what they were doing but rather finding my own style and sticking with it. Then practice practice, practice, and practice some more. And when I finally realized that, things started taking off.
Even though a big part of my business revolves around photography, I want to stress the fact that I do not consider myself a professional photographer by any means. Yes, I do get paid by brands to shoot photos for them to use in their own advertising and post on my blog and social media. And I also created and taught a two-month-long beginner photography course. But I've still got so much to learn.
And I definitely don't care about all the techy stuff and expensive equipment. If I can achieve what I want with an affordable camera, then I'm more than happy with that. I'd much rather spend my money on travel and experiences.
Now, let's take a look at the $800 camera gear that has helped me grow from a total newbie to a full-time travel blogger/content creator!
🌟 If you want to get into the content creation world, remember to check out my Travel Creator Toolkit. You get all my best personal templates that I've used over the last 7+ years!
Camera gear for travel creators
I know it isn't groundbreaking to work with brands without an expensive camera, some bloggers are killing it with just their phones these days. But I do get asked all the time about the best cameras for travel and my camera gear, and people often seem surprised when I tell them what I use.
Of course, for certain jobs, you will need more advanced equipment but I think you can get further than you might think with just the basics.
My favorite camera for travel
After a lot of research, I bought my Olympus om-d e-m10
in 2015 and I couldn't have been happier with that choice. I think I paid around $500 for the camera with a 14-42 mm kit lens back then. I also got a 25mm f.1.8 lens for $299 to help me achieve that all-important background blur.
Up until this day, that is what I've used in everything from wedding photography to working with brands, shooting photos for their social media and websites. And 99% of the photos on my Instagram and blog are shot with this one camera.
The 4th edition of the camera was released last year. You can now get Olympus om-d e-m10 Mark IV with the 14-42mm f.3.5-5.6 lens for under $800 on Amazon.
What I love about the Olympus om-d e-m10 camera is, of course, the retro design but also how user-friendly it is. I didn't know anything about shooting in manual mode before I got this camera. It's also quite compact and light, so I actually want to bring it with me everywhere compared to the clunky DSLR I used before. The screen can be tilted up and down and lets you focus and shoot simply by touching the subject on the screen.
The Olympus O.I. Share app makes it easy to transfer images, shoot remotely, edit photos and add Geotags to photos. The remote control part of the app gives good control over settings and options, as well as letting you take photos and record videos.
I'm getting the Olympus om-d e-m5 Mark III this year, just because I feel like it's time for an upgrade after 5 years. The m10 is kind of the entry-level camera in the om-d family while m5 is the next in line.
Lens
As I mentioned above, I knew I wanted a portrait lens with a low f-number in addition to the basic 14-42mm f/3.5 that came with the camera. After some research, I ended up with the Olympus M.Zuiko Digital 25mm F1.8 Lens.
It's great for portraits and product shots, but it can also be used for general travel photos. Basically, 70% of all the photos on my Instagram are shot with this one lens. Below you can see a few examples.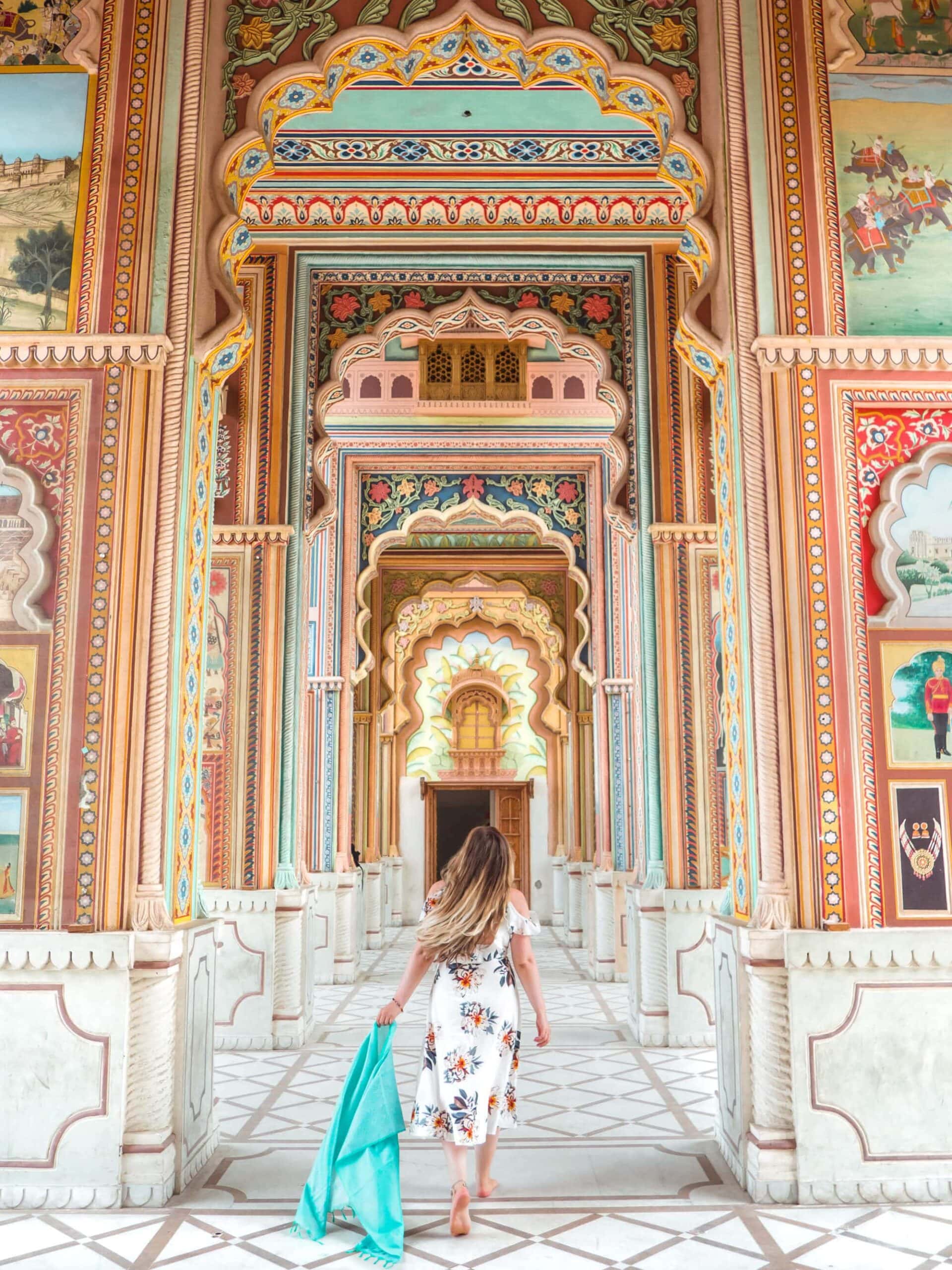 Memorycard
I don't know how many times I left my memory card at home when I first started out. After transferring photos to my computer I rarely remember to put the card back in. I have shown up to locations all over the world super excited to shoot only to realize I forgot my memory card.
One time in Trondheim, I was shooting photos for a brand and I knew we only had a few hours of light that day. When my sister and I arrived in town and got ready to shoot I remembered that my memory card was still in my laptop at home. So my sister jumped on a bus and spent over 30 minutes going home and back while I scouted for more locations. Thanks, sis! And I can't tell you how many times my boyfriend has done the same.
Memory cards aren't that expensive, but I was just trying to save money wherever I could. I quickly learned my lesson though. So my number one advice for you would be to get at least two memory cards, so you always have one in your camera bag just in case.
Tripod
Because most of us can't afford to be followed around by a professional photographer, a tripod is a travel blogger's best friend. I got this super affordable 60-Inch Lightweight Tripod when I first started and I still use it today. It might not be the best quality out there, but it has worked great for me this far, so I haven't seen any reason to upgrade yet!
My travel blogging journey so far
I remember when I first started on this Instagram and blogging journey, I was so embarrassed to shoot photos in front of people. In restaurants, I used to ask for the table furthest away from other people so they wouldn't notice me taking photos of my food.
And when visiting popular attractions, I would always feel so embarrassed if someone looked at me while posing for a photo. Or just give up before I even tried to shoot anything because of all the people. Well, those days are over.
I don't know if I've gained confidence with age or if I've just gotten so used to photography being a part of my everyday life that I don't notice people staring or commenting anymore.
I remember one day a few years ago at a warung in Uluwatu (my favorite part of Bali) I was, of course, documenting my Mie Goreng before digging in. Because what travel blogger wouldn't, right? Then an American guy at the table next to me had to loudly comment to his friends: "Everyone wait, we have forgotten to take photos of our food." And then he turned to me and said: "No one cares about the food you're eating. Who do you think you are?".
Now, if this had been a couple of years earlier, I would probably have been super embarrassed and put my camera down right away. And for a few seconds, I was a little taken aback, which is probably exactly what he wanted to achieve. But then I answered: "Well, someone who gets paid to take photos of delicious food in the most amazing locations. If you could get paid to travel the world, I bet you would take photos of your food too."
All his friends started laughing and told him to turn back around and mind his own business. And while it was only partly true that I was getting paid to "travel the world", it felt good to actually stand up to him.
So I guess the moral of the story is that if you're just starting out, keep at it. Your confidence will grow with time. Find your own style, practice, have fun with editing and be consistent. I also found that working on my mindset helped a lot, I used this manifestation process to land partnerships with my favorite brands.
That is much more important than any expensive camera or equipment!
🌟 If you want to get into the content creation world, remember to check out my Travel Creator Toolkit. You get all my best personal templates that I've used over the last 7+ years!
Popular content creator resources
---
Remember to save this for later 😀