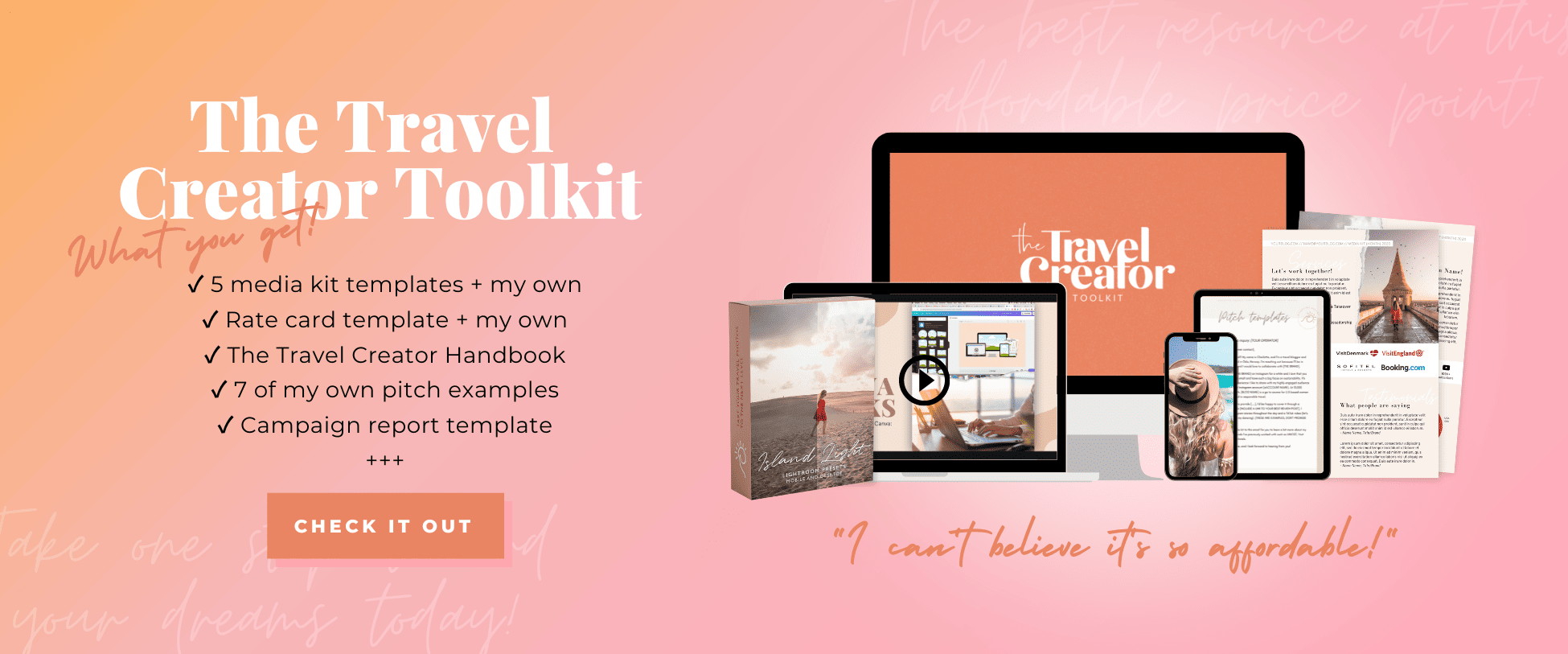 This post may contain affiliate links. I will earn a small commission if you purchase through them, at no extra cost to you.
Are you wondering how to spend your 4 days in Ubud? Well, look no further. After traveling in Bali for more than 13 years, I have put together what I consider to be the ultimate Ubud itinerary for first-timers.
This 4-day Ubud itinerary is the perfect mix of nature, culture, healthy eating and even some shopping. It includes all the best things to do in Ubud, in addition to how to get around Ubud, the best time to visit and what to expect.
🌟 Remember to always get insurance before you travel to Bali or anywhere else. SafetyWing is an affordable subscription travel insurance that you can purchase even after departure. Read my complete SafetyWing review here.
4 days in Ubud itinerary overview
Day 1 – Early morning stroll on Campuhan Ridge Walk, stop by Juwuk Manis, shop Ubud Art Market, visit Ubud Water Palace and the Sacred Monkey Forest.
Day 2 – Explore Tegalalang Rice Terraces and Gunug Kawi Temple in the morning, then make your own jewelry in a silver-smith class.
Day 3 – It's all about the waterfalls. Visit 3 of Ubud's most beautiful waterfalls, Kanto Lampo, Tibumana and Tukad Cepung. And stop by Goa Gaja on your way home.
Day 4 – Join a cycling tour on the backroads of Ubud, one of my all-time favorite experiences in Bali. (alternative cooking class if you can't do a bike tour.)
But first, let's take a look at the things you should know before you visit Ubud.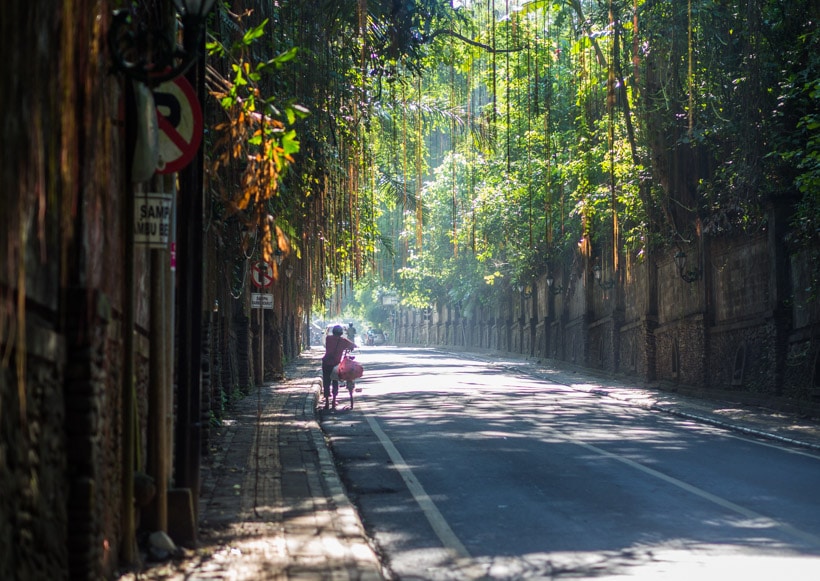 Best Time to Visit Ubud
The best time to visit Ubud is during the dry season, which runs from April to October. During this period, the weather is warm and sunny, with little to no rainfall, making it perfect for outdoor activities such as hiking, cycling, and exploring the rice paddies.
I would normally advise you to visit Bali between February and May, however, keep n mind that Ubud is still very humid in February and March.
It is worth noting that the dry season is also the peak season, meaning that the town can get crowded and prices for accommodation and activities can be higher than at other times of the year. If you're looking for a more peaceful experience, consider visiting during the shoulder season, October/November and February/March.
During the shoulder season, you may experience occasional rain showers, but the weather is generally mild and pleasant. Additionally, there are fewer tourists, making it easier to explore the town and its surrounding areas without the crowds.
If you're planning to visit Ubud during the wet season, which runs from November to March, be prepared for heavy rainfall and occasional flooding. While the rain can make the rice paddies and waterfalls more stunning, it can also make outdoor activities challenging and sometimes dangerous.
Are 4 days in Ubud enough?
Yes, 4 days is the perfect amount of time to experience all the best things to do in and around Ubud. You will get a little taste of everything, from waterfalls and rice fields to markets and different classes where you can learn new skills.
How to get to Ubud
Ubud is located approximately 40 kilometers northeast of Bali's international airport, Ngurah Rai, roughly a 1 hour and 45-minute drive. From Canggu, a popular surfing destination, expect to spend around 1 hour and 15 minutes on the road.
And to reach Ubud from Uluwatu on the south coast, where you find all the best beaches in Bali, takes around 2 hours and 30 minutes.
While driving in Bali takes a while, Ubud is easily accessible from all parts of the island, making it an ideal base for exploring areas such as north and East Bali.
Easy airport transfer to Ubud
I don't know about you but after traveling for 16+ hours I'm not in the mood to bargain with drivers. The arrivals hall at Ngurah Rai Airport can be overwhelming with lots of private drivers, taxi drivers and companies pushing their services on you.
🌟 Pro tip >> To make your arrival in Bali as smooth as possible, I recommend booking this driver in advance. They will wait for you with a sign in arrivals and they'll know exactly where to take you. You also have the option to add a local sim card at checkout. Super convenient!
Popular Ubud tours
How to get around Ubud
Rent a scooter
I highly recommend you rent a scooter to get the most out of your 4 days in Ubud. It is one of my favorite places in Bali to drive by myself. I love zipping around on the backroads feeling the sun on my skin and the wind in my hair.
You can easily ask your accommodation to arrange a scooter for you, or motorbike as the locals call them. It usually costs around 75.000 IDR a day, if you rent for longer periods of time you can bargain the price down a bit. You can also book a scooter in advance online.
Just make sure your travel insurance covers you and look out for scams run by both the police and renters. You can read more about it in my articles about common scams in Bali and things not to do in Bali.
Scooter delivery
Get a scooter delivered to your hotel or homestay. That way you don't run the risk of being told that there are no more scooters available. It doesn't get more convenient. All of this is included in the rental:
Helmet for maximum 2 persons
full tank of gas (petrol) upon delivery
24/7 road-side assistance
Mobile phone holder
First-aid kit and rain poncho (for maximum 2 people)
🌟 Check price and availability here >> Scooter rental with delivery
With a private driver
When I'm doing day trips to different parts of the island or covering a lot of places, I often book this driver. You can, of course, drive your scooter as well, however, for longer distances I prefer to enjoy the landscape from the comfort of an air-conditioned car.
Also, parking isn't always easy on the island, so that way the driver takes care of parking while you can focus on enjoying beautiful Bali.
This is a super affordable full-day customizable tour, which means you have the driver for 10 hours and you can go wherever you want. It's the perfect option if it's your first time in Bali and there are a lot of places on your Bali bucket list.
🌟 Check price & availability >> Private Bali driver with optional guide
How to spend 4 days in Ubud
4 days is the perfect amount of time to experience all the highlights Ubud has to offer.
There's a reason why Ubud is called the green heart of Bali. It is lush, vibrantly green and rich with cultural heritage. Traditional Balinese craftsmen, with skills passed down through generations, call these parts home.
Woodcarvers, painters, silversmiths, mask makers and other artisans can be found in Ubud and the surrounding villages. The passion and love for their art and culture are what make this part of the island so special.
Central Ubud is made up of one very busy one-way road, lined with shops, restaurants and people everywhere. At the south end, you'll find the Sacred Monkey Forest and at the north end along Jl. Raya Ubud the Royal Palace and Ubud Market.
Along this one-way road called Jl. Monkey Forest and on roads that run off it and parallel to is where you'll find most restaurants and cafés. Ubud really is a haven for vegetarians and vegans, as meat-free options are available everywhere.
Ubud itinerary – Day 1
The first day of this 4-day Ubud itinerary is all about getting to know the town. I have included all the highlights and most popular attractions in central Ubud.
Campuhan Ridge Walk
A morning or afternoon stroll on the Campuhan Ridge Walk is a definite must while in Ubud. It's free, you get a workout and some of the best photo ops on the island, all in the most amazing setting. Think lush green rolling hills with the odd palm tree and yellow butterflies flying everywhere.
The only downside is that it gets incredibly hot during the day, so I would recommend going as early as you can manage, maybe even before breakfast. It's the perfect way to start the day.
You'll find the starting point of the walk to the left of the entrance to Warwick Ibah Luxury Villas and Spa, just follow the path over the bridge and past the temple.
Subak Juwuk Manis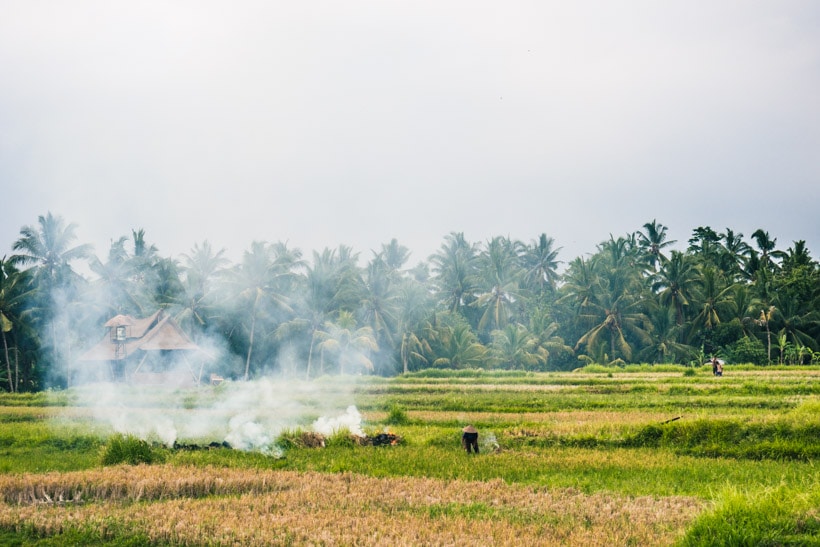 Can you believe this place exists just off the busy Jalan Raya Ubud? Ok, it might look a little grey and gloomy in these photos, but we visited in the midst of the rainy season in the afternoon.
Blink once and you will miss the old sign saying "Subak Juwuk Manis (Rice Field) Ubud" pointing down an alley. Follow the path until you think you shouldn't go any further because it looks a bit sketchy, then keep going past an abandoned house and you will soon see green everywhere.
We didn't encounter many other tourists on this walk, just some ducks and a couple of workers. A pro tip is to pop in on your way back to town from the Campuhan Ridge Walk.
Ubud art market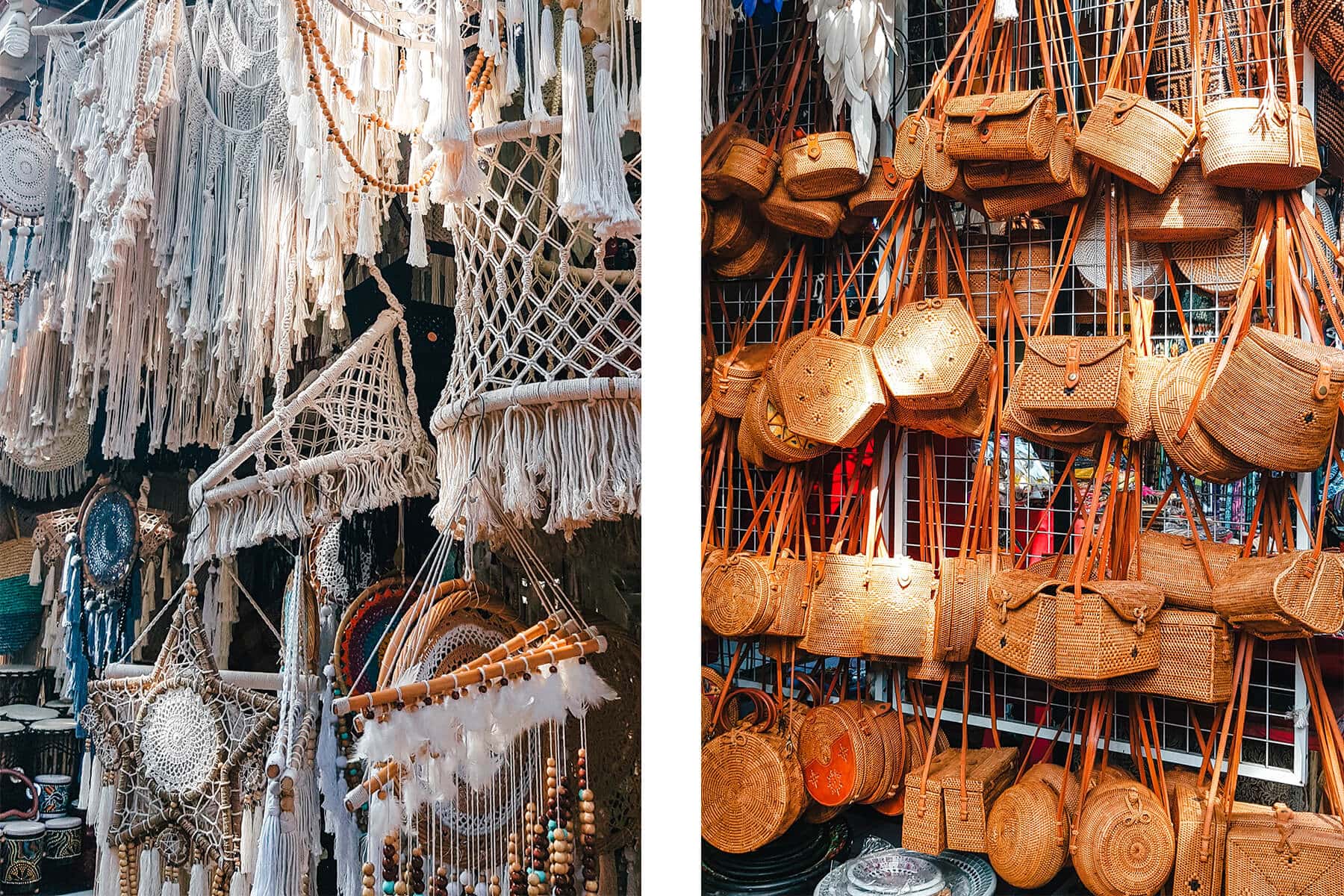 Head back to your hotel or homestay for breakfast, or stop by a cute cafe like Zest, then make your way to the market.
Ubud Art Market is one of the most popular attractions in Ubud, known for its wide variety of traditional Balinese handicrafts and souvenirs such as handmade batik fabrics, wood carvings, jewelry, paintings and much more.
The vendors at the market are friendly and welcoming, and you can negotiate prices to get a good deal. The earlier you get there, the better the deal. As the first sale bless the day ahead.
Opening hours: Every day from 8:00 am – 5:00 pm (some stalls open even earlier and close when there are no more people around)
Entrance fee: It is free to visit Ubud Art Market.
Saraswati temple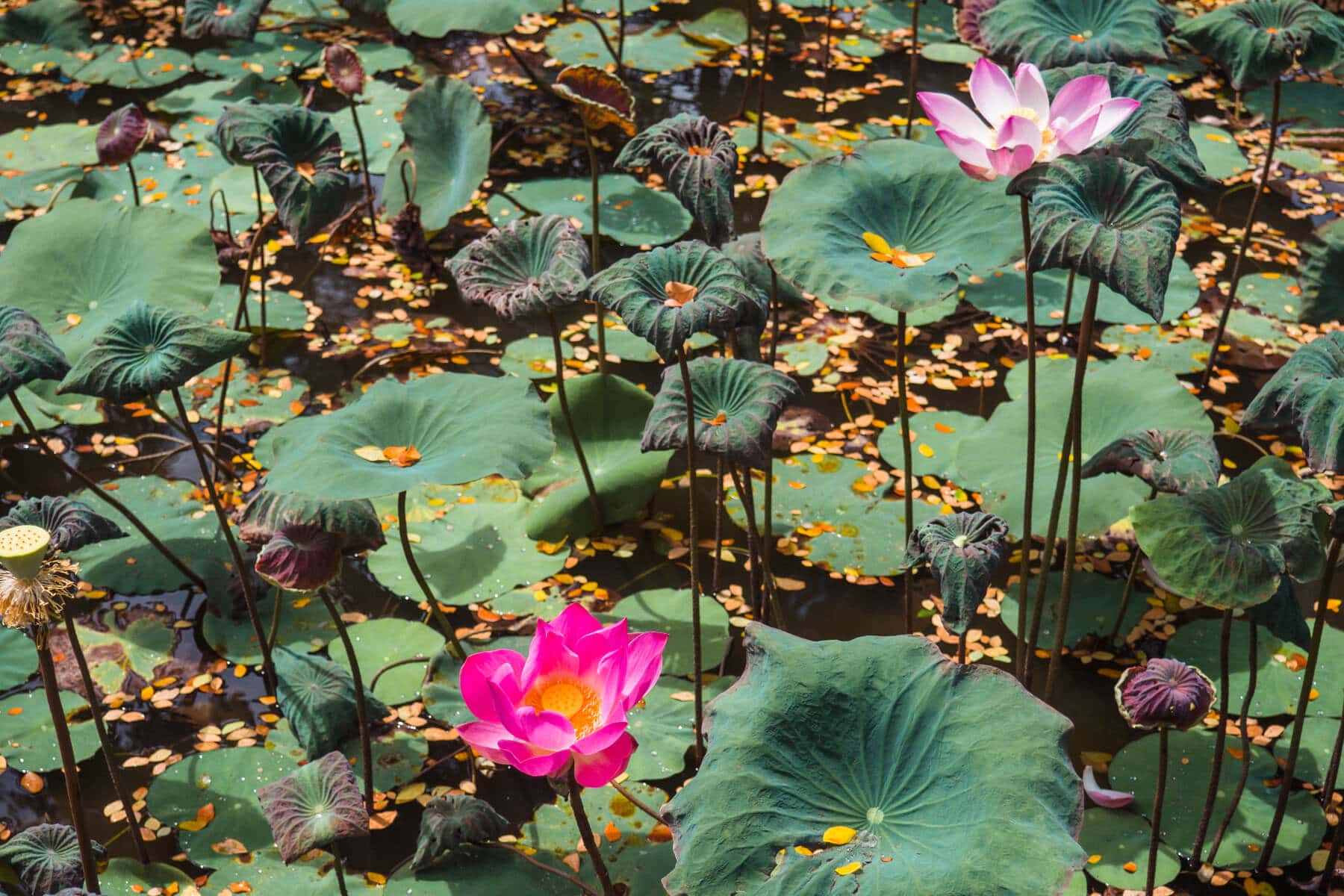 When you're all shopped out, continue to Ubud Water Palace, also known as Saraswati Temple, a beautiful Hindu temple located in the heart of Ubud.
The temple is dedicated to the goddess of knowledge, arts, and wisdom, Saraswati. The temple is known for its stunning architecture, with intricate carvings and beautiful lotus ponds that surround the main temple building.
Opening hours: 7:00 am – 5:00 pm
Entrance fee: It is free to visit Saraswati Temple in Ubud
Sacred Monkey Forest Sanctuary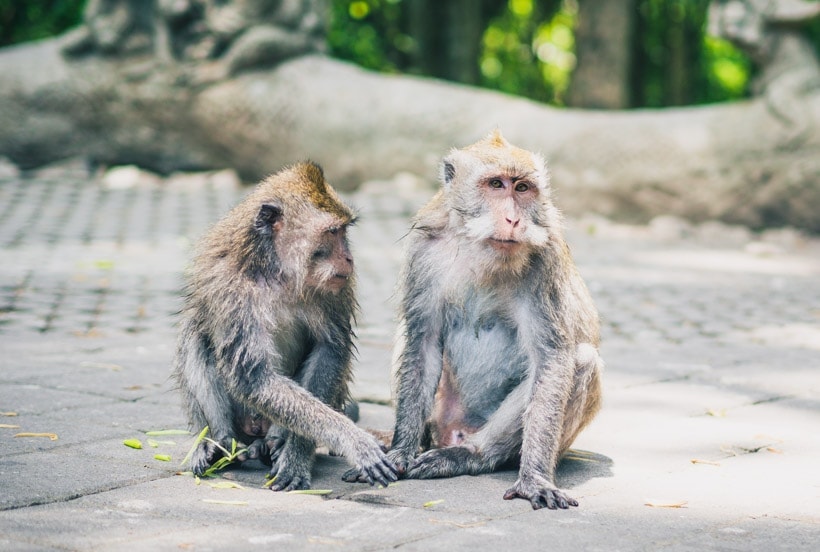 Before dinner, spend the afternoon at the Sacred Monkey Forest located south in central Ubud.
As I've had my share of monkey encounters at the monkey temple down in Uluwatu, I didn't expect much when we headed to the Sacred Monkey Forest Sanctuary in Ubud. But wow was I in for a surprise, this place is so much more than just the monkeys.
It really felt like we stepped into an enchanted forest. With 115 different species of trees and three temples dating back to the 14th century, the complex is huge, so be sure to explore every nook and cranny to get the most out of your visit.
Don't bring anything into the forest other than your camera, as the monkeys will steal it. I've seen the sneaky little creatures open backpacks, take sandals off the feet of grown men and keys out of people's pockets. As the number of people visiting the forest continues to increase, about 10,000 people a month as of now, so does the aggressive behavior of the monkeys.
If you bring any food or buy the bananas being sold in the forest they will attack you until they're sure they've got everything. Don't try to hide it under your clothes, trust me they'll find it. Sometimes you'll be fine and get some great photos but sometimes people get bitten. I've seen a few bloody hands and legs around the island, so remember to be careful and use common sense.
Opening hours: The Sacred Monkey Forest in Ubud is open daily from 9:00 am – 6:00 pm. The ticket office closes at 5:00 pm.
Entrance fee: 80.000 IDR for adults and 60.000 IDR for children.
---
Ubud itinerary – Day 2
Tegalalang Rice Terraces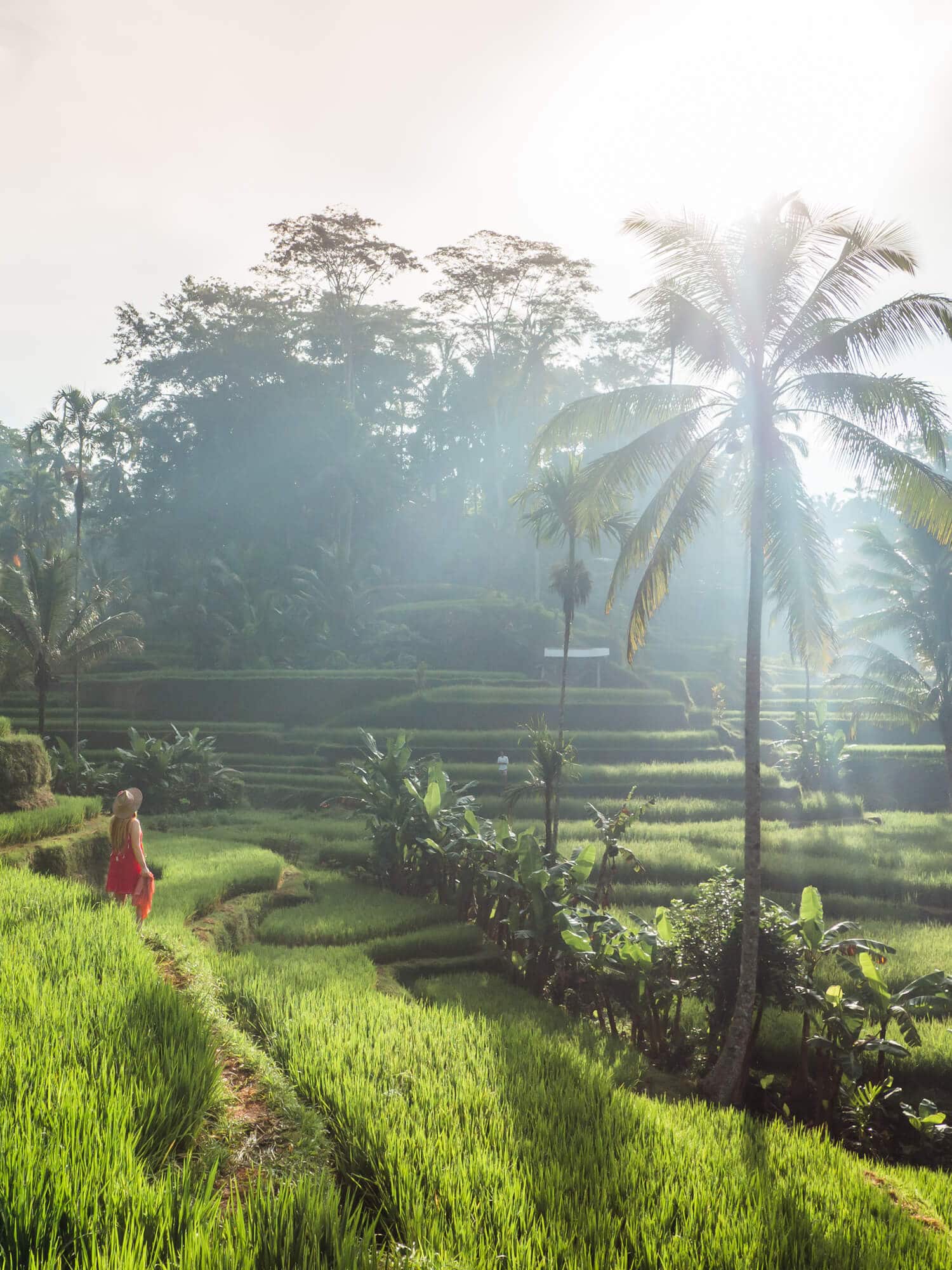 If you've seen any photos from Ubud, chances are it's of the Tegalalang Rice Terraces. Along with the Sacred Monkey Forest, Tegalalang is the most iconic of all the attractions in the area, maybe also in Bali. That means everyone wants to get a glimpse of it, so it gets extremely crowded. I would recommend visiting early in the morning or later in the afternoon to escape both the crowds and the midday heat.
From the top of the road, you get stunning panoramic views of the terraces, which is really an irrigation system called Subak dating back to the 8th century. Be sure to not only settle for the view, venture deep into the jungle to take in and appreciate this ancient form of engineering. And don't miss the stunning Tegalalang sunrise photo spot you see below.
The drive up from central Ubud takes about 20 minutes and is mostly straightforward, so even if you're not the most experienced on a motorbike you should be fine.
Opening hours: 6:00 am – 6:00 pm (it says online that the opening hours are from 8:0 am, however, when we got there at 6:00 there were several open entrances).
Entrance fee: 15.000 IDR per person in addition to several checkpoints throughout the rice terraces.
Gunung Kawi temple
Continue your morning at Pura Gunung Kawi, an ancient temple set in a beautiful valley surrounded by lush green rice paddies in the small town of Tampaksiring, northeast of central Ubud. It is one of Bali's most important historical sites and is believed to have been built in the 11th century.
The temple complex consists of 10 rock-cut shrines, which are carved into the side of a steep cliff face. Each shrine is around 7 meters tall and is beautifully decorated with intricate carvings and reliefs. It is dedicated to King Anak Wungsu and his wives, and it is believed that the shrines were built to honor them after their death.
I suggest getting there when they open so you can take in the beauty in peace and quiet as the sun rises. When you're there all alone it truly feels like a magical place, I could've wandered around the stunning grounds for hours and hours.
Opening hours: Every day from 7:00 am – 6:00 pm.
Entrance fee: 50.000 IDR per person.
Head back into town and enjoy lunch at Yellow Flower Cafe, a hidden gem in Penestanan.
Ubud Silver-smith Class
One of the more unusual things to do in Bali, or at least something you probably didn't think about doing, is joining a silver-smith class. I love wearing the wave ring that I made with my mum in our class.
Ubud is known for its rich artistic heritage, and silversmithing is a centuries-old craft that has been passed down from generation to generation.
In this popular silversmith class, you'll learn the basics of metalworking, including how to shape and mold silver into beautiful pieces of jewelry. You'll also get to work with local artisans who will teach you the intricacies of Balinese design and techniques.
Not only will you come away with a new skill and a unique piece of jewelry, but you'll also have a deeper appreciation for the artistry and craftsmanship that goes into creating these beautiful pieces. So much fun!
You can choose between a class in the afternoon or in the evening. You also have the option to add transport and other activities such as a cooking class or a village tour.
🌟 My top pick for unusual things to do in Ubud >> 3-hour Ubud silversmith class
---
Ubud itinerary – Day 3
Day 3 of this Ubud itinerary is all about incredible waterfalls. Ubud is located within an hour of 80% of the best waterfalls in Bali, so dedicating a day to chasing waterfalls is a no-brainer. As mentioned earlier, you can rent a scooter, hire a private driver for the day, or alternatively join the popular guided tour below.
🌟🌟🌟🌟🌟
Don't want to do any planning? This affordable private guided tour includes 4 of the best waterfalls around Ubud. Tucak Cepung, Tibumana, Kanto Lampo and Tegenungan Waterfall.
If you end up going by yourself, I would say that Tegenungan Waterfall isn't really worth it. I mean, it is the largest waterfall close to Ubud, but it is also very commercialized with tons and tons of visitors every day. So I would prioritize the lesser-known ones.
Be sure to check out my complete guide to all the best waterfalls in Ubud to pick out your favorites. In the map below you can see the distances to all the waterfalls from central Ubud.
Goa Gajah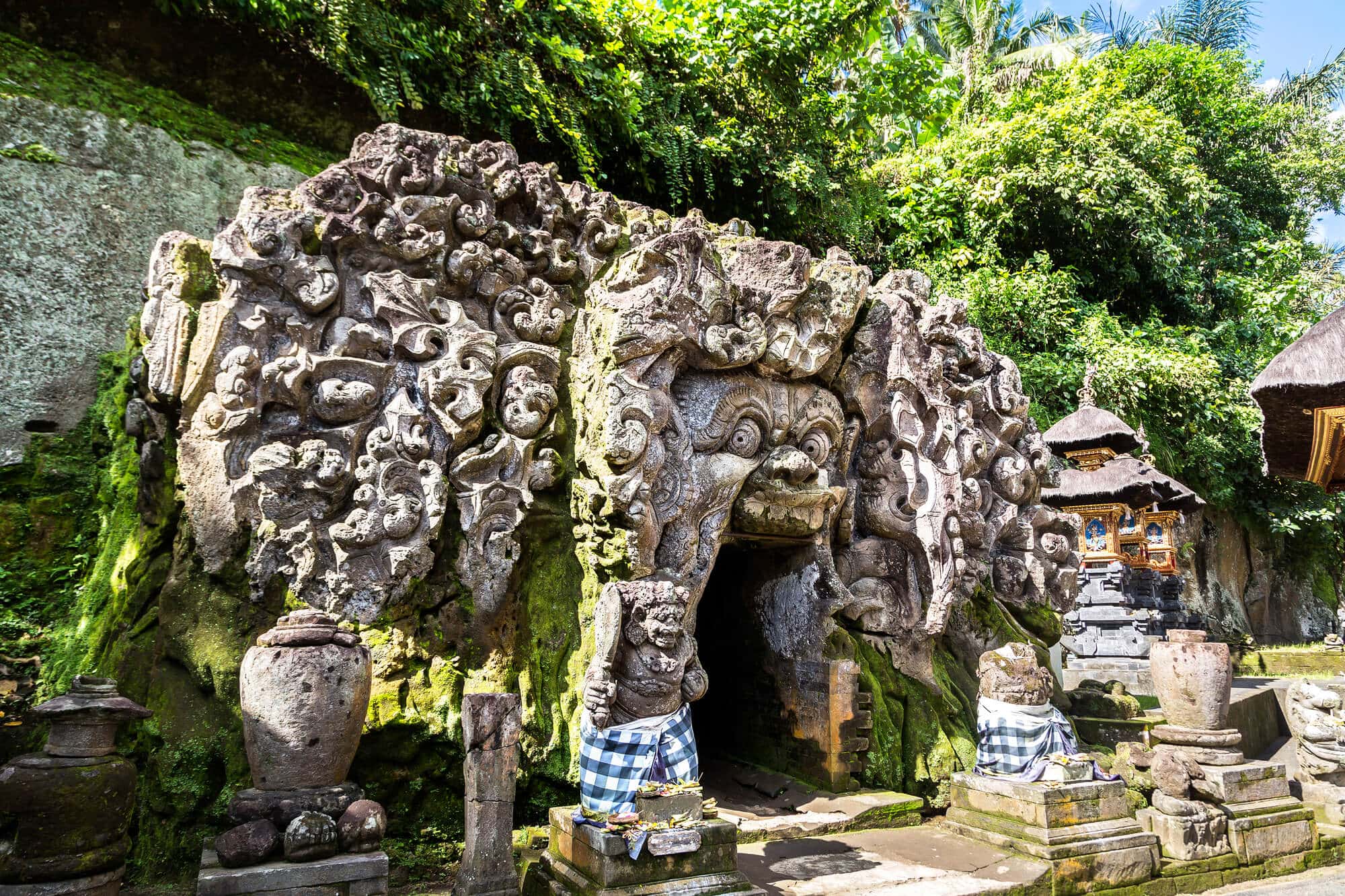 If you have some time in the afternoon, stop by Goa Gajah or the Elephant Cave if you will, located an easy 10-minute drive southeast of Ubud. and just a few minutes from Kanto Lampo and Goa Rang Reng Waterfalls.
Some say it was built during the 11th century as a place for meditation and some say it dates back to as early as the 9th century. You enter the t-shaped cave through the mouth of a demon and inside you'll find different stone carvings and shrines.
Outside in the courtyard, there's a holy pond with six Hindu angels, where worshippers will rinse off and purify themselves. The temple isn't among the grandest on the island, but it's still a fun place to visit and it's easily reached from central Ubud.
Goa Gajah opening hours: Every day from 8:00 am – 4:30 pm.
Entrance fee: 50.000 IDR for adults and 25.000 IDr for children.
---
Ubud itinerary – Day 4
Day four in this Ubud itinerary is all about exploring the backroads and experiencing daily life in Bali. The people and places you won't see on your own in Bali.
Jegeg Bali Cycling Tour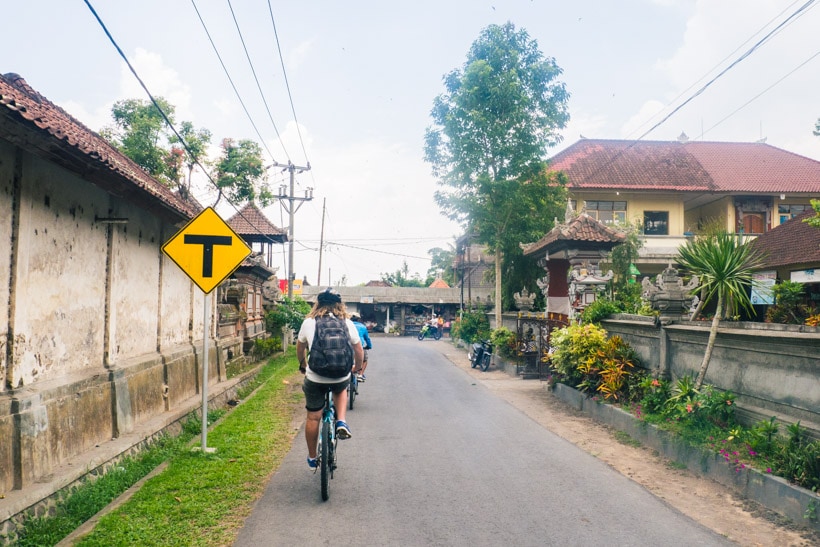 It was hard to decide on which tour operator to choose for our cycling tour in Ubud. After hours on Tripadvisor going through photos and reviews, we landed on the family-owned business Jegeg Bali Cycling. Their small groups (we were only four people) and the price of 45 dollars were the deciding factors.
We got picked up at our hotel in the morning and then headed to have breakfast overlooking the spectacular volcanic caldera of Mt. Batur with its deep crater lake. After that, we went to a coffee plantation and then started the cycling part of the day.
It was mostly downhill, so you'll be able to do it even if you're not in the greatest shape. We felt safe throughout the whole tour as Putu's uncle would drive ahead and stop traffic for us if necessary.
The best part of the whole day was getting to come inside their family compound to enjoy a traditional Balinese meal. I thought I already was quite knowledgeable about Balinese culture, but we learned so much from our guide Putu who spoke very good English and was happy to explain everything we wanted to know.
At the end, we received a gift, a beautiful shirt, made in the neighboring village. Putu explained that since they earned a lot of money from us they wanted to pay it forward and then give something back. Gotta love the Balinese people. One of my best days in Bali so far.
If you prefer to do a cycling tour on an electric bike instead, I recommend this popular 3-hour tour.
Alternative: Cooking class
If you don't feel like cycling or are even more interested in learning how to cook delicious Balinese food, I highly recommend this cooking class.
Southeast Asian food, Indonesian in particular, is at the top of my list when I think of delicious food. Mie Goreng, chicken sate, Lumpia and Tempe, it makes my mouth water just thinking about it. So what can be better than a cooking class where you can learn to make all this yumminess at home?
You will prepare 3 starters, 4 main courses and 1 authentic dessert. The cooking class also includes a transfer from your hotel, a visit to the local market and a rice plantation. This is one of the activities you can do during midday when it's too hot to do anything else.
🌟 Check price & availability here >> Ubud cooking class with market visit
Where to stay in Ubud
Where you'd want to stay while in Ubud depends on how much time you have to spend in the area. If you only have a couple of days, I would stay in a homestay on one of the smaller roads off of Monkey Forest Road. That way you can walk to a lot of attractions and restaurants while getting a taste of real Balinese life from the family you're staying with.
In the photo below you can see us having breakfast on the balcony of our homestay, Jawi House & Painter, which we found on Airbnb. We had a great time there much thanks to our host Putu. She arranged drivers, motorbikes, sarongs for the temples and even bought us a traditional Balinese meal on our last day.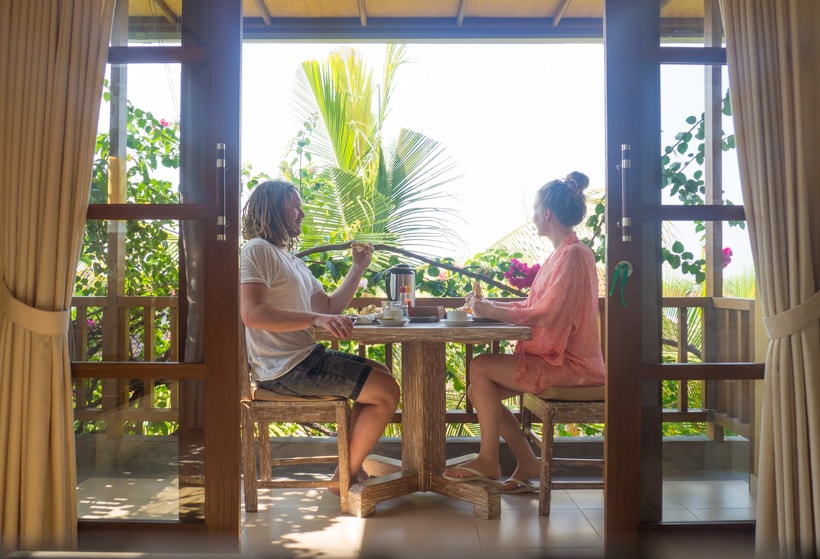 If you have some more time I would suggest staying in a villa up in Penestanan, which is a little village about a 20-minute walk out of Ubud town. Penestanan is known as a quiet artist community and is popular with expats and digital nomads. It's the perfect place from which to explore all the beauty the area has to offer.
Budget accommodation in Ubud
If you're looking for budget hotels, check out Agoda. I almost exclusively book hotels through their site whenever I'm in Southeast Asia, as some of the cheapest places are only listed on there.
One of my favorite budget hotels in Penestanan is Gerebig Bungalows. The gardens and pool area are gorgeously green, with pathways leading through a rice field. Here you'll experience the true Ubud feeling of peace and serenity. For about $30 you get a double room with garden view, free breakfast and wifi. Now that's what I call a great deal!
On the other side of town, the incredibly stunning Green Bird Villas are definitely worth checking out! A superior double will only set you back about $50 and that includes free breakfast, wifi, TV, AC ++ If you add another $20 you'll get the deluxe room with a large bathroom and view of the awesome pool.
During our most recent trip to Bali, we booked four nights at the beautiful Green House. We had been to central Ubud many times before, so staying in the calm rice fields halfway between Tegalalang and the center of town, was such a nice break from the normal Bali craziness.
And did I mention there is a swing in the garden overlooking a lush green rice terrace!? It doesn't get much better really. So instead of queuing up and paying for the touristy swing in Tegalalang, book a stay with Green House and take as many photos on the swing as you'd like at no extra charge.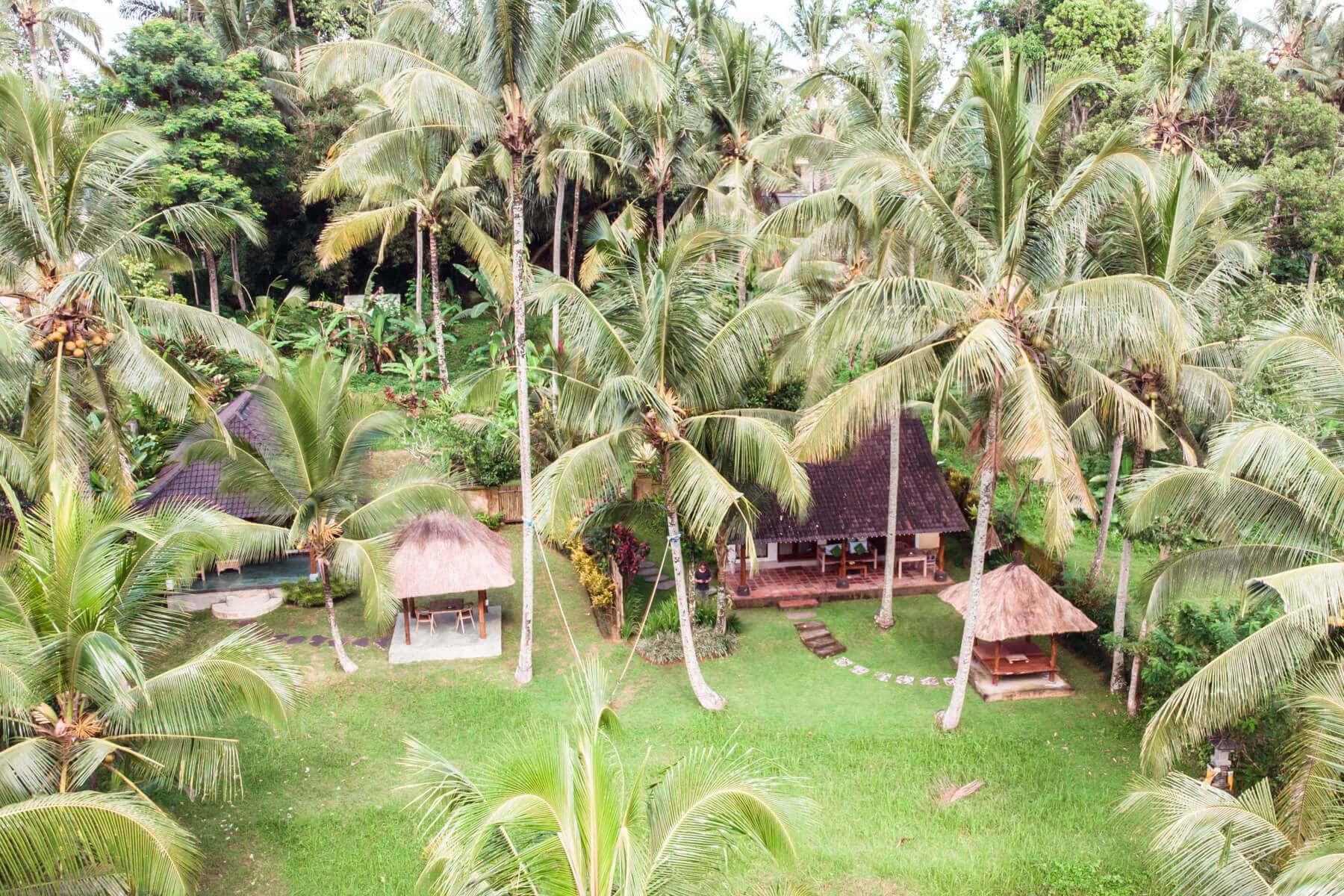 Frequently Asked Questions
How many days do you need in Ubud?
I recommend spending at least two days in Ubud, ideally four if possible. In four days you will get to fully experience its culture, nature and spirituality. However, if you have even more time, you can easily spend a week or more in Ubud without getting bored.
Is there a lot to do in Ubud?
Yes, there are so many amazing things to do and experience in Ubud. You can visit temples, rice terraces, waterfalls and museums. You can also do yoga, meditation, cooking classes and spa treatments. Ubud is also known for its art galleries, handicraft markets and organic cafes.
Is Ubud a good place for coworking?
Yes, if you work remotely or for yourself, there's no better place to be than Bali. And Ubud has long been the co-working capital on the island with creatives from all over flocking to spaces like Hubud and Outpost. These days Canggu's coworking spaces are the only ones that can compete with Ubud.
With rates starting at $12 a day for a working space with high-speed wifi, it should be doable for most.
What are some must-see temples to include in a Ubud itinerary?
Some of the must-see temples in Ubud are the Ubud Palace, Saraswati Temple, Goa Gajah, Gunung Kawi and Tirta Empul. Each temple has its own unique architecture, history and significance.
Which is better, Ubud or Canggu?
It depends on what you are looking for. Ubud is more cultural, spiritual and surrounded by nature, while Canggu is a laid-back surf town with beaches, cool cafés and a vibrant nightlife.
If you want to relax, rejuvenate and connect with nature, Ubud is a better choice. If you want to surf, party and socialize, Canggu is a better choice.
But hopefully you'll have time to explore both. You can read more about how I recommend you spend your first trip to the island in my ultimate two-week Bali itinerary.
What are the best day trips to take from Ubud?
My two favorite day trips to take from Ubud is:
North Bali – Sekumpul Waterfall, Banyumala Waterfall and Ulun Danu Beratan Temple and Jatiluwih Rice Terraces.
East Bali – Pura Lempuyang, Taman Ujung Water Palace, Bukit Cinta Mt. Agung Viewpoint and Sidemen Village.
Popular Bali travel guides
---
Remember to pin for later 😉