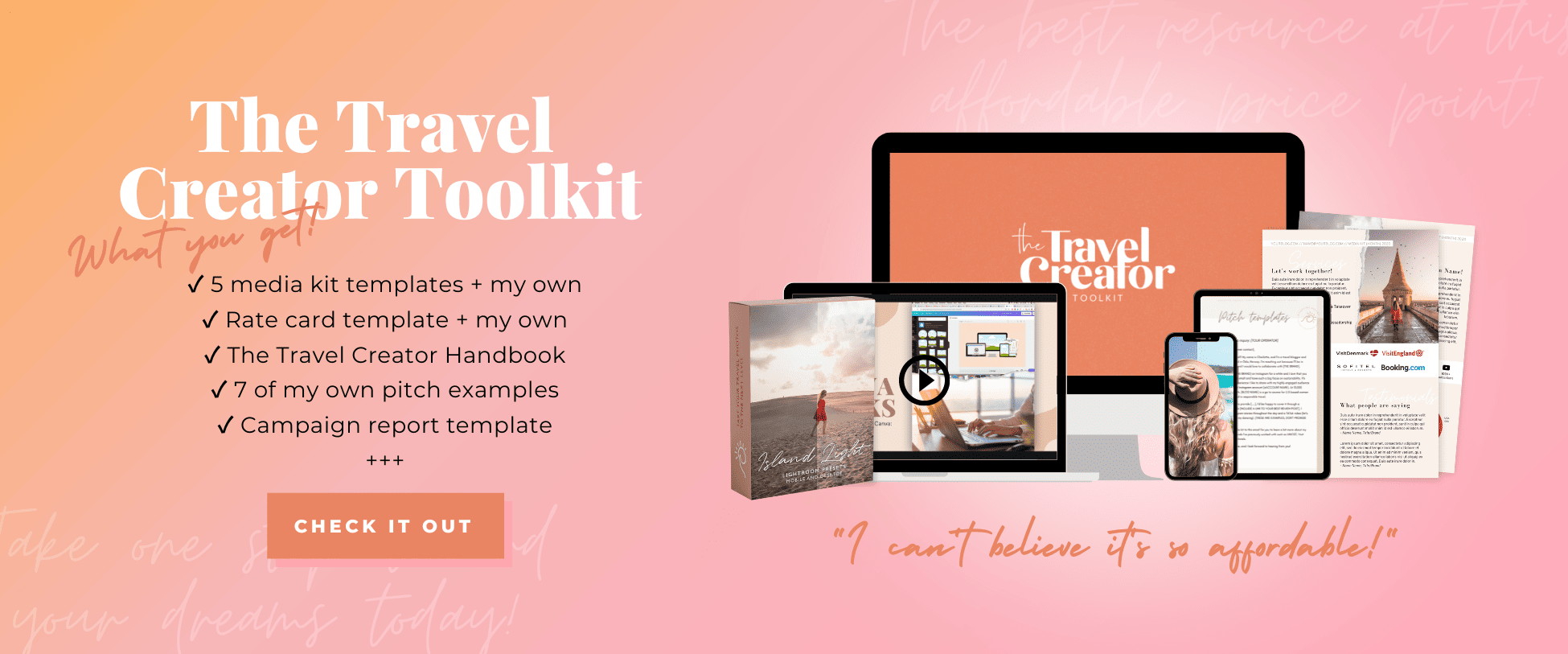 This post may contain affiliate links. I will earn a small commission if you purchase through them, at no extra cost to you.
Are you looking for a hotel with the best views in Matera, Italy? I got you covered!
The city that at the beginning of the last century was considered to be the "shame of Italy" due to extreme poverty and widespread diseases, is today nothing short of a fairytale. Today the caves and stone dwellings that people once called home prior to being relocated in the 1950s, house beautiful hotels, apartments and cute boutiques.
I had been dreaming of visiting Matera for years and wanted to make this trip as special as possible without breaking the bank. So after spending hours going through several booking sites looking for the best hotel view in Matera, I ended up spending five incredible days at Hotel Sassi.
This was my third time in Italy, having spent an awesome weekend in Milan and Sicily a couple of years ago.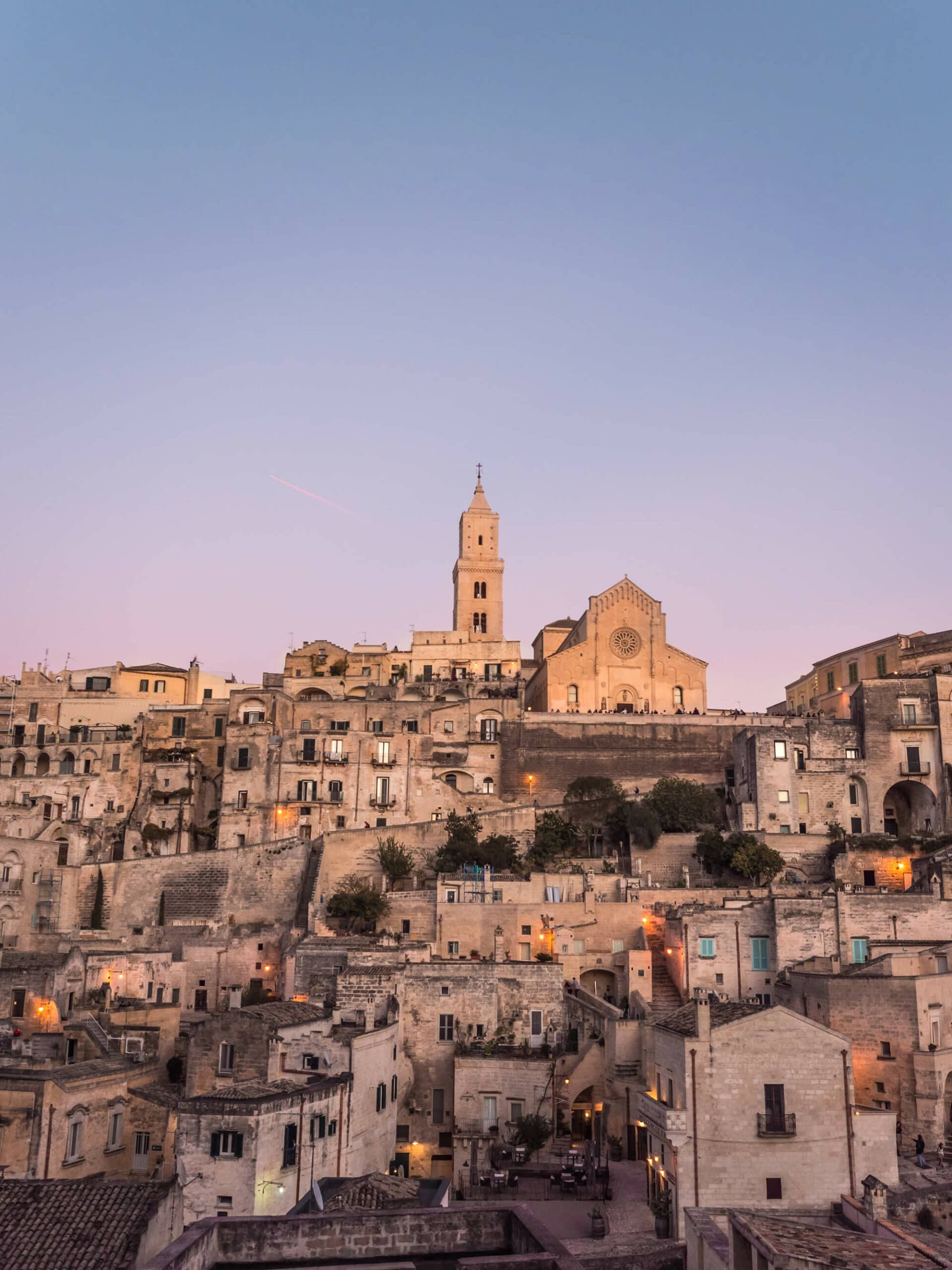 Best time to visit Matera
Like any other tourist hot spot in Europe, visiting in the shoulder season is your best bet. I was there in late October/early November and it was perfect with 25-27 c degree weather every day. I wore my flip flops and a dress with long sleeves and I have never been stared at so much in my life. Okay, maybe in India, but this came close.
I guess Italians living in the south are used to extreme heat because they dressed in this beautiful weather like I would in -5 degrees c. They were pointing and clearly talking about me, you know when someone looks you up and down with the most judgmental expression. Haha, I felt like an alien. I didn't stare at them for dressing in down jackets, beanies and winter boots in 27-degree weather.
How many days to spend in Matera
Most people visit Matera on day trips from surrounding cities like Bari. And while you can absolutely see a lot of what the old town, Sassi di Matera, has to offer in a few hours, I recommend spending at least two nights here.
Walking around the maze of narrow streets in the early morning as the sun rises and before the tourist busses start rolling in, feels truly magical. And the beautiful stone buildings look completely different during the day than at dusk and dawn. As mentioned I spent 5 full days in Matera and absolutely loved taking my time to explore this fairytale-esque place.
How to get to Matera from Bari
By train (or not by train)
As far as I understand Ferrovie Appulo Lucane is the company that operates the line between Bari and Matera. You'll find them in a beige building to the side of the square, not at the main train station. I went there the day before I was leaving to check everything and make sure I knew where the trains departed from. I checked the timetables and saw that I had to change trains in Altamura.
The next morning I got there just past 10 am only to find the building closed. I tried to ask around but no one seemed to know anything. One man just said, "no train to Matera, you take bus". When I asked from where he just shook his head and walked away. So, unfortunately, I can't say exactly how to get to Matera by train.
By bus
I sat down at a cafe next door with a slice of focaccia to look up buses. I quickly learned that all buses leave Bari early in the morning and late in the afternoon, I could only find one departing from the airport. So I went to another train service building to find a train to the airport.
There I met a group of travelers all scratching their heads, not understanding which trains would actually take us to the airport. Nor was there anyone to ask. Either we were all slightly stupid or the public transport system in Puglia is kind of hard to understand. So I said screw it and headed for the taxi stand.
🌟 Going straight from Bari Airport to Matera? >> Book a transfer by bus here
By taxi
At first, my plan was to take a taxi to the airport and then take the bus a few hours later from there. That would cost me around 30 euros. However, the first taxi driver I met at Bari Centrale quoted me 100 euros to take me all the way to Matera, despite the tariff rate being 120 euros. I jumped in and got to Sassi di Matera in just 50 minutes.
Yes, 100 euros was definitely more than I would have liked to spend. However, saving so much time and getting to spend that whole day walking around the old town made it worth it.
Once we approached the old town, traffic was crazy. Since cars can't drive all the way up to the hotel anyways I told my driver to drop me off at a small park on Via T. Stigliani. I walked the last 500 meters and the hotel was easy to find using the directions from the hotel website.
🌟 Going straight from Bari Airport to Matera? >> Book a private transfer directly to your hotel
Best Matera tours
Don't use Google Maps
The location of Hotel Sassi on Google Maps is not accurate. So follow Via San Rocco if you arrive on foot and use Via Stigliani 33 if you arrive by car, then look for the hotel signs.
Hotel Sassi – Best view in Matera
🌟 My top pick for hotel with the best view in Matera >> The beautiful Hotel Sassi
Hotel Sassi became the first hotel in Sassi di Matera when it opened its doors in 1996. The unique hotel, with I dare to say the best view in Matera, is set in a series of dwellings, partly built into caves, some dating back to the 1500s.
As you approach the gate of Hotel Sassi, prepare to be amazed. The view that was unveiled as I turned the corner can't really be put into words. And even these photos don't do it justice. Let's just say I spent the first few hours filming and shooting photos from all angles.
Check-in is at 2 pm so I sat outside in the sun, enjoying the view for an hour until my room was ready. I booked the standard double, the other options are standard single, junior suite and suite. I got lucky with my room, 403, because it was on the end and had a window perfectly framing the church across town as you can see below. The two rooms next to me didn't have a great view from inside as far as I could see.
On the patio shared by the three rooms, there were small tables and chairs where I enjoyed many hours in the sun working and again just marveling at the view. One of the definite advantages of digital nomad life. Breakfast was served every day from 7-10 and it was a nice spread. My favorite was the focaccia with ham and cheese.
Throughout the day the church bells would ring and it was such a magical experience. I'm not religious at all but standing in this dreamy place, listening to the sound echo in the valley, watching people stop in their tracks to enjoy the moment, I have no words.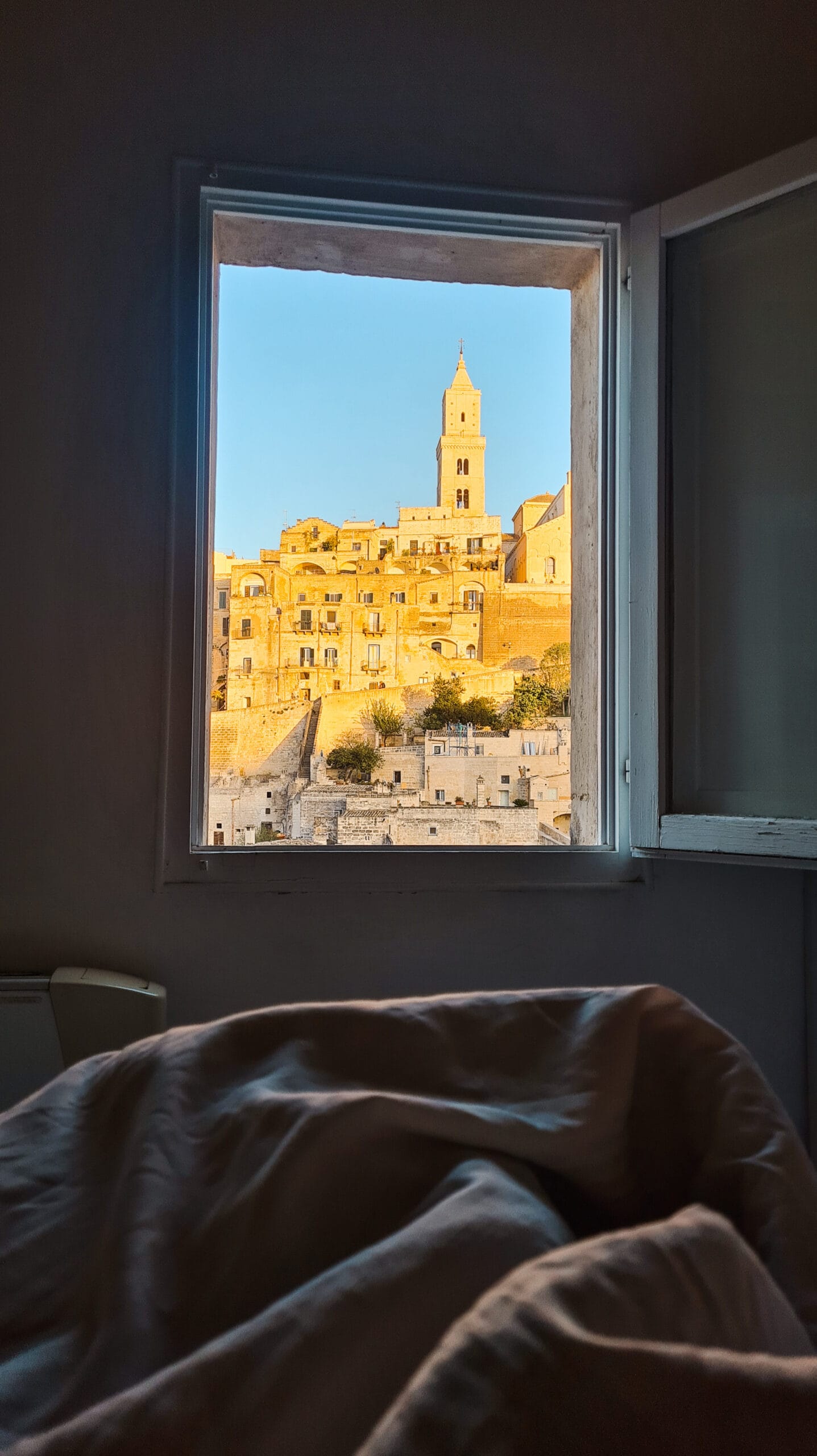 The room
Although the room I got was cozy and the view breathtaking, it could do with an upgrade and a good scrub down. The bed frame was a little dirty and split open along the seams. The corners of the room were also a little dirty, I'm guessing the floors are just quickly mopped between guests. In addition, there was a moldy odor in the bathroom, but I just kept my door and window open during the day and it was fine.
Basically, you're staying in a cave/stone room that probably hasn't been upgraded, other than maybe painted, in the last 20 years. Of course, I can't speak for the other rooms in the hotel. But I wouldn't recommend this hotel if you're after a 5-star service and experience.
There were also black garbage bags outside all the rooms almost every day. I think it was just new towels and sheets for the rooms, however, it kind of ruined the vibe. I had to move them around for photos.
However, if you can overlook these minor things you're going to have the most spectacular time. It's all about the view at Hotel Sassi!
Looking for more travel inspo?
---
Remember to pin for later 😉