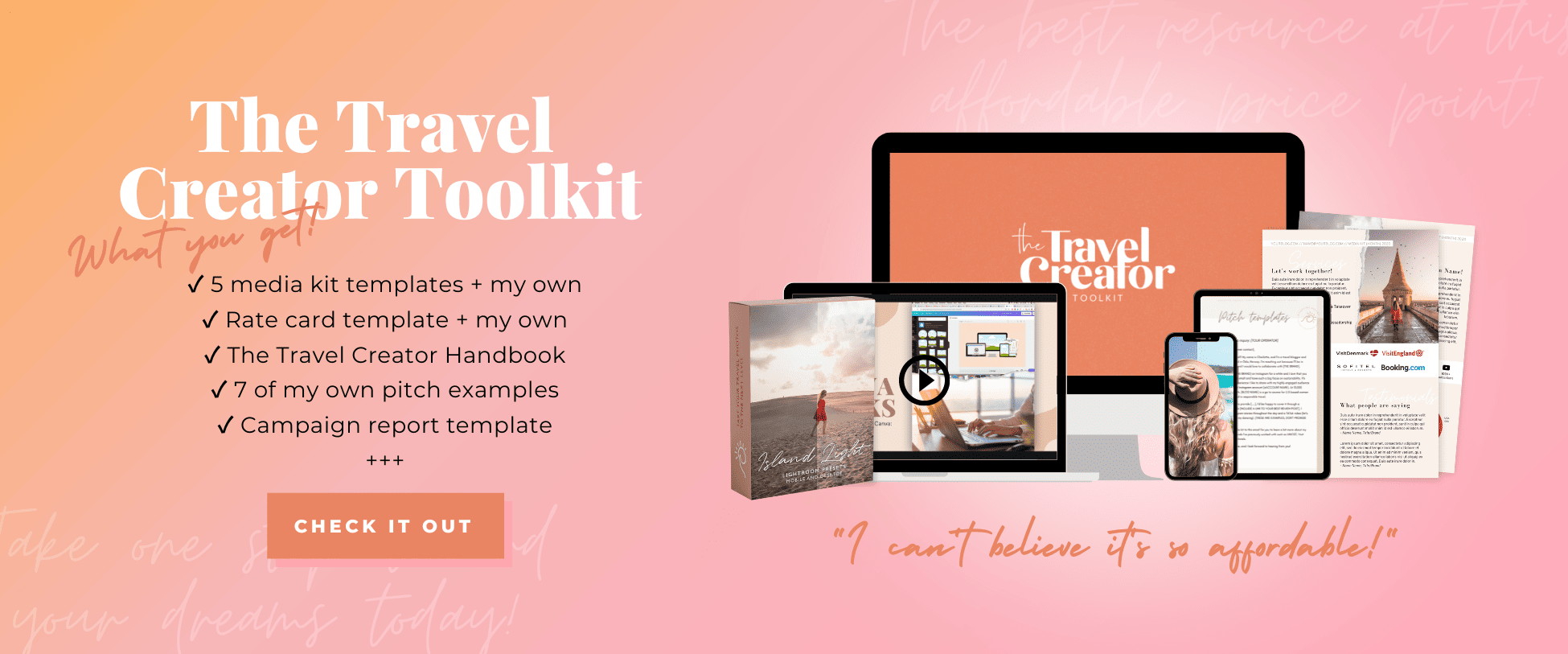 This post may contain affiliate links. I will earn a small commission if you purchase through them, at no extra cost to you.
Are you wondering how to spend your 2 days in Milan? Then you've come to the right place!
Milan, Italy's second-largest city, is known as the fashion capital of Europe and as a hub for banking and finance. But beneath the shiny skyscrapers and Haute Couture showrooms, Milan is brimming with gorgeous historic sights and colorful attractions.
The highlights of Milan can easily be explored in two days and with frequent flights from most of the world, it's the perfect place for a European weekend getaway.
🌟Remember to always get insurance before you travel to Italy or anywhere else. Safetywing is an affordable subscription travel insurance that you can purchase even after departure. Read my complete SafetyWing review here.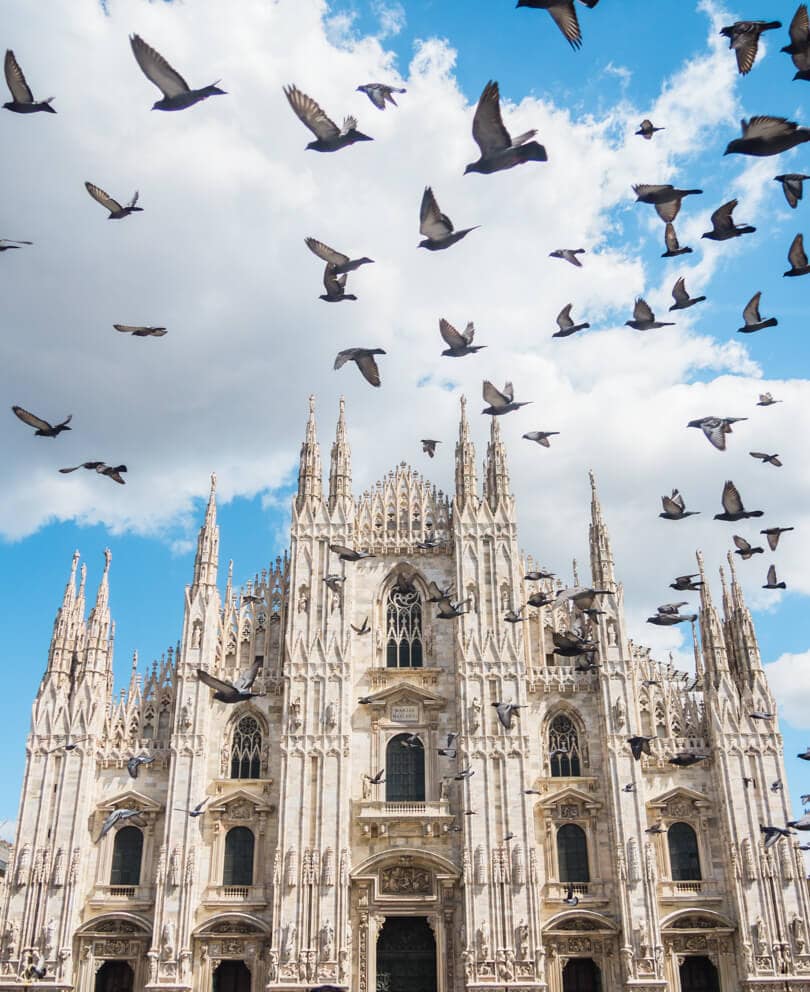 I made grand plans that we would spend one and a half-day in Milan, one in Bergamo and then take a day trip to Lake Como. Which because of Milan's great public transport and train systems would have been totally doable if I hadn't gotten the flu.
Spending half the day in bed meant that I, unfortunately, had to cut Lake Como from our itinerary. I did, however, manage to explore the center of Milan quite thoroughly during the two days I was up and about.
Best time to visit Milan
Milan can be very hot and humid during the summer months and winters are often rainy and foggy. It can even snow during the coldest winter months of January and February.
Spring and fall are generally off-seasons, except during Fashion Week in February/March and September/October. The prices of accommodation skyrocket during these two weeks and it gets crazily crowded so try to avoid both if possible.
As mentioned above, we visited in April and had lovely weather. We were able to sit outside and enjoy some food and drinks in the sun on several occasions. The weather can, however, still be quite moody in April, so I would say the best time to visit Milan is in May and October.
Christmas in Milan
Come late November, the plazas around the city transform into Christmas markets with wooden stalls adorned by fairy lights for as far as the eye can see.
Not surprisingly, Mercatino di Natale in Piazza Duomo is the largest and most popular Christmas market in Milan. Here you'll find everything from decorations and artwork to leather goods and traditional food from various regions.
How to get around Milan
Metro: Milan has a well-connected metro system that covers most parts of the city. There are five lines M1-M5 (red, green, blue, yellow and purple), and tickets can be purchased at the metro stations or from ticket machines. The metro runs from 6:00 am to midnight, with extended hours on weekends and holidays.
Bus: Milan also has an extensive bus network that covers areas not served by the metro. Tickets can be purchased at bus stops or from ticket machines. It's important to note that buses can be slower than the metro due to traffic congestion.
Tram: Milan has a historic tram system that offers a unique way to explore the city. Trams run along many of the city's major streets and are a great way to see the sights. Tickets can be purchased at the tram stops or from ticket machines.
Bike: Milan has a bike-sharing system called BikeMi, which allows you to rent a bike for a short period of time. There are many bike stations throughout the city, and the first 30 minutes of use are free.
Taxi: Taxis are readily available in Milan, but they can be expensive. It's important to make sure the taxi has a meter and to confirm the fare or that the meter is running before getting in.
Walking: Milan is a walkable city, and many of the main sights are located within walking distance of each other. I found walking to be the best way to explore the city as I discovered beautiful spots and hidden gems along the way.
Overall, Milan has many transportation options to choose from, depending on your budget and preferences. The metro and bus are the most convenient and cost-effective options, while the tram and bike-sharing system offers unique ways to explore the city.
Popular Milan tours
How to spend two days in Milan
Day 1
Duomo di Milano
Duomo di Milano, the majestic and incredibly detailed Gothic cathedral in the heart of the city, is without a doubt Milan's most famous attraction. It is a must on any Milan itinerary and the perfect way to start your 2 days in the city.
Although the cathedral is super impressive from the outside, the terraces are where the magic is at. So many intricate carvings and the most amazing views of the city.
There are several different Duomo passes, the most affordable one at 12€ gives you access to all areas and the terraces by stairs. For an extra 4€, you get access to the lifts which open at 9 am. If you aren't in the best shape, opt for the lifts as there are quite a few steps, 500 of them to be exact.
Dumo di Milano opening hours: It opens to visitors at 8:00 am, so try to get there at around 7:00 am for a chance to get a photo in front of the Duomo without the crowds.
🌟 You can book in advance >> Get your Duomo tickets here!
Galleria Vittorio Emanuele II
When facing the main entrance of the Duomo you'll find Galleria Vittorio Emanuele II, Italy's oldest shopping mall, to your left.
Luxury boutiques like Gucci and Louis Vuitton will tempt you with amazing window displays, but unless you have a big budget you'll have to settle for some window shopping as I did. But it's definitely worth a visit anyway. Be sure to look up at the gorgeous ceiling.
You can even spend the night there. Galleria Vik Milano is one of the hotels that offers sleek and modern accommodation inside the mall, but it will cost you. The most affordable room starts at $450 a night.
Leonardo da Vinci's Last Supper
If you're an art lover you don't want to miss one of the world's most famous murals, Leonardo da Vinci's Last Supper in the Church of Santa Maria Delle Grazie.
Due to the fragility of the painting, entry is only allowed every 15 minutes with a maximum capacity of 30 people at any given time. Be sure to book your tickets way in advance or book a guided tour which will guarantee you access.
Via Montenapoleone
Just up the street from Galleria Vittorio Emanuele II, you'll find Via Montenapoleone, one of the most important fashion districts in the world. Big fashion houses like Balenciaga, Gucci and Dior call this area home, so be sure to swing by for some window shopping and outfit spotting.
Arco della Pace & Parco Sempione
Arco della Pace "The Arch of Peace" is one of Milan's most recognizable landmarks. Located in the district with the same name, the arch is surrounded by elegant buildings and Parco Sempione, the largest park in Milan. It's the perfect place to go for a relaxing stroll and maybe have a picnic.
Construction of the arch started in 1807 to celebrate Napoleon's victories but after his defeat at Waterloo, it was decided that the arch should be a monument of peace. Prior to our trip I only knew about the Arc de Triomphe in Paris, so I was quite surprised that Milan had an impressive arch of its own.
At the edge of Sempione park, you'll find the grand Castello Sforzesco, a 15th-century castle now housing several museums and art exhibitions. The castle is closed on Mondays and on Tuesdays, you get free entrance after 2 pm.
Must read >> The best hotel view in dreamy Matera, Italy!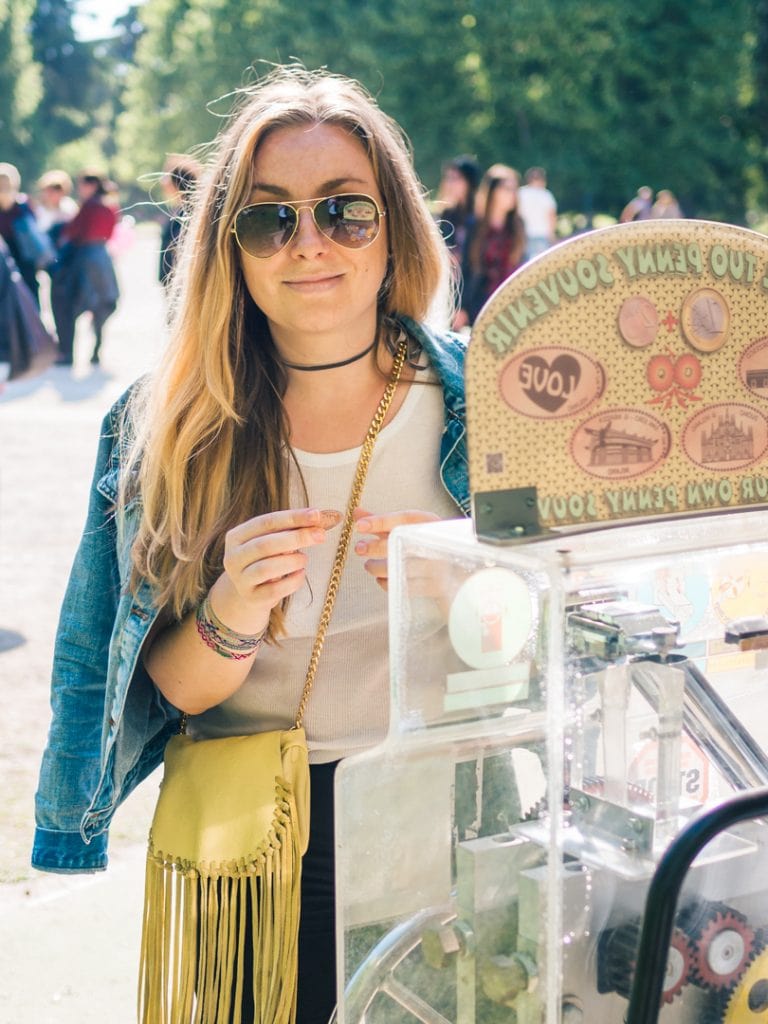 I'm an avid penny souvenir/pressed penny collector and this time I found one in Sempione Park. I get so excited every time I see one of the machines and queue up behind seven and ten-year-olds.
In my eyes, a penny souvenir is the perfect travel memory as they're cheap and take up no room at all. You can even get a collector's book to sort them in, I know I'm getting myself one of those.
Day 2 in Milan
Navigli, Milan's oldest district, is known for its canals, pastel-colored houses, vintage stores and the Sunday market.
If you're into vintage clothes, jewelry and Italian antiques you'll love the market held on every last Sunday of the month. Hundreds of stalls line the narrow streets so it does get super crowded, but in my mind, this market together with Sempione Park and the Duomo, are the highlights of Milan.
I would spend at least half a day wandering around Navigli and be sure to catch the sunset when all the pastel-colored houses lining the canals light up with a warm glow.
Milan off the beaten track
To get off the beaten track check out Leoncavallo, a space dedicated to music, art and politics, the center of Milan's underground culture. Throughout the year they host concerts, debates, exhibitions and a wide variety of other cultural events. Check their Facebook page for upcoming events.
Another place you should check out if you're interested in the underground art scene is Macao, an independent center for culture and art.
They aim to conceive new ideas of what culture can be beyond a financial institution. That art and culture should be available for all citizens to enjoy. Macao first occupied an abandoned skyscraper but was later evicted, they are now based in a former butchery.
🌟 If you'd like to explore Milan off the beaten path, I recommend this popular 3-hour walking tour. Together with a local guide you'll head away from the touristy areas and discover the hidden gems of Milan's medieval commercial district.
These are all the attractions we managed to cover within a space of two days in Milan. It's a slow pace itinerary so you'll have time for a lot of gelato breaks in between.
Where to stay in Milan
🌟 Our favorite place to stay in Milan >> Boutique suite sul Naviglio Grande
Looking for an esthetically pleasing yet affordable place to stay in Milan? I mean, who doesn't? Then you have to check out Boutique suite sul Naviglio Grande.
Not only is the location along the main canal in Navigli perfect, but the owner Giuseppe goes out of his way to make sure your stay is the best it can be.
Affordable Milan accommodation
A bed in a six-person dorm at the super cool Ostello Bello Hostel will set you back about $45 a night. They score an incredible 9.3 out of 10 and people are especially happy with the staff, the cleanliness and the bar. Duomo di Milano is only a 10-minute walk or two tram stops away.
If you'd rather have a room for yourself you should check out Ibis Milano Centro, which is a modern and affordable hotel a little further out from the city center. There is a metro station close by and you have the central train station just a 5-minute walk. It's the perfect location if you want to go on a day trip to Bergamo or Lake Como like we had planned.
The most affordable accommodation option in Milan other than a hostel is to rent a room in an apartment. For about $80 a night, you can stay in a room with a private bathroom in this cool apartment in the beautiful Navigli area. That's definitely where I'm going to stay the next time I'm in Milan.
You can read more about the different areas and neighborhoods in this guide on where to stay in Milan.
Must read >> Is this the best travel insurance for long-term travel?
Where to eat in Milan
As a foodie, my favorite thing about Italy is not surprisingly the food. You won't believe how much we were able to stuff in our faces during our two days in Milan.
The best restaurant experience we had during our two days was at an Italian place called Il Tavolino, close to the central train station. I had some delicious, perfectly cooked gnocchi with pesto and cherry tomatoes. The only thing I could put my finger on is that the portion was small, so I had to sneak some cheesy pizza from my boyfriend. Yum! The cherry on top is that you get a complimentary glass of Prosecco.
Le Striatelle is another cozy, unpretentious Italian restaurant I can highly recommend. I had some super tasty penne pasta with pesto and eggplant. This place is a must whenever you are in the Navigli area.
Like I mentioned above, if the weather allows it I would recommend you buy some bread, cheese and wine or maybe some takeaway pasta and go for a picnic in Parco Sempione.
For another affordable lunch option, check out Mr Panozzo. This casual, family-style restaurant serves some delicious pizzas and sandwiches for only around €5-6 each!! Does it get any better? Mr Panozzo is a hidden gem!
---
I hope this two-day guide has inspired you to visit Milan
Remember to pin for later 😉