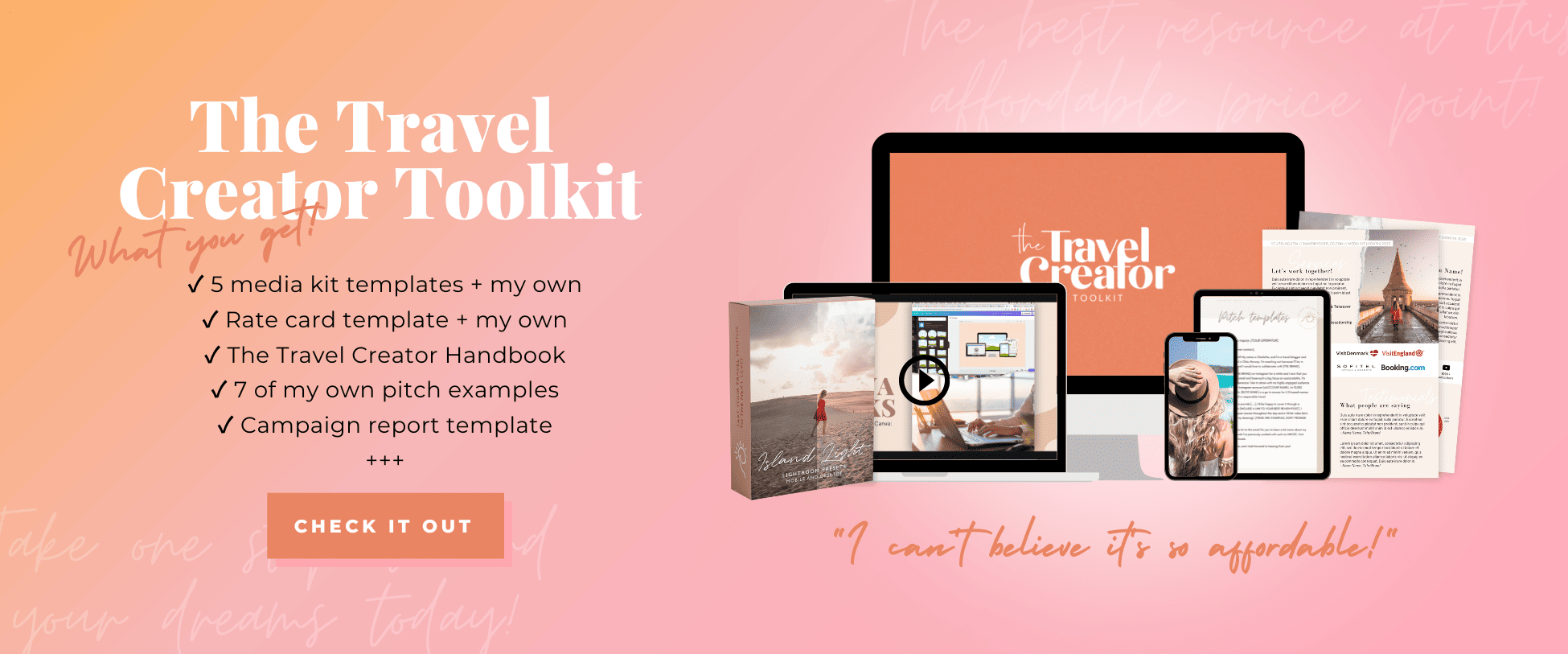 This post contains affiliate links. I will earn a small commission if you purchase through them, at no extra cost to you.
Have you been dreaming of visiting Pura Lempuyang, Bali's most iconic temple? Then you're in the right place. After traveling in Bali for more than 13 years, I have visited Lempuyang Temple many times.
In this guide, you'll learn the best time to visit Pura Lempuyang Temple, how to get there, what to wear, codes of conduct, the mirror photography trick and everything else you need to know. Pura Lempuyang definitely is a must on any Bali Bucket List.
🌟 Remember to always get travel insurance before you go to Bali or anywhere else. Safetywing is an affordable subscription travel insurance that you can purchase even after departure. Read my full SafetyWing review here.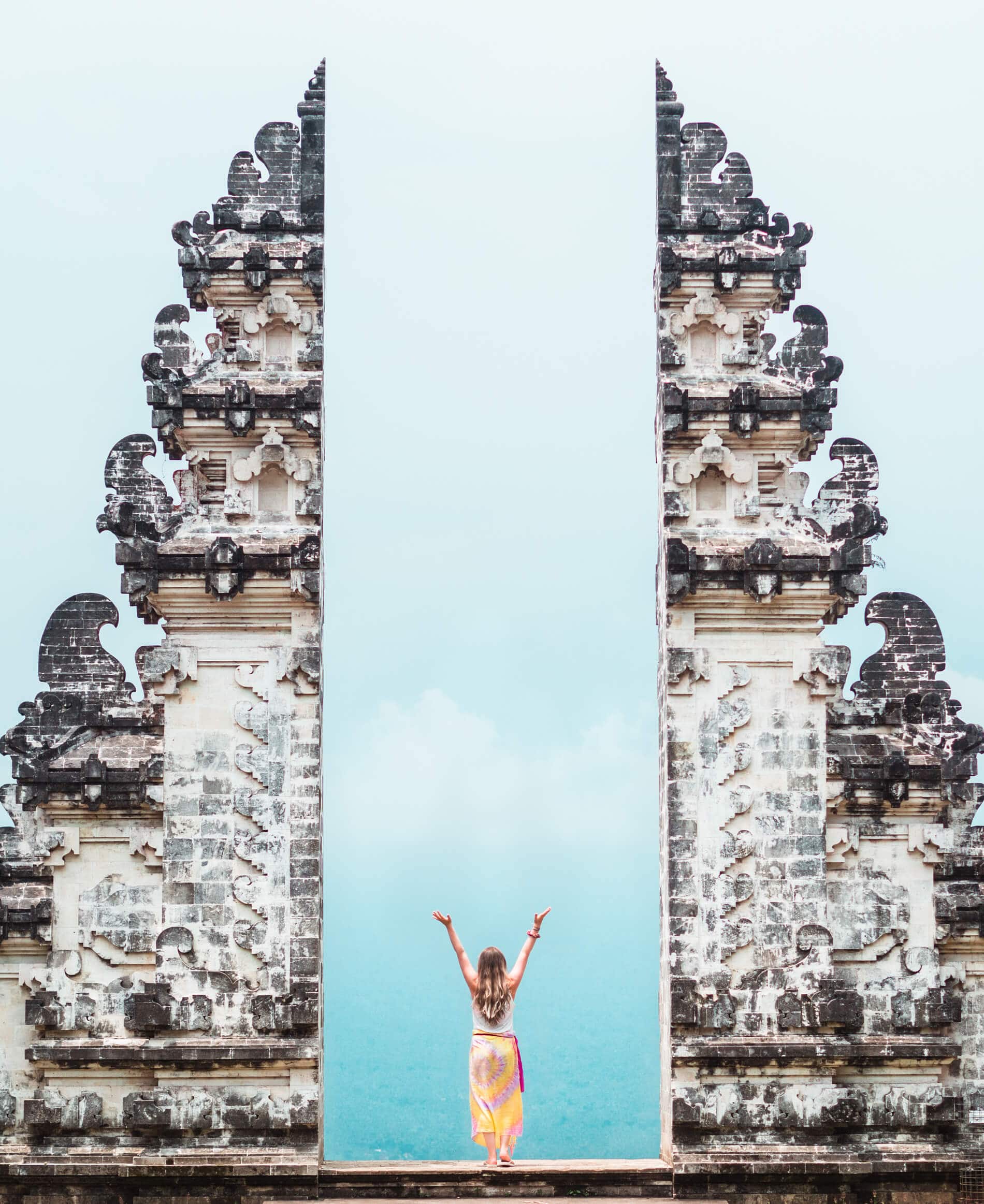 High on top of its namesake Mount Lempuyang sits, one of Bali's most mysterious and holiest temples, Pura Lempuyang Luhur. The temple complex is considered to be one of the "six sanctuaries of the world" or the six holiest places of worship in Bali. It is also believed to predate the majority of Hindu temples on the island.
The largest temple, Pura Penataran Agung Lempuyang, lies at the base of the complex and is divided into three areas. Entrance to the outer sanctum, or courtyard, is marked with a white-painted candi bentar, a traditional Balinese split gate. This popular Instagram spot is known to the Western world as Gates of Heaven or Gateway to Heaven.
Read next >> Where to stay in Bali – A complete island area guide
Things to know before you visit Pura Lempuyang
7 temples – Most people coming to Pura Lempuyang for the first time don't realize that there are actually a total of 7 temples within the complex. Unfortunately, it has lately been decided that visitors are only allowed up to the Gates of Heaven. Only worshippers have access to the entire complex.
Gates of Heaven – The famous photo spot is located at the first temple called Pura Penataran Agung Lempuyang, only about a 5-minute walk from the entrance. So you won't have to walk far before you can get your cameras out. You can see the location of Gates of Heaven on the map below.
Bring comfortable shoes and water – If you plan on visiting the entire temple complex, make sure you bring some comfortable shoes and water. You can buy water at the base of the temple most days, but last time I was there the warungs hadn't opened yet at 6-7 am.
Wear something modest – Unless your shoulders and legs are covered, you will not be allowed to enter Pura Lempuyang Temple. So make sure to wear a t-shirt or scarf and a sarong. Scarves and sarongs are available at the entrance if you forget to bring your own. You can read more about what to wear at Pura Lempuyanf further down.
No swearing or complaining – You must maintain respectful behavior at all times, and you shouldn't complain along the way up to the top of the complex. Keep your thoughts and language positive.
Menstruation – Be aware that someone might ask you if you're on your period. Women are not allowed to enter the temple during menstruation.
No kissing – Pura Lempuyang is a sacred place, which means kissing is strictly forbidden. You might be tempted to kiss your partner while taking the perfect shot at the Gates of Heaven, but just don't do it.
No yoga poses – Keep in mind that you're not allowed to pose with your leg raised high above the ground. I guess they added that one when yoga poses at the Gate of Heaven became popular on Instagram.
Only 3 poses – The rule is now that you're only allowed three poses before your turn is up.
No drones – You are not allowed to fly your own drone over the Pura Lempuyang temple complex.
When to visit? – The best time to visit Pura Lempuyang and the Gates of Heaven is at sunrise, around 7 am, on a clear day. You can also get some great photos right before closing time when most other people have already left for the day and the light is softer.
Monkeys – The grey macaques here are not as mischievous as their relatives in the Uluwatu Temple, but just in case, keep your valuables out of reach and don't feed them.
Toilets & warungs – There are a few toilets at the base of the temple, although I've not checked them out, so I can't speak to the quality. You can also find some small warungs selling refreshments and souvenirs at the base of the temple.
How to get to Pura Lempuyang Temple
Pura Lempuyang guided tours
For the easiest possible experience, you can book a guided tour of Pura Lempuyang online. Here are a few of the tours I highly recommend:
🌟 My favorite tour including Pura Lempuyang >> Bali full-day Instagram highlights tour
Bali full-day Instagram highlights tour: This very affordable and customizable tour will take you to some of the most popular Bali attractions. The first stop in the morning is Pura Lempuyang followed by Tirta Gangga Water Palace, the stunning Tukad Cepung Waterfall, a jungle swing and Tegalalang Rice Terrace. This is a Get Your Guide Original Tour so you can add on services like hotel pick-up, a private guide, lunch, a photographer and even a drone pilot that will film your experience. Pretty cool right?
Mother Temple and Lempuyang Gates of Heaven Tour: Following a pick-up from your hotel, you will head to Pura Lempuyang where your private guide will assist you with photography and also explain the history of the temple. You will then continue to Tirta Gangga Water Palace before enjoying a buffet lunch overlooking Mount Agung, Telaga Waja River and lush rice fields. After lunch, the tour continues to Pura Besakih, the most important, largest and holiest temple of Hindu religion in Bali. Return hotel transfer, lunch and all entrance fees are included in the price.
With a private driver
Getting around Bali with a driver couldn't be easier. Literally, everyone in Bali has a driver they can recommend, usually a close family member. And you'll more than likely be approached on the street every day by drivers looking for customers.
I often book this driver in advance, so I don't have to bargain the price. You won't find a more affordable driver for a full-day tour customizable tour. You have the driver for 6-10 hours and you can go wherever you want. Just be sure to let them know in advance if you require early pick-up to make it to Lempuyang for sunrise.
🌟 Check rates and availability >> Customizable day trip with optional guide
Rent a motorbike
You can, of course, also drive to Pura Lempuyang by yourself on a motorbike. Usually, you can rent one straight from your hotel or homestay for around 75k IDR per day. Just make sure you are properly insured.
From Ubud, the drive should take around two hours and from Canggu or Seminyak it will probably take closer to three hours. Expect more traffic on your way back in the middle of the day, sometimes the traffic is barely moving.
I would only recommend you drive by yourself if you're completely comfortable on a motorbike/scooter. Especially if you plan on driving when it's still dark out. Parts of the road up to Lempuyang are very steep and without street lights.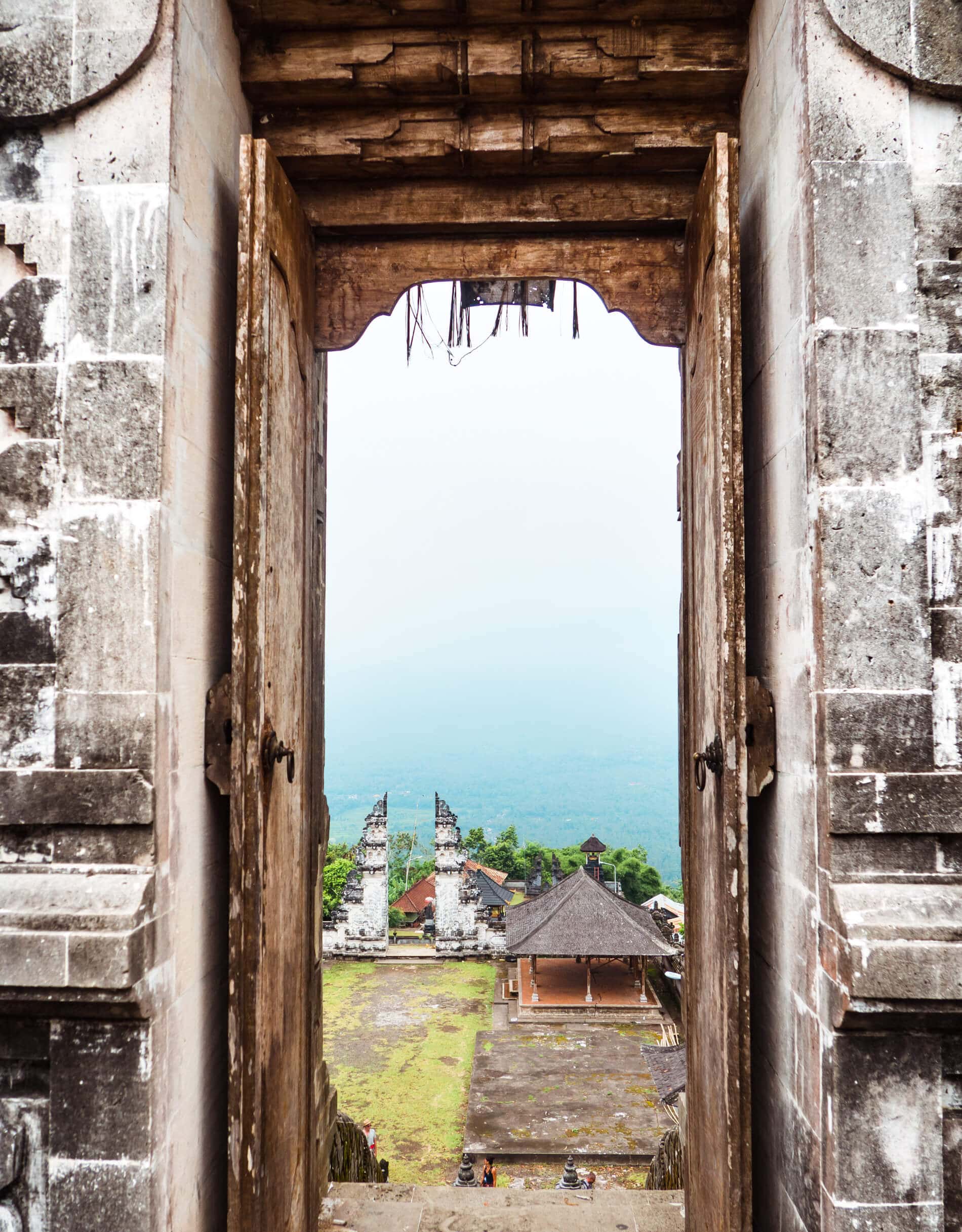 Must read >> Look out for these 11 common Bali scams!
Pura Lempuyang opening hours
Pura Lempuyang Temple is open daily for visitors from 7:00 am to 5:00 pm.
For worshipping purposes, the temple is open 24 hours a day, 7 days a week.
How to avoid the crowds
Due to its popularity, many tourists will start queuing at the entrance to Pura Lempuyang Temple Bali, even before it opens. If you arrive later in the morning, you will sometimes have to wait in line for hours to get a photo at the gate. Which is ridiculous.
My advice is to get there before opening at around 6 am so you're first in line. Then head straight for the Gates of Heaven when the doors open. Get your photos out of the way early so you can spend the rest of the morning wandering around and truly take in the beauty of this magnificent temple.
Alternatively, you could get there in the afternoon and explore the grounds for a few hours and then try your luck at Gates of Heaven right before closing.
At that time, most of the people on day tours will have already left and the light is much softer than during midday. If there are still too many people in line, shoot your photos at the alternative photo spot I talk about below.
Pura Lempuyang entrance fee
The entrance fee at Pura Lempuyang is 100.000 IDR per person.
Now visitors are required to park their cars in a designated parking area at the foot of the mountain and then pay 45.000 IDR per person to ride a minibus up to the temple. The first shuttle leaves at 5:30 am and the last departs Lempuyang temple at 6:20 pm.
At the temple entrance, you have to pay an additional 55.000 IDR to enter. A sarong to cover your legs and a scarf for your shoulders are included in that price.
From the entrance, it's about a 5-minute walk up to the Gates of Heaven. If you don't feel like walking you can get a ride from a local on a motorbike for 5,000 IDR.
What to wear at Pura Lempuyang
As mentioned above, you will need a sarong to cover your legs. The last time I was at Pura Lempuyang I was able to wear my own. Our host in Ubud, the lovely Putu, gave us a sash each, which is the pink scarf thing around my waist.
I've done some research and seen that all other guides say you have to cover your shoulders. On both occasions, I visited Pura Lempuyang, however, I've worn a singlet. Last time I even asked if I needed to cover my shoulders and was told that it wasn't necessary. These days, however, it looks like you definitely have to cover your shoulders as well.
But it doesn't really matter, as both scarves and sarongs are available at the entrance. Just remember to wear a neutral top that goes with the often very colorful, traditional sarongs. Or bring your own and ask if you can wear it so you can better plan your outfit for photos.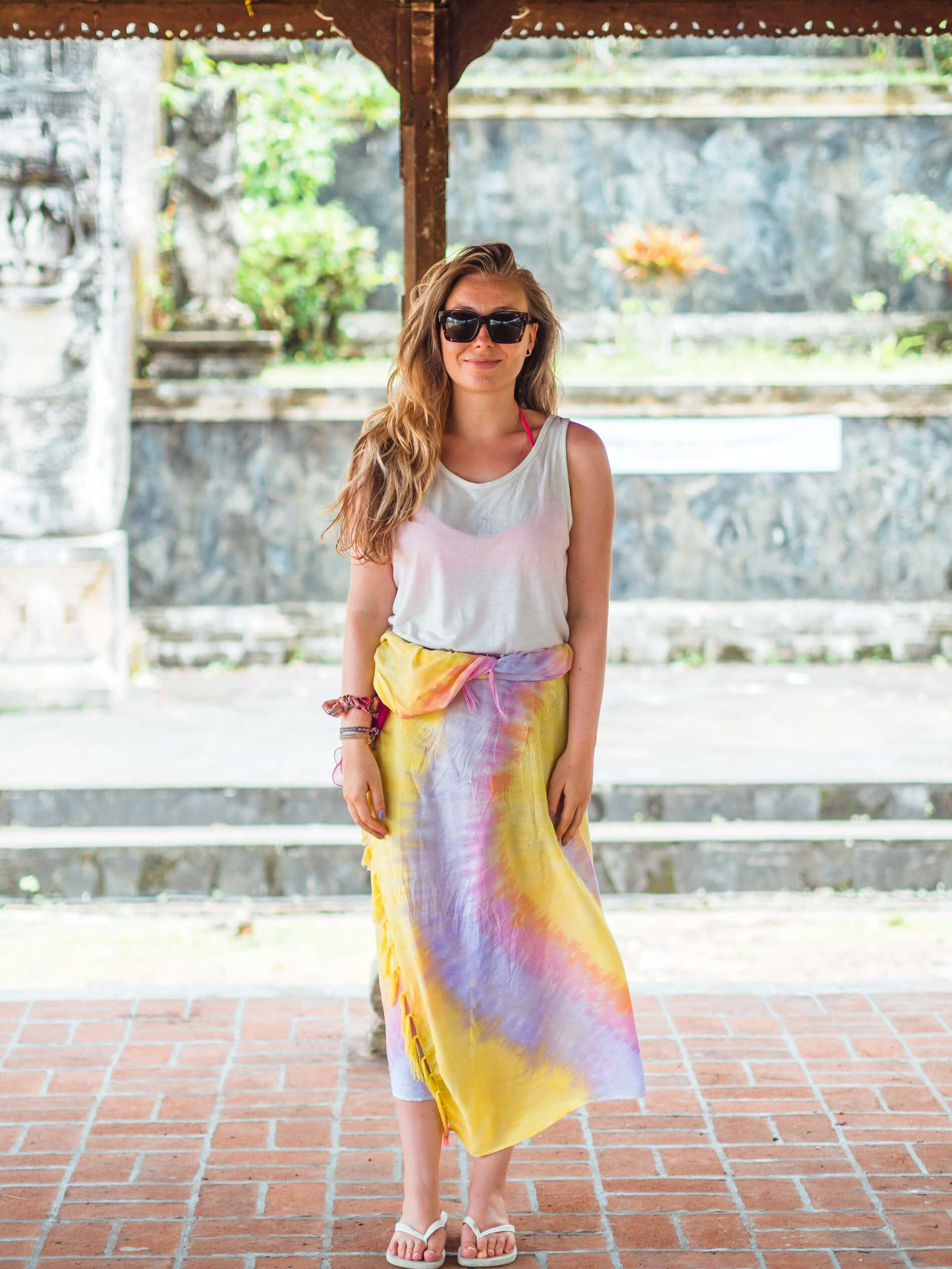 Must read >> How to experience sunrise over Pinggan Village in Bali
Pura Lempuyang photography tips
Pura Lempuyang Temple made headlines all over the world a few years ago, when the so-called "mirror trick" was exposed. I'm sure you have seen countless photos on Instagram of the Gate Of Heaven and its reflection in what looks like a pool of water. I hate to be the bearer of bad news but that effect is nothing more than a bit of trickery using a mirror.
A local man can help you to create that oh-so-popular Instagram shot, using your phone and a small mirror to get the reflection of the gate. I didn't hear him ask for any money when I was last there, but a tip was very much encouraged.
Check the weather – Mount Agung is often covered by clouds, so make sure to check the weather forecast in advance and plan your visit on a clear day. Both times I was there was during the rainy season, and as you can see, the volcano unfortunately wasn't visible. Well, better luck next time.
Plan your poses – Before getting to the temple or while waiting in line, think about how you'd like your photos to look. Especially if you have to wait for hours to get your chance at the Gates of Heaven. You should also prepare yourself for sometimes hundreds of people staring while you get your shot at the gate. Remember that yoga poses/poses where you raise your legs are not allowed.
Bring a tripod – If you're traveling solo or if you want a couples shot, make sure to bring a tripod unless you want one of the guards to take your photos.
Alternative photo spot at Pura Lempuyang
Okay, so this is kind of a secret spot few people seem to pay any attention to. It's the back of the popular Gate of Heaven, and you can get some great shots there with no one in them.
There's often a guard at the bottom of the stairs making sure no one disrupts the photoshoots going on at the gate. The staircase has gotten a major facelift from the first time I was there. It went from grey and overgrown to fresh and manicured with the addition of the white dragons.
Walk up the stairs while your photographer shoots from the bottom of the stairs, close to the ground, so the dragons appear large and imposing. Unfortunately, it started raining right when I discovered the new look of the staircase, so I didn't get any cool photos there. But I'm really hoping it'll be possible to go back soon.
You won't get Mount Agung in the background by taking photos from this side of the gate, but you do get a different photo from everyone else with hopefully no one in it.
Where to stay close to Pura Lempuyang
I definitely recommend staying in the East Bali/Karangasem area for a couple of nights. It's so lush and beautiful up there and much calmer than the southern part of the island. One of my favorite budget accommodation options close to Pura Lempuyang is Kubu Carik Bungalows. The view from their pool and bungalows is absolutely stunning. You can read my full review of the property here!
From Kubu Carik, you can easily drive by yourself up to the temple. I also recommend including Tirta Gangga and one of my favorites, Taman Ujung Water Palace, in your itinerary.
It's, of course, also possible to visit the temple from other places, but as I mentioned above, you'll have to leave very early in the morning if you want to beat the crowds.
🌟 Remember to get travel insurance before you travel to Bali or anywhere else. Check out this affordable, subscription-based insurance. You can find my complete review here!
Frequently asked questions
What is Pura Lempuyang?
Lempuyang Temple, also known as Pura Lempuyang Luhur or the Temple of Thousand Steps, is a Balinese Hindu temple located on the peak of Mount Lempuyang in East Bali. It is one of the oldest and most sacred temples in Bali.
What is the significance of Pura Lempuyang?
Pura Lempuyang temple is considered to be one of the six most important temples in Bali and is a place of great spiritual significance for Balinese Hindus. It is believed that the temple is a gateway to the heavens and that the stairway leading to the temple represents the journey to enlightenment.
Do you need to book in advance to visit Lempuyang Temple?
No, you don't have to book tickets for Pura Lempuyang in advance. However, if you book one of the tours including Pura Lempyuang you don't have do to any planning yourself and the expensive entrance fee is included in the price. Just sit back, relax and enjoy one of Bali's most beautiful temples.
More Bali travel guides
---
Remember to pin for later 😉