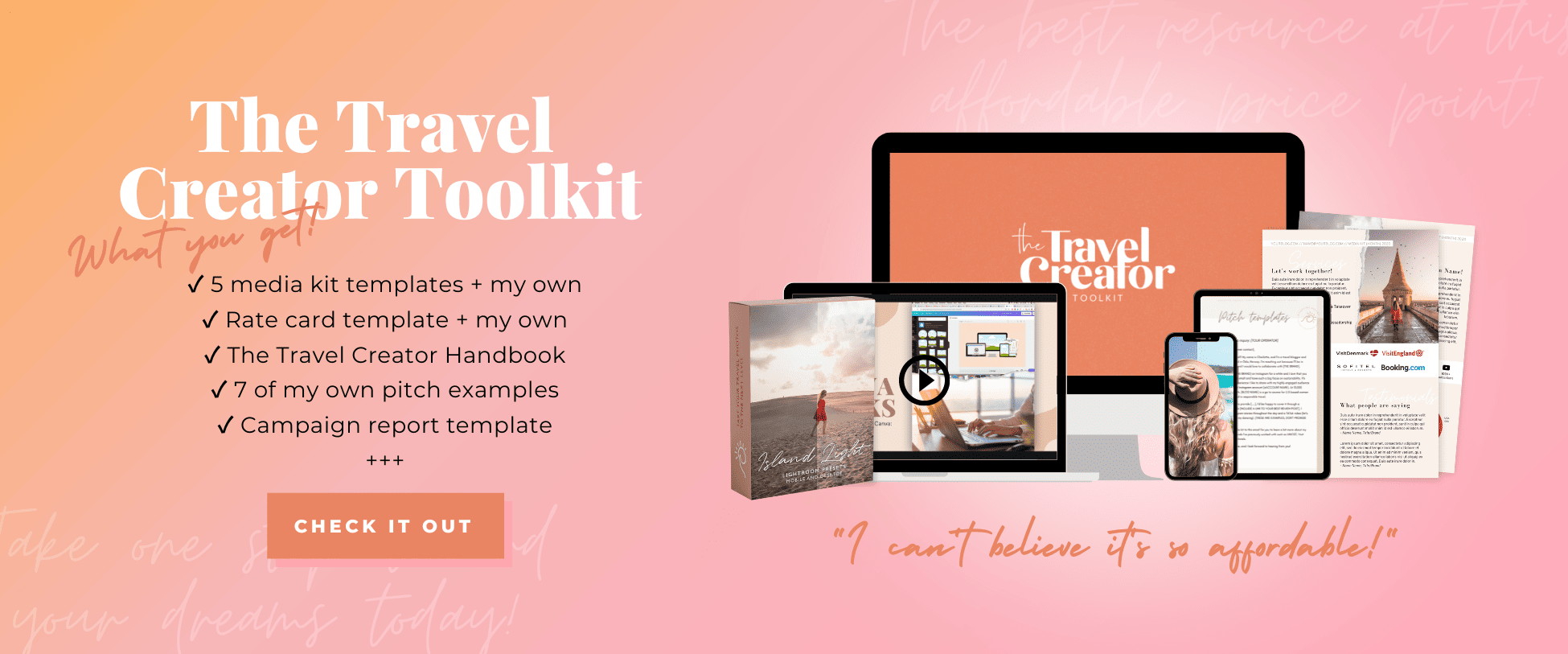 This post may contain affiliate links. I will earn a small commission if you purchase through them, at no extra cost to you.
Are you looking for a hidden beach you can have all to yourself in busy Bali? Then Nyang Nyang Beach in Uluwatu might be the best choice for you.
Tucked away at the feet of a lush, steep cliff wall, lies one of the longest (almost) continuous stretches of sand on the island. It's crazy to think that despite all the tourist mayhem in Bali, places like this still exist.
Uluwatu is a must on any Bali itinerary, it is where you find all the best beaches on the island, and Nyang Nyang Beach is no exception. Even though it has spiked in popularity among bloggers and Instagrammers in recent years, I still call it a hidden or secret beach because most tourists don't know about it. You can always find a spot to have all to yourself.
So let's take a closer look at how to get to Nyang Nyang Beach, the best entrance to choose, the best time to visit and what to expect on the beach.
🌟 Remember to always get insurance before you travel to Bali or anywhere else. SafetyWing is an affordable subscription travel insurance that you can purchase even after departure!
Where is Nyang Nyang Beach?
Nyang Nyang Beach is located on the south side of the Bukit Peninsula in Uluwatu, South Bali. The area is known for its stunning beaches, towering cliffs and world-class reef breaks, making it a surfer's paradise. Nyang Nyang is considered one of Bali's most beautiful beaches, but also one of the hardest to reach.
With clifftop accommodations aplenty, even those on a tight budget can wake up to the roaring Indian Ocean. Uluwatu is also home to the famous Uluwatu Monkey Temple, a popular tourist destination known for its stunning views and cultural significance.
The greater area of Pecatu, where Uluwatu is located, has been developing rapidly over the past few years, with many new hotels, restaurants and attractions popping up.
Travel distances from other tourist hubs
From the main Uluwatu area, it takes about 10 minutes to drive to Nyang Nyang Beach. If you're coming from Seminyak and Legian, expect to spend at least 1 hour on the road. And from Ubud, around 2 hours.
| | |
| --- | --- |
| Driving time to Nyang Nyang Beach | |
| Uluwatu/Padang Padang | 10 minutes |
| Seminyak/Legian | 1 hours |
| Canggu | 1 hours, 20 minutes |
| Ubud | 2 hours |
Are Nyang Nyang and Nunggalan two different beaches?
Most people refer to the 2-kilometer-long beach as Nyang Nyang, but according to the locals, these are two different beaches with two different names.
The western part, and the first entrance you reach when driving from Padang Padang and Uluwatu, is called Nyang Nyang, and the easternmost part of the beach where you find the shipwrecks is called Nunggalan.
They are technically one stretch of sand, only separated by a cliff on high tide. On low tide you can walk from one beach to the other, just make sure not to get caught on the wrong side by the tide.
How to get to Nyang Nyang Beach
Rent a scooter
If you're staying on the Bukit I highly recommend you rent a scooter. It is one of my favorite places in Bali to drive by myself. I love zipping around on the backroads feeling the sun on my skin and the wind in my hair. Traffic down here is not as crazy as some of the other tourist hubs on the island.
You can easily ask your accommodation to arrange a scooter for you, or motorbike as the locals call them. It usually costs around 75.000 IDR a day, if you rent for longer periods of time you can bargain the price down a bit. You can also book a scooter in advance online.
Just make sure your travel insurance covers you and look out for scams run by both the police and renters. Read more about it in my article about common scams in Bali.
Scooter delivery
Get a scooter delivered to your hotel or homestay. That way you don't run the risk of being told that there are no more scooters available. It doesn't get more convenient. All of this is included in the rental:
Helmet for maximum 2 persons
full tank of gas (petrol) upon delivery
24/7 road-side assistance
Mobile phone holder
First-aid kit and rain poncho (for maximum 2 people)
🌟 Check price and availability here >> Scooter rental with delivery
With a private driver
When I'm staying further away in places like Canggu or Ubud, I often book this driver. You can, of course, drive your scooter as well, however, for longer distances I prefer to enjoy the landscape from the comfort of an air-conditioned car.
This is a super affordable full-day customizable tour, which means you have the driver for 10 hours and you can go wherever you want. It's the perfect option if it's your first time in Bali and there are a lot of places on your Bali bucket list.
🌟 Check price & availability >> Private Bali driver with optional guide
Are Grab/Gojek allowed at Nyang Nyang?
Grab and Gojek are Southeast Asia's answer to Uber. And while these rideshare apps are a great way to get around if you don't feel like driving, they are banned from several places.
The local taxi game in Bali is a tough business so rideshares are banned from many places in areas like Uluwatu and Ubud to make sure the money goes to the local drivers. I have seen the drivers severely beaten by the local taxi mafia for picking up passengers in a no-go zone.
You are allowed to arrive by Grab and Gojek, they can even drive you all the way to the lower parking area. However, they must depart immediately after and can not pick you back up. If you want to catch a rideshare from Nyang Nyang you have to make your way back up the hill and to the main road.
Nyang Nyang Beach Map
Nyang Nyang beach entrances
Entrance 1 west side
This is the first entrance you'll reach when driving from the Uluwatu temple. Consider it the official Nyang Nyang Beach entrance. Look for two light stone pillars and a blue Nyang Nyang Beach street sign. There is also a round sign pointing to the Nyang Nyang Bubble Hotel.
The road has recently been paved so the drive to the parking area is now super easy.
This is by far the most developed of all the entrances. There are even several warungs at the top where you can enjoy both Indonesian and Western dishes. If you arrive by car, you have to park at the top.
From my last visit, the pathway to the beach from the parking area had been excavated even further making it wider and the distance down to the beach a bit shorter. And you can now drive a scooter all the way down to the lowest parking area. There's also a spot to park about halfway down if you don't feel like continuing down the steepest part.
Of all three beach entrances, this is the most accessible. But keep in mind that the other two options are in the shade of the trees. This road has very limited shade, so after spending an entire day on the beach in the heat, it can take its toll if you have to walk back up.
Nyang Nyang entrance fee
The entrance fee at the official Nyang Nyang Beach entrance is donation-based. I usually pay 5.000 IDR per scooter or car.
The ticket booth is at the entrance of the parking and warung area on top of the Nyang Nyang Cliff. They come over to the car or scooter to collect payment so make sure you have a small note easily accessible.
Entrance 2 east side
Follow Jl. Raya Uluwatu and take a right down on Jl. Batu Nunggul, to find it look for the square Villa Sanctus sign and flag. Keep left when the road splits and drive until you reach the villa. There is a parking lot for cars on the left but if you're driving a scooter you can continue on the dirt track straight ahead.
At the end of the track, park your scooter under the tree and follow the path to your left. I haven't paid an entrance fee here yet.
But this is when the real journey begins, as there are around 500 concrete steps down to the beach. Some parts with a railing to hold onto and some parts without. Luckily most of the steps are in the shade.
But my number one tip would be to not exhaust yourself on the beach because the climb back up in the humid jungle is… yes you guessed it, EXHAUSTING! At least it was for my mum and me.
What to expect at Nyang Nyang Beach
All the photos below, except one, are shot on the western side of Nyang Nyang, which also happens to be my favorite part of the beach. In my experience, this side is a bit cleaner and there are also small huts made from driftwood where you can chill in the shade and lots of shell art everywhere.
I love it! This is my idea of the perfect secluded beach escape. Spending my days looking for seashells that haven't already been picked through by hoards of other people and making more art from the materials found on the beach and contributing to the bohemian vibe.
The east side of Nyang Nyang is an ideal spot for a Robinson Crusoe day out, as we encountered fewer visitors here than on the west side. There are plenty of secluded spots to enjoy and a large grassy area that you might have to share with the cows.
Read next >> Bali Budget Breakdown: How much do two weeks in Bali cost?
Amenities at Nyang Nyang Beach
Only a few years ago there were no warungs or anything at Nyang Nyang. A few locals carried large coolers with drinks down the steep gravel road to the beach every day. Impressive!
These days there are several warungs on the west side of Nyang Nyang where you can rent sun loungers, umbrellas and sit down for a meal. They also happily carry the umbrellas down on the sand for you if you want.
Compared to other beaches in Uluwatu, like Melasti and Pandawa, Nyang Nyang has very few amenities. But compared to Nunngalan Beach next door, you'll feel like you have everything you need.
As with every beach in Bali, there are hawkers here as well, but only a few that mostly sell sarongs and bracelets. I also used to meet a man with disabilities who made bracelets and necklaces from the small white shells he collected on the beach. I don't know if he's still around, but if you see him, please support.
Swimming at Nyang Nyang Beach
Nyang Nyang Beach is not the best place for swimming because of the reef that comes all the way up on the sand from mid to low tide. You can, however, find pockets of sandy areas where you can go for a dip. Especially on high tide. The east side of the beach is better for swimming because it has more of these areas without reef.
The beach is also known for its strong currents and waves, which can be dangerous for inexperienced swimmers. So please act with caution and avoid going too far out.
The water can also be quite cold compared to other beaches, so be prepared for a refreshing dip. The beach is relatively secluded, so there are fewer crowds and more space to enjoy the water. But also means that there are no lifeguards on duty.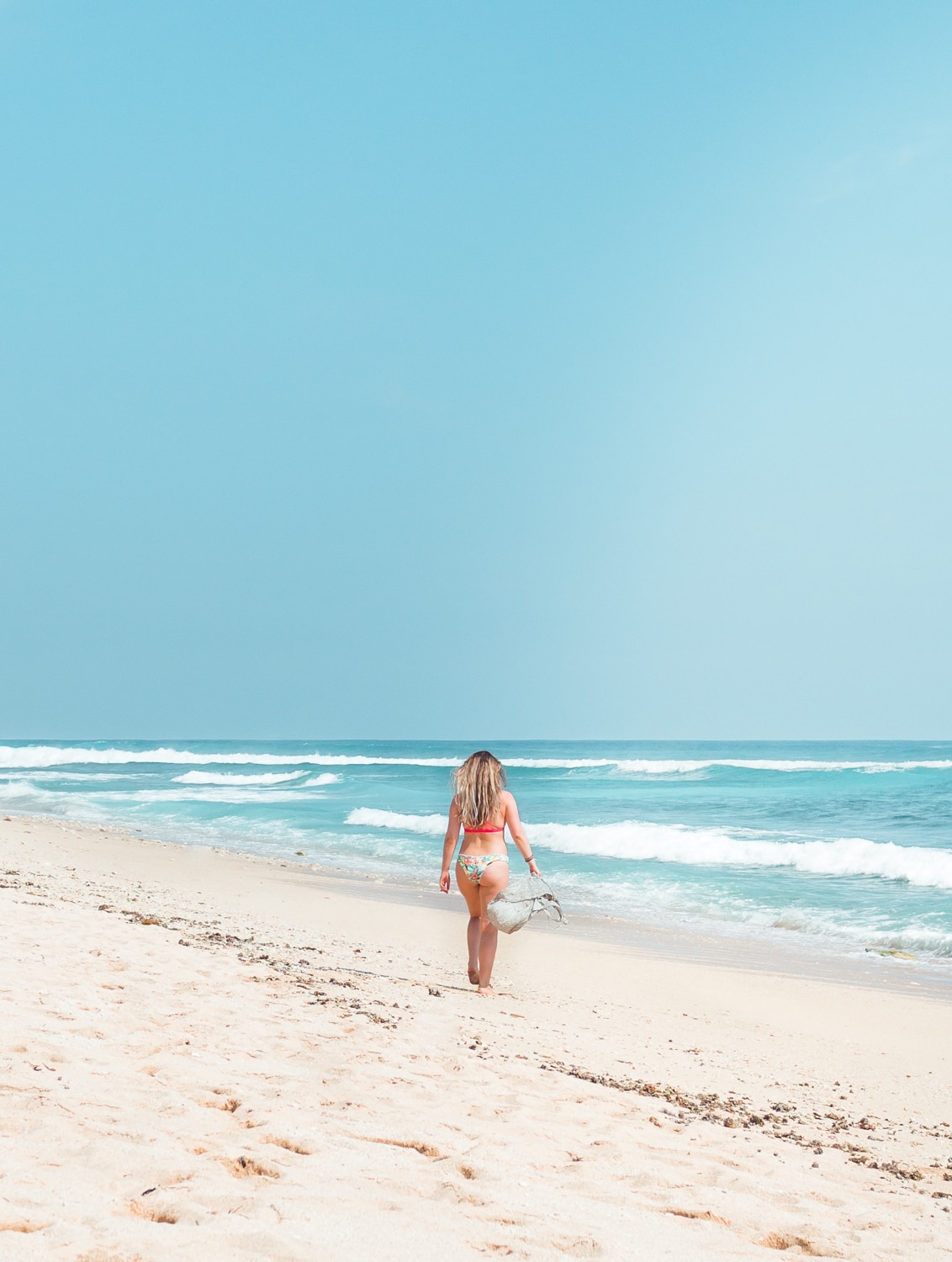 Top things to do at Nyang Nyang Beach
In addition to being a great place for lounging in the sun and enjoying the water, Nyang Nyang Beach is also a popular place amongst surfers and paragliders. Or people trying paragliding for the first time as I did here many years ago.
Can you surf at Nyang Nyang Beach?
Yes, Nyang Nyang Beach in Uluwatu is a great spot for surfing. Often overlooked in favor of the more popular Uluwatu and Padang Padang, and since the beach is still relatively secluded, there are fewer crowds and more space in the lineup. The most popular break is to the right of the beach at the entrance to the channel.
The waves at Nyang Nyang Beach can be quite challenging, with unpredictable right-handers that break over a hefty reef, making it suitable for experienced surfers. It is one of the only rights on the Bukit and is best surfed on higher tides and during early mornings.
The best time of the year to surf at Nyang Nyang Beach is during the wet season, from October to February when the waves are bigger and more consistent.
If you forget your board you can rent one from the warungs. You can also leave your scooter keys there for safekeeping if you buy something to drink from them.
Beginner surfer?
Nyang Nyang Beach is not suitable for beginners. However, if you're staying in the Uluwatu area and want to learn how to surf, there are many spots close by such as Padang Padang and Dreamland. Surfing is not as easy as it looks, trust me, so unless you are super athletic, a private lesson is definitely worth it.
This 2-hour lesson is tailored to your personal level whether you're a beginner or intermediate surfer. You will learn how to stand up, paddle techniques, how to turn, how to read and select the waves, surf etiquette, how to maneuver the board, ocean awareness and water safety.
As a beginner, the Bukit is my favorite place in Bali to learn to surf because the sand is white so you can actually see the bottom in most places. Compared to Canggu where the water looks black.
Read next >> The ultimate 2-week Bali itinerary + Nusa Lembongan & Penida
Nyang Nyang Beach paragliding
Nyang Nyang Beach is a popular destination for paragliding enthusiasts and for those looking to have their first experience gliding up to 150 meters above sea level. The secluded beach offers a perfect take-off point for tandem paragliding flights, which start from the top of the cliff overlooking the beach.
The paragliding experience provides a breathtaking view of several beaches, the ocean and ancient temples. You can enjoy the thrill of soaring through the air while taking in the stunning scenery of Bali.
There are several paragliding schools and tour operators in the area that offer tandem flights, lessons, and equipment rentals. Nyang Nyang Paragliding is one of the popular paragliding schools in the area.
You can book a paragliding experience in advance or on the spot, with prices typically ranging from $80 to $95.00 per adult for a 15-minute flight. Paragliding at Nyang Nyang Beach is an unforgettable experience that is not to be missed by adventure seekers visiting Bali.
What to bring to Nyang Nyang Beach
Since it takes some effort to get down to Nyang Nyang, bring everything you might need for a day in the sun. You don't want to walk back up that hill if you forget your bikini or sunscreen.
Sunscreen: Bali is located near the equator, so the sun can be intense. Bring a high-SPF sunscreen (preferably reef-safe) to protect your skin from sunburn and skin damage.
Hat and sunglasses: The bright sun can be harsh on your eyes, so bring a pair of sunglasses to protect them And if you like me get very easily sunburned, make sure to bring a hat as the sun here is strong.
Swimsuit and a lightweight towel: Bali is known for its beautiful beaches, so bring a swimsuit to enjoy the water. A towel is essential for drying off after a swim or laying down on the sand if you don't want to rent a sun lounger.
Water bottle: It's important to stay hydrated in Bali's hot climate, so bring a refillable water bottle to avoid buying plastic bottles.
Cash: Bring some cash to pay for the entrance fee, and in case you want to buy something from vendors selling food or souvenirs. Bring cash in small denominations to make transactions easier.
Rash guard or wetsuit: If you plan to go surfing or snorkeling, a rash guard or wetsuit can protect your skin from the sun and coral reefs.
Reef/water shoes: As mentioned above there are a lot of reef in the water like there is at most beaches on the west side of the Bukit Peninsula. So if you plan to spend a lot of time in the water, consider bringing a pair of quick dry water shoes.
Read next >> The 11 most common scams in Bali + How to avoid them!
Plastic waste issue
Even though I am referring to these beaches as a paradise, there is a problem with plastic waste here as everywhere else on the island. I'm just choosing not to let it overpower the beauty of the area. The plastic on the beach is both left by visitors and washed up on shore by the tide.
A couple of easy things we can do to reduce our plastic footprint is to bring or buy a reusable water bottle with a straw or a reusable straw for coconuts and juices. Just look at how many plastic straws there are in this little area!
There are a lot of places in Bali now offering free refills when reusing a bottle, so take advantage of it. This is especially important in places like Indonesia where there aren't proper systems in place to handle the massive amounts of waste.
Nyang Nyang Beach accommodation
The Uluwatu area is one of my favorite places to stay in Bali. I usually book a room or villa somewhere between Padang Pandag and the Uluwatu Cliff, which means I can back after a night out. However, if you want to stay away from the hustle and bustle there are many beautiful places to stay, including some very affordable options, close to the Uluwatu Temple and Nyang Nyang Beach.
Nyang Nyang Bubble Hotels
The igloo-looking bubbles you see are the much-talked-about Nyang Nyang Bubble Hotel where you can spend the night stargazing from your bed.
You have to see these in real life, each bubble now also has their own private pool and outdoor bathroom, absolutely gorgeous. The perfect spot for a little photoshoot.
🌟 Check price and availability here >> Nyang Nyang Bubble Hotel
Nyang Nyang Bungalow Uluwatu
Nyang Nyang Bungalows is a relatively new hotel located close to the second entrance at Nyang Nyang Beach. It feels nice and secluded with lots of greenery and flowers in the garden. The pool area in the heart of the property feels inviting and so do the hammocks in the trees.
You can choose between a light and bright deluxe room or a king room in the traditional wooden bungalows. The beds here are actually comfortable which isn't always the case in Bali. The WiFi is good enough, however, if you have a lot of work to do, you'll find coworking spaces such as Nomadhub nearby.
Adi, the manager, is very kind, welcoming and helpful. He will help you with everything you might need from renting a scooter to tickets for different activities. If he's not on the property he's only a text message away. The other staff is also lovely.
The Tempekan Nyang-Nyang
For a more affordable option, I highly recommend The Tempekan Nyang-Nyang, located close to the main entrance at Nyang Nyang Beach. You can often find a great deal on this place through Agoda.
The friendly and helpful staff was the best part of our stay. They will gladly assist you with everything you might need and tell you stories about life in Bali.
Choose between spacious twin and queen rooms, all with direct pool access. There's also a two-bedroom villa with a private pool for a reasonable price if you're lucky enough to get in before it's booked out.
More Bali travel guides
---
Remember to Pin for later 😉