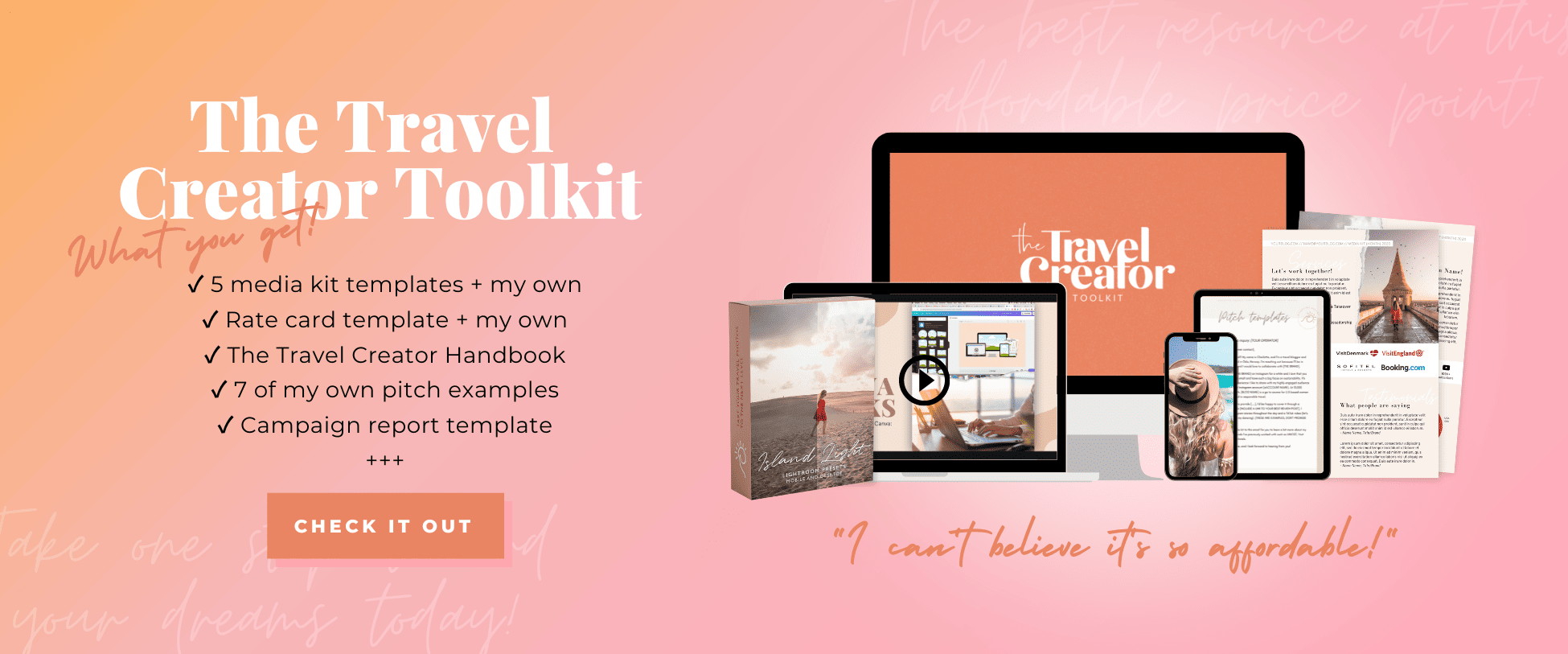 This post may contain affiliate links. I will earn a small commission if you purchase through them, at no extra cost to you.
After 10 years of exploring the Island of Gods, I have come up with what I would call the ultimate 2 week Bali itinerary. This is the perfect introduction to Bali for first timer's and exactly how I wish I had spent my first trip there.
Two weeks in Bali will give you a little taste of everything the island has to offer; beaches, waves, parties, shopping, stunning nature and the colorful culture. I have also included the Nusa Islands because they're only a 30-minute boat ride away and I love spending time there.
I can't believe it's taken me this long to write my most requested post. "How should I spend my two weeks in Bali" is my most asked question ever. I get the question several times a week, in comments, DMs, emails and from friends and family. So instead of answering everyone separately, here's how I think you should spend your first visit to Bali.
Remember to always get insurance before you travel to Bali or anywhere else. I recommend Safetywing, an affordable subscription travel insurance that you can purchase even after departure. Read my full review here.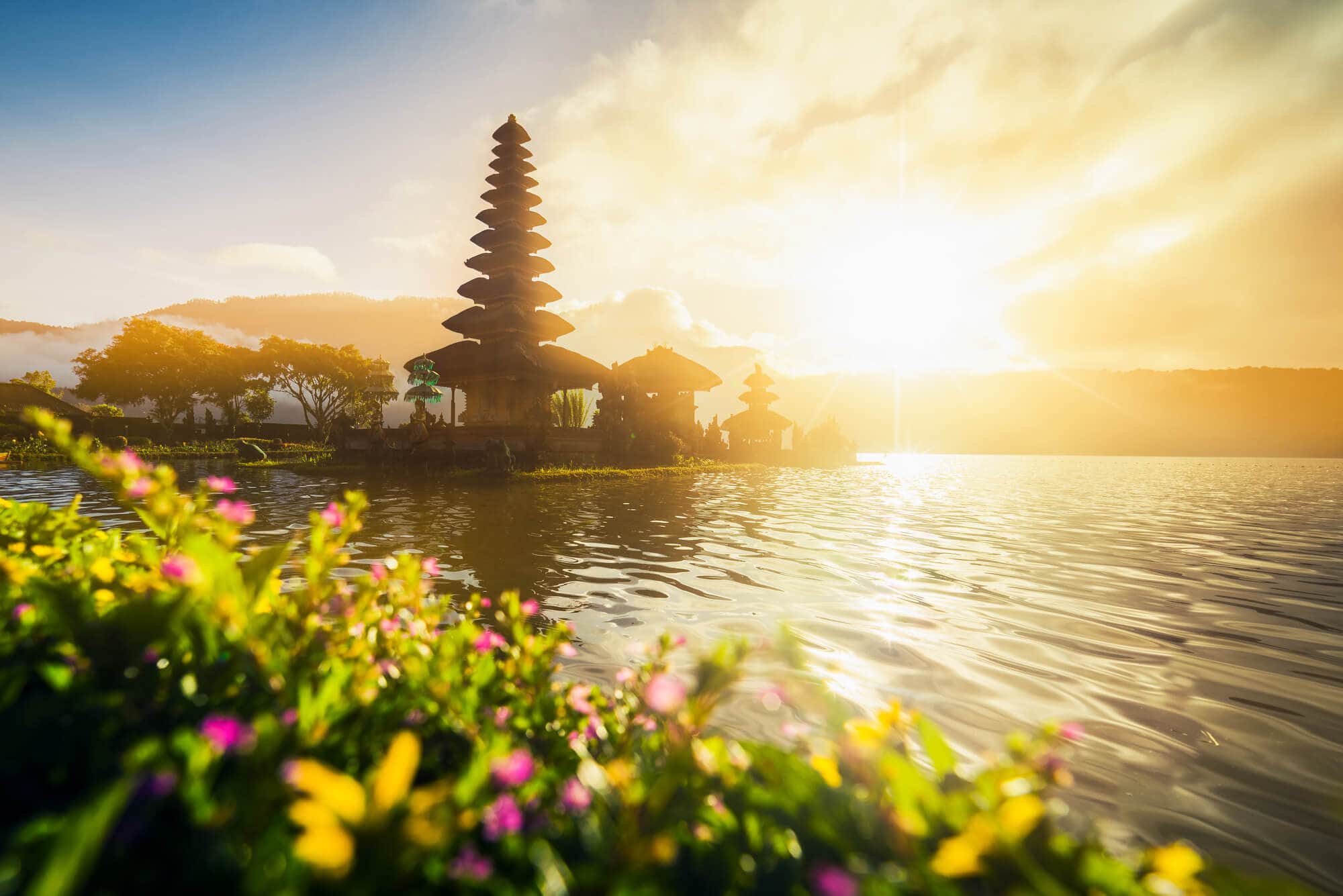 How to spend two weeks in Bali
A quick overview:
Day 4-7: Canggu (day trip to Seminyak/Legian)
Day 8-11: Nusa Lembongan (day trip to Nusa Penida)
Day 12-14: Ubud (day trip to North Bali)
You might also like: Where to stay in Bali – A complete island area guide
2 week Bali itinerary – Day by day
Day 1 – Uluwatu
I'll start the itinerary off with my favorite area on the island, the Bukit Peninsula. This is where you'll find all the best white sand beaches and the vibe is super chill. I usually come here at the beginning of every trip to try to get some color on my fair Norwegian skin. There is so much to do in Bali, but some beach time is usually my highest priority.
There are so many great places to stay down on the Bukit, villas, hotels and homestays. I like to stay around Padang Padang or the Uluwatu Cliff so I have the option to walk to all the best restaurants and bars if I feel like having a cocktail or two. A few of my favorite accommodation options are Pink Coco Hotel, Laksmi Villa and the more affordable Dpadang Homestay.
Use the day to settle into your hotel and head out for a lovely dinner at La Baracca, my all-time favorite restaurant. The creamy chicken pasta is delicious! So is the vegan monster burrito. Yum!
Tip for getting around Bali: If you don't feel comfortable driving a scooter by yourself, you can book this very affordable half-day tour with a driver and ask him to take you to the beaches you want to see or anywhere else on the island you want to explore!
Day 2 – Uluwatu
First thing in the morning, ask your hotel to arrange a scooter. To get the most out of your stay on the Bukit you should definitely drive by yourself. Traffic down here is not too bad and the feeling of warm sun on your face and the breeze flowing through your hair while you zip through the winding streets is just the best feeling in the world.
If your accommodation doesn't provide breakfast head over to Bukit Cafe for some colorful and fresh deliciousness. This is one of the most Instagrammable restaurants in Uluwatu.
Then it's time for the beach! If you're comfortable driving a scooter you should journey over to the stunning Melasti Beach, it takes about 20 minutes from Padang Padang. There are several great warungs there as well where you can enjoy some super tasty local food for just a few dollars. You can never go wrong with Gado-Gado, Mie Goreng or Chicken Sate.
Or if you want to stay in the area, head down to Padang Padang Beach (Labuan Sait). This is one of the best beaches on the island, with soft white sand and crystal clear turquoise water. It is however very small and quickly gets CROWDED. You should probably get there before 8.30 am if you want to secure a good spot on the sand.
Thomas Beach just down the road is another great option if you like me don't feel like sunbathing somewhere you can barely move without rubbing up against the people next to you. This beach is much larger but there is some reef in the water which makes swimming a little less enjoyable. But no matter where you end up remember to hydrate, the young coconuts are a must! So sweet and delicious.
You can read all about the best beaches in Bali here!
When you have gotten your dose of sun for the day, freshen up and go shopping. There are so many cute boutiques down here and of course the surf brand stores you see all over the island. Drifter Surf Shop is one of my favorites as you can shop, eat and drink in the same super cool space.
Watching the sunset is another one of the things you must do on the Bukit. They are incredible. At the Uluwatu Cliff, below Single Fin, there are several smaller warungs where you can sit down and enjoy the show with a Bintang in hand. If you prefer a more quiet place, check out Karang Boma Cliff as you can see in the photo below. Just please be careful so you don't fall over the edge. Balangan Beach is also an incredible place to watch the sunset, but that's a little further away.
(If you don't want to drive around by yourself you can get a driver or join a guided tour. This highly-rated tour will take you to Padang Padang Beach along with the white beaches of Nusa Dua and the Uluwatu temple at sunset + a few more cool places.)
You might also like: The ultimate Bali bucket list: 101+ awesome things to do
Day 3 – Uluwatu
If you want to learn to surf, the Bukit is a great place to do so. Book a class at one of the many surf schools or rent a board down on Padang Padang Beach and try your luck by yourself (if the waves aren't too big of course). Just remember that is it not as easy as it looks, just paddling out is still a struggle for me.
After you have worked up an appetite, zip over to The Loft Uluwatu for a delicious lunch.
If you find yourself in Uluwatu on a Wednesday or Sunday and are in the mood for a party, then Single Fin on top of the Uluwatu Cliff is the place to be. This restaurant come nightclub has exploded both in size and popularity over the years and is today one of the most popular party spots on the island. The party kicks off at sunset and different DJ's keep it going into the early hours.
I remember my first few times to the island over 10 years ago when there really weren't any great places to go out down here. Improvised parties outside K Mart that we called Club K Mart and different beach gatherings were about it. Wow, how the times have changed.
Remember to arrange for a driver to take you to Canggu the next day. I usually just message my hotel and ask them to pick me up. It's easiest that way because the driver knows exactly where to go.
Day 4 Uluwatu – Canggu
Get up early and drive over to the Uluwatu Monkey Temple. It is one of the most important temples in Bali and a definite must while in Uluwatu. Try to get there before 8 am to beat both the heat and all the large tourist groups. Leave all your stuff in the scooter as the monkey will try to steal it, sometimes even your sandals.
On your way back stop for brunch at another one of my favorite restaurants, Mike's Kitchen (previously Suluban Grill). They specialize in BBQ ribs and seafood but also offer an array of smaller tasty dishes and drinks. And the owner and staff are some of the loveliest people you'll ever meet. They go out of their way to make their customers happy!
Then it's time to head back to the hotel and check out. The drive up to Canggu usually takes one hour and should cost around 400 IDR.
Welcome to the land of long-haired scruffy surfers, tattooed hipsters and people that are generally too cool for their own good. Haha… Gotta love Canggu! If you're traveling with someone, consider staying in a villa, there are so many great ones to choose from. One of my favorites is this incredible pink and white beachy villa. Just look how dreamy it is!!! And the location is awesome, within walking distance to some of Canggu's best restaurants, markets and boutiques. If you're traveling alone, a homestay might be more economical and a great place to meet new people. For more accommodation options in Canggu, check out this post.
Spend the rest of the day settling into your villa and chilling by the pool, then head out for dinner and drinks at La Bandida. They are always one of my first stops in Canggu, I love their restaurant. You feel like you're in the middle of a rainforest and the strawberry mojito is delish.
Canggu activities: I like to chill when I'm in Canggu, but if you're looking for some more active things to do, you can get a group together and go play paintball or learn to surf with this highly-rated lesson.
Day 5 – Canggu
Canggu is Instagram foodie heaven! The streets are literally lined with cute cafés and restaurants. Give Cafe is the perfect spot for breakfast. They are 100% plant-based and give 100% of their profit to the people & the places that need it most. Penny Lane is also pretty awesome. I wouldn't mind my house looking just like their restaurant!
Another one of the great things about Canggu is the bustling markets. Think local handicrafts, second-hand clothes, all-natural skincare, homewares, handmade jewelry, organic fruit and vegetables + much more. So you should set aside at least half a day to peruse the market stalls and prepare to spend way too much money.
Save some money on lunch by eating local food at one of the many warungs. You choose between rice or noodles as a base and then the toppings you want. There are many meat, vegetarian and vegan options. Warung Varuna is one of the best. Ulrik and I usually share one plate and last time we only paid $5 for dinner and drinks.
If you're in Canggu on a Wednesday, head down to Old Man's for beer pong, margaritas and a dirty disco. Dirty Ol' Wednesday is so much fun but it gets very hot and humid with all those people, so prepare to sweat. On Tuesdays and Sundays, Deus Ex Machina Temple of Enthusiasm is the place to be. At "Taco & Tattuesday" you can try your luck at getting a free tattoo while enjoying some spicy Mexican food and drinks. And at the backyard Sunday Session, different bands and DJs play the night away.
Day 6 – Canggu day trip to Seminyak/Legian
When people ask me where to stay in Bali I usually struggle to choose whether I should recommend Seminyak or Canggu. Seminyak is a bit more upscale with beautiful boutique hotels, high-end fashion stores and fancy beach clubs. Canggu is more laid back with an overall relaxed beachy atmosphere. Personally I like Canggu better but I always set aside a day to spend in Seminyak and Legian for some great shopping and to eat at some of my favorite restaurants.
You can easily drive down to Seminyak from Canggu on a scooter by yourself. I do, however, not like driving in Seminyak so I usually get a driver to take me. Alternatively a Gojek or Grab.
Start the day with an early breakfast at Kynd, maybe the most Instagrammable café on the island. They open at 7 am and it gets crazy crowded so don't get there too late. They specialize in smoothie bowls with different words cut out of fruit like "Bali Babe" and "Sunday Funday". Great for the gram!
From Kynd you can walk south towards Jl. Kayu Aya, also known as "eat street". It takes about 2o minutes and there are some cool places to stop along the way. This area is great to walk around in for a few hours, as there are many shops, amazing restaurants and also the Seminyak Flea Market. Some of the restaurants worth mentioning are Motel Mexicola, Bikini Restaurant, Sisterfields, La Favela and the Bistrot.
After lunch, I usually walk south towards Legian street, where you'll find some of the largest surf brand stores on the island. And if you continue even further south you get to Beachwalk Shopping Center on Kuta Beach which boasts stores like Pull & Bear, Topshop, Adidas, Bershka and many more. If you get tired from all the walking, just order a Grab, Gojek or jump in a Bluebird taxi. Just remember to ask the driver to turn on the meter or agree on a price before you get in.
If you haven't already, remember to book your return ticket to Lembongan. There are many great companies to choose from, we have previously used D'Camel Fast Ferry and Rocky Fast Cruise. Last time, however, we went with Scoot Fast Cruises because they offered free pick up in Canggu and drop off at our accommodation in Lembongan and then again in Ubud when we returned to Bali.
Related post: The dark side of Bali most tourists never see!
Day 7 – Canggu
This day is all about chillin' in the sun. I'm not a fan of the black beaches in Canggu, so I usually hang out either by a pool or at one of the beach clubs when I'm there.
Drive down to La Brisa Beach Club and spend the day lounging in the sun. The venue, built around a sea of palm trees, is so beautifully decorated with driftwood, fishing nets, different colored lights and seashells. However, while the food is delicious and the drink menu extensive, it is quite pricey. So if you don't want to spend a fortune, pop over to one of the local warungs for lunch.
For dinner head to one of my two favorite restaurants in Bali, La Baracca, for an incredibly tasty Italian feast. The eggplant parmigiana and gnocchi are both to die for. I eat there at least twice a week whenever I'm in Canggu.
If you aren't too tired from a day in the sun, it's time for your last party in the Gu. I've already talked about Old Man's and Deus, but the wildest party takes place around a skate bowl at Pretty Poison on Tuesdays, Thursdays and Saturdays. The concrete building doesn't look like much from the outside but step inside you'll find a cool Californian style art bar. It's located at the beginning of the infamous shortcut and holds open every day from 4 pm.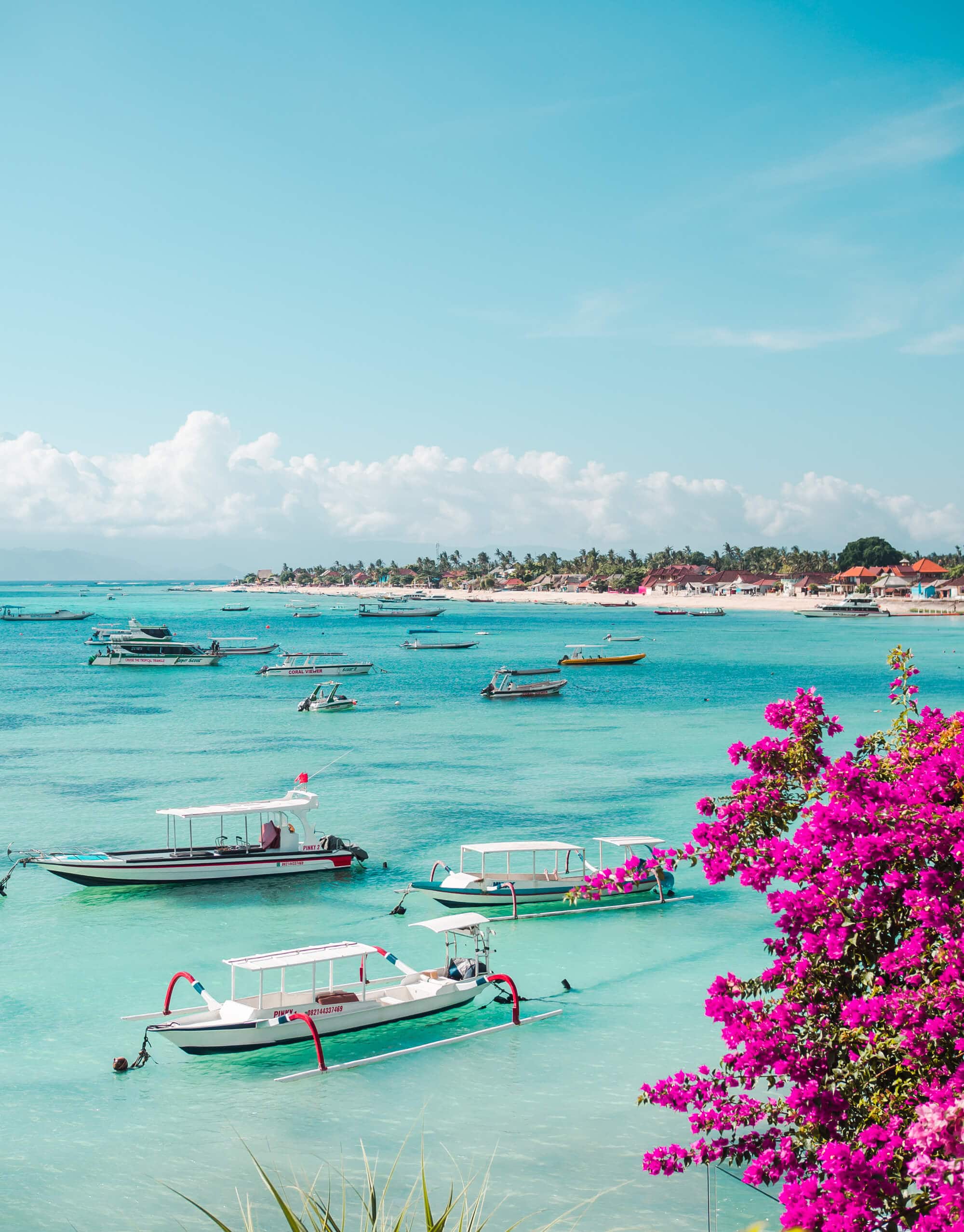 Day 8 Canggu – Nusa Lembongan
Get up early and have some breakfast before the driver arrives to take you to Sanur Harbor.
I had to include Nusa Lembongan in this itinerary because it is one of my favorite places in the world. The small island truly feels like a vacation from your Bali holiday. The boat ride over from Bali should only take around 30-40 minutes.
Jungut Batu, the northwest side of the island, is in my mind the place to be. This is where you'll find many of the best bars, restaurants, boutiques and a boardwalk with insane views. The best budget option has to be Kawans Inn Villa Lembongan where you get a large room with a private plunge pool for only about $25 a night. I mean, does it get any better?
As soon as you've settled into your accommodation, rent a scooter and head out to explore Lembongan and the small neighboring island of Ceningan. Just drive and see where you end up, it's the best feeling.
For dinner, you should check out Maria's Boemboe Bali Waroeng. The makeshift restaurant, made out of reclaimed wood and rusty metal, doesn't look very inviting from the street. But I promise you, the food is sooo yummu. Try to get there around 6-6.30 pm to secure a spot at the communal table which fills up quickly. The portions aren't huge but they are very cheap so this is a great place to taste a few different dishes. Before you leave, book a cooking class for the next day.
Related post: The Nusa Lembongan restaurant guide – Top 10
Day 9 – Nusa Lembongan
If your accommodation doesn't provide breakfast, you should drive over to B'Fresh Juice Bar & Coffee Corner. The little café, located down an alley at the south end of Jungut Batu beach, is run by a lovely lady and her daughter. I usually go for the whole wheat pancake stack served with fresh fruit and yogurt. So tasty in the morning. And while you are down there, walk up to the boardwalk and marvel at the gorgeous view of crystal clear turquoise water with Bali's Mt. Agung in the background.
If you fancy a bit of exercise, Jungut Batu Beach is also a great spot to rent a SUP. The water is shallow and calm inside the reef, perfect for beginners. I had one of my best travel experiences to date here when I was paddleboarding with Ulrik and a couple of dolphins started jumping a few meters in front of us. It was the first time I had seen wild dolphins and the whole picture-perfect setting was just magical.
There are many great places to lounge in the sun on these two islands. Dream Beach, Sandy Bay Beach Club, Secret Beach on Ceningan and the many beach warungs up by the Mangrove Forest. I wrote about my secret spot on Lembongan, Agung Beach Club, many years ago. And while it is no longer secret, it's still the perfect place to spend a few lazy hours. Fort those of you who love an eclectic beachy/coastal style, this is the place to be.
For sunset, head back to Jungut Batu and sit down at one of the many beachside restaurants and enjoy a Bintang and maybe a BBQ fish dinner. Ombak Zero Waste Cafe is a great one!
Day 10 – Day trip to Nusa Penida from Lembongan
While Lembongan and Ceningan are great for relaxing, if you seek adventure you should head over to the largest of the Nusa Islands, Nusa Penida. Up until a few years ago, Penida was relatively undeveloped from a tourism perspective. These days, however, the island is bustling like never before. Some of the most spectacular sights to see and explore are Kelingking Beach, Broken Beach, Angels Billabong and Atuh/Diamond Beach.
There are several options for how you can get to Penida and back to Lembongan. You can book an organized tour with a driver or you can get a local boat to take you over. Just drive down to the Yellow Bridge and ask around. When you get to Penida there's always someone that can help you rent a scooter and helmets. Last time we paid 600k IDR for the return boat trip and a scooter.
Do not rely on Google Maps on Penida, it got us in some interesting situations last time. At one point we ended up in the middle of a village meeting where about 40 men looked at us like we were idiots and told us to get lost. So follow the signs along the road and ask the locals for directions if you get lost.
While Nusa Penida is undeniably beautiful, keep in mind that it is very different from the other two islands. It is much larger than what you'd think. There were at least 5 tourist fatalities here just last year alone. Some have been swept off the beaches by unexpected waves, some have been caught in strong currents and some have fallen from the tall cliffs. So please be careful!
Related post: Nusa Penida in photos – Indonesia beyond Bali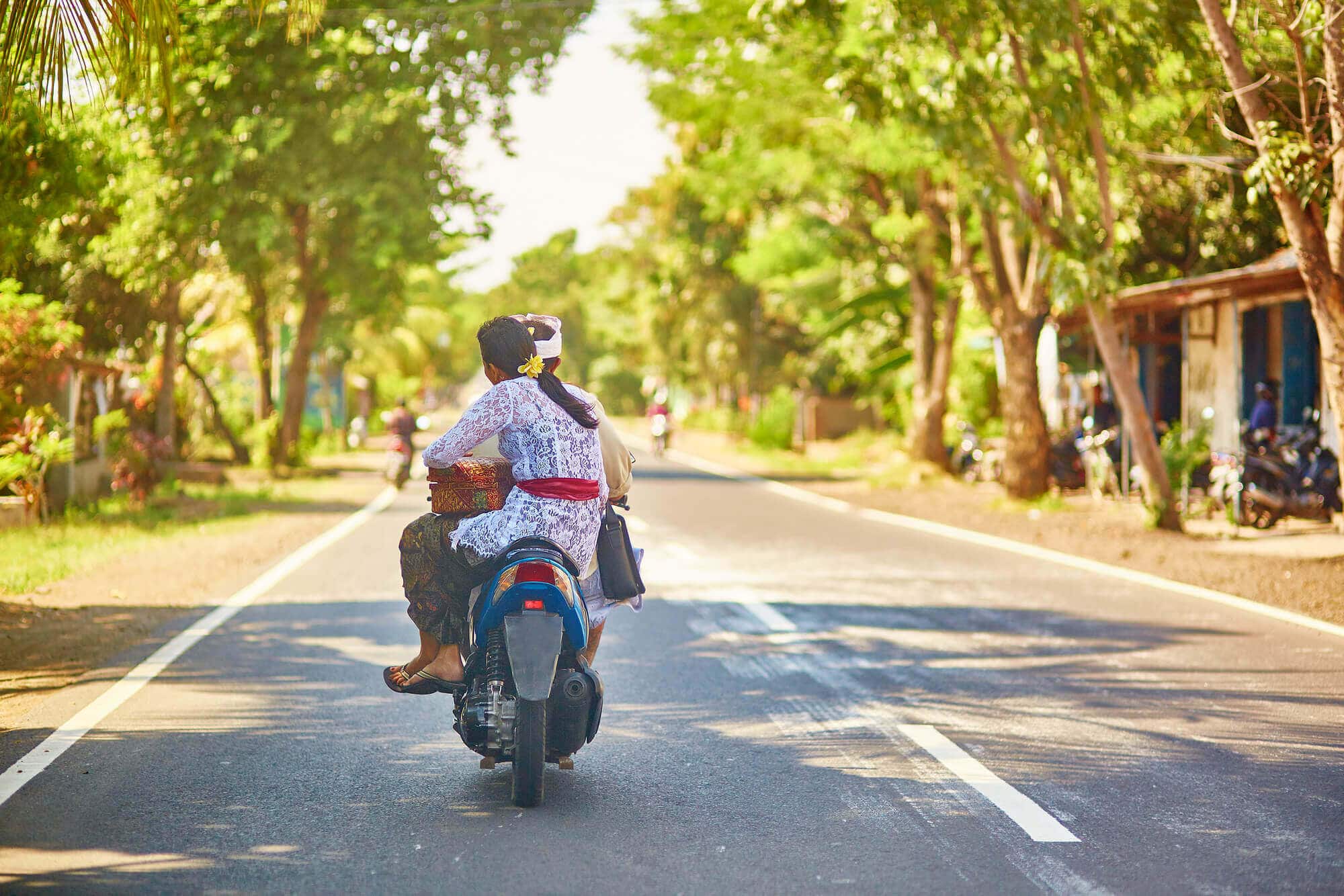 Day 11 Nusa Lembongan – Ubud
Ubud is yogi and veggie heaven. It's all about a healthy body, mind and soul. So after hopping from one place to another over the last 10 days, Ubud is the perfect final stop of your holiday. It will leave you feeling healthy and recharged before you go back home.
The fast boat service should drop you off either at your hotel or somewhere central. Since you only have a few days in Ubud during this trip, staying close to town is a good idea. I love the affordable Jawi House & Painter homestay, which you can read more about in my Bali budget accommodation post. The owner, Putu, is one of the loveliest people you'll ever meet. She will help you with whatever you might need to have the best possible holiday. And as if that wasn't enough, breakfast is served on your own private balcony every morning.
Spend the rest of the day wandering around town. Visit Ubud Palace, pop into a few shops (Ubud is known for beautiful handicrafts) and attend a yoga or meditation class. Radiantly Alive is just one of the popular yoga studios you can choose from in central Ubud. They have three yoga rooms and offer 8-12 classes a day including interesting options like arm balance, sky yoga flow and sound healing meditation.
There are so many amazing cafés and restaurants in Ubud, so you can't really go wrong. Cafe Wayan & Bakery is one of my personal favorites for traditional Balinese food. And if you didn't have time to do the cooking class on Lembongan you have the chance again here.
Day 12 Ubud
Another one of the most memorable experiences I've ever had in Bali was a bike tour on the backroads of Ubud with Jegeg Bali Cycling. They picked Ulrik and me up at 7 am in the morning and we then headed for breakfast in Kintamani overlooking the spectacular volcanic caldera of Mt. Batur. Then, after a few hours of cycling and learning about the Balinese culture, we enjoyed a delicious lunch in the tour guide's family compound. It was such a great day and I can't recommend the tour enough!
If you don't feel like doing the bike tour, rent a scooter and drive up to Tegalalang Rice Terrace first thing in the morning. You can read all about how and where to get the best photos in my Tegalalang photography guide.
In the afternoon, walk down to the Sacred Monkey Forest Sanctuary. Be aware that this is one of the most touristy places in Ubud, however, I still think it's worth a visit. Not only for the monkeys but for the beautiful forest itself. It truly feels like a magical place, especially if you find a place to sit down and relax away from the crowds.
If waterfalls are more your vibe, you can check out my guide to all the best waterfalls in Ubud here.
Other Ubud activities I highly recommenD
Day 13 Ubud – Day trip to north Bali
So today I think you should go on a day trip and where you go depends on what you want to see. Waterfalls, rice fields, views, temples or maybe a little bit of everything? To get the most out of your day I recommend getting a driver. It usually costs around 1 mill IDR for the day and the driver will wait for you for as long as you want to spend at each stop.
My ultimate day trip would start with sunrise over Pinggan Village in north Bali. This place is still off the radar for most people and one of the most spectacular sunrises I've ever seen. So worth the 4 am wake-up call! Then continue west and explore two of Bali's most beautiful waterfalls; Sekumpul and Banyumala. Enjoy lunch at one of the many local warungs and finish the day at Ulun Danu Beratan Temple.
Alternatively, you could head East from Pinggan and do Besakih Temple, Tukad Cepung Waterfall and Sidemen Village. Read all about the best places to see in East Bali here.
After a long day of exploring and many new experiences, chill out with a quiet dinner and drinks at IBU SUSU Bar & Kitchen. Their eclectic pan Asian share plates and signature cocktails are what dreams are made of. When you get back to your hotel, remember to ask them to arrange for a driver to take you to the airport the next day.
Day 14 – Ubud
To get the most out of your last day on the island, wake up early and head out for a sunrise stroll on the Campuhan Ridge Walk. This place is so beautiful, especially in the morning when it's quiet before everyone else wakes up. You can read all about it in my Ubud guide.
On your way back to your hotel stop at Ubud Art Market for one of the best shopping experiences ever. I've bought so many beautiful interior decor pieces and straw bags here. So remember to save some room in your suitcase throughout the trip for this last bit of retail therapy.
My flight back home is usually in the evening so if you have time, book a massage. I like to spend my last day in Bali getting pampered and nothing is like loosening up your muscles before a long haul flight. There is an abundance of spas and massage parlors to choose from in Ubud, just like everywhere else in Bali. So ask your accommodation to recommend one or pop out on the street and check out a few different places before you choose.
Now it's time to head home!
If you aren't sure the places I've included in the itinerary are right for you, check out my Bali Island Guide where I talk about all the different areas and neighborhoods on the island.
---
I hope you found this 2 week Bali itinerary helpful! Comment below if you have any questions.
Remember to pin for later 😉