This post may contain affiliate links. I will earn a small commission if you purchase through them, at no extra cost to you.
Are you looking for the best Spain quotes and puns for your next Instagram caption? Don't worry, I've got you covered. I know how hard it can be to come up with captions every day, it's often the reason why I skip posting altogether. And we all know how important it is to keep up a consistent posting schedule on Instagram.
There are tons of reasons to fall in love with Spain. The art, food, culture and rich history that has resulted in majestic castles, cathedrals and fortresses across the country. If you're anything like me, you'll be taking pictures left and right. And that's why I've compiled this list of 50+ Spain quotes and captions for Instagram, so you can post your beautiful Spain photos in no time!
Want my caption, rates, media kit and pitch templates? Be sure to check out the Travel Creator Toolkit!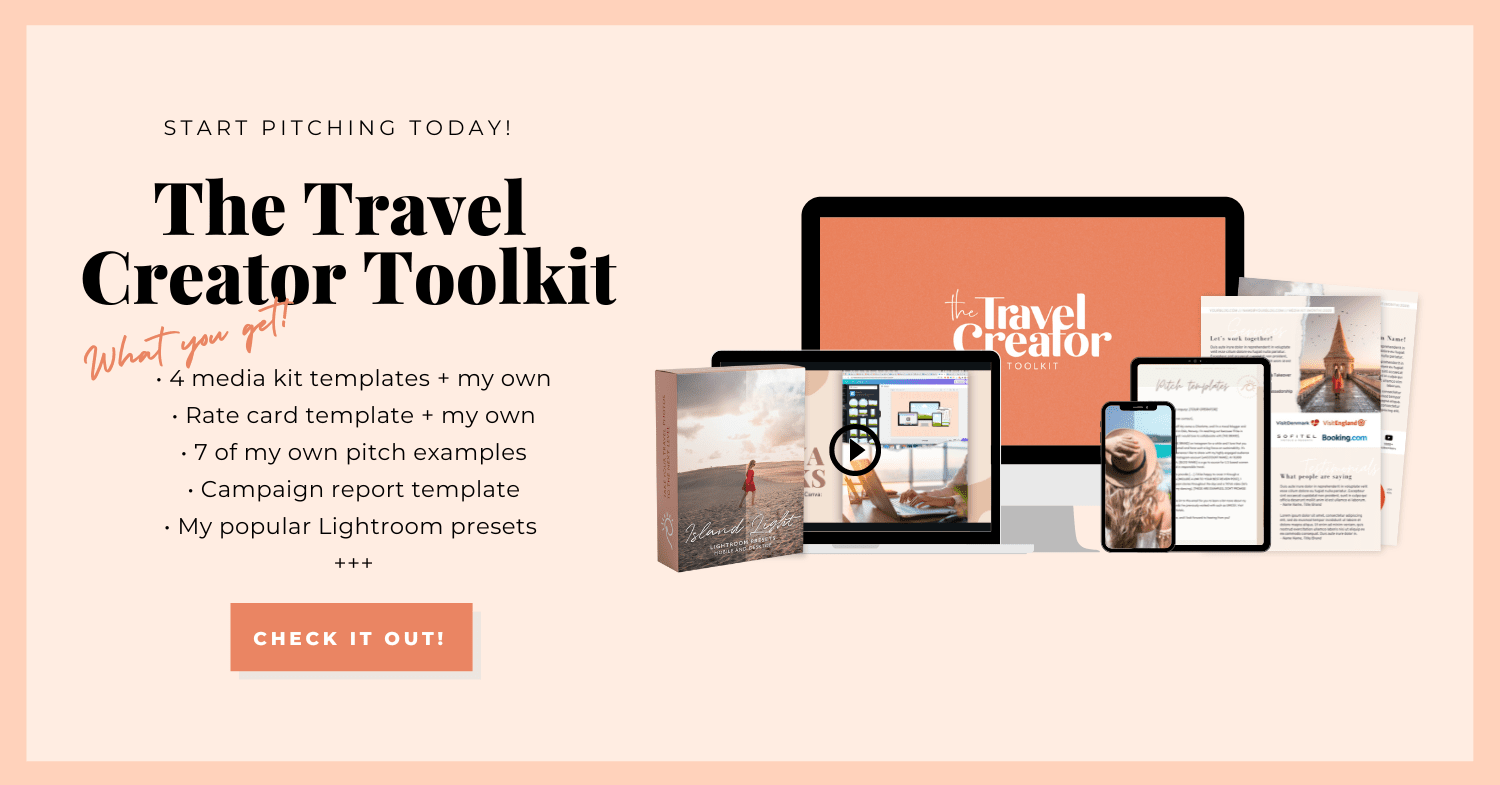 Spain captions for Instagram
1. Oh my Gaudí!
2. My Gaudí, isn't Barcelona amazing?
3. I hate to Rambla on about Barcelona, but this place is pretty awesome!
4. Feeling on top of the world at Bunkers del Carmel.
5. Fiesta like there's no Mañana.
6. Living off sangria and siestas. Spain definitely suits me!
7. Hard at work searching for the best sangria in Spain. I'll let you know when I find it!
8. Wine not? Living my best life here in Rioja.
9. I'm seeing red in Rioja and I'm lovin' it.
10. Spain is in the Palma of my hand.
11. What do you call someone from Spain who lives near the Portuguese border? Span-ish.
12. It's a pitcher perfect night for Sangria.
13. Sangria counts as fruit right?
14. Feeling on tapas the world here in Spain.
15. Pass the paella, please.
16. Don't be a Spain in the butt.
17. Windmill you make it to Spain anytime soon?
18. Siestas and fiestas… I could get used to this!
19. Brb… busy making memories in Madrid.
20. Málaga memories in the making.
21. Seville later!
22. Shake your Patatas.
23. It's a neverending Pintxo party here in San Sebastian.
24. It's Tapas Tuesday!
25. Una cerveza, por favor. Did you know that Spain has more bars per capita than any other country in Europe?
26. Did you know that… Madrid is home to the world's oldest restaurant? Restaurante Botín has been serving up Cochinillos Asado since 1725.
Related post: The course that helped me go full-time with my blog and Instagram!
Spain quotes for Instagram – by famous people
27. Spain, the beautiful country of wine and songs. – Johann Wolfgang von Goethe
28. Coming in solemn beauty like slow old tunes of Spain. – John Masefield
29. There is no nightlife in Spain. They stay up late but they get up late. That is not nightlife. That is delaying the day. – Ernest Hemingway
30. Spain is an overflow of sombreness, a strong and threatening tide of history meets you at the frontier. – Wyndham Lewis
31. Any reasonable, sentient person who looks at Spain, comes to Spain, eats in Spain, drinks in Spain, they're going to fall in love. Otherwise, there's something deeply wrong with you. This is the dream of all the world. – Anthony Bourdain
32. You'd have a hard time finding anything better than Barcelona for food, as far as being a hub. – Anthony Bourdain
33. But if there was no Barcelona why would you get out of bed in the morning? – Ray Hudson
34. Even the moon was embarrassed by the beauty of Barcelona. – Andrew Barger
35. The first time I saw her, fires were alight. It was a spicy night in Barcelona. The air was fragrant and free. – Roman Payne
36. Just close your eyes and let's pretend we're dancing in the street in Barcelona. – Ed Sheeran
37. Allow me to state here how much I love Barcelona, an admirable city, a city full of life, intense, a port open to the past and future. – Le Corbusier
38. Like Spain, I am bound to the past. – William S. Burroughs
39. The air soft as that of Seville in April, and so fragrant that it was delicious to breathe it. – Christopher Columbus
40. Every city has its own charm, but Granada has its own and that of the rest. – Antonio Machado
41. The truth is, that I'm beginning to wonder if there is any greater pleasure in life than visiting Granada and it is going back and visiting it again. – Alexandre Dumas
42. Granada is so moving that it stimulates and melts all of the senses. – Henri Matisse
43. Granada is like the beautiful, delicate land of our dreams; all those who see her dream of visiting her again. – Chateaubriand
44. Granada is Spain's most valued treasure; a melting pot of flavors, smells, and passion. – Víctor Hugo
45. My eyes filled with tears; not tears of sorrow nor of happiness, but of the fulfillment of a quiet, hidden life in Granada. – Miguel de Unamuno
46. All curious travelers keep Granada in their hearts, even without having visited it. – William Shakespeare
47. The Alhambra in Granada is the most fertile source of inspiration of all those from which I have drunk. – Escher
48. Ronda is the place where to go if you are planning to travel to Spain for a honeymoon or for being with a girlfriend. The whole city and its surroundings are a romantic set. Nice promenades, good wine, excellent food, nothing to do. – Ernest Hemingway
49. I like the south of Spain, notably for the Moorish vigour and the weather. – Alexei Sayle
50. To this day the Arab influence is evident in southern Italy, northern Africa and, above all, in Spain. – Carroll Quigley
51. Spain is a fascinating mix of people, languages, culture and food, but if there is one thing all Spaniards share, it's a love of food and drink. – Jose Andres
Related post: How to create a media kit as a travel blogger/influencer
Spain travel inspiration
Looking for even more captions?
---
I hope you can put these Spain Instagram quotes & captions to good use!
Remember to pin 😉