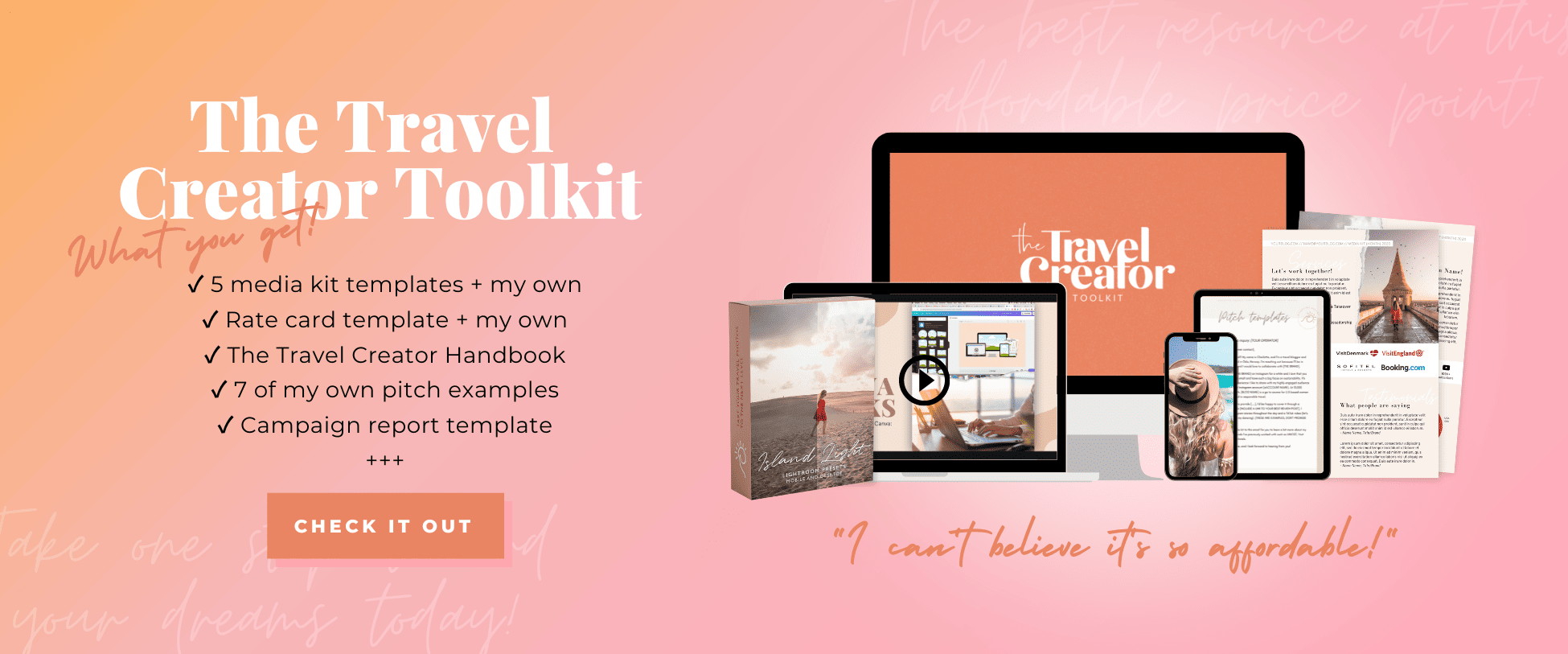 This post may contain affiliate links. I will earn a small commission if you purchase through them, at no extra cost to you.
Are you looking for the best Chicago Instagram captions? If so, you've come to the right place.
Since my previous caption posts 50+ Spain quotes and captions for Instagram and 15 "ready to post" Budapest Instagram captions & quotes were so well received, I decided to do another one. This time about USA's windy city.
Home of the deep dish pizza, the Willis Tower Skydeck and the Bean, the exciting city of Chicago is without a doubt one of the best cities in the USA to experience culture and cuisine. Throw in a stroll along Lake Michigan, impressive theatres and museums such as the Art Institute, it's impossible not to fall in love with Chicago.
So whether you're in Chicago at the moment or have a bunch of Chicago pics you've yet to share, here are over 110 Chicago captions and quotes for your next Instagram post.
Want to work online as a content creator? Be sure to check out my popular Travel Creator Toolkit! ⤸
Did you know…
…that the Chicago River is the only river in the world that permanently flows backward?
The reversal of the river was done to divert the sewage away from Lake Michigan's water supply, one of the world's greatest engineering achievements.
---
Feeling on top of the world at the Willis Tower!
On a clear day, you can see four states: Illinois, Indiana, Wisconsin, and Michigan.
What's the tallest building you've ever visited?
---
I bet you didn't know that…
…the world's first skyscraper, the Home Insurance Company, was built in Chicago in 1885.
And that Daniel Hale Williams, one of the first black physicians in Chicago, performed the nation's first open-heart surgery in 1893.
How cool is that?
---
Calling all fellow foodies…
I'm so impressed with the food scene here in Chicago. We literally haven't done anything but eat since we got here.
And I just learned that the brownie was created at Chicago's Palmer House when the wife of a millionaire hotelier requested a new dessert to serve at the 1893 World's Columbian Exposition.
What's your favorite restaurant or café in the Windy City?
---
I'm off on another adventure. Can you guess where I'm going?
All I have to say is… deep-dish pizza.
Leave your guesses and recommendations in the comments, please. Thanks!
---
Now I totally get why Chicago's motto is urbs in horto or "city in a garden".
Here are 5 parks you have to visit when you're in Chicago:
Millenium Park
Lincoln Park
Grant Park
Jackson Park
Garfield Park
Remember to save this for later!
---
It's Fun Fact Friday! Here are 3 things I bet you didn't know about Chicago:
Walt Disney was born in Chicago in 1901.
Chicago has more moveable bridges than any other city in the world.
The Ferris wheel was invented in Chicago for the 1893 World Columbian Exposition.
Leave some fun facts about your favorite city below!
---
---
A trip to Chicago is an L-evated experience.
Windy Wednesday in Chicago.
Bright lights, city nights in Chicago.
The best views in Chicago are at Navy Peer.
Cheers from Chicago!
In Chicago, I'm in the Loop.
Chi chi cheese. We're in Chicago!
I'm blown away by the Chicago skyline.
Chi likes you a lot!
East or West, Chicago is the best.
Having a Fields day in Chicago.
Chicago, I lake you a lot!
Chicago: Bean there, done that.
Chicago dreamin'.
Live, love, Chicago.
Lake Michigan is pretty Great.
Let's be Frank, Chicago is always a good idea.
Just a couple of beanie babies.
Chicago, I'm coming for you.
Slice, Slice baby!
Just a cheesy selfie in Chicago.
Keep calm and go to Chicago.
A trip to Chicago takes quite a bit of dough.
Sweet home Chicago.
Chicago shines even brighter at night.
P.S. I love Chicago.
Make sure to relish the good times in Chicago.
Stuck in this Chicago loop.
Life's better by the lake.
I never sausage a beautiful hot dog.
Let me be Frank, this is a tasty dog.
Chicago food is a Weiner!
Chicago, it's bean real!
I bean thinkin' about you Chicago.
Feelings come and go like clouds in the Windy City.
Dogs love Chicago because they get to visit Wiggly Field.
You'd have to be a weir-mixture not to like Chicago Deep Dish.
Related post: This course turned my blog and Instagram into a full-time business!
Funny Chicago Instagram Captions
I love Chicago, but I'm ready to get the L out of here.
Chicago floats my boat.
What you talkin' bout Willis Tower?
Lake hair, don't care.
Let minnow if you want to spend the day on Lake Michigan!
Finally made it to Chicago. It's a boat time!
I miss everything about Chicago, except January and February.
A day at Lake Michigan buoys my spirits!
The weather in Chicago really… blows me away.
Chicago stole a pizza my heart.
Chicago, the city where you can experience four seasons in one day.
---
Chicago tours your can't miss!
---
Chicago quotes by famous people
"It is the most perfect presentation of nineteenth-century individualistic industrialism I have ever seen. Chicago is one hoarse cry for discipline." – H. G. Wells
"Chicago still remains a Mecca of the Midwest—people from both coasts are kind of amazed how good life is in Chicago, and what a good culture we've got. You can have a pretty wonderful artistic life and never leave Chicago." – Harold Ramis
"Chicago seems a big city instead of merely a large place." – A.J. Liebling
"I warn you, Jedediah, you're not gonna like it in Chicago. The wind comes howling in off the lake and gosh only knows if they ever heard of lobster Newburg." – Orson Welles
"Eventually, I think Chicago will be the most beautiful great city left in the world." – Frank Lloyd Wright
"This is my kind of town, Chicago is." – Frank Sinatra
"Sometimes words are just music themselves. Like 'Chicago' is a very musical sounding name." – Tom Waits
"You know what they say about Chicago. If you don't like the weather, wait fifteen minutes." – Ralph Kiner
"That weekend the city blushed with a great heat wave but on Monday it rained, cooling the ache in the street's burn." – Daniel Amory
"…a city that was to live by night after the wilderness had passed. A city that was to forge out of steel and blood-red neon its own peculiar wilderness." – Nelson Algren
"It's wonderful to be here in the great state of Chicago." – Dan Quayle
"Out in Chicago, the only genuinely civilized city in the New World, they take the fine arts seriously and get into such frets and excitements about them as are raised nowhere else save by baseball, political treachery, foreign wars, and romantic loves . . . almost one fancies the world bumped by a flying asteroid, and the Chicago River suddenly turned into the Seine." – Henry Mencken
"I love Chicago; it is unique in the world. So much intellect, so many artistic voices – it has fantastic potential (as an Olympic candidate)." – Jerome Sans
Related post: How to create a media kit as a travel blogger/influencer
Quotes about Chicago
"Let me tell you something. I'm from Chicago. I don't break." – Barack Obama
"Chicago is constantly auditioning for the world, determined that one day, on the streets of Barcelona, in Berlin's cabarets, in the coffee shops of Istanbul, people will know and love us in our multidimensional glory, dream of us the way they dream of San Francisco and New York." – Mary Schmich
"I must confess a shameful secret: I love Chicago best in the cold." – Erik Larson
"They do things big, big I tells ya: Mike Ditka big. Michael Jordan big. Bill Murray big. Oprah! It's one cultural Mount Everest after another." – Anthony Bourdain
"Perhaps the most typically American place in America." – James Bryce
"Anywhere in the world, you hear a Chicago bluesman play, it's a Chicago sound born and bred." – Ralph Metcalfe
"It's 106 miles to Chicago, we've got a full tank of gas, half a pack of cigarettes; it's dark and we're wearing sunglasses." – Elwood Blues
"I adore Chicago. It is the pulse of America." – Sarah Bernhardt
"My first day in Chicago, September 4, 1983. I set foot in this city, and just walking down the street, it was like roots, like the motherland. I knew I belonged here." – Oprah Winfrey
"Chicago is not the most corrupt of cities. The state of New Jersey has a couple. Need we mention Nevada? Chicago, though, is the Big Daddy. Not more corrupt, just more theatrical, more colorful in its shadiness." – Studs Terkel
"I miss everything about Chicago, except January and February." – Gary Cole
"There seems to be a different Chicago around every street corner, behind every bar, and within every apartment, two-flat, cottage, or bungalow. City of immigrants or city of heartless plutocrats, say what you will, Chicago almost defies interpretation. In many ways, Chicago is like a snake that sheds its skin every thirty years or so and puts on a new coat to conform to a new reality." – Dominic A. Pacyga
"I am an organic Chicagoan. Living there has given me a multiplicity of characters to aspire for. I hope to live there the rest of my days." – Gwendolyn Brooks
"But when I go to Chicago, I know I'm home." – Hank Sauer
"It is hopeless for the occasional visitor to try to keep up with Chicago—she outgrows his prophecies faster than he can make them. She is always a novelty; for she is never the Chicago you saw when you passed through the last time." – Mark Twain
"Theater in Chicago will always be my first love." – William Petersen
"I'm impressed with the people from Chicago. Hollywood is hype. New York is talk. Chicago is work." – Michael Douglas
"A facade of buildings facing a lake and behind the facade, every type of dubiousness." – E.M. Forster
"Chicago is an October sort of city even in spring." – Nelson Algren
"Chicago is a city where the practical and the inspirational exist in harmony; where visionaries who made no small plans rebuilt after a great fire and taught the world to reach new heights. It's a bustling metropolis with the warmth of a small town; where the world already comes together every day to live and work and reach for a dream—a dream that no matter who we are, where we come from; no matter what we look like or what hand life has dealt us; with hard work, and discipline, and dedication, we can make it if we try." – Barack Obama
"In the twilight, it was a vision of power." – Upton Sinclair
"I give you Chicago. It is not London and Harvard. It is not Paris and buttermilk. It is American in every chitling and sparerib. It is alive from snout to tail." – H. L. Mencken
"Loving Chicago is like loving a woman with a broken nose." – Nelson Algren
"Chicago – a pompous Milwaukee." – Leonard Louis Levinson
"You'd never think of taking a cab if you had to walk a mile down Chicago's Michigan Avenue." — Helmut Jahn
"One of the hallmarks of Chicago is that we do so many things in an original manner. What other city has made a river flow backward? What other city makes traffic flow backward?" – Mike Royko
"Chicago's neighborhoods have always been the city's greatest strength." – Jane Byrne
"Going to Chicago was like going out of the world." – Muddy Waters
"A lot of real Chicago lives in the neighborhood taverns. It is the mixed German and Irish and Polish gift to the city, a bit of the old country grafted into a strong new plant in the new." – Bill Granger
"I'd rather be a lamppost in Chicago than a millionaire in any other city." – William A. Hulbert
"It's one of the greatest cities on the planet. My heart beats differently when I'm in Chicago. It slows down and I feel more at ease." – Jeremy Piven
"Chicago is a town, a city that doesn't ever have to measure itself against any other city. Other places have to measure themselves against it. It's big, it's outgoing, it's tough, it's opinionated, and everybody's got a story." –Anthony Bourdain
"A facade of skyscrapers facing a lake and behind the facade, every type of dubiousness." – E.M. Forster
"Chicago is a city of contradictions, of private visions haphazardly overlaid and linked together. If the city was unhappy with itself yesterday-and invariably it was-it will reinvent itself today." – Pat Colander
---
Remember to pin for later 😉