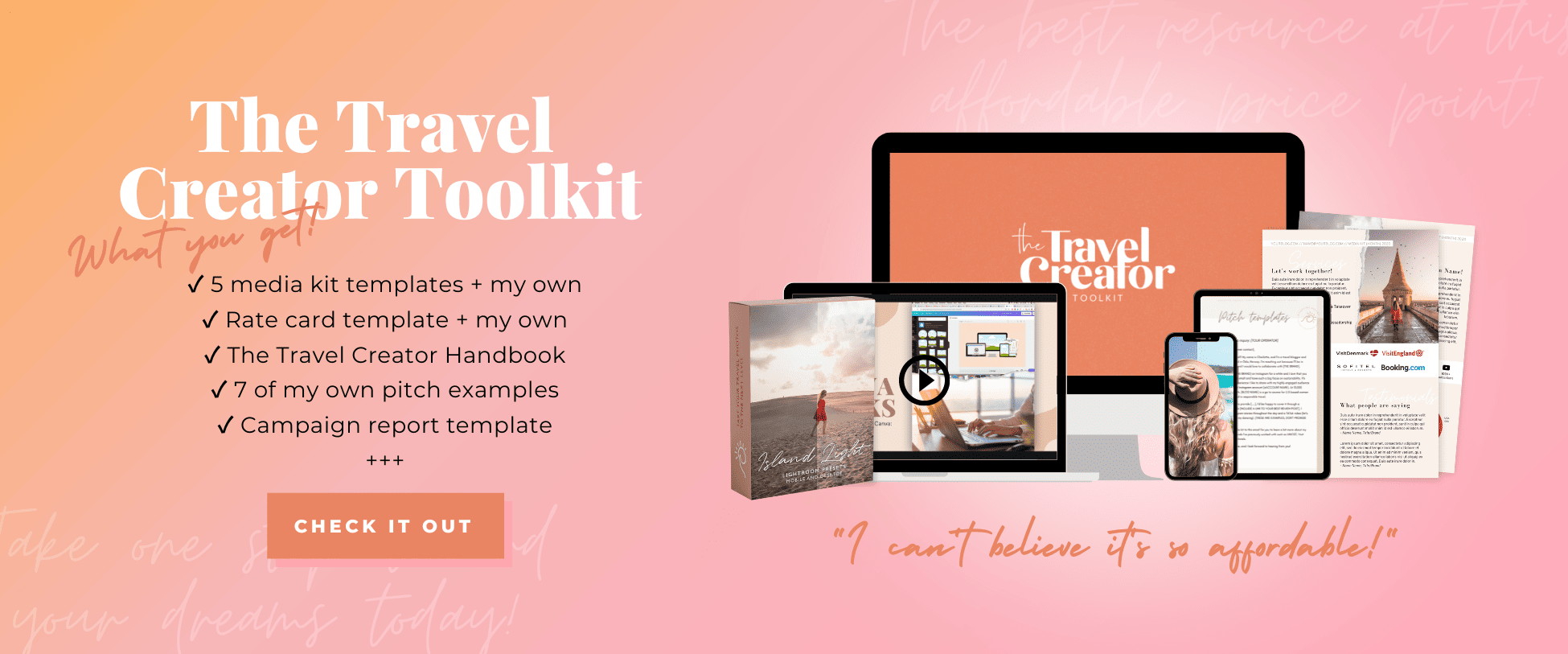 This post may contain affiliate links. I will earn a small commission if you purchase through them, at no extra cost to you.
Le Pirate Beach Club on Nusa Ceningan, a small island 30 minutes off the coast of Bali, is one of the OG Instagram spots in Indonesia. It rose to fame because of its picture-perfect white and turquoise beach boxes in the early days of Social Media and has stayed a favorite ever since.
Having visited Le Pirate regularly over the past 10 years, along with most of the other beach clubs on Ceningan and Lembongan, I thought it was about time I did a review. So let's take a look at whether or not Le Pirate Beach Club is still worth a visit.
How to get to Nusa Ceningan
To get to Nusa Ceningan from Bali you first have to stop at Nusa Lembongan, a journey that only takes around 30 minutes by fast boat. The ticket is usually around $55 for a round-trip and you can book your tickets in advance here.
Hotel pick-up and drop-off in certain areas in Bali (Kuta, Seminyak, Legian, Nusa Dua, Jimbaran, Ubud Center, Denpasar, Sanur) and on Nusa Lembongan are included in your return ticket.
If you're staying on Ceningan most companies will drop you off at the Yellow Bridge and your hotel on Ceningan will pick you up on the other side as no cars are allowed to cross the bridge.
🌟 Check price and availability here >> Fast boat from Bali to Nusa Lembongan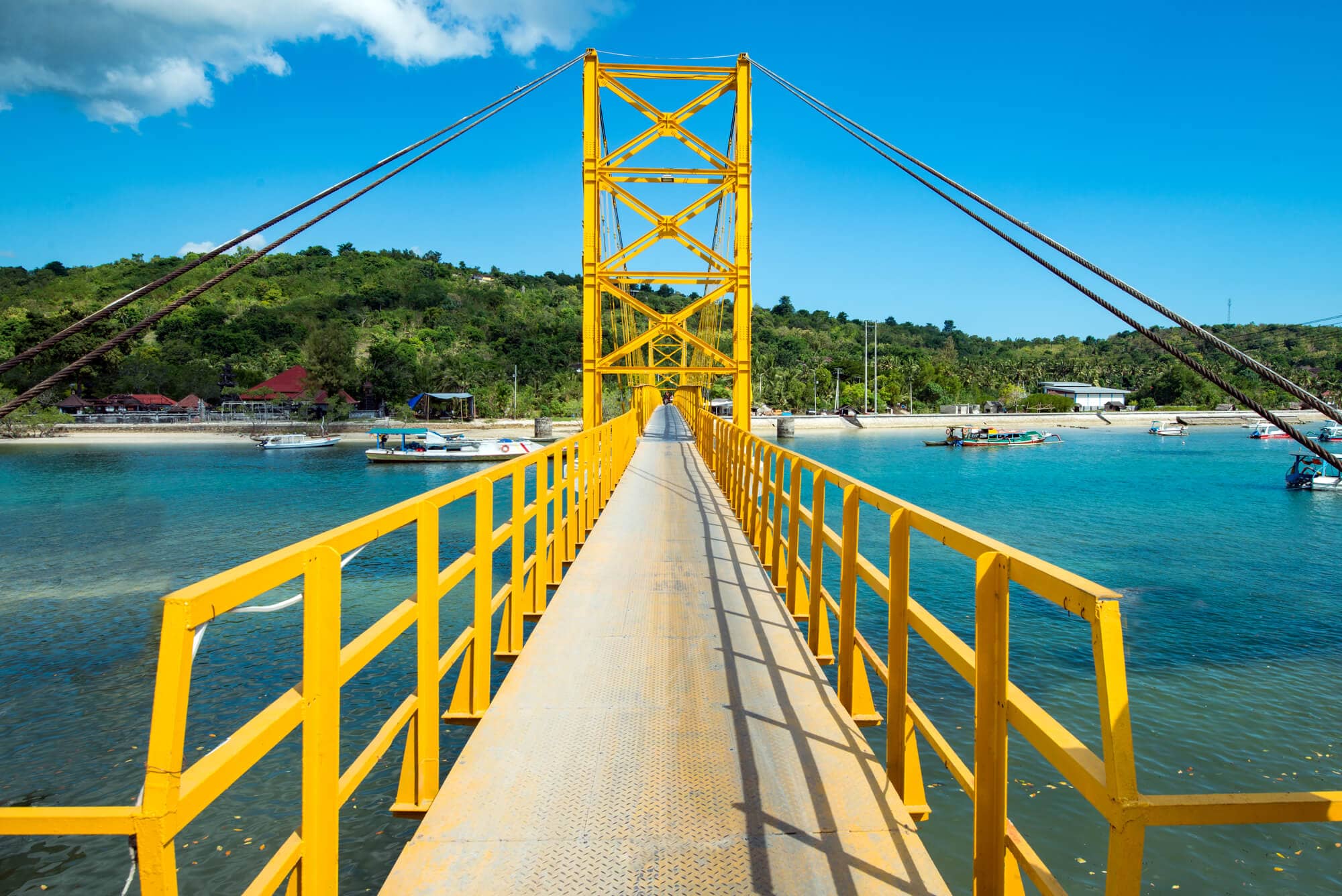 Ceningan and Lembongan tour
Limited on time or is it your first time in the Nusa Islands? Experience the highlights of both Nusa Ceningan and Nusa Lembongan in half a day as part of this highly-rated private tour.
Visit Dream Beach, Devil's Tear, Gala Gala Underground House, the Mangrove Forest, Secret Beach and the Blue Lagoon.
🌟🌟🌟🌟🌟
"The experience is amazing. Great option for solo travelers!"
How to get around on Ceningan
Most travelers might know Nusa Ceningan because of the yellow bridge that connects the two islands and the beautiful Secret Beach. But the island, with around 1000 inhabitants, is so much more than that. You can read all about how to get around on Lembongan here, the same goes for Ceningan.
The main mode of transportation is scooter (or motorbike as the locals call them) and the drive along the coast of the two islands is breathtaking. Shallow, crystal clear waters lined by palm trees and colorful shacks and hotels.
The roads aren't as good as on Lembongan, but with even less traffic it is definitely doable. We filmed the whole drive from Lembongan to Ceningan and you can see parts of it in my Indonesia travel video.
How to get to Le Pirate Beach Club
If you're driving by yourself, follow the signs on Lembongan to the Yellow Bridge, cross it and follow the main road to the right. Drive straight ahead along the coast for about 4-5 minutes until you see Le Pirate to your right. It is very easy to find.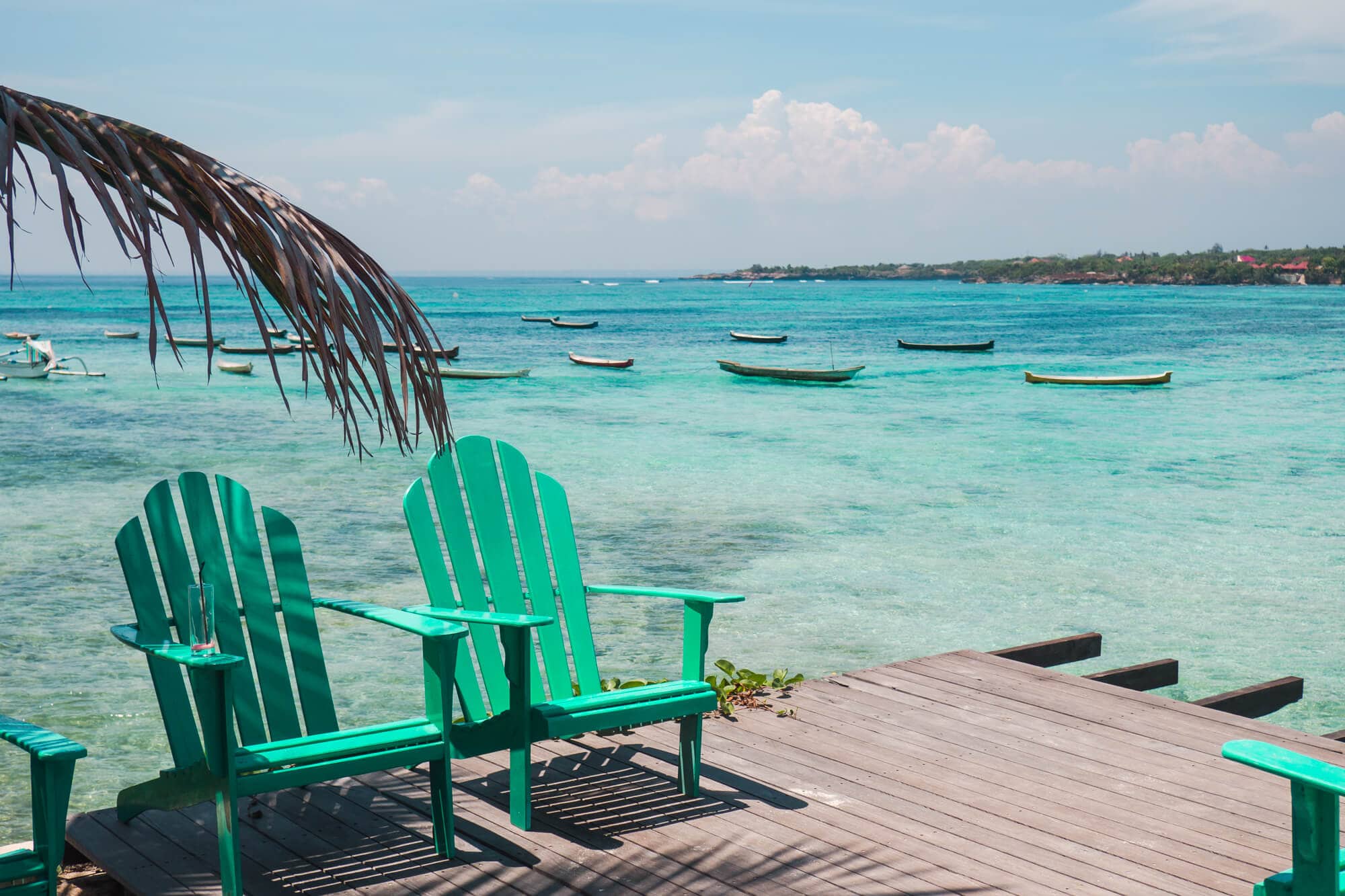 Le Pirate Beach Club
The white and turquoise beach boxes at Le Pirate Beach Club Ceningan make it feel more like being on a Caribbean island than a tiny island in Indonesia. Add to that a bean-shaped infinity pool, a fantastic open-concept restaurant and a 180-degree view of shallow turquoise waters, and you have the perfect formula for a relaxing day in the sun.
Le Pirates is set in a prime position on a low cliff with direct beach access, and if you stay until nightfall you can witness the sun setting over Bali's volcanos. Just like Whales & Waves Resort on Subawa, Le Pirate Beach Club is one of those places that you never forget. Yes, it is that picture-perfect.
Only six outside guests are allowed around the pool at any time to make sure there's space for those staying overnight. And you are expected to spend a minimum of 150.000 IND to use the pool.
When all the chairs around the pool are taken they will often put up a "pool is full" sign, but you can still enter and enjoy something in the restaurant with equally amazing views.
Opening hours
Le Pirate Beach Club is open every day from 7:30 am to 10:0 pm with the last call in the kitchen at 9:30 pm.
Food & drinks
Whenever I'm on Lembongan I try to visit Le Pirate for lunch, as the food in their restaurant is among the best I've had on the Nusa Islands. I've had some misses over the years, sometimes very small portions, but the view always makes up for what the food might lack.
Mostly I've been very happy with the food, I especially like the Dragon Bowl and the Asian Papaya Salad, which are around 55-65k IND. The pool bar serves up some delicious cocktails, so before you know it you'll have run up quite the bill.
The service is also usually very good. I have witnessed a very entitled, I'm guessing manager, that was yelling and bossing the staff around in front of the customers. However, that was a once-off, so hopefully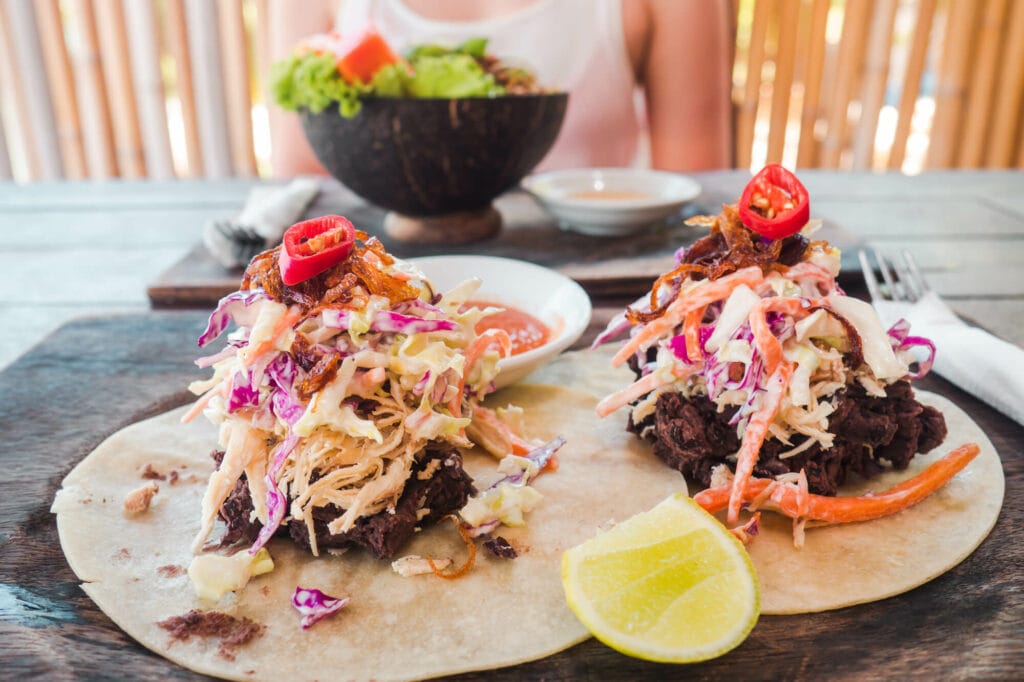 Le Pirate accommodation
Le Pirate isn't only a beach club, but they offer accommodation too. There are only 10 beach boxes in total so it feels very private. Even with other guests around, it's almost like you have the place to yourself. Be aware that the beach boxes are tiny, like 3m x 2m tiny, with almost no floor space to store your luggage.
There is a bed with cotton linens, a cute quote above the bed, a fan and air-conditioning, that's about it. Nevertheless, what it lacks in size it makes up for in tropical charm. You can choose between a double beach box for two persons, one with bunk beds for four persons or just a bed in a 4-bed dormitory.
Behind the beach box, there's a private open-air bathroom, and on the front porch a small mat to lie on and your own hammock. Utter simplicity. This is when you realize that you don't really need much more than a few basics when the surroundings are this stunning.
The last time I checked the price it was around 700k IND / $50 a night for both beach box options, including breakfast. And to keep a calm and relaxing environment, no children under 16 years old are allowed to stay at Le Pirate Nusa Ceningan.
🌟 Check price and availability here >> Le Pirate Beach Boxes
If you decide not to spend the night on Ceningan, be sure to check out my guide on where to stay on Nusa Lembongan.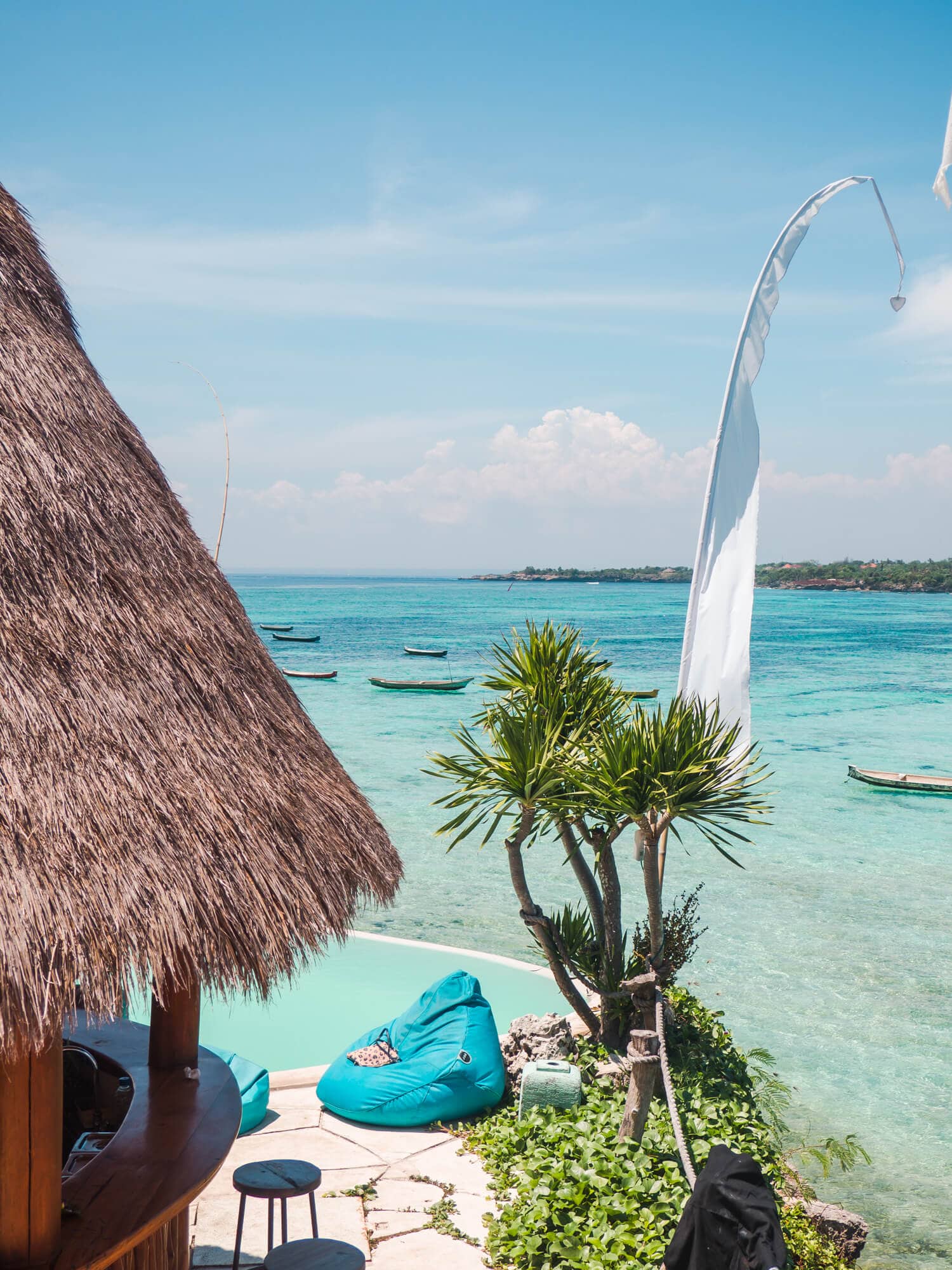 Other amenities at Le Pirate
Other than the most relaxing atmosphere, Le Pirate offers paddle boards for hire and can organize snorkeling trips, massages and scooter hire.
So is Le Pirate on Nusa Ceningan worth it?
To conclude this review, I would say that yes, Le Pirate is still worth it. If you're on Lembongan then you should definitely head to Le Pirate Beach Club at least once. Whether you spend some time in the sun by the pool or enjoy some food in the restaurant, you have to experience these views.
If you don't need much to be comfortable, I do recommend a night in their beach boxes. They look so cute in photos and watching the sunset from the hammock on the veranda is such a moment.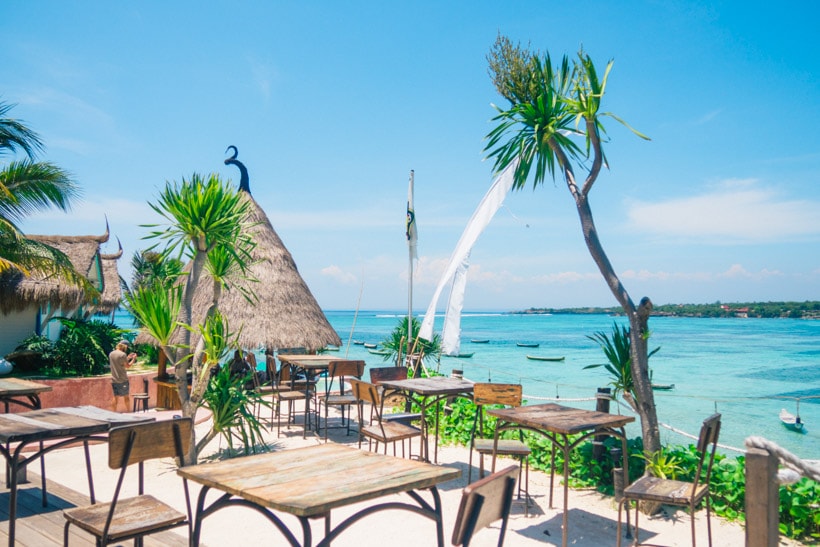 Nusa Islands travel guides
---
Remember to pin for later 😉