It can be hard to keep up with all the new eateries popping up all over Bali and the neighboring islands, so I thought I'd do a Nusa Lembongan restaurant guide to wrap up all my posts from this little paradise. There's no secret that my favorite thing to do is to eat, I aim to try out a new restaurant or warung at least once a day. I'm not into the super fancy places where you get a little leaf on your plate (not that there are many of those on Lembongan anyways), so the spots I've chosen as my top 10 favorites are all laid back, friendly and good value.
Jalan Raya Jungut Batu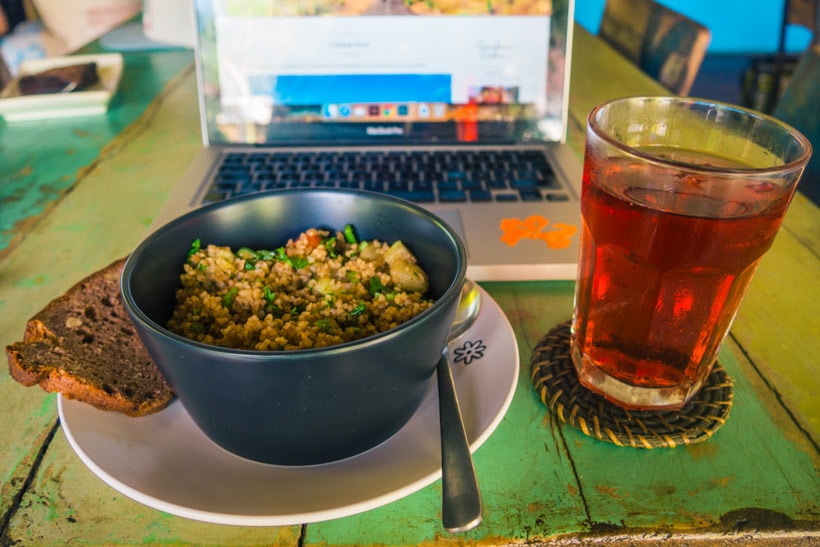 My favorite lunch spot on the island is open every day from 7am to 9pm. Everything on the menu is made in-house using fresh ingredients sourced from organic & fair-trade farms. I especially love their fresh salads and the banana bread is to die for. They provide free high-speed WiFi for guests and are the only café on Lembongan offering free water refills when using non-disposable or reusable containers. There is no secret that Bali and Lembongan have a garbage and plastic problem, it's floating everywhere. Bali Eco Deli has set up a small recycling program trying to change this. So if you bring some plastic, you'll get a 10% discount on your whole order. How awesome is that!? They now also got healthy ice pops, like the Dragon fruit and Pineapple one you see below.
Related post: My guide to Nusa Lembongan – Paradise Island!
South end of Jungut Batu beach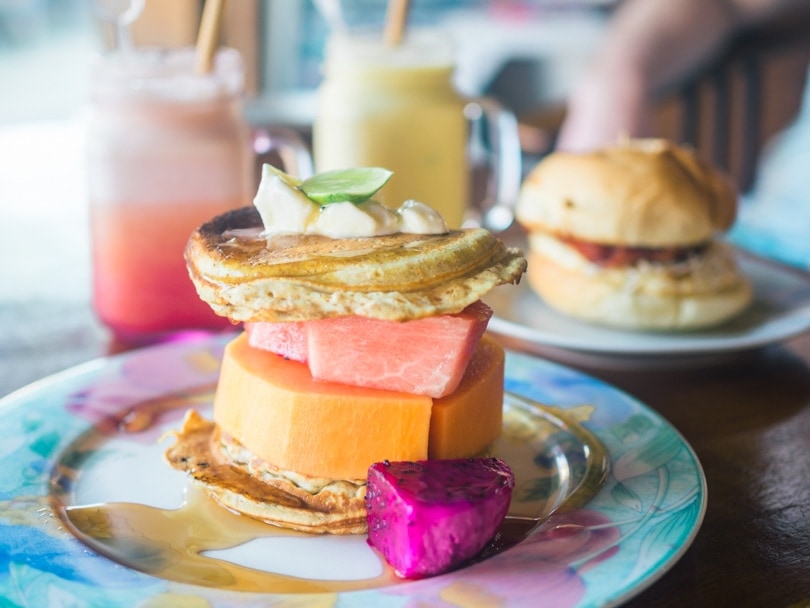 This is a true hidden gem, look for the 'Juice Bar & Coffee Corner' sign! The always friendly Putu runs the place by herself with only a little help from her daughter, but still manages to whip up some incredibly tasty Indonesian and western food. I especially like the bacon & egg roll and the mouthwatering whole-wheat pancakes with tropical fruits and curd. Apparently, her chicken burger is the best on the island, it's a shame I didn't get time to taste it. I don't know the opening hours exactly but I think they open around 8am. You can also have your drinks take away, maybe a healthy juice or smoothie after surf? Cheap and tasty all the way!
---
Mangrove Forest Road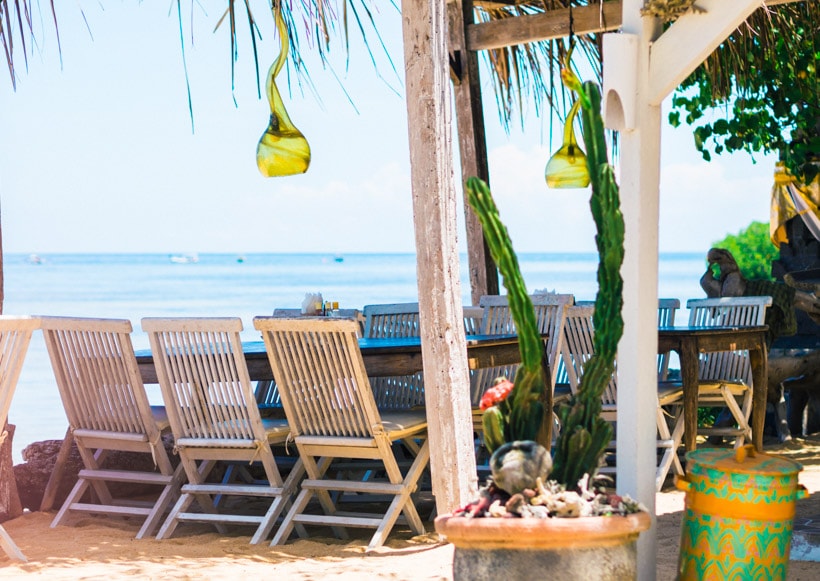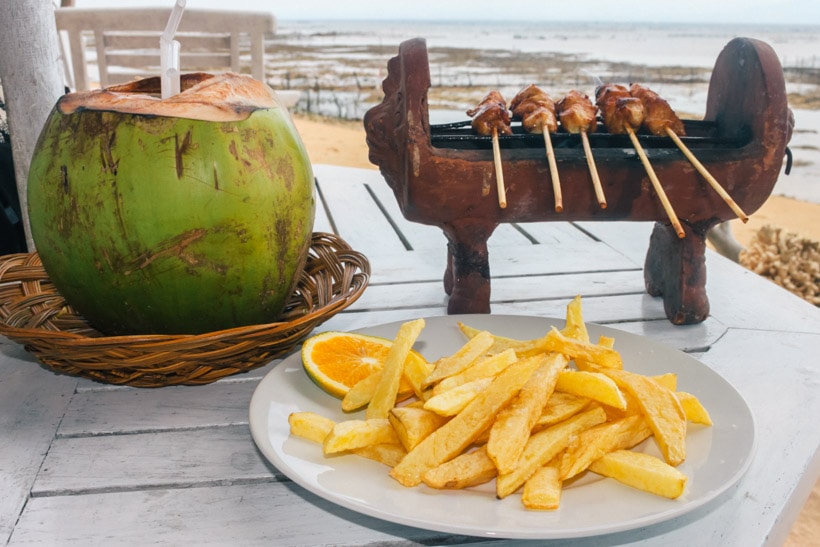 A little picture perfect bohemian warung up by the Mangrove Forest where you can chill out all day. They serve Indonesian food specializing in Sate and also make a killer chocolate pancake. And best of all it's cheap cheap cheap! I wrote in more detail about Warung Agung here.
---
Jalan Raya Jungut Batu
Lemongrass is a fairly new and easy to spot bar & restaurant right on Jungut Batu main road. Born from a 100% local initiative, the restaurant serves beautifully presented Indonesian and Western food. I've read a lot of reviews saying the prices are high, but I think they're quite reasonable for what you get. For instance, salads are 35k – 45k, pizzas 42k – 62k and pasta 46k – 56k. Not bad at all in my eyes! It's open every day from 8am – 11pm, so you can enjoy breakfast, lunch, dinner and evening refreshments. Happy Hour with 2 for 1 cocktails is on from 3pm – 6pm and best of all they offer a free pick up and drop off service! Sometimes they also have live music in the evenings, look for posters around the island to see when it's on.
---
Jalan Raya Jungut Batu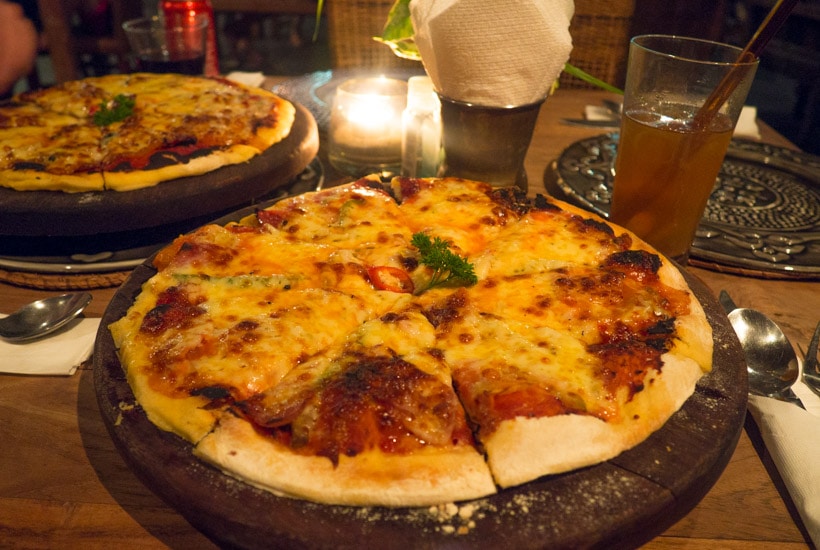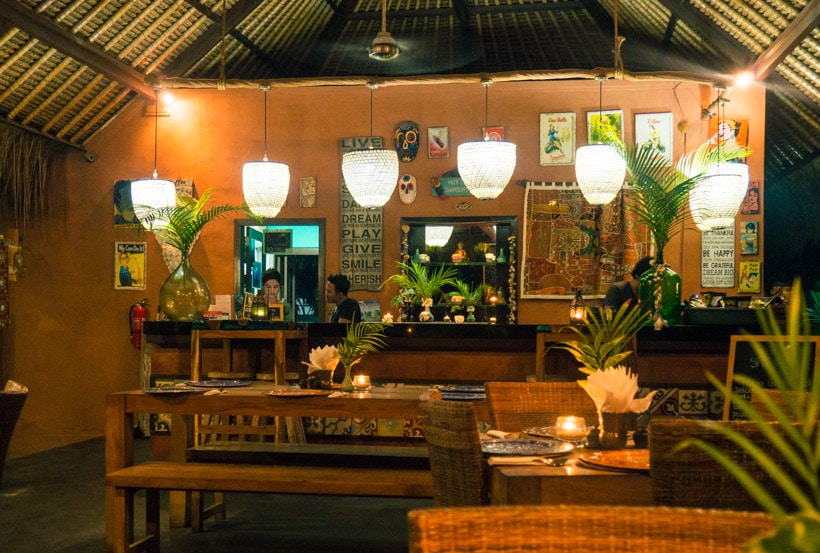 Tigerlillys feels like a tropical oasis with wooden bungalows, a pool and palm trees all around. Whoever did the interior decorating of the restaurant area really went the extra mile. You'd never think a place like this exists just off the busy main road of Jungut Batu! I usually come here for the good pizza, as it's the best I've had so far on the island. They also make some mean cocktails, so despite my best efforts, it's usually impossible just to have one. And to top it off, the menu also includes acai bowls, which is quite hard to come by in these parts. They're open for breakfast, lunch and dinner, from 7.30am – 10pm. Look for the turquoise building!
Down an alley off Jalan Raya Jungut Batu in front of Shipwrecks surf break
Pisang Pisang, the restaurant connected to the Rama Garden Retreat, is another great place to get some delicious juices and smoothies. They also offer a range of healthy vegetarian, gluten-free and vegan food options. Prices are somewhat higher than what you would expect from a small place like this tucked away down an alley, but I still think it's worth it. With old school surf movies playing in the lounge area, free wi-fi and a book exchange, this is a great hangout spot between surfing and exploring the island. Open every day from 7am – 9am.
---
North end of Jungut Batu next to Blue Corner Dive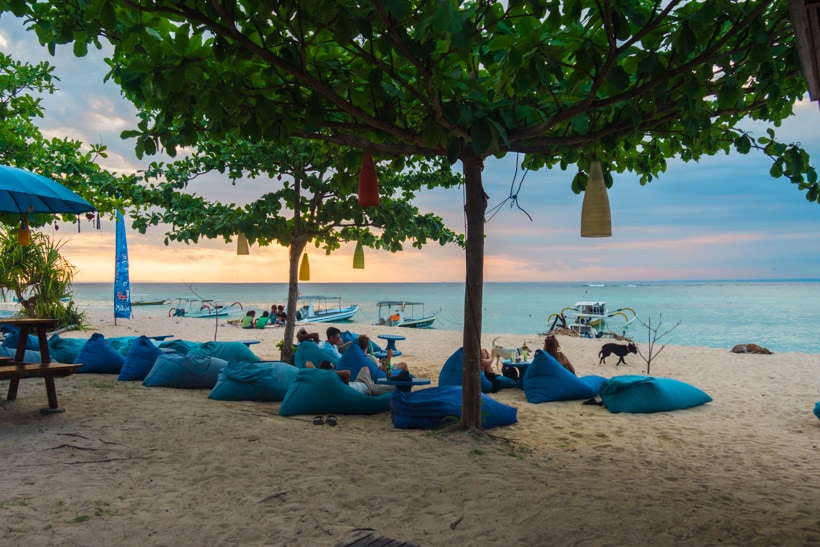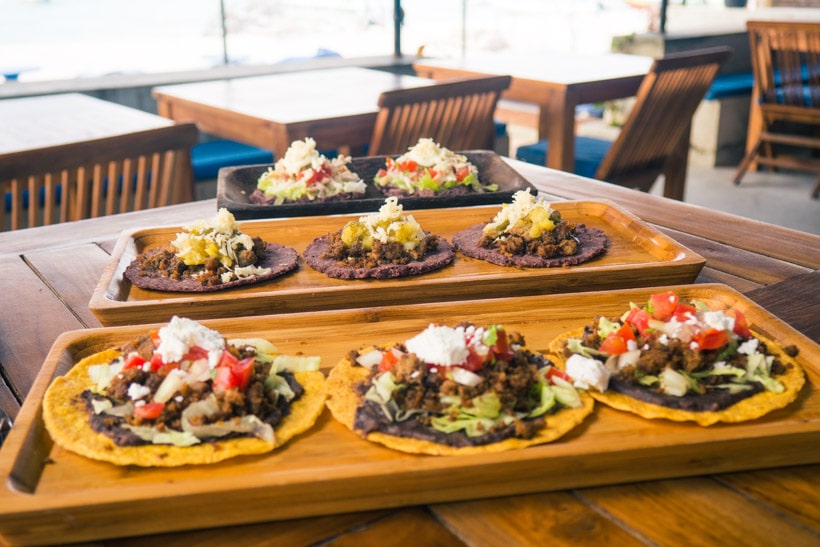 Blue Corner Bar & Restaurant is one of my go-to evening spots on the island. It's the perfect place to chill out with a Bintang on the bean bags at the beach and enjoy a stunning view of the sunset. The vibe is young and relaxed, so it's a great place to mingle and make some new friends. Their fairly new Mexican menu is outstanding, not surprisingly as it's made by an actual Mexican chef. My favorites so far are the handmade organic corn tortillas with lots of different yummy toppings. Pair that with super friendly service, good music (sometimes live bands) and free wi-fi and you have a winner. I didn't get the opening hours, but we were there from 6pm until 9.30pm, yes we just kept on eating.

---
Don't know the exact address, you'll find the location on Tripadvisor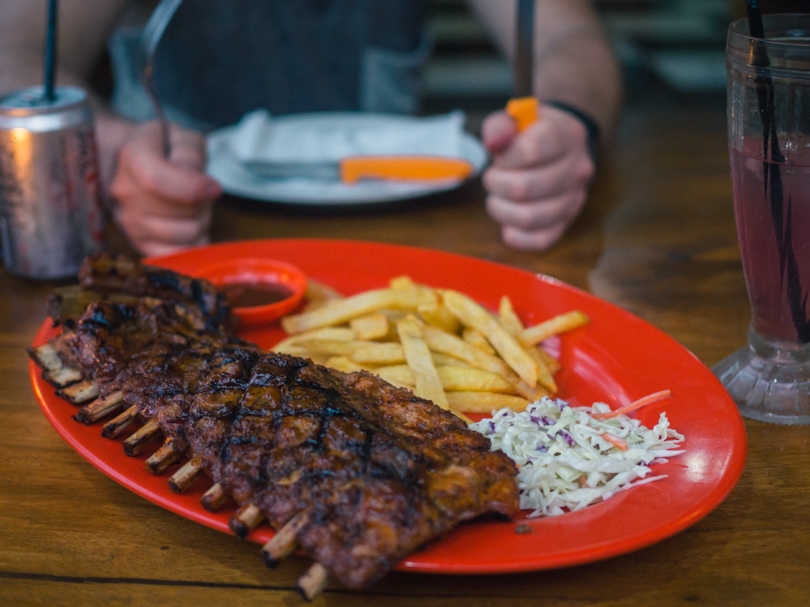 Nick serves up some juicy grilled ribs and chicken. The menu is kind of limited, but everything I've tasted so far has been delicious, much thanks to the homemade 'special' BBQ sauce. They've only been open for a year but are already known for making the best coffee on the island. Good news for you coffee drinkers, as they're open from 7am – 11pm every day. Nick is the sweetest guy and will help you with whatever you might need. He'll drive you back to your accommodation, keep you company while you eat if you're alone or make recommendations for your stay. Whatever makes the customer happy. Look for the bright orange building and sign that says coffee and ribs. Definitely a must on Lembongan.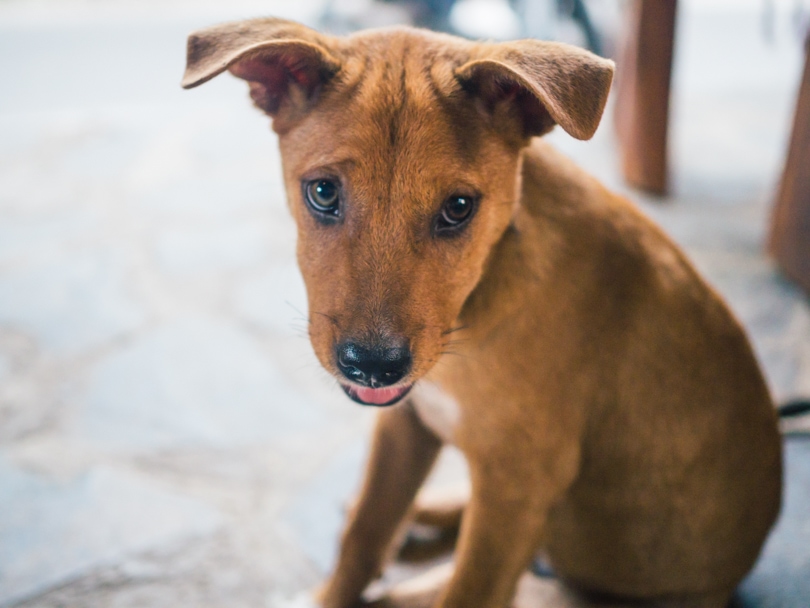 This cute little guy and his siblings kept us company while we were waiting for our food.
---
Jungut Batu Boardwalk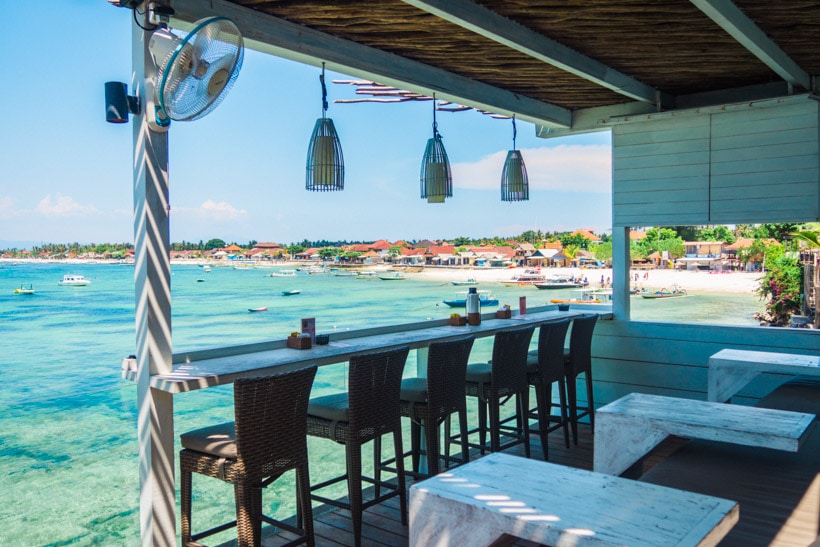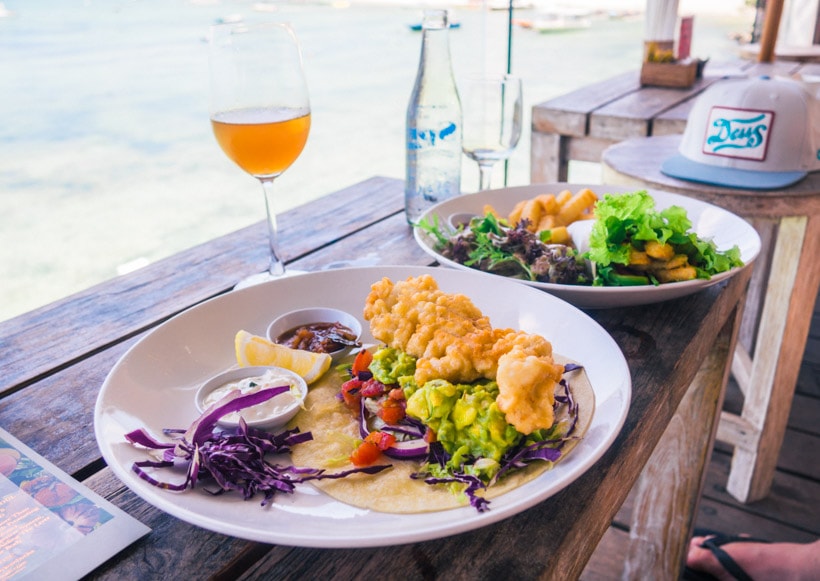 Wow, the view from The Deck is insane! This is really a Lembongan institution which I think have to be experienced at least once. It's a bit more expensive than most other places on the island, but what you pay for is essentially the stunning, tropical setting. I wrote in more detail about The Deck in the previous post, which you can read here.
---
Nusa Ceningan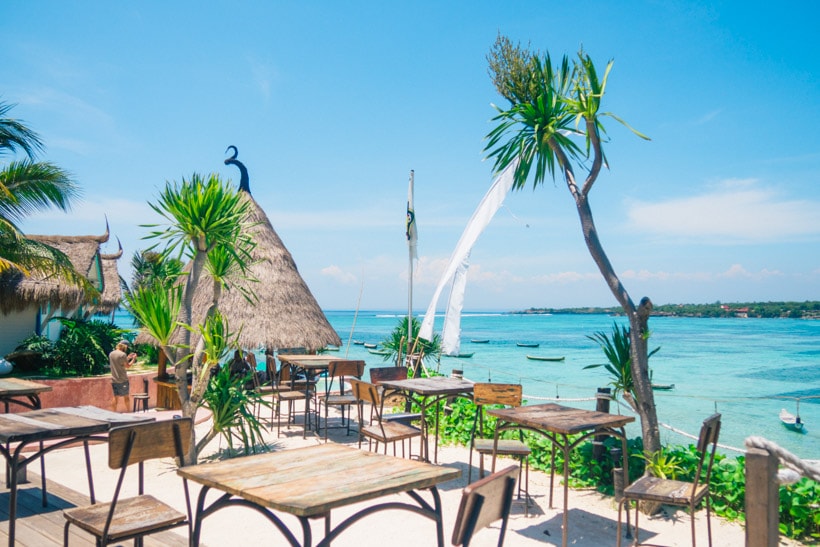 Le Pirate Beach Club really ticks all the boxes in my book. Delicious food, tropical drinks and a chill atmosphere, all set in a picturesque location. Do places like this really exist? Yes apparently so. It's located on Nusa Ceningan just a short drive from Lembongan over the yellow bridge. Read more about Le Pirate in my restaurant review here.
I hope you can put this Nusa Lembongan restaurant guide to good use.
Remember to pin for later 😉