This post may contain affiliate links. I will earn a small commission if you purchase through them, at no extra cost to you.
Hey there, surfers! Are you ready for an adventure of a lifetime? Well, pack your bags because I'm about to take you on a journey to the tropical paradise of Nusa Lembongan in Indonesia.
This small island, located just off the coast of Bali, is known for its crystal clear waters, soft sandy beaches, laid-back atmosphere and world-class surf spots. In other words, it's a surfer's paradise!
Remember to always get insurance before you travel to Indonesia or anywhere else. I recommend Safetywing, an affordable subscription travel insurance that you can purchase even after departure. You can read my full review here.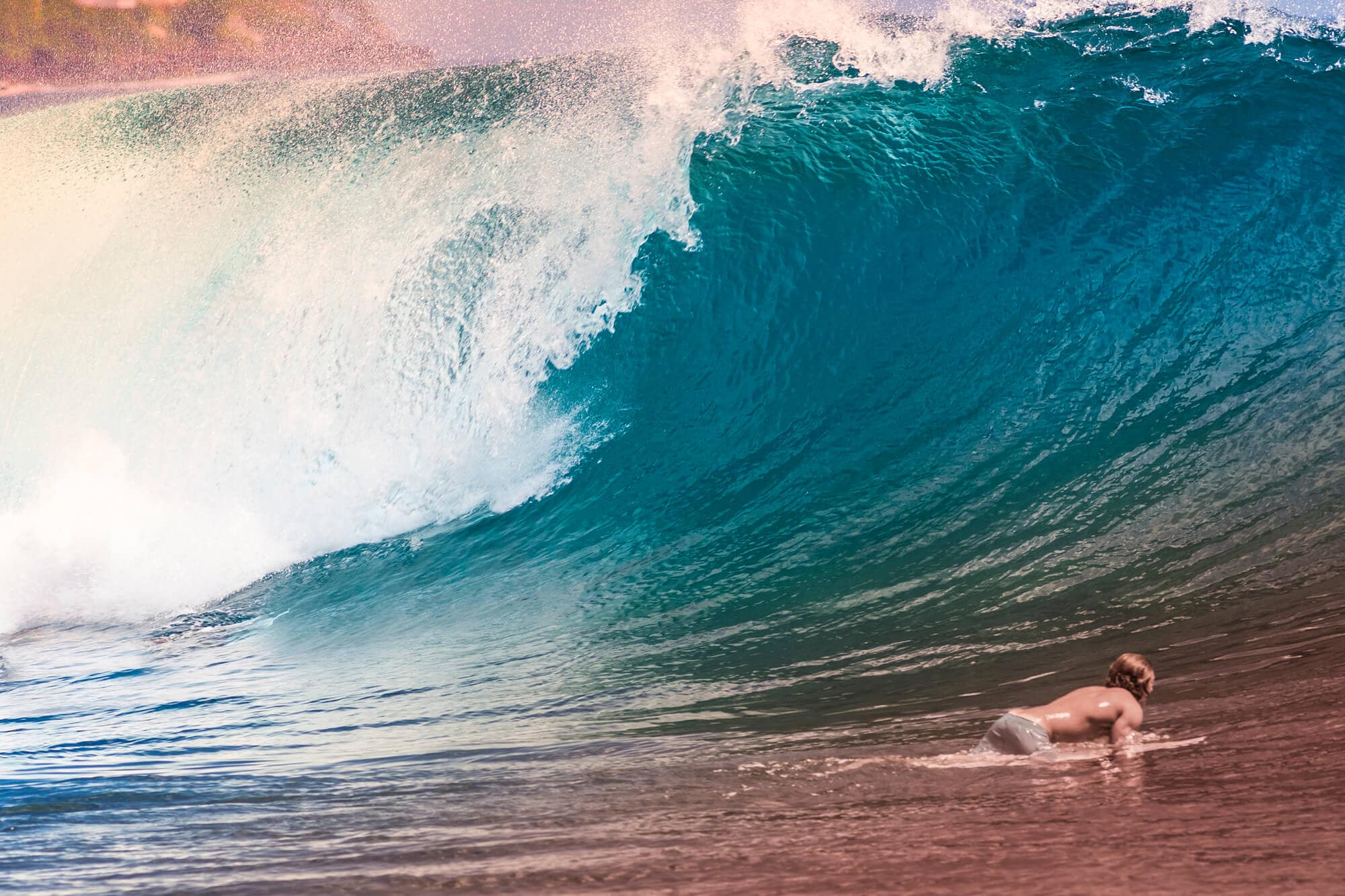 How to get to Nusa Lembongan
The fast boat ride from Sanur in Bali to Nusa Lembongan only takes 30-45 minutes and is super affordable for what you get. You can book your tickets in advance here.
Hotel pick-up and drop-off in certain areas in Bali (Kuta, Seminyak, Legian, Nusa Dua, Jimbaran, Ubud Center, Denpasar, Sanur) and on Nusa Lembongan are included in your return ticket. So all you have to do is be packed and ready to go in front of your hotel at the agreed-upon time. You'll find my guide to how to get around Lembongan here.
🌟 Check price and availability here >> Fast boat from Bali to Nusa Lembongan
Surfing Nusa Lembongan
Is Nusa Lembongan good for surfing?
Oh yeah, baby! Nusa Lembongan is one of the best places in the world to surf. The island has a variety of breaks, from beginner-friendly waves to more challenging ones for experienced surfers. The water is warm and clear, and the scenery is breathtaking. Plus, the surf culture on the island is vibrant and welcoming, making it a great place to hang out and meet other surfers. Just don't be surprised if you find yourself staying a little longer than planned.
Surfers are also taken care of out in the water. As some of the breaks are more than 500 meters offshore, there are pontoons where you can rest up in the shade between sessions. And if you don't feel like paddling out, catch a ride with one of the locals in their colorful boats. You'll find them all along Jungut Batu Beach.
Best time to surf Nusa Lembongan
The best time to surf Nusa Lembongan is during the dry season, which is from May to September. This is when the waves are at their best due to consistent Indian Ocean swells and the weather is ideal for surfing with little rainfall and offshore winds.
However, it's worth noting that the island can get quite crowded during peak season, so if you're looking for a more relaxed experience, consider visiting during the shoulder season (April and October). Or you could just go during the rainy season, but be prepared for muddier water and soggy sandwiches.
Is it crowded?
As mentioned above Nusa Lembongan does get crowded, especially during peak season. However, Nusa Lembongan is a relatively small island, so even when it's crowded, you're never too far away from a quieter spot. Plus, with so many different surf spots to choose from, it's easy to find a wave that's not too crowded.
The positive side of visiting during the high season is that the vibe is amazing. So many like-minded people chilling on the beach for sunset every night. So if you can handle some competition in the water I'm sure you're going to love it!
Surf & yoga retreat
🌟 I highly recommend this surf & yoga retreat hosted by the lovely people over at Isla Indah. The rooms are beautiful, the food in their cute café Pisang Pisang is delicious and best of all is that they cater to every level. It's the perfect taste of Nusa Lembongan!
If you prefer, you can book only accommodation here.
The retreat includes:
Return speed boat transfer from Sanur in Bali
Return hotel transfers in Bali (Seminyak, Kuta, Legian, Tuban, Sanur)
Snorkeling trip with Manta Rays
2 surf lessons with experienced instructors
3 yoga and meditation classes
3-night stay in a private room
3 healthy breakfasts
1 group buffet dinner
Best places to stay for surfers
For surfers, I recommend staying around the Jungut Batu area so you can easily walk down to the beach and paddle out, or alternatively catch a ride in a local boat. Recently I've been loving Lembongan summer where you get your own villa/room with a private plunge pool for an incredibly affordable price just a few minutes from the beach.
A little further north, and right on the beach, lies the beautiful Mahagiri Resort Nusa Lembongan. While I usually prefer simpler bungalows rather than resorts, I have to admit that this is one of the nicest places to stay on the island. They've done an incredible job developing the area with a sea of palm trees and an indoor-outdoor feel throughout.
Follow the boardwalk from Jungut Batu and you'll get to Coconut Beach and Song Lambung Beach Huts that overlook Playgrounds surf break. Here you can roll out of bed, grab your board, walk down a few steps and you'll be on the beach ready to paddle out. You can also rent surfboards, standup paddle boards, canoes and snorkeling gear from the hotel for a very good price.
For more tips about places to stay and what to do in Bali and Nusa Lembongan, check out my popular two-week itinerary.
4 best Nusa Lembongan surf spots
Shipwrecks
The most popular surf spot in Nusa Lembongan, Shipwrecks is a reef break that can get quite crowded. It is the northernmost break on the island and can be accessed by boat or if you have it in you, paddle the 500 meters from the beach. It's mostly a right-hander that can get quite hollow and fast, sometimes offering up a barrel or two, making it a great spot for experienced surfers.
The wave is consistent and can be surfed at any tide, though the best time to surf it is at mid to high tide. Be careful when surfing this wave in overhead conditions, the currents are strong and there are still spikes left in the shallow water from seaweed farming that used to be the island's main source of income.
Razors
Just south of Shipwrecks, you'll find Razors, a long left-hander that caters to all levels depending on the tide and swells. On smaller days it offers whitewater and small green waves for beginners like me to practice on and develop some much-needed skills.
Razors, named after the razor-sharp reef hiding beneath the shallows, is not quite as consistent as the other waves on the island. However, when it's on, it's ON.
Lacerations
Look over the rail from The Deck Cafe & Bar and you'll see Lacerations, maybe the most challenging wave on Lembongan and a popular spot for experienced surfers. Located much closer to shore than Shipwrecks and Razors, you can easily paddle out from the beach.
The wave, which is best surfed in mid to high conditions, is mainly a right-hand break where you can get lucky and catch a three or more second barrel over the shallow and very sharp reef. Just make sure you've got a few band-aids handy, 'cause as the name suggests you might get a few scrapes and scratches.
Lacerations also have a left-hand wave that can be suitable for less experienced surfers, but only in small conditions when it forms a peak that breaks left and right.
Playgrounds
Just south of Lacerations you'll find Playgrounds, a beginner-friendly wave that's great for learning how to surf. The closest to shore and easiest wave to paddle out to, Playgrounds is the most user-friendly wave on the island. Sitting in amongst a few pontoons and just off the channel where the daily fast boats arrive, the water here is also a bit deeper than some of the other breaks around.
From Song Lambung beach it's an easy paddle out to the lineup at Playgrounds which is just a couple hundred meters away. The wave breaks both left and right with mid-tides will offer the best conditions. Although the smaller days will give beginners a chance to practice their skills.
You'll find a lot of surf camps and schools in the area, as well as local surfers and tourists. It's called Playgrounds, so you know it's going to be fun!
Nusa Lembongan surfing for beginners
Nusa Lembongan is a great place for beginners to learn how to surf. Although you won't find any beach breaks here, the warm, clear waters and beginner-friendly waves outside the high season, make it a safe and enjoyable place for your first time on a board. Especially on smaller days.
And don't worry, you won't be alone, Playgrounds is the go-to spot for beginners and you'll be sure to make some new surf buddies. Especially if you join a retreat or surf school. Plus, don't be afraid to look like a "grommet" (surfing lingo for a beginner), we all have to start somewhere. Just remember to have fun, stay safe and don't take yourself too seriously.
All surfed out?
Travel by boat and explore the marine lives of Nusa Lembongan and Nusa Penida on this three-hour snorkeling trip. You will be guided to three beautiful snorkeling spots and get a chance to swim with the majestic manta rays.
On calmer days, rent a stand-up paddleboard from one of the warungs or surf shops and enjoy. I had one of my favorite experiences of all time SUPing close to shipwrecks when dolphins started jumping right in front of me. It was the first time I'd seen dolphins in the wild and it was just magical.
Go for a morning walk along the boardwalk overlooking Jungut Batu and marvel at the insane view of turquoise water and Bali's Mount Agung in the background. In the afternoon, sit down and relax with a Bintang or cocktail in hand and enjoy the beautiful sunset. Check out my guide to the best warungs and restaurants on Nusa Lembongan.
In a nutshell, Nusa Lembongan is a must-visit destination for any surfer. With its perfect waves, beautiful scenery, and friendly surf culture, it's sure to be a trip you'll never forget. So, what are you waiting for? Grab your board and hit the waves!
---
I hope you found this Nusa Lembongan surfing guide helpful!
Remember to pin for later 😉