This post may contain affiliate links. I will earn a small commission if you purchase through them, at no extra cost to you.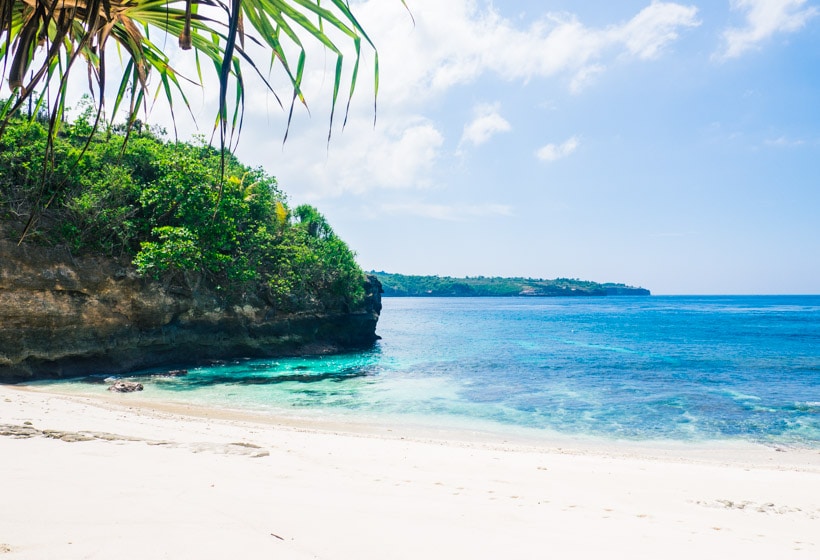 // Contains affiliate links
As with all the other smaller Indonesian islands, my favorite thing to do on Lembongan is to rent a scooter and just drive around and explore. Scooter rent on Lembongan is 70k a day I think, including a helmet and surfboard rack if needed. The island isn't that big, so you might also want to head over to the neighboring and even smaller island of Nusa Ceningan.
Most young travelers might know Nusa Ceningan because of the yellow bridge and Le Pirate Beach Club, famous for their picturesque white and turquoise huts, which I'll talk more about in the next post. But the island is so much more than that. The drive along the coast is so stunning that you'll probably stop tens of times to capture beauty. Palm trees, shallow crystal clear waters and quaint roadside warungs frying up the most delicious food. The roads aren't as good as on Lembongan, but the drive is doable just a bit bumpy. We filmed the whole drive from Lembongan to Ceningan, see some clips of it here.
Driving over the yellow bridge that connects Lembongan and Ceningan, you'll feel the wooden planks moving and the bridge slightly waving up and down. But don't be scared, it's perfectly safe, the locals said so. On the southern tip of Ceningan we found a little slice of paradise called Secret Beach. Although it wasn't really all that secret because there were signs all along the road pointing us in the right direction.
As you can see the beach is kind of rocky, but that didn't bother us as there was no one else around so with had the swimmable part all to ourselves. We spent the day collecting seashells (and putting them back after photographing of course), frolicking in the turquoise waves (yes there were waves even though it looks flat in all the photos) and exploring the jungle surrounding the beach.
There is a gorgeous bungalow resort called Villa Trevally on one side of the beach which also offers food and drinks but it is quite pricey. So I would recommend you to stop at one of the local warungs along the way to eat or pick up some yummy fresh fruit. You can also ask one of the locals with large machetes stopping by from time to time, to cut open one of the coconuts growing in the jungle. Or maybe you want to try and open one yourself, cast away style. Anyways, a visit to Secret Beach is a must in my eyes!
Where to stay on Nusa Ceningan
Like I mentioned above, the most well-known place to stay on Ceningan is Le Pirate Beach Club. And it truly is one of the most picturesque places I have ever been, but I do think it is enough to go there for lunch. Their small huts are quite expensive for what you get. These days there are so many other pretty places to stay on the island like The Dafish Accommodation, Bar & Cafe and the even more affordable Secret Point Huts Bungalow.
Remember that no matter where you choose to stay on Nusa Ceningan, be sure to message your hotel and ask for pick up before you get there. Most boats arriving from Bali only stop at Lembongan and then drive you to the yellow bridge, from there your hotel should pick you up.