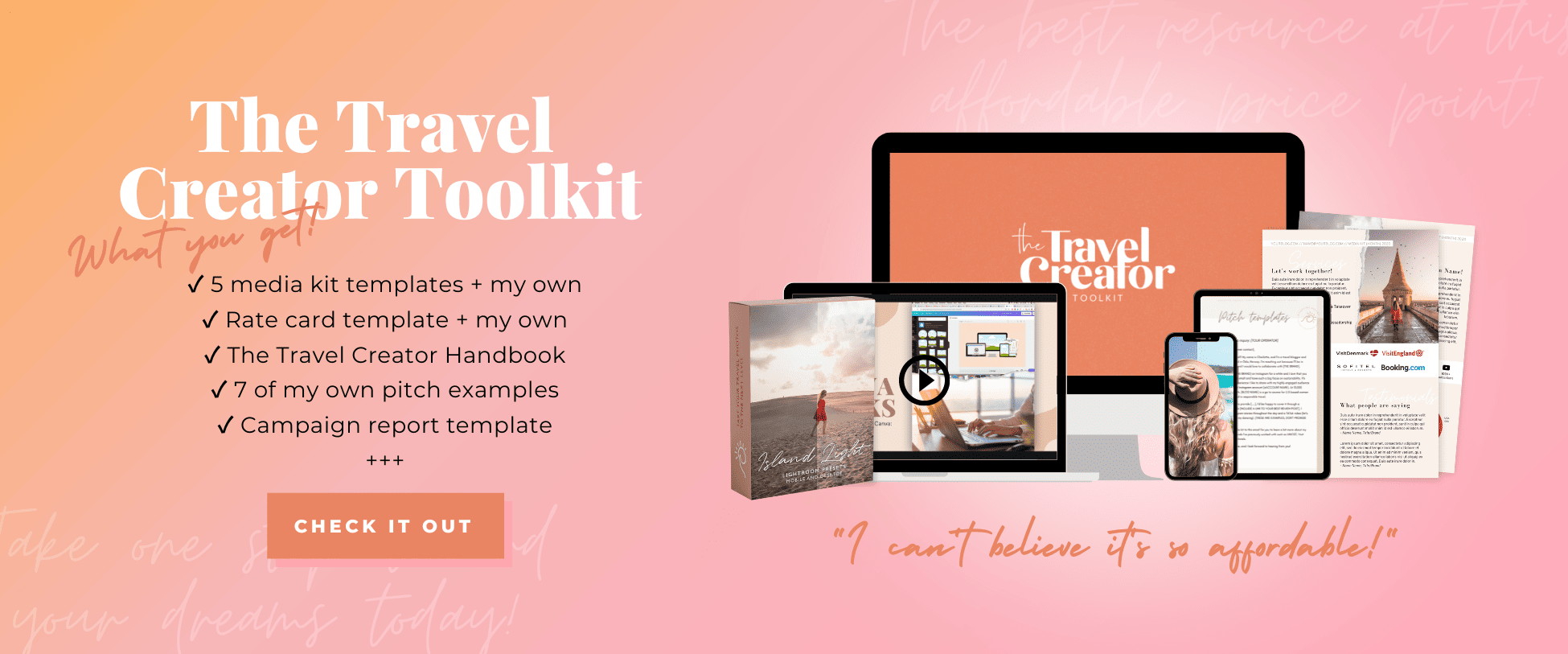 This post may contain affiliate links. I will earn a small commission if you purchase through them, at no extra cost to you.
If you love spending time in the water, snorkeling in Nusa Penida has to be included in your Bali itinerary. Nusa Penida, famous for the mighty Manta Rays, boasts some of the best snorkeling spots in all of Indonesia and is located only 45 minutes from Bali by fast boat.
While living in Bali, I went on a one-day snorkeling tour in Nusa Penida and had the best time, even as someone who is nervous underwater. The private tour was such a treat, an experience I can't recommend enough!
I have since returned several times, so I knew I had to do this guide for you to cover the best time to go snorkeling in Nusa Penida, the best snorkeling spots and what you can expect to see.
🌟 Before you go snorkeling in Nusa Penida or partake in any sort of water activity, make sure your travel insurance covers it. SafetyWing is an affordable subscription travel insurance that you can purchase even after departure. Read my complete SafetyWing review here.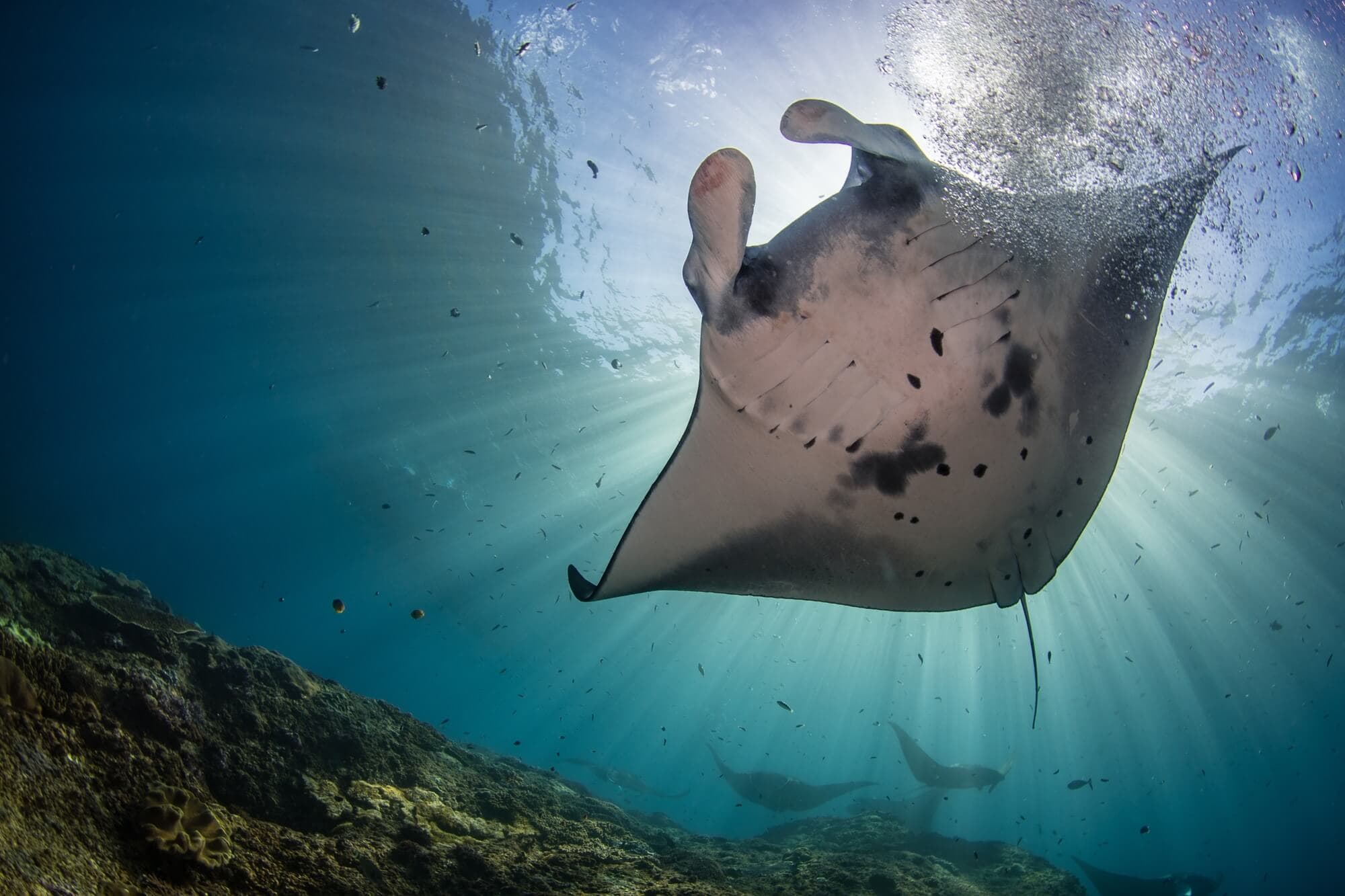 Is Nusa Penida good for snorkeling?
Absolutely! Nusa Penida is a fantastic destination to go snorkeling, actually one of the best in all of Indonesia. Its pristine, clear blue waters and diverse marine life make it a captivating underwater paradise. Trust me when I say that snorkeling in Nusa Penida is an experience you don't want to miss while in Bali.
Best time to snorkel in Nusa Penida
The best time to snorkel in Nusa Penida is in the dry season, which falls between April and October. During these months, the water is generally calm, allowing for better visibility and a more enjoyable experience. The optimal time of day for snorkeling in Nusa Penida is in the morning when the light is just perfect.
It's important to note that conditions can change, and sometimes the water can get a bit rough. Before heading out on your own, always inquire with local guides to ensure snorkeling is a good idea for the day.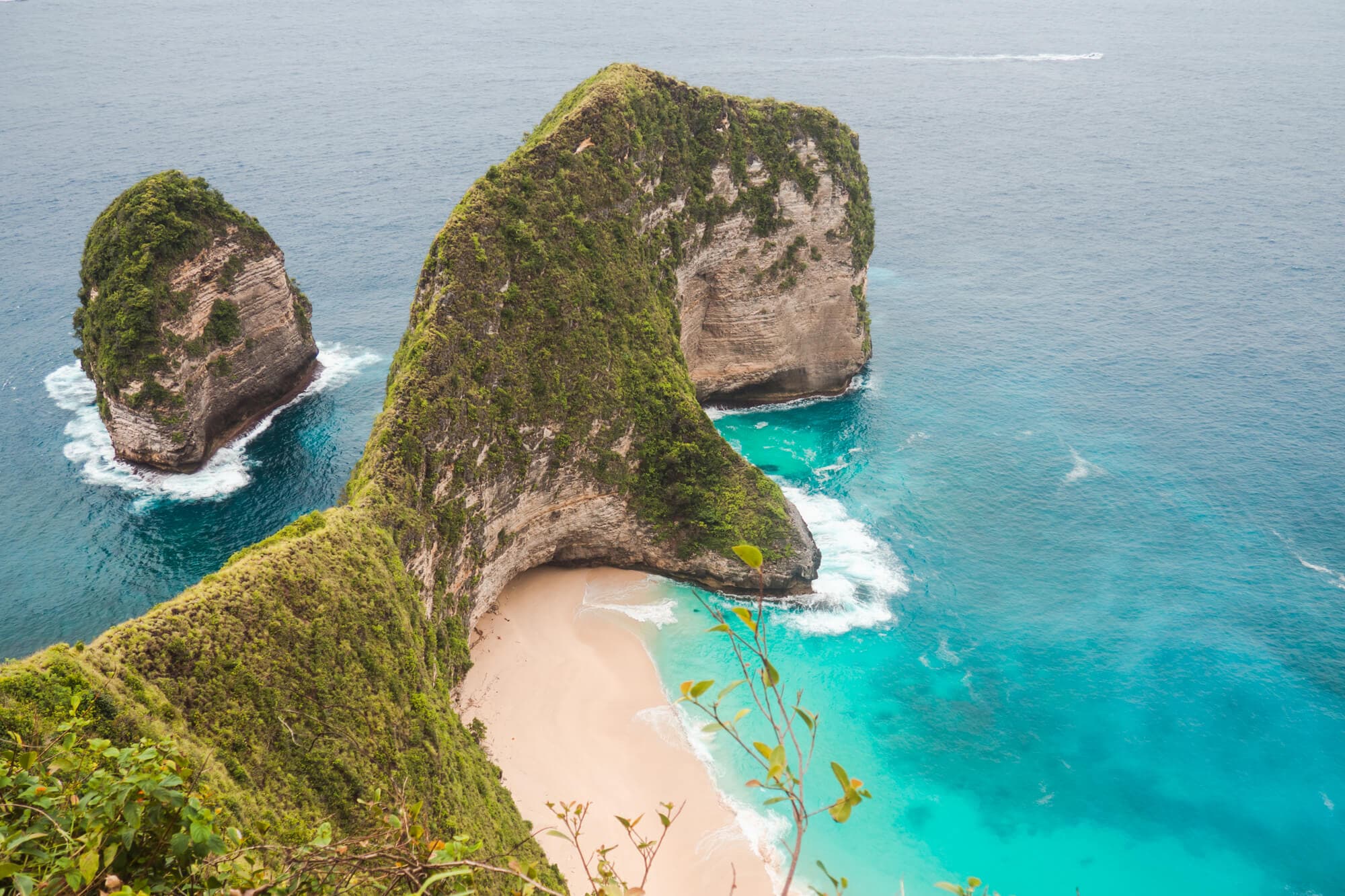 Nusa Penida snorkeling tours
There are many amazing tours to choose from online these days. Some tours cover all the popular spots around Nusa Penida, while others also include snorkeling around Nusa Lembongan and Nusa Ceningan.
Private one-day Nusa Penida snorkeling tour
The tour I chose was this 10-hour private Nusa Penida snorkeling tour departing from Bali.
You can choose between a snorkeling-only tour, or spend the afternoon exploring the island, with stops at Kelingking Beach, Broken Beach (Pasih Uug Beach), and Angel's Billabong. Nusa Penida is such a beautiful island and actually quite different from Bali, so I highly recommend you choose both!
Many so-called "private" Nusa Penida Island tours include transfers by public fast boat, however, this tour gets you there on your very own boat. It was such a treat to skip the lines in Sanur Harbor and lounge in the sun on the roof on the way over. (You also have the option to choose a shared fast boat to make the tour more affordable.)
We started the day at Manta Point and I got to experience the incredible Manta Rays. I have always been very nervous in the water and never enjoyed being around large sea creatures, however, I absolutely loved this experience. So you can safely bring your anxious friends or family members.
Our next stop was Crystal Bay and Gamat Bay, before a nice lunch at AMARTA Sunset Lounge & Bar with the most amazing views. The highlight of the snorkeling for me was seeing Sea Turles up close, I just love them so much.
After lunch, we got in an air-conditioned car and headed to all the Nusa Penida highlights I mentioned above. My lovely, knowledgeable and very accommodating guide Gee, doubled as a photographer. I can hands down say that this is the best guided tour I've ever been on.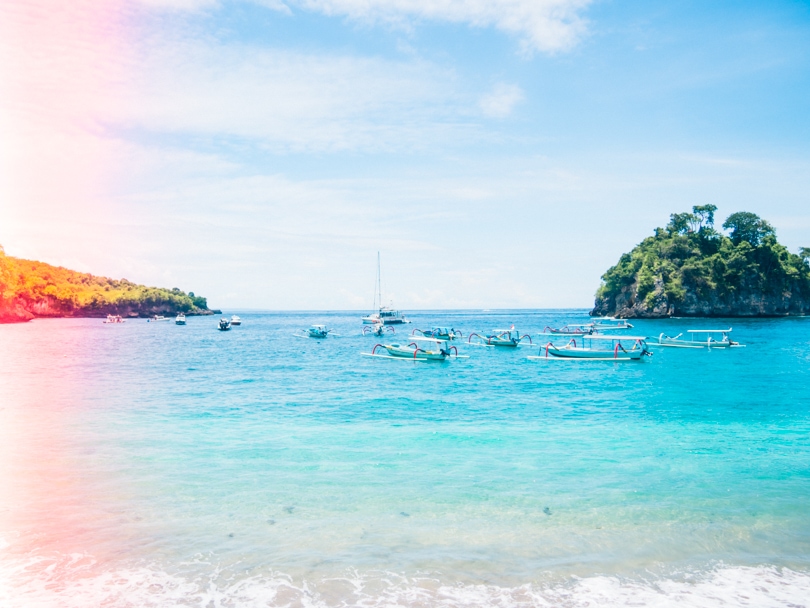 Other popular Nusa Penida tours
How to get to Nusa Penida
If you prefer to spend some more time in Nusa Penida, you can easily book a transfer only online. The easiest way to get to Nusa Penida by yourself is by taking a fast boat from Sanur Habor in Bali. The boat ride usually takes around 45 minutes, and there are several operators offering daily schedules.
Keep in mind that it can be a bit difficult to get on board the boats in Indonesia, often without a ramp. So I can't recommend this for people with mobility issues.
🌟 You can check price & availability here >> Fast boat from Bali to Nusa Penida
How to get around on Nusa Penida
The best way to get around Nusa Penida largely depends on personal preference and comfort level. Renting a scooter, or motorbike as the locals call them, is a popular option for those who are comfortable navigating bumpy dirt roads and want the freedom to explore the island at their own pace.
I love to ride a motorbike on Nusa Lembongan, however, driving in Nusa Penida was a whole other story. The island is much larger than I thought, let's just say I have never gotten lost so many times as I did in Nusa Penida. At one point Google Maps guided me into a village meeting where I was quickly and sternly asked to leave. Yikes!
On the other hand, if you're not comfortable riding a motorbike or want a more comfortable and convenient option, I recommend renting a car with a driver. When I don't feel like driving by myself, I usually book this customizable tour. You have the driver for 8 hours and can set your own itinerary or take suggestions from the driver. Remember to pick option 2 if you're already in Nusa Penida.
🌟 You can check price & availability here >> 8-hour customizable tour with a private driver
Best Snorkeling Spots in Nusa Penida
Manta Bay and Manta Point
The highlight of snorkeling in Nusa Penida is Manta Bay or Manta Point because you get the chance to swim with the majestic Manta Rays. In my mind, snorkeling in Manta Bay is an experience that everyone should have on their Bali Bucket List.
It is known for being one of the best places in the world to swim with manta rays, and the strong currents in the waters surrounding Nusa Penida mean that these graceful giants are present all year round. The visibility is usually excellent, making it an enjoyable experience for snorkelers of all skill levels.
Keep in mind that these are very popular snorkeling and freediving spots, which means that it does get very crowded. Don't be discouraged if there are 10 other boats when you get there, you can still have an incredible experience.
I prefer Manta Bay because Manta Point is located out in deeper water, not sheltered by any headlands. That means that the currents are much stronger, though both are located on the exposed side of Nusa Penida.
You'll find Manta Bay just south of Broken Beach and Angel Billabong, two of the most popular tourist destinations on the west coast of the island, both included in this guided tour. You can see photos of both in my West Nusa Penida Instagram guide.
Crystal Bay
Crystal Bay is home to a beautiful sandy beach perfect for relaxing before and after snorkeling. It is up there with the best beaches on Nusa Lembongan, just with a ton more palm trees. You may even get lucky enough to catch sight of dolphins from the sand. Gotta love that, right?
It is arguably the most popular spot for underwater enthusiasts of all levels due to the easy access from shore, its abundance of colorful coral, sandy bottom and shallow clear waters. It is especially popular from July to October when you get the chance to witness the large sunfish, also known as Mola Mola.
If you decide to visit Crystal Bay on your own, you can conveniently rent snorkeling gear from one of the warungs along the beach. Just remember that unless you're a very experienced swimmer, don't go further out than where the boats are anchores, the currents can take you by surprise.
Gamat Bay
Located in the channel between Nusa Penida and Nusa Ceningan, Gamat Bay boasts an impressive reef wall that is home to abundant marine life. I was amazed by the rich underwater world here, the colorful coral is among the most beautiful I've ever seen.
Gamat Bay is easily reached both from the shore and via boat. It is surrounded by cliffs, creating a serene and quiet atmosphere while snorkeling. Remember to bring your GoPro, because of the good light and shallow depth, it is an excellent location for shooting underwater pics.
Toyapakeh Wall
Continue north and you'll reach Toyapakeh Wall, known as one of the best snorkeling and dive sites in this area. It sits in the northern mouth of the Ceningan Channel, which means that the site is continuously fed from the currents flowing through bringing smaller fish and nutrients for the coral.
While the water is deep and currents strong, at times unpredictable, you are rewarded with impressive coral pillars featuring both hard and soft corals and rich marine biodiversity. Expect to see large schools of colorful fish, Bamboo Sharks and my favorite, turtles.
First time in Bali? >> The ultimate 2-week Bali itinerary (including Nusa Lembongan & Penida)
What you can see snorkeling in Nusa Penida
Manta Rays
During my snorkeling tour in Nusa Penida, I was lucky enough to see the majestic manta rays up close. These gentle giants were gliding effortlessly through the water and it was fascinating to watch them feed on plankton.
Surprisingly large, flat and slightly weird looking, they are named for their unique appearance, Manta meaning blanket or cloak in Spanish.
The type of manta rays that you can expect to see on Nusa Penida is reef manta rays, the second largest ray in the world. With a wingspan of up to 5 meters, they are hard to miss.
Is it safe to swim with manta rays?
Yes, it is generally safe to swim with manta rays, not to be confused with stingrays. In fact, their calm demeanor and curiosity made the experience very enjoyable for me. Just remember to keep your distance, at least 3 meters, and avoid touching them as their skin is extremely delicate.
Green Sea Turtles
Another highlight of my snorkeling adventure in Nusa Penida was seeing the green sea turtles. These sometimes curious creatures can come up to you to investigate your camera. Unfortunately, I didn't get any good shots as I was too busy keeping calm to not scare it away.
Mola Mola
This colossal fish, often measuring over three meters in diameter and weighing over a ton, usually keep to depths of several hundred meters. However, during the colder months, it surfaces to much shallower waters, making it visible to divers and if you're very lucky, snorkelers.
Reef and Bamboo Sharks
I was thrilled to see some sharks as well. During a visit to Fiji some years ago, I forgo the chance to swim with these sharks because I was too scared and regretted it ever since. This time I was assured by my guide that it was completely safe, so I managed to stay in the water and keep relatively calm.
Although they may appear intimidating, they were actually quite shy and seemed disinterested in my presence.
Frogfish
The one thing I wanted to see that I didn't was the well-camouflaged frogfish. These unique fish are ambush predators, and it would have been interesting to see them blend in with the coral and rocks.
Overall, snorkeling in Nusa Penida was an unforgettable experience, and I highly recommend it to anyone who wants to witness the beauty and diversity of the underwater world while in Indonesia.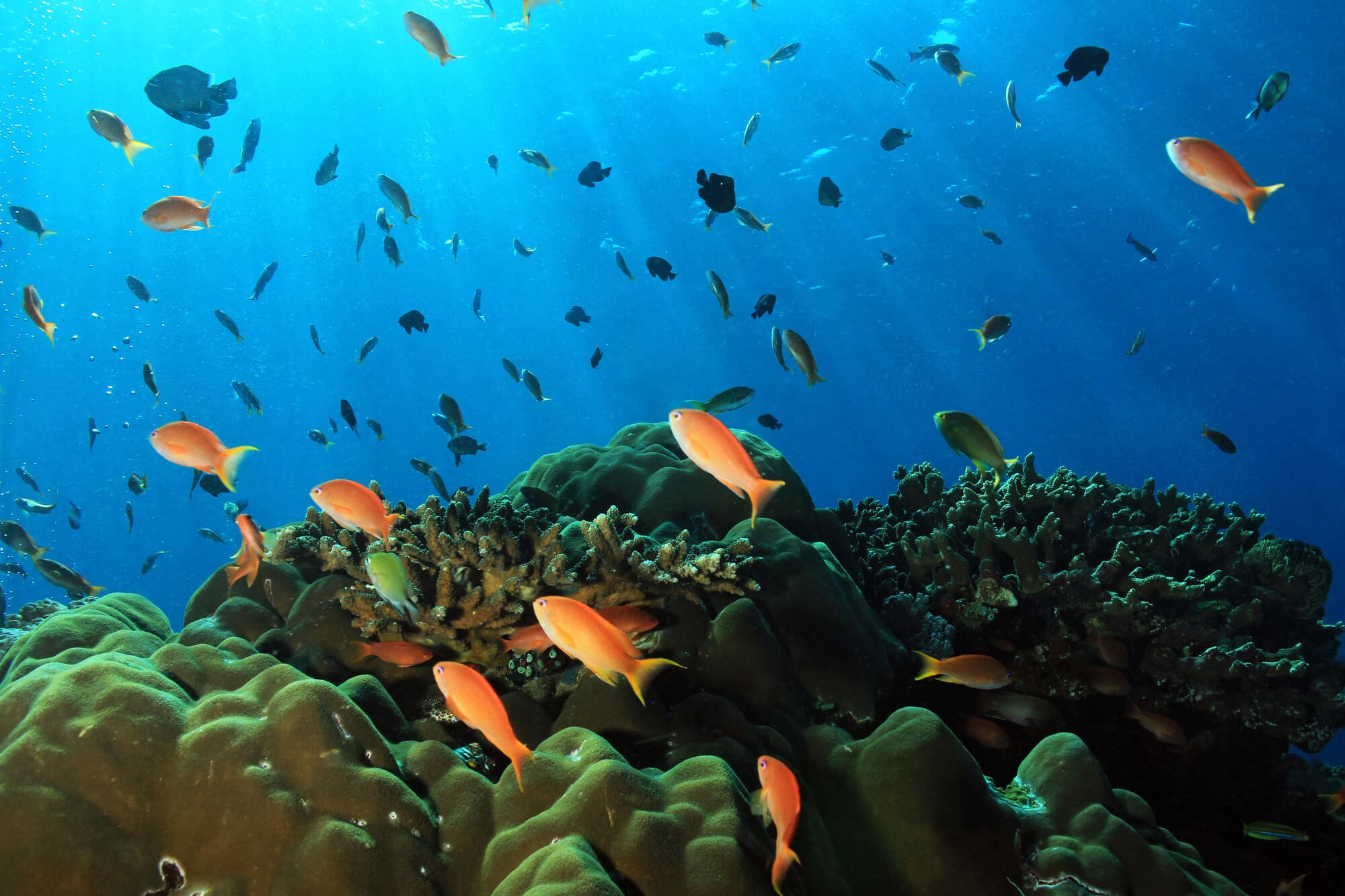 What to bring on a snorkeling trip
Once you have decided whether to join a guided snorkeling tour or make your way to Nusa Penida on your own, it is time to pack your bags.
The number-one essential to bring on a snorkeling trip to Nusa Penida (or take before you go) is seasickness tablets. Consider also wearing a seasickness wristband on the boat, I've found these to be very helpful. If you're anything like me and get seasick easily, this can make or break your experience.
I also recommend wearing your swimsuit under your clothes as these popular snorkeling spots do get crowded with no places to change in private.
Here's a list of other items I always make sure to bring on my snorkeling trips:
Snorkeling gear: Although the tours provide everything you need, if you plan to spend a lot of time in the water, it might be a good idea to bring your own for a better fit and hygiene reasons.
Waterproof and reef-safe sunscreen: I apply it generously before getting into the water and throughout the day. It is so easy to get severely sunburned out on the water, it can literally ruin the rest of your trip.
Swimwear and a lightweight towel: Comfortable swimwear is important for enjoying your time in the water without having to readjust all the time, and a towel comes in handy for drying off afterward.
Underwater camera: Capturing the beautiful marine life around Nusa Penida is a must, so remember to bring your GoPro or waterproof case for your phone. I absolutely love my GoPro Hero 11, the quality is just insane.
A change of clothes: Having a fresh set of clothes makes the boat ride back to Sanur much more pleasant.
Snacks and water: Although lunch and water usually are provided on the guided tours, I always pack some snacks and extra water just in case.
A small backpack or dry bag: Keeping all your belongings in one place, protected from water, is essential.
My favorite bottle for travel, backpacking and hiking.
You can fill it up anywhere, Lifestraw filters bacteria, parasites, chemicals and microplastics.
For every Life Straw product purchased, a child in need receives safe water for an entire school year!
Where to stay in Nusa Penida
If you decide that one day in Nusa Penida is just not enough, I recommend finding a place to stay close to Crystal Bay and Gamat Bay on the west coast. My favorite budget accommodation option is Bintang Bungalows, located right in the middle of the two popular snorkeling spots.
As you can see above, you get your own super cute and highly-rated bungalow with air-conditioning and a semi-outdoor bathroom, and a beautiful pool area right on your doorstep.
If you have a bit more cash to spend, check out Atalaya Villas Nusa Penida. Omg, I have no words. This place is an Instagrammers dream. I wish my bedroom at home looked like that!
Two of the villas boast their own private infinity pool overlooking a sea of palm trees below. The common pool area is just as beautiful with tipi-like day beds and a bar serving up frozen margaritas. Perfect after a day of snorkeling.
More Nusa Islands travel guides
---
Remember to pin for later 😉