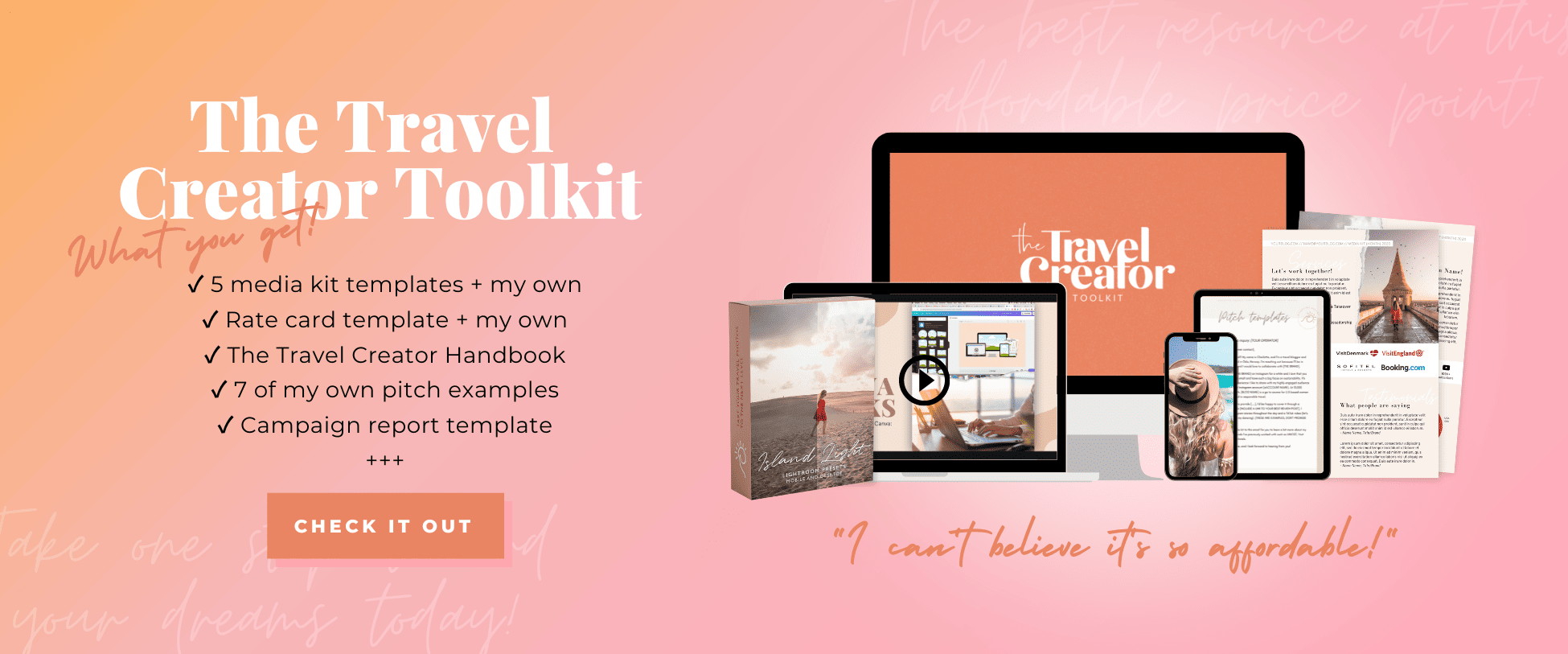 This post may contain affiliate links. I will earn a small commission if you purchase through them, at no extra cost to you.
Are you looking for the top things to do in Murcia, Spain? Then you're in the right place! I have spent 17 years exploring the Murcia region, our holiday apartment there has been like a second home.
Less developed and visited than its neighbors, Valencia to the north and Andalucía to the south, Murcia is still somewhat of a hidden gem in Spain.
The region boasts over 300 sunny days a year, and its coastline, known as the Costa Cálida, is dotted with everything from small coves to mile-long golden sandy beaches.
Take a dip in the warm waters of two seas, play a round of golf, go wine tasting, explore medieval fortresses or take part in some water sports. Whether you want a relaxing or active vacation, one thing is for sure in Murcia, you are spoilt for choice.
So let's take a look at my favorite things to do in the Murcia region in Spain.
🌟 Remember, always get insurance before you travel to Spain or anywhere else. Safetywing is an affordable subscription travel insurance that you can purchase even after departure. Read my complete SafetyWing review here.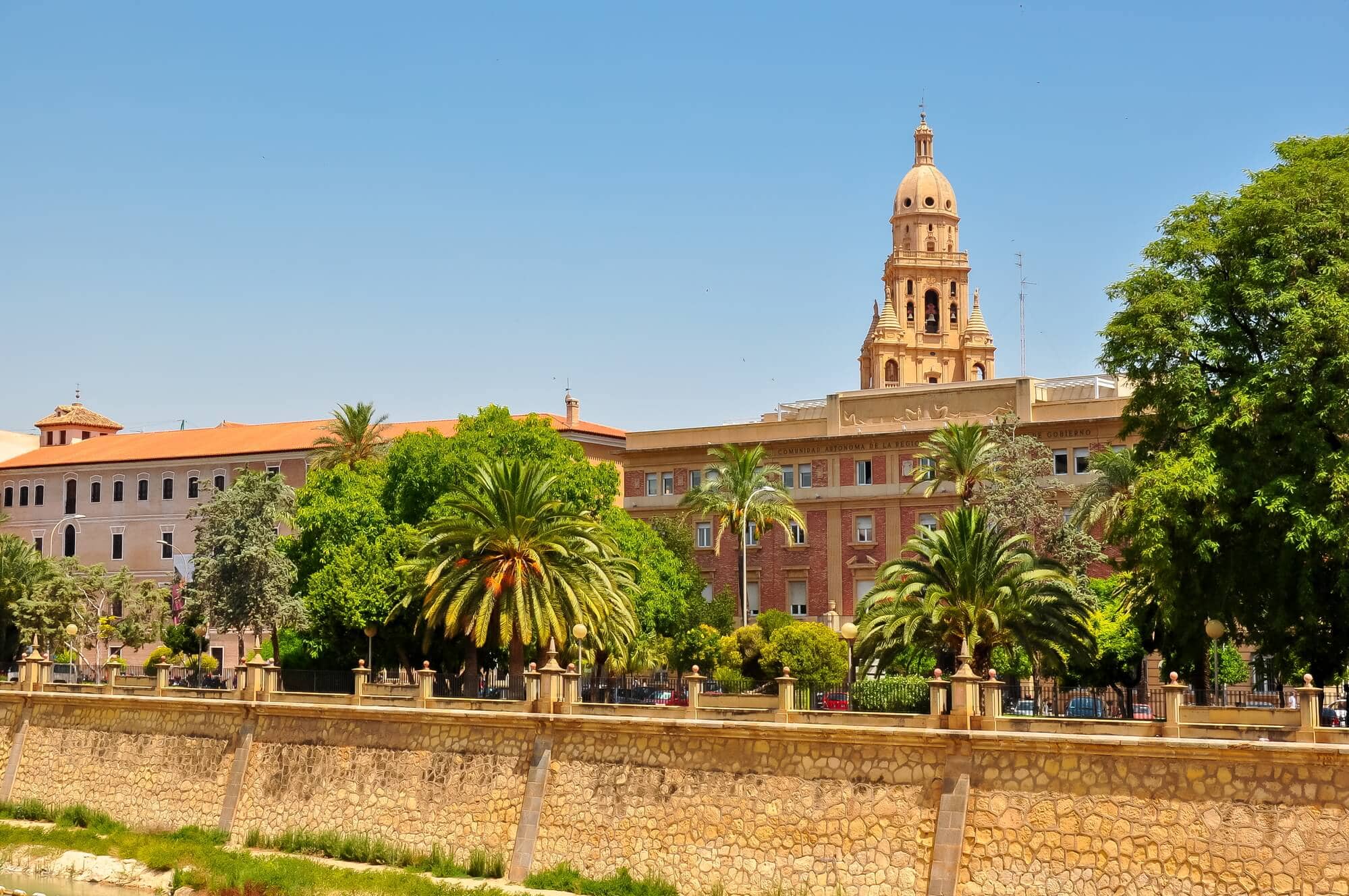 Where in Spain is Murcia located?
The Region of Murcia is a city located in the southeastern part of Spain, on the Costa Cálida.
The city of Murcia is the capital of the province and is situated in the center of the region, approximately 40 kilometers from the coast. The city is easily accessible by road, with several major highways connecting it to other cities in the region and throughout Spain.
It also has a modern airport, the Murcia-San Javier Airport, which offers flights to several destinations in Europe.
In addition to the city of Murcia, the region is home to several other towns and cities, including Cartagena, Lorca, and Molina de Segura. The region is also known for its beautiful natural landscapes, including the Sierra Espuña mountain range and the Mar Menor, a large saltwater lagoon located on the coast.
Murcia highlights map
How to get around the Murcia region
The easiest and best way to get around the region of Murcia in Spain is by car. There are buses and trains, however, so many of the most beautiful natural wonders are not connected to public transport. Having a car gives you the freedom to explore the off-the-beaten-path places I mention in this article.
I always rent cars through Discover Cars, a comparison site that covers more than 10,000 destinations worldwide.
🚘 You can check prices and availability here >> Rental cars in Murcia
Best Murcia tour
If you prefer not to drive but still want to explore the region, I recommend this half-day private guided tour of Murcia.
You get to visit a local lemon orchard complete with its own museum, the Fuensanta Sanctuary dating back to 1694 and the impressive Murcia Cathedral. You'll also have time to go for a walk around the main streets and squares of the city center. My family and I loved it!
Top 17 things to do in the Region of Murcia
While most people visit the Murcia region because of the beaches, I have chosen to focus more on things away from the sand. It's easy to find information about the beaches, so I wanted to also include some of the things you might not have thought to do in Murcia.
1. Murcia City
Murcia, the capital city, sits on the banks of the Segura River east in the region. The impressive Gothic Baroque style Santa María Cathedral and Plaza del Cardenal Belluga are the city's main tourist drawcards.
Climb up to the top of the bell tower where you get panoramic views of the city or sit down at one of the many cafés outside and enjoy the exciting mix of old and new architecture.
At the opposite end of the Plaza, you'll find the controversial Moneo building which houses the town hall and right next to it, the beautiful, pink Bishop's Palace dating back to the 1750s. If you're in search of gastronomy, culture, history and a taste of "off the beaten path Spain", you have to spend a day in Murcia.
---
2. Ricote Valley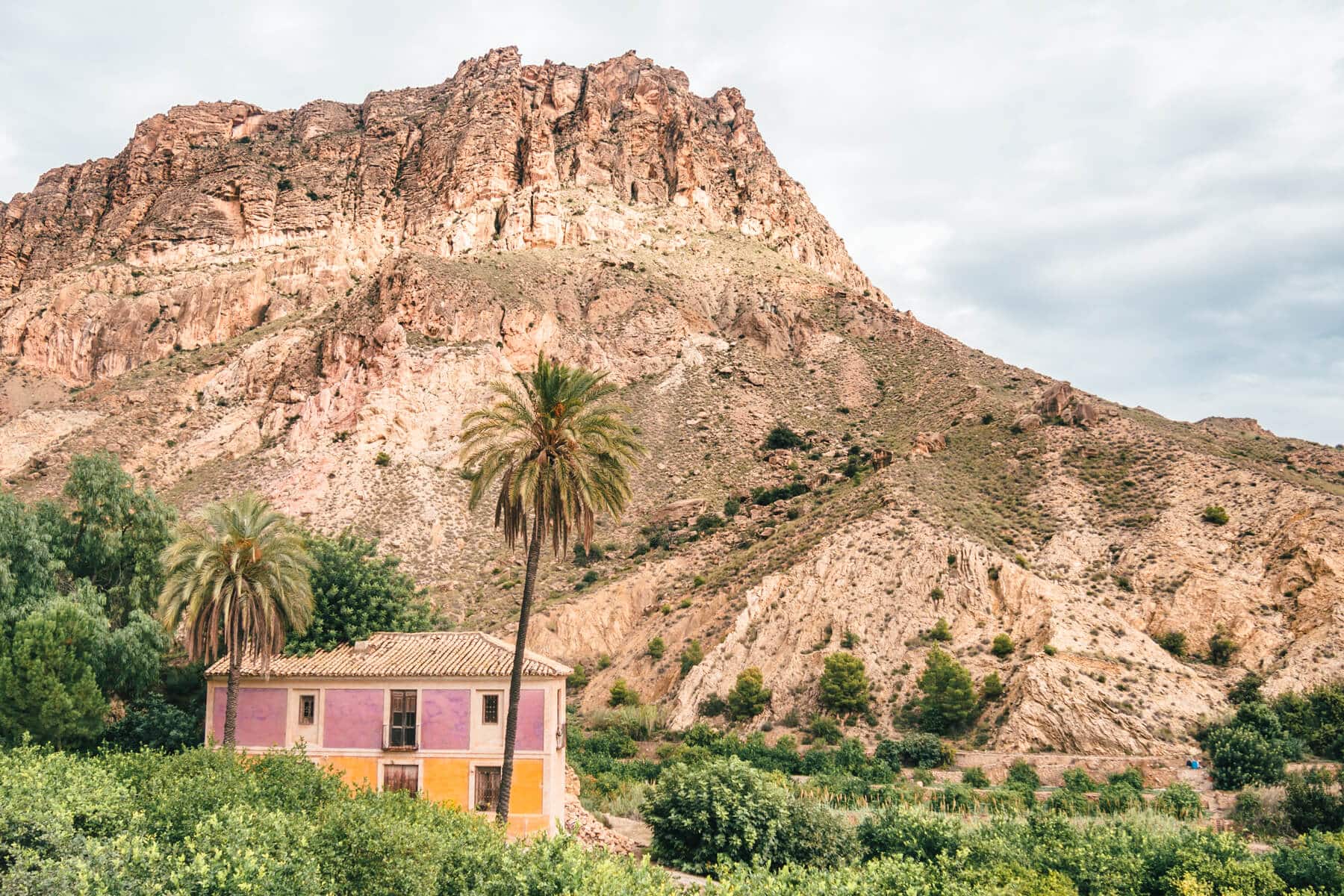 Valle de Ricote or Ricote Valley is one of the most beautiful and undiscovered parts of not only the Murcia region but the whole country. Cave drawings, Iberian settlements, Roman ruins and the iconic Hispanic – Muslim Medina Siyasa are some examples of its rich cultural heritage.
Cieza, an agricultural town renowned for its production of peaches and olives, is for many the first stop in the valley. For a few weeks every spring you can experience an incredible phenomenon known as Floración de Cieza. When thousands of hectares of peach trees go into bloom creating a pink blanket surrounding the whole town. It's a spectacular sight!
From Cieza the river runs through small towns and villages like Abarán, Blanca, Ojós, Archena, Ricote and Ulea, all with their own quirks and charm making them well worth a visit.
You can drive through the whole valley or if an active holiday is what you're after there are many hiking, horse riding, biking and rafting opportunities. Exploring the Ricote Valley is definitely one of the top things to do in Murcia!
---
🌟 I saved $80 on my last booking >> Right now you can sign up for the WayAway Plus membership for only $44.99, that's 50% + 10% off the normal price. One whole year comes out to under $4 a month, which means you'll probably earn back the annual fee on your first trip!
3. Almadenes Canyon Rafting Tour
For a different experience in the Murcia region, book a rafting tour on the stunning Segura River! My family and I absolutely loved this experience. My mom was a little skeptical about the rafting part, however, it turned out to be very calm without any rips or falls. Our guides were also super patient, funny and knowledgeable.
We got to spend two hours admiring the beautiful scenery of this protected area known for its lush riverine forest, rocky landscape, and ancient cave paintings. There are two stops along the way to visit the Monigotes Caves and meet the curious inhabitants of the Otter Cave.
Another option is this rafting tour that also includes a guided experience in the Cueva del Puerto, an underground cave with impressive formations of stalactites and stalagmites in many different colors.
Read my complete review here: Rafting the Segura River in Murcia.
🌟 Check price and availability here >> Almadenes Canyon Rafting Tour
---
4. Cartagena City
No visit to Murcia is complete without exploring Cartagena, a beautiful port city where every twist and turn tells a tale about its rich history. Thanks to its strategic position on the Costa Calida, Cartagena has been inhabited by several cultures such as Arabs and Romans which all have left their own mark on its cultural heritage.
The most important landmark in the city is the old Roman Theatre which dates all the way back to between 5th and 1st century BC. However, it wasn't until 1988 that the first remains of the theatre were rediscovered during the demolition of another old building.
Today you can visit not only the Roman Theatre itself but also a large museum which will take you on an exciting journey through time. You can read more about the top things to do in Cartagena here.
🌟 Limited on time? Join this highly-rated Coves & Beaches Private Shore Excursion. A 5-hour tour of La Manga and Cabo De Palos, including a stop at 1 or 2 chiringuitos and pick up straight from the cruise ship or your accommodation in Cartagena. Perfect for groups of up to 7 people!
Other Popular Cartagena tours
---
Salto del Usero, a gorgeous natural oasis awarded as a Site of Geological interest, is located just outside the town of Bullas. The waterfall and rock pools serve as an inland beach and offer great relief to both locals and visitors alike during the scorching hot summer months. It is a must while in Murcia!
Every year on June 23rd, large crowds gather here to take part in a 225-year-old tradition. A ceremony that recreates the legend of a Moorish princess who jumped into the river after being stood up by her Christian lover.
Keep in mind that you're not allowed to drive all the way down and park next to the Salto and that you will be enjoying the area at your own risk. Visitors are advised not to jump and to respect the flora, fauna, and geological formations of the area.
---
6. San Pedro del Pinatar Nature Reserve and Marina de la Salinas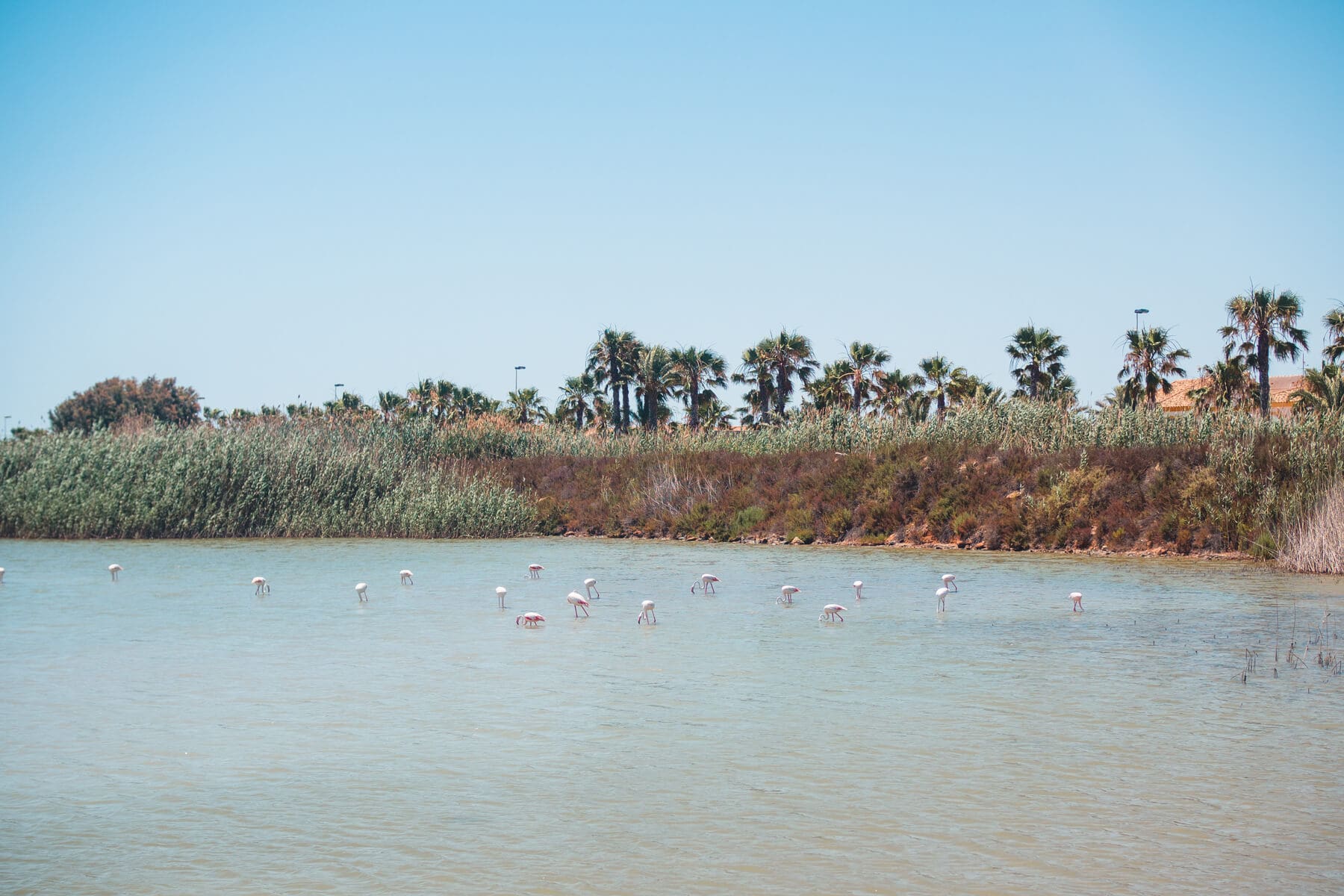 The most important wetlands in the Murcia region is home to flamingos and other migratory birds, such as albatrosses, herons, and seagulls. A must for birdwatchers! The area of the park which is open to the public consists of salt flats, reed beds and pine forests not to mention the high sand dunes at Torre Derribada beach.
You can choose to go for a leisurely stroll or jump on a bike. There are bikes for rent in Lo Pagán and down by the Baños de Lodo mud baths.
At the edge of the nature reserve lies a fancy marina called Puerto Marina de las Salinas. Here you can go diving, rent a jet ski or yacht or just sit down and enjoy a meal at one of the many restaurants.
Cafe Cielo is my favorite restaurant in Murcia and I've been coming here for more than 8 years now. Their food is always so fresh and delicious and the view of the impressive yachts coming and going is amazing.
---
7. Cabo de Palos Lighthouse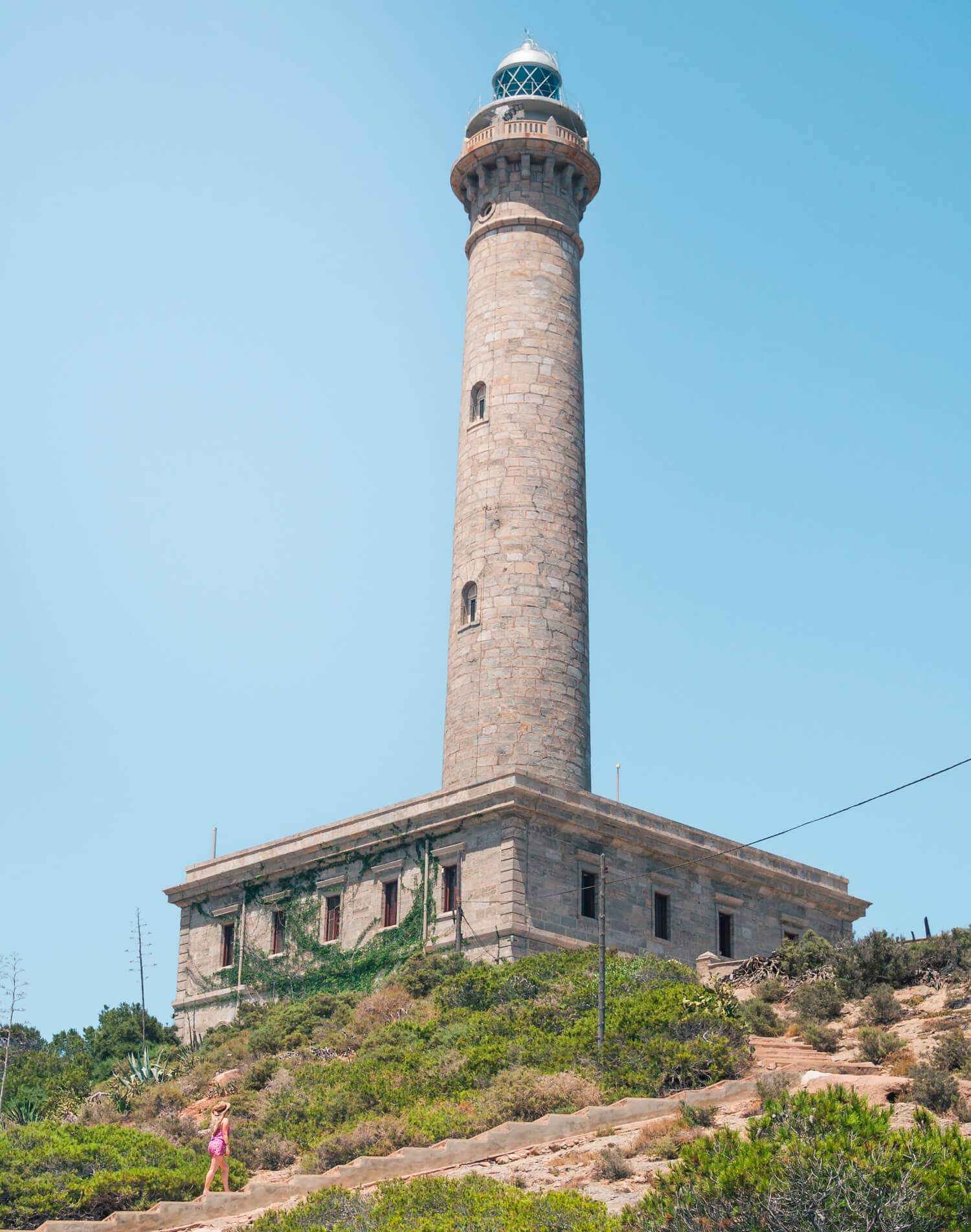 Cabo the Palos Lighthouse is a stunning neoclassical building that sits on a rocky headland in Cabo de Palos, one of the best diving sites in Spain. I dare to say that it also has one of the best, if not the best view, of all lighthouses in Spain.
The lighthouse, originally designed as a watchtower to prevent pirate attacks, has been in operation since 1865 and stands 81 meters above sea level. Although the lighthouse itself isn't open to the public, you can walk up next to it and enjoy the gorgeous 360-degree view.
Cabo de Palos also marks the beginning of La Manga, a 21-kilometer-long, 300-meter-wide spit that separates the Mediterranean Sea from the Mar Menor.
---
8. Castle of Lorca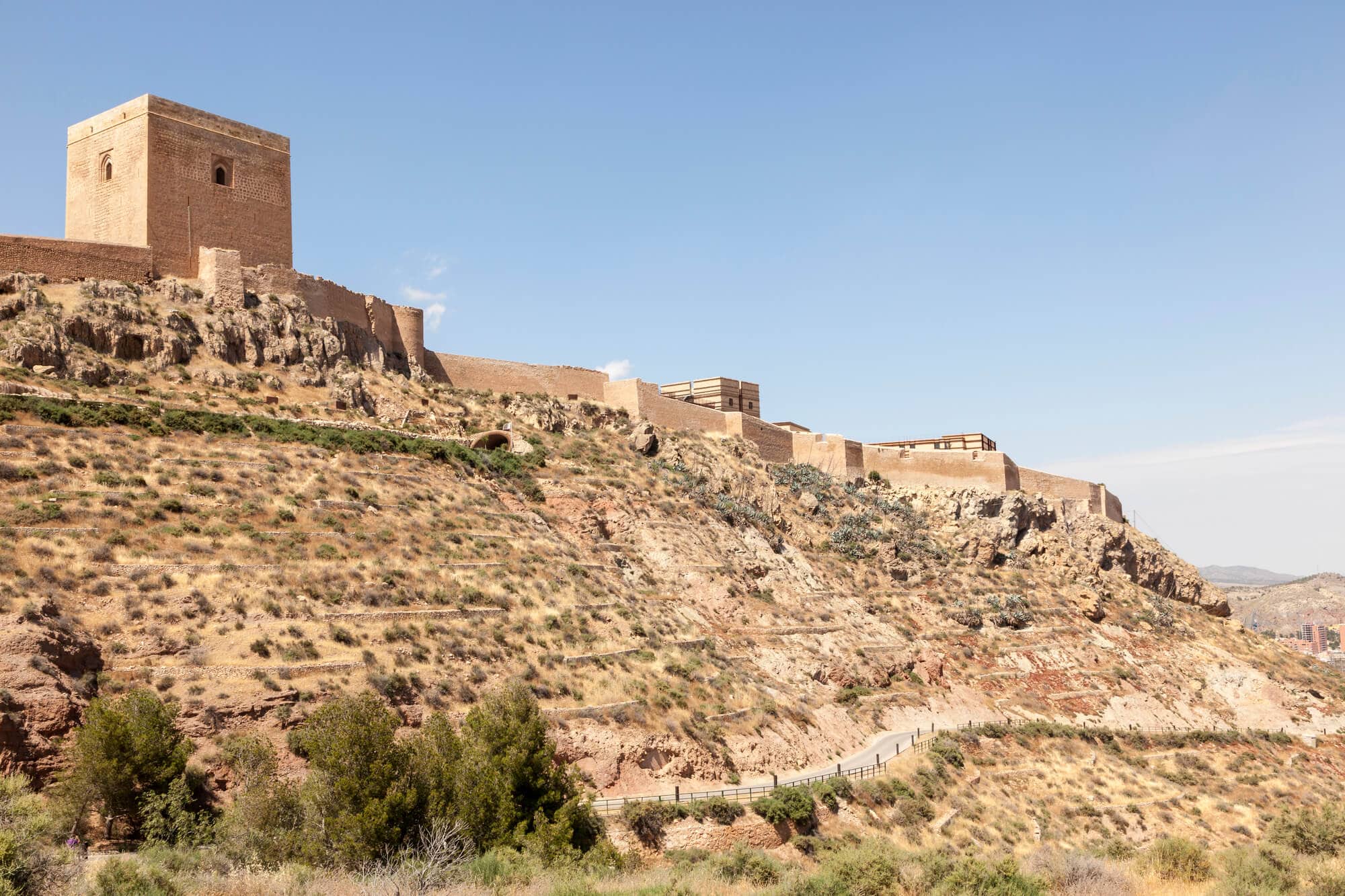 Lorca Castle or The Fortaleza del Sol (the fortress of the sun) is the main attraction in Lorca also known as the "Baroque city". Situated strategically between two Christian kingdoms and the Moorish kingdom of Granada, the castle has seen a lot of action over the years.
Today the castle houses a museum where you can learn about its turbulent past through a series of multi-sensory exhibitions. A fun day out for the whole family!
In 1931, Lorca Castle was declared a National Historic Monument, so after it was damaged during the earthquake of 2011, repairing it was a top priority. At 640m long and 120m wide, it's one of the largest and most impressive castles in Spain and a must-see on any Murcia itinerary.
---
9. Playa de Calblanque
Playas de Calblanque refers to a series of golden beaches within Parque Regional de Calblanque, a nature reserve that got its protected status in 1987. Think miles of powdery soft sand and crystal-clear turquoise water.
So it might come as no surprise that this is my favorite beach in all of Murcia and the most picturesque beach I've visited in Spain so far.
For visitors, it is important to remember that this is a nature reserve and to treat it accordingly. Pick up your trash and keep out of the closed-off areas. If a relaxing day at the beach is what you're after while in Murcia, Playas de Calblanque is the place to be.
---
10. Ciudad Encantada de Bolnuevo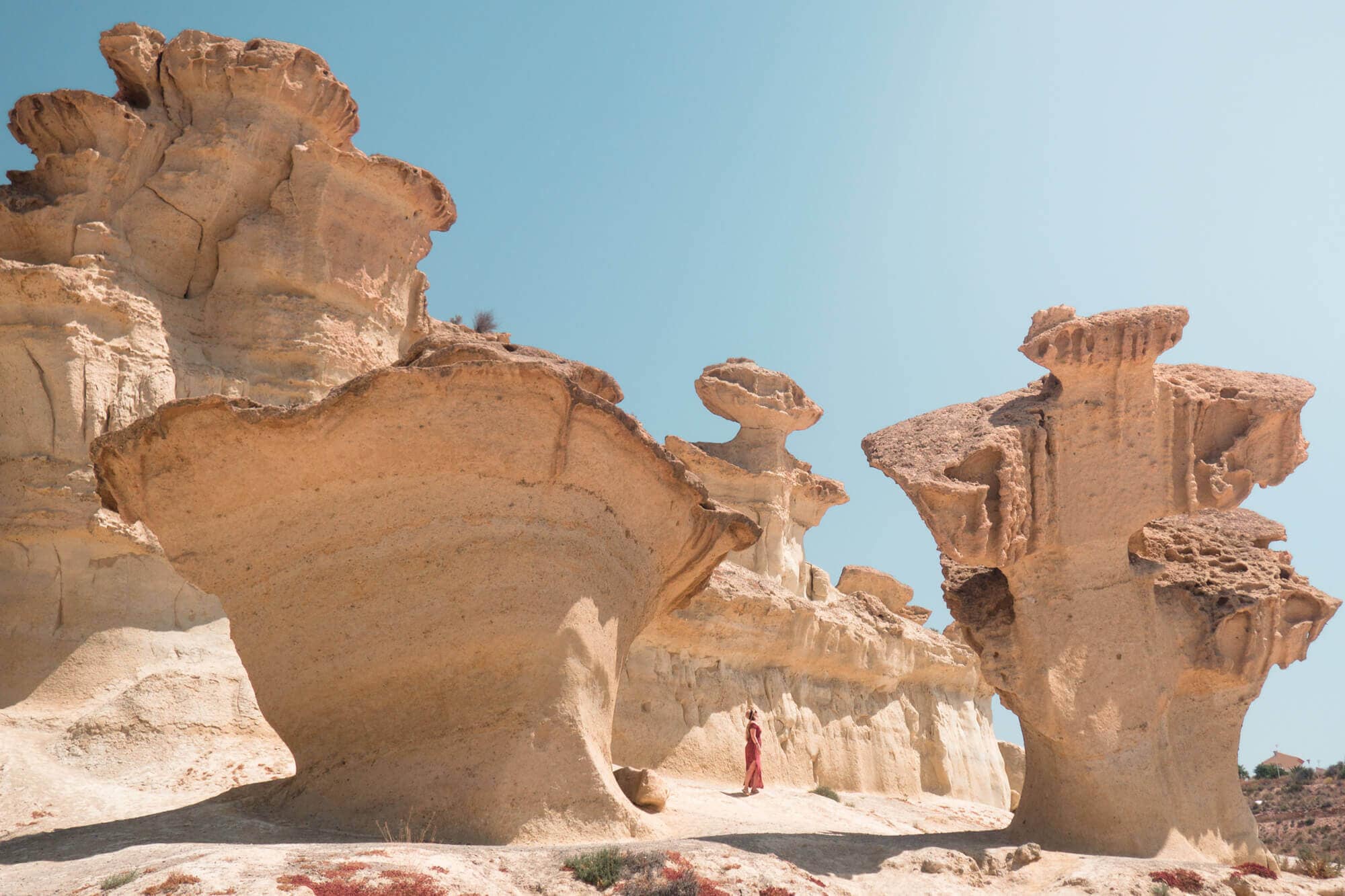 In my mind, Ciudad Encantada de Bolnuevo, or the Enchanted City of Bolnuevo, is one of the most unique places not only in the Region of Murcia but in the country.
These incredible sandstone formations have been eroded by water and wind for thousands of years and are today a spectacular sight and a great backdrop for your holiday photos.
---
11. Bateria de Castillitos
Built between 1926 and 1933 in order to defend Cartagena Bay, these Disney-esque battery emplacements offer breathtaking views and the thrill of exploring the gun control bunkers, several towers and the massive guns close up.
Constructed by the British, the cannons were the best of their kind at the time and were placed in a way that could not be seen from sea level. Although proven they could fire a projectile over 35 miles, they were only fired once during the Spanish Civil War.
Don't let the winding, narrow road up the mountain discourage you from visiting this interesting place. Just follow Google Maps directions and you'll get there without problems. Pack a picnic basket and enjoy lunch on the roof with the most incredible view. Definitely one of the top things to do in Murcia!
---
12. Mazarrón mines
Ever since Roman times, the land around Mazarrón has been extensively mined for iron, lead, silver, copper and alum. The rich deposits in the area were formed by the eruption of two volcanoes.
Mazarrón mining reached its peak in the 1840s and continued until the 1950s when most of the mines were abandoned. The many years of successful mining operations were the reason behind the explosion of wealth in Cartagena and other cities close by.
Today the landscape around the mines glows with a multitude of colors, due to the sulfurs of the extracted minerals and the waste that was left behind. And it's these colors set against the old ruins that make this place so cool, especially if you're an avid photographer like me.
If you don't want to visit the mines on your own there are several guided tours you can join. Keep your eye on sites like Murcia Today and Visit Mazarrón for upcoming tours.
---
13. Rincón del Hornillo Águilas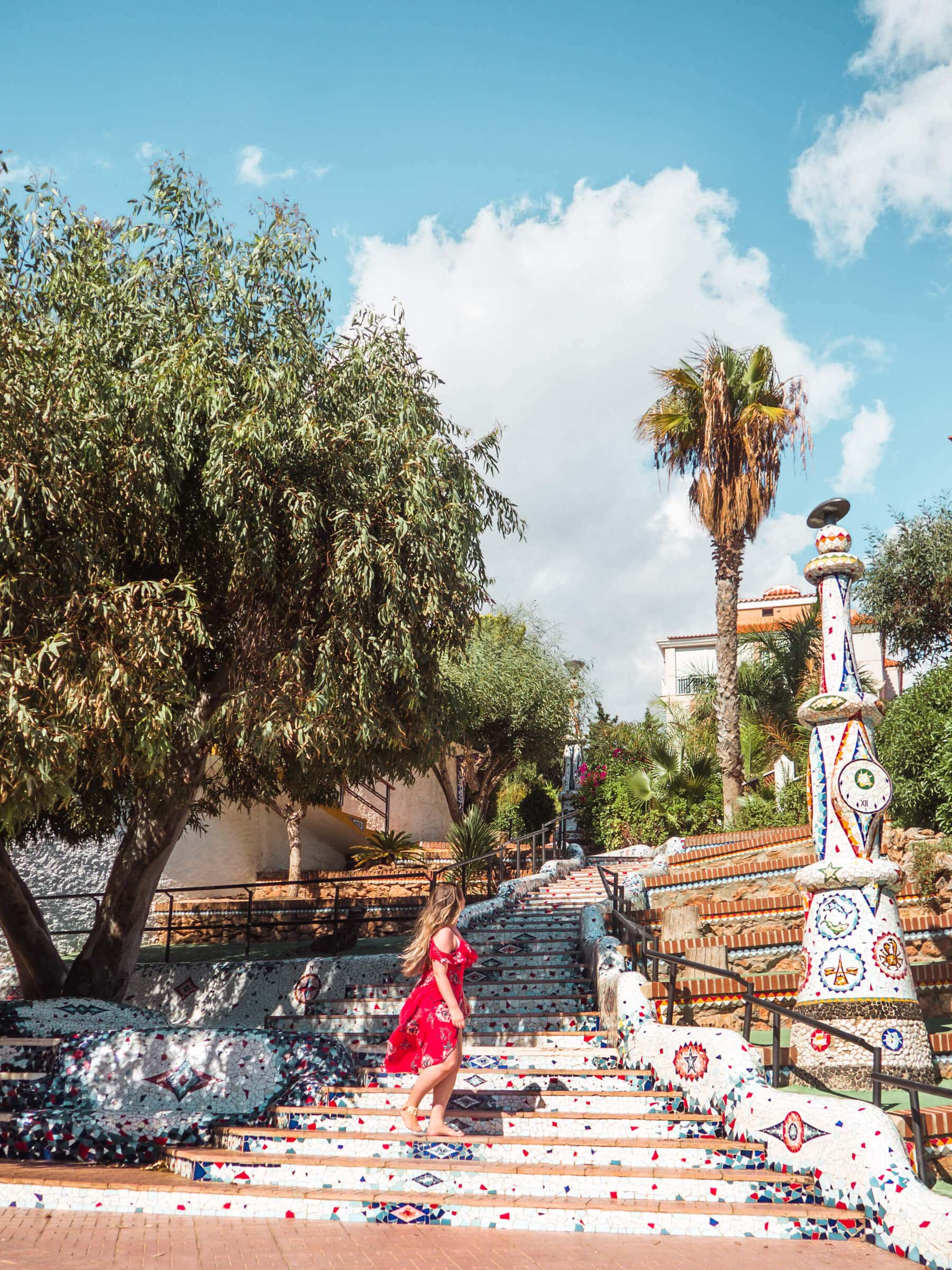 Hidden away behind El Hornillo Beach in Aguílas you'll find a mosaic masterpiece called The Rincon del Hornillo. Juan Martinez Casuco is the man behind this little Gaudí-esque corner and one other area close by called Ermita. He spent his life working on the local railways and started on this 12-year project once he retired.
To the left of the staircase, there is a little bar which to this day is owned and operated by his son. If you find yourself in the area, Rincon del Hornillo is definitely worth a stop. The world needs more creative souls like Juan to create colorful and whimsical places like this.
---
14. Castillo de San Juan de las Aguilas
Águilas, located close to the border of Andalucía, is the southernmost town in the region. While its shore is dotted with bays, harbors, rocky headlands and fine sand beaches, the most impressive attraction is an 18th-century military fortress called Castillo de San Juan de las Águilas. From its high towers, it was possible to spot enemies, mainly Berbers and pirates.
Restored in 2007 and open to the public since 2009, the fortress offers great panoramic views of Águilas and makes for a great outing for the whole family. The entrance fee is only 2 euros for adults and totally free for children and students. A good place to start the walk up to the castle is at the tourist office at the base of the headland.
---
15. Caravaca de la Cruz
A charming little mountain town situated on the bank of the River Argos, on the border between Murcia and Granada. Home to the Iberians, the Romans and the Muslims, Caravaca is the Fifth Holy City, along with Rome, Jerusalem, Santiago de Compostela and Camaleño. A key destination for pilgrims!
According to a legend, Moorish King Abu Zeid was converted to Christianity here when he saw two angels bringing a cross down from heaven. Even if you're not religious, I'm not, this charming old town is definitely worth a visit.
The basilica that towers above the city, complete with an ornate Baroque facade, is absolutely beautiful and boasts panoramic views across the town.
---
16. Barrancos de Gebas
Barrancos de Gebas badlands is a stunning natural attraction characterized by its rugged terrain, steep cliffs, and intricate network of canyons and ravines. The badlands were formed over millions of years of erosion caused by wind and water, which created a striking array of colors and textures in the rock formations.
The area is home to a diverse range of flora and fauna, including several species of birds, reptiles, and mammals. You can explore the canyons and ravines on foot, taking in the breathtaking views of the surrounding countryside and the sparkling waters of the nearby reservoir.
---
17. Playa del Conde
Playa del Conde is a relatively small beach, but it is popular among locals and tourists alike. The calm, shallow waters are ideal for swimming, and there are plenty of opportunities for water sports such as paddleboarding and kayaking.
You can see the La Manga strip far in the background as well as a watchtower built in 1591 to warn the local population of threats such as Berber Pirates. Definitely one of the most picturesque beaches in the Region of Murcia.
---
Best Time to Visit Murcia
The best time to visit the Region of Murcia is during the shoulder seasons, May-June and September-November. It gets extremely hot during the summer months, and the beaches crowded, so try to avoid July and August if possible.
In my experience, October is the best month to visit. It's still hot enough to lounge on the beach, while cool enough for hiking and exploring.
How much time should I spend in Murcia?
Ideally, you should spend a week in Murcia to truly get a feel for the region. That way you can explore several beaches, go hiking and rafting, visit historic cities and villages, and even join a guided tour or two.
And if you can, stay for longer. I have traveled in the region of Murcia for 17 years and still find something new to see and do every time I visit.
Is the Region of Murcia in Spain worth visiting?
The answer is YES!
The Region of Murcia is such a beautiful and diverse area. In addition to its stunning beaches and rich history, Murcia is home to many natural wonders including the Sierra Espuna mountain range, the Mar Menor lagoon, and the Cabo de Palos marine reserve.
These areas offer a range of outdoor activities, including hiking, cycling, water sports, and birdwatching.
Murcia is also famous for its delicious cuisine, which is influenced by both its coastal location and agricultural heritage. And best of all is that most of the region is still authentically Spanish, not overdeveloped for tourism like so many places these days.
So i recommend you book your vacation to Murcia now, you won't regret it!
Looking for more Spain travel guides?
---
Remember to save for later 😉