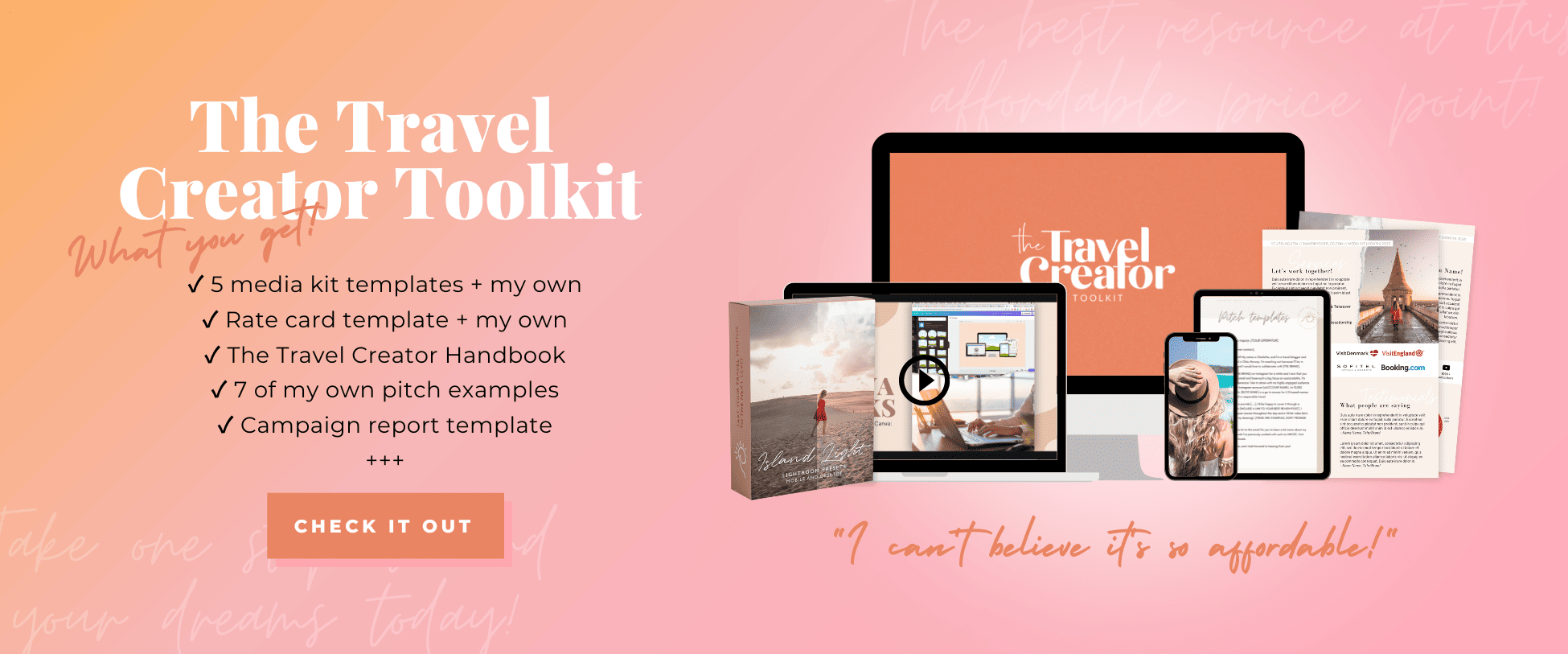 This post contains affiliate links. I will earn a small commission if you purchase through them, at no extra cost to you.
Nestled between the foothills of the Columbares mountains and the Mediterranean Sea, lies the Region of Murcia. Often overlooked in favor of its more popular neighbors, Murcia is still unknown to many and relatively untouched. It's the perfect place to get a taste of authentic Spain while still enjoying all the comforts of modern resorts such as the incredible gated community of Hacienda Riquelme.
I never thought I would refer to a resort as one of my favorite places in the world, I usually prefer a hut on the beach in the tropics, but Hacienda Riquelme Gold Resort has become like my second home. I just love it there!
It is in my eyes the best golf resort in Spain, though I can't say for sure as I haven't been to them all, nor do I play golf haha. But what I can say is that it is absolutely stunning and the perfect place for a sunny European holiday, just take a look below.
🌟 Check availability >> Book your stay before it's too late for the summer season!
How to get to Hacienda Riquelme Golf Resort
The closest airport to Hacienda Riquelme Golf Resort is Región de Murcia International Airport, also known as Murcia-Corvera, only 25 minutes away by car.
Alicante-Elche Miguel Hernandez Aiport is another option, offering more flight connections to smaller European cities, just over an hour's drive away from the resort.
It is best to rent a car to get around the area as it will allow you to explore at your own pace and set your own schedule. You will need a car to get to the many beautiful beaches, shopping centers and restaurants I'll talk more about below. There are several different car rental agencies available at both airports, click below to check prices and availability.
🌟 Check price & availability here >> Rental cars in Murcia, Spain
Sucina
The nearby village of Sucina, with its iconic cross on the hill and beautiful church, Nuestra Señora del Rosario dating back to 1744, offers a wide variety of shops, bars and restaurants within walking distance of the resort.
If you visit on a Monday, be sure to go for a stroll through the weekly market to feel the essence of daily life here.
The Sucina area grew in importance once the work on the railway line linking Cartagena and Murcia with Madrid and Chinchilla began in the mid-19th century. The line crossed into the Hacienda Riquelme area and was named the Sucina and Hacienda Riquelme station.
History of Hacienda Riquelme
The origins of Hacienda Riquelme date back to the end of the 18th century and the first half of the 19th. The Hacienda building you see today was built around 1875. During the Spanish Civil War in 1936, the government confiscated Hacienda Riquelme, and once the war was over, it was returned to the Riquelme family.
The second half of the 20th century marked the decline of both Sucina and Hacienda Riquelme. As a dryland farm, production was limited and only profitable if it rained enough. In the early 2000s, Polaris World bought and meticulously restored the property to the glorious golf resort it is today.
The beauty of the resort is that it maintains the history and charm of the past. Not only have the gardens, walls, and fences been preserved but the name of the Riquelme family lives on.
Must read >> The Enchanted City of Bolnuevo: A lesser-known natural wonder in Spain
Hacienda Riquelme Golf Resort Amenities
Centered around a restored 19th Century Hacienda from which the resort takes its name, Hacienda Riquelme offers a low build density compared to other gated communities and an abundance of native trees, including olive and pomegranate, as well as five lakes. Due to the lush grounds, the resort is well known as a haven for wildlife, with nearly 100 different species of birds.
The main drawcard of the resort is, of course, the golf course, it is a Nicklaus Design of 18 holes that are built to championship standards. However, you do not need to be an avid golfer to fall in love with Hacienda Riquelme Golf Resort. The resort is family-friendly with six different and fun playgrounds for children with slides, swings, and plenty of climbing to keep the young ones happy and enjoying the outdoors.
For the grown-ups, there are several professional tennis courts, an outdoor sports area for basketball and football and even an outdoor gym. With almost 20 swimming pools on the premises, you always have space and tranquility to enjoy more than 300 days of sunshine a year. You also have access to free parking everywhere, which is so nice compared to the crammed cities along the coast.
Apartments for rent
Our apartment is not available for rent, however, there are many other awesome options to choose from. All apartments have 2 double bedrooms, one bathroom, a living room and a separate kitchen in addition to some kind of outdoor space.
Casa Hacienda Riquelme is in my mind the most beautifully decorated apartment available for rent at the moment. Boasting a picturesque pool view from the balcony, it is usually booked out so be quick if you want to spend your summer holiday here.
At the highly-rated Casa Scully you get an enclosed balcony, also with a pool view, perfect for those unbearably hot days in July and August.
Penthouse Egeo is the closest to our style apartment. It boasts a large open-air terrace with views across the golf course on both sides.
Food & drinks
The El Casón Restaurant prides itself on serving a mix of Mediterranean and International dishes made from locally sourced ingredients. You have a choice of seating at the bar, outside on the veranda or in the Hacienda. I love spending an afternoon eating and drinking with friends, looking out at the lush garden, complete with palms in all shapes and sizes.
During the summer months, you also have the option to dine in the enclosed courtyard at their popular Italian pop-up restaurant or enjoy a cocktail or two at El Palomar Bar set in the former dovecote.
Things to do around Hacienda Riquelme
Beaches
In Murcia, you can swim in the water of two seas within minutes. Play in the waves of the Mediterranean Sea at La Manga or relax in the calm waters of the Mar Menor on the other side. While the name Mar Menor means "minor/smaller sea", it is actually Europe's largest saltwater lagoon. The area is ideal for swimming, though it isn't particularly refreshing during the warmer months due to the mostly standstill water.
The sandbar that encloses the Mar Menor is called La Manga, which means "the sleeve" in Spanish. It is a resort town popular amongst tourists and locals alike, especially lovers of watersports such as windsurfing, canoeing, jetskiing and sailing. There are stunning white sand beaches, the typical touristy places to eat, bars and nightclubs.
While the Mar Manor and La Manga are very popular with holidaymakers, I prefer beaches without highrises and masses of people. So let's take a look at my favorites.
PLayas de Calblanque
These beaches are located within Parque Regional de Calblanque, one of the best preserved and unspoiled natural landscapes on the coast. Here you'll find miles of golden sand beaches, dunes, salt flats, rabbits, snakes and even foxes. On calm days, the turquoise water is crystal clear and always refreshing compared to the water of Mar Menor.
To get to the beaches below, take a left when the road splits in two. There's limited parking during the busiest summer months, so get there early. Don't park outside the designated areas, you will get a hefty fine. Respect that this is a protected area.
And while you are in the area, explore the incredible historic sights and attractions in Cartagena.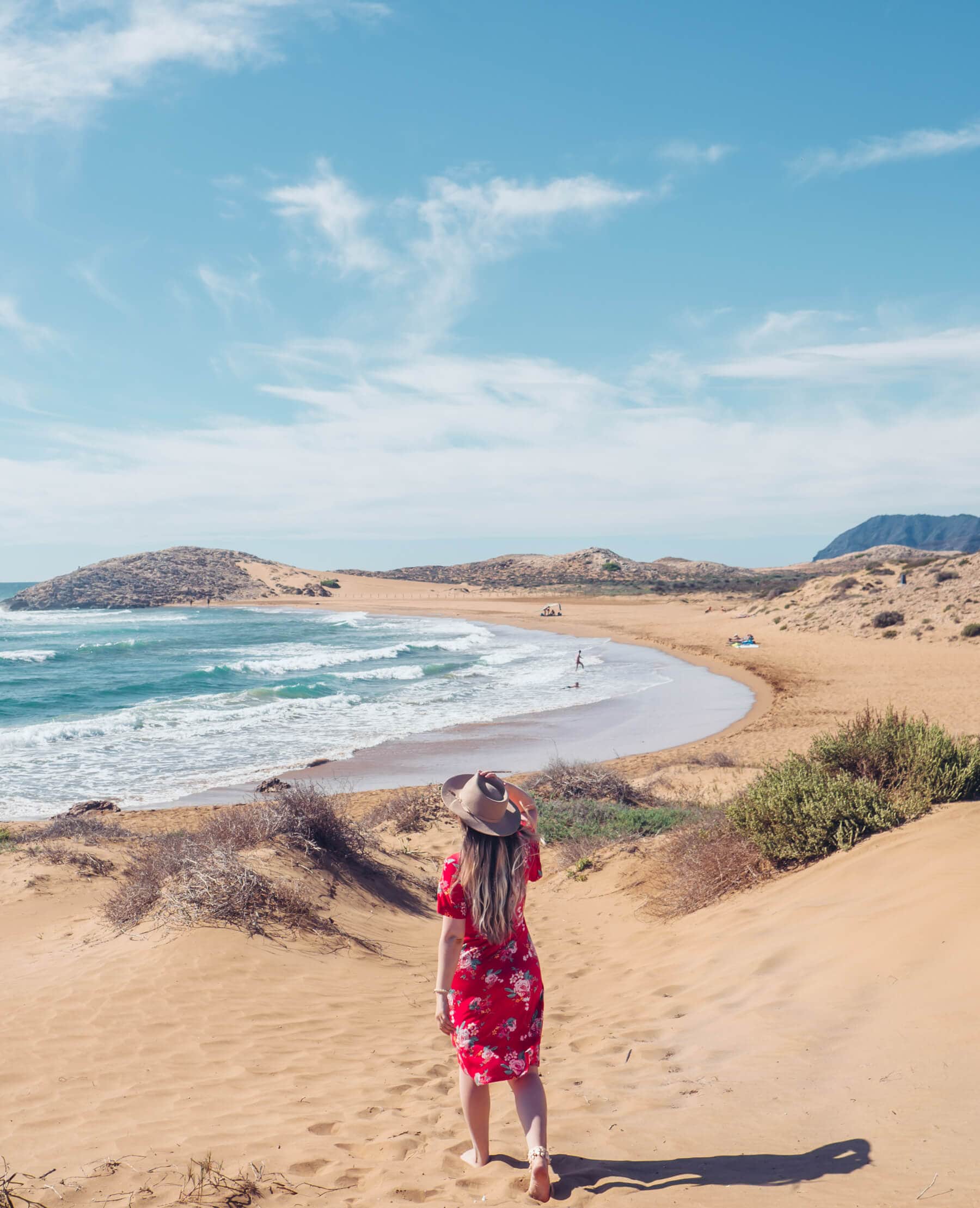 Playa de las Higuericas
One of the most visited and the longest of Pilar de la Horadada´s beaches, measuring almost 1000 meters in length and up to 35 meters in width. There are a few beach bars serving snacks and cold drinks, while a lifeguard service keeps people safe during the main holidays.
Two large designated car parks are shared with Playa Las Villas, we prefer the northernmost part of the beach, just search for "car park Horadada" on Google Maps and you'll find it without a problem. During the height of summer, you have to pay a few Euros to park, but it's totally worth it.
PLaya el Conde
What makes this little beach so special is the 16th-century watchtower as the backdrop. There are also a lot of colorful flowers and greenery lining the beach which makes it even more picture-perfect.
Get here early to secure a spot on the sand and one of the very few parking spots. You can also easily walk here from the large parking lots at Higuericas.
Pink Lake
Yes, Spain does have its very own pink lake called Laguna Salada de Torrevieja. Located about 30 minutes by car from Hacienda Riquelme, it is a must-see!
Rafting
For a different kind of experience, book a rafting tour on the Segura River, one of my favorite experiences in Murcia. My mom was a little skeptical about the rafting part, however, it turned out to be very calm without any rips or falls. Our guides were also super patient, funny and knowledgeable.
We got to spend two hours admiring the beautiful scenery of this protected area known for its lush riverine forest, rocky landscape, and ancient cave paintings. There are two stops along the way to visit the Monigotes Caves and meet the curious inhabitants of the Otter Cave. You can read all about our experience rafting in Murcia here.
Another option is this rafting tour that also includes a guided experience in the Cueva del Puerto, an underground cave with impressive formations of stalactites and stalagmites in many different colors.
🌟 Check price and availability here >> Segura River rafting experience
Shopping
There's a small Spar shop in the Hacienda, where you'll find everything you need from fresh fruits and vegetables to alcohol and baked goods.
Dos Mares
Dos Mares shopping center in San Javier offers a full afternoon of indoor fun with a cinema featuring both English and Spanish films, an arcade, multi-level shopping, restaurants and a large supermarket. We usually do our food shopping here on the first day and then pop down to the Hacienda shop for fresh bread in the morning.
La Zenia Boulevard
Just 25 minutes from the resort you'll find La Zenia Boulevard, a large open-air shopping center across the border in Alicante. With more than 150 shops and a wide range of leisure and catering options, it is a must and a lot of fun for the whole family. Our favorite place to eat is at Tommy Mel's, a cool retro diner serving burgers, sandwiches and mouthwatering milkshakes.
Markets
There are local street markets in the towns surrounding Hacienda Riquelme most days of the week. Check the door of the information center in the resort for updated times and locations.
Discover all the best places to see close to Hacienda Riquelme, in my Murcia travel guide.
Restaurants close to Hacienda Riquelme
In addition to El Casón, there are many restaurants and bars to choose from close to Hacienda Riquelme, such as Taj Classic in Sucina serving Indian cuisine and the popular Palco Ristorante Italiano Lounge & Bar in Avileses. Both offer a pick-up and drop-off service from the resort.
A little further away in San Javier, you'll find affordable wok buffets, all the fast food joints you could possibly desire and one of my favorites called Carmela.
Carmela Gourmet Bar
Carmela Gourmet Bar serves Mediterranean Spanish fusion with vegetarian and vegan options. The atmosphere is relaxed and friendly in a room full of vibrant popping colors with a fresh and cool vibe.
The food is just as exciting as the décor, artistically and creatively served with explosions of flavor. My favorites on the menu are the bao buns with juicy pulled pork, the tuna poké bowl and the passionfruit and chocolate mousse. But you can't go wrong really, everything I've tasted so far has been delicious.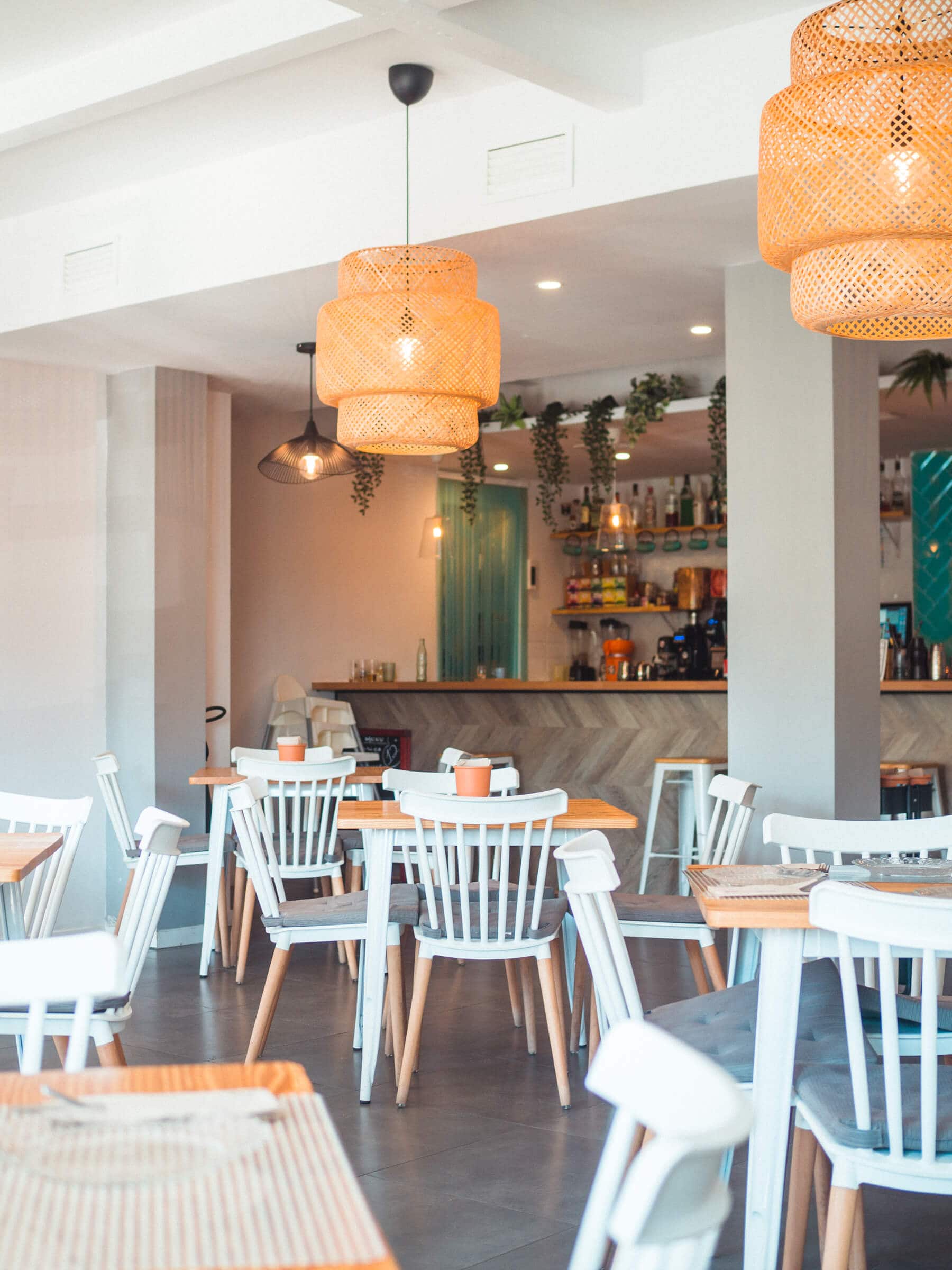 Café Cielo
Another one of my favorites is Café Cielo, located in Puerto Marina de Las Salinas in San Pedro del Pinatar with tranquil waterfront views. We found this restaurant by chance over 10 years ago, after getting lost while looking for a beach my parents recommended. Run by a lovely British couple and their son, it's the perfect place to sit down and relax with a glass of wine while watching the yachts and sailboats go by.
The Mediterranean-influenced menu boasts exciting dishes like gourmet deconstructed burgers, made from beef and wild boar or vegan options like black bean and beetroot. The food is up there with the best I've ever had in Spain, made with care from scratch and beautifully presented.
Looking for more Spain inspiration?
---
Have I convinced you to visit Hacienda Riquelme yet?
Remember to pin 😉