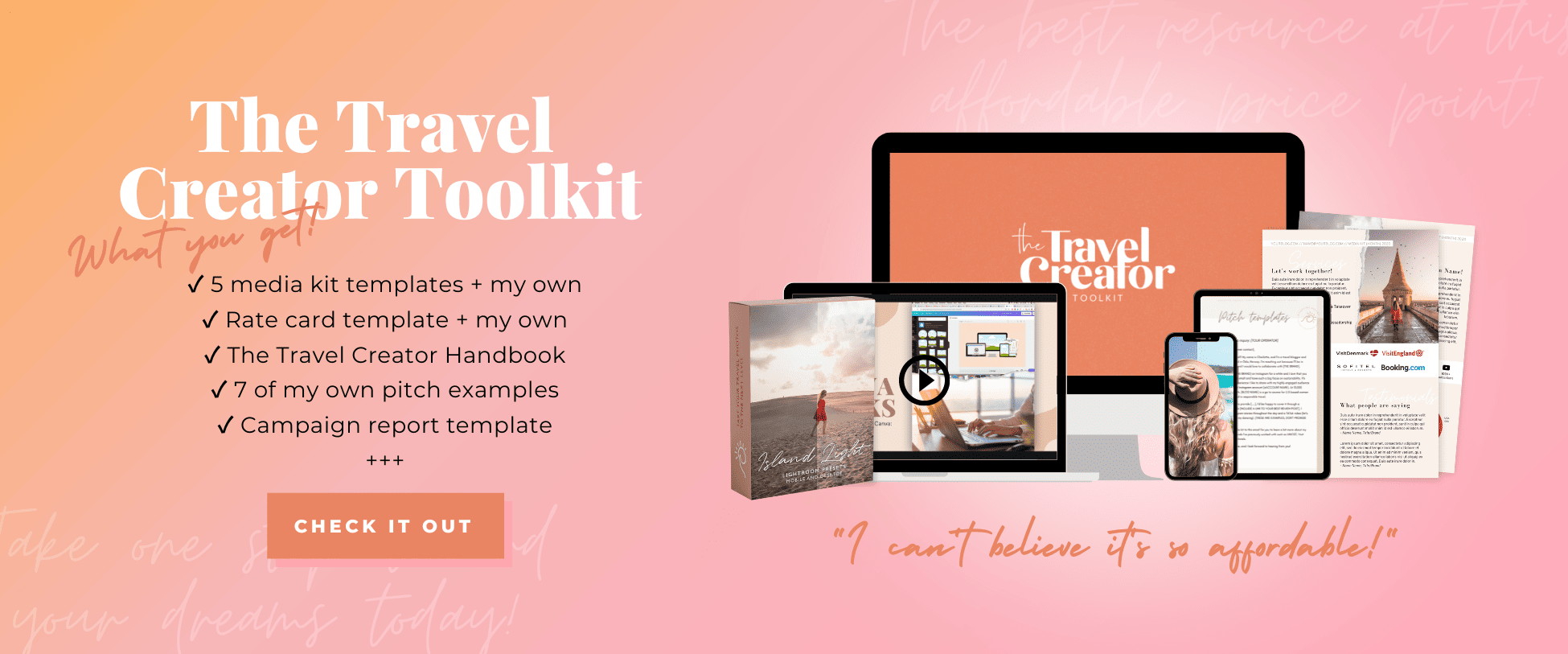 This post may contain affiliate links. I will earn a small commission if you purchase through them, at no extra cost to you.
It's time for another adventure everyone! Or to post one of your favorite travel photos using one of these adventure captions for Instagram and social media.
We all know how important it is to keep a consistent posting schedule on Instagram, right? And to capture people's attention so they actually stop their scroll and spend a few seconds longer on your post. Having to write the actual caption is often the reason why I skip posting on social media altogether. And that has hurt my business a lot.
So learn from my mistakes and use these adventure captions as you please to share your beautiful travel photos with the world. Here you'll find everything from couple adventure captions for Instagram and funny adventure captions to adventure quotes by famous people.
Whatever adventure means to you, bathing in the wadis of Oman, hunting for the best waterfalls in Ubud or something completely different, I'm sure you'll love these captions and quotes.
And if you want my caption blueprint and 30 days' worth of complete travel captions, check out my Travel Creator Toolkit or sign up below for a sneak peek at the toolkit!
---
---
Byyyee I'm off on another adventure. Can you guess where I'm going?
(Leave a few clues to where you're going which will encourage more engagement in your comments)
It's warm year round
A three hour flight from New York
Ruuum!
Let me know your guesses in the comments and any recommendations you might have. Thanks!
---
2. What does the word adventure mean to you?
The other day I ended up in a discussion with a guy that meant that an adventure had to be something scary or adrenaline-filled. But I think the word adventure means something different to every single one of us.
So let me know your thoughts on this in the comments!
---
3. "An unusual, exciting, and possibly dangerous activity, such as a trip or experience, or the excitement produced by such an activity."
That's how the word adventure is defined in the dictionary.
But I would love to know, what does the word adventure mean to you?
---
4. I have a question for you!
What do you consider to be your life's greatest adventure so far?
(Share your's before asking your followers to leave theirs in the comments)
---
5. Hey, stop your scroll! Yes, you.
Let's make today an adventure. Are you with me?
Related post: 12 Cities That Aren't on Your Bucket List (But Should Be)
6. And so the adventure begins.
7. I've never met an adventure I didn't like.
8. Life is meant for good friends and great adventures.
9. Life begins at the end of your comfort zone.
10. We have nothing to lose, and a world to see.
11. Nothing adventured, nothing attained.
12. Less stuff, all we need is an adventure.
13. Add life to your days, not days to your life.
14. Let's sleep under the stars.
15. What is life, but one grand adventure?
16. The journey of a thousand miles starts with a single step.
17. Go where you feel most alive!
18. No reason to stay is a good reason to go.
19. Only the one who wanders finds new paths.
20. Adrenaline and adventure, here I come.
21. Real adventure begins with a YES!
22. Adventures last forever.
23. Say YEs to adventure.
24. Adventures start where plans end!
25. I do believe it's time for another adventure.
26. Head in the clouds, on to the next destination.
27. I'm committed to a life full of adventure.
28. Dream. Do. Discover.
29. If not now, then when?
30. There was nowhere to go, but everywhere.
31. Spontaneity is the best kind of adventure.
32. Blessed are the curious, for they shall have adventures.
33. Friends that travel together, stay together.
34. Felt like going on another adventure today… so I did.
35. The best view comes after the hardest climb.
36. Today is a great day for an adventure.
37. Oh darling, let's be adventurers.
38. Here's to making every day an adventure. Cheers!
39. You will never know until you go.
40. Adventure more, worry less.
41. It's time for a new adventure.
42. Once upon a time, there was an adventure…!
43. I thought it was an adventure. But actually, this is real life.
44. Life happens when you are busy making plans!
45. Education is important, but adventure is a necessity.
46. It feels so good to be lost in the right direction.
47. Life has no limitations, except the ones you make!
48. Escape the ordinary!
49. Adventure is the best therapy.
50. There is no need to be bored in a world as beautiful as this!
51. Be brave, be wild, and stay forever hungry for adventure
Related post: 16 incredible islands you probably haven't heard of but need to visit!
52. If you wait until you're ready you might be waiting for the rest of your life. Go on that adventure, take that trip, do what you have been dreaming of today!
53. If it excites you and scares you at the same time, that probably means you should do it.
54. If thinking about it makes you excited, imagine actually doing it!"
55. If happiness is the goal – and it should be, then adventures should be a priority.
56. Being nervous is nothing bad. It means you are trying something you didn't try before.
57. When was the last time you did something for the first time?
58. One easy way to get the most out of life is to look at every day as an adventure.
59. I am just a girl chasing her dreams and having an amazing adventure.
60. Start where you are. Do what you can. Use what you have!
61. In case of emergency, break the routine and go on an adventure!
62. All adventures, all memories and all travels start with a blank page.
63. Travelers are dreamers who make their desires for adventure a reality.
64. Go. Fly. Roam. Travel. Voyage. Explore. Journey. Discover. Adventure.
65. To have an adventurous life, we have to lose the fear of failing!
66. There are a lot of adventures out there, waiting for us to live and make the most of them!
67. If you really want it, you will find a way. If not, you will find a lot of excuses.
68. One thing everybody has is time. It is up to you how you spend it!
69. If someone called you crazy for doing it, you are on the right track!
70. If you do not climb the mountain, how are you planning to enjoy the view?!
71. Man cannot discover new oceans unless he has the courage to lose sight of the shore.
Couples Adventure Captions for Instagram
72. If you want to go fast, go alone. If you want to go far, go together.
73. As soon as I saw you, I knew I was in for the adventure of my life.
74. Love is meant to be an adventure.
75. Going on adventures with you are my favorite thing
76. Happiness is planning a trip somewhere with someone you love.
77. Every day with you is an adventure.
Funny Adventure Captions for Instagram
78. When you start looking like your passport photo, it's time for an adventure.
79. Wrestle a shark, fight a bear and climb the highest mountain!
80. Because in the end, you won't remember the time you spent in your cubicle or on the couch. So go on an adventure today!
81. Let's wander where the WIFI is weak.
82. If you were waiting for a sign to go out and live your life, consider this your SIGN!
83. No good story ever starts with "do you remember that incredible day at the office?!".
84. I would rather take my bike to the beach, than a Porsche to work.
Related post: The course that turned my blog and Instagram into a full-time business!
Adventure quotes by famous people
85. "And then there is the most dangerous risk of all – the risk of spending your life not doing what you want on the bet you can buy yourself the freedom to do it later." – Randy Komisar
86. "The woman following the crowd will usually go no further than the crowd. The woman who walks alone is likely to find herself in places no one has ever been before." – Albert Einstein
87. "If happiness is the goal – and it should be, then adventures should be a priority." – Richard Branson
88. "A journey is best measured in friends, rather than miles." – Tim Cahill
89. "Do not stop thinking of life as an adventure. You have no security unless you can live bravely, excitingly, imaginatively, unless you can choose a challenge instead of a competence." – Eleanor Roosevelt
90. "The biggest adventure you can take is to live the life of your dreams." – Oprah Winfrey
91. "Good girls go to heaven, bad girls go everywhere." – Mae West
92. "As a woman, I have no country. As a woman, my country is the whole world." – Virginia Woolf
93. "Jobs fill your pocket, adventures fill your soul." – Jaime Lyn Beatty
94. "Let us step into the night and pursue that flighty temptress, adventure." – J.K. Rowling, Harry Potter and the Half-Blood Prince
95. "A ship in harbor is safe, but that is not what ships are built for." – John A. Shedd
96. "As soon as I saw you, I knew an adventure was going to happen!" – Winnie Pooh
97. "You are braver than you believe, stronger than you seem, and smarter than you think." – Winnie The Pooh
98. "To live will be an awfully big adventure." – Peter Pan
99. "Life is either a daring adventure or nothing at all." – Helen Keller
100. "I haven't been everywhere, but it's on my list." — Susan Sontag
101. "Adventure is worthwhile." – Aesop
102. "If you don't know where you are going, any road will take you there." – Lewis Carroll
103. "Of all the books in the world, the best stories are found between the pages of a passport."
104. "I'm in love with cities I've never been to and people I've never met." – Melody Truong
105. "I don't know where I'm going, but I'm on my way." – Carl Sandburg
106. "If you think adventure is dangerous, try routine. It's lethal!" – Paulo Coelho
107. "Live your life by a compass, not a clock." – Stephen Covey
108. "Life is an adventure and that is best lived boldly." – Bear Grylls
109. "Instead of trying to make your life perfect, give yourself the freedom to make it an adventure, and go ever upward." – Drew Houston
110. "Then one day, when you least expect it, the great adventure finds you." – Ewan Mc Gregor
Want to work online as a creator?
Be sure to check out my baby, the Travel Creator Toolkit!
If you need more help with your Instagram captions, check out these articles:
---
Remember to pin for later 😉