This post may contain affiliate links. I will earn a small commission if you purchase through them, at no extra cost to you.
Are you looking for Budapest captions for Instagram? Then you've come to the right place!
Budapest is one of my favorite cities in Europe and I'm not even a big city person. I instantly fell in love with the gorgeous architecture and incredible views. From the Fisherman's Bastion to Castle Hill, Budapest truly is a photographer's dream. I think I shot over 3000 photos in 3 days the last time I was there.
Coming up with captions that are good enough to post, however, has always been my biggest struggle. Especially when I try to do it every night right before I should hit publish. It's often the reason I skip posting altogether. And as we all know, consistency is the number one thing you need to succeed on Instagram and social media in general.
So to make it a little easier for you to get your beautiful Budapest photos out there, I've come up with 15 Budapest Instagram captions. You are welcome to use them as they are or change them to fit your needs. Happy posting!
Related post: Discover 23 of the best Instagram spots in Budapest
Budapest Instagram captions
Can this city be any more Buda-ful?
Sorry, I just had to 😄
But can it, though?
Let me know all your best Budapest recommendations in the comments, please. I can't wait to explore more of my new favorite European city!
---
My life's in ruin… bars.
Be sure to save this list of some of the best ruin bars if you're heading to Budapest soon!
1. Szimpla Kert
2. Csendes Vintage Bar & Café
3. Doboz
4. Élesztőház
5. Grandio Jungle Bar
---
Are Juhfark-ing kindding me?
This stuff is delicious 🍷
Who knew Hungary produced such good wine?
(Juhfark is a Hungarian white wine grape)
---
I think I just had the Budapest day of my life 🇭🇺
Thermal baths, castles, ruin bars and incredible views. What more do one need?
Discover some of the best Budapest photo spots in my stories 🔝
---
Hungry in Hungary 😋
Have you tried Lángos?
I'd heard so much about this doughy treat and it did not disappoint.
Let me know in the comments what else I should try while I'm here 🥯 Thanks!
---
Who's Hungary for adventure?
We just touched down in Budapest and I can't wait to take you around this beautiful city!
Recommendations are highly appreciated.
---
Too Hungary to think of a pun.
What's your favorite restaurant or bar in Budapest?
---
Did you know that the Hungarian Parliament building in Budapest is the third-largest in the world?
It has 365 spiers, one for each day of the year.
What's the most impressive building you've ever seen?
---
Swipe to see the 5 best viewpoints in Budapest!
I read somewhere that if you look down, you're in Buda and if you look up, you're in Pest.
And I totally get that now, it's been a while since I've visited a city with so many majestic buildings and incredible views.
Related post: The course that helped me go full-time with my online business!
Budapest thermal baths Instagram captions
Hot tub, steam room, sauna, massage, repeat 💦
That's pretty much what my weekend in Budapest looked like. With a little bit of sightseeing and lots of Lángos in between.
---
Misty Monday morning in Budapest.
Did you know that there are around 1300 thermal water springs in Hungary and 123 in Budapest alone?
Have you been to a thermal bath?
---
Water you doing today?
This is where you'll find me 💦
Related post: How to create a media kit as a travel blogger/influencer
Budapest Instagram quotes
My favorite quotes about Budapest by famous people.
"They said that, of course, Budapest is beautiful. But it is in fact almost ludicrously beautiful." – Anthony Bourdain
"Europe's most underrated big city, Budapest can be as challenging as it is enchanting." – Rick Steves
"But if you go from Moscow to Budapest you think you are in Paris." – Gyorgy Ligeti
Do you need help with pitching?
Get all my pitching templates, media kit, rate card, Lightroom presets ++ in the Travel Creator Toolkit!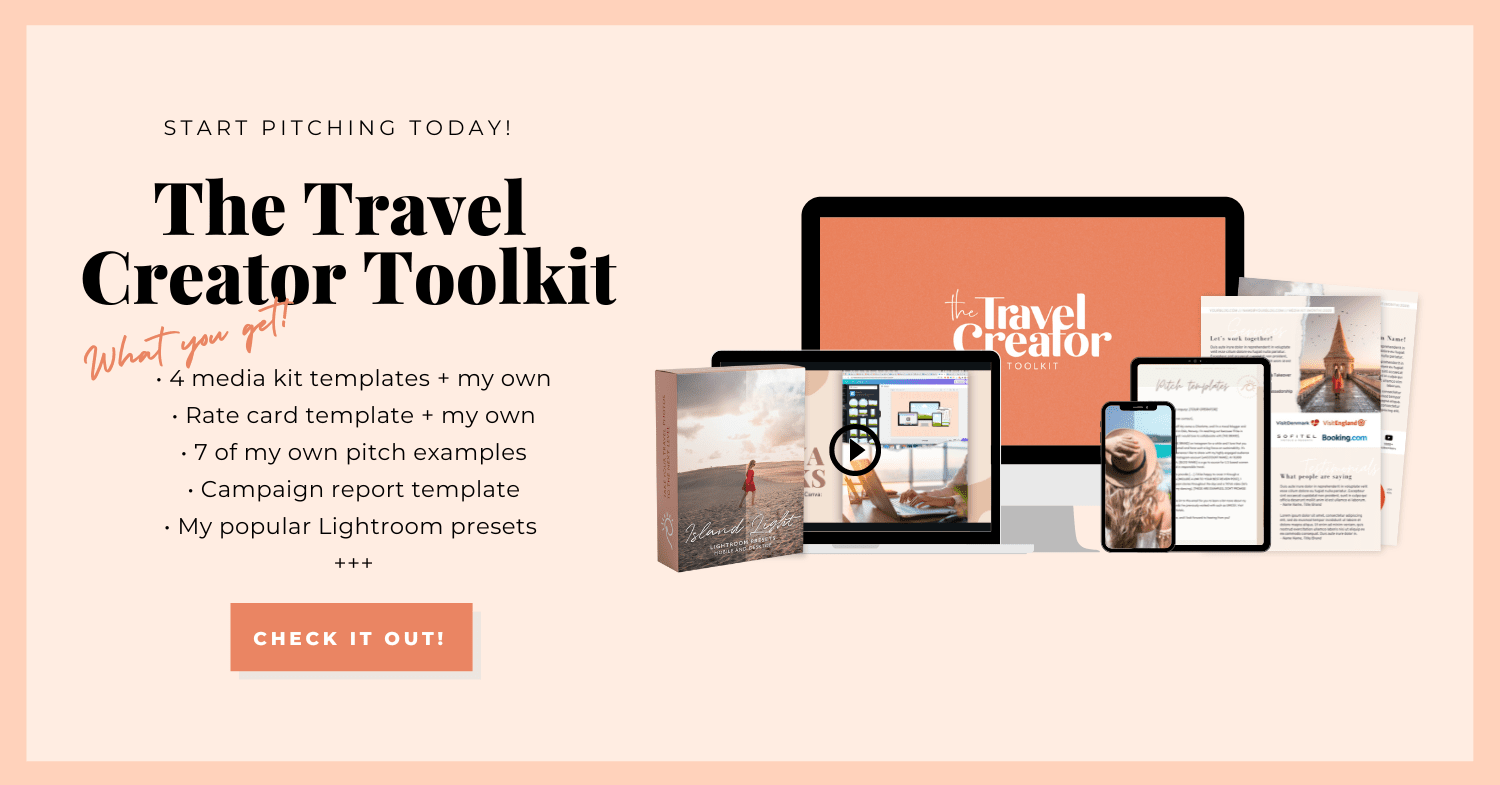 Looking for even more captions?
---
Remember to pin 😉