This post may contain affiliate links. I will earn a small commission if you purchase through them, at no extra cost to you.
Bukit Merese or Merese Hill is one of my new favorite places in Lombok. Located on the western side of Tanjung Aan, the best beach in Lombok, Bukit Merese offers the most incredible scenery. To one side you see the picturesque Serenting Beach and Seger surfing Beach lined with majestic palm trees. To the other side, you get a panoramic view of Tanjung Aan all the way to Batu Payung, which is a large stone shaped like a face also worth checking out (it has recently collapsed). So as you can probably tell, you should experience the stunning Bukit Merese at least once while in Lombok!
// This post contains affiliate links
How to find Bukit Merese and Tanjung Aan Beach
If you have read my "south Lombok restaurants and hotels" post, you know that I think you should spend most of your time in the south whenever you are on the island. That's where the true beauty lies! Then from there, you can do day trips to the waterfalls and other sights. Anyway, when staying in the Kuta area the drive out to Tanjung Aan and Bukit Merese is easy. You should rent a motorbike for your stay in south Lombok because most of the beaches worth seeing is within a 30-minute scooter ride. And the scenery is so stunning that you will probably want to stop every few minutes to shoot photos.
Since they have paved the road along Kuta beach and made like twenty speedbumps in a row, take Jl. Sengkol going east out of town. That's what the locals do, which means it's usually the best. Follow the road until you see a straw hut and a dirt road to your right. This dirt road will take you back on Jl. Pantai Kuta, then continue until you get to a large roundabout. Take the third exit and follow the bumpy road straight ahead. And oh I almost forgot, remember to drive on the left 😉
(They are building some major new roads in the area at the moment so this might not make any sense in a few months. So better yet, use Google maps.)
Before you get to Tanjung Aan you'll see a large, white wall that did not use to be there! (I can't believe they ruined part of the beach just so they could charge a parking fee.) Pay the usual 10k at the gate and try to find a parking spot under one of the trees. The black scooter seats get super hot very quickly in the sun.
Pro tip when going for sunset
Instead of using the main entrance, look for the wooden sunset sign right before. It leads down a narrow dirt road to a local home where you can park and walk up the hill behind their house. There you can enjoy the moment in peace away from all the chaos of busses and tour groups. They still charge 10k but I would much rather pay it to a local family than to the people responsible for putting up that hideous wall.
Related post: 5 incredible viewpoints in south Lombok you shouldn't miss
The day before I took my mum to Bukit Merese I had been telling her about my first trip to Lombok many years ago. How there was literally no one else on the massive and gorgeous Tanjung Aan beach back then. The only people we encountered all day was the ones charging for parking at the main entrance. But then one day I met an older local man selling coconuts. He got so excited when he saw actual people/potential customers and run to meet us with a big toothless smile on his face.
I, of course, had to buy a coconut even though we had just eaten breakfast. After the deal was made he pointed at my camera and made it clear with the words "friends" and "come" that he wanted a photo with me so I could show it to my friends and tell them to visit his beach. He was not interested in a photo with Ulrik though haha. We stood there with him for a long time having a one-word sentence conversation. Not really understanding each other but it didn't really matter. We had made our first friend in Lombok.
Since then I have been back to Tanjung Aan many times without seeing the older gentleman again. I often wondered if he was still around, for some reason he is one of those people from my travels who got stuck in my mind. But then I went to watch the sunset at Bukit Merese and there he was sitting in the swing. Such a coincidence as I had just told my mum the story. I don't know if he remembered me or not. He couldn't possibly, it was so many years since I saw him last. But he stared at me and smiled and then stared some more. How I wish we spoke the same language!
When to visit Bukit Merese
The most popular time to visit Bukit Merese is not surprisingly at sunset. To arrive before the sky turns bright pink and orange, you should get there around 5-5.30 pm. Find a spot away from the crowds and sit down and enjoy the show.
Although the sunset view is amazing, I like Bukit Merese even more during the day. The incredible view of crystal clear water in different shades of blue and white sandy beaches nestled in every little cove is breathtaking! Just take a look below.
You might also like: The ultimate 2 week Bali itinerary + Nusa Lembongan & Penida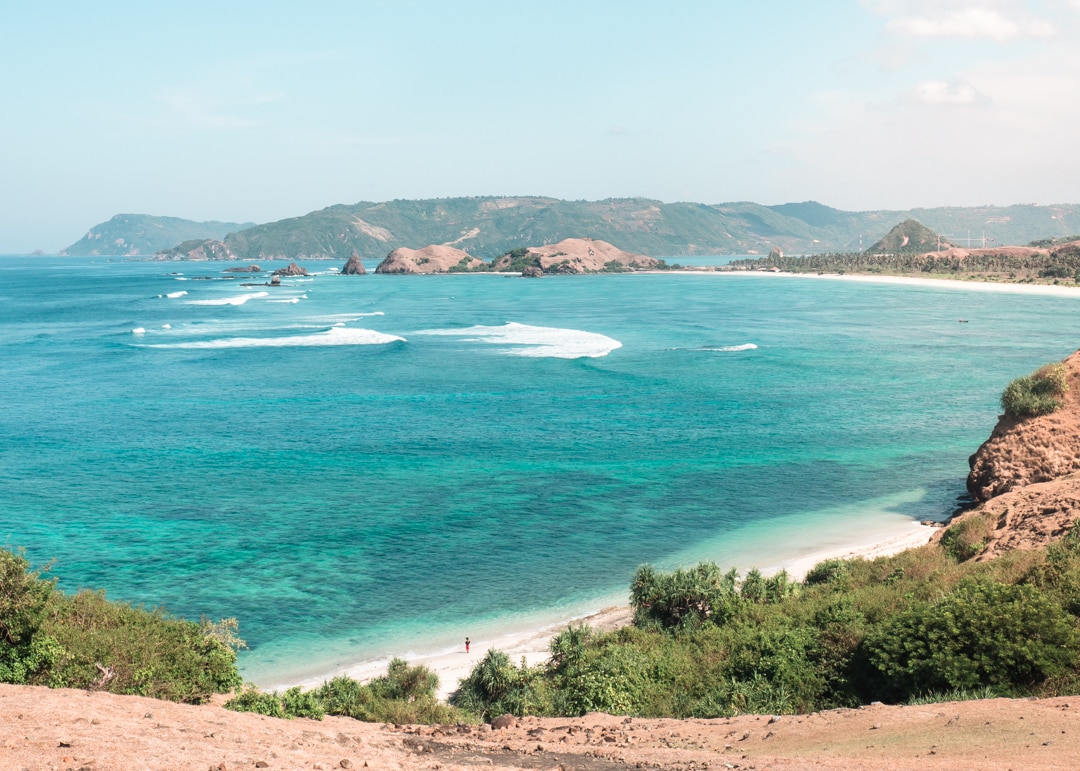 If a picture-perfect secluded beach is what you're after then you should spend some time at this gem.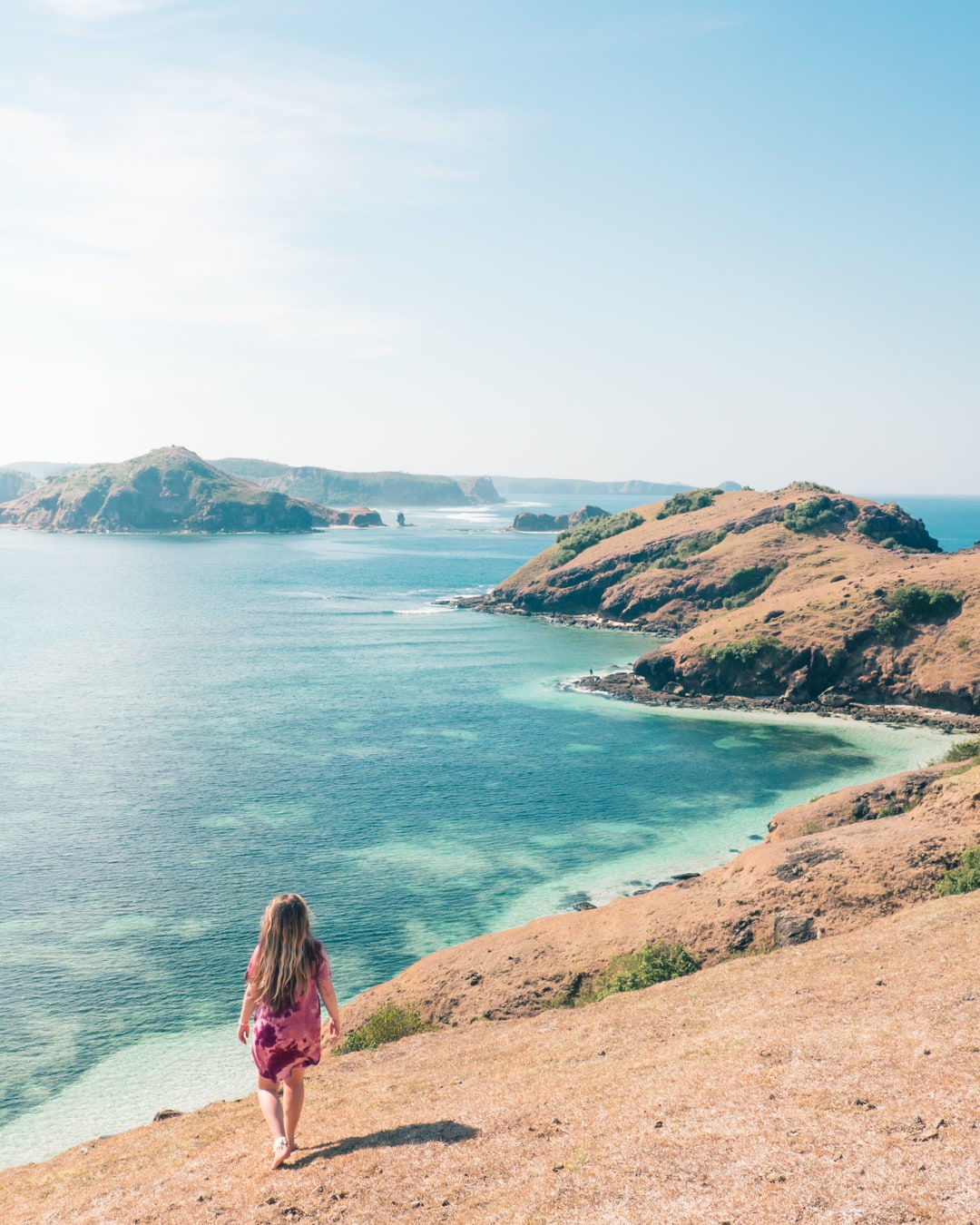 To beat both the extreme heat and the crowds you should get there before 9 am. Remember to bring a lot of water or buy some from the vendors in the parking lot. It doesn't look like it should be too strenuous to explore the headland in this photo, but it was. At 8.30 am in the morning it was already 28ºc and the hills are steeper than they look.
I went barefoot and wore my flip flops like I always do and it was not a problem. But if you really want to explore every nook and cranny, you might want to bring some sneakers. And don't forget to put on sunscreen or you'll most likely get burnt and end up looking like a tomato/radish. Trust me, I'm speaking from experience!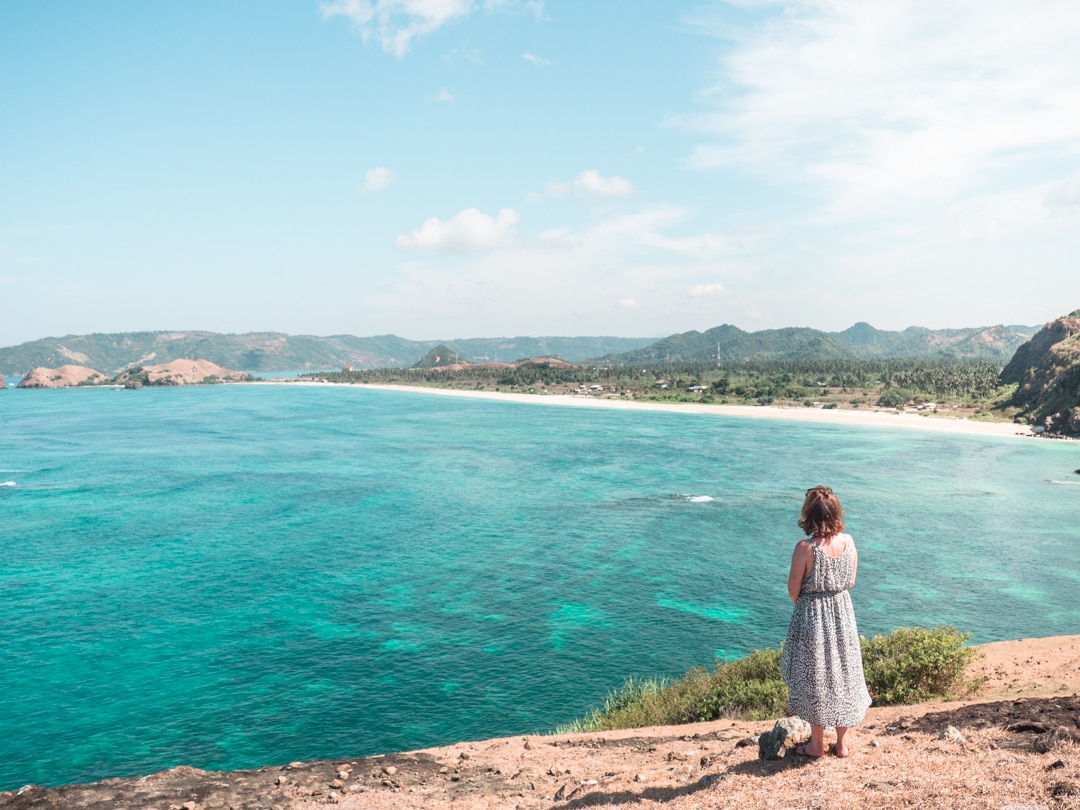 Where to stay close to Bukit Merese
Like I mentioned above I have already talked about the best places to stay in Kuta. But since you need a scooter anyway there is really no reason to stay in the middle of town. On my way to Tanjung Aan and Bukit Merese, I discovered several new hotels and homestays that looked great from the road.
One of them is called FabuLou's Place and after peeking into their immaculate garden I quickly decided that I need to spend some time there during my next trip to the island.
For an even more secluded but very affordable retreat, take a look at Kuta Mountain Bungalows. One of the highest-rated budget options in southern Lombok. The grounds are surrounded by lush forest and wildlife like birds and monkeys often make their way into the garden.
If you want to save on accommodation but still stay in the same area, check out the super affordable Hery Homestay. There are also a lot of other homestays located along Jl. Sengkol, most of them are listed on Booking.com.
Thanks for stopping by! Remember to pin this for later 😀