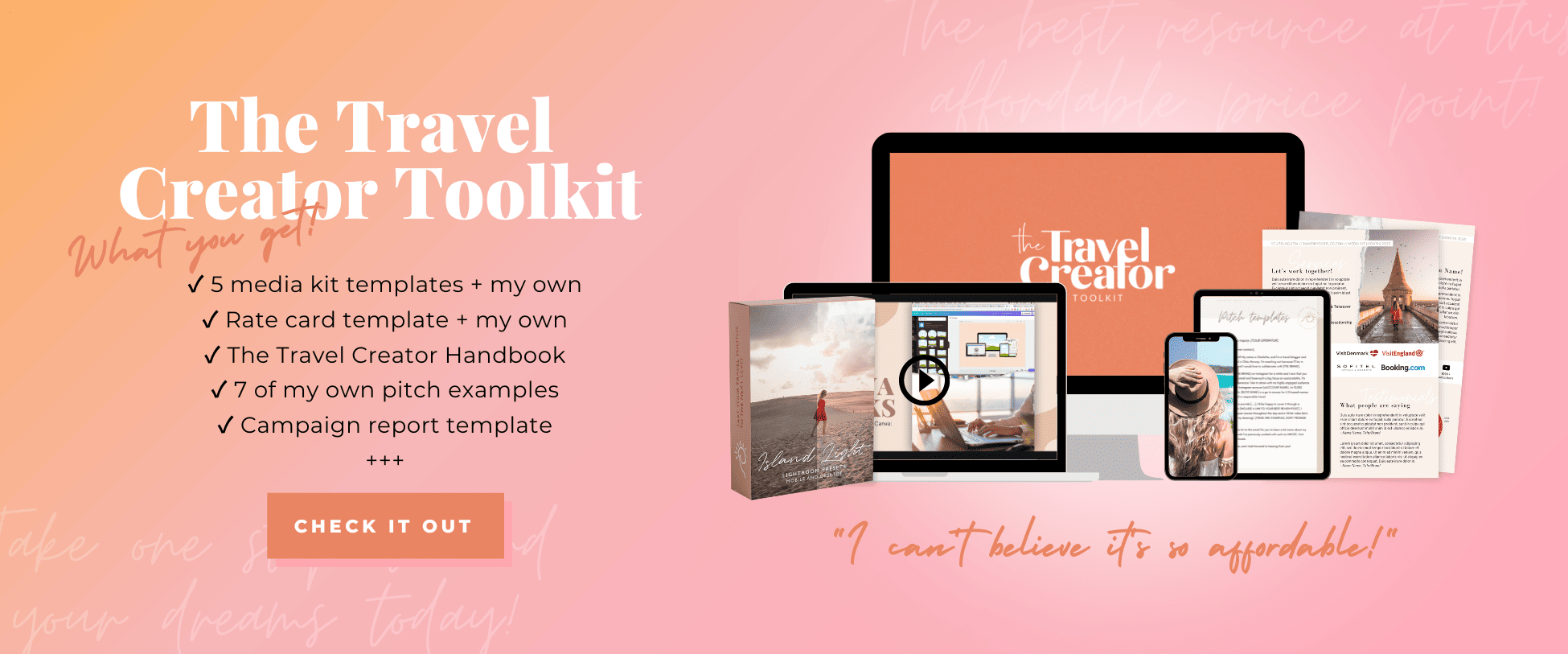 This post contains affiliate links. I will earn a small commission if you purchase through them, at no extra cost to you.
Echo Beach is one of the three main beaches that make up the hip neighborhood of Canggu on Bali's southwest coast. The nickname, coined in the early 2000s, overshadows its local name Pantai Batu Mejan, which takes after the Balinese Hindu temple on site.
I have been traveling in Bali for more than 14 years and Echo Beach was one of the first places I visited. I loved it so much that I even decided to live here just a few years ago.
Echo Beach, and Canggu in general, has skyrocketed in popularity in recent years due to its advanced reef breaks. In addition, people sought to get away from the crowded tourist hubs further south and set up shop in Canggu, which is now crazier than them all.
These days new villas, hotels, cafés and restaurants are popping up by the minute. So is Echo Beach still worth visiting? Let's take a look at the top things to do in Echo Beach, how to get around, where to stay and where to eat.
🌟 Remember to always get insurance before you travel to Bali or anywhere else. SafetyWing is an affordable subscription travel insurance that you can purchase even after departure. Click here to get a quote.
How to get to Echo Beach
The Echo Beach area is one of the three main beaches in Canggu together with Berawa and Batu Bolong. These days many also consider Pererenan as part of Canggu, although it is technically a different village. But even though they all have different names, they're really just a continuation of the same stretch of sand.
Canggu is located approximately 20 kilometers northeast of Bali's international airport, Ngurah Rai, roughly one hour and 10 minutes, depending on traffic.
From Ubud, a popular nature and healing destination, expect to spend around 1 hour and 20 minutes on the road. And to reach Canggu from Uluwatu on the south coast, where you find all the best beaches in Bali, takes around 1 hour and 40 minutes.
Easy airport transfer to Canggu
I don't know about you but after traveling for 16+ hours I'm not in the mood to bargain with drivers. The arrivals hall at Ngurah Rai Airport can be overwhelming with lots of private drivers, taxi drivers and companies pushing their services on you.
🌟 Pro tip >> To make your arrival in Bali as smooth as possible, I recommend booking this driver in advance. They will wait for you with a sign in arrivals and they'll know exactly where to take you. You also have the option to add a local sim card at checkout. Super convenient!
Popular Canggu tour
If you're not staying in Canggu, I highly recommend this Bohemian Hideaway Private Tour. Even though I used to live in Canggu, I really enjoyed not having to worry about transportation or planning.
My guide Agung was super cool and knowledgeable, he went above and beyond to make the day memorable. He even showed me a few hidden gems only locals would know about.
The full-day tour is fully customizable, so if you already know exactly what to do, just let your guide know. Lounge in a beach club, go surfing, enjoy some healthy treats in one of the super cool cafés, do some yoga, visit temples, or go shopping at the many markets.
How to get around Canggu
Rent a scooter
I highly recommend you rent a scooter to get the most out of your time in Echo Beach and Canggu. It is one of my favorite places in Bali to drive by myself. I love zipping around on the backroads feeling the sun on my skin and the wind in my hair. Just keep in mind that the traffic can be busy, but usually slow.
You can easily ask your accommodation to arrange a scooter for you, or motorbike as the locals call them. You can also book a scooter in advance online.
Just make sure your travel insurance covers you and look out for scams run by both the police and renters. Read more about it in my article about common scams in Bali and this one about things not to do in Bali.
Scooter delivery
Get a scooter delivered to your hotel or homestay at Echo Beach. That way you don't run the risk of being told that there are no more scooters available. It doesn't get more convenient. All of this is included in the rental:
Helmet for maximum 2 persons
full tank of gas (petrol) upon delivery
24/7 road-side assistance
Mobile phone holder
First-aid kit and rain poncho (for maximum 2 people)
🛵 Check price and availability here >> Scooter rental with delivery
With a private driver
When I'm doing day trips to different parts of the island or covering a lot of places, I often book this driver. You can, of course, drive your scooter as well, however, for longer distances I prefer to enjoy the landscape from the comfort of an air-conditioned car.
Also, parking isn't always easy on the island, so that way the driver takes care of parking while you can focus on enjoying beautiful Bali.
This is a super affordable full-day customizable tour, which means you have the driver for 10 hours and you can go wherever you want. It's the perfect option if it's your first time in Bali and there are a lot of places on your Bali bucket list.
🚘 Check price & availability here >> Private driver in Bali
Top things to do at Echo Beach
Driving through Canggu is quite an experience, and the Echo Beach area is no different. Shiny new buildings and fancy boutiques stand side by side with lush green rice paddies and local warungs.
Not to repeat myself but when I first came to Canggu in early 2010, Jl. Batu Mejan were mostly dirt and potholes with cows grazing on both sides. There was one small roadside stall where you could buy juice and snacks and about two restaurants.
Down at the beach construction of retail spaces was in full swing, with the Hurley store and one other boutique being the only ones operating at the time.
Nowadays you can go shopping, enjoy a massage or a facial at the spa, get a tattoo and have breakfast, lunch, dinner and drinks all along the same road.
I have to admit that Canggu and Echo Beach is not a place I come to hang out on the beach, I prefer the beaches on the Bukit for that. But the area has so much else to offer, so let's take a look at the top things to do at Echo Beach.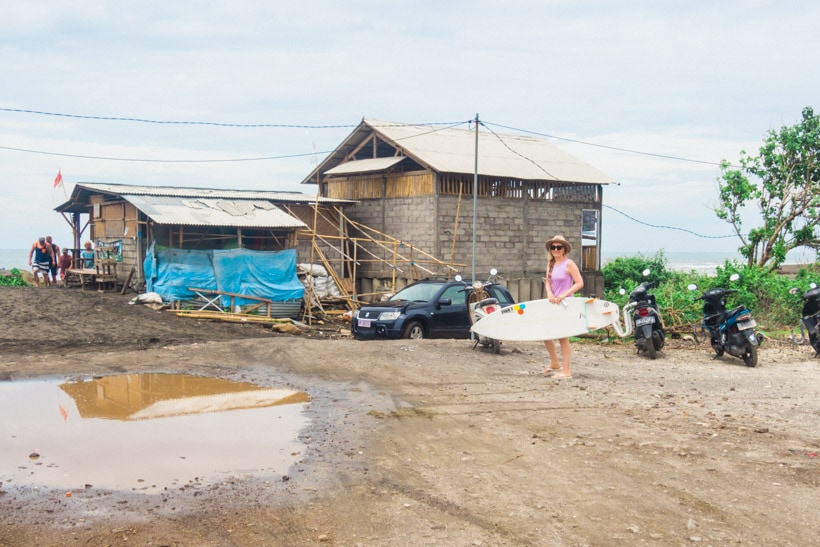 Browse the markets
Visiting the markets in Canggu is one of the top things to do for anyone looking to experience the local culture and pick up some unique souvenirs. Canggu is home to 7 markets, each offering its own unique selection of goods, from handmade crafts to fresh produce.
One of the oldest and most popular markets close to Echo Beach is Samadi Sunday Market, which takes place every Sunday from 8:00 am to 4:00 pm. This market is located at the Samadi Bali yoga studio and features a range of organic produce, handmade crafts, and wellness products. There are also live music performances and yoga classes throughout the day.
A new favorite right on Echo Beach is La Brisa market, held every Sunday from 10:00 am to 4:00 pm. The market features a wide range of vendors selling everything from handmade crafts to clothing and accessories. There are also local food vendors selling traditional Indonesian dishes, as well as international cuisine.
Go surfing
With over 60 surf spots and even more beaches scattered around the island, holidaymakers and surfers in Bali are spoilt for choice. And Echo Beach is considered one of the best waves on the island.
With waves under six feet, the consistent break caters to all types of surfers, from beginners to pros. The paddle out can sometimes be a bit tricky for beginners, so observe the locals to see how it's done.
There are plenty of surf schools and instructors available at Echo Beach and Batu Bolong to help you get started. Just ask around at one of the surfboard stands or book a lesson in advance here.
Echo Beach surf breaks
Echo Beach – Right in front of the warungs, you'll find the main Echo Beach surf spot. The shallow left-hand reef break is one of the best tubes on the west coast outside the Bukit Peninsula. It is best surfed on mid to high tide and can also produce a shorter, right-hander at times.
Sandbar – The next spot north of Echo Beach is Sandbar where the waves are typically fast and hollow, breaking over shallow sand. It goes both left and right and can be great for advanced surfers at its peak, as well as bodyboarders. The lefts tend to be a bit longer than the rights.
Rivermouth – This spot is located right in front of the river which makes the border between Pererenan and Echo Beach. Best for intermediate and advanced surfers, this is a fast, tubing righthander, that sometimes also goes left on a lower tide. It breaks close to the beach and works on all tides, but mid to high is recommended.
Join a surf and yoga retreat
One of my favorite experiences in Bali was this surf and yoga retreat in Canggu. Surf'n Yoga Bali has created a little slice of vegetarian paradise with homemade food for curious minds who want to explore wellness for the body and mind, outdoor activities, and water sports.
While technically not located in Echo Beach, we spent a lot of time down there most days. The surf programs are comprehensive and include plenty of time in the water, video analysis, pool sessions and surf theory classes. And there are 2 daily yoga classes.
I have created a guide to all the best surf and yoga retreats in Bali here.
🏄‍♀️ Check price and availability >> Adventurous Surf & Yoga Retreat in Canggu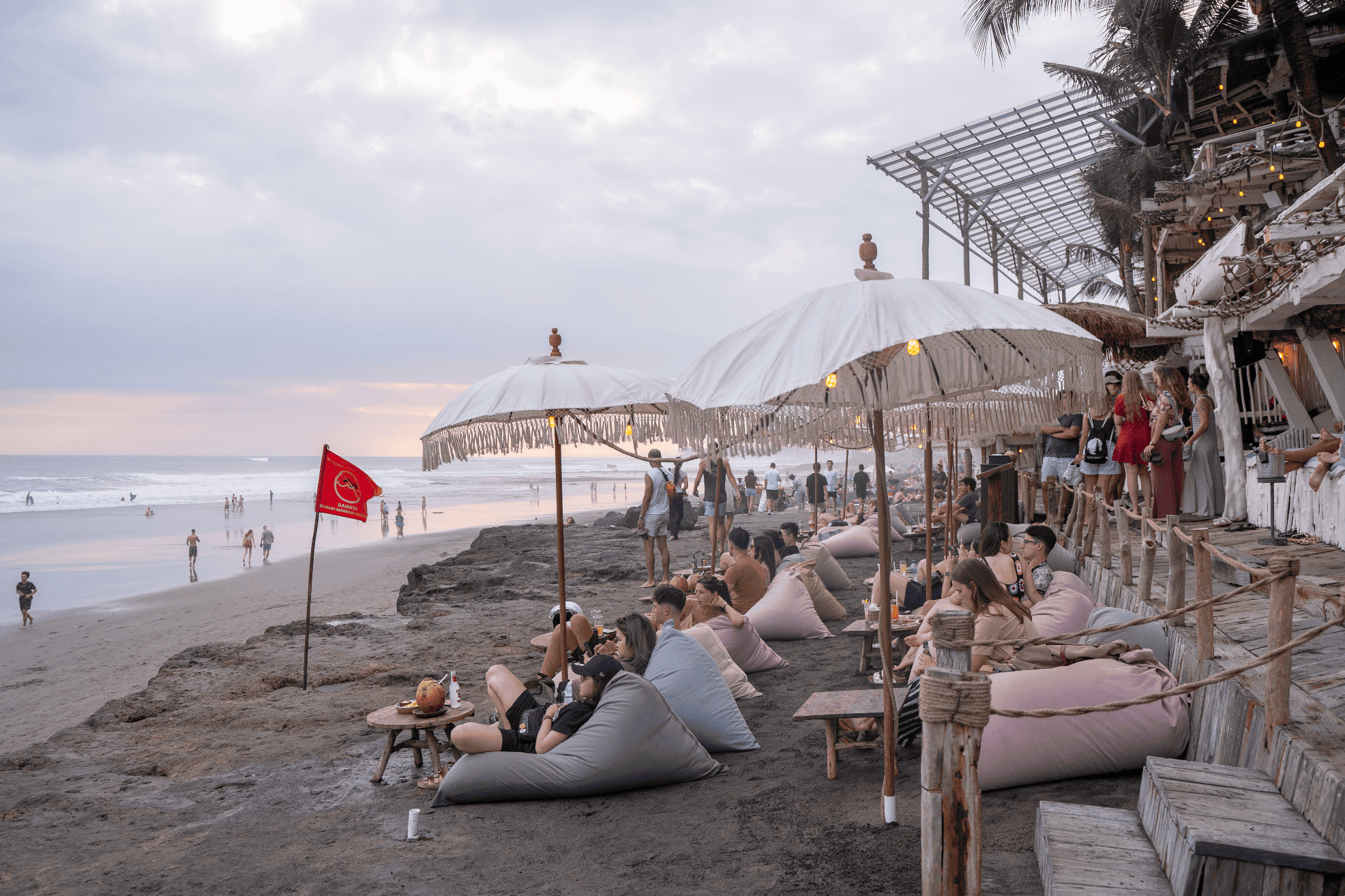 Chill at a pool or beach club
As mentioned above, I don't really love lounging on the beach in Canggu. The volcanic sand gets everywhere and stays there. Haha. Which is where the beach and pool clubs come in.
La Brisa Beach Club – is a popular beachfront venue located right on Echo Beach. The beach club features a stunning bamboo structure centered around a large pool, adorned by ferry lights, white umbrellas, nets, and palm trees. It is the perfect place to enjoy the sun, surf, and sand while sipping on a cold drink or enjoying a delicious meal. Just keep in mind that it is expensive, those cocktails add up quickly.
COMO Beach Club – is a luxurious beachfront venue on the opposite side of Batu Mejan temple. This stunning club features a modern and sophisticated design, with comfortable lounge chairs, umbrellas, and a large swimming pool. Their food is delicious and the staff is friendly, which is not always the case in these hot spots.
Valle Bali – is a poll club that brings together the beauty of rice terrace fields with the convenience of Canggu. It is located about 10 minutes from Echo Beach by scooter, but it is worth it. This bright white venue boasts a large swimming pool, comfortable lounge chairs, and a range of amenities, making it the perfect place to relax and maybe do a little photoshoot. In addition, Valle also hosts regular events and parties, featuring live music, DJs, and other entertainment.
Warung Ketut – is one of the OG local warungs on Echo Beach. While it is fun to stop by the popular venues, they do get crazy crowded so I prefer to sit down at one of the local places. They all have bean bags, sun loungers and umbrellas out front and you're always greeted by big smiles. Grab an ice-cold Bintang or a coconut with lime and just enjoy the surfer in action all the way to sunset.
Where to stay
Echo Beach is the one place in Bali you have to stay in a villa. There are so many stunning villas to choose from in every price range. Having a private pool to come home to after a hot and humid day is the best!
My top pick >> This bohemian villa is one of the best places to stay close to Echo Beach for anyone traveling solo, with a friend or as a couple. The interior is stunning with white walls and floors, wooden details, patterned tiles and green plants.
At the heart of the villa, there's also a private pool area that connects to the semi-open-air living room and kitchen. And the outdoor bathroom is my favorite part of it all, you have to see the bathtub!
🌟 My top pick for Echo Beach accommodation >> Bohemian 1-bedroom private villa
Luxury villa >> If you're traveling with your family or a larger group of people, promise me you'll stay in this villa. Okay? Luxurious Villa Moana Canggu is just so light, bright white and beautiful!
Situated 100 meters from Echo Beach, the air-conditioned villa features 6 bedrooms and a fully equipped kitchen, a private pool, a yoga shala and access to spa facilities free WiFi and free private parking.
Best Echo Beach Hotel>> If you'd rather stay in a hotel, Surf Motel is a great and affordable option. This beautiful hotel features a range of amenities, including several swimming pools, comfortable modern rooms, a rooftop terrace and a great location just steps away from the beach.
Best Echo Beach cafés & restaurants
Canggu is Instagrammable foodie heaven and the Echo Beach area is no exception. It is home to a wide variety of restaurants and cafes, offering everything from traditional Indonesian cuisine to international dishes and healthy, organic options.
The Shady Shack
This charming café is known for its delicious plant-based dishes and beautiful garden setting. The Shady Shack menu features a range of vegetarian and vegan options, including smoothie bowls, salads, and burgers.
The café also has a great selection of fresh juices and smoothies, making it the perfect spot to refuel after a morning surf session. Also, the colorful dishes look great in photos.
La Baracca
La Baracca is a rustic Italian restaurant located in the heart of Canggu, just a short distance from Echo Beach. This family-owned restaurant is known for its delicious wood-fired pizzas, homemade pasta, and traditional Italian dishes. With a cozy atmosphere and friendly staff, La Baracca is the perfect spot for a romantic dinner or a night out with friends.
The menu at La Baracca features a range of classic Italian dishes, including antipasti, salads, and homemade pasta. However, the star of the show is undoubtedly the wood-fired pizzas. And the eggplant parmigiana, which literally melts in your mouth.
Koast Cafe
Koast Cafe is a hidden gem located just a stone's throw away from Echo Beach in Canggu. This cozy little café is known for its delicious coffee, fresh juices, and healthy, organic dishes.
My favorites are the flatbread with baba ghanoush and the crispy fried chicken burger. And I'm always wondering how they get their pancakes som darn fluffy.
The laid-back garden setting with a pool I might add, and plenty of seating both indoors and outdoors, makes it the perfect spot to relax and unwind in the shade on a hot day.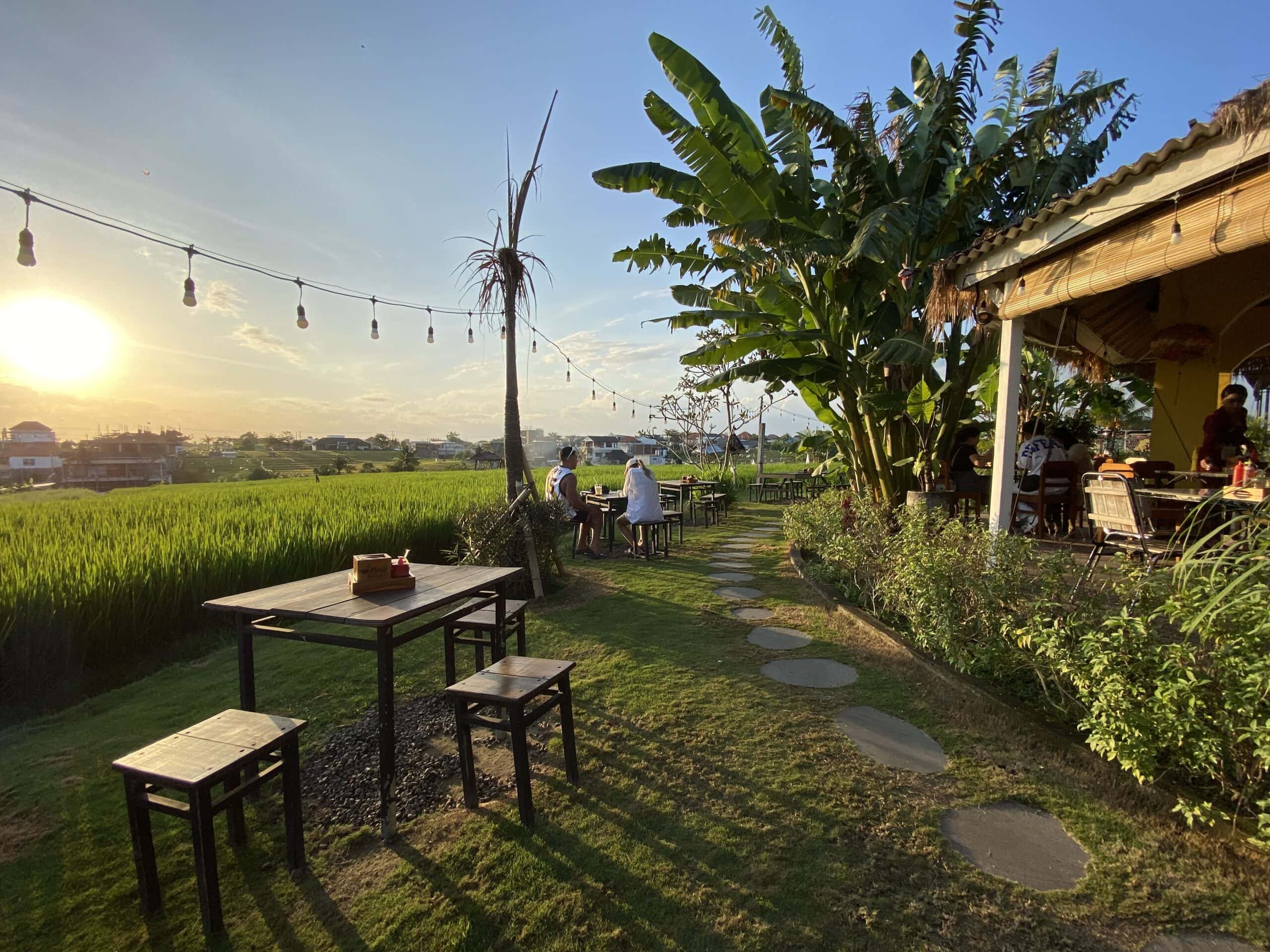 HoiAn by MeVui
Hop on your scooter and head towards Raya Canggu and HoiAn by MeVui, a Vietnamese restaurant set in the most beautiful setting amongst lush rice fields. It is often calmer than the places closer to the beach, which is such a treat in busy Canggu these days.
With a menu that features everything from pho to banh mi, HoiAn by MeVui is a must-visit spot for anyone looking for a taste of Vietnam in Bali. In addition to its delicious food, HoiAn by MeVui also has a great selection of Vietnamese coffee and tea.
My personal favorites are all the spring rolls with nuoc mam sauce, the chicken salad and the different iced teas. Yum!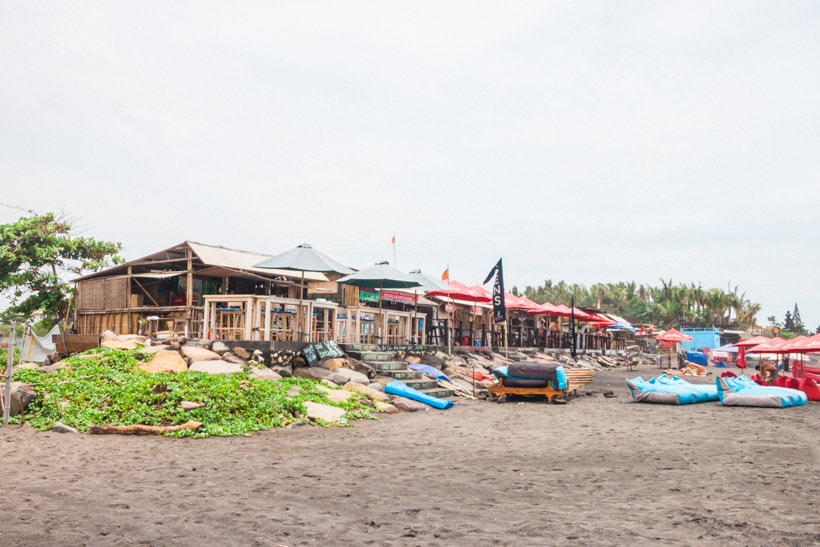 FAQs about Echo Beach and Canggu
What is the best time to visit Echo Beach?
The best time to visit Echo Beach is during the dry season, which runs from April to October. During this time, the waves are at their best, the water is clearer and the weather is sunny and pleasant.
I personally prefer to travel in Bali towards the end of the rainy season, from February to April (avoid Easter), when there are slightly fewer tourists around, though the weather in Canggu can still be moody.
Why is Echo Beach sand black?
Echo Beach has black sand due to its volcanic origin. The sand is made up of tiny particles of volcanic rock that have been eroded and carried down to the beach by rivers and streams. The volcanic rock in the area is rich in minerals, which gives the sand its distinctive black color.
While black sand beaches may not be as common as their white sand counterparts, they are equally beautiful and unique and add to the charm and character of Echo Beach.
Why is Canggu famous?
Canggu has become famous in recent years due to its laid-back, bohemian vibe, world-class surf breaks, and vibrant food and nightlife scene. It's crazy to think just 20 years ago Canggu was nothing more than a sleepy fishing village, only frequented by avid surfers.
The area is also home to a thriving community of digital nomads, entrepreneurs, and creatives, who have helped to establish the area as a hub for innovation and creativity.
Is it better to stay in Canggu or Seminyak?
Canggu is known for its hip hangouts, world-class surf breaks, and rice paddies. It has become quite crazy in recent years, but if you like to stay in the thick of things with a party happening every night, it's the place to be. Canggu is also home to a growing number of cafes, restaurants, and bars, making it a great place to explore Bali's vibrant food and nightlife scene.
Seminyak, on the other hand, is known for its luxury resorts, high-end shopping, and trendy restaurants and bars. It is a great place to stay if you are looking for a more upscale and cosmopolitan Bali experience, with plenty of opportunities for shopping, dining, and pampering.
Is Canggu very touristy?
Yes, Canggu has become extremely touristy in recent years. Backpackers, surfers, digital nomads and expats are all flocking to the Gu. It is not the best place to swim either because of the waves and the traffic is painful, to put it mildly.
To think about how much it has changed in the 14 years since I was first there is insane. From a few dirt roads with animals running around to the hippest hood in Bali.
Can I drink the tap water in Canggu?
No, it is not recommended to drink tap water in Canggu or anywhere else in Bali. It is not safe for consumption, and it is recommended to drink bottled water or water that has been properly filtered.
Many hotels and restaurants in Canggu offer complimentary bottled water, and it is also widely available for purchase in local shops and supermarkets. Some also offer free refills of reusable bottles.
While bottled water is convenient, keep in mind that Bali has big issues with waste management, which is why I like to travel with a filter bottle.
My favorite bottle for travel, backpacking and hiking.
You can fill it up anywhere, LifeStraw filters bacteria, parasites, chemicals and microplastics.
For every Life Straw product purchased, a child in need receives safe water for an entire school year!
Popular Bali travel guides