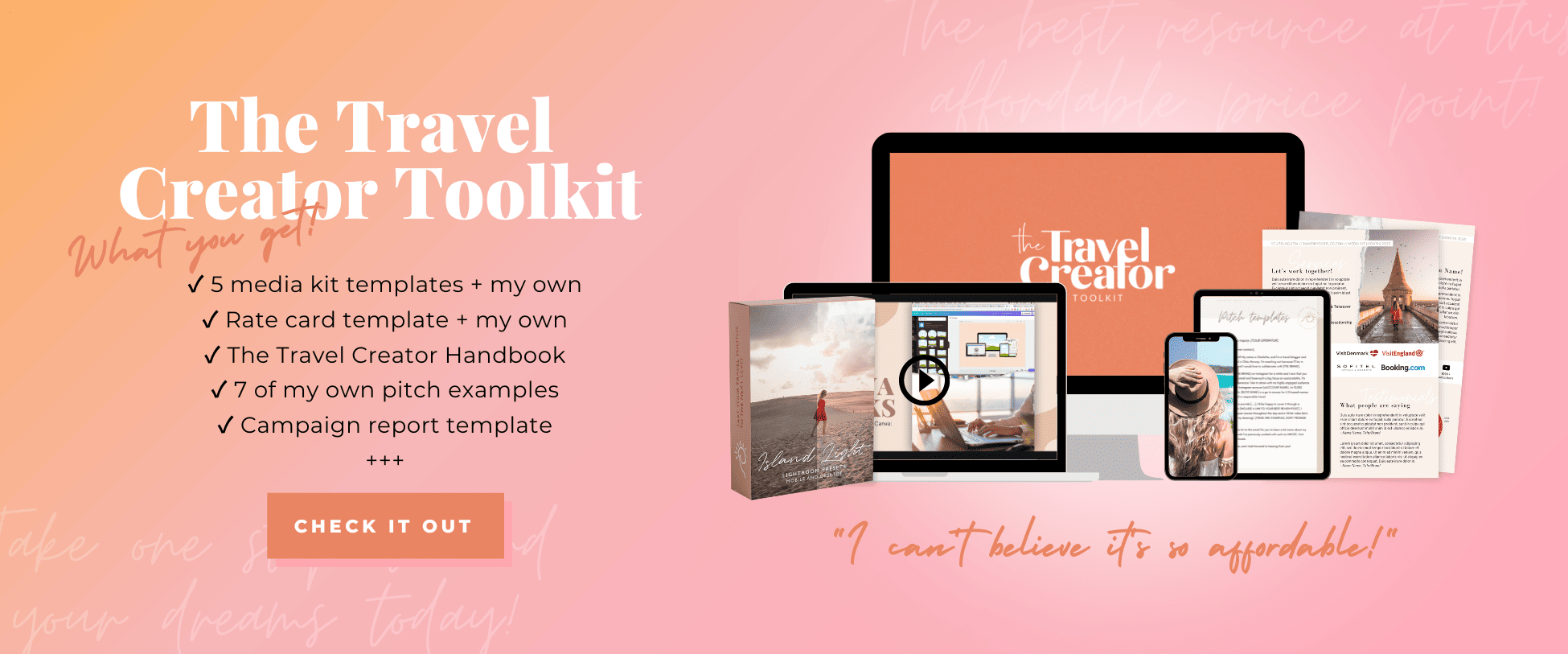 This post contains affiliate links. I will earn a small commission if you purchase through them, at no extra cost to you.
Whilst The island of Gods is a relatively safe place to visit and paradise to many, there are certain things you should not do in Bali.
After traveling in Bali for 14 years and living here for six months, I have seen so many accidents that could have easily been avoided. And year after year I see tourists making the same mistakes, behaving disrespectfully and finding themselves in less-than-ideal situations.
So before you visit the Island of Gods, make sure to read through this list of things not to do in Bali as well as my list of 29 things to know before you visit Bali!
🌟 Remember to always get insurance before you travel to Bali or anywhere else. Safetywing is an affordable subscription travel insurance that you can purchase even after departure. You can read my full review here.
17 things not to do in Bali
1. Be disrespectful
The amount of misbehaving tourists you'll see in Bali, especially during high season, is insane. This goes without saying for most people, but just be respectful while traveling in Bali and everywhere else. Accept that there are different ways of doing things here.
Some of the most common misbehavior I see is people walking around town, into shops and cafés, in teeny tiny bikinis. Would you do that at home? People disrupting ceremonies, drinking heavily and running around the streets yelling like absolute fools.
When you visit the rice fields in Jatiluwih or Tegalalang, keep in mind that it is someone's livelihood. I get so embarrassed every time I see a sign like the one below.
While the Balinese are open and welcoming in many ways, they are still modest people who highly value their religion and traditions. So please just respect that!
🌟 Want to become part of a Balinese family for a day? Learn all about the beautiful Balinese culture and immerse yourself in their traditional way of life on this exciting full-day tour. Such a fun and unique experience!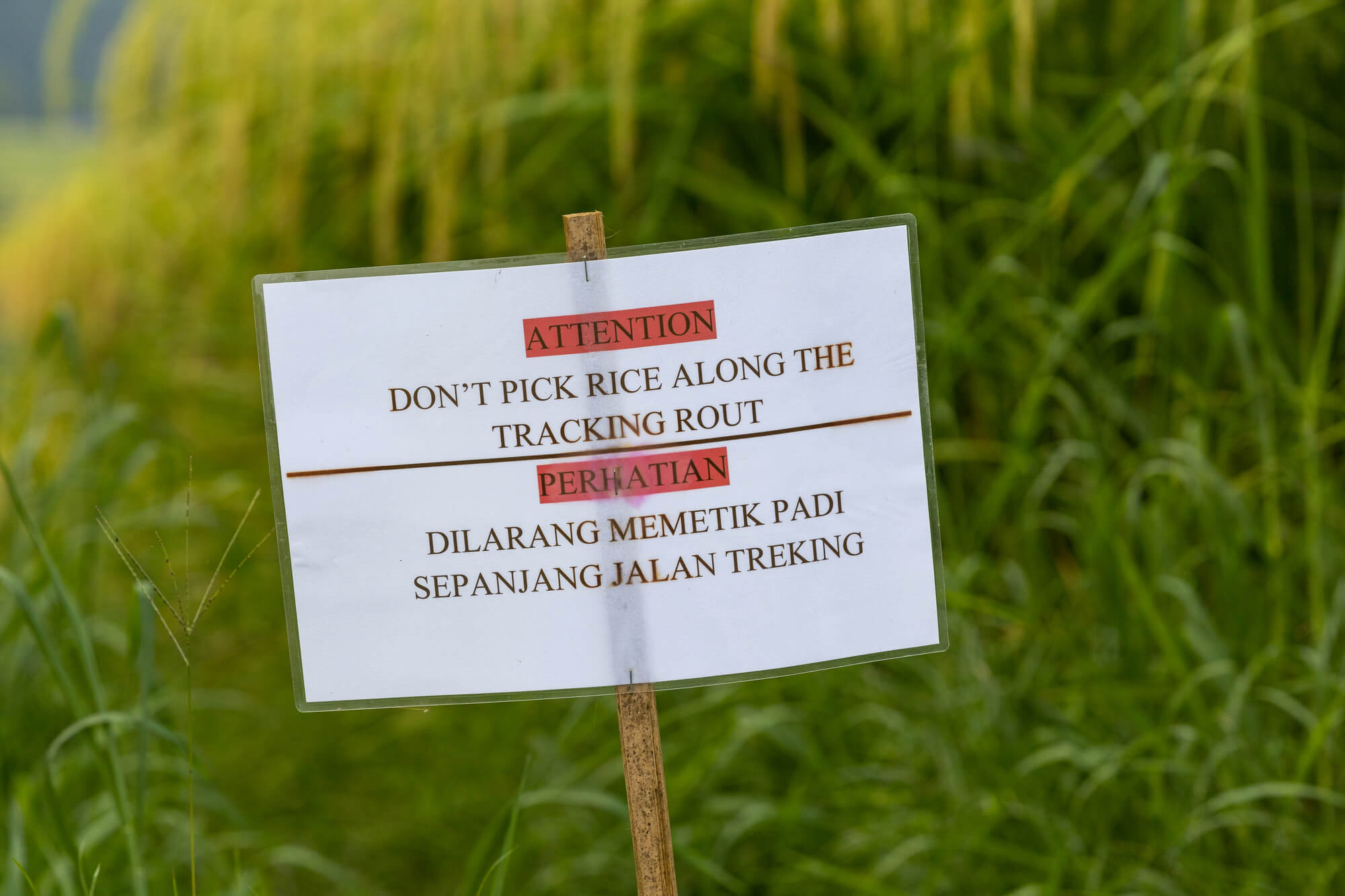 2. Step on offerings
And when talking about being disrespectful, the one I see most often is people stepping on or pulling apart offerings.
Daily offerings are an integral part of Balinese Hinduism, and they are meant to appease and please the various gods and demons. The Balinese believe that these offerings bring balance and peace to their lives.
The offerings consist of small baskets made from woven palm leaves called canang sari, which are filled with flowers, rice, and other small items. These offerings are placed on sidewalks, steps, statues, vehicles and in temples throughout Bali.
3. Ride a scooter if it's your first time
Scooters or motorbikes are the main mode of transportation in Bali, they are everywhere. In fact, there are probably more scooters than there are people. And while I absolutely love to zip around on a scooter and feel the breeze in my hair, you should be careful. Over the years I've witnessed more accidents than I can count.
The roads are narrow and windy and it can take what seems like forever to drive short distances. Traffic can be crazy with locals and tourists alike driving like cowboys mixed with some tourists who don't know what they're doing. Unless you are an experienced driver with quick reflexes, I wouldn't recommend it.
If you do want to drive a scooter but aren't confident in your abilities yet, you can book scooter lessons here. Dio and Raffi are very knowledgeable and patient teachers. You will also learn about local rules and how to avoid problems with the police. I can't recommend them enough!
🛵 Check price and availability >> Private scooter lessons
Drive without insurance or a license
Most travel insurances (like SafetyWing) only cover you while driving if you are properly licensed. In Bali, you need an international driver's license, although no rental place has ever asked me for one. Some insurance policies don't cover riding a scooter at all, so be sure to check the fine print of your insurance.
If you are stopped by the police they will try to find anything wrong to be able to give you a fine. I have never been stopped myself but friends were stopped with an international license and they were fined because it wasn't written in Indonesia. You can read more about dealing with the police in my article about the most common Bali scams.
Drive without a helmet
After traveling in Bali for more than 13 years, I have seen my fair share of accidents. I witnessed one particularly bad accident from my balcony in Uluwatu, where an Australian guy drove around a turn at like 70 kilometers an hour and slipped on the gravel.
He was thrown off his scooter, down a steep hill before he hit his head on a bridge pillar. Not wearing a shirt or a helmet he was hurt pretty badly. I don't know what happened after that because, by the time I came out, there was chaos around him.
But the moral of the story is to wear a helmet no matter what. The helmet also needs to have an SNI sticker which means it's certified according to Indonesian standards, or else the police can give you a fine.
How to get around instead
Everyone in Bali knows a driver or two so you don't really have to stress about transportation. There are also apps such as Grab, similar to Uber, where you can order a ride and someone will pick you up on a scooter with a second helmet.
🌟 When I want to do a full day of exploring, I usually hire this driver. The price is very reasonable for up to 10 hours and a completely open itinerary.
4. Bring valuables around the monkeys
If you visit the Sacred Monkey Forest in Ubud or the Monkey Temple in Uluwatu, don't bring anything in that the monkeys might steal. They got my new sunglasses one time, and the same day I saw them steal a sandal from a man's foot. One of those velcro sandals. Haha.
They do hang around other places as well, like the warungs at Uluwatu Cliff and Padang Padang Beach. So make sure everything is safely tucked away in your bag. You can read in more detail about the best places to see monkeys in Bali here.
5. Drink the tap water
One of the most important things NOT to do in Bali is to drink tap water unfiltered. Under no circumstances should you fill up a regular water bottle using water from the sink. You will pay the price for it later.
On the other hand, please keep plastic water bottles to a minimum as there are waste management issues in certain areas on the island. Bring or buy a filtered water bottle or at least a reusable bottle, there are so many hotels and cafés that offer free water refills these days.
My favorite bottle for travel, backpacking and hiking.
You can fill it up anywhere, LifeStraw filters bacteria, parasites, chemicals and microplastics.
For every Life Straw product purchased, a child in need receives safe water for an entire school year!
Why Can't I Drink Tap Water in Bali?
The main issue with tap water in Bali is pathogens such as bacteria, viruses and other microorganisms due to the poor condition of the water pipes and the tropical climate. So unless you're in the mood for a solid case of Bali Belly, you should avoid drinking tap water in Indonesia in general.
Can I Brush My Teeth With Tap Water?
I have brushed my teeth with tap water for over 14 years traveling in Bali without many problems. However, if you're in Bali for a short amount of time and want to stay on the safe side, just use bottled water.
Is ice cubes in drinks safe in Bali?
While most online publications will say not to trust ice cubes in Bali, I've been traveling in Bali for over 12 years now and only got Bali Belly once. But I also had food from vendors along the road where local workers eat, so I bet that's why I got it.
I drink cocktails and smoothies daily from both warungs and more upscale restaurants without many problems. Of course, you can stumble upon a bad batch of ice, so if you're worried or very sensitive it might be best to skip it.
6. Stay in only one place
Don't get stuck in just one place, Bali and the surrounding islands have so much to offer. I hear quite a few people complain after returning from Bali, asking what all the hype was about. And when I ask where they went they say, well we mostly stayed in Kuta. Yup, that answers it.
Kuta, the old tourist hub, can be compared to Magaluf in Mallorca. Nice but a little run down, a little sleazy and with a whole lot of Bintang singlets. If you know you know. Of course, there are beautiful places to be found here as well, I would just not choose to stay there. I will, however, do shopping days in Kuta visiting Beach Walk Mall and Legian Street.
In addition to Bali, I recommend venturing over to the Nusa Islands. Nusa Penida has exploded on social media over the last few years, you have probably seen photos of Diamond and Kelingking Beach. Snorkeling in Nusa Penida was one of the best experiences I've ever had, however, I still prefer Nusa Lembongan and Ceningan.
If you're wondering where to stay in Bali, check out my ultimate two-week Bali itinerary, it's perfect for first-timers.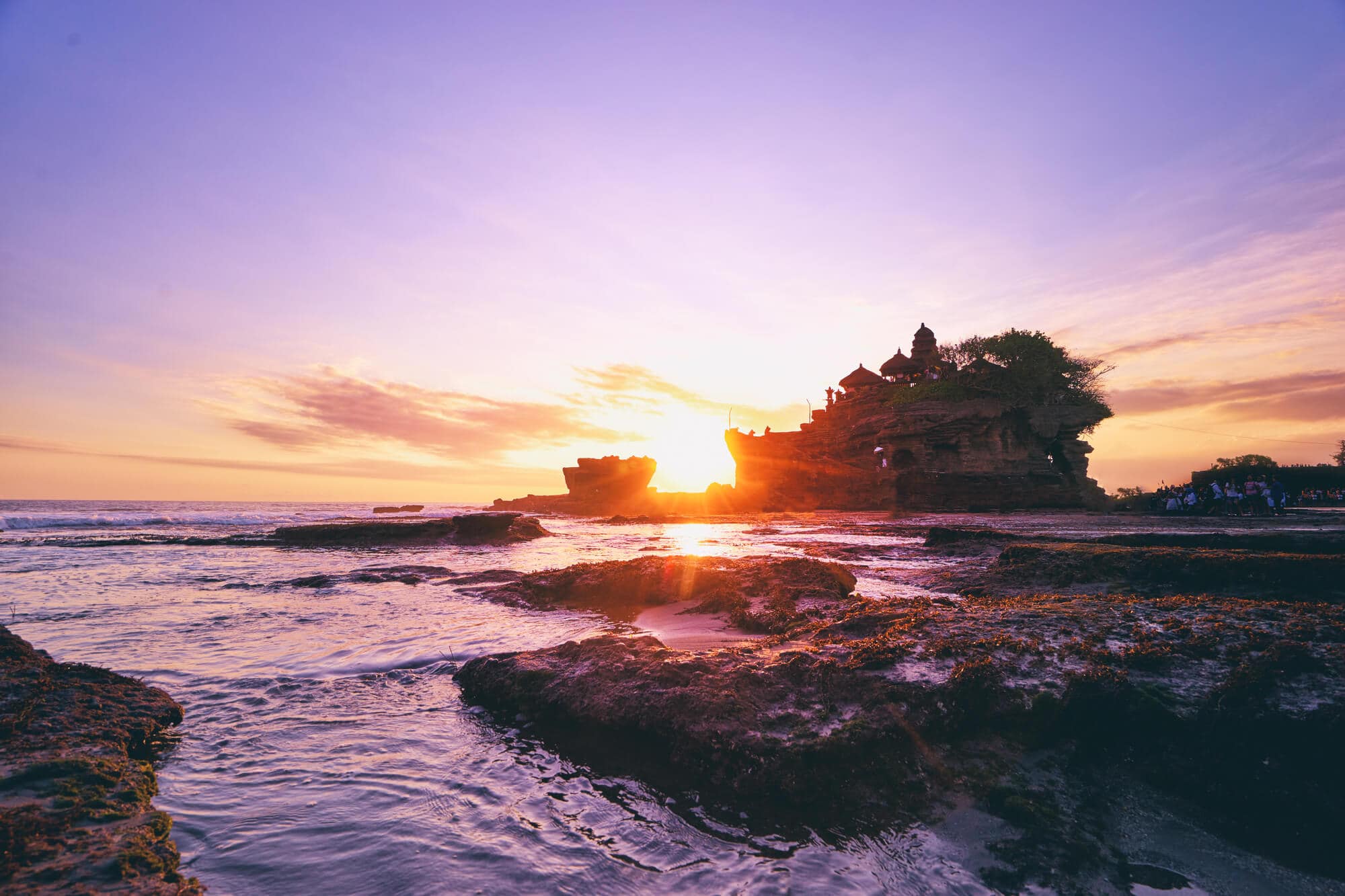 7. Over-schedule your trip
On the other hand, you should not overschedule your trip. Bali is larger than you would think and traffic can be crazy. Don't be surprised if it takes 3 hours to drive like 40 kilometers.
I would recommend spending at least 3 nights in each place you want to visit. Alternatively, base yourself in one or two places and do day trips around the island from there.
You can read more about where to stay in Bali here to find the right areas for you.
8. Travel without insurance
This is not specific to Bali, but the number one thing not to do anywhere is to travel without insurance. Accidents can happen everywhere, in Bali however, accidents happen quite frequently. Especially on the road and at the many tourist attractions that pop up all over the island. Safety standards are just not the same here as many of us are used to.
Just this week, a tourist/expat drove off the infamous shortcut in Canggu and unfortunately lost his life. Last week a speed boat transferring people from Nusa Penida to Bali started taking on water and sank in the rough sea. Luckily everyone was saved by the ONE other vessel that was in the area, though all their luggage went down with the boat.
A couple of years ago, a tourist fell to his death off one of the swings in Tegalalang. And that's just a few of the cases that made international news, the numbers are probably much higher.
I recommend Saftywing, a subscription-based travel insurance made for nomads by nomads. The best part is that you can buy it when you're already abroad, such a game changer. As with all insurance, there are exclusions. Some you might not expect like quad biking and kitesurfing. So to stay safe and covered, be sure to always double-check the fine print of your insurance.
9. Believe it when you're told an attraction is closed
You know the good old trick we see all over Southeast Asia. The attraction is closed so you should come with me to the place I recommend so I can earn a commission. Always check for yourself before you listen to anyone telling you that an attraction is closed.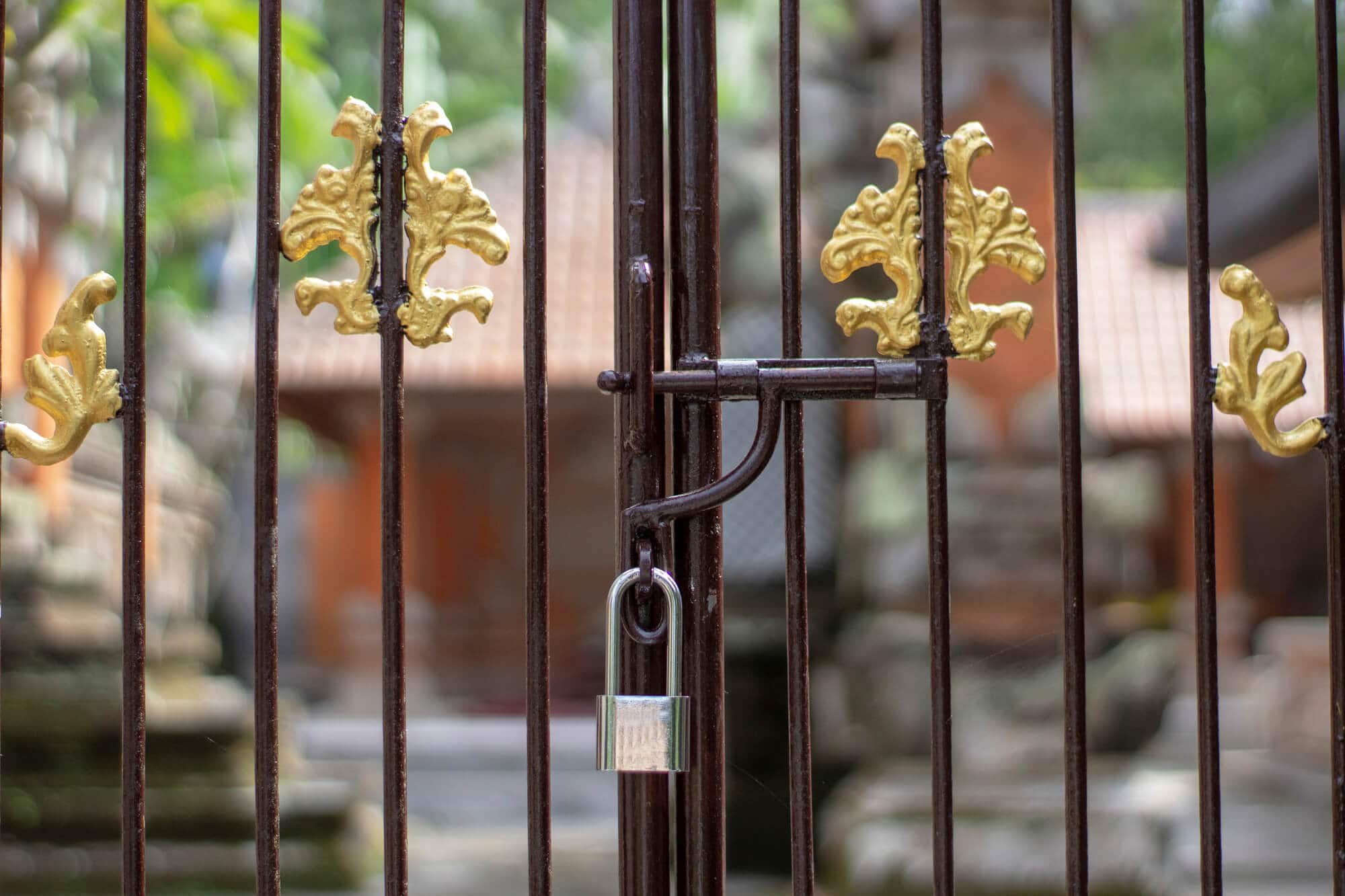 10. Visit the most popular attractions in the middle of the day
As with most popular places in the world, you should get up early in Bali if you want to escape the crowds. Especially for places like Pura Lempuyang and Sekumpul Waterfall which have skyrocketed in popularity because of social media.
The tourist busses start showing up at most attractions around 10 am and the Instagrammers show up even earlier. Yes, I'm one of them. I like to get anywhere in Bali before they open or for sunrise if the attraction is open 24/7. Sometimes the last hour before sunset is also very calm as most people will have returned to their hotel to get ready for dinner.
11. Pay full price at the markets
I'm not one of those people who like to bargain just to see how low I can get. But I'm also not going to overpay for something. These days Balinese vendors have gotten so used to tourists that they often start ridiculously high, especially at the more touristy places like Ubud Art Market.
I was once quoted 600k IND for a bag that should be between 50k-100k. When I said no thank you and walked away, the price miraculously dropped. Keep in mind that prices are usually best early in the morning because the first sale is important to bless the day ahead.
On the other hand, I can't tell you how many times I've witnessed tourists in Bali hassle vendors almost to tears just to get a Bintang singlet for like 10k. And then brag about it to their friends. Smile, pay a fair price and be grateful you're in Bali.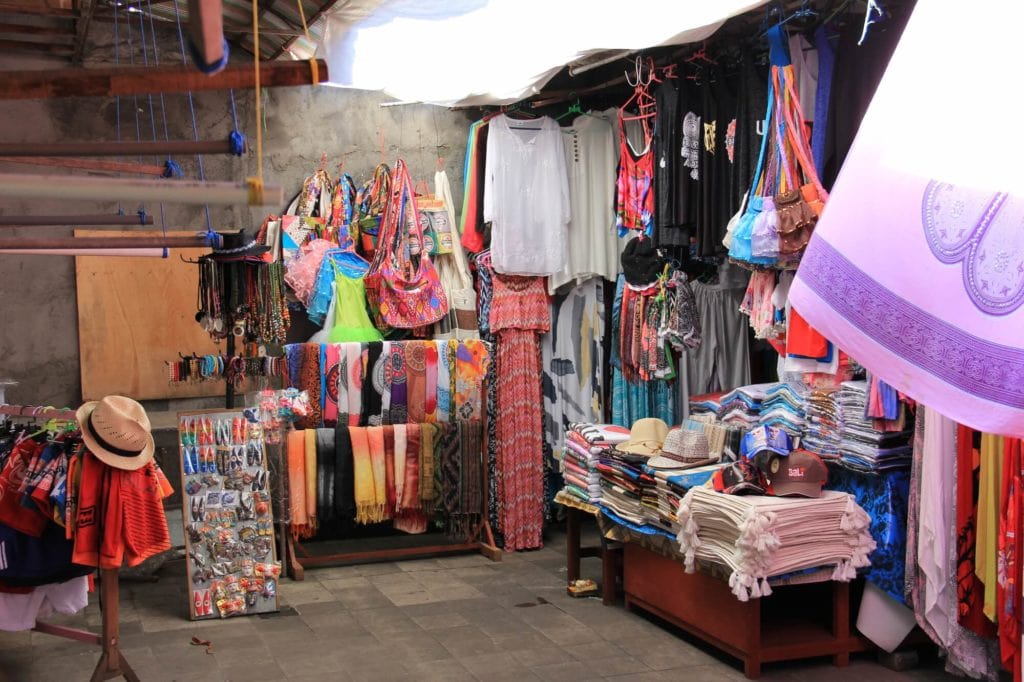 Visit Kedonganan Fish Market, Ubud Traditional Art Market, Taman, Sari Market (tropical fruits) and Kuta Art Markets, the perfect taste of Bali in one day!
12. Buy fake souvernirs
Bali is known for its skilled artisans, from woodcarvers to silversmiths and weavers to painters. Many shops, especially in tourist hubs like Ubud, Canggu and Kuta, will claim to sell these "real" handicrafts made in Bali.
While some of course are real, keep your wits about you, I've been quoted ridiculous prices for items that are clearly mass-produced and oftentimes made in China.
One time I was looking at a large dreamcatcher made from beautiful macrame. The vendor said his wife made it but upon closer inspection, I saw a little tag that said made in Taiwan. When I pointed it out the price was suddenly cut in half. So do your research on where to buy authentic souvenirs before you go so you won't get ripped off.
Make the most out of your day shopping in Bali on this traditional market tour!
13. Get into a taxi/car without agreeing on a price
Always agree on a price before you get in a car or ask the driver to turn on the meter. If you want to take a taxi, look for the blue cars with a Blue Bird sign. They are the safest option in my opinion.
Be sure to also keep firm on the price you agree on if the driver tries to come up with excuses for why you should pay more.
14. Show your wallet to the police
I always drive around with a 50k note in my pocket just in case I get pulled over by the police. You are often asked to pay your "fine" on the spot or you have to go back to the station. If you show your whole wallet you may end up losing everything you've got on you.
You can read more about it in my Bali scams article.
15. Wear a crossbody bag
Yes, I know that sounds a little extreme, but drive-by thefts have in recent years become a big problem in Bali. This can occur while you are walking along the sidewalk or while driving a scooter. So wearing a crossbody bag can result in not only losing your valuables but also injuries from being pulled down at high speed.
I've heard about this happening several times at night in Canggu, but I also have to add that I've never had a problem. When driving, I put my valuables inside the seat or in a backpack/bag that I place between my feet.
The only time I've been pickpocketed was in Kuta during a night out. Some children got their hands on my bag while I was walking and seconds later they got my phone.
So while theft can be a concern, it should not deter you from enjoying all that Bali has to offer. Keep your wits about you, as you would anywhere else, and you should be fine.
16. Wear shoes in a temple
In Balinese culture, it is considered disrespectful to wear shoes inside a temple because it is a sacred space where the gods reside. The temple grounds are okay but not inside the buildings and shrines. Removing shoes is a sign of respect and humility and it is also a way to keep the temple clean and free from dirt and dust.
Furthermore, it is believed that by removing shoes, visitors can better connect with the spiritual energy of the temple and show reverence to the deities worshipped there. Most Balinese people also remove their shoes before entering stores and homes as well, and you are expected to do the same.
Show your knees
When visiting the temples in Bali, it is also important to dress appropriately out of respect for the local culture and traditions. Both men and women should wear clothing that covers their knees. Sarongs and sashes are often provided at the temple entrances for visitors to cover up any exposed skin.
17. Don't do drugs!
You should, of course, never do drugs, but especially not in Bali as smuggling and distribution are punishable by death. At least that's what the billboards used to say. So I'm guessing there's a hefty fine or even prison sentence in store for users.
Someone also told me that every third person offering you magic mushrooms on the street is an undercover cop. And you will be offered shrooms, especially if you find yourself in the Kuta area. Whether it's true or not I don't know, but let's not find out!
Popular Bali travel guides
---
Remember to pin for later 😉