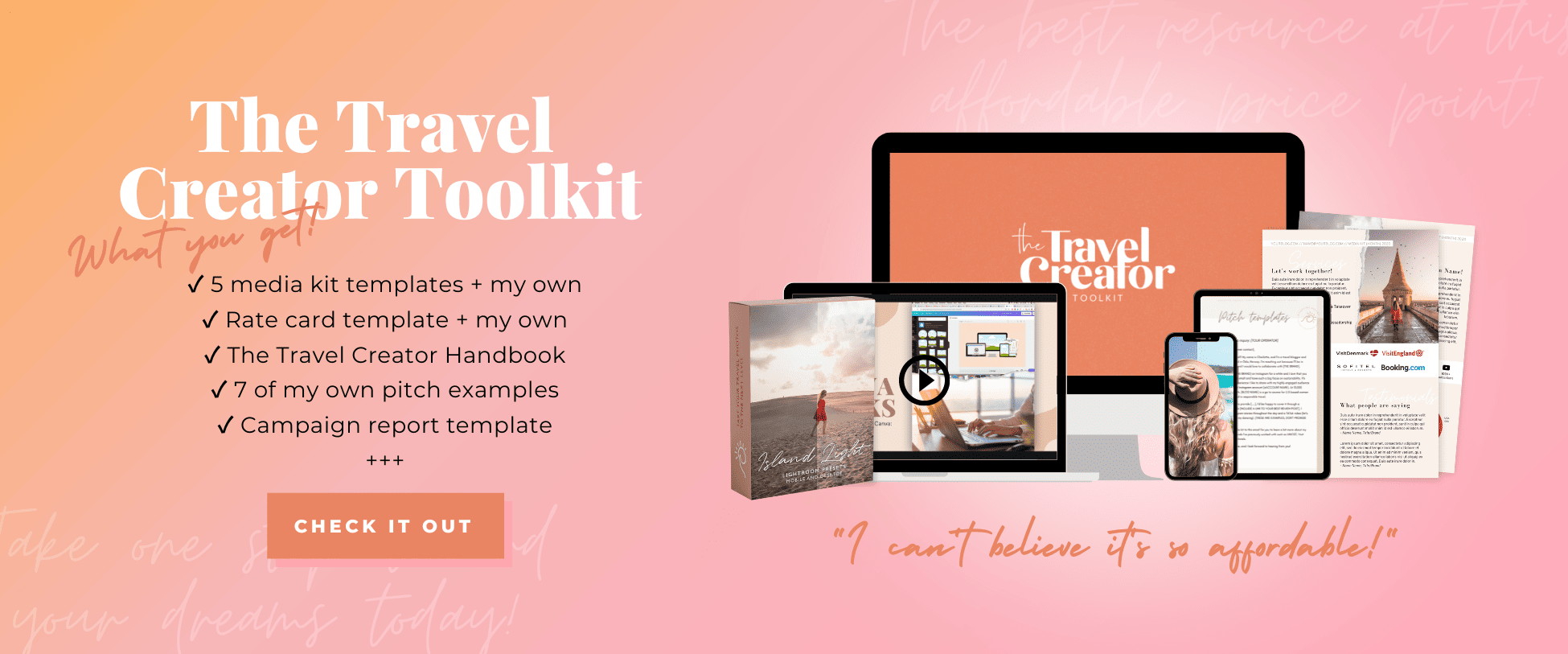 This post may contain affiliate links. I will earn a small commission if you purchase through them, at no extra cost to you.
Karang Boma Cliff is one of the best, if not the best, sunset viewpoint in Bali!
As you stand on the edge of Karang Boma Cliff in Uluwatu, the view is nothing short of breathtaking. The turquoise waters of the Indian Ocean stretch out as far as the eye can see, and the rugged coastline is a sight to behold.
After traveling in Bali for more than 13 years and stopping by this viewpoint at least 5 times, I knew I had to create a guide on how to get to Karang Boma Cliff, the best time to visit, what to bring and what to expect. So let's jump straight in.
🌟 Remember to always get insurance before you travel to Bali or anywhere else. SafetyWing is an affordable subscription travel insurance that you can purchase even after departure. Read my complete SafetyWing review here.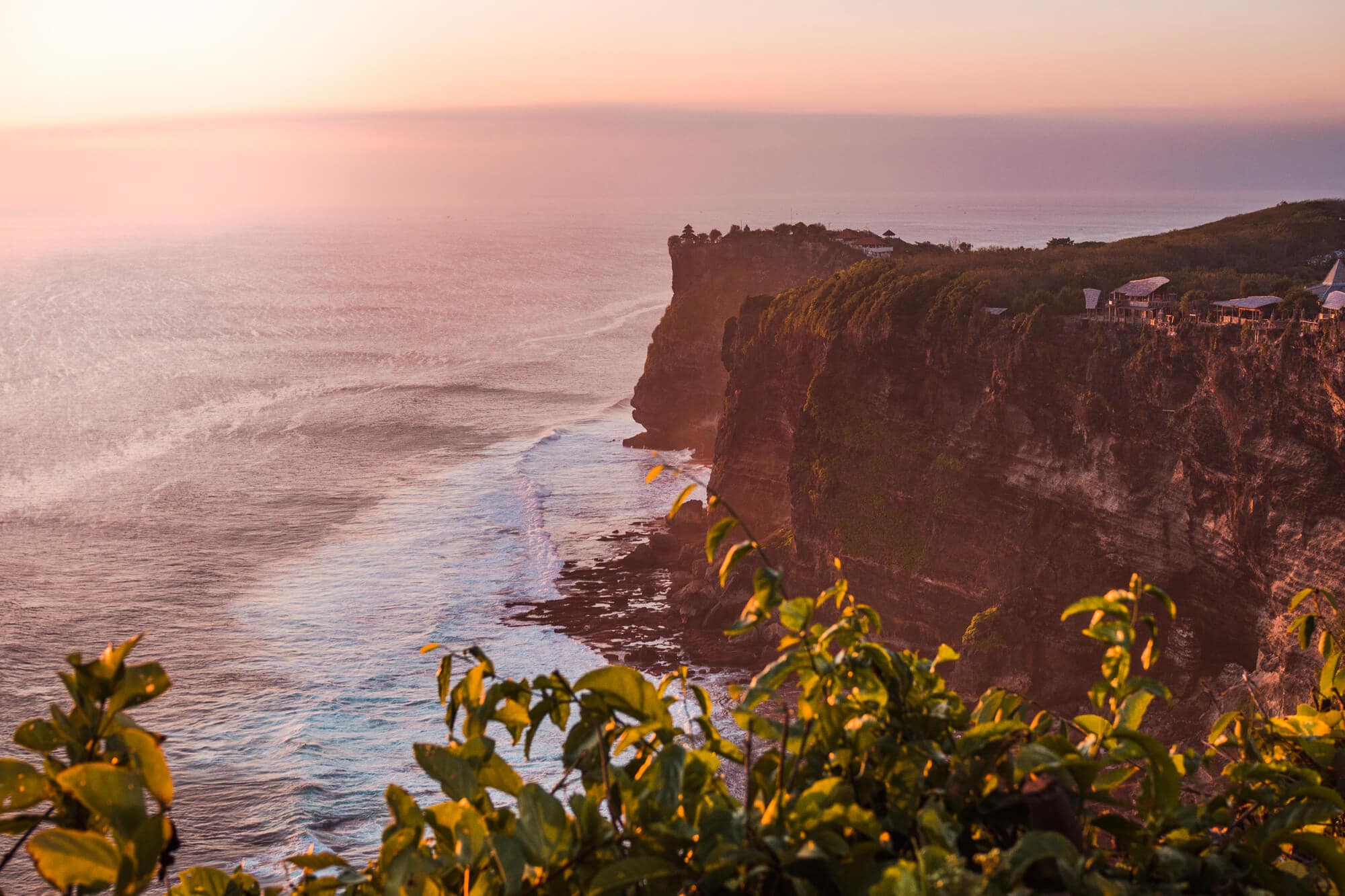 Where is Karang Boma Cliff?
Karang Boma Cliff sunset viewpoint is located in the Uluwatu area on the Bukit Peninsula in south Bali. This is my absolute favorite place to stay in Bali because it is where you find all the best white sand beaches on the island.
Also, there are quite a few good-looking surfers to let's say… observe, if that's your vibe (it's definitely mine). So spending at least a few days in Uluwatu is a must on any Bali itinerary.
If you're coming from Ubud expect to spend at least 1 hour and 45 minutes on the road to reach Karang Boma. From Seminyak, it takes about an hour.
Karang Boma Cliff Map
Below you can see a map of the original Karang Boma sunset viewpoint, the bottom pin is the popular photo spot you can see an example of further down. The top pin is a different viewpoint called Dimastos Sunset Point.
🔥 Your first time in Bali? Be sure to also check out my 2-week Bali itinerary, which outlines exactly how I wish I had spent my first visit to the island. And don't miss my list of 29 things to know before you visit Bali.
Karang Boma Cliff directions
From the main road (Jl. Raya Uluwatu Pecatu) continue onto Jl. Batu Lesung, you can see what it looks like in the photo below. Coming from the main Uluwatu area it is the entrance right before Nyang Nyang Beach.
After a few hundred meters you will reach a checkpoint where you have to pay an entrance fee of 10.000 IDR. Karang Boma Cliff is private property, so a small fee will be expected from you.
After the entrance checkpoint, you will continue along the road for another few minutes until you reach the end of the paved road at a locked gate. Continue on the dirt path on your right until you get to a more open area where other scooters are parked.
Park your scooter and follow the path through the bush until you reach the open area beside the cliff where you should secure your spot along the cliff for sunset.
How to get to Karang Boma Cliff
With a private driver
I often book this driver for longer trips, as the roads aren't the best in Bali, so I prefer to enjoy the landscape from the comfort of an air-conditioned car.
This is a super affordable full-day customizable tour, which means you have the driver for 10 hours and you can go wherever you want. It's the perfect option if it's your first time in Bali and there are a lot of places on your Bali bucket list.
🚘 Check price & availability >> My favorite private driver in Bali
Rent a scooter
Uluwatu is my favorite place in Bali to drive by myself because the traffic isn't too crazy and the landscape is absolutely stunning.
If you're comfortable driving by yourself, you can easily ask your hotel or homestay to arrange a scooter for you. Many places have a few scooters available for guests to rent. Read more about what to think about when renting a scooter in my article about things not do do in Bali.
Book in advance
You also have the option to get a scooter delivered to the place you're staying. That way you don't run the risk of being told that there are no more scooters available. It doesn't get more convenient. All of this is included in the rental:
Helmet for maximum 2 persons
full tank of gas (petrol) upon delivery
24/7 road-side assistance
Mobile phone holder
First-aid kit and rain poncho (for maximum 2 people)
🛵 Check price and availability here >> Scooter rental with delivery
Karang Boma Cliff Tour
If you're already in Uluwatu, you can book this private guided tour of the Uluwatu Temple and Karang Boma Cliff. Even though I have visited the temple countless times, it was so interesting to learn more about the history from our guide Made and be shown details I'd never noticed before. The tour ends with sunset at the cliff.
Popular Uluwatu tours
Karang Boma Cliff Visitor's Info
Best time to visit
The best time to visit Karang Boma Cliff, and Bali in general, is from February to May (avoid Easter). That's when everything is green after the rainy season and the weather is mostly clear.
There are no official opening hours at Karang Boma Cliff, but I have gone a few times in the morning and the gate has been closed. Get there at least one hour before sunset, around 5:00 pm, to secure parking and the perfect spot on the grass.
If you want photos on the popular cliff that protrudes out in front of the others you might have to wait in line for a while. We spent around two hours at Karang Boma Cliff and managed to also fly our drone without having to pay extra.
Karang Boma Cliff entrance fee
The entrance fee at Karang Boma Cliff is 10.000 IDR ($0.7), which includes parking. If you want to fly your drone, there's an additional charge of 100,000 IDR ($66). Well, sometimes. We have only been asked once.
We said no when they asked us and flew our drone anyway. Luckily we didn't get in any trouble, but please decide for yourself whether or not you want to pay.
I get that they want to make some extra money but I think 100,000 IDR is ridiculous.
Safety
There are no barriers or safety ropes at Karang Boma Cliff, so avoid getting too close to the edge. It can be unstable and I'm guessing the drop is more than 100 meters. Don't risk your life for the perfect photo.
It's also important to keep an eye on the weather, as strong winds and rain can make the area even more hazardous.
Finally, never leave valuables unattended. As with all the popular tourist attractions, there are people up to no good here as well. On my last visit, I noticed two men in leather jackets standing along the treeline just watching people. I made it clear I had seen them by staring and pulling my bag even closer. They took the hint and walked away.
What to expect at Karang Boma Cliff
When you have parked your scooter, follow the dirt path through the bush until the landscape opens up to a grassy area on a gentle slope. It flattens out before the cliff edge, making it the perfect spot to put down a blanket and enjoy a picnic with the most spectacular view.
To your left, you'll find the popular Karang Boma Cliff photo spot, with a rocky outcrop leading protruding out over the ocean. Don't worry, you won't miss it. There's probably a line of people waiting for their time to shoot the perfect photo. And it isn't actually as scary as it looks, the flat area on top of the cliff is large so you don't have to walk all the way up to the edge.
Unfortunately, Karang Boma Cliff is not suitable for those with mobility issues. You have to ride a scooter down a narrow path and walk through the bush to reach the viewpoint. Dimastos Sunset Point just next door might be a better choice as you can drive your car all the way up to the grassy area. And there are also benches where you sit down and enjoy the view.
More than a sunset viewpoint
The main draw of Karang Boma Cliff, which translates to "God's Rock", is, of course, its stunning sunset view. Visitors from all over the world come to witness the sun sinking below the horizon, casting the sky in a kaleidoscope of colors.
But the significance of this cliff goes beyond its picturesque view. In the past, Karang Boma Cliff was used as a lookout point by the Balinese people to protect their island from invaders. The cliff's strategic location allowed for a clear view of any approaching ships, giving the Balinese people time to prepare for battle.
Today, the cliff is still considered a sacred site by the Balinese people, and it is often used for religious ceremonies and offerings.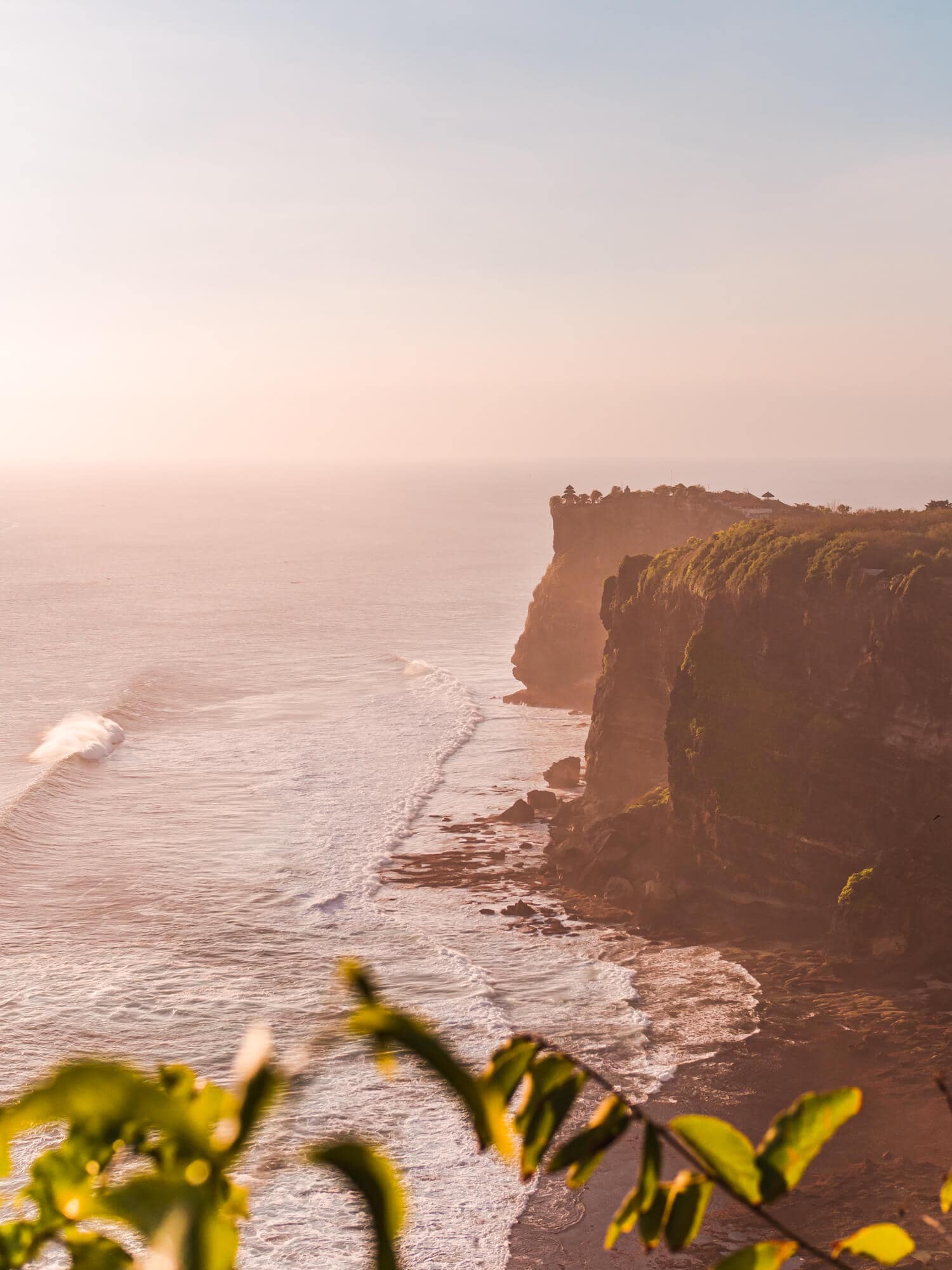 What to bring to Karang Boma Cliff
Drinks and snacks: There aren't any warungs at Karang Boma Cliff, so bring whatever you want to drink and snack on. Be sure to bring a reusable water bottle to Bali so you don't contribute to the plastic waste issue. Many cafés and restaurants offer free refills. There is a warung at the viewpoint next door selling some simple refreshments, however, you have to walk through the bush to get there.
Picnic blanket: Karang Boma Cliff is a great place to sit down for a picnic with a large grassy area going all the way up to the cliff's edge.
Camera and tripod: Karang Boma Cliff offers stunning views of the ocean and surrounding landscape, so don't forget to bring a camera to capture the beauty. I love my Olympus OM-D E-M5 Mark III and lightweight tripod.
Drone: Uluwatu is incredibly beautiful seen from the air with the towering cliffs covered in greenery and temples. Just remember that you might have to pay the drone fee I talked about earlier.
Insect repellent: Mosquitoes can be a problem in Bali, so it's a good idea to bring insect repellent to ward them off. I always have a small bottle in my bag.
Cash: Always have some small notes available to pay for entrance fees/parking, drinks and bracelets if you want to support the hawkers.
Nearby Attractions
Uluwatu has so much more than just sunsets to offer. Combine your visit to Karang Boma Cliff with a stop at a few beaches, the Uluwatu Cliff, the Monkey Temple and do some shopping.
Uluwatu Temple
Located just a few kilometers up the road from Karang Boma Cliff, Uluwatu Temple is a natural next stop. It is one of the best places to see monkeys in Bali and a must on any Bali Bucket List. I have probably been there more than 15 times now and I'm still in awe of this place.
The temple is perched on a cliff overlooking the ocean and offers stunning views across the rugged Uluwatu coastline. At sunset, you can watch a traditional Kecak dance performance in the temple's amphitheater.
Go beach hopping
As mentioned above, the Bukit Peninsula is where you find all the best beaches in Bali. And Balangan Beach is the only place in Bali I consider a better sunset spot than Karang Boma Cliff. It is a bit further out from the main Uluwatu area, but I highly recommend you stop by, especially if you're a surfer.
If you're looking for a beautiful beach to relax on, Padang Padang Beach is just a short drive from Karang Boma Cliff. The beach is known for its clear blue water and white sand and is a popular spot for surfing and swimming. It is, however, one of the smallest beaches on the Bukit, so get there early to secure a spot on the sand.
Two of the most accessible beaches in Uluwatu are Melasti and Pandawa.
Nyang Nyang Beach is a hidden gem you can often have all to yourself. It is one of the hardest beaches to reach in Bali, but you are definitely rewarded for your effort. Once you make your way down the steep and narrow road you are welcomed by almost 2 kilometers of white sand lined by lush greenery decorated with seashell art.
Private Uluwatu Tour
Limited on time? Experience the highlights of the Bukit Peninsula in one day!
This private full-day tour includes Pandawa, Melasti and Padang Padang Beach in addition to the Uluwatu Monkey Temple with fire dance at sunset and a seafood dinner on the beach in Jimbaran. It is such good value for everything you get!
🌟 Check price & availability here >> Private Uluwatu Beaches and Temple Tour with Dinner
Where to stay in Uluwatu
D'padang Homestay
The location of D'padang Homestay, between Uluwatu Cliff and Padang Padang Beach (Lauban Sait), couldn't be better. You can easily walk to both beaches in under 20 minutes. You also have some great restaurants and warungs like Suka Espresso, La Baracca and Nyoman Local Food right on your doorstep.
At D'padang Homestay you have the choice between a bright and airy standard room for around $30 a night or a bungalow with garden view for $50 a night. Both include breakfast for two. Although I'm sure you'll spend most of your time down here on the beach the property also features a pretty nice pool surrounded by sun loungers and palm trees.
Uluwatu Breeze Village
Another great option is Uluwatu Breeze Village, a charming and tranquil hotel just next to D'padang. The property boasts beautifully designed and decorated villas that offer guests a sense of privacy and comfort. Palm trees, Bougainvilleas, straw cabanas and a beautiful pool area make the garden feel like a tropical oasis.
Each villa is equipped with modern amenities such as air conditioning, a private bathroom, and a flat-screen TV. The hotel's outdoor pool is a perfect place to relax and unwind after a day of exploring the surrounding area.
The hotel's restaurant serves local and international cuisine, and the staff is friendly and accommodating, making guests feel right at home.
Popular Bali travel guides
---
Remember to pin for later 😉