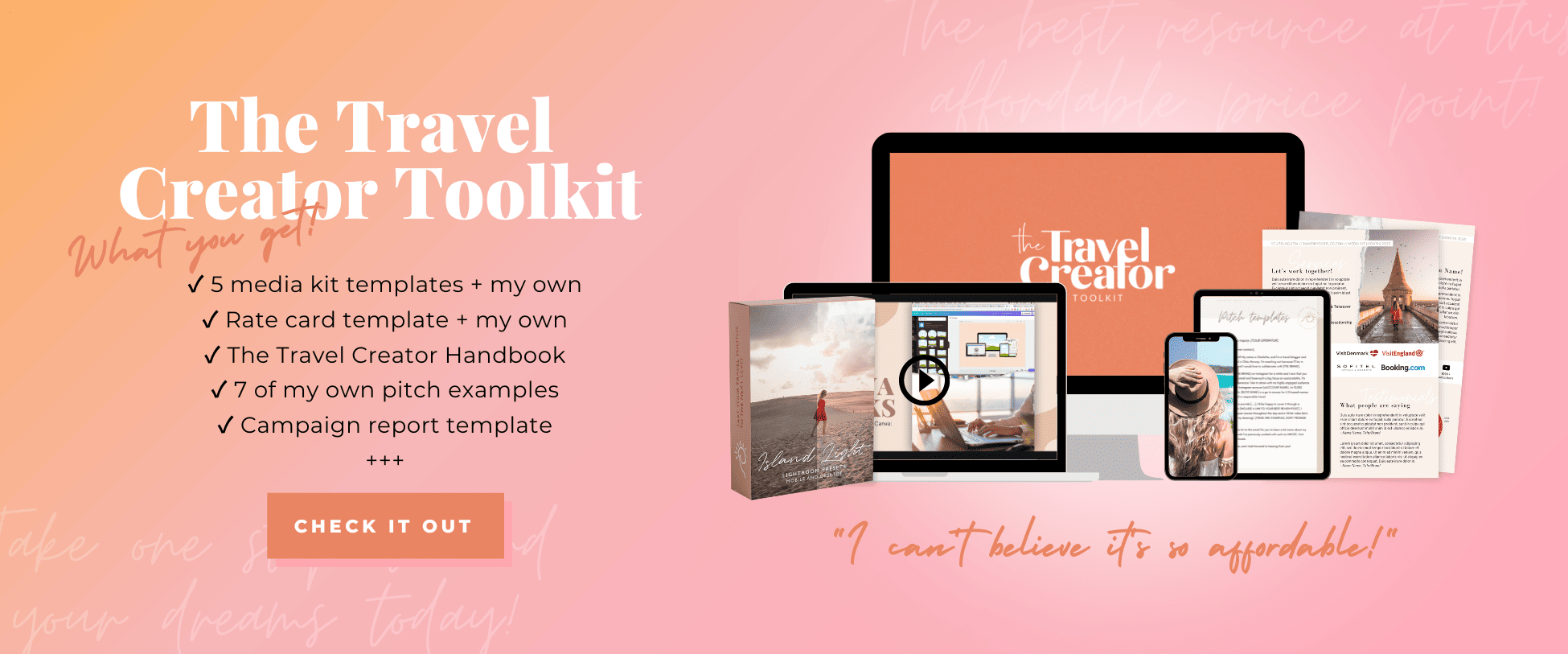 This post contains affiliate links. I will earn a small commission if you purchase through them, at no extra cost to you.
Are you looking for the best markets in Canggu?
Then you're in the right place. After traveling in Bali for more than 14 years I have visited them all, several times.
Everyone loves a market, don't they? Perusing market stalls and trying to sniff out a bargain or a one-of-a-kind piece is one of my favorite things to do while traveling. Whether it be Christmas markets, farmer's markets or antique fairs, I love them all. A day at the markets is never a bad idea, and Bali is no exception.
Canggu, the hippest hood on the island, is not only home to some of the best coworking spaces in Bali but also 7 of Bali's best markets. Think handmade jewelry, organic skincare, vintage clothing, straw bags, bohemian interior decor pieces, fresh produce and so much more.
Ah… Let's just say I've spent A LOT of money at the Canggu markets over the years!
🌟 Remember to always get insurance before you travel to Bali or anywhere else. SafetyWing is an affordable subscription travel insurance that you can purchase even after departure. Read my complete SafetyWing review here.
Tips for visiting markets in Canggu
When I first came to Bali more than 13 years ago, Canggu was no more than a sleepy fishing village slowly gaining popularity among surfers. I remember we couldn't even find a place to stay because the few hotels had let all their staff go for the low season.
Today, however, Canggu is one of the busiest hubs on the island, favored by tourists and expats alike. Traffic is crazy and you can't throw a stone without hitting a bearded hipster or tattooed surfer. But that's just how we like it, isn't it? Canggu is definitely a must on any Bali Bucket List.
Anyhow, here are 6 tips for visiting markets in Canggu and in Bali in general:
Go early: Most markets in Canggu start early in the morning, so it's best to arrive early to avoid the crowds and get the first pick of the items you want to buy. For Balinese vendors the first sale blesses the day ahead, so they will often sell items cheaper right when they open. Also, parking is very limited in Canggu, so expect to walk for a
Bring cash: Some of the markets in Canggu do not accept credit cards, so make sure to bring enough cash with you. A few years ago my sister got scammed when using her credit card at Love Anchor, so cash is king.
Bargain: Bargaining is a common practice in Bali, so don't be afraid to negotiate prices with the vendors. However, be respectful and don't haggle too aggressively. If the price is clearly stated, bargaining is not on. You can read more about best practices for bargaining at the Canggu markets in my article about common scams in Bali.
Dress comfortably: Canggu can be hot and humid, so wear comfortable clothing and shoes that are easy to walk in. Also, if you want to try something on, you should be able to pull it over whatever you're wearing as there aren't dressing rooms at most markets.
Try the local food: Many markets in Canggu offer a variety of locally sourced and organic food and drinks, so take the opportunity to try some new and healthy dishes while you're there.
Bring your own bag: The plastic waste issue in Bali is very bad, so avoid adding to it by accepting plastic bags from vendors or buying water in plastic bottles. Many markets in Bali have already transitioned to paper bags, but just in case, bring your own tote bag and reusable bottle.
How to get to Canggu
The easiest way to get to Canggu is to hire a driver or rent a scooter. Canggu is crowded and parking is limited, so finding a place to park a car is almost impossible. Scooters are a little easier, just make sure you a properly insured before renting one. Read more in my things not to do in Bali guide.
If you're staying far away or are limited on time, I recommend joining this tour full-day tour of all the popular spots in town. A guide will accompany you and suggest the best itinerary to make the most out of your day, however, you are free to explore as you please.
Start your day with breakfast or brunch at one of the many cool cafés, before making your way to the beach or check out beach clubs such as La Brisa or the Lawn. Rent a surfboard if you feel like getting active or just chill with a cocktail in hand.
Book the tour on a Saturday or Sunday and you are spoilt for choice when it comes to shopping. Not only are there so many cute boutiques in town, but all the markets are open during the weekend.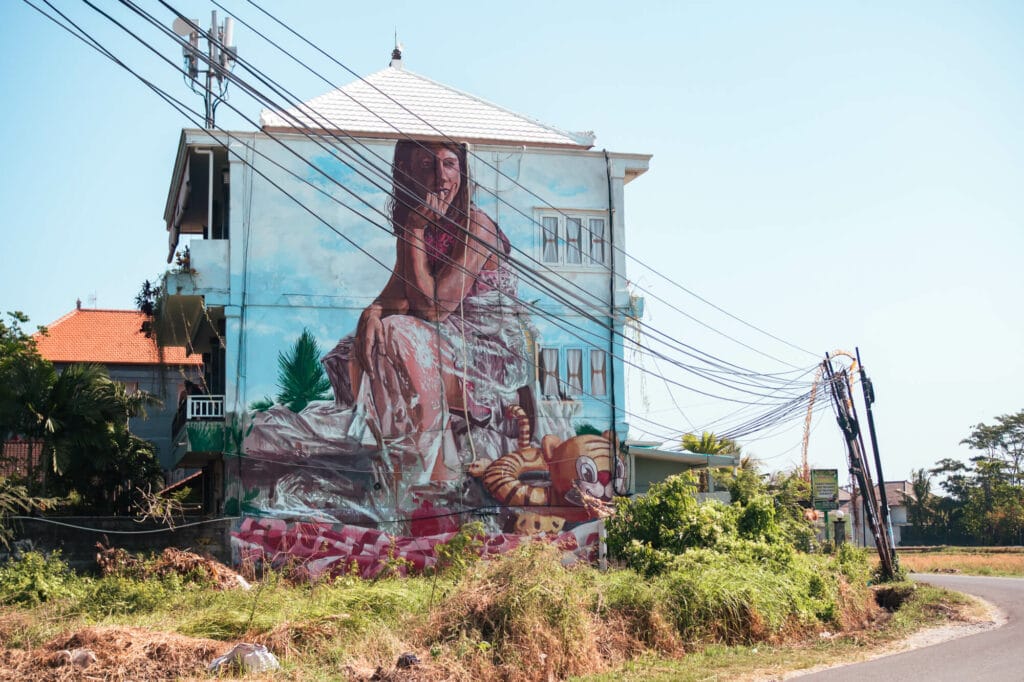 Canggu: Bohemian Hideaway Full-Day Tour 🌟🌟🌟🌟🌟
Canggu market map
1. Love Anchor Market Bazaar
It's hard not to be drawn in by the Love Anchor compound located in the heart of Batu Bolong. The large wooden structure decorated with hundreds of lights is quite striking and you'll probably hear the tunes playing all day from far away.
Love Anchor Bazaar is one of many daily markets in Canggu these days. During the week around 100 vendors sell everything from homewares and clothing to organic skincare and handmade accessories. On Saturdays and Sundays, they step it up a notch and cram an additional 50 stalls into the seating area in front and call it the special weekend bazaar.
At first glance, you'll see a lot of the typical Bali souvenirs, but don't get discouraged. If you take the time to sift through everything you can find some really cool items like the all-natural skin care in the photo below. The soda scrub is amazing by the way.
In addition to the market Love Anchor also boasts a restaurant and bar with an extensive menu of multicultural food and drinks including breakfast, lunch, dinner and sweet treats. There are also a few permanent stores, like Rip Curl, just in case you haven't already spent all of your money at the market.
Love Anchor Market visitor's info
Opening hours: Love Anchor is open daily from 8:00 am to 10:00 pm.
Location: Jl. Pantai Batu Bolong No.56, Canggu. At the intersection between Batu Bolong and Batu Mejan.
What to buy: Souvenirs, homewares, skincare, jewelry, clothes and accessories.
---
2. Samadi Sunday Market
Contrary to what you might think, Samadi Bali is not just for the yogis! Every Sunday expats and locals alike flock to the beautiful courtyard/garden located on Jl. Padang Linjong to browse the fresh food and artisan goods on offer.
Samadi Sunday Market differs a bit from the other two because it focuses solely on fresh produce free from GMO and pesticides, drinks and snacks that are good for you, unique handmade items and different charitable products.
In other words, this is the place for all things healthy, creative and sustainable.
You'll find various stalls featuring freshly baked goods, fruits and vegetables, homemade juices, jams, and organic coffees and chocolate. And don't forget to try their little restaurant too, it's the perfect place for a light but delicious breakfast or lunch. My favorite dishes are the grilled falafel bowl and the green wrap. Yum!
If you want to support the local community while making healthier choices, then this vibrant market is the place to be.
Samadi Sunday Market visitor's info
Opening hours: 8:00 am to 4:00 pm every Sunday.
Location: Jl. Canggu Padang Linjong No.39, Canggu.
What to buy: Fresh fruit and vegetables, healthy snacks, jewelry and handmade products supporting charities.
Stay at Samadi Bali
Samadi doesn't only offer incredible wellness classes and markets, you can also stay here while you're enjoying everything Canggu has to offer.
Their rooms are clean, light and bright with beautiful views across rice fields. The beds are comfortable (which isn't always the case in Bali) and the staff is also super nice and accommodating.
🌟 Check price & availability here >> Samadi Bali Homes
---
3. Samadi Saturday Night Market (Pasar Malam)
A pasar malam is a street market common in Indonesia, Malaysia, Brunei and Singapore that opens in the evening. Even though Love Anchor is also open late, this is the first dedicated night market in Canggu.
In addition to many of the same products you find on Sunday, the night market also includes activities such as silent disco, live music, free demo classes for yoga and wellness and cooking classes by locals.
Every 2 months there's also a fashion show showcasing local brands.
Samadi Saturday Market visitor's info
Opening hours: 2:00 pm to 9:30 pm every Saturday.
Location: Jl. Canggu Padang Linjong No.39, Canggu.
What to buy: Delicious food, clothing and accessories from local brands.
---
4. La Brisa Sunday Market
The Sunday market at La Brisa Beach Club in Canggu is a popular weekly event in support of local farmers and small businesses, that attracts locals and tourists alike. Browse a wide variety of products, including jewelry, homewares, natural body care, upcycled fashion and zero-waste products.
The market boasts a laid-back and bohemian atmosphere in the most beautiful location right on Echo Beach, with live music and a relaxed vibe that makes it the perfect place to spend a lazy Sunday.
One thing I always buy here is a natural skin wash for my acne-prone skin aad medicinal Jamu (an Indonesian anti-inflammatory drink made of turmeric and ginger).
La Brisa Market visitor's info
Opening hours: La Brisa market is open every Sunday from 10:00 am to 4:00 pm.
Location: Jl. Pantai Batu Mejan, Canggu, right on Echo Beach.
What to buy: Fresh produce, baked goods, clothes, handmade jewelry, essential oils and skincare.
Parking: 5.000 IDR
---
5. Shocked Dog Market
Shocked Dog doesn't look like much from the street but step inside and discover a colorful world of unique and independent shops and services.
From handmade crafts and boutique fashion to wellness treatments and professional services, there's something for everyone. You can even get a tattoo.
There are also fun workshops here during the weekend, such as acrylic painting, making recycled paper and macrame.
Shocked dog visitor's info
Opening hours: 10:00 am to 10:00 pm daily.
Location: Jl. Pantai Batu Bolong No.11, Canggu. Just across the street from Black Sand Brewery.
What to buy: Cool clothes, swimwear, jewelry, art and other handmade items.
---
6. Old Man's Saturday Market
(UPDATE: THIS MARKET IS NOT ON AT THE MOMENT)
If you find yourself in Canggu on the last Saturday of the month you should definitely make your way down to Old Man's. From 8:00 am to 3:00 pm the popular beer garden known for its signature blue backdrop transforms into a treasure trove full of unique artisan goods.
Bali has over the years turned into a creative hub brimming with talented individuals, many of whom gather to sell their handicrafts at Old Man's. You'll find startups, established brands, expats and locals, all chatting and away and just having a great time.
Browse through 150+ stalls of vintage clothing, handmade jewelry, one-of-a-kind accessories, beautiful ceramics and of course, plenty of surf-related items like swimsuits, sunscreens, custom fins and much more. I'm sure you'll find something to tickle your fancy. And there's also a little fruit and vegetable section where local farmers sell their fresh produce.
Try to get there early as it gets unbearably hot and crowded come midday. Then again you can just jump in the ocean to cool off whenever you like as Old Man's is set right on Batu Bolong Beach. But whatever you do, don't miss it, this is one of my all-time favorite markets in Bali!
Old Man's Market visitor's info
Opening hours: 8:00 am – 3:00 pm on the last Saturday of every month.
Location: Old Man's at the end of Jl. Batu Bolong, you can't miss it.
What to buy: Second-hand clothing, jewelry, handmade items and homewares.
---
7. Bali Niki Natural Art Market Canggu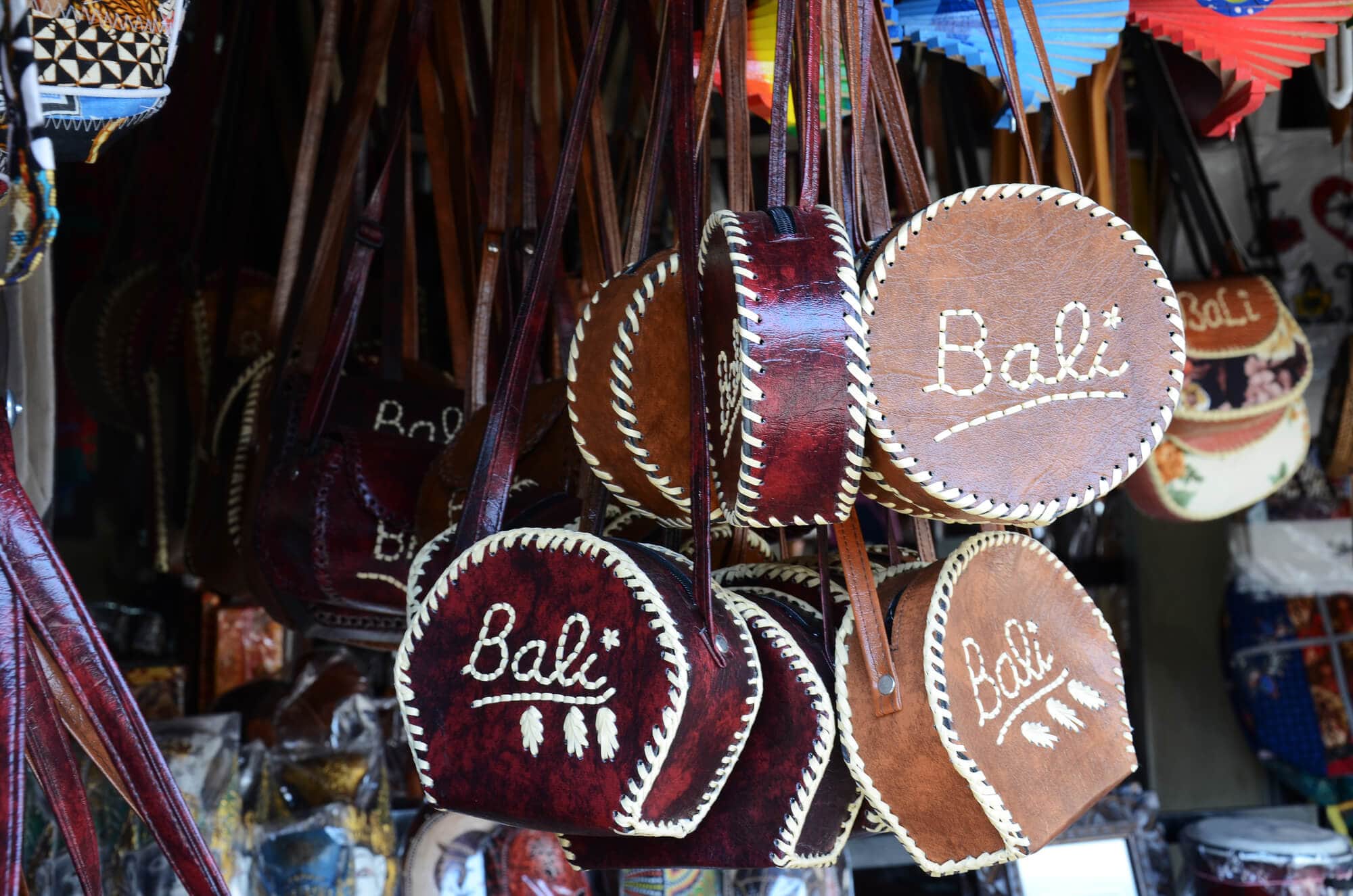 Bali Niki Natural Art Market in Canggu is a must-visit for anyone looking for unique a less busy shopping experience in Canggu.
Located just a 5-minute walk from Echo Beach, this market boasts an eclectic mix of typical Balinese souvenirs and handcrafted items. You will find a lot of the same stuff here as at Love Anchor, but because it gets fewer visitors, you may be able to get an even better deal.
Niki Natural Art Market visitor's info
Opening hours: Bali Niki Natural Art Market is open daily from 08:00 am to 09:00 pm.
Location: Jl. Pantai Batu Mejan, Canggu.
What to buy: souvenirs, woven baskets, wood carvings, jewelry, clothes and homewares.
My Canggu Market finds
Above you can see everything I bought the last time I visited the markets in Canggu. I'm trying to bring the tropical vibe with me to Norway so I got several bohemian decor pieces for my future house.
My mum bought the straw bag at Love Anchor for 200k / $15, she got the price down from 350k all by herself. I also got some bamboo straws, wooden salad servers and an amazing all-natural face scrub.
My favorite finds, however, are the super cute bandana I got for my friend's dog and a scrunchie for myself from The Bandana Love Project at Samadi. They give 25% of their proceeds towards sterilization and vaccination of dogs & cats, which is very much needed in Bali.
I also got a bracelet made by the women working for the Bali Street Moms Project. A non-profit organization that empowers impoverished mothers by taking them and their children off the streets in Denpasar. You can read more about the amazing work they do in my article about the dark side of Bali.
Popular Bali travel guides
---
Remember to pin for later 😉