This post may contain affiliate links. I will earn a small commission if you purchase through them, at no extra cost to you.
Everyone loves a market, don't they? Perusing market stalls trying to sniff out a bargain or a one-of-a-kind piece is one of my favorite things to do while traveling. Whether it be Christmas markets, farmer's markets or antique fairs, I love them all. A day at the markets is never a bad idea, and Bali is no exception.
Canggu, the hippest hood on the island, is not surprisingly home to three of Bali's best markets: Love Anchor Bazaar, Old Man's Saturday Market and Samadi Sunday Market. Think handmade jewelry, organic skincare, vintage clothing, straw bags, bohemian interior decor pieces, fresh produce and so much more. Ah… Let's just say I've spent way too much of my money at these Canggu markets over the years!
Related post: The ultimate 2 week Bali itinerary (including Nusa Lembongan & Penida)
Love Anchor Market Bazaar
Date: 7 days a week – Saturday and Sunday special weekend bazaar
Time: Open daily 8am-11:59pm / Weekend Bazaar 9am – 5pm
It's hard not to be drawn in by the Love Anchor compound located in central Canggu on Jl. Pantai Batu Bolong. The large wooden structure decorated with hundreds of lights is quite striking and you'll probably hear the tunes playing all day from far away.
Love Anchor Bazaar is the only daily market in Canggu at the moment. During the week around 100 vendors sell everything from homewares and clothing to organic skincare and handmade accessories. On Saturdays and Sundays, they step it up a notch and cram an additional 50 stalls into the seating area in front and call it the special weekend bazaar.
At first glance, you'll see a lot of the typical Bali souvenirs, but don't get discouraged. If you take the time to sift through everything you can find some really cool items like the all-natural skin care in the photo below. The soda scrub is amazing by the way.
In addition to the market Love Anchor also boasts a restaurant and bar with an extensive menu of multi-cultural food and drinks including breakfast, lunch, dinner and sweet treats. There are also a few permanent stores, like Rip Curl, just in case you haven't already spent all of your money at the market.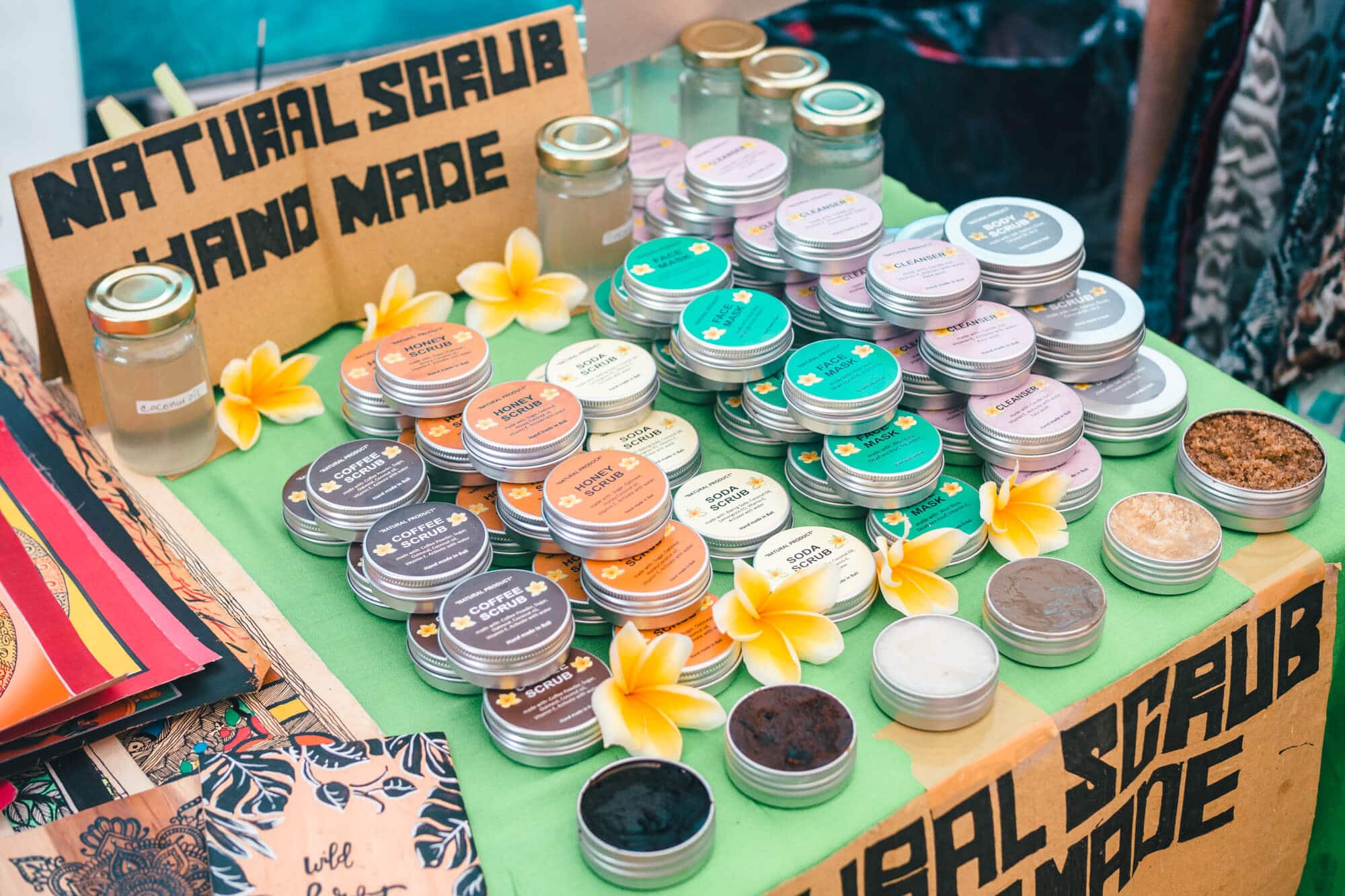 ---
Old Man's Saturday Market
Date: Last Saturday of every month
Time: 8am – 3pm
If you find yourself in Canggu on the last Saturday of the month you should definitely make your way down to Old Man's. From 8 am to 3 pm the popular beer garden known for its signature blue backdrop transforms into a treasure trove full of unique artisan goods.
Bali has over the years turned into a creative hub brimming with talented individuals, many of whom gather to sell their handicrafts at Old Man's. You'll find startups, established brands, expats and locals, all chatting and away and just having a great time.
Browse through vintage clothing, handmade jewelry, one of a kind accessories, beautiful ceramics and of course, plenty of surf-related items like swimsuits, sunscreens, custom fins and much more. I'm sure you'll find something tickle your fancy. And there's also a little fruit and vegetable section where local farmers sell their fresh produce.
Try to get there early as it gets unbearably hot and crowded come midday. Then again you can just jump in the ocean to cool off whenever you like as Old Man's is set right on Batu Bolong Beach. But whatever you do, don't miss it, this is one of my all-time favorite markets in Bali!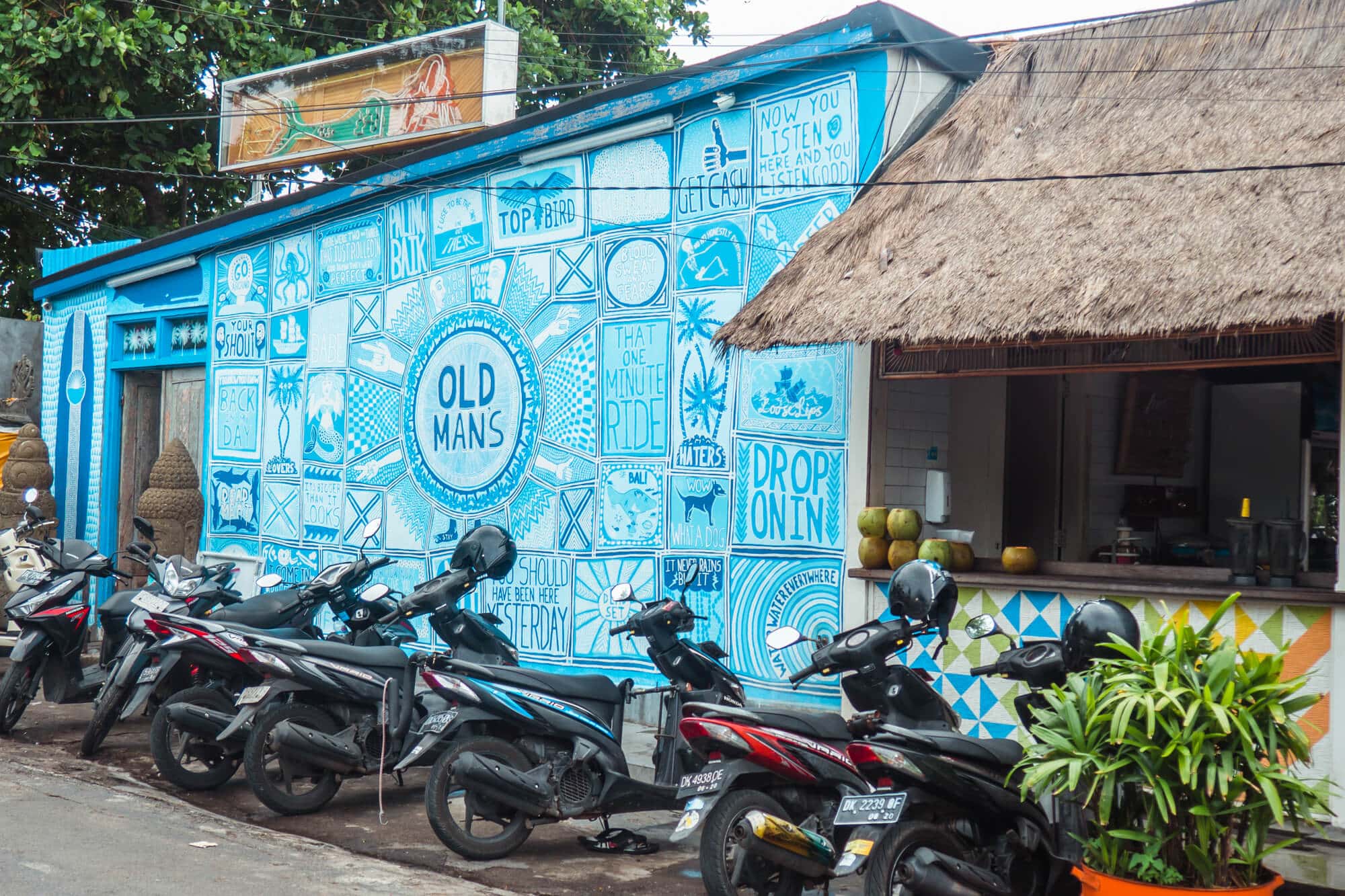 ---
Samadi Sunday Farmers and Artisans Market
Date: Every Sunday
Time: 9am – 2pm
Contrary to what you might think, Samadi Bali is not just for the yogis! Every Sunday expats and locals alike flock to the beautiful courtyard/garden located on Jl. Padang Linjong to browse the fresh food and artisan goods on offer.
Samadi Sunday Market differs a bit from the other two because it focuses solely on fresh produce free from GMO and pesticides, drinks and snacks that are good for you, unique handmade items and different charitable products. In other words, this is the place for all things healthy, creative and sustainable.
You'll find various stalls featuring freshly baked goods, fruits and vegetables, homemade juices, jams, and organic coffees and chocolate. And don't forget to try their little restaurant too, it's the perfect place for a light but delicious breakfast or lunch. My favorite dishes are the grilled falafel bowl and the green wrap. Yum!
If you want to support the local community while making healthier choices, then this vibrant market is the place to be.
---
My market finds 😀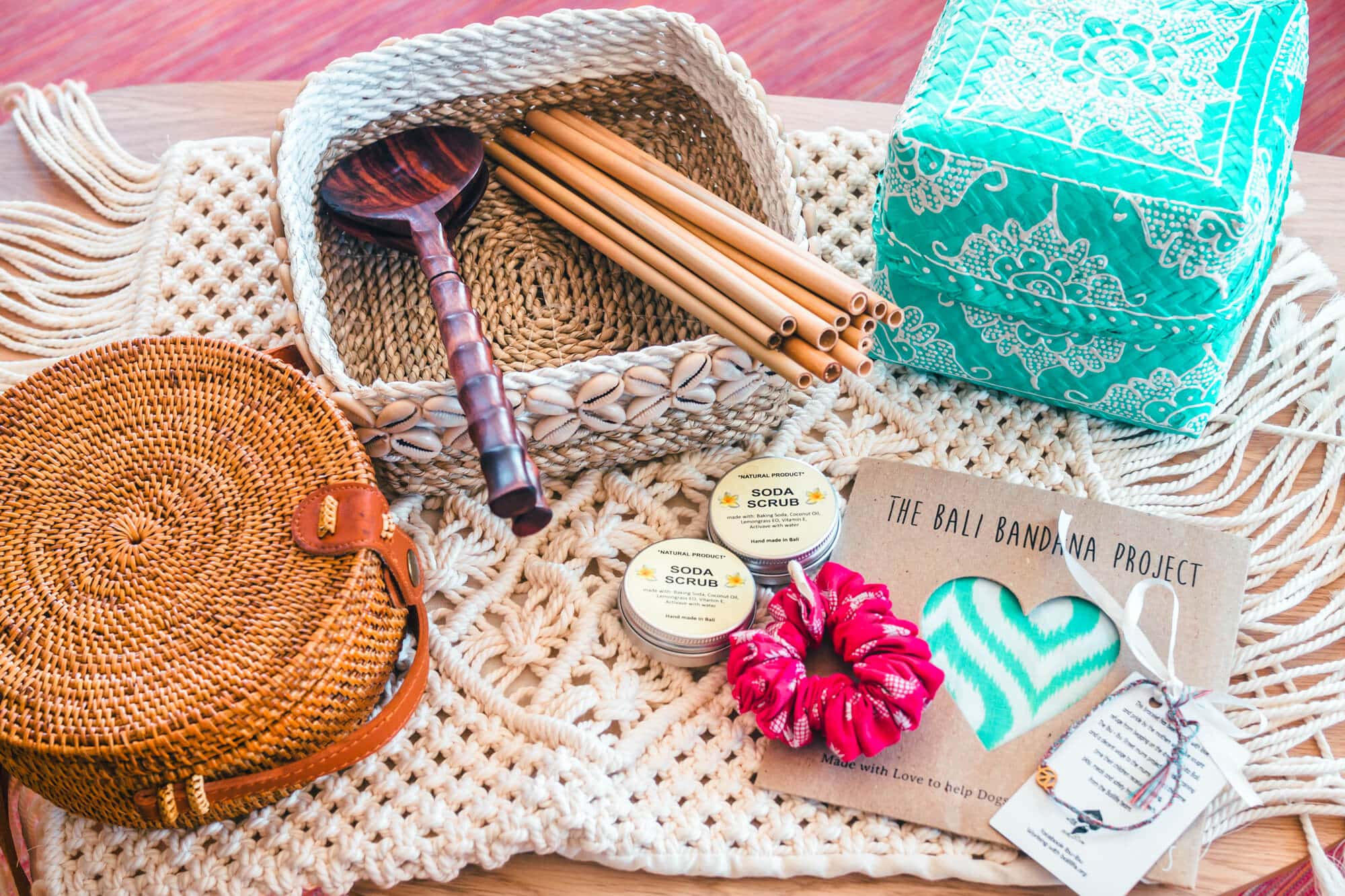 I'm trying to bring the tropical vibe with me to Norway so I got several bohemian decor pieces for my future house. My mum bought the straw bag at Love Anchor for 200k / $15, she got the price down from 350k all by herself. I also got some bamboo straws, wooden salad servers and an amazing all-natural face scrub.
My favorite finds, however, are the super cute bandana I got for my friend's dog and a scrunchie for myself from The Bali Bandana Project at Samadi. They give 25% of their proceeds towards sterilization and vaccination of dogs & cats, which is very much needed in Bali. I also got a bracelet made by women working for the Bali Street Moms Project. An amazing non-profit organization that empowers impoverished mothers by taking them and their children off the streets in Denpasar!
Related post: The Dark Side of Bali + How you can help break this tragic cycle
---
Remember to pin for later 😉