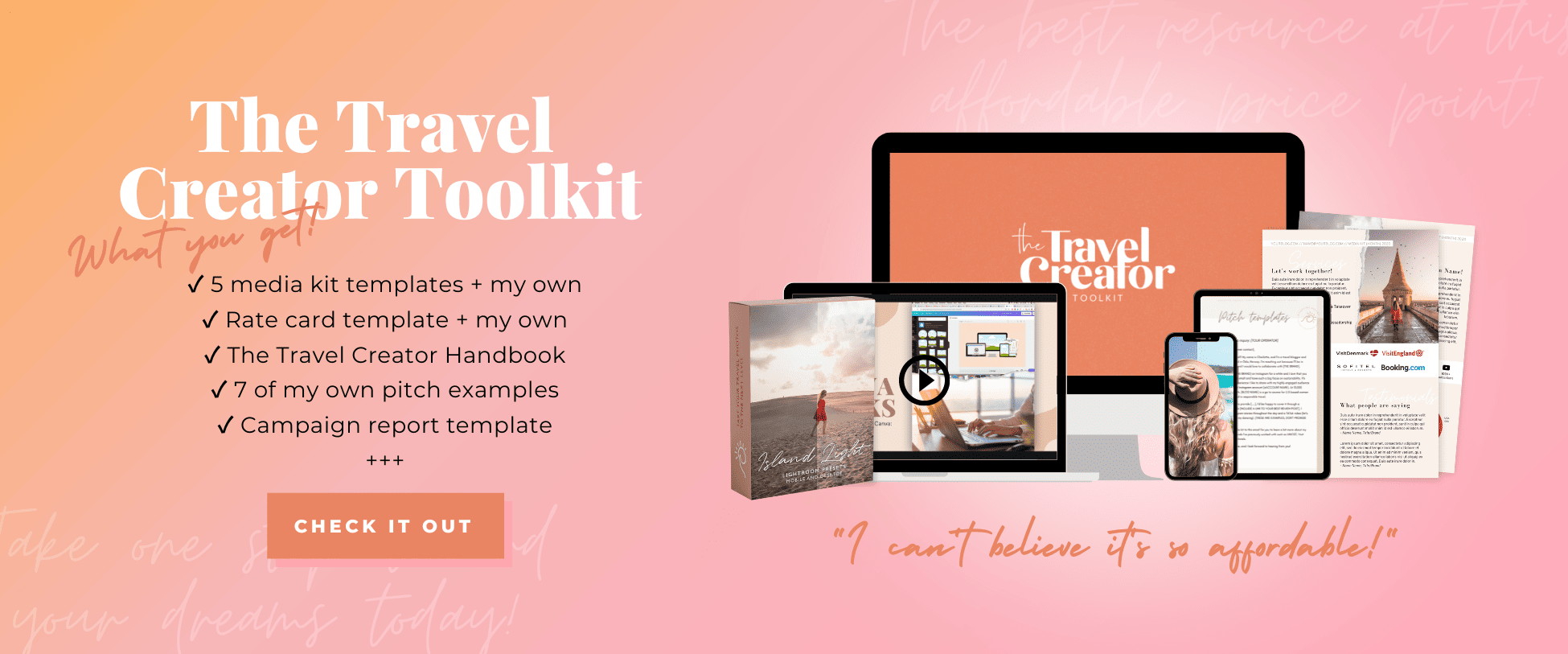 This post may contain affiliate links. I will earn a small commission if you purchase through them, at no extra cost to you.
Overcrowded and overdeveloped, I never thought I would use those words about one of my favorite places in the world. But, as I've mentioned time and time again, Bali has drastically changed over the last few years. In the main tourist hubs like Kuta, Seminyak, central Ubud, etc. it often gets so crazy that you almost feel like you need a vacation from your Bali vacation.
Even in the areas I still love, like Uluwatu and Canggu, it can sometimes get way too crowded. So it's nice to know that there are still places on the island where you can escape the crowds and recharge your batteries in peace and quiet.
East Bali, also known as the Karangasem Regency, is one of those places. There are touristy pockets here as well, like Amed and Candidasa, but it's nothing near what you can expect in the south. And if you head just a few minutes inland, into the jungle, you can be almost all by yourself.
And that's what Ulrik and I did last week. We rented one of the Bungalows at Kubu Carik, for only $28 a night I might add, and it was exactly what we needed. Three relaxing days in the most stunning surroundings one could possibly imagine.
You might also like: Bali Island Guide – Which area is right for you?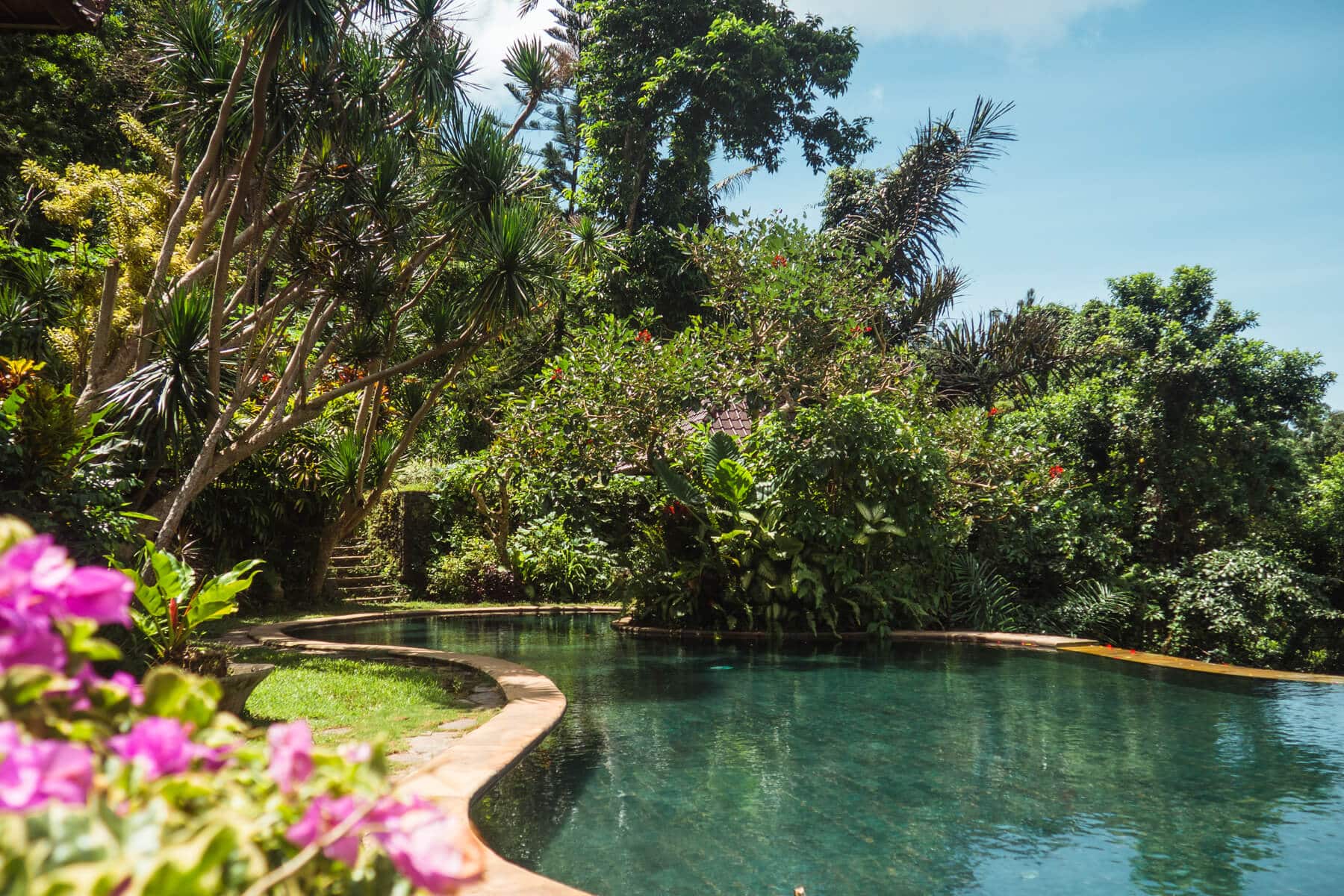 The property
Nestled on a hillside in a rural village, overlooking nothing but rice fields and palm trees, Kubu Carik Bungalows is a truly special place. As we entered the property all I could say was wow, wow, and WOW!
Kadek, one of the owners, picked us up in Legian and drove us the 2.5 hours northeast to Karangasem. I'm glad we decided on him to pick us up because this place is not the easiest to find on your own.
As you arrive at the parking lot above the resort, you're immediately surrounded by lush greenery and you can feel the calmness in the air. The staff will help you with your luggage down an old stone staircase and then you're shown to your room straight away. Kadek only snapped a photo of our passports with his phone and that was check-in done. So easy!
There are only two bungalows up for rent, both has its own balcony overlooking the rice fields below. It was so nice to enjoy our afternoons out there just listening to all the birds while marveling at the view. The small number of guests and the fact that the bungalows sit to the side of the property makes it feel very private. Just the way I like it.
The spacious rooms are decorated in a traditional Balinese style with lots of woodwork and thatched roofs. There's a large double bed, air conditioning, a table and chairs, closets and an en-suite bathroom. To get the most out of the awesome view they have even put a floor-to-ceiling window in the shower. So cool!
In addition to the two bungalows, the property also boasts a small restaurant, a chill-out area, the owner's house and a gorgeous pool area which can only be described as the gem of the property. I mean, just take a look at the photos above and below. It doesn't get much better than that!
Related post: 9 of Bali's absolute best budget hotels & Airbnbs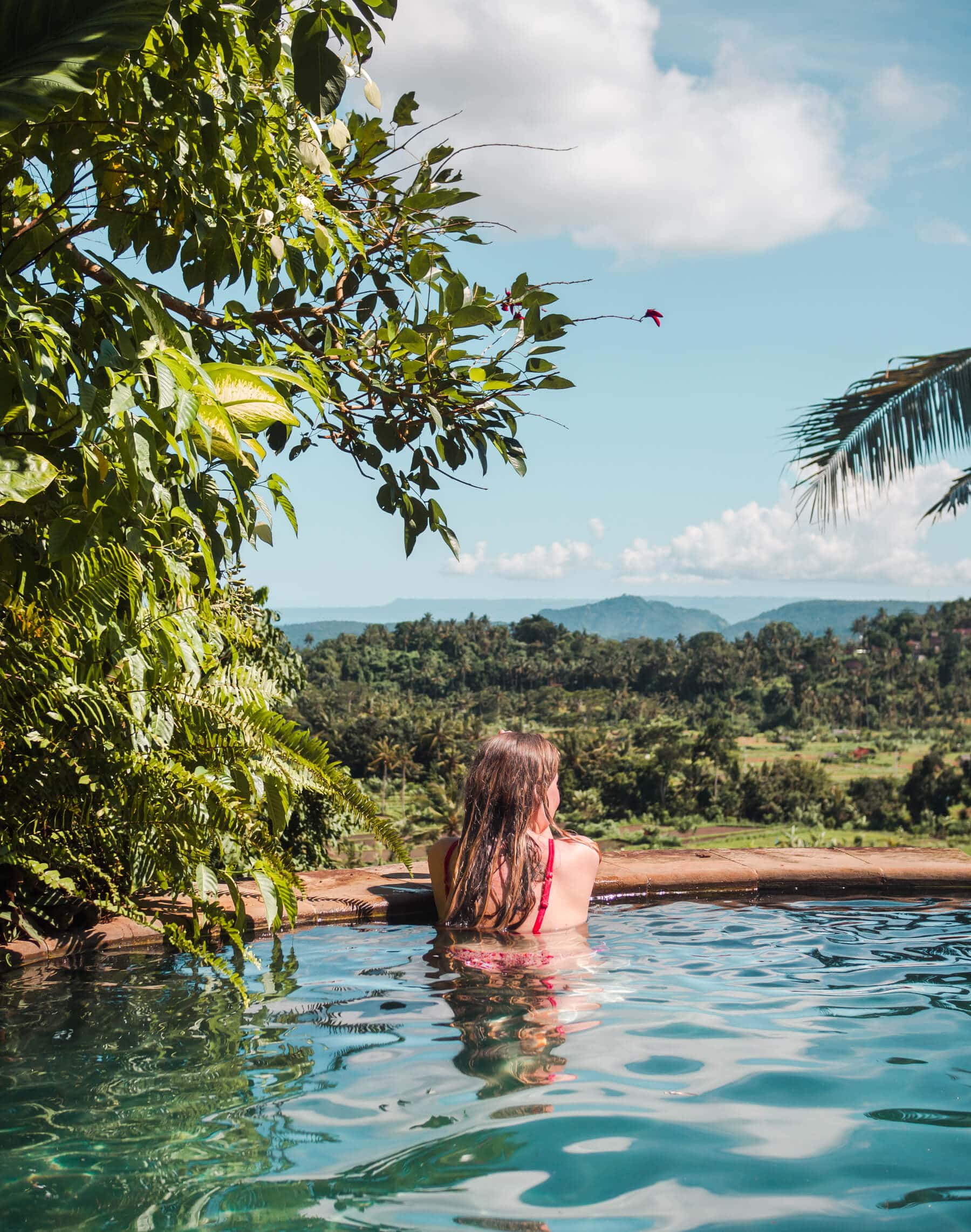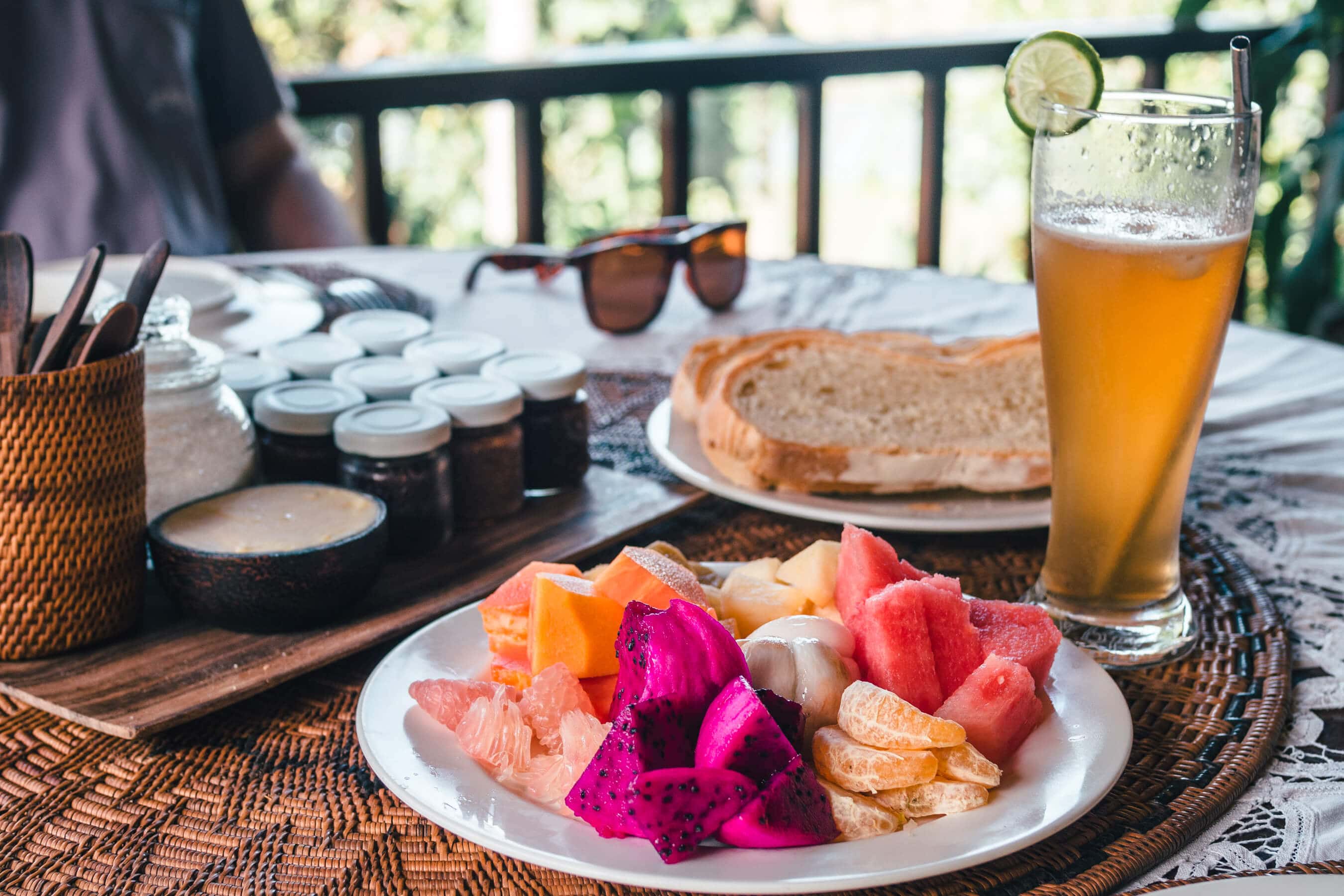 The restaurant
The restaurant conveniently sits between the bungalows and the pool. And just like everywhere else on the property, the views are to die for. Breakfast is included in the room rate and it's not your everyday Indonesian breakfast we're talking about here. You get toasted, homemade bread with an impressive selection of homemade jams. The papaya one was our favorite by the way. It also includes a selection of perfectly ripe fruits and your choice of eggs and bacon, pancakes or Mie/Nasi Goreng.
And to my surprise, I got a lemon iced tea! As a non-hot beverage person, I often feel excluded from the complimentary breakfasts. So when I see that I can get a free lemon iced tea, I'm in heaven. A great tip for my fellow iced tea-oholics out there, in Indonesia it's called Ice Lemon Tea. If you say it the other way around they most likely won't have a clue what you're talking about.
There are other warungs and restaurants not far from the hotel, but we were so impressed by the quality of the food here that we had lunch and dinner in-house every day. The menu is extensive with both Indonesian, Asian and Western dishes to choose from. On our first day, we shared a Chicken Sate and Gado Gado for lunch and it was delicious. But the dish we kept coming back to was the spaghetti Napolitana, made with tomatoes from their garden. So fresh and delicious!
Related post: My 2 all-time favorite restaurants in Bali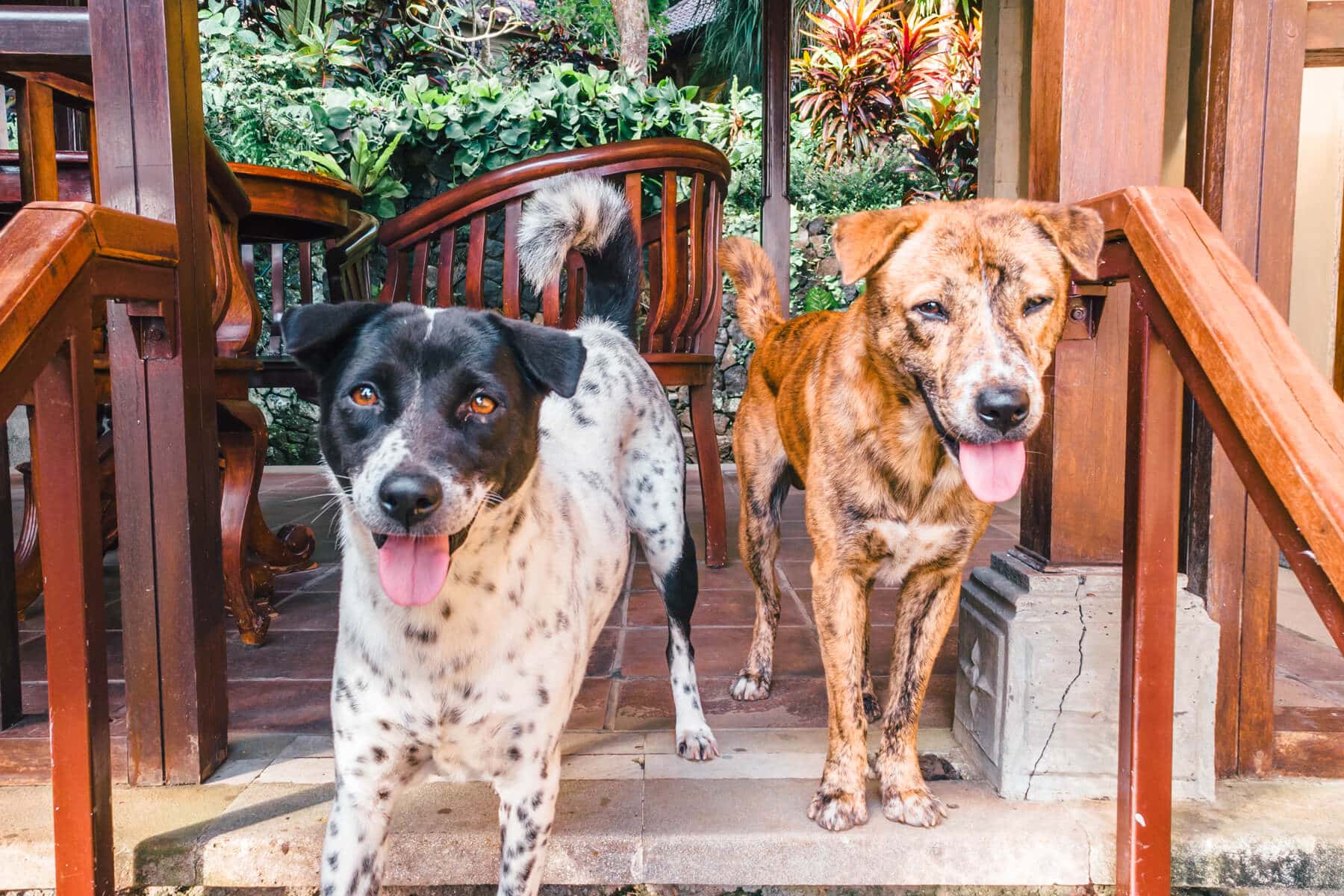 The surrounding area
East Bali is such a lush and gorgeous part of the island, so just driving around on a scooter is a must in itself. We rented a new scooter and two helmets from Kadek for only 50k a day.
Two mornings in a row we drove the 3 minutes down to Bukit Cinta, one of the best Mount Agung sunrise viewpoints. This was something I had been looking forward to long before our trip and it did not disappoint. Just make sure you go early and on a clear day or else the volcano will be hidden behind the clouds.
After Bukit Cinta, we drove down to Taman Ujung Water Palace. The drive was super easy and it took only 10-15 minutes so we got there around 7.30 am. The Palace opens at 6 am so as with any attraction in Bali, if you have the opportunity, get there early. It was so nice to walk around the beautifully manicured grounds almost all by ourselves. The only other people there were a few locals working out, some landscapers and a whole bunch of scary turkeys.
Other attractions close by worth your attention are Tirta Gangga Royal Water Palace, Pura Lempuyang – one of Bali's most important temples and Tenganan Pegringsingan Village – the home of Bali Aga, the indigenous Balinese people.
You might also like: Bukit Cinta – The best Mount Agung sunrise viewpoint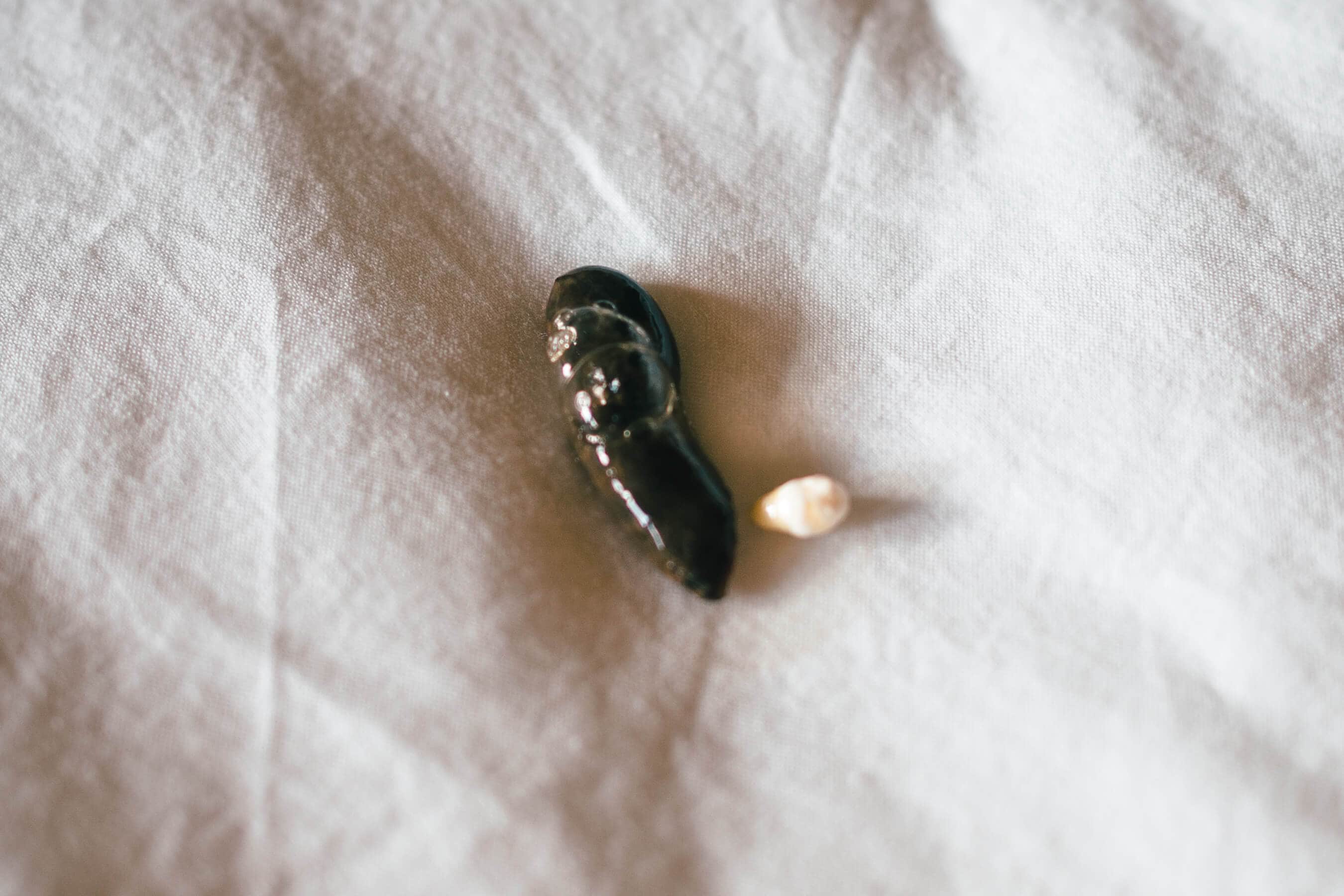 Shit happens
So you might be wondering why I'm showing you a fresh gecko poop? Well, we got pooped on by what I can only describe as humongous (probably normal-sized) geckoes every day while staying at Kubu Carik Bungalows. And to be honest, it was totally worth it! This place is so awesome I would have stayed there again and again despite all the crap.
I tried to get a good shot of the geckos but as they only come out when it's dark I didn't get one. So a half-blurry photo of the feces will have to do.
I have to admit when I first discovered the geckos living up in the ceiling I had a small meltdown and wanted to move straight away. I'm used to the small ones and have no problem with those running around the room catching bugs, but these, they were big. I told my boyfriend to ask one of the owners to remove them but he said there was nothing he could do. And in hindsight, I totally get that.
In some Balinese houses, there are openings in the roof for ventilation (I think) so the geckos come and go as they please. Needless to say, I kept the lights on and didn't sleep much that night.
The next morning, however, I was over it and had already gotten used to our new friends.
From what I could gather there are two geckos permanently residing in the room we rented and one visiting from time to time. After a few days, we learned to recognize the sound they make before pooping so we managed to catch it with a towel. And I'm not gonna lie, it felt like a pretty big accomplishment ?
Remember to pin for later 😉