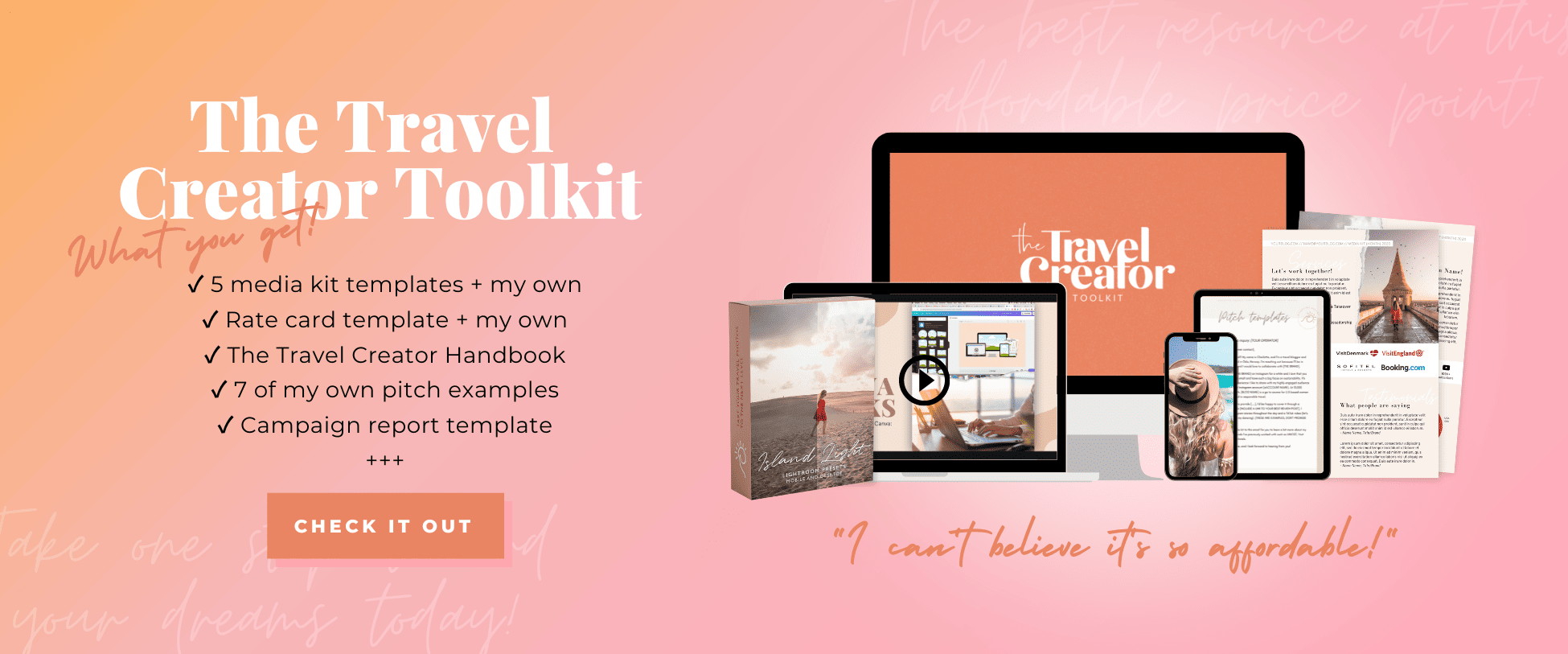 This post may contain affiliate links. I will earn a small commission if you purchase through them, at no extra cost to you.
Visiting Nusa Lembongan is almost like a vacation from your Bali holiday. It's a must on any Bali itinerary!
Even though I've seen an increase in the number of visitors to the island in recent years, it's still a calm and peaceful oasis compared to most areas in Bali.
One of my favorite things to do is to relax at one of the picturesque beach warungs up by the Mangrove Forest. It's almost like I shouldn't write about this place, 'cause I want to keep it a secret.
Okay, I might be exaggerating a little bit, it's not really a secret as I see photos from the area all over social media. However, every time we've visited one of the warungs, both in high and low season, we've had it all to ourselves.
Anyways, they deserve all the business they can get, so I'll try to tempt you to make the trip.
🌟 Remember to always get insurance before you travel to Bali or anywhere else. SafetyWing is an affordable subscription travel insurance that you can purchase even after departure. Read my complete SafetyWing review here.
How to get to Nusa Lembongan
The fast boat ride from Sanur in Bali to Nusa Lembongan only takes 30-45 minutes and is super affordable for what you get. You can book your tickets in advance here.
Hotel pick-up and drop-off in certain areas in Bali (Kuta, Seminyak, Legian, Nusa Dua, Jimbaran, Ubud Center, Denpasar, Sanur) and on Nusa Lembongan are included in your return ticket. So all you have to do is be packed and ready to go in front of your hotel at the agreed-upon time.
🌟 Check price and availability here >> Fast boat from Bali to Nusa Lembongan
Nusa Lembongan day-trip
Limited on time? You can also experience the highlights of Nusa Lembongan as part of this day trip from Bali.
Explore the Devil's Tears, the Mangrove Forest, Panorama Point and enjoy an Indonesian buffet lunch. You will be taken around the island in a comfortable open-air buggy.
How to get around on Lembongan
The easiest way to get around on Nusa Lembongan is to rent a scooter. Just make sure you are comfortable driving one and that your travel insurance covers it. If you're staying in Jungut Batu, you can also ride a bike up to the Mangrove Forest, or pushbike as the locals call them. They are a little cheaper to rent than a scooter.
Read more about how to get around the island in my Nusa Lembongan transportation guide.
Mangrove Forest Nusa Lembongan
The Mangrove Forest is located north on the island with only one bumpy road leading to it. And when I say bumpy, I mean more potholes and sand than actual road! It doesn't look too bad in the photo but trust me it isn't easy to navigate.
Once there arrange with one of the locals to take you on a little 20-25 minute boat trip through the Mangrove Forest. There are signs throughout with names of the different species and sometimes you can see brightly colored fish and corals.
It's not the most exciting thing to do, but super relaxing early in the morning and you support the locals. A lot of the warungs also offer water sports like stand-up paddle boarding, canoeing and snorkeling.
Must read >> Top 9 best beaches on Nusa Lembongan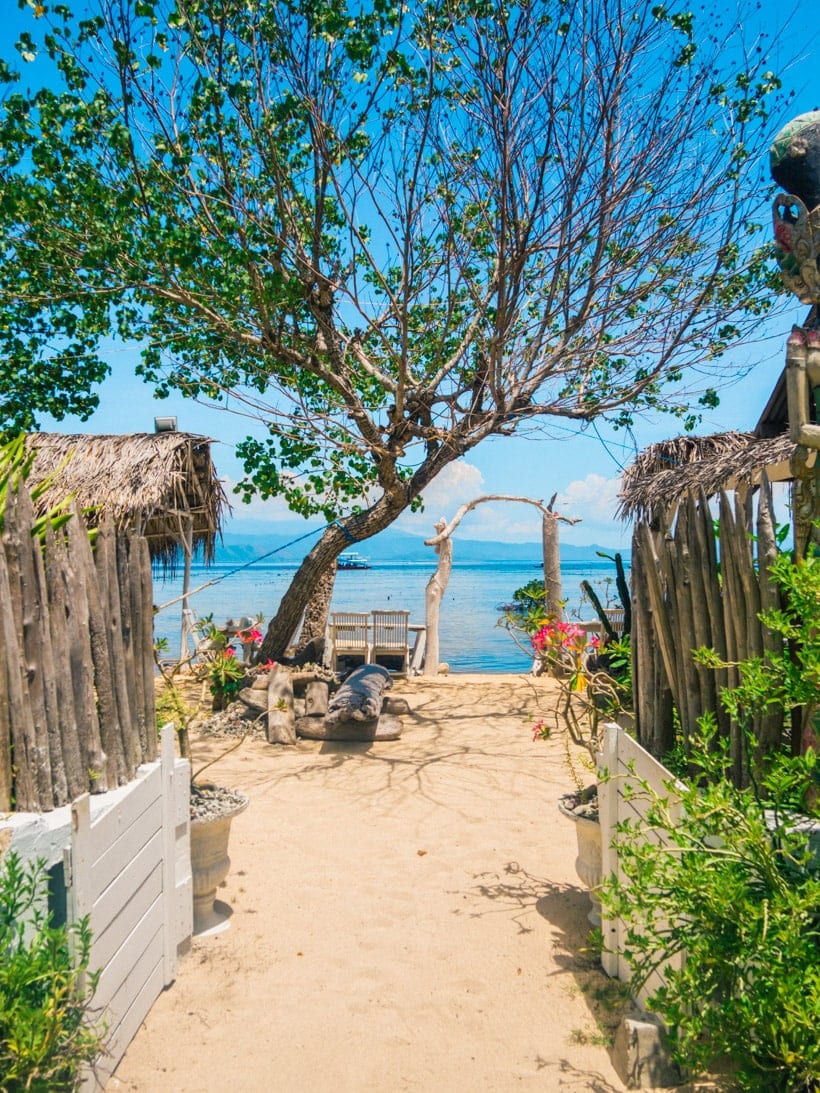 Agung Beach Club
Mangrove Forest Beach is one of the calmest beaches on Lembongan and runs all along the north coast. My absolute favorite warung is Agung Beach Club. They've really put in a lot of effort when decorating this place, it's a beachy boho haven.
Think corals, seashells, pink flowers and driftwood, all set in a tranquil picture-perfect location. They turned two old turquoise boats into a seating area, all decked out with a seashell chandelier and cushions to sit on. I want my backyard to look like that or even my house.
Have some delicious sate and a fresh coconut and soak up some sun on the beach loungers.
Best time to visit Agung Beach Club
Agung Beach Club is open from 11 am to 7 pm and the best time to visit is on high tide, so you can actually swim and enjoy the water. We usually spend a half day up there, having lunch, some snacks and a couple of drinks each.
It usually comes out to around 150k Rp / $10, which is what you pay for a single cocktail at one of the hotspots like The Deck. So don't miss out on this place if you're ever on the island.
Must read >> A first-timer's guide to surfing Nusa Lembongan (best surf spots)
More Nusa Lembongan guides
---
Remember to pin for later 😉