This post may contain affiliate links. I will earn a small commission if you purchase through them, at no extra cost to you.
I have said it before and I'll say it again, the south coast of Lombok is the place to be if you are on the hunt for pristine beaches you can have almost to yourself. With countless white-sandy coves and bays within a 30-minute scooter drive from Kuta, beach lovers are spoilt for choice.
A perfect beach to me has white sand, palm trees, crystal clear water with little seagrass and reef, almost no other people and some kind of a food and drink vendor. I know that is kind of high criteria, but these two beaches come darn close. Actually, the south coast of Lombok has quite a few beaches that tick these boxes, Tanjung Aan and Mawun being my absolute favorites.
// Updated in May 2018 – First published in February 2016
Pantai Tanjung Aan – The best beach in Lombok
20-minutes east of Kuta you'll find the most incredible white sandy beach, consisting of two bays, by the name of Tanjung Aan. On my first visit to Lombok back in 2013, the roads leading to the beach were more potholes than actual road. To our surprise this time it was mostly fixed, which made the drive out much more pleasant and kept our butts free from bruising. If you're new to driving a scooter you might still find the road pretty bad, but trust me this is an upgrade from what it used to be.
Right before you reach the beach you'll see a large, ugly white wall that didn't use to be there. This is now the parking area for Bukit Merese, one of the best sunset viewpoints in south Lombok. You can't go to Tanjung Aan without also checking out Bukit Merese. The views from up there are incredible.
There are many entrances to the beach and you have to pay 10k / 0.7$ for parking most places. Continue driving until you see the sign for "Turtle Warung" and "Warung Surfer Beach", almost in the middle of the first cove. If you can't find it, ask one of the local boys hanging out along the road. This is where you'll find some of my favorite warungs which you can read more about further down.
There is also a viewpoint in the middle of the two coves you should check out for a great 360-degree view. You'll find a couple of warungs, that I can't remember the name of, on the other side of the beach and some being built as we speak. During my first few visits to Lombok, I had Tanjung Aan almost all to myself, which I can't believe since it's the most picturesque beach on the island. These days, after Lombok become "Instafamous", you'll have to share it with a lot more people. But as you can see in the photos below, it's nothing compared to some of the overcrowded beaches in Bali.
The only bad thing I can say about Tanjung Ann and Lombok, in general, is that the hawkers are relentless. You will get asked to buy something at least every 10-minutes, mostly by kids selling bracelets and women selling sarongs and fabrics. Some of them will not take no for an answer and sit down even though you shake your head and say no repeatedly. The best thing to do is to lay down and pretend to sleep haha.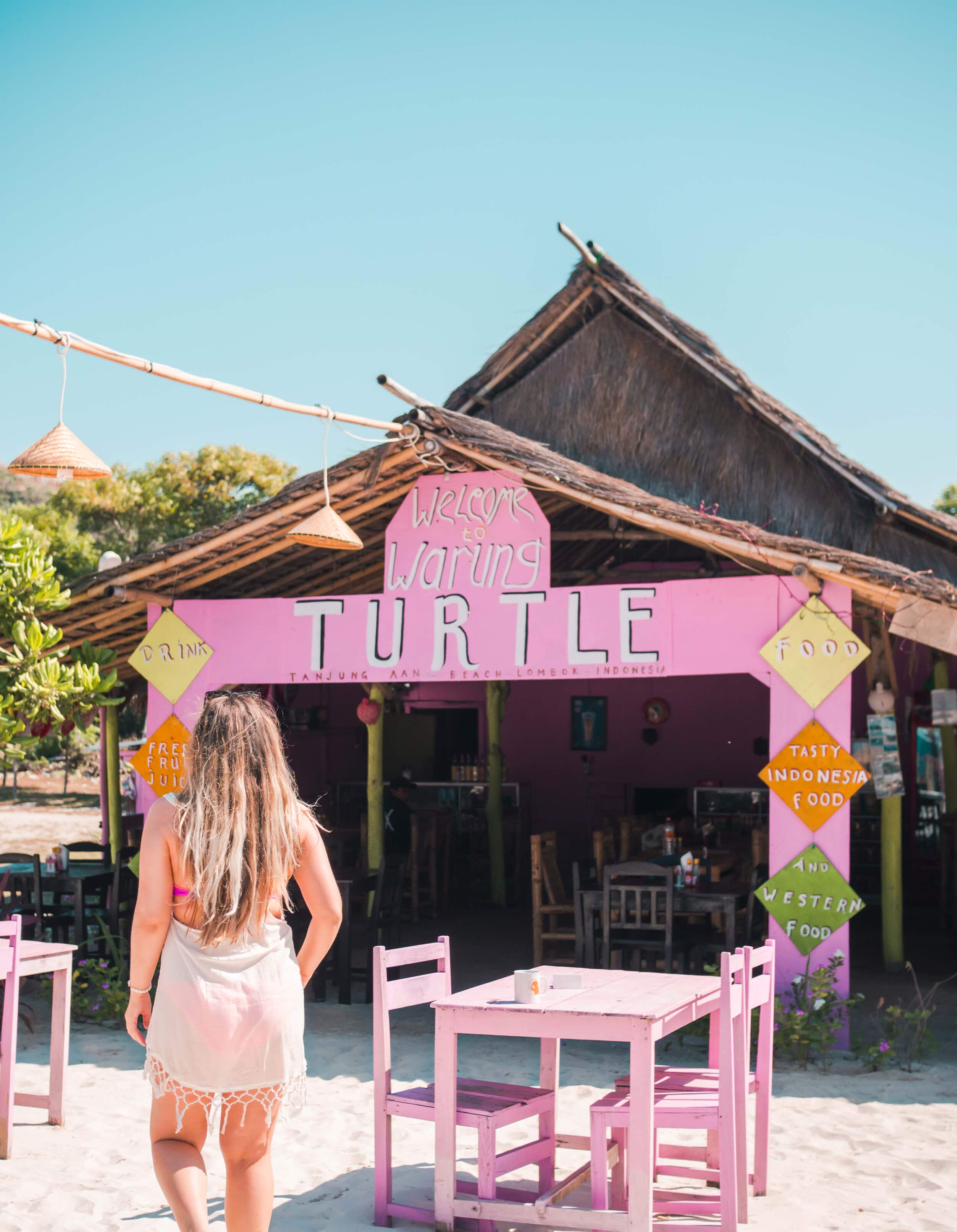 Warung Turtle used to be one of only three warungs at Tanjung Aan beach and my go-to hangout. It recently underwent a makeover and is now the picture-perfect pink shack you see above. I mean, does it get any better than a pink warung on a white beach surrounded by lush greenery and turquoise water? I don't think so! The sun loungers at Warung Turtle is free as long as you by something to drink or eat. I can recommend the spring rolls which are rolled in coconut and comes with a coconut sauce. A little unusual but sooo delicious!
View of the eastern cove
Edited with my "Tropical" Lightroom preset!
Another one of my favorite warungs on Tanjung Aan is called Warung Surfer Beach. They have colorful bean bags to lounge in which are suuuuper comfortable. I almost fell asleep! Like all the other warungs they don't charge a fee for using the bean bags and umbrellas as long as you buy some food and drinks. And I can highly recommend the food there as well. My mum and I shared a vegetable stir fry with oyster sauce which was one of the best meals we had during our two weeks in Indonesia.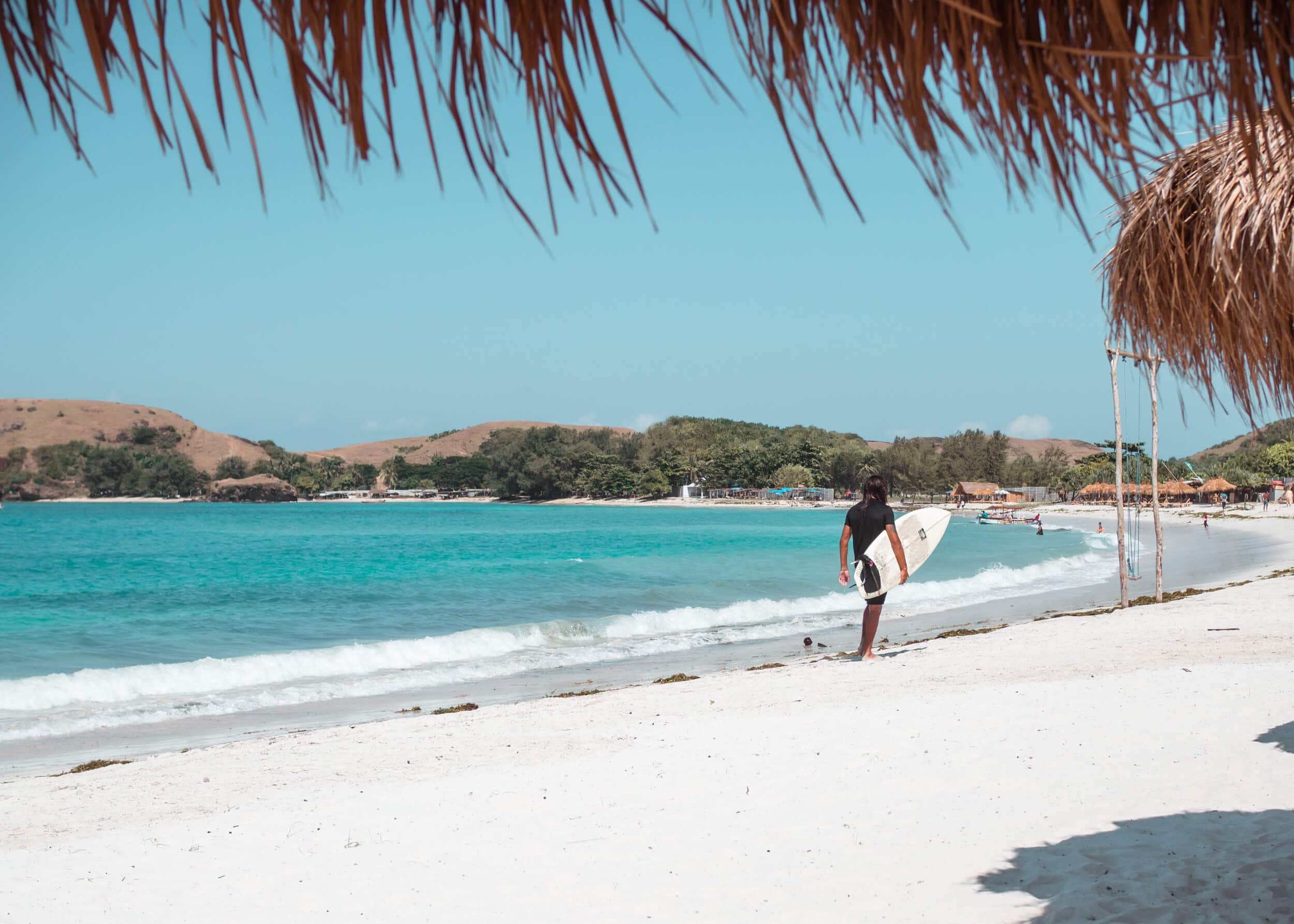 View of the western beach from Warung Turtle towards Bukit Merese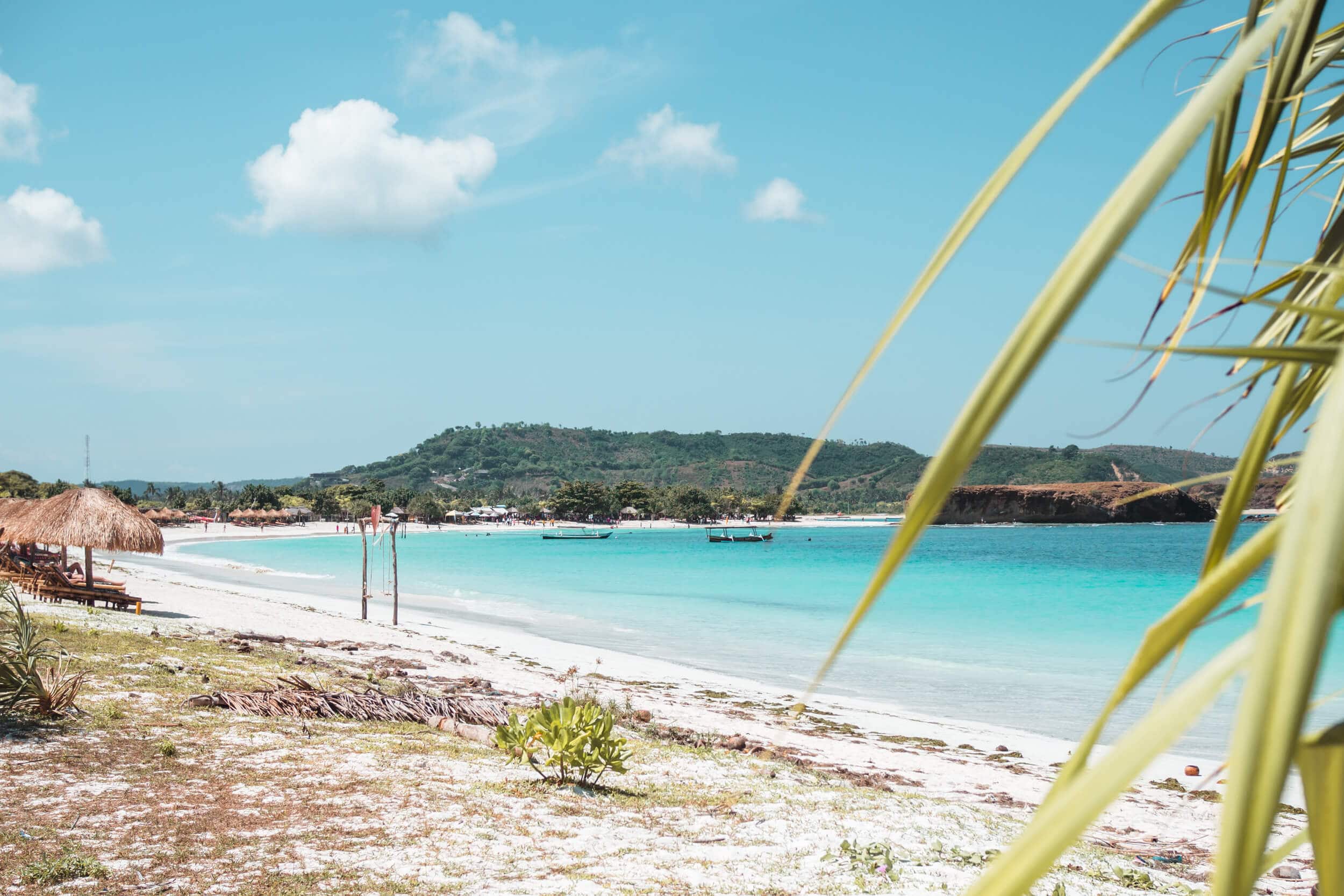 View of the western beach towards the viewpoint in the middle of the two coves. Edited with my "Tropical" Lightroom preset.
And one last thing….. you have to taste a mini pineapple while on the beach in Lombok. These little things are not only pretty to look at but they're so sweet and juicy. A delicious and not to mention affordable snack! There is an older, very skinny man walking up and down the beach all day selling them for 20k / $1.4 each. He is so lovely so I made a point of buying one from him every morning. You should too!
Here's a little video I shared on my Facebook page
You might also like: "South Lombok hotel & restaurant guide"
Pantai Mawun
My second favorite beach in south Lombok, Mawun, is located about a 25-minute drive west of central Kuta. Some of the roads leading this way are very steep, so if it's your first time on a scooter, take your time. Don't get stressed by the locals speeding past you. There isn't much traffic here still, so you can safely drive at your own pace. The scenery is so beautiful that you will probably want to stop every few minutes to shoot photos anyway, so no need to hurry.
Continue on the main road until you see a large brown sign reading Mawun Beach/Pantai Mawun. Take a left and follow the paved road until you see the beach. You'll have to pay 10k to use the road but parking is free (at least it was when I was last there).
The turquoise and almost circular bay is sheltered by two headlands which make for mostly calm waters perfect for swimming. You can rent sunbeds and umbrellas close to the entrances in the middle of the beach or walk to one of the sides where it is a little bit calmer. The right side, when looking towards the ocean, is the best area for swimming as there is very little reef in the water there. For food, you have the choice between some yummy and cheap local dishes at one of the warungs, ice cream or a sweet baby pineapple the locals will eagerly cut for you.
There are hawkers here like everywhere else in Lombok, but please don't let that spoil your day!
In 2017 I read a lot of reviews saying that Mawun was the dirtiest beach they visited in Lombok with lots of garbage everywhere. Either I was very lucky with the timing of my visits or the locals have become better at cleaning the beach, because Mawun is again the paradise beach I remember from 2013 and 2016.
Yes, there is some plastic here and there but that's Lombok for you. Unfortunately, they don't have enough knowledge about the plastic issue nor are there any proper waste management systems in place. So the best thing we can do as travelers is to bring a reusable straw and water bottle as there are quite a few hotels and cafés now offering free refills when using non-plastic bottles. If I need to buy plastic in Lombok I often take it with me back to Bali or even home where I know it will be recycled properly.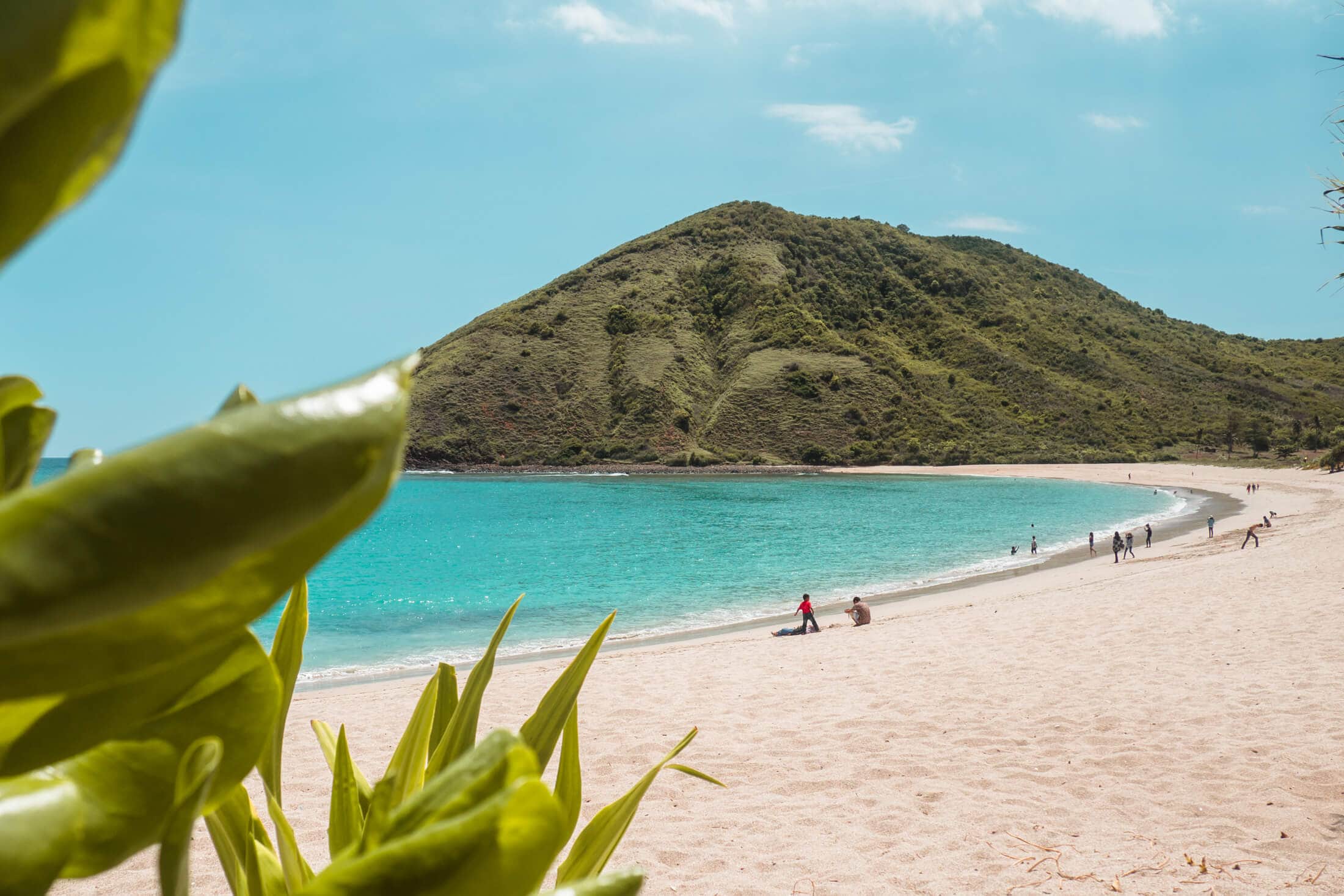 This is what paradise looks life is you ask me!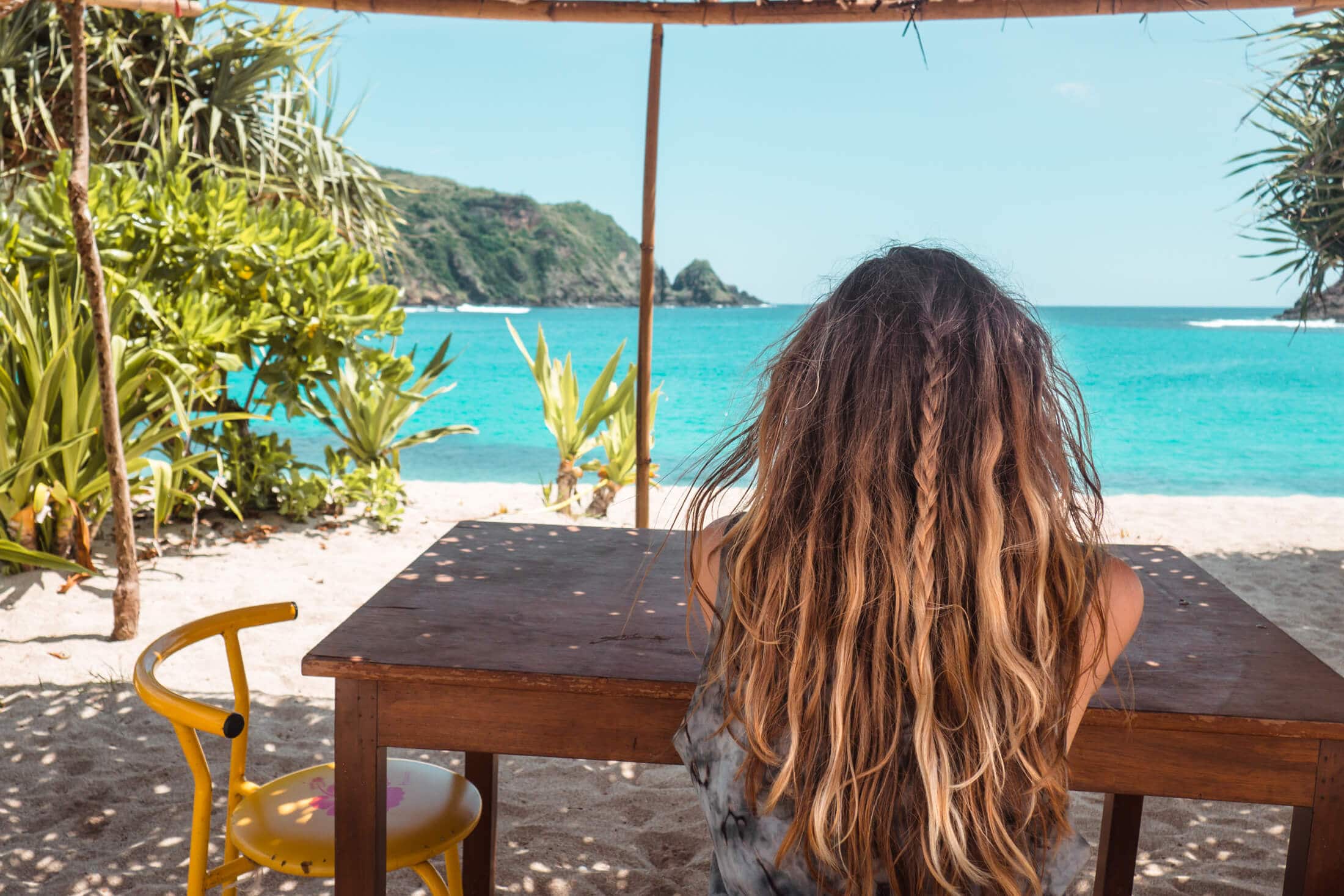 Waiting for my 20k Mie Goreng (fried noodles) and 10k lemon ice tea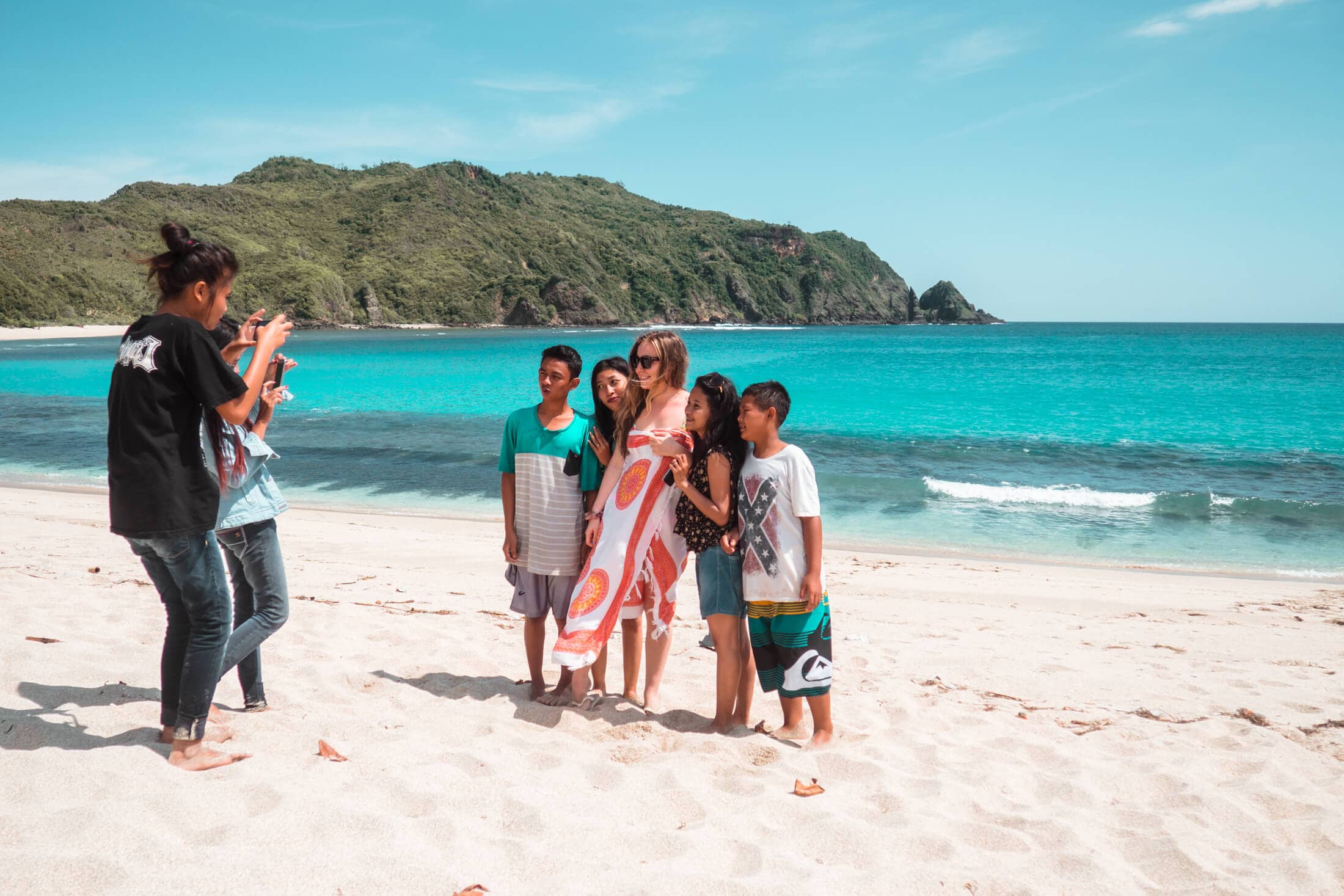 Everyone wants a photo with the super pale girl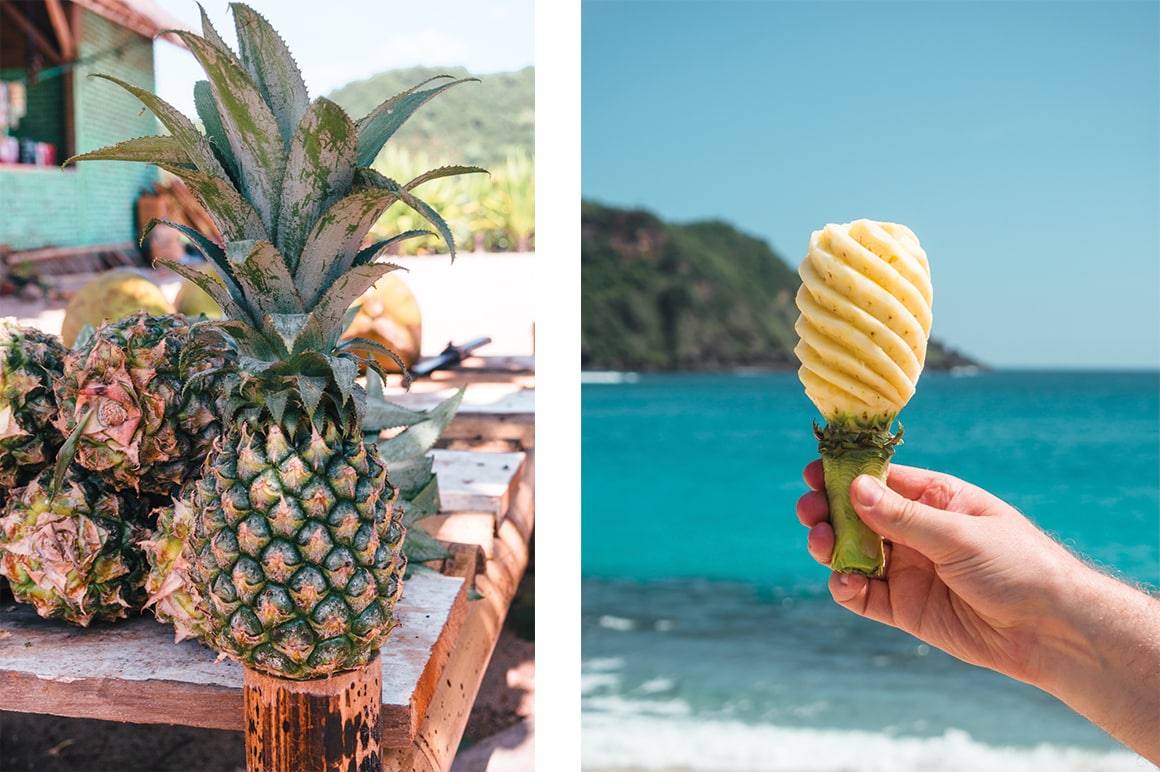 Related post: Top 5 things to do in Lombok
Have you ever been to Lombok? Do you have a favorite beach on the island?