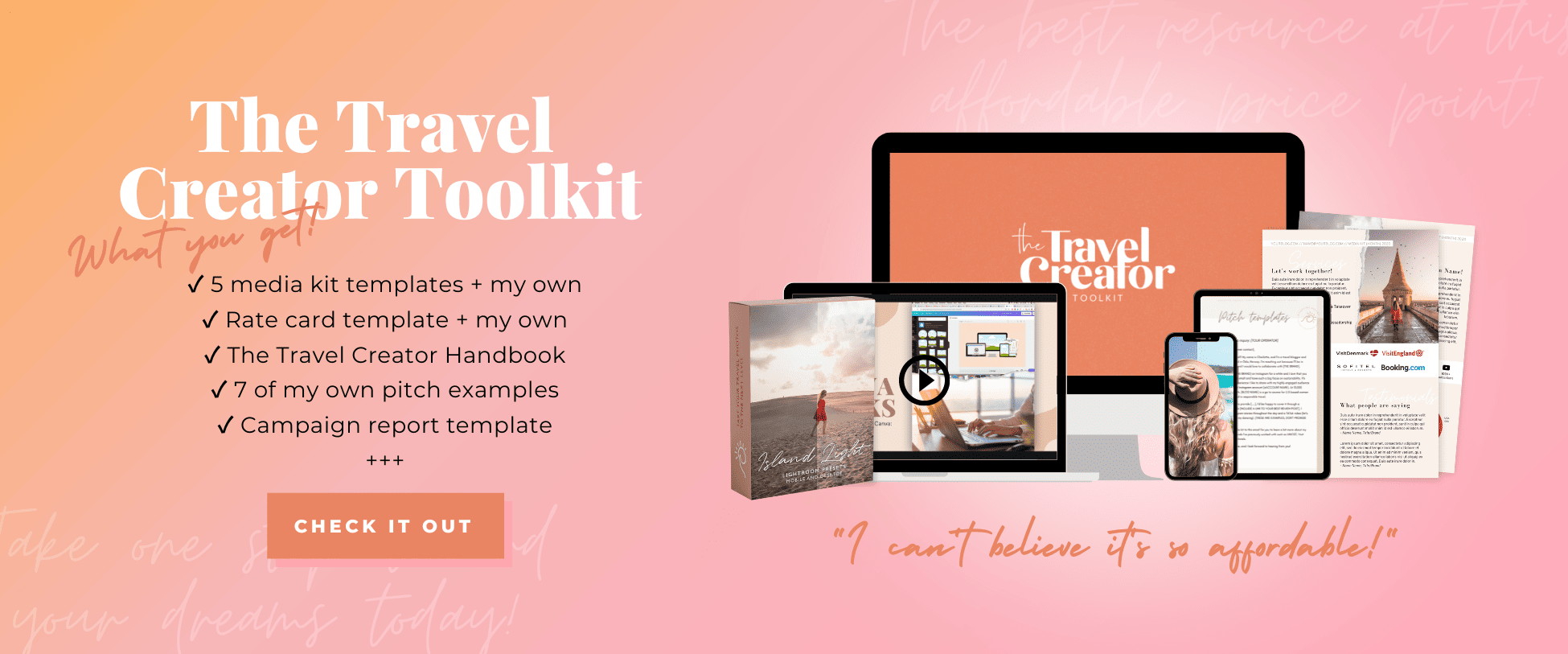 This post may contain affiliate links. I will earn a small commission if you purchase through them, at no extra cost to you.
One and a half hour northwest of Ubud, at the foot of Mount Batukaru, the second-highest mountain on the island, you'll find the incredible Jatiluwih Rice Terraces and Yeh Hoo Waterfall. Two of the most underrated natural attractions in Bali.
Situated at a height of over 700m above sea level, Jatiluwih is a cool and calm place to escape the heat and crowds of the south.
The UNESCO World Heritage Site covers almost all of its namesake village, so it goes without saying, it's a pretty spectacular sight and a great alternative to the busy Tegalalang Rice Terraces.
While living in Bali, I visited Jatiluwih and the Tabanan Regency several times. So let's take a look at how to get there, the best time to visit Jatiluwih Rice Terraces, what to bring and what to expect.
🌟 Remember to always get insurance before you travel to Bali or anywhere else. SafetyWing is an affordable subscription travel insurance that you can purchase even after departure. Read my complete SafetyWing review here.
How to get to Jatiluwih Rice Terraces
If you're staying in Ubud, the drive up to Jatiluwih will take around 1 hour and 30 minutes. If you're coming from the south, expect to spend at least 2 hours and 30 minutes on the road.
You have the option to rent a scooter and drive by yourself, hire a private driver or join one of the many guided tours of the area.
By car
While I love to ride a scooter by myself in Bali, I often book this driver for longer trips like when I'm going to Jatiluwih Rice Terraces. The roads aren't the best in the northwest, so I prefer to enjoy the landscape from the comfort of an air-conditioned car.
This is a super affordable full-day customizable tour, which means you have the driver for 10 hours and you can go wherever you want. It's the perfect option if it's your first time in Bali and there are a lot of places on your Bali bucket list.
🌟 Check price & availability >> Private Bali driver with optional guide
Best Jatiluwih Tours
If you prefer to let someone else do all the planning for you, these are the guided tours I recommend:
🌟 Bali UNESCO World Heritage Sites: This affordable full-day group tour includes Jatiluwih along with other heritage sites such as the Royal Water Temple of Pura Taman Ayun, Pura Ulun Danu Bratan Water Temple and sunset over Tanah Lot Temple. Perfect for a history buff like myself, and maybe you?
Jatiuluwih Trekking & Chocolate Experience: Departing from Ubud, this tour will take you on a 1,5 hour guided trek through the Rice Terraces, past a waterfall and over streams, before enjoying a Balinese buffet lunch accompanied by beautiful views. You will also stop by a CHOCOLATE factory where you will learn about the process of making chocolate.
1-Hour Electric Bike Tour: Cycle through the rice terraces of Jatiluwih on an electric bike and marvel at the rice terraces of the UNESCO World Heritage Site. You get to experience everyday Balinese life with local guides who are happy to answer your questions about the region and more. (Starting point is in Jatiluwih.)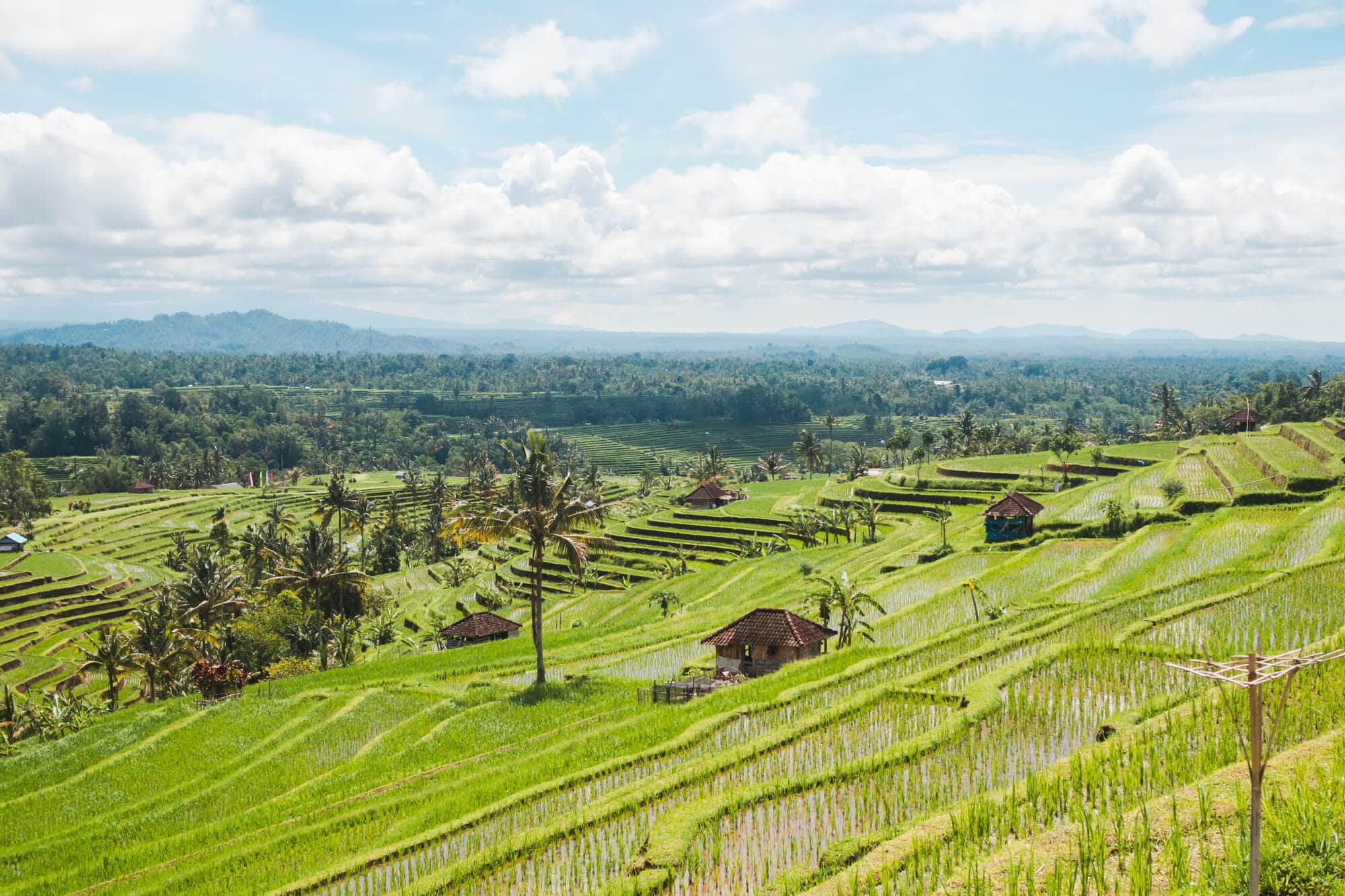 Visiting Jatiluwih Rice Terraces
Coming from Seminyak, it took about two hours before we started seeing lush green rolling hills out the window. Green for as long as the eye could see. We went through the gate into Jatiluwih Rice Terraces at about 9 am and were the only ones there.
Best time to visit Jatiluwuh
Jatiluwih Rice Terraces is a year-round destination, but the best time to visit is between February and April, avoiding Easter. During this period, everything is beautifully green after the rainy season and the rice paddies are covered in a vibrant green carpet of rice plants, creating the most stunning view.
However, it is important to note that Bali's weather is unpredictable, and rain can occur at any time of the year. Therefore, you should always check the weather forecast before planning a trip to Jatiluwih Rice Terraces.
The rainy season in Bali runs from October to March, and it can rain heavily during this period, which may cause flooding and landslides in some areas. Therefore, you should avoid visiting during this period, especially if you plan to trek through the rice terraces.
Be sure to also check out my article about the best time to visit Jatiluwih Rice Terraces for photography.
Jatiluwih opening hours
Jatiluwih Rice Terraces cover a large area and open for visitors 24/7. However, if you want to visit and trek the most beautiful part, the official opening hours are 8:00 am to 6:00 pm daily.
You should try to there as early in the morning as possible to beat the crowds and to enjoy the cooler temperatures. Alternatively, Jatilwuwih is also incredibly beautiful at sunset. Most of the tour buses leave around 4 pm, so you can enjoy a quiet hour or two before closing time.
Jatiluwih entrance fee
As mentioned above, parts of Jatiluwih are free to explore. However, if you wish to visit the inner part and enjoy lunch in one of the warungs, you have to pay. The Jatiluwih Rice Terraces entrance fee is 40,000 IDR (approximately USD 3) per person for adults and 30,000 IDR (approximately USD 2) per person for children.
You can pay the entrance fee at the clearly marked ticket counter located at the entrance of the rice terraces. If you visit as part of a guided tour, the entrance fee is usually included.
History of Jatiluwih Rice Terraces
Jatiluwih Rice Terraces are a testament to the skill and ingenuity of the Balinese people. The rice terraces were built over 500 years ago by the people of the Tabanan regency, who used a unique irrigation system known as "Subak" to cultivate rice on the steep slopes of the island's mountains.
The Subak system is a complex network of canals and waterways that channel water from the mountains to the rice fields. It is a prime example of the Balinese philosophy of balance and harmony.
The system ensures that water is distributed fairly and sustainably, which helps to maintain the ecological balance of the region. The farmers also work together to maintain the canals and waterways, which are often damaged by landslides and other natural disasters.
Unesco World Heritage Site
The Subak system was recognized by UNESCO in 2012 as a World Heritage Site, in recognition of its cultural significance and the important role it plays in maintaining the ecological balance of the island. It is one of the best examples of the Subak system in the world, and maybe also the most beautiful.
The recognition of Jatiluwih Rice Terraces as a UNESCO World Heritage Site has helped to raise awareness about the importance of traditional agricultural practices and the need to preserve them. It has also helped to promote sustainable tourism in the region, which supports the local economy while minimizing the impact on the environment.
Hiking Jatiluwih Rice Terraces
Hiking is one of the best ways to explore the terraces as they are interconnected by a network of paths and trails that wind their way through the rice paddies.
You can choose from a variety of hiking routes, ranging from short and easy walks to more challenging hikes that offer breathtaking views of the surrounding landscape. There are several maps laying out the different routes.
Jatiluwih hiking routes
Red Line Short Track: 30-45 Minutes / 1.5 km
Purple Line Medium Track: 1-1.5 Hours / 2 km
Yellow Line Medium Track: 1-2 Hours / 2.3 km
Blue Line Long Track: 1.5-2 Hours / 3.1 km
White Line Extra Long Track: 3-4 Hours / 5.5 km (perfect for cycling)
If you choose the Red Line you'll be walking on narrow dirt paths through the paddies while you hear the calming sound of water running down on the rice terraces. The hike is suitable for all ages and fitness levels and takes approximately 45 minutes to complete. It's the best choice if you want to see the most beautiful parts of Jatiluwih but are limited on time.
The longest hike, on the other hand, is the White Line which mostly runs through the jungle. If you have some extra time in Jatiluwih a good idea could be to do the popular Red or Purple Line early in the morning and continue on the White Line when the crowds start rolling in. If you're exploring on two wheels, the White Line is your best option.
I personally recommend combining the Red and Purple Lines, maybe yellow if you have the time, for the perfect taste of Jatiluwih without spending the entire day and getting totally worn out.
Tips for Visitors at Jatiluwih Rice Terraces
So as you can probably tell by now, visiting Jatiluwih Rice Terraces is a must-do activity on any Bali Bucket List. Here are some tips to help make the most of your visit:
Wear Comfortable Shoes
The rice terraces are spread over a vast area and you will need to mostly walk around to see the different sections. Therefore, it's essential to wear comfortable shoes that can handle uneven terrain and some mud, especially if you visit during the rainy season.
I wore flip-flops during my first visit and it was fine, however, I couldn't explore as much as did during my second visit when I wore trainers. Ideally, I would have liked to have worn this kind of hiking sandals.
Bring Sun Protection
As we already know, Bali is located near the equator so the sun can be quite intense. And there's little shade along the paths taking you through the rice fields.
I highly recommend you bring sun protection like a cool hat, UV400 sunglasses and sunscreen (make it reef-safe so you're ready to jump in the water later) to protect yourself from sunburn.
Bring Cash
While some shops and restaurants in Bali accept credit cards, it's always a good idea to bring cash. The entrance fee to the Jatiluwih Rice Terraces is 40,000 rupiahs per person, and there are also some small shops and warungs selling souvenirs and refreshments.
You can read more about my recommendation for carrying cash in my article about the most common Bali scams.
Take a Tour
The first time I went to Jatiluwih Rice Terraces I only hired a private driver and explored the area on my own. The second time, however, I joined a guided trekking tour and it made all the difference.
These tours provide valuable insights into the history and culture of the area, as well as show you hidden gems you might not have spotted on your own. So next time I'm definitely doing the cycling tour as well.
Popular Jatiluwih Rice Terraces tours
Respect the Local Culture
The Jatiluwih Rice Terraces is not only a tourist attraction but also a vital part of the local community. Please respect the local culture and customs and be mindful of your behavior.
For example, it's not appropriate to walk outside the paths or pick the rice plants without permission. I can't even believe they have to put up signs like the one below.
For some reason, many people coming to Bali see it as a safe haven for stupidity and act in ways they would never do at home. Of course, I don't believe my lovely readers are like that, but just in case, check out my article about what NOT to do in Bali.
Where to stay close to Jatiluwih
If you have the time I recommend staying a night or two close to Jatiluwih to truly be able to explore and experience the beauty of North Bali.
My favorite is the newly built and highly rated Kubu D'Ume Homestay, a small and serene place literally built on a rice terrace. Meals are prepared by the lovely host whenever you want and enjoyed on the terrace accompanied by views of mountains, lush rice field and volcanos.
Another favorite of mine is Saridevi Eco Lodge, run by the most lovely hosts Santi and Made. The bungalows are beautifully designed and surrounded by rice terraces. You have to see this place for yourself!
An affordable option if you want to stay IN Jatiluwih Rice Terraces is Adhi Jaya Suite. The rooms are bright and airy, and you get the best views across the rice paddies from your veranda.
Jatiluwih vs. Tegalalang Rice Terraces
Jatiluwih and Tegalalang are the two most popular rice terrace destinations in Bali. Both locations boast stunning views of green rice paddies and are a testament to the Balinese people's agricultural way of life. However, there are some key differences between the two that you should be aware of.
The Jatiluwih Rice Terraces are much more impressive, covering an area of over 600 hectares and are a UNESCO World Heritage Site. They are also are situated on a slope, which allows for a more expansive view of the rice fields. But most importantly, Jatiluwih is less crowded than Tegalalang, making it a more peaceful and serene destination.
Tegalalang Rice Terrace, on the other hand, is located in the Gianyar Regency, close to Ubud where I'm guessing many of you will be staying. So there's no doubt that Tegalalang is more accessible, which means they are more crowded and they are also much smaller than Jatiluwih.
Another highlight is the iconic swings, which allow visitors to swing over the rice fields and take stunning photos. You also find this popular sunrise photo spot in Tegalalang Rice Terrace. Though, you could probably find and equally nice spot in Jatiluwih.
Conclusion
Overall, both Jatiluwih and Tegalalang Rice Terraces offer a unique and unforgettable experience for visitors to Bali, but if you're limited on time and have to choose one, I would go for Jatiluwih.
However, if you do have time, why not visit both? You can easily ride a scooter back and forth to Teglalang from Ubud in just a few hours, and include Jatiluwih in a day trip to north Bali.
Other attractions close to Jatiluwih
Jatiluwih Rice Terraces is located in the Tabanan Regency of Bali, which is known for its natural beauty and cultural significance. There are several other attractions in the area that are worth including on a day trip to Jatiluwih.
Inside the Jatiluwih area you'll also find Yeh Hoo Waterfall, a hidden gem rarely talked about. It is not the largest waterfall in Bali, but because of the beautiful surroundings, I highly recommend you make an effort to walk down there. Most trekking tours will walk past Yeh Hoo.
Another attraction, located just 20 minutes away is Pura Luhur Batukaru, one of the most beautiful garden temples in Bali. The temple is a popular destination among spiritual and religious tourists, however, often left out of most Bali itineraries for first-timers.
Leke Leke Waterfall, another hidden gem located just 40 minutes west of Jatiluwih, is one. of the most beautiful waterfalls in Ubud. It is tucked away in a remote area near the village of Antapan, and it requires a short trek through the jungle to reach it. Leke Leke is surrounded by dense foliage, which adds to its natural beauty and provides that perfect Bali photo op.
Continue 40 minutes north from Jatiluwih Rice Terraces and you'll reach Ulun Danu Beratan Temple, one of the most recognizable landmarks in Bali. The temple is situated on the shores of Lake Beratan and is dedicated to the goddess of water, Dewi Danu. Both are included in the tour below.
"I enthusiastically joined the UNESCO World Heritage Sites tour and I must say that it exceeded my expectations!"
Looking for more Bali guides?
---
Remember to pin this for later 😉