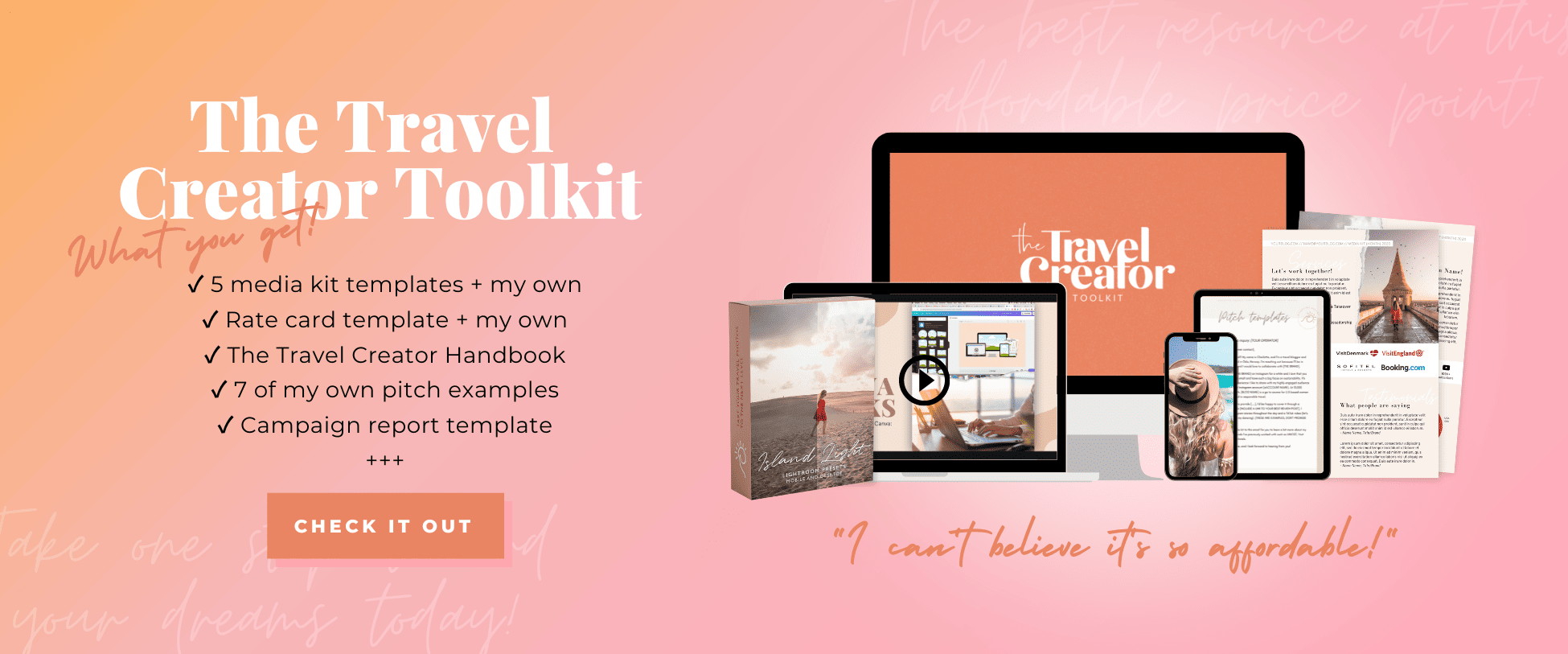 This post may contain affiliate links. I will earn a small commission if you purchase through them, at no extra cost to you.
Yeh Hoo Waterfall, also known as Air Terjun Yeh Hoo in Bahasa, is a hidden gem tucked away in the Jatiluwih area of Bali, Indonesia. The waterfall is surrounded by lush rice terraces, jungle and trickling streams, creating a serene and Jurassic Park-ish atmosphere.
Although I'd been traveling in Bali for more than 13 years, I had never even heard about Yeh Hoo Waterfall until our driver asked if we wanted to see a waterfall on a day trip to Jatiluwih Rice Terraces. Such a great surprise!
So let's take a look at the best time to visit Yeh Hoo and Jatiluwih, how to get there and what to expect.
🌟 Remember to always get insurance before you travel to Bali or anywhere else. SafetyWing is an affordable subscription travel insurance that you can purchase even after departure. Read my complete SafetyWing review here.
How to get to Yeh Hoo Waterfall
Yeh Hoo Waterfall (love that name) is located in northwest Bali, specifically in the Tabanan Regency. It sits in the highlands, around 700 meters above sea level, near the Batukaru Mountain Range.
If you're coming from Ubud, it takes about 1 hour and 30 minutes to drive there depending on traffic. From Uluwatu, expect to spend approximately 2 hours and 30 minutes on the road. You never know what the traffic will be like or if there's a religious ceremony going on in the streets.
But it is so worth it, no visit to Bali is complete without a trip outside the main tourist hubs, to either East Bali or the northwest. You can rent a scooter for about 70,000 IND a day and drive up there by yourself, however, on longer trips like this I like to hire a driver for the day.
There are some things to think about if you do decide to rent a scooter, so be sure to check out my article about the most common Bali scams.
With a private driver
I often book this driver for longer trips, as the roads aren't the best in the northwest, so I prefer to enjoy the landscape from the comfort of an air-conditioned car.
This is a super affordable full-day customizable tour, which means you have the driver for 10 hours and you can go wherever you want. It's the perfect option if it's your first time in Bali and there are a lot of places on your Bali bucket list.
🌟 Check price & availability >> Private Bali driver with optional guide
Once you get close to the Jatiluwih entrance you will also see signs for "Air Terjun Yeh Hoo" or "Yeh Hoo Waterfall". If you can't find it, just ask someone to point you in the right direction.
Yeh Ho Waterfall Visitor's info
Opening hours
I have been to Yeh Hoo Waterfall several times and haven't registered an official opening time. So I'm assuming that it is from 8:00 am to 6:00 pm, the same as Jatiluwih Rice Terraces.
Entrance fee
The Yeh Hoo Waterfall entrance fee is 10,000 IND for adults and 5,000 IND for children. It says on the same sign that the money is used for "road maintenance and cleanliness".
Best time to visit Yeh Hoo Waterfall
Yeh Hoo Waterfall and Jatiluwih Rice Terraces are year-round destinations, but the best time to visit is between February and April, avoiding Easter. During this period, everything is beautifully green after the rainy season and the waterfalls are usually at their most powerful.
However, it is important to note that Bali's weather is unpredictable, and rain can occur at any time of the year. Therefore, you should always check the weather forecast before planning a trip to the area.
Be sure to also check out my article about the best time to visit Jatiluwih Rice Terraces for photography. The photos in this post is taken in February.
What to expect at Yeh Hoo Waterfall
Yeh Hoo Waterfall is not as well-known as some of Bali's other waterfalls, so you can expect a more secluded and peaceful experience. It is not the most impressive waterfall either, like for example Sekumpul Waterfall, but it is definitely worth stopping by. Most of you will probably visit on a day trip to Jatiluwih Rice Terraces anyway.
The Jatiluwih area is known for its 53,000 hectares of stunning terraced rice fields that stretch out against the backdrop of Mount Batukaru. It is one of the most beautiful parts of the island, which makes the walk down to Yeh Hoo Waterfall an experience in itself.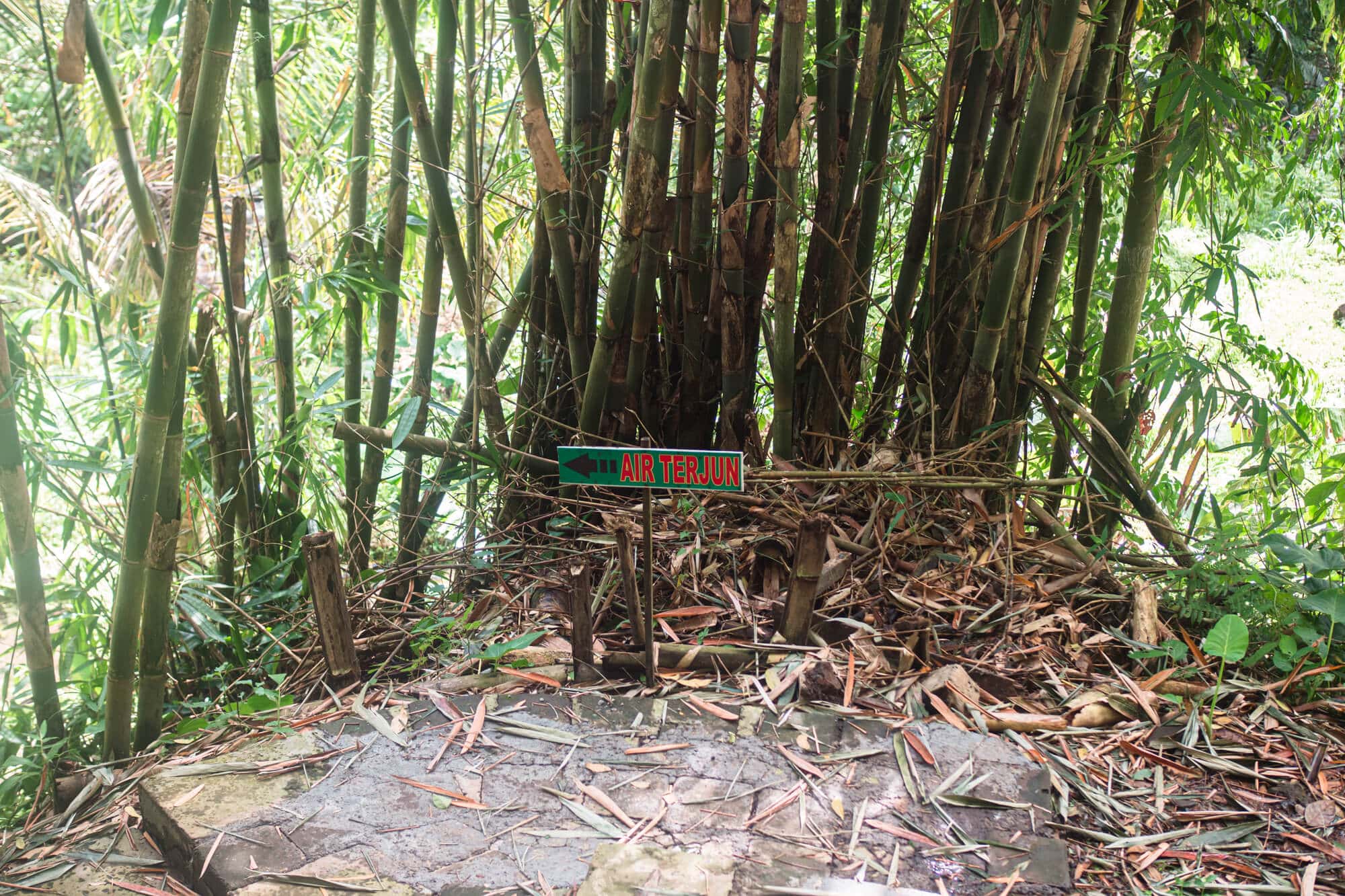 The path down to the waterfall
The walk down from the parking area was like something out of a fairytale. Like so many times in Bali before, I felt like we were in the middle of an enchanted forest. So take your time and enjoy the beautiful surroundings.
You'll walk on a narrow cement and dirt path, on bridges over streams and down some stairs. To the right of the stairs, there is a small waterfall with benches at different levels where you can sit down and take in the beautiful scenery. At the bottom, you'll see a small creek leading to the larger waterfall.
Below you can see the lovely little temple area located right next to the waterfall. Keep in mind that only the ones who are there to pray are allowed to enter the temple grounds.
It only took 10 minutes to get down to the waterfall, however, it was slippery in some places and quite tiring to walk back up, so I can't recommend it for those with mobility issues.
Swimming at Yeh Hoo Waterfall
We were lucky and had the place all to ourselves, probably because we got there so early. And best of all, the sun was shining! Rippling sounds from the creek, birds chirping in the trees, butterflies in all colors of the rainbow. What a setting, so serene. I think this place was even more special than the actual rice fields.
The bottom of the two pools below the fall is full of rocks, so watch your step if you plan to go in. It isn't deep enough to go for a swim, at least it wasn't when I was there, but you can attempt a refreshing dip in the cool mountain water. Also, be careful under the waterfall itself, it is more powerful than it looks.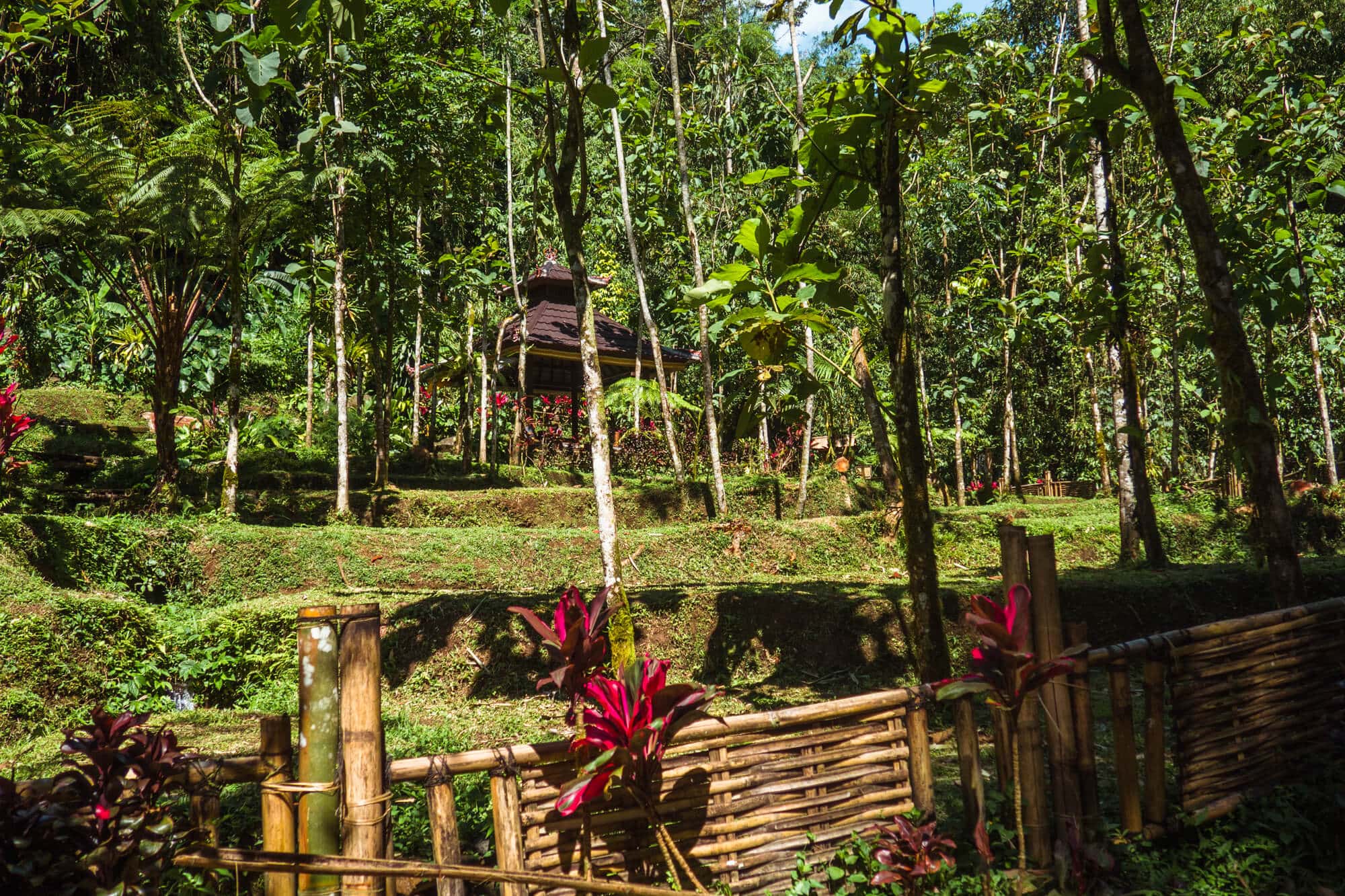 Quick tips for visiting Yeh Hoo Waterfall
Wear appropriate clothing and footwear – You'll want to wear shoes that you don't mind getting wet. I wore flip-flops and it was fine, however, I had to be very careful on parts of the path. You may also want to bring a change of clothes and a towel if you plan on getting close to the water, the mist will get you wet even if you don't get in.
Bring insect repellent – Mosquitoes and other insects can be common around waterfalls, so it's a good idea to bring some insect repellent to keep them at bay.
Respect the environment – It's important to be respectful of the environment when visiting Bali in general. Many people coming to Bali feel like it's okay to act completely differently than they would at home. So there are signs throughout the Jatiluwih area to not break things, step on the offerings or ruin the rice fields. Which as a foreigner I find very embarrassing, so please respect nature, people and local customs.
Be careful – The stones at the bottom of the waterfall get super slippery, I almost slipped and fell several times. So take your time if you want to get into the water.
Check the weather – Bali can experience heavy rainfall, especially between November and January, which can cause waterfalls like Yeh Hoo to become dangerous or inaccessible. So make sure to check the weather before you go.
Visit early in the day – The waterfalls in Bali do get very busy these days, yes even this small one, so it's best to visit early in the day to avoid crowds and get the best photo opportunities. We got here around 9:30 am and had the place to ourselves for about an hour.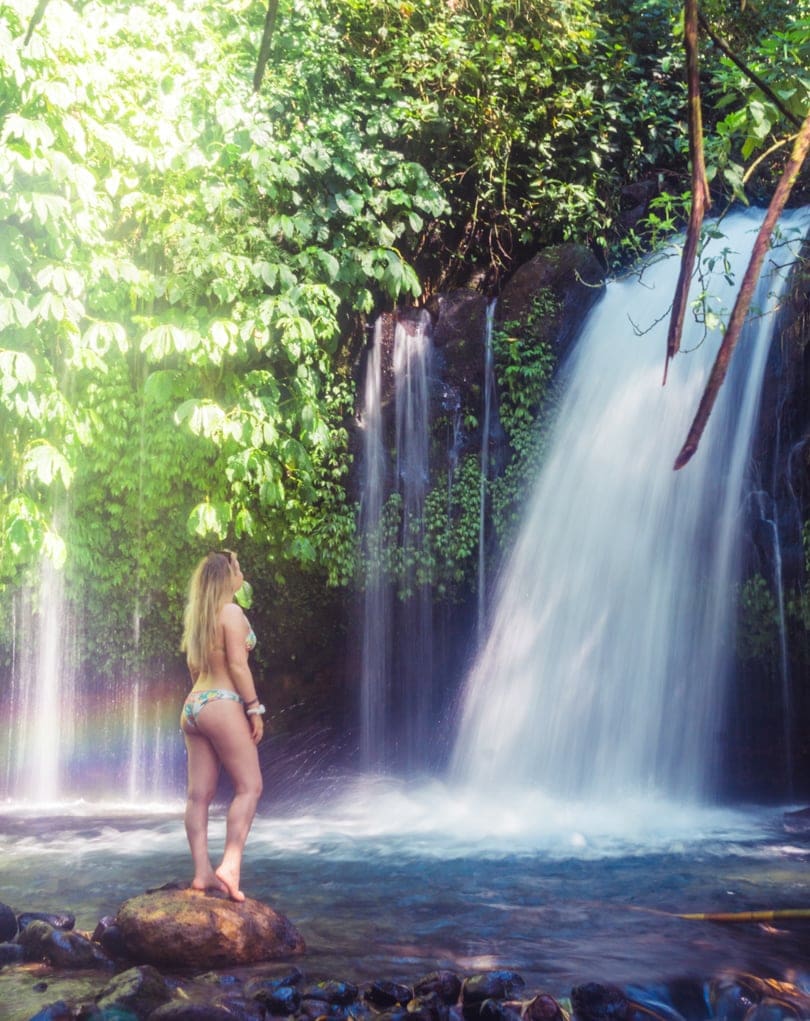 Don't mind me. I'm just casually posing with a rainbow shooting out of my behind. I shot this photo many years ago before Jatiluwih or Yeh Hoo Waterfall became popular. It was one of the only photos of Yeh Hoo online at the time and one day a few years later I found this while researching:
Haha, it looks like someone made me into a poster to convince people to visit the waterfall. Well, that concludes this Yeh Hoo Waterfall guide. Hopefully, I have convinced you to include this beautiful part of the island in your Bali itinerary. Be sure to also check out my other Bali travel guides, some of which you find below.
More Bali travel guides
---
Remember to pin for later 😉