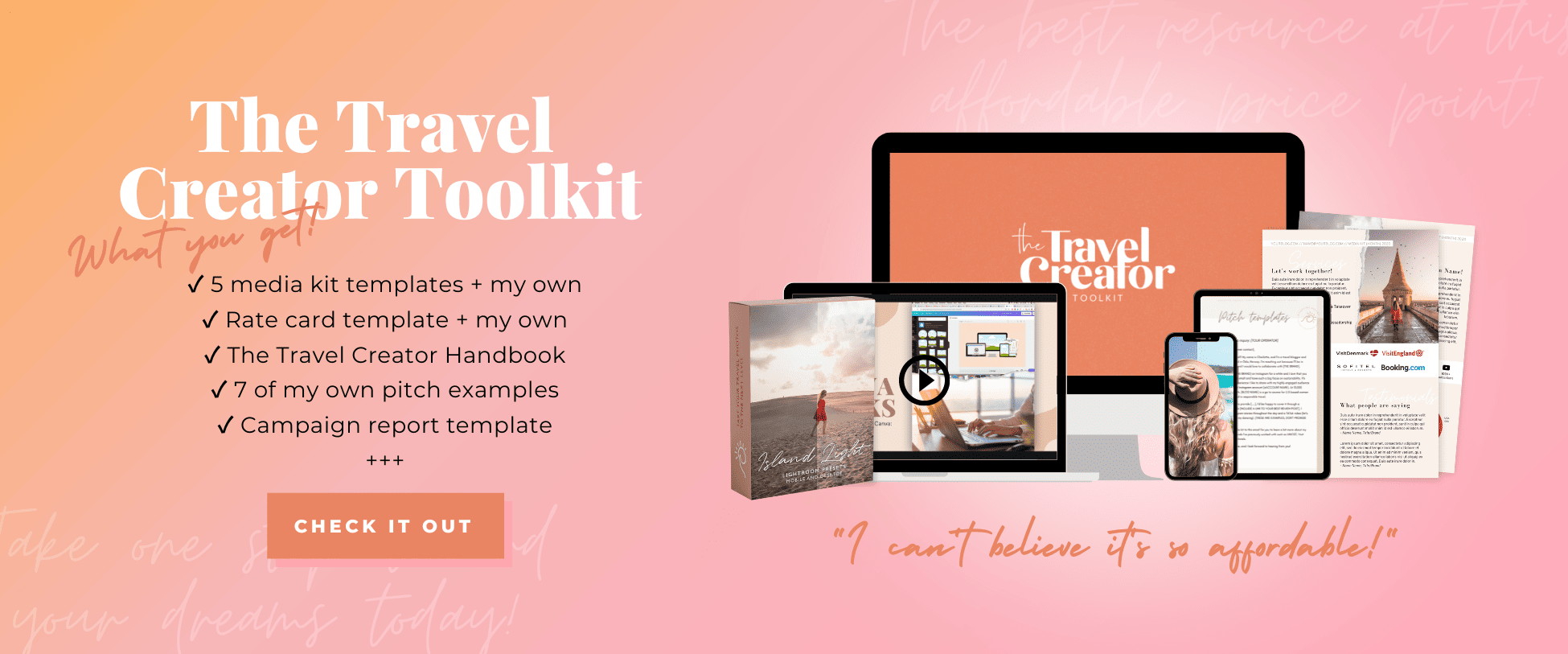 This post may contain affiliate links. I will earn a small commission if you purchase through them, at no extra cost to you.
Just 30 minutes off the coast of Bali, lies the unspoiled and authentic island of Nusa Penida. Authentic because time here has stood still, daily life is not yet affected by tourism like on Bali and Lembongan. Seaweed farmers, weavers and fishermen go about their day as they have for generations. I've said it before about the south coast of Lombok, but this is probably an even better representation of what Bali looked like some 30 years ago.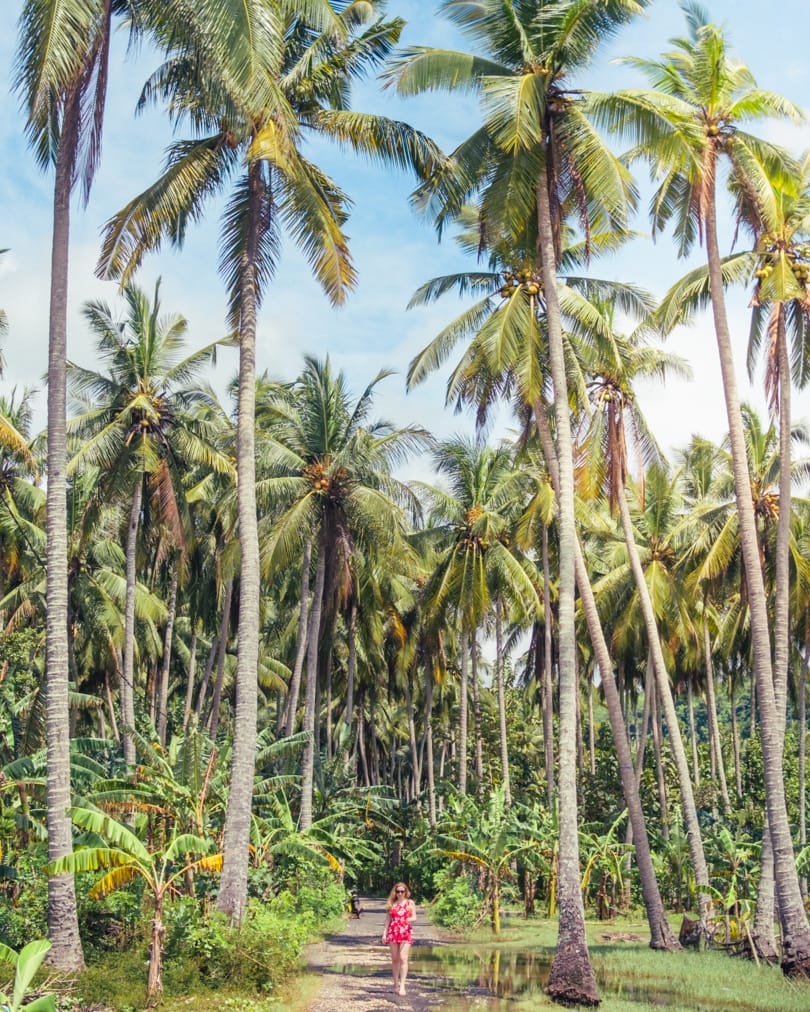 How to get to Nusa Penida
There are several local ferry options departing from Sanur and Padang Bai, starting from as little as 20k Rp. We got told so many different departure times that I'm not going to write anything here. The best thing to do if you're on a tight budget is to Google it and go to the harbor early in the morning and ask around.
We decided that time was more important than money this time so we found these three speedboat companies to choose from:
Mola Mola Express is the cheapest option at 125k Rp one way. They depart from Sanur at 8.30 AM and 4.30 PM every day.
Caspla Bali Boat leaves Sanur at 7.30 AM and 4.30 AM and costs 300k Rp one way. That includes pick up at your hotel.
Maruti Fast Boat is the third option. Their departure times from Sanur are 8.30 AM, 10 AM and 4 PM. The price is also 300k and includes pick-up.
In the end, we chose Maruti because the driver that would have to take us to Sanur would cost more than the difference in price between Mola Mola and Maruti. Also, they were the first ones we managed to get ahold of by phone. Mola Mola might be the best choice if you are already staying in Sanur. If you don't have access to a phone, there are tourist information stalls all over that will help you arrange your journey.
---
🌟 If you don't want to plan the trip yourself, check out this amazing full-day tour departing from Bali. Experience Instagram highlights such as Kelingking Beach and Angel's Billabong, snorkle and swim with the mantas. So much fun!
---
Where to stay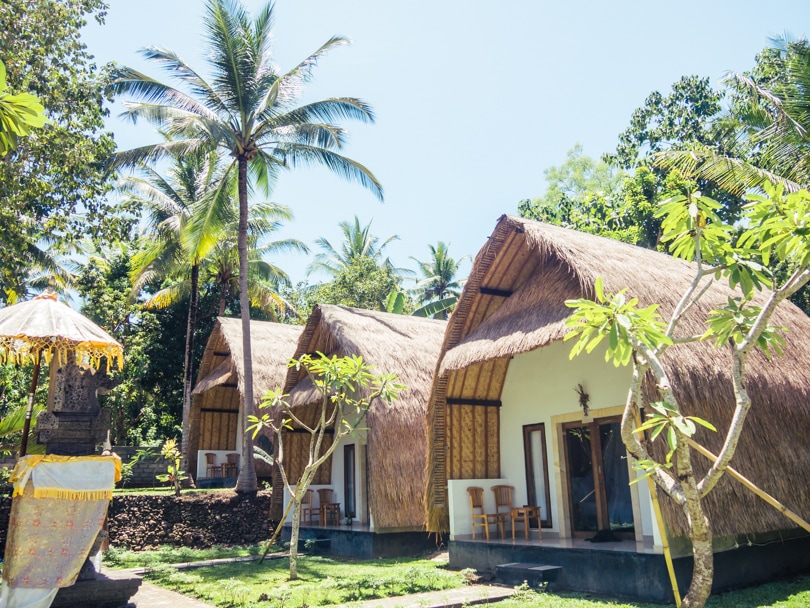 There haven't been that many accommodation options on Nusa Penida until recently. As more and more people seek to escape the craziness of Bali, new hotels are starting to emerge. And right now you get a lot for your money!
We had booked four nights at Bintang Bungalows in advance, which I was so happy about from the moment we arrived. Just look at this place! We were greeted by a smiling staff and a cold watermelon welcome drink. After about two minutes I already had my camera out and was busy shooting photos of palm trees, colorful butterflies and cute dogs.
We paid about $40 / 350kr /560k Rp a night including breakfast and high-speed wifi, which I think was a great deal! But if you want some even cheaper options I have heard good things about Ananta Bungalows at $30 a night and The Mel Homestay at only a little over $20 a night.
Related post: The most Instagrammable places on Nusa Penida
The turquoise pool was surrounded by these beautiful red plants which made for a beautiful contrast to all the green and blue.
Having breakfast at our bungalow every morning was such a treat and a nice way to start the day!
Of course, I managed to find a dog friend here as well. This little guy kept a close eye at all times in case any food accidentally fell on the floor. Or not so accidentally in my case!
Crystal Bay
After settling into our bungalow, we rented a motorbike and headed for Crystal Bay. Being used to motorbiking all over Lembongan and Ceningan, we thought the supposed 5-minute drive would be a piece of cake. I see myself as a good driver, I even owned a scooter for a couple of years at home. But we soon got a taste of Penida's bumpy and very steep roads. It all ended with me turning off the engine and rolling down, trying my best to steer clear of the many potholes and not slip and fall on the gravel.
Along the way, we were passed by many locals smiling and laughing at us. Even three young girls on one motorbike (one holding a baby!!) rushed passed us down the hill without as much as touching the break. I just closed my eyes and hoped for the best.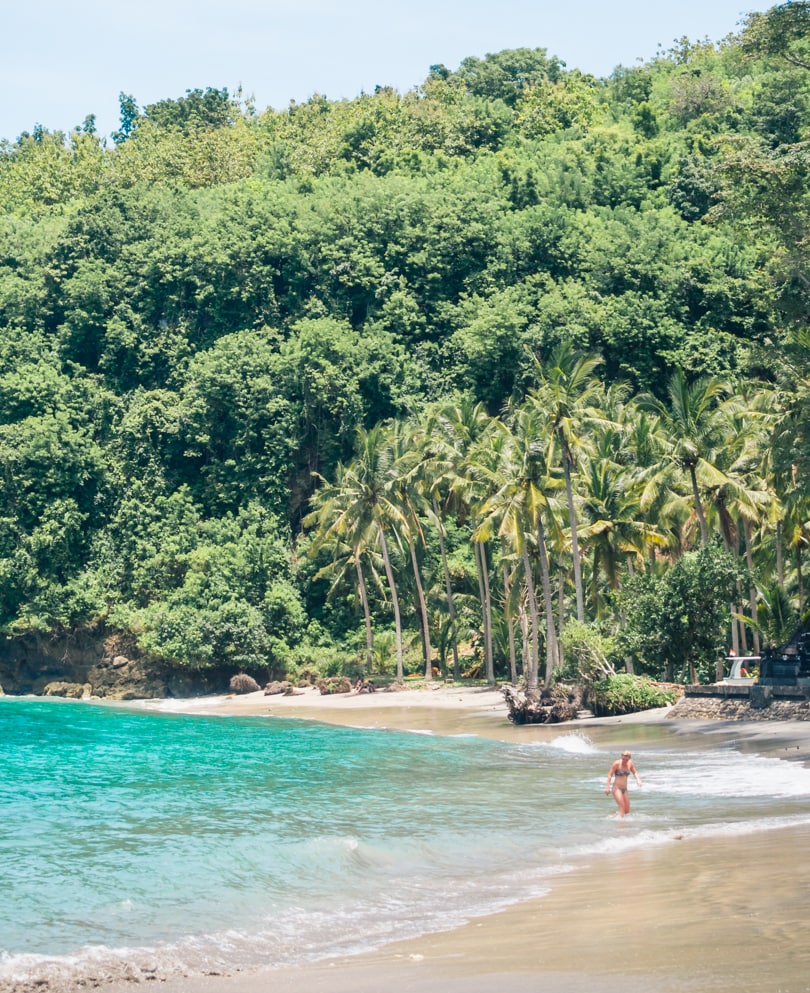 After a sweaty 15 minutes, my hand started cramping up because I hold on to the break so hard. But it was soon forgotten when the palm tree jungle opened up and we were greeted by this view. It was suddenly very apparent how Crystal Bay got its name!
It says a lot when there's no development happening at maybe the most visited tourist attractions on the island. Just a couple of small traditional warungs serving some basic dishes, cold drinks and coconuts. I hope it stays like this!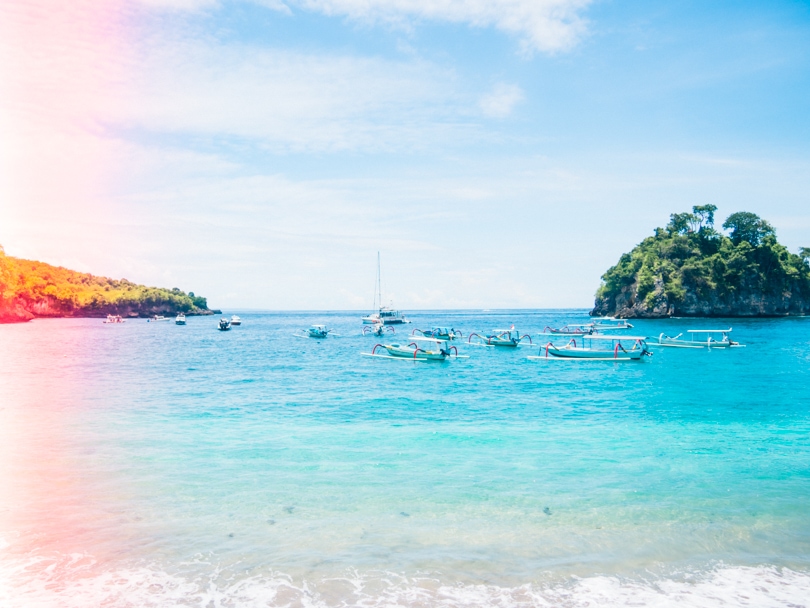 Crystal Bay is one of the best diving and snorkeling spots around, so charter boats from Bali came and went all the time. But on the beach, there were only about ten other tourists and some local kids playing in the waves. Snorkeling gear is available for rent in various places along the beach.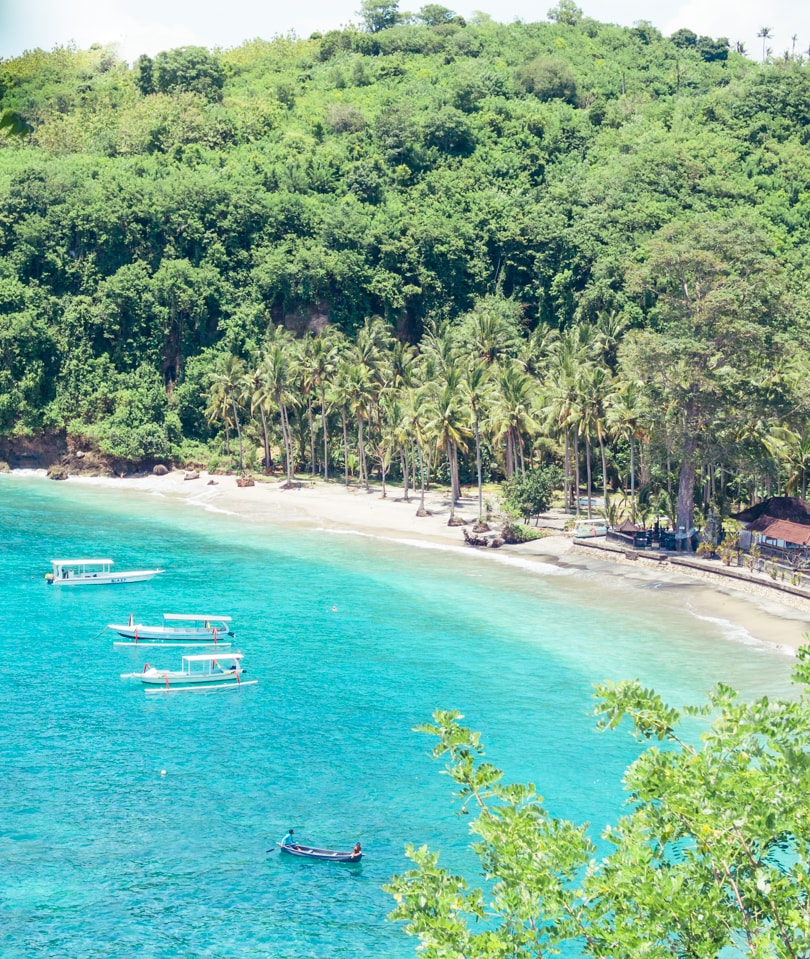 There is a second beach just to the south of Crystal Bay, called Pandan. You'll find a staircase taking you through the jungle and over the headland, which should take about 20 minutes. I went on a mission to explore, but about halfway there he had to give up.
The bush had taken over the stairs and the bugs became a bit too eager to say hello. But at least he got the amazing overview shot of Crystal Bay you see above. I know there is at least one tour that includes camping on Pandan beach, which might be worth checking out!
In the next few posts, I will talk more about some of the other attractions the island has to offer. So stay tuned!