This post may contain affiliate links. I will earn a small commission if you purchase through them, at no extra cost to you.
photo from lepirate.com
Le Pirate Beach Club on Nusa Ceningan, wow what a place. The picture perfect white and turquoise beach boxes makes it feel more like being on a Caribbean island than a tiny island in Indonesia. Add to that a bean-shaped infinity pool, a fantastic open concept restaurant and a 180 degree view of shallow turquoise waters and you have the perfect formula for a relaxing tropical holiday. Apart from Whales & Waves Resort on Subawa, I think Le Pirate Beach Club is the most picturesque place I've ever seen.
There are only 10 beach boxes in total so it feels very private. Even with other guests around, it's almost like you have the place to yourself. Be aware that the beach boxes are tiny, like 3m x 2m tiny, with almost no floor space to store your luggage. There is a bed with cotton linens, a cute quote above the bed, a fan and an aircondition, that's about it. You can choose between a double beach box for two persons or one with bunk beds for four persons. Nevertheless, what it lacks in size it makes up for in tropical charm. Behind the beach box there is a private open air bathroom and on the front porch a small mat to lie on and your own hammock. Utter simplicity. This is when you realize that you don't really need much more than a few basics when the surroundings are that stunning. The last time I checked the price it was around 700k Rp. / 400 NOK / $50 a night for both beach box options, including breakfast.
Whenever I'm on Lembongan I have to visit Le Pirate for lunch, as the food at the restaurant is among the best I've had on the Nusa Islands. Always fresh and yummy! I especially like the Dragon Bowl and the Asian Papaya Salad, which are around 55-65k I think. The pool bar serves up some delicious cocktails, so before you know it you'll have run up quite the bill. Other than the most relaxing atmosphere Le Pirate offers paddle boards for hire and can organize snorkling trips, massages and scooter hire. There is no boat services operating directly from Bali to Ceningan, so you have to got to Lembongan and then cross the yellow bridge. But don't worry, just contact Le Pirate and they will organize a door to door transfer for you.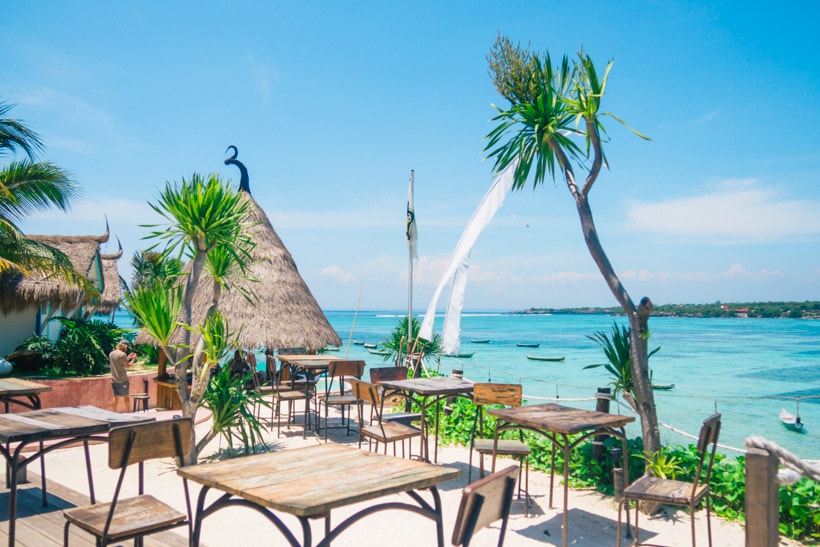 Some of the links above are affiliate links and I will earn a small percentage of the sale if you purchase through them, at no extra cost to you. This helps me cover the costs of running my site – so thank you in advance ! I only ever link to products and services I use and love myself!