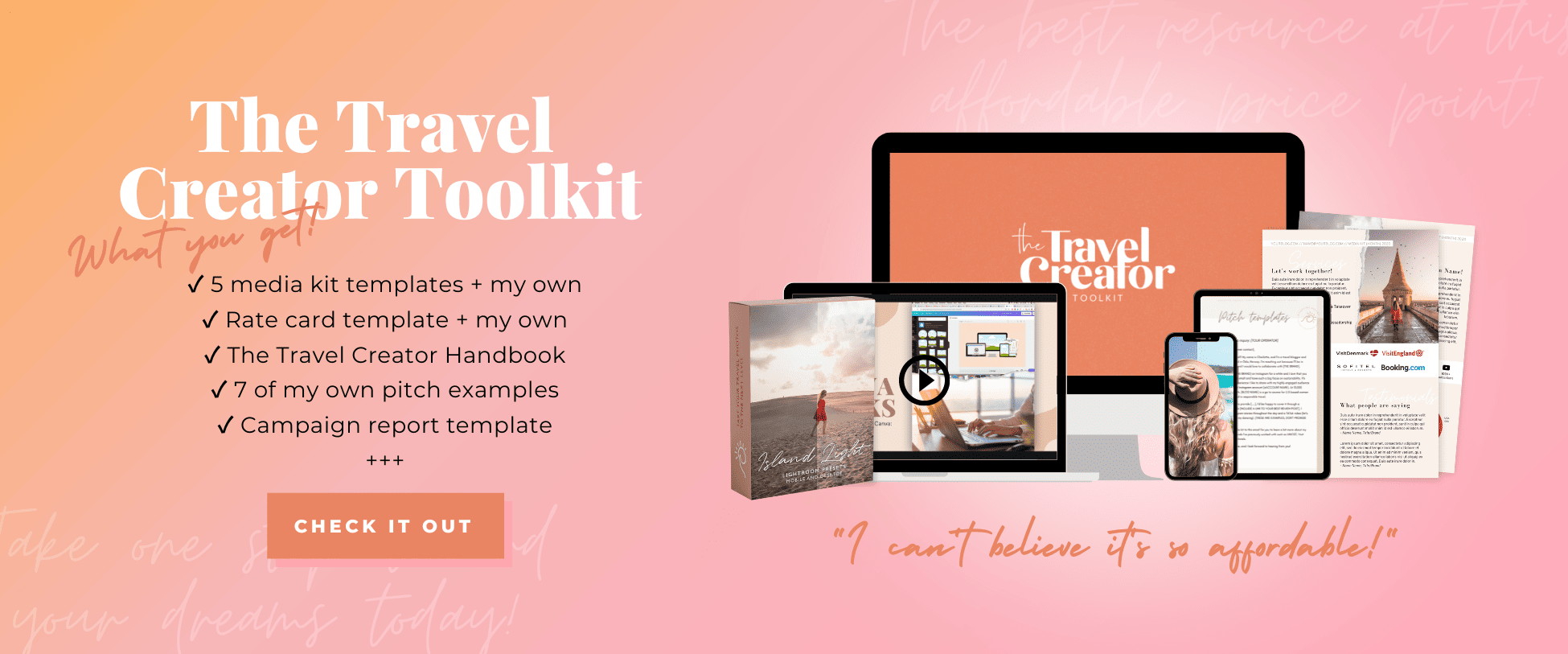 This post may contain affiliate links. I will earn a small commission if you purchase through them, at no extra cost to you.
From majestic Art Nouveau thermal baths and impressive castles to hip ruin bars and a ton of other Instagrammable places, Budapest is a photographer's dream. I'm normally not much of a big city person, however, after spending about one hour in Budapest, I knew I had found one of my new favorite European cities.
In my previous post, I told you about how we ended up in Budapest when we let Google Earth choose our destination. And after completely falling in love with the city and shooting over 3000 photos in 3 days, I just had to create a guide to all the best Instagram spots in Budapest for you.
While researching for this trip, I read somewhere that if you look down, you're in Buda and if you look up, you're in Pest. And I totally get that now.
The Buda side with its castle and Fisherman's Bastion boasts some of the most incredible views I've seen in a long time. I don't know how many times I said oh look at that and wow that's incredible. And while we were exploring the Pest side, I found myself just standing around marveling at all the imposing buildings such as the Hungarian Parliament and St. Stephen's Basilica. How did they build those massive structures so long ago?
1. Fisherman's Bastion
Although the Fisherman's Bastion looks like a medieval castle, it was actually built between 1895 and 1902 in a neo-Gothic style, specifically to act as a panoramic viewing platform across the Danube, Margaret Island and Pest.
Today's structure stands where there was once a large wall protecting Buda Castle from enemy attacks. Legend has it that the building was protected by a guild of fishermen, which is what gave the Bastion its name.
To get the best photos at Fisherman's Bastion you should get there in time for sunrise. Not only to beat the crowds but also because the structure itself and the view look so beautiful in the soft morning light. I never say no to some good sunflares! When we arrived at around 6.45 am there were about 10 other people already there.
Get creative with your angles and move around, there are so many cool photo ops and views. My favorite was probably the upper right turret with a gorgeous view of Pest in the background (the large photo above). It's been a while since I felt so excited about a new location. Fisherman's Bastion is definitely one of the best Instagram spots in Budapest!
Fisherman's Bastion is free to visit 24/7, however, the upper area has an entrance fee of 1000 HUF from 9:00 am to 11:00 pm. And while you are up there you should also turn your attention to the gorgeous Matthias Church…
Related post: 15 "ready to post" Budapest Instagram captions & quotes
2. Matthias Church
In front of Fisherman's Bastion at the heart of Buda's Castle District, you'll find the impressive Matthias Church. Part of this gothic-style cathedral with the colorful tiled roof was built all the way back in the late 1300s, which means it is one of the oldest buildings in Budapest.
And while the exterior is stunning in itself it is equally as beautiful inside with high vaulted ceilings and ornate details throughout.
One of the best Instagram spots in Budapest is the view of the Matthias Church and the square from the upper turrets at Fisherman's Bastion. We did not bring a wide-angle lens so I didn't quite get the shot I had in mind. But I was just happy that the sun was shining and we got the place almost all to ourselves for a little while.
Exploring Fisherman's Bastion and the Matthias Church was without a doubt the highlight of our three days in Budapest.
You might also like: The best travel insurance for long term travel
3. Buda Castle
Construction on the site of the awe-inspiring Buda Castle started all the way back in 1265. Over the years it was rebuilt and added to and the Neo-Baroque style palace you see today was finally finished in 1769.
Declared a UNESCO World Heritage Site in 1987, the former royal palace now houses the Budapest History Museum and the Hungarian National Gallery. The grounds are open 24/7 but Buda Castle's hours are the same as the museum and gallery, Tuesday- Sunday 10 am-6 pm.
While it was fun to wander around the castle grounds and then take the Castle Hill funicular back down, you get the best view of Buda Castle from the riverbank on the Pest side. Especially right before sunset when all the lights on and around the castle turn on as you can see in the first photo.
Explore the castle district including Buda Castle, as well as the Matthias Church and Fisherman's Bastion on this guided walking tour!
4. Castle Hill Funicular
The Castle Hill Funicular, which first opened in 1870, is the second oldest funicular of its kind in the world. It is the fastest way to get to the top of Castle Hill (if there are no lines) and is exceedingly popular because of its incredible views out across the Danube with Chain Bridge and St. Stephens Basilica in the background.
During the warmer months, there are often long lines of people waiting to ride the funicular up the hill. So a tip is to walk up to the top where the lines are often a lot shorter, explore the castle and then take the funicular back down.
Or you can walk down to the small bridge that runs across the funicular line where you can stand for as long as you want and marvel at the beautiful view and the carts run up and down. This was one of my favorite Instagram photo spots in the city.
Is the Budapest Card worth the price? Click here to find out!
5. View from Gellért Hill
The Citadel atop Gellért Hill was constructed by the Hapsburgs following the failed revolution in 1948-49 as a way to remind the rebellious Hungarians who ruled the country. Its prime strategic position was supposed to make it easy to control both Buda and Pest, should any future uprisings occur.
The Liberty or Freedom Statue which stands in front of the Citadel commemorates those who sacrificed their lives for the independence, freedom, and prosperity of Hungary.
Today the Citadel, which boasts panoramic views across both sides of the Danube, is one of the most popular viewpoints in the city. Especially for sunset during the warmer months. To reach the Citadel you have to climb a lot of steep stairs, so take your time and remember to bring some water.
6. Gellért Thermal Spa Baths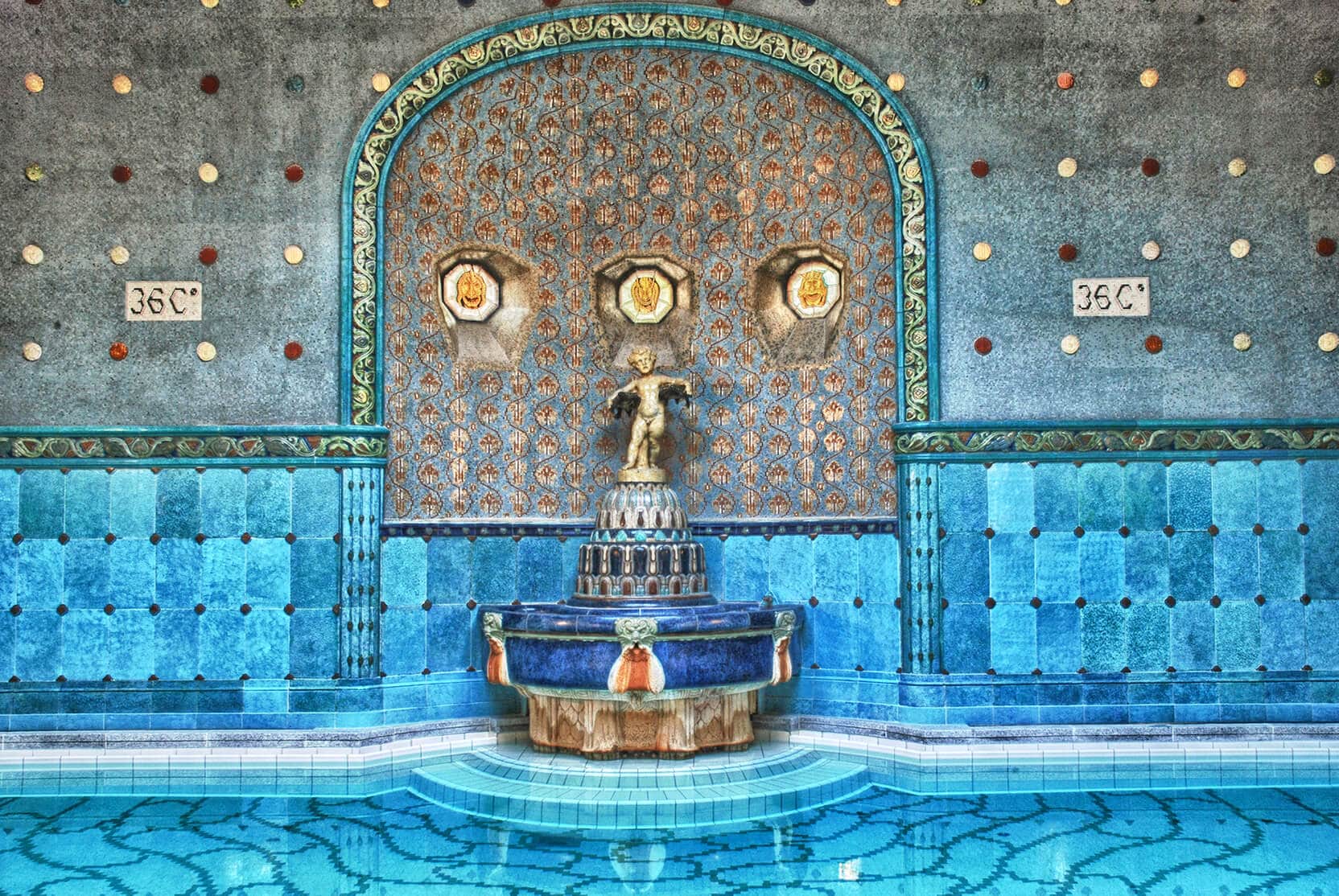 Budapest is nicknamed the "City of Spas" for good reason. More than 118 natural thermal springs deliver 70 million liters of therapeutic water to the city each day.
One of the grandest thermal baths in Budapest is Gellért Baths and Spa which is housed within the same stunning Art Nouveau-style building as Danubius Hotel Gellért. The complex was originally built between 1912-1918 and underwent an extensive renovation in 2008 to bring the baths back to their former glory.
There are so many gorgeous details to photograph in Gellért Spa. And the main indoor pool is especially photogenic when shot from one of the short sides. It opens at 6 am and you should try to get there as early as possible to avoid the crowds which usually start pouring in around 8.30 am.
7. Chain Bridge
The Széchenyi Chain Bridge is an impressive example of 19th-century engineering spanning the Danube River, linking Buda to Pest. It opened in 1849 and was the first permanent bridge constructed across the river.
Go for a stroll across, so you can marvel at the views stretching for miles on both sides and get some great photos. It looks especially good in the evening right before it gets dark when the whole bridge is lit up.
Related post >> 12 cities that aren't on your bucket list but should be
8. Liberty Bridge
Liberty Bridge is another gorgeous structure worth a moment of your time. It connects the Great Market Hall on the Pest side with Gellért Hill and Spa on the Buda side.
Initially built as part of the Millennium World Exhibition in the late 1800s, the bridge features an intricate Art Nouveau design complete mythological sculptures and the Hungarian coat of arms.
One of the best places to view and photograph Liberty Bridge is from the Gellért Hill Cave entrance.
🌟 Go on a guided walking tour with a local historian and discover Budapest's beautiful Art Nouveau architecture, see the buildings that represented the city's newfound wealth in the early 20th century.
9. Hungarian Parliament
Situated on the UNESCO-listed banks of the Danube River, the Hungarian Parliament is one of the finest examples of Gothic and Renaissance Revival architecture in the world. For me, it is up there with probably the 3 most beautiful buildings I've ever seen. Taj Mahal and Duomo di Milano being the other two.
The 691-room building took 17 years to complete and it was finished in 1902. It is the 3rd largest parliament in the world and the largest building in all of Hungary. Not surprisingly it is one of the most popular landmarks in the city, attracting nearly 700,000 visitors every year.
Although the Parliament looks fantastic from every angle, to see the whole building in its full glory, it is worth making your way to the riverbank on the Buda side. It looks especially impressive on a calm sunny day when the whole building is reflected in the water. Another great place to view the Parliament is Fisherman's Bastion which just so happens to be situated on Castle Hill right across the river.
10. St. Stephen's Basilica
Standing proud in the center of the city, the Roman Catholic St. Stephen's Basilica is named after the first King of Hungary who ruled between 975-1038. With the capacity to house up to 8500 people, it is not only the largest church in Budapest but the whole country.
While the exterior of the church is quite impressive I'm sure the interior will leave you speechless. The roof and the 96-meter-high dome are lined with gold and ornate religious reliefs. So beautiful! And to the left of the main altar, the mummified right hand of St. Stephen is kept in a glass case.
There are several great Instagram spots in and around St. Stephens Basilica. Our favorites were up on the panorama lookout, which boasts a 360 view of the city. According to Lonely Planet, this is the perfect place to kick off your weekend in Budapest.
I also have to mention the spiral staircase leading up to the lookout. How cool would it be to have someone shoot a photo of you looking up while walking up or down those stairs?
Another one of the best Budapest Instagram spots is Zrinyi Street leading up to St. Stephen's Basilica. If you manage to wake up early enough, you can get a cool shot walking down the street towards the Basilica with no one else around. I'm so annoyed that I missed out on that one because we overslept and there were hundreds of people in the streets when we got there.
If you want a pretty prop in your photos you can buy a rose-shaped gelato from Gelarto Rosa. They are a bit pricey but oh sooo tasty!
You might also like: 16 incredible islands you probably haven't heard of but need to visit
11. Vajdahunyad Castle
Vajdahunyad Castle stands proudly within Budapest City Park right next to Széchenyi Spa Baths and behind Hero Square. It might look like a medieval structure but it was actually built in 1896 as part of the Millennium exhibition to commemorate the Hungarian conquest of the Carpathian Basin.
The funny thing is that Vajdahunyad Castle was first built out of wood and cardboard and only rebuilt from stone and brick in 1908 after becoming popular among both locals and visitors.
As you might know, if you've previously read my blog or follow me on Instagram, I'm obsessed with fairytale-esque castles. So, of course, Vajdahunyad Castle was the first place we explored after getting off the plane.
The castle itself is absolutely beautiful but it was quite hard to photograph well when everything around it was brown and grey. So we looked for anything with a little bit of color to brighten up the photos and found some shriveled berries which are the orange dots you can see above. I can only imagine how gorgeous this place is during the warmer months when all the vegetation around the castle turns green.
12. Hero Square
Built in 1896, Heroes' Square marks the end of Andrássy Avenue which is Budapest's Champs-Élysées-esque boulevard brimming with upmarket stores, cafés and restaurants. Atop the pillar in the center of the square is the Archangel Gabriel holding a cross and the Holy Crown of Hungary.
In front of the pillar, there's a large stone cenotaph surrounded by an ornate metal fence. The monument is called the Millenium Monument and stands in tribute to those who have died defending the freedom of Hungary.
On either side of the central column, there are two matching colonnades, each with seven statues depicting important figures of Hungarian history. And the impressive neoclassical buildings on either side of the square are the Museum of Fine Arts and the Hall of Art, a contemporary art museum.
We took advantage of the large open space and strong wind to create a photo with a bit of movement as you can see above.
13. 360 Igloo Bar
You have probably heard of or seen photos on Instagram of London's Coppa Club Igloo Bar. But did you know that Budapest has a rooftop Igloo Bar of its own?
360 Bar boasts panoramic views of the city and is the perfect place to watch the sunset while enjoying a cocktail or two. It does, however, get super crowded so remember to make a reservation or get there at least one hour before sunset to secure a table in one of the Igloos.
14. Széchenyi Spa Baths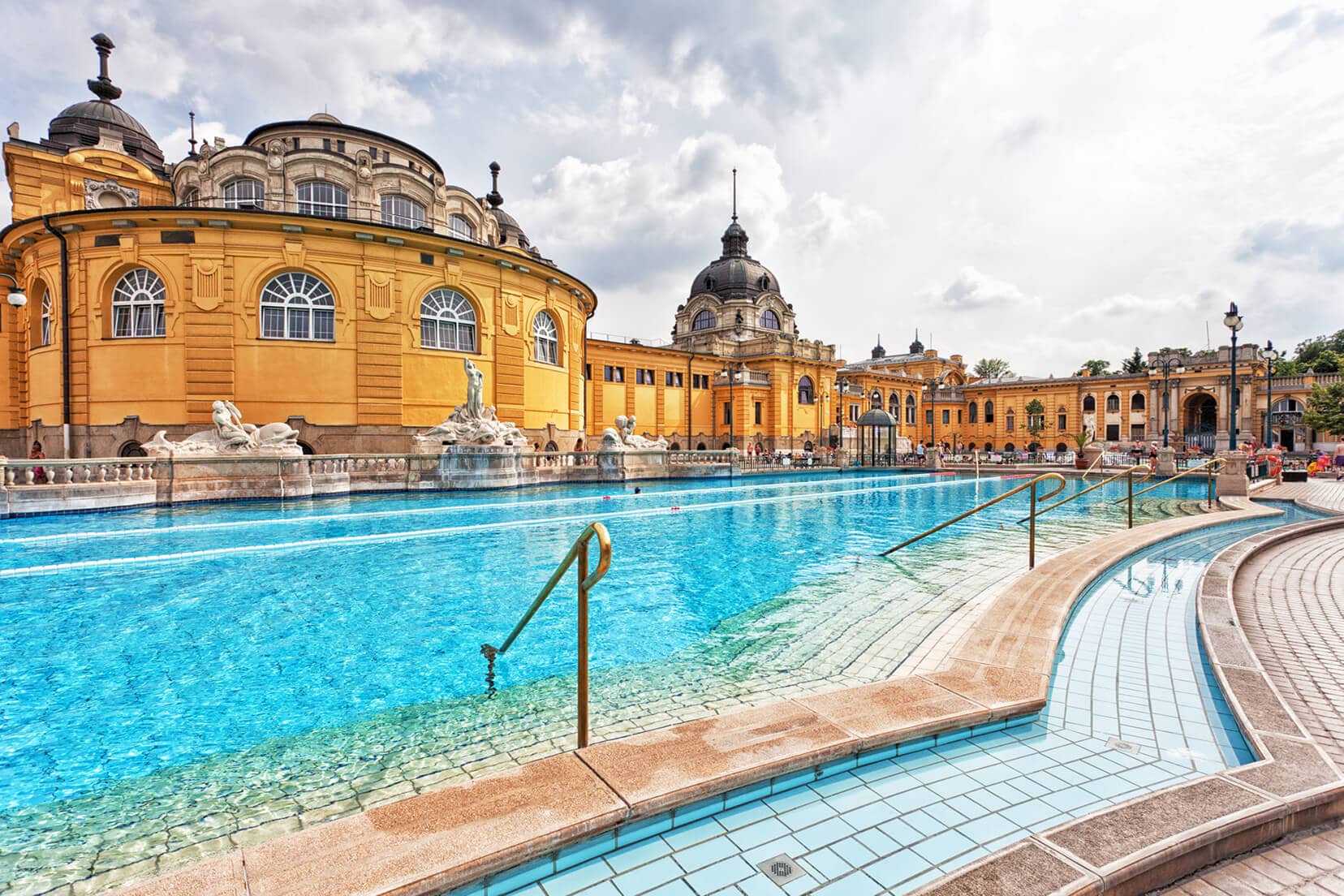 Situated in the heart of Budapest City Park, next to Vajdahunyad Castle, Széchenyi Baths is one of the largest medicinal thermal baths in Europe.
Built in 1913, the gorgeous Neo-Baroque style building houses three large outdoor pools, 10 inside plunge pools, massage rooms, saunas and steam rooms. The mineral-rich water is believed to help people suffering from degenerative joint illnesses and other ailments.
While Széchenyi Baths are known for being an oasis of calm and relaxation, it turn into something very different on Saturday nights during the summer months. The SPArty (Get it?) combines night bathing, DJs, visual effects and alcohol. Loved by locals and tourists alike, the spa parties in Lukács and Széchenyi Baths attract around 50,000 people every year.
Széchenyi is best experienced with a full-day skip-the-line ticket, which can be booked in advance. If a shot of yourself in an uncrowded pool with rising steam is what you're after, you know one of those pics you see all over Instagram, try to get there when they open at 6:00 am.
Read next >> How I travel the world despite being terrified of flying
15. Szimpla Kert Ruin Bar
Ruin bars, which are old derelict buildings turned into eclectic hangout spots, have become the highlight of Budapest's nightlife scene. The largest and most popular ruin bar, Szimpla Kert, first opened its doors back in 2002 and moved around a few times before settling in the Jewish Quarter in 2004.
Here, you can expect alternative music and unique furniture, including bathtubs and large bunnies as you can see above. Today Szimpla Kert also hosts a farmers' market and flea market during the day on the weekend and live music and film screenings at night. And there's a restaurant upstairs which serves up some delicious Mexican inspired dishes.
Szimpla Kert can be explored as part of a wider ruin bar tour or on your own. For the best photo ops, I suggest visiting during the day when there is better light and fewer people. It can get very crowded at night!
16. The Great Market Hall
Built in 1897, this Neo-Gothic style Great Market Hall boasts more than 100 stalls over three floors. Locally grown fruits and veg, and locally sourced meats are found on the lower floors, and souvenirs including lace, chess sets and leather goods are available on the upper floors.
Whilst many locals still use the market hall as a place to buy their groceries, the market is incredibly popular with tourists too.
We had read some mixed reviews about the cafés and restaurants so we decided not to eat here. But I wish we had more time in Budapest so I could cook with some of the beautiful produce they had on offer.
If you're traveling with someone, get them to walk up the stairs and shoot some photos of you walking in the middle of the market. I wish we had thought to do a long exposure here so I would be the only person in focus. It would really have shown how busy the market actually was. I'll definitely try to do that next time!
You can explore the culinary and historical side of residential Buda on this guided food tour. Visit off-the-beaten-track places where locals love to eat, shop, and drink.
17. Tereza Mexican Restaurant
You might be wondering why I'm including a restaurant in this photography guide. Well, I'm a huge foodie and whenever I find a restaurant I love I just can't wait to share about it.
Tereza is an authentic Mexican restaurant that transported me right to Mexico with its colorful decorations and laid-back atmosphere. And the tacos and drinks were pretty good too!
Haha. If I hadn't looked like a scarecrow after walking around in strong wind all day, I would have loved to do a little photoshoot here. Just take a look at those cool cocktails! This is definitely one of the best Instagram spots in Budapest.
18. Ervin Szabó Central Library
Hidden in plain sight in the once privately owned 19th-century neo-baroque Wenckheim Palace you'll find The Metropolitan Ervin Szabó Library's main branch.
For those in the know, this library is the perfect place to escape the busy city and sit down with a book in the most gorgeous surroundings. Think huge chandeliers, ornate gold details, carved wood and fireplaces. It doesn't get much better!
You might also like >> 12 inspiring coffee table books every traveler will love
19. New York Cafe
The gorgeous building which today houses New York Café and New York Palace Hotel was originally built back in 1894 by the New York Life Insurance Company as their European headquarters. Designed in an Italian Renaissance style complete with "gold" chandeliers and spectacular frescoes, it looks more like a palace than a café or coffee shop.
We went for afternoon tea at 15.30 and were seated by a smiling hostess right away. And just 20 minutes later we had our tea, orange juice and 3-tier stand with sweet and savory treats on our table.
While we weren't overly impressed by the food or the prices, the service, interior, and overall ambiance complete with a live band, made it worth a visit. I'm happy we went and that we decided to book a table ahead of time. So if you have a few hours and 50+ dollars to spare, the New York Café is definitely one of the most beautiful Instagram photo locations the city has to offer.
🌟 Go on a tour with an art historian as your guide and experience Budapest's café house culture as you learn about the poets, artists and writers who used to frequent its cafés.
20. McDonald's Nyugati Train Station
And from the most beautiful café in the world to the world's most elegant McDonald's. Haha. This fast-food restaurant is located inside the old dining hall of the beautiful Nyugati Train Station. Nyugati, also known as the Western train station, was built in 1877 by the Paris-based Eiffel Company which was founded by Gustav Eiffel, the designer of the Eiffel Tower.
We stayed in T62 Hotel right across the street from this McDonald's and every day I said I'll stop by and take a photo tomorrow. Story of my life, I'm a serial procrastinator. On our last night, we finally went in to buy a few cheeseburgers but by then it was too dark and crowded to get a good photo. So on this one, you have to go and see for yourself!
21. K-Bridge Óbuda Island
Óbuda Island was actually the exact spot Google Earth's I'm feeling lucky feature suggested we visit. It is a popular recreational area all year round, and in summer it hosts one of Europe's largest musical festivals.
For us, K-Bridge, which is the main entrance to the island, was the highlight. Such a cool photography spot, just take a look above!
22. Margaret Island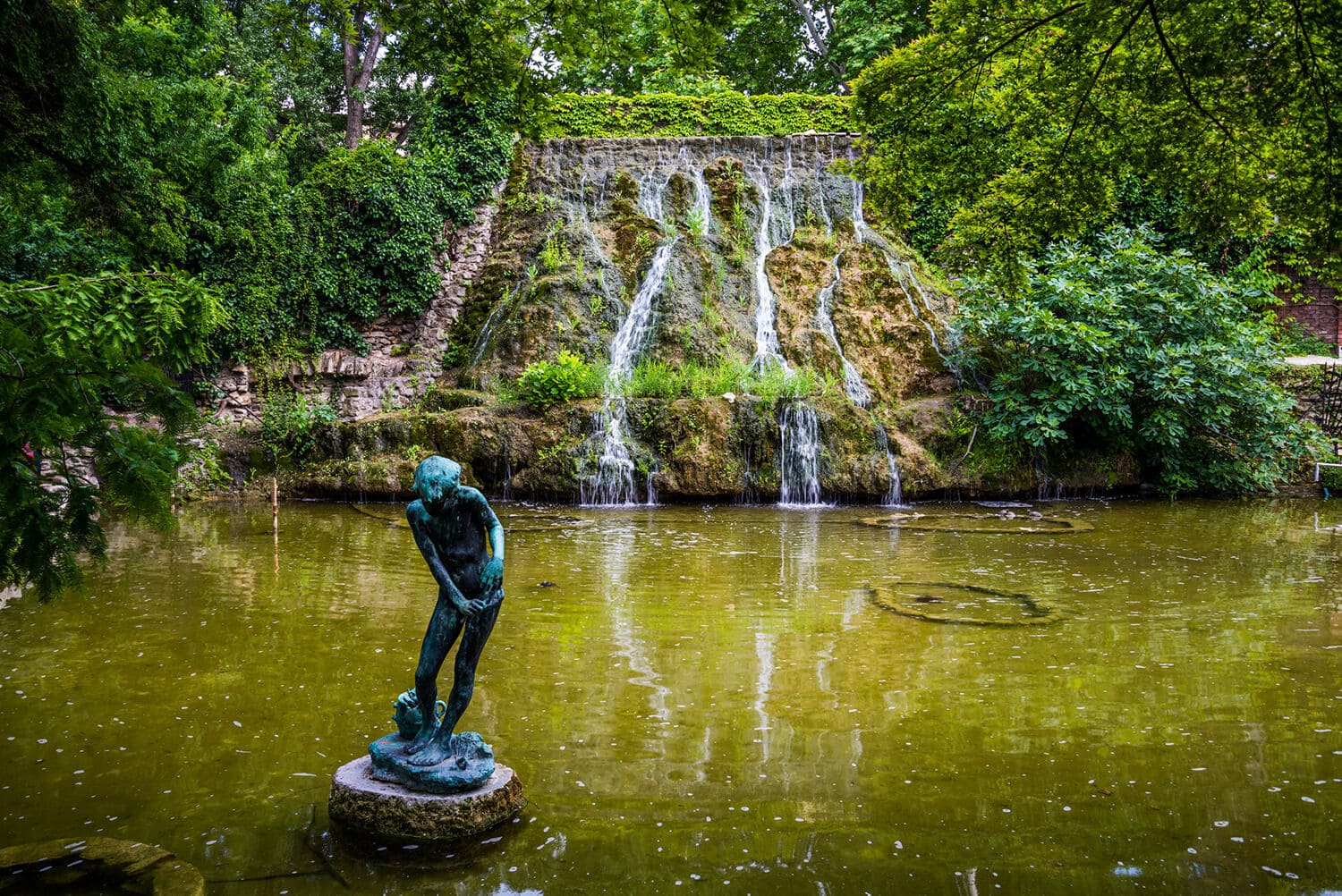 Did you know there's a waterfall in Budapest? Margaret Island is a 2.5 km long island that sits in the middle of the Danube, linked to Buda and Pest by bridges on either side. It is Budapest's most impressive green space, covered in parkland and recreational facilities. And the best part is that it's mainly free to explore.
Grab a book and chill in the rose garden, or lay down and relax by the waterfall in the gorgeous Japanese garden. There's also a spectacular musical fountain near Margaret Bridge, which comes alive four times a day, plus a mini zoo, swimming pools, cafés and a few hotels.
23. Shoes on the Danube Bank
I was very unsure whether or not to include this heartbreaking memorial in my guide. It is definitely not a photography or Instagram spot, but it is one of the most important historical sights in the city, so I had to mention it.
The sculpture made up of 60 pairs of cast iron shoes commemorates the 3,500 people who were shot into the Danube by Arrow Cross militiamen during World War II. The victims were ordered to remove their shoes before having to line up on the edge of the bank so their dead bodies would be washed away by the river.
While I'm all about focusing on the positive, I also think it's important to reflect on the history of the places we visit because has shaped the cities and the people into what they are today.
---
I hope this list of the best Instagram spots in Budapest has inspired you to visit this beautiful city!
Remember to pin for later 😉