This post may contain affiliate links. I will earn a small commission if you purchase through them, at no extra cost to you.
What makes Canggu different from the southern tourist areas in Bali, is the shimmering black (I would say grey) sand beaches. The darker colored sand that makes up most of the beaches north of Seminyak, got its color from Bali's volcanos. Batu Bolong, Berawa and Echo Beach are Canggu's three main beaches. Even though they have different names, they're really just a continuation of the same stretch of sand. If you're used to Kuta and Seminyak, you'll probably wonder where all the hawkers are hiding. To this day no one has tried to sell me anything at the beach in Canggu, other than ice cream, pineapples and coconuts.
I could talk about Canggu for hours and hours. So instead of covering all of Canggu in one post, I decided to break it up into shorter articles. This time I'm gonna share my favorite places in the Pantai Batu Bolong area, you can read about Echo Beach here. In my mind Jl. Pantai Batu Bolong is the coolest street on the island. It's buzzing with creativity, diversity and passion, but in a way that fits both Canggu and Bali very well.
// Contains affiliate links
The best restaurants in Canggu
If you're not particularly fond of the sand, you should check out The Lawn. A chill all-day hangout spot where you can soak up some sun on the green lawn, lounge by the pool, enjoy a dusk cocktail or an after dark dinner with friends. It's open daily from 11 am to 11 pm.
A little further down the beach sits Old Man's, which you can read more about here. The beachfront beer garden, which got its name from the surf break out front at Batu Bolong beach, is the perfect place to chill out after a day in the sun and surf.
Just up Jl. Pantai Batu Bolong you'll find Canggu institutions like the always crowded Crate Cafe, Cafe Organic and Betelnut Cafe. Those are some of the most Instagram friendly restaurants you'll ever see. And the food is pretty good too, haha.
A couple of my other favorite restaurants are Poké Poké Canggu (above) for a delicious and healthy Hawaiian lunch. And In The Raw where I have to admit I enjoy at least one meal a day whenever I'm in Canggu. Their food is ridiculously delicious, healthy and pleasing to the eyes as well. You'll find their beach garden on your way down to Batu Bolong Beach, you can't miss it! And oh, I almost forgot, try the Ahi Tuna Poke Bowl!
Read about my two all-time favorite Bali restaurants here, you'll find one of them in Canggu!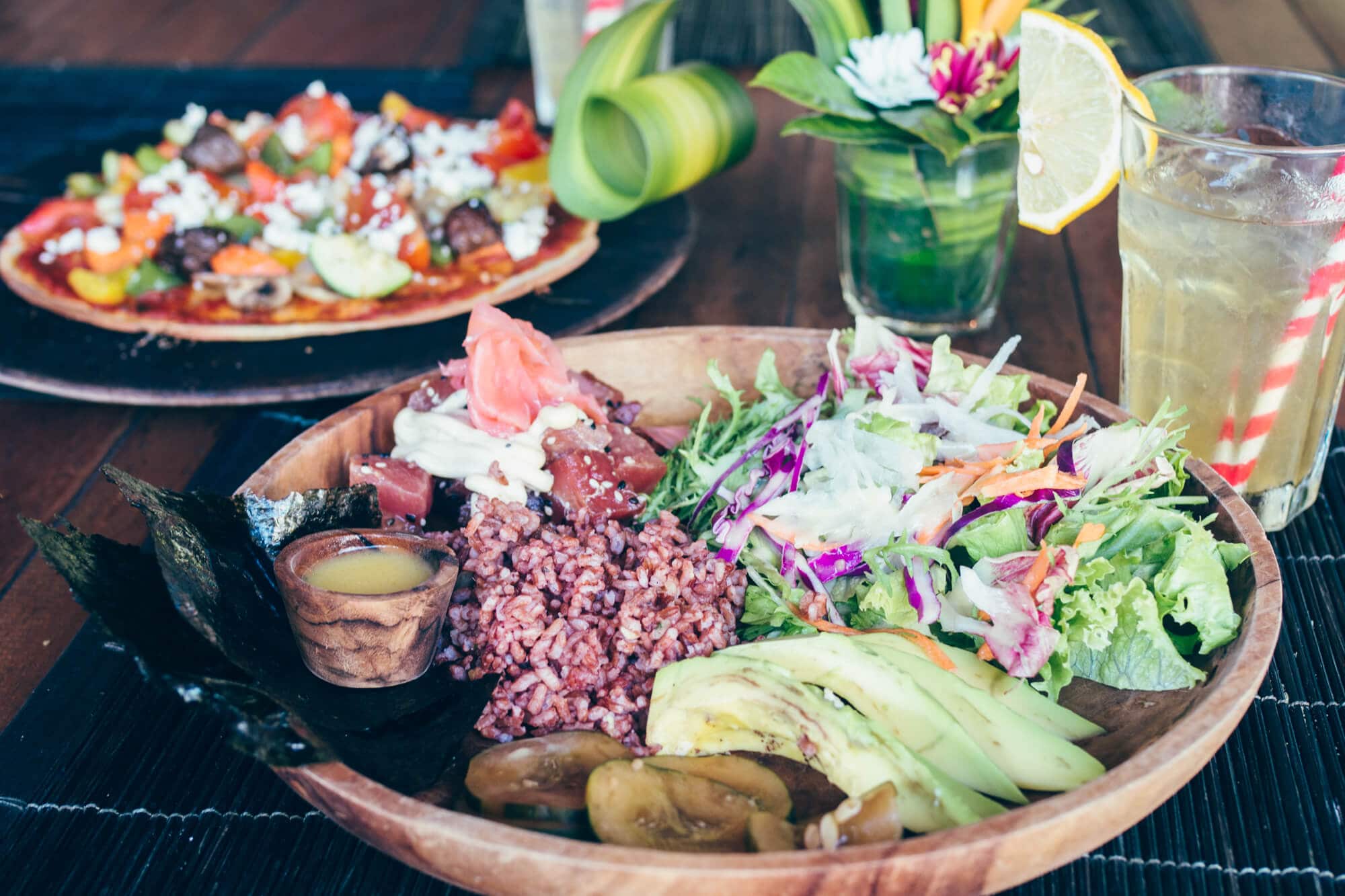 Where to stay in Canggu
One of my favorite budget Airbnbs in all of Bali is called The Spare Room Bali, located in an alley off of Jl. Tanah Barak between Echo Beach and Batu Bolong. This place is within walking distance of all the best places Canggu has to offer, like Deus ex Machina and Shady Shack. Which by the way is yet another amazing restaurant offering healthy Instagrammable food. Haha, there are just so many! The Spare Room was a little hard to find as you have to go down quite a narrow alley and there was no sign at the main road the last time I was there. So look for the David Surf House sign which is located right next door. Remember to claim your $45 Airbnb credit here!!!
If you're traveling with family or friends you should think about renting one of the super trendy villas in the area. This beautifully decorated luxury villa is set in the perfect location surrounded by trendy eateries and just a couple of minutes from the beach on foot. Just think how cool it would be to have a place like that all to yourselves.
Ok, I know I use the word favorite a lot, but bear with me, I have to use it again. Villa Lua is my favorite place in Canggu when it comes to the interior. Boho heaven! Think white surfaces, bamboo, whitewashed wood, greenery, mint green shutters, crochet and Hibiscus flowers. I mean, does it get any better? And again, the location is perfect. It's within walking distance of everything you could possibly need.
If you would rather stay in a hotel then I can recommend the insanely gorgeous Theanna Eco Villa and Spa or The Kirana Hotel Resto and Spa for a more budget-friendly option.
Related post: 3 super cool markets in Canggu you can't miss!
What to do in Canggu
The best thing about Canggu other than the amazing food is the markets. The Bazaar at Love Anchor is an absolute must. Around 100 vendors get together every day to offer you everything from handmade jewelry to organic skincare and local delicacies, all accompanied by some groovy tunes from some of the islands best DJs. On the last Saturday of every month check out the market at Old Man's and on Sundays Samadi puts on a farmers market where you can find all things healthy and sustainable.
But the coolest happening of the week is, of course, Tacos and Tattuesdays over at the Deus Temple where you get a 20-minute tattoo free with your tacos. Say what?! I'm definitely getting one the next time I'm on the island. Tattooing kicks off at 6pm so be sure to get there 5.30pm at the latest.
On Wednesday evenings Old Man's is the place to be for the messiest party of the week. They call it Dirty Ol' Wednesdays for a reason. The drinks are cheap and the music funky, but the big happening of the night is the super fun beer pong competition. Get there by 5.30pm to sign up your dirty crew!
Canggu is also a great place to do some shopping! Trendy boutiques like The Offering, Deus ex Machina, Frockk and Moon Rocks offers unique home furnishings and hip threads for every occasion.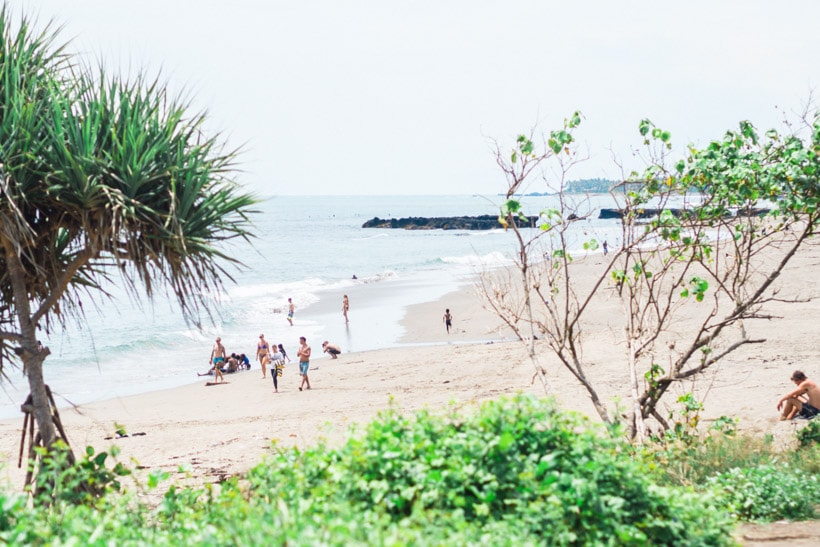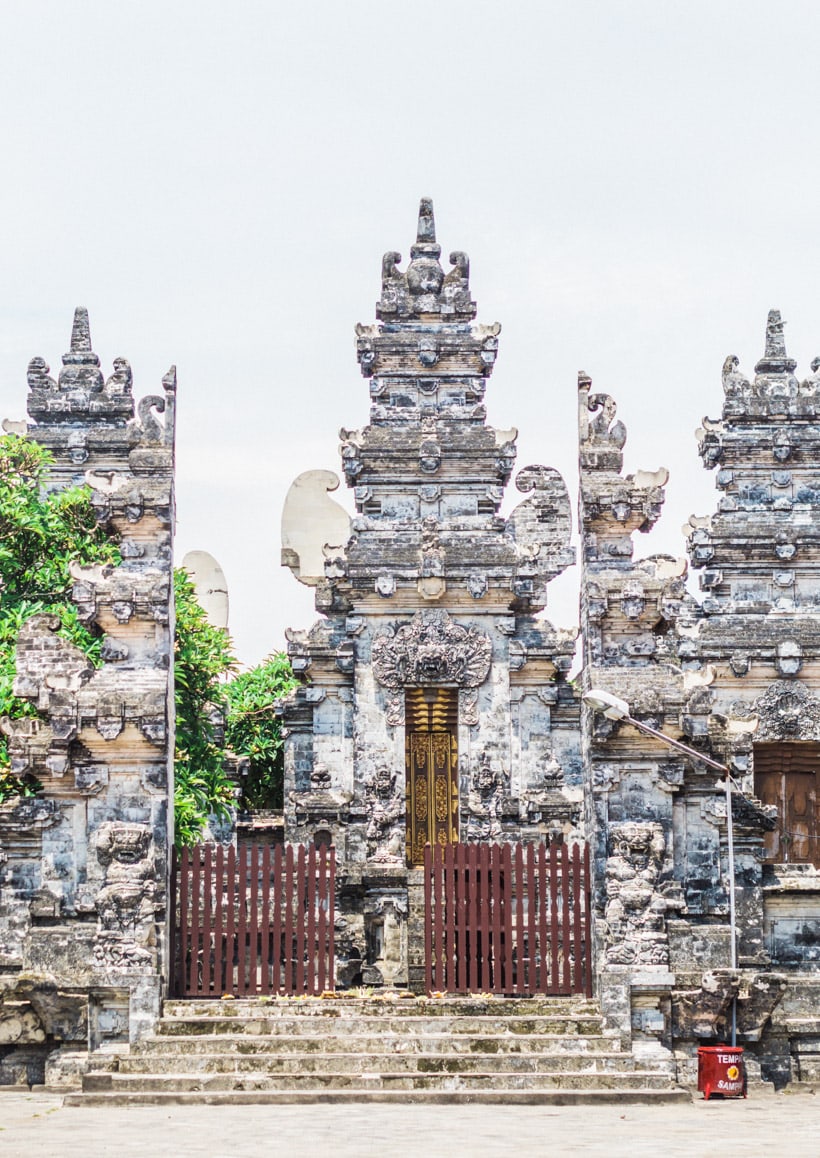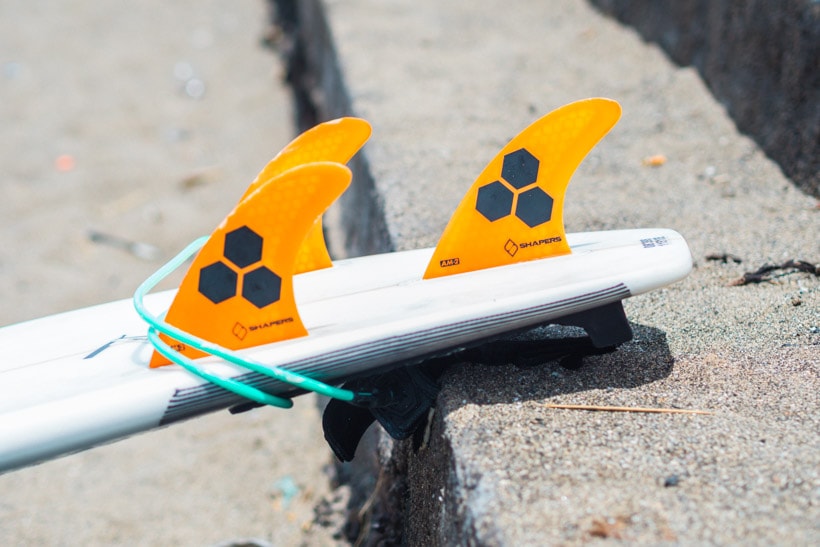 Learn to surf
Batu Bolong is a great place to learn to surf because the wave is slow and easy to catch. But the line-up usually gets very crowded, especially in the morning from about 8 am for a couple of hours and then again in the afternoon. Surfboard hire is usually around 100k a day, but you can probably get a better deal if you just want to use it for a couple of hours. If you don't feel like jumping in the water alone, there is usually no difficulty finding someone who can teach you. Everyone in Bali seems to know either a surf instructor, tour organizer or driver. Or you can book a 2-hour surfing lesson here!
If you really want to give surfing a go, check out this surf camp where all levels from beginner to advanced surfers are welcome! You will be taught how to surf or improve your skills while meeting new people from all over the world that share the same passion. Best of all is that you can choose the length of the stay yourself!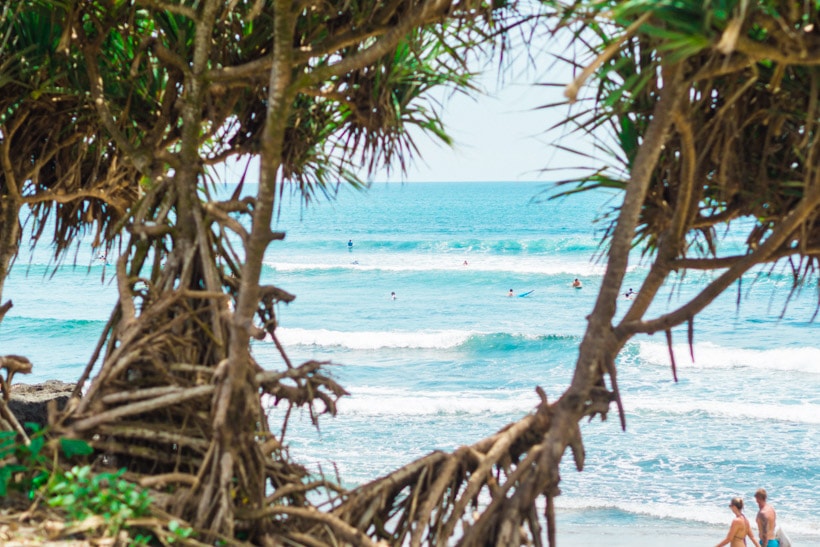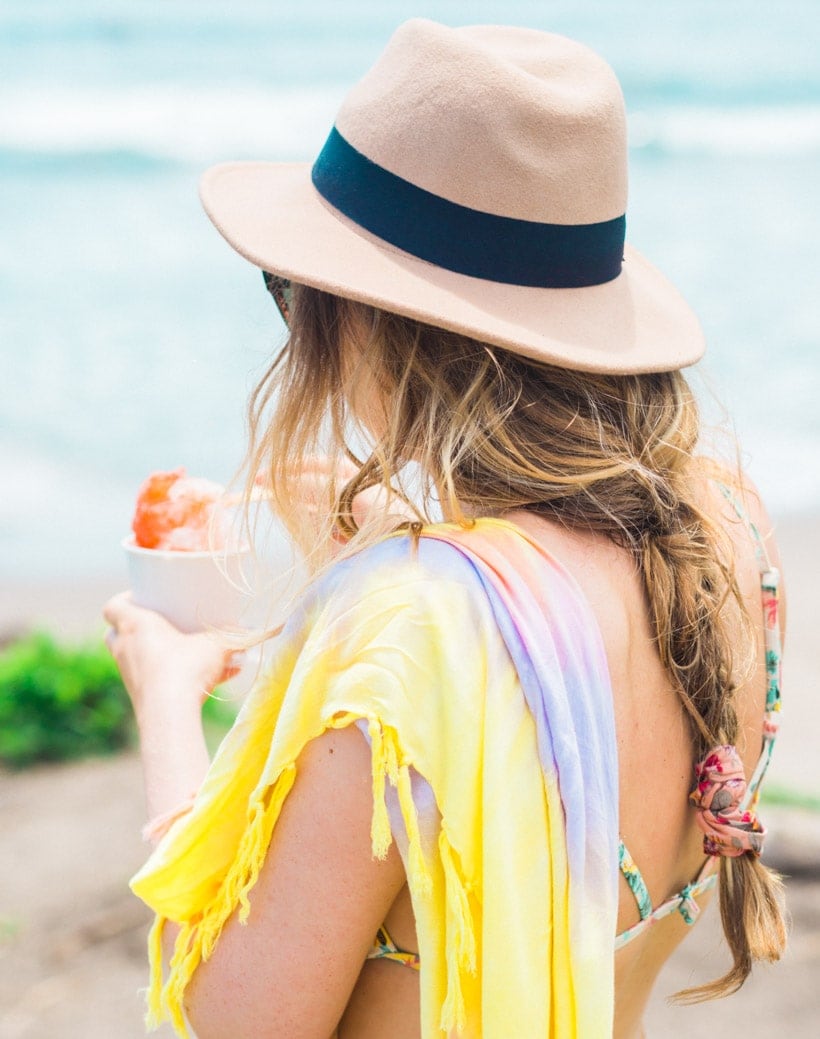 Enjoying some delicious all natural strawberry and lime shave ice from the Snoko Shave Ice truck. You have to try it!
Have you ever been to Canggu?