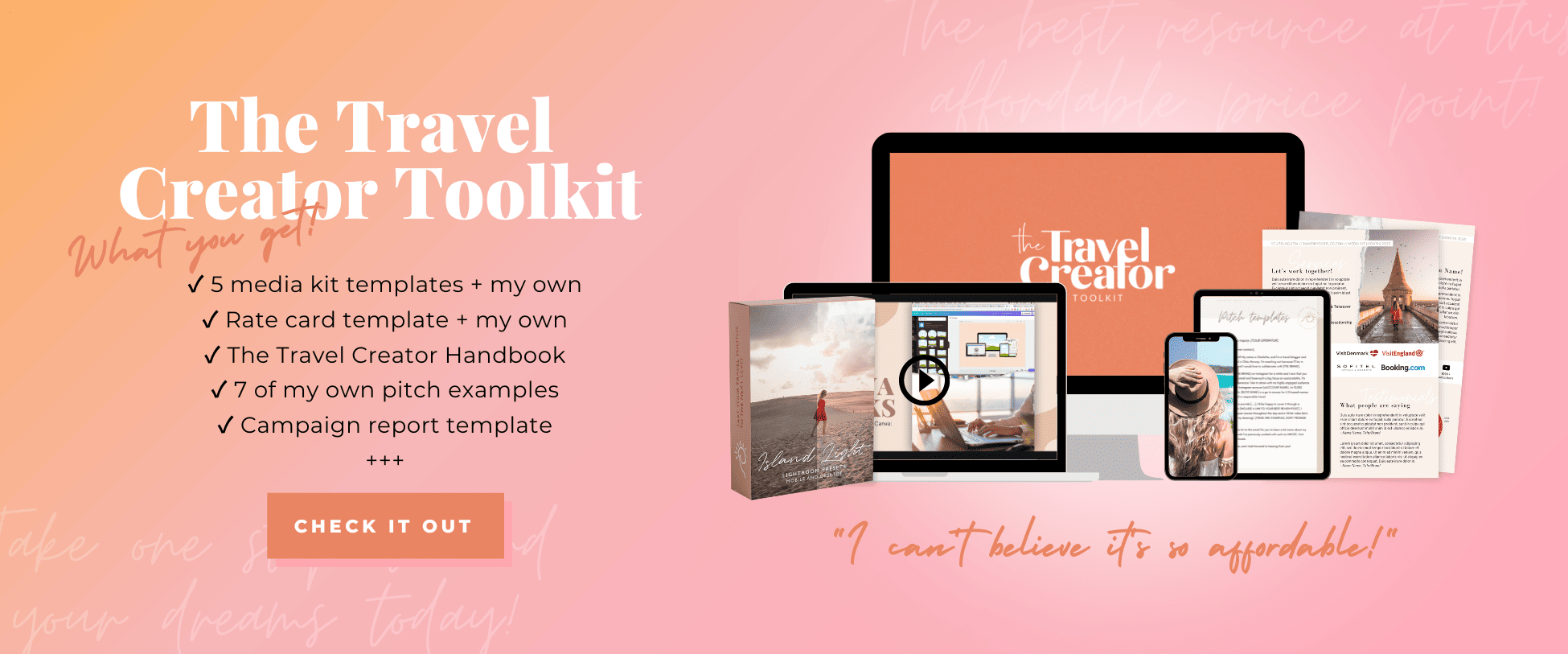 This post contains affiliate links. I will earn a small commission if you purchase through them, at no extra cost to you.
Are you ready to book your stay close to Batu Bolong Beach in Canggu? Then you've come to the right place. I've been traveling in Bali for more than 14 years and spent several months living in the Batu Bolong area.
The beach is named after a nearby temple called Pura Batu Bolong, which is perched on a rocky outcrop overlooking the ocean. And the beach itself is a long stretch of dark sand, lined with palm trees, beach clubs and bars.
Whether you're a surfer looking for fun waves or a traveler in search of the coolest place in Bali, Batu Bolong Beach has something to offer everyone. So let's take a look at how to get to Batu Bolong Beach, where to stay and what to do in the area.
🌟 Remember to always get insurance before you travel to Bali or anywhere else. SafetyWing is an affordable subscription travel insurance that you can purchase even after departure. Read my complete SafetyWing review here.
How to get to Batu Bolong Beach
The Batu Bolong Beach area is one of the three main beaches in Canggu together with Berawa and Echo Beach. These days many also consider Pererenan as part of Canggu, although it is technically a different village. But even though they all have different names, they're really just a continuation of the same stretch of sand.
Canggu is located approximately 20 kilometers northeast of Bali's international airport, Ngurah Rai, roughly one hour and 10 minutes, depending on traffic.
From Ubud, a popular nature and healing destination, expect to spend around 1 hour and 20 minutes on the road. And to reach Canggu from Uluwatu on the south coast, where you find all the best beaches in Bali, takes around 1 hour and 40 minutes.
Easy airport transfer to Canggu
I don't know about you but after traveling for 16+ hours I'm not in the mood to bargain with drivers. The arrivals hall at Ngurah Rai Airport can be overwhelming with lots of private drivers, taxi drivers and companies pushing their services on you.
🌟 Pro tip >> To make your arrival in Bali as smooth as possible, I recommend booking this driver in advance. They will wait for you with a sign in arrivals and they'll know exactly where to take you. You also have the option to add a local sim card at checkout. Super convenient!
Popular Canggu tour
If you're not staying in Canggu, I highly recommend this Bohemian Hideaway Private Tour. Even though I used to live in Canggu, I really enjoyed not having to worry about transportation or planning.
My guide Agung was super cool and knowledgeable, he went above and beyond to make the day memorable. He even showed me a few hidden gems only locals would know about.
The full-day tour is fully customizable, so if you already know exactly what to do, just let your guide know. Lounge in a beach club, go surfing, enjoy some tasty treats in one of the super cool cafés, do some yoga, visit temples, or go shopping at the many markets.
Other popular tours
How to get around Canggu
Rent a scooter
I highly recommend you rent a scooter to get the most out of your time in Batu Bolong and Canggu. It is one of my favorite places in Bali to drive by myself. I love zipping around on the backroads feeling the sun on my skin and the wind in my hair.
You can easily ask your accommodation to arrange a scooter for you, or motorbike as the locals call them. It usually costs around 75.000 IDR a day, if you rent for longer periods of time you can bargain the price down a bit. You can also book a scooter in advance online.
Just make sure your travel insurance covers you and look out for scams run by both the police and renters. Read more about it in my article about common scams in Bali and this one about things not to do in Bali.
Scooter delivery
Get a scooter delivered to your hotel or homestay. That way you don't run the risk of being told that there are no more scooters available. It doesn't get more convenient. All of this is included in the rental:
Helmet for maximum 2 persons
full tank of gas (petrol) upon delivery
24/7 road-side assistance
Mobile phone holder
First-aid kit and rain poncho (for maximum 2 people)
🛵 Check price and availability here >> Scooter rental with delivery
With a private driver
When I'm doing day trips to different parts of the island or covering a lot of places, I often book this driver. You can, of course, drive your scooter as well, however, for longer distances I prefer to enjoy the landscape from the comfort of an air-conditioned car.
Also, parking isn't always easy on the island, so that way the driver takes care of parking while you can focus on enjoying beautiful Bali.
This is a super affordable full-day customizable tour, which means you have the driver for 10 hours and you can go wherever you want. It's the perfect option if it's your first time in Bali and there are a lot of places on your Bali bucket list.
🚘 Check price & availability >> Private Bali driver with optional guide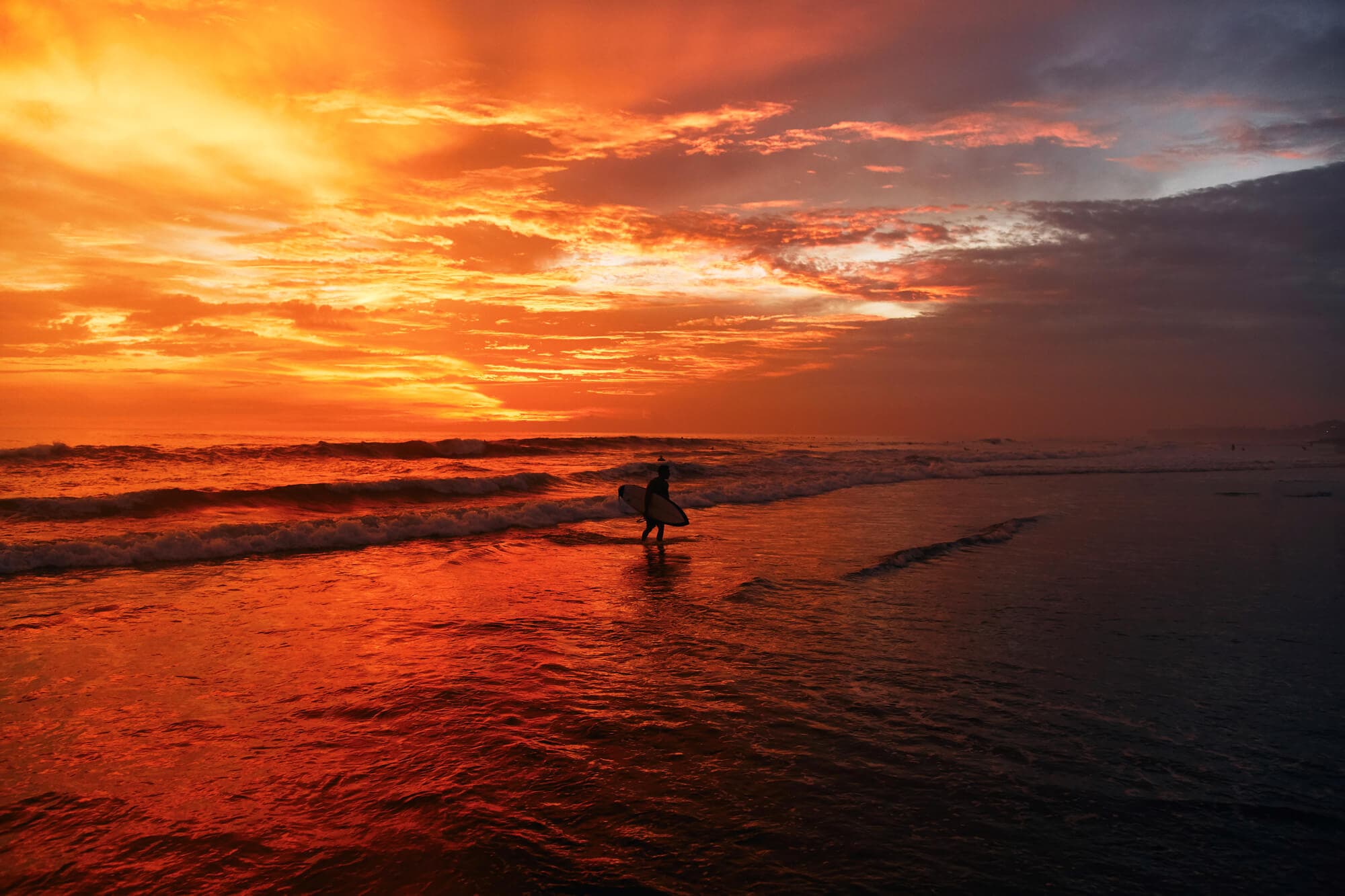 Best time to visit Batu Bolong Beach
Canggu is home to one of the busiest expat communities in Bali, so Batu Bolong Beach is busy all year round. My favorite time to visit is February to April. That's when everything is lush and green after the rainy season and the weather is mostly clear, with fewer tourists around.
High season (June to September)
The high season in Bali is from June to September, and during this time, Batu Bolong Beach can get crowded. This is the peak tourist season in Bali, and many visitors come to the island to enjoy the sunny weather and the beautiful beaches. If you don't mind the crowds and want to experience the lively atmosphere, then this is the best time to visit Batu Bolong Beach.
Shoulder season (April to May and October to November)
The shoulder season in Bali is from April to May and October to November. During this time, the weather is still warm and sunny, but the crowds are thinner. You can enjoy the beach without having to deal with too many people, and you can also find some great deals on accommodation and activities.
Low season (December to March)
The low season in Bali is from December to March, and during this time, the weather can be unpredictable. It's the rainy season in Bali, and you can expect some heavy downpours. However, if you don't mind the rain and want to avoid the crowds, then this is a good time to visit Batu Bolong Beach.
You can also find some great deals on accommodation and activities during this time, except for the weeks around Christmas.
Where to stay in Batu Bolong
D'djabu Villas Canggu
D'djabu Villas Canggu is a fantastic mid-range accommodation option for those looking to stay just a few minutes walk from Batu Bolong Beach. In fact, it is one of the best places I've ever stayed in the Gu.
The hotel consists of 2 kinds of rooms, deluxe rooms with sea view and deluxe rooms with pool view, complete with a shared kitchen and living room. There's also a 24-hour reception so you don't have to stress about what time you'll arrive.
The staff is friendly and attentive, ensuring that you always have everything you need for a comfortable stay. The location is ideal, with easy access to the beach and a variety of restaurants, cafes, and shops in the area.
🌟 My favorite place to stay in close to Batu Bolong >> D'djabu Villas Canggu
Budget accommodation
If you're looking to spend your money on Bintangs and tattoos instead of accommodation, these are your best options close to Batu Bolong Beach:
RooMates Hostel Canggu: A great choice for budget travelers looking for a comfortable and social place to stay in the heart of Canggu. With a fun and laid-back atmosphere, the hostel offers a variety of dormitory-style and private rooms. The common areas are spacious and inviting, with plenty of opportunities to meet other travelers and make new friends. The staff is super friendly and helpful, providing recommendations for local activities and attractions.
Dicky Guest House 2: The perfect budget option for those looking for a more calm and peaceful Canggu experience. Dicky Guest House 2 is built in a traditional Balinese style with double rooms set around a pool overlooking lush rice paddies. It feels serene even though it is located within easy walking distance of Love Anchor Market, several cool restaurants and Batu Bolong Beach.
Luxury Resorts
If you're looking for a more luxurious experience near Batu Bolong Beach, there are also several high-end resorts to choose from. Here are the two best options:
Tugu Hotel Bali: You'll find one of Bali's most iconic hotels just a stone's throw away from Batu Bolong Beach. Tugu Hotel is like an oasis in the Canggu mayhem and offers luxurious rooms and suites, as well as private villas with their own pools. Guests can also enjoy a spa, restaurant, on-site bar and even cooking classes. If you can afford it, there's no better place to stay in Canggu.
Theanna Eco Villa and Spa: This eco-friendly resort is located just a few minutes drive from Batu Bolong Beach and offers luxurious villas with private pools and garden views. You have to see this place in real life. It really is the epitome of Bali chic.
Top things to do in Batu Bolong
Go surfing in the morning, join a yoga class at one of the many great yoga studios in Canggu, enjoy a healthy lunch at an Instagrammable café, get some work done at a coworking space, before heading to the beach for sunset cocktails and maybe a Bintang. That pretty much sums up life in Canggu.
The top thing to do in Canggu and Batu Bolong is of course to lounge on the beach and have some fun in the water.
What makes Canggu different from the southern tourist areas in Bali, is the shimmering black (I would say grey) sand beaches. The darker-colored sand that makes up most of the beaches north of Seminyak, got its color from Bali's volcanos.
Let's take a look at all the fun things to do in Batu Bolong in addition to hanging out on the beach.
Browse the many markets
The best thing about Canggu, other than the amazing food, is the markets. The Bazaar at Love Anchor is an absolute must. Around 100 vendors get together every day to offer you everything from handmade jewelry to organic skincare and local delicacies, all accompanied by groovy tunes from some of the island's best DJs.
On Saturdays and Sundays, Samadi puts on a farmers market where you can find all things healthy and sustainable. Be sure to check out my complete guide to the best markets in Canggu.
Shop along Jl. Batu Bolong
Jl. Batu Bolong is a bustling street that connects Batu Bolong Beach with Jl. Raya Canggu and is home to numerous shops and boutiques.
You can shop for clothing, jewelry, and other souvenirs, or simply take a stroll and enjoy the lively atmosphere. The street is also home to several cafes and restaurants, making it a great place to stop for a meal or a drink.
Trendy boutiques like The Locals, Deus ex Machina, Blood + Bone and Moon Rocks offer unique home furnishings and hip threads for every occasion.
Learn to surf
Canguu is home to several of the best surf schools in Bali, and Batu Bolong Beach is a great place to learn to surf because the wave is slow and easy to catch. It offers left and right-hand peaks that can peel for over 100m over the reef. The wave is pretty mellow by local standards and attracts a lot of longboarders and beginners.
Because the waves cater to every level, it usually gets very crowded, especially in the morning from about 8:00 am for a couple of hours and then again in the afternoon.
Surfboard hire is usually around 100k a day, but you can probably get a better deal if you just want to use it for a couple of hours. There are several warungs and stalls along the car park where you can rent. If you don't feel like jumping in the water alone, there is usually no difficulty finding someone who can teach you.
You can also book a 2-hour surfing lesson with Matahari Surf School in advance. I love their teaching style, super patient, kind and knowledgeable. Take it from someone who has been trying to learn for years, these guys are some of my favorite instructors.
🏄‍♀️ Check price and availability here >> surfing lesson on Batu Bolong Beach
Party!
Canggu is the best party place in Bali, and Batu Bolong Beach is at the heart of it all.
On Mondays, which used to be the only day off in Canggu, Luigi's has taken it upon themselves to kick the party off with eclectic house beats and techno. Around 12 pm the crowd usually moves down to Sand Bar on Batu Bolong Beach which keeps the party going into the wee hours most nights of the week.
The coolest happening of the week is, of course, Tacos and Tattuesdays over at the Deus Temple where you get a 20-minute tattoo for free with your 15k tacos. Say what?! Remember to register for a free tattoo through WhatsApp, they go super fast.
On Wednesday evenings Old Man's is the place to be for the messiest party of the week. They call it Dirty Ol' Wednesdays for a reason. The drinks are cheap and the music funky, but the big happening of the night is the super fun beer pong competition. Get there by 5:30 pm to sign up your dirty crew!
Thursdays used to be all about the Venice skater vibe at Pretty Poison. Unfortunately, the backyard skate bowl meets European grunge nightclub has now moved 25 minutes out of town, close to Pigstone Beach. It is still worth a trip but it can be a hassle to get back to Canggu as rideshares are not allowed in the area. I once saw a Gojek driver beaten by the local taxi mafia. The Back Room Cocktail Bar, a speakeasy-style bar in the back of a restaurant, can be fun.
On Fridays Black Sand Brewery is always busy and The Lawn runs 2 for 1 on certain cocktails and beers. If you venture over the shortcut to Berawa, Miss Fish and The Shady Pig is always good fun. And as per usual, Sandbar attracts the late-night, young, party crowd to end another wild Canggu night on the beach.
Saturday nights usually depend on whether there are any headliners in one of the clubs. One of the biggest happenings on the island is when La Brisa, over at Echo Beach, puts on their bi-weekly, sometimes longer in-between, parties. XBar is one of my favorite places in Canggu to pregame, their drinks have always been reasonably priced.
Sundays have always been Deus' night, their Sunday Sessions are always lots of fun. They boast all kinds of beers on tap, and a large crowd of expats, tourists and locals come together to enjoy the live music.
Watch the Sunset
Batu Bolong Beach is known for its stunning sunsets, and watching the sun go down over the ocean is a must-do activity for anyone visiting Canggu.
Bring a blanket and sit on the sand while enjoying some delicious corn on the cob from local vendors or at one of the beachfront cafes or bars.
The colors of the sky and the sea at sunset are truly breathtaking, making it a perfect opportunity for photos. Two of the best and most popular places to watch the sunset along Batu Bolong Beach are:
The Lawn
If you're not particularly fond of the sand, you should check out The Lawn. A chill all-day hangout spot where you can soak up some sun on the green lawn, lounge by the pool, enjoy a dusk cocktail or an after-dark dinner with friends. It is ridiculously expensive and crowded,
Old Man's
Old Man's sits a little further down the beach. The beachfront beer garden, which got its name from the surf break out front at Batu Bolong Beach, is the perfect place to chill out after a day in the sun and surf. Enjoy a beer or frozen margarita as the sun sets turning the sky all shades of pink and orange.
Be sure to get there for happy hour from 5:00-6:00 pm with 2-for-1 cocktails, that are already reasonably priced.
Work remotely
Canggu is a great place if not the best place in Bali, for digital nomads who are looking to work remotely. The area has a vibrant and growing community of expats, entrepreneurs, and remote workers who are drawn to its laid-back lifestyle, beautiful scenery, and great amenities.
Canggu has a number of coworking spaces, cafes, and restaurants that cater to remote workers, providing them with high-speed internet, comfortable workspaces, and all the amenities they need to be productive. Read more in my guide to the best coworking spaces in Canggu.
The best restaurants in Batu Bolong
Crate Café
Crate Cafe is a popular spot for breakfast and brunch and a true Canggu institution. They serve up delicious smoothie bowls, avocado toast, and other healthy options. The cafe has a cool, laid-back vibe and is a great place to relax after a morning surf session.
The Shady Shack
The Shady Shack, a vegetarian and vegan restaurant that serves up some seriously delicious food, is one of my old-time favorites. Their menu includes everything from burgers to salads to smoothie bowls that are seriously Instagrammable. The restaurant has a beautiful garden setting and is a great place to escape the hustle and bustle of Canggu.
Penny Lane
Penny Lane boasts a funky and eclectic vibe, with spectacular decor and a relaxed atmosphere. The menu features a variety of international dishes, with a focus on fresh and locally sourced ingredients. Some standout dishes include loaded fries, supercharged schnitzels, and exciting burgers.
The cocktails are also a highlight, with unique and flavorful options such as the spicy margarita and the passionfruit martini. The staff is friendly and attentive, providing excellent service and helpful recommendations.
Warung Varuna
Warung Varuna in Canggu is a fantastic option for those looking for authentic and delicious Indonesian cuisine. You can order the usual dishes like mie goreng, nasi goreng and satay or put together your own plate from the buffet-style counter. There are tables outside, downstairs and upstairs. Love this place!
The portions are generous and the prices are very reasonable, making it a great choice for budget travelers. The staff is friendly and welcoming, providing helpful recommendations and ensuring that guests have a great dining experience.
Deus Ex Machina
Deus Ex Machina is a motorcycle shop, surf shop, and restaurant all rolled into one. I mentioned above in the part section, but Deus is worth visiting during the day as well. The restaurant serves a mix of Indonesian and Western cuisine and has a cool, industrial vibe.
Plastic pollution at Batu Bolong Beach
Like most other places in Indonesia, the most significant environmental issue affecting Batu Bolong Beach is plastic pollution. The beach has seen a significant increase in the amount of plastic waste that washes up on its shores. And the rivers running through Canggu are basically overgrown with plastic and other waste.
So do your part, bring a reusable water bottle, or even better, a filtered water bottle. There are many cafés and hotels offering free refills these days.
Additionally, there are regular beach clean-up events organized by the local community and businesses. I always join in when I'm in Canggu, if not I bring a bag and do a little cleanup myself.
Remember to also use reef-safe sunscreen to do your part in keeping Bali's marine life as healthy as possible.
FAQs: Batu Bolong Beach
What is the main street in Canggu?
The main street in Canggu is Jalan Raya Canggu. This street runs parallel to the coast and is home to many restaurants, cafes, and shops. However it is very busy, so most tourists tend to stay along Jl. Batu Bolong, Jl. Berawa and Jl. Batu Mejan, the three main streets that connect the beach to Raya Canggu.
Can you swim at Batu Bolong Beach?
Yes, you can swim at Batu Bolong Beach. However, it is important to be cautious of the strong currents and waves, especially during high tide. It is recommended to swim in the designated areas and to always keep an eye on the ocean conditions.
What is the best time of day to visit Batu Bolong Beach?
The best time of day to visit Batu Bolong Beach is in the early morning or late afternoon. During these times, the sun is not as strong and the beach is less crowded. It is also a great time to catch the sunrise or sunset.
Where is the nicest beach in Bali?
You'll find all the best beaches in Bali on the Bukit Peninsula, mostly around the Uluwatu area. Some of the nicest beaches in Bali include Padang Padang, Melasti and Geger Beach.
Other popular Bali guides
---
Remember to pin for later 😉