This post may contain affiliate links. I will earn a small commission if you purchase through them, at no extra cost to you.
Are you looking for a hidden beach you can have all to yourself in busy Bali? Then Pantai Nyang Nyang and Nunggalan in Uluwatu might be the right choice for you. It's crazy to think that despite all the tourist mayhem in Bali, places like this still exist.
Tucked away at the feet of a lush, steep cliff wall, lies one of the longest (almost) continuous stretches of sand on the island. Most people refer to the entire beach as Nyang Nyang, but according to some locals I talked to, these are two different beaches with two different names. The western part and the first entrance you reach when driving from Padang Padang and Uluwatu is called Nyang Nyang and the easternmost part of the beach where you find the shipwrecks is called Nunggalan.
I first talked about Nyang Nyang beach in one of my most popular posts "the top 5 best beaches in Bali". Even though it has spiked in popularity in recent years I still call it a hidden or secret beach because the most people I have ever encountered at the same time are about 10. And you will always find an area you can have all to yourself.
Remember to always get insurance before you travel to Australia or anywhere else. I recommend Safetywing, an affordable subscription travel insurance that you can purchase even after departure.
Nyang Nyang Beach
All four photos below are shot on the western side of Nyang Nyang, which also happens to be my favorite part of the beach. In my experience, this side is a bit cleaner and there are also small huts made from driftwood where you can chill in the shade and lots of shell art everywhere. I love it! This is my idea of the perfect secluded beach escape.
There are no warungs down at beach level yet, but there usually are some vendors selling cold drinks and bracelets close to the entrance. So be sure to buy something cold to drink before you start your climb back up!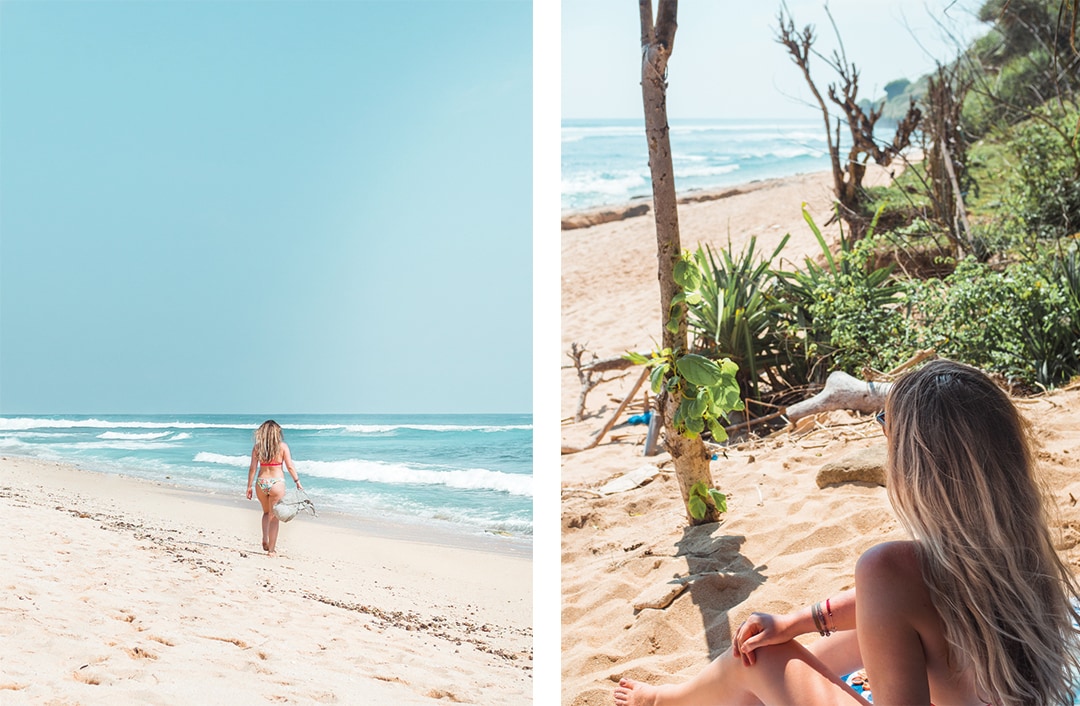 How to find Nyang Nyang beach
Option 1
This is the first entrance you'll reach when driving from the Uluwatu temple. Look for two light stone pillars and the faded Nyang Nyang Beach sign you see below. The road has recently been paved so the drive to the parking area is now super easy.
Related post: The ultimate 2 week Bali itinerary + Nusa Lembongan & Penida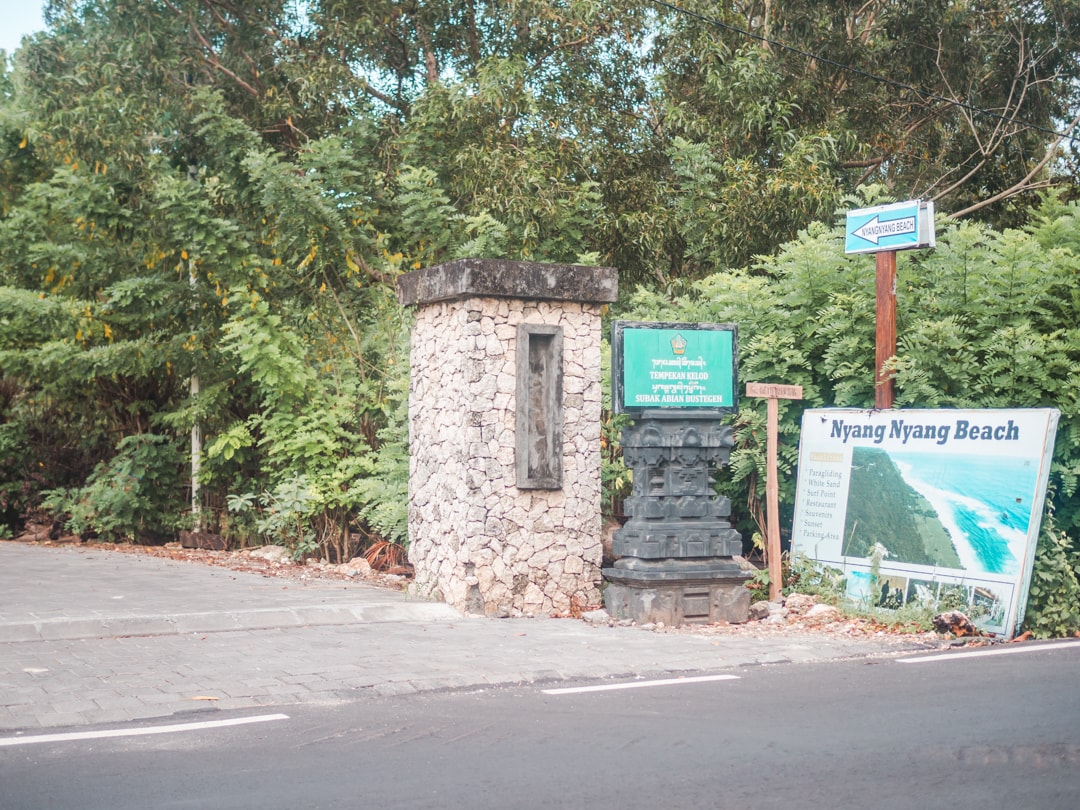 This is by far the most developed off all the entrances. There is even a proper restaurant at the top where you can enjoy both Indonesian and western dishes.
From my last visit, the pathway to the beach from the parking area had been excavated even further making it wider and the distance down to the beach a bit shorter. Off all the three beach entrances, this is the most accessible. But keep in mind that the other two options are in the shade from the trees. This road has very limited shade, so after spending an entire day on the beach in the heat, it can take its toll climbing back up.
Related post: The 11 most common scams in Bali + How to avoid them!
Option 2
Follow Jl. Raya Uluwatu and take a right down on Jl. Batu Nunggul, to find it look for the square Villa Sanctus sign and flag. Keep left when the road splits and keep driving until you reach the villa. There is a parking lot for cars on the left but if you're driving a scooter you can continue on the dirt track straight ahead. At the end of the track, park your scooter under the tree and follow the path to your left. This is when the real journey begins!
There are over 500 concrete steps down to the beach. Some parts with a railing to hold onto and some parts without. Luckily most of the stair is in the shade. But my number one tip would be to not exhaust yourself on the beach because the climb back up in the humid jungle is… yes you guessed it, EXHAUSTING! At least it was for my mum and me.
Related post: Bali Budget Breakdown: How much do two weeks in Bali cost?
The east side of Nyang Nyang is an ideal spot for a Robinson Crusoe day out, as we encountered fewer visitors here than on the west side. Swimming is also a bit easier here as there are more areas without reef in the water. There are plenty of secluded spots to enjoy and a large grassy area that you might have to share with the cows.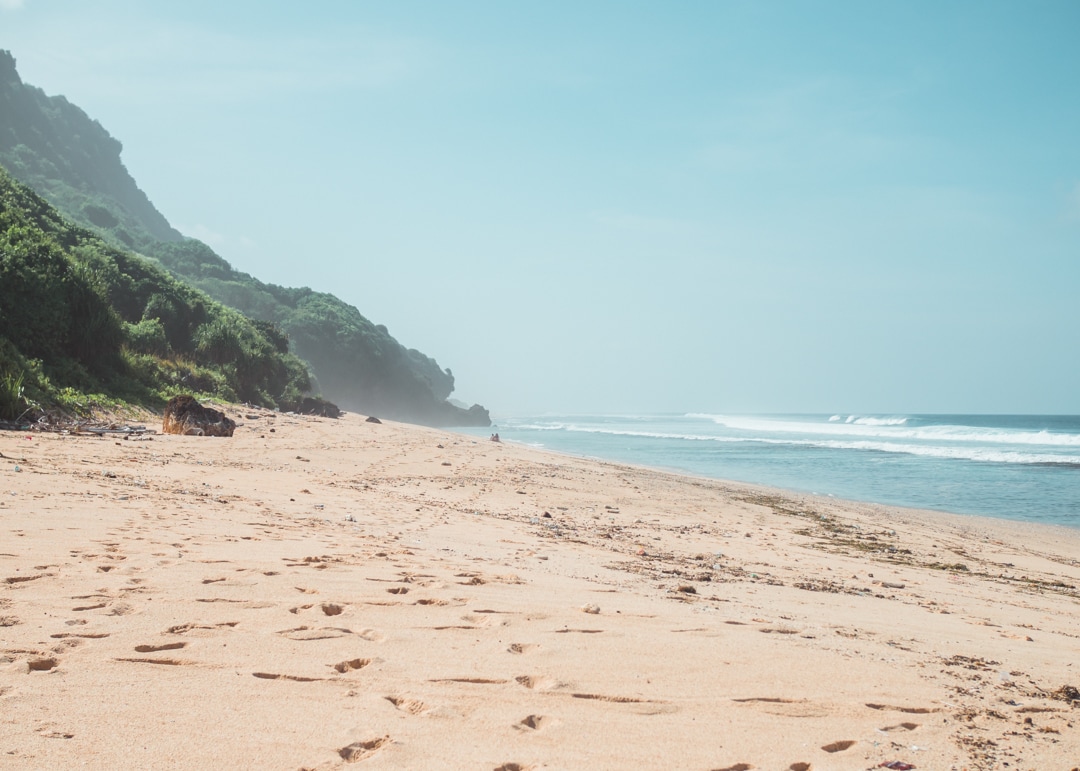 ---
Nunggalan Beach
Unless you have been living under a rock lately you have probably seen a photo or two of these shipwrecks on Instagram. I love the fact that these old metal chunks have been turned into art by both local and international artists. So much prettier than what they were before. But even though they have become super popular with Instagrammers lately, there were only a couple of local kids on the beach while we were there in the morning.
The beach itself is long, wide and lined with lush greenery, just like Nyang Nyang. There are a few spots with no reef in the water which are great for swimming. Just don't go too far out if you're not a great swimmer because the waves and currents are very strong.
We saw a few warungs here, although just a couple of them towards the top were open during our visit at around 10 am.
Related post: The ultimate Bali bucket list: 101+ awesome things to do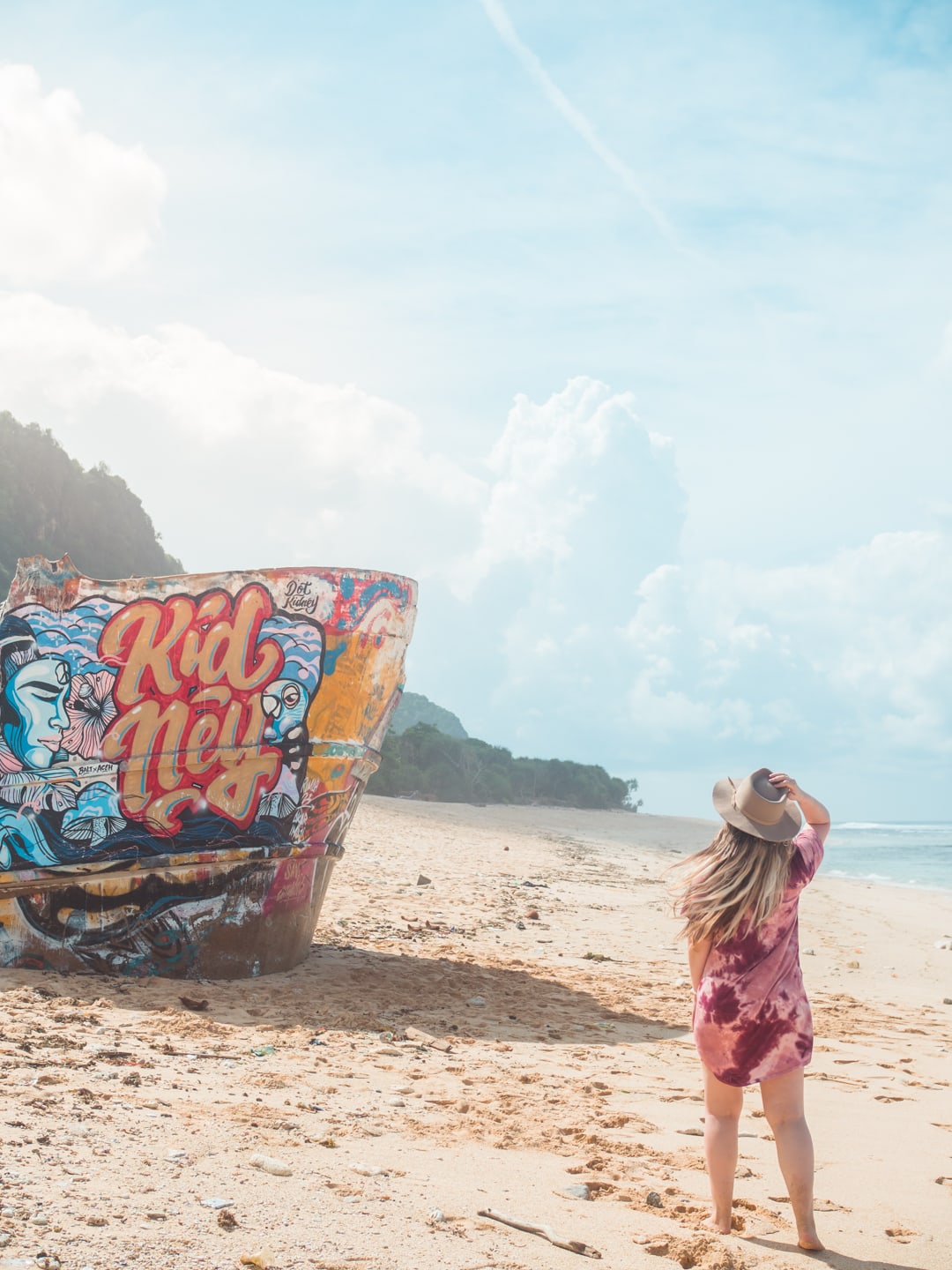 How to find Nunggalan Beach
If you're driving from Uluwatu/Padang Padang take a right on Jl. Batu Nunggalan. Look for the round Villa Plenilunio sign and a smaller wooden sign that reads Nunggalan Beach as you can see below. Follow the paved road until you reach the gates of a large white/natural stone villa called Sol y Mar. The stairs to the beach will be on your right and there is a small parking area for your scooter to the left. An older man will usually come to collect 2k for parking.
Related post: 17 things you should know before going to Bali!
The steep path down to the beach is mostly made up of roots, dirt and stones. The positive thing is that most of the hike is in the shade from all the trees. So although it is very strenuous, at least you're not doing it in the glaring sun. Almost down at the beach, you can go left to a warung if you're thirsty or right if you want to go straight to the shipwrecks.
By the time we got to the top again, I was sweating buckets as per usual, but both my mum and I found the climb back up a bit easier than the steps at Nyang Nyang.
Nyang Nyang & Nunggalan Bubble Hotels
The igloo-looking bubbles you see are the much-talked-about Nyang Nyang Bubble Hotel where you can spend the night stargazing from your bed. Over the last few years, these bubble hotels have popped up all along the beaches so there are many different options to choose from. Here's one on Airbnb.
Related post: Kubu Carik Bungalows: One of East Bali's best kept secrets
Plastic waste
Even though I am referring to these beaches as a paradise, there is a problem with plastic waste here as everywhere else on the island. I'm just choosing not to let it overpower the beauty of the area. The plastic on the beach is both left by visitors and washed up on shore by the tide.
A couple of easy things we can do to reduce our plastic footprint is to bring or buy a reusable straw and water bottle. Just look at how many plastic straws there are in this little area! There are a lot of places in Bali now offering free refills when reusing a bottle, so take advantage of it. This is especially important in places like Indonesia where there aren't proper systems in place to handle the massive amounts of waste.
---
I hope you can put this guide to good use! The Bukit and especially Uluwatu/Padang Padang is my favorite area in Bali, so be sure to check it out if you're on the island.
---
Remember to Pin for later 😀