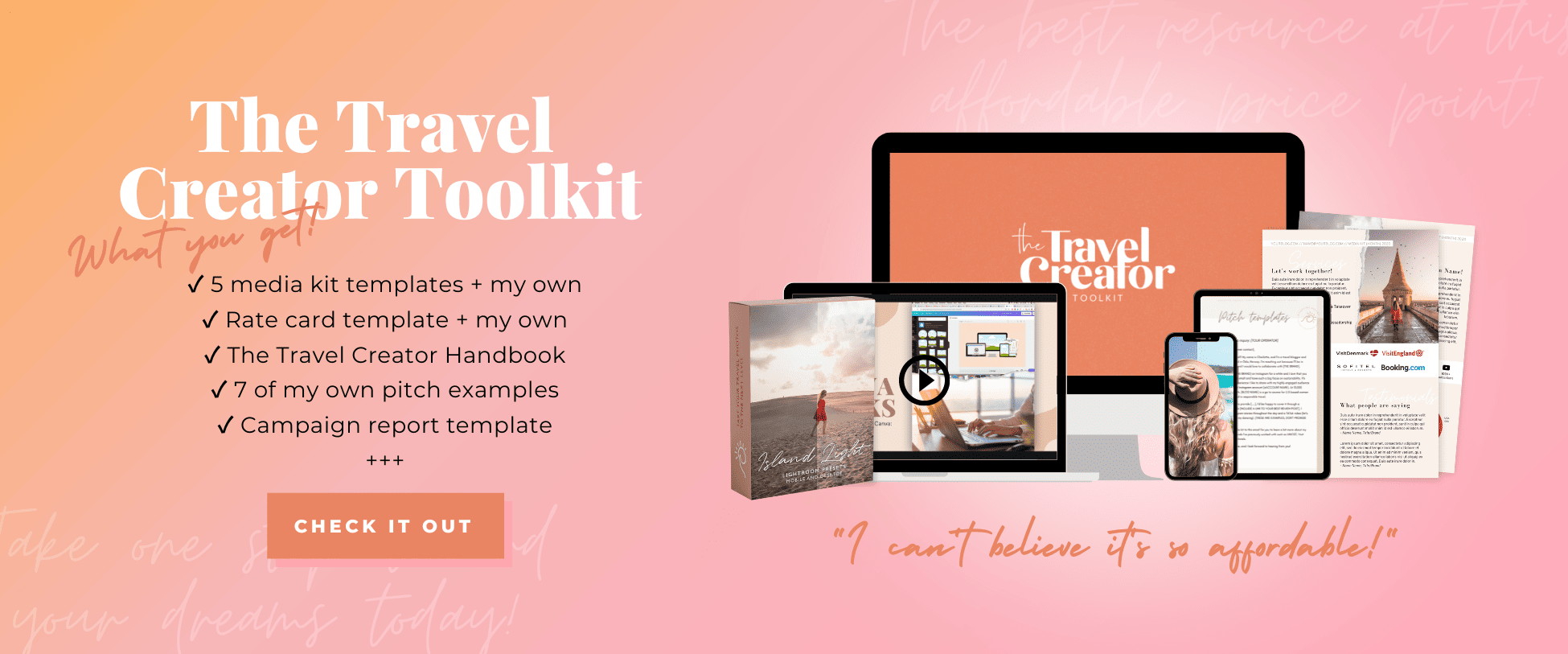 This post may contain affiliate links. I will earn a small commission if you purchase through them, at no extra cost to you.
Are you looking for the Instafamous sunrise photo spot in Tegalalang Rice Terraces? Then this guide is for you!
10 km north of central Ubud lies one of Bali's most important natural treasures and UNESCO World Heritage Site, Tegalalang Rice Terrace. No first trip to the Island of Gods is complete without a tour of its lush green heart and a stroll along the rice terraces of Tegalalang.
I have previously written about our first visit to Tegalalang Rice Terrace many years ago and what not to do there like have a hole in your pocket and lose your scooter key. So this time, I thought I would focus more on the Tegalalang Rice Terrace swings and Instagram sunrise photo spot.
Normally I wouldn't do a photography guide like this because I don't think getting great photos should be the focus when visiting new places. It can take away so much of the experience, especially in a magical place like this.
But at the same time, this is one of the most iconic sights you can visit in Bali, so you probably want some beautiful photos to show for it. I'm the same. So use this guide to get your photos out of the way early and then wander around and truly take in the beautiful surroundings.
🌟 Remember to always get insurance before you travel to Bali or anywhere else. Safetywing is an affordable subscription travel insurance that you can purchase even after departure. Read my full review here.
Best time to visit Tegalalang Rice Terrace
The best time to visit Tegalalang Rice Terrace is between 6 and 7 am on a clear day in March/April or September/October.
During these months, the rice terraces are at their best, looking lush and beautiful. All the photos in this post were shot in April.
If you want to get the best possible photos in one of Bali's most popular attractions, you guessed it, you have to get there early. Not only to beat the crowds, but you want to catch those early morning sun rays peeking through the palm trees and bouncing off the rice fields. It's the most magical experience.
Like most other places, the rice terrace just doesn't look that great in the harsh midday light. And not to mention how hot and humid it gets down in that valley!
We left our accommodation in Sebali at 6:00 am and got to Tegalalang about 15 minutes later. Even though we went so early, there were already several other photographers there. And even an engagement shoot going on. But don't let that discourage you, there's more than enough room for everyone to get their shots.
The light shining through the palm trees happens about 45 minutes after sunrise and, of course, only if it is a clear day. So be sure to check the weather forecast the night before you plan to go.
Tegalalang Rice Terrace opening hours
I have read online that Tegalalang opens at 6:00 am, 7:00 am and even 8:00 am. But in my experience, there isn't an official opening time. As mentioned above, we got there around 6.15 and found several open entrances. If the first one you try is closed, just go to the next.
How to get to Tegalalang Rice Terrace from Ubud
Tegalalang Rice Terrace is located 10 kilometers north of central Ubud and the drive usually takes 20 minutes.
During our most recent trip to Bali, we booked four nights at the beautiful Green House. We had been to central Ubud many times before, so staying in the calm rice fields halfway between Tegalalang and the center of town, was such a nice break from the normal Bali craziness.
And did I mention there is a swing in the garden overlooking a lush green rice terrace!? It doesn't get much better really. So instead of queuing up and paying for the touristy swing in Tegalalang, book a stay with Green House and take as many photos on the swing as you'd like at no extra charge.
Rent a scooter
The easiest way to get to Tegalalang Rice Terrace from Ubud is to rent a motorbike/scooter and drive by yourself. The ride was super easy, so much so that I wish it would have lasted longer.
It was so nice to drive and take in the beautiful scenery without (almost) anyone else on the road. However, I only recommend driving by yourself in Bali if you're comfortable on a motorbike. The traffic in Ubud can be a little crazy sometimes. Read more about the things you should know before renting a scooter in my articles about the most common scams in Bali and what NOT to do in Bali.
You can easily ask your accommodation to arrange a scooter for you or book one online.
Scooter delivery
Get a scooter delivered to your hotel or homestay. That way you don't run the risk of being told that there are no more scooters available. It doesn't get more convenient. All of this is included in the rental:
Helmet for maximum 2 persons
full tank of gas (petrol) upon delivery
24/7 road-side assistance
Mobile phone holder
First-aid kit and rain poncho (for maximum 2 people)
🌟 Check price and availability here >> Scooter rental with delivery
With a private driver
If you're not comfortable driving by yourself, hire a private driver. It is super easy and convenient, the driver will wait for you outside all the places you want to see.
With this customizable Bali highlights tour, you can include Tegalalang and anywhere else you want to explore. You'll have the driver for 10 hours and the best part is that it only costs around $80 for a group of up to 5 people!!
🌟 Check price & availability >> Affordable private driver in Bali
If you're not staying in Ubud, consider combining your visit to Tegalalang with other Ubud highlights such as Gunung Kawi Temple, Kanto Lampo Waterfall and the Sacred Monkey Forest.
Other popular tours
Tegalalang Rice Terrace entrance fee
The entry fee at Tegalalang Rice Terrace is 10.000 IDR per person. There are points around the terrace where locals will set up shop and ask for donations.
We paid 20k for the two of us which I think is a fair amount considering some people are actually walking all over their fields and sometimes destroying them. Parking in most places costs 5.000 IDR.
Remember to bring some small bills, more often than not they don't have enough change to give you back on a 100k. And remember if one of the locals hands you a basket, hat or some kind of prop and asks you to take a picture, they will expect a tip.
Tegalalang Rice Terrace swings
Thanks to Instagram, swings like the one above have popped up all over Bali in recent years. And Tegalalang Rice Terrace is no exception.
I'm personally not a fan of the overly touristy swings or nests, however, if you have your heart set on a swing photo there are several to choose from in Tegalalang. Take your time to check out the different options and ask around for prices. Don't be afraid to bargain and walk away if the prices are too high. I think 50,000 IDR should be more than enough.
You can also book a Tegalalang Rice Terrace swing tour here!
Safety is, of course, the biggest concern with tourist attractions like these. The safety standards in Bali are not as high as what we are used to in Western countries. Make sure that the swing you choose looks solid and that there are safety harnesses to keep you from falling off.
And as always when traveling, remember to get travel insurance before you go, just in case!
Read next >> The Ultimate Bali Bucket List – 101 things to do
Tegalalang Rice Terrace sunrise photo spot
We all know that iconic Instagram shot with the soft morning light shining through the palm trees and a girl in a dress trying to walk gracefully through the muddy and slippery rice field.
Yes, just like the one of me above. And believe it or not, that shot is very easily achievable. You just need to get there right after sunrise and know exactly where to go.
Even if you're not after that perfect shot, it's worth making your way to this location. It is a must on any Bali itinerary!
Tegalalang Rice Terrace entrance
Several paths lead to the Instafamous sunrise photo location. You can walk down one of the stairs between the restaurants and stalls or you can use the main Tegalalang entrance if the others are closed.
We parked our scooter along the side of the road close to By Vegetarian and Vegan Cafe and used an entrance that said Ceking Rice Terrace Area. We then walked down into the valley and crossed over a bridge (if I remember correctly).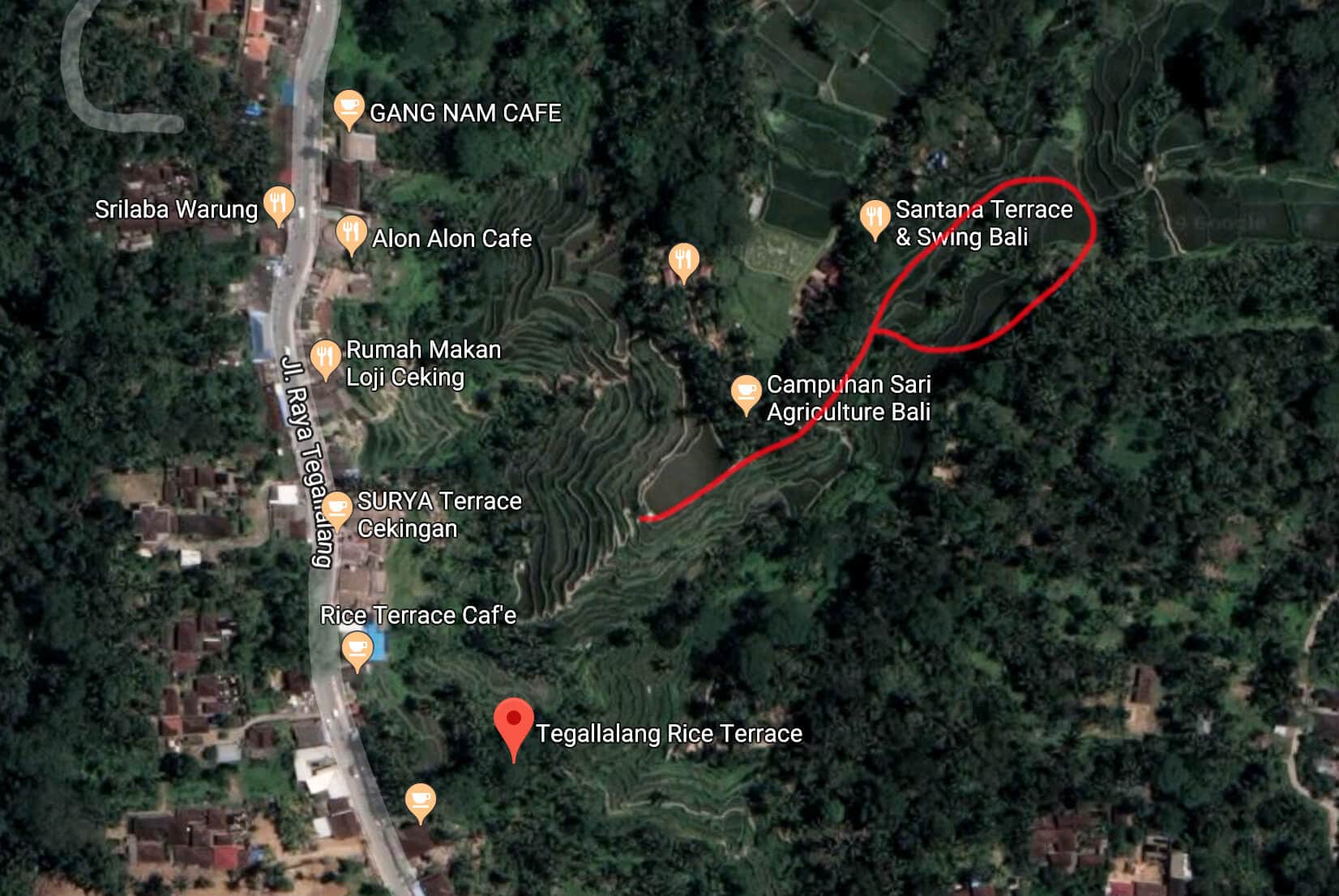 The important thing is that you make your way to the terraces that have the white paving blocks going up. It's the largest terrace with a flat area on top, you can easily see it on Google Maps above where the red line starts.
Walk up to the very top where you'll see a small hut and a gate and walk along the right side into the valley. Stop when you get to the big cement steps with a little open house and some benches and umbrellas at the top. Congrats, you have arrived at your destination!
Read next >> The 11 most common scams in Bali + How to avoid them!
The photo spot
The part of the rice field where you get the best sunrise photos is blocked off by a fence and a makeshift gate. Remember to be respectful and do not open the gate by yourself, this is Wayan's property.
He has set up quite a profitable business where he charges 50.000 IDR. to walk into his ricefield. We tried to bargain with him at first but Wayan would not budge. He knew what he could get and stood his ground. Good for you Wayan!
After we paid the 50k his stern expression suddenly turned into a friendly smile, before he guided us into the best photo spot. What I was really impressed by was that he only let about three groups get access at a time. When we were finished, it was someone else's turn. So again, it's important to get there early.
Read next >> Where to stay in Bali: A complete island area guide
What to bring to Tegalalang Rice Terrace
If you head to Tegalalang Rice Terrace for sunrise, make sure to bring enough water. It gets super hot and humid down in the valley, even in the early hours, and none of the stalls and warungs will be open at this time. The best option is to bring or buy a reusable water bottle as many restaurants and cafés in Ubud will give you a free refill when using a non-plastic bottle.
And, of course, remember to bring all the photography gear you might need.
The photo gear we used at Tegalalang
More popular Bali travel guides
---
Remember to pin for later 😉