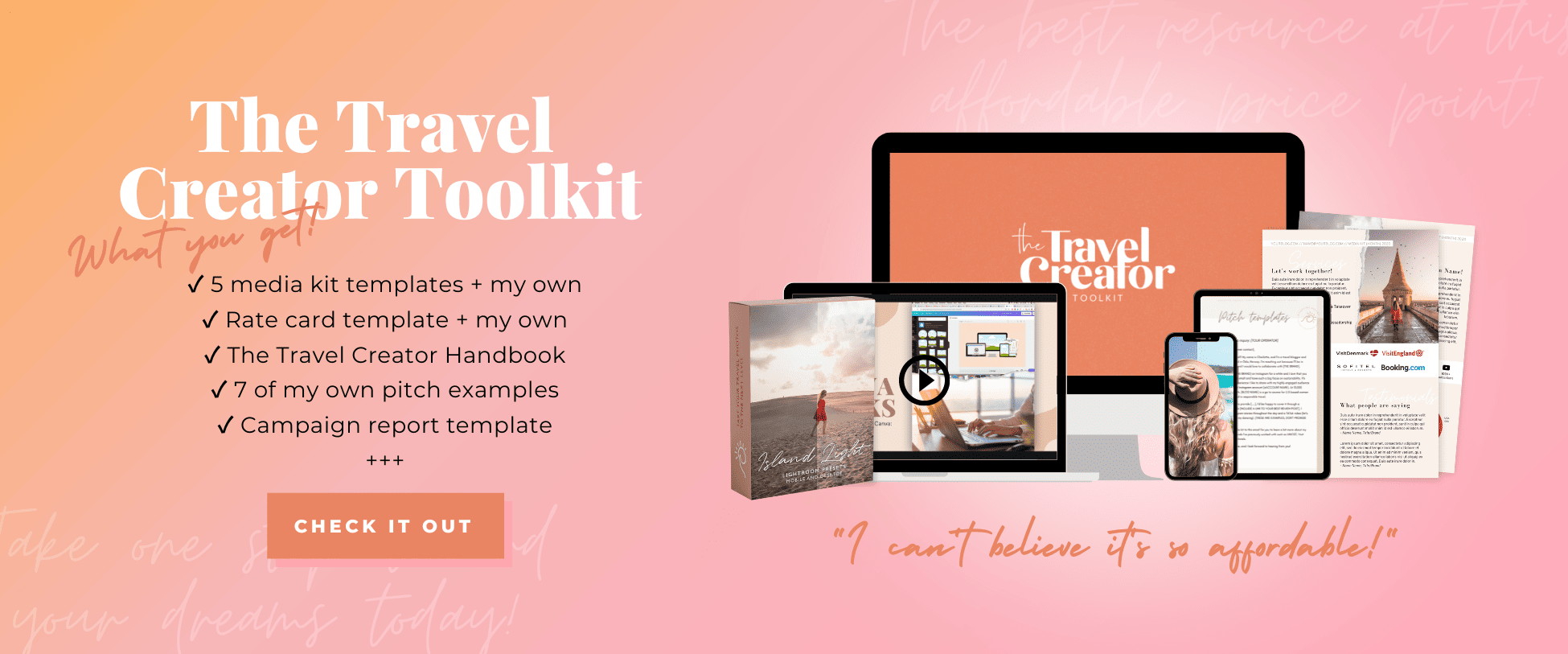 This post may contain affiliate links. I will earn a small commission if you purchase through them, at no extra cost to you.
Are you looking for the best cycling tour in Bali? Then you've come to the right place. How do I know that this is the best cycling tour? Well, I've been traveling in Bali for more than 13 years, done 5 different cycling tours, and talked to other people about their cycling experiences.
So if you're on the hunt for a fun way to explore the lush backroads of Ubud and north Bali, a cycling tour is just the thing for you. In my eyes, it is a must on any Bali itinerary and one of my favorite things I've ever done on the island.
🌟 Remember to always get insurance before you travel to Bali or anywhere else. SafetyWing is an affordable subscription travel insurance that you can purchase even after departure. Read my complete SafetyWing review here.
Best cycling tours in Bali
Many years ago, I decided I wanted to do a cycling tour in Bali because I love to explore the non-touristy areas to truly get to know the island and its people. Joining a guided tour is a good idea because you don't have to even think about the common scams in Bali.
I also think that riding a bike gets you so much closer to your surroundings and more often than not in Bali, the most beautiful places aren't accessible by car.
Choosing the right company
There are many cycling tour companies to choose from in Bali, and lots of different things to think about like route difficulty, group size, safety and price.
So I did a lot of research and read quite a few reviews before deciding to book with Jegeg Bali Cycling. Mostly because of their promise of small groups, lunch in their family compound and a very affordable price.
I have since done 3 other cycling tours that did not come close to the standard of Jegeg. Why did I not just stick with Jegeg you might wonder? Because what kind of travel blogger would I be if I did not try out different options for you guys?
However, very recently I joined my fifth cycling tour in Bali, this time with Love Bali Bike Tours, and I absolutely loved it!
So while this article talks about my cycling tour with Jegeg, I wanted to also give you a great option to book through Viator which offers free cancellation and a reserve now pay later option. The two tours are fairly similar, hands down two of the best days I've ever had in Bali.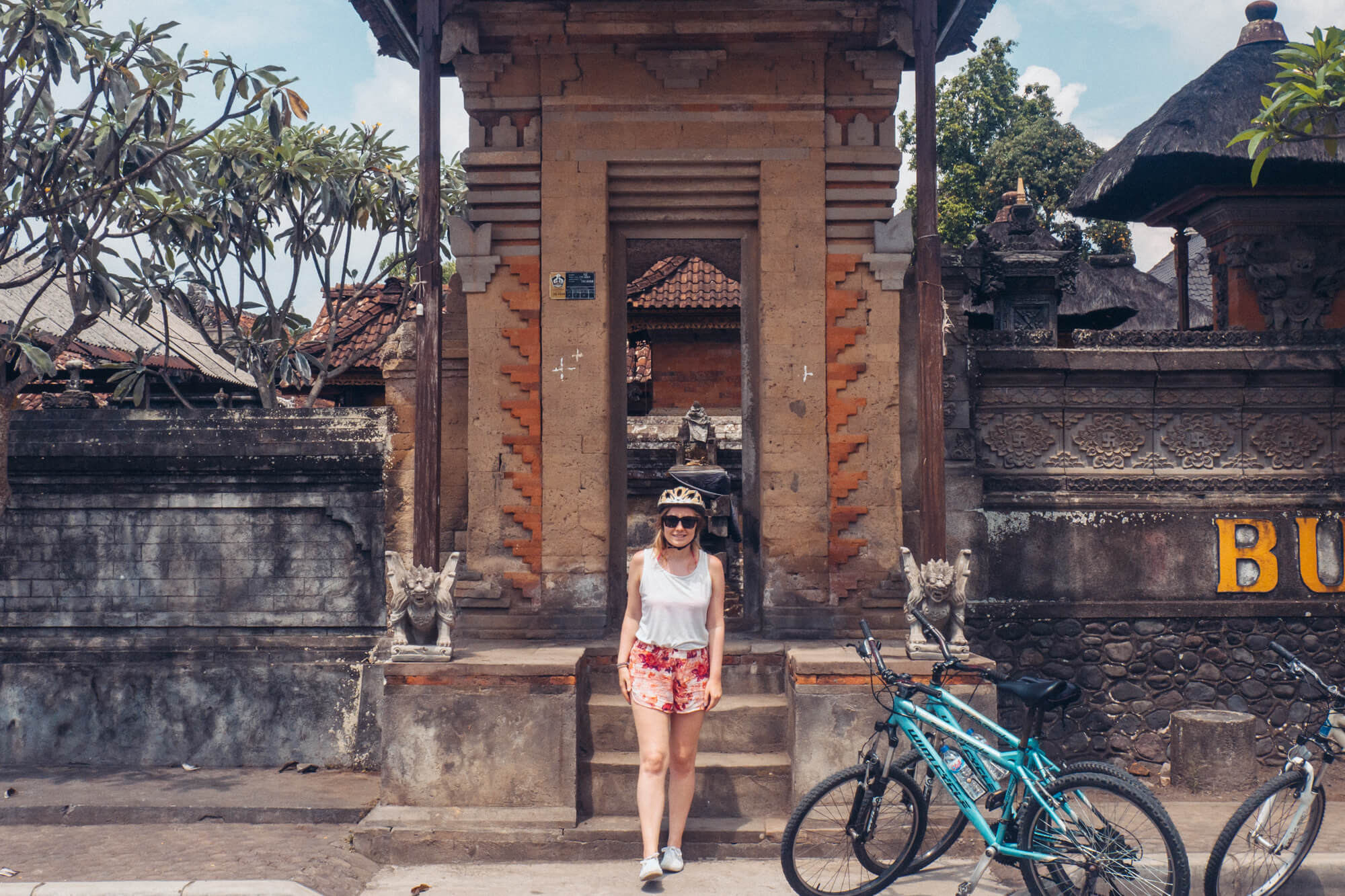 What's included with Jegeg Bali Cycling?
Pick up/drop off in AC car
Small groups
Water and fruit
Stop at Tegalalang Rice Terraces
Coffee plantation visit with tasting
Cycling tour with a stop in a local village
Lunch in their traditional family compound
Thank you gift
Price: 500.000 IDR ($33) with pickup in Ubud, 550.000 IDR pick-up from other locations. To be paid in cash on the day of the tour.
What's included with Love Bali Bike Tours?
Pick up/drop off in AC car
Small groups
Bottle of water
Stop at Tegalalang Rice Terraces
Coffee plantation visit with tasting
Breakfast in Kintamani
Cycling tour with a stop in a local village
Lunch in a local home
Price: $40 to be paid in advance online
E-bike option
While both tours above are very easy, even if you're not in the best shape, you also have the option to choose an e-bike tour. This half-day e-bike tour of Ubud is one of the most popular cycling tours in Bali. It also includes pick-up and drop-off at your Ubud hotel, a stop at Tegalalang Rice Terraces and a tasty Balinese lunch.
Since you're on an e-bike, the duration of the tour is a little shorter, only 3-4 hours. The perfect choice if you're limited on time!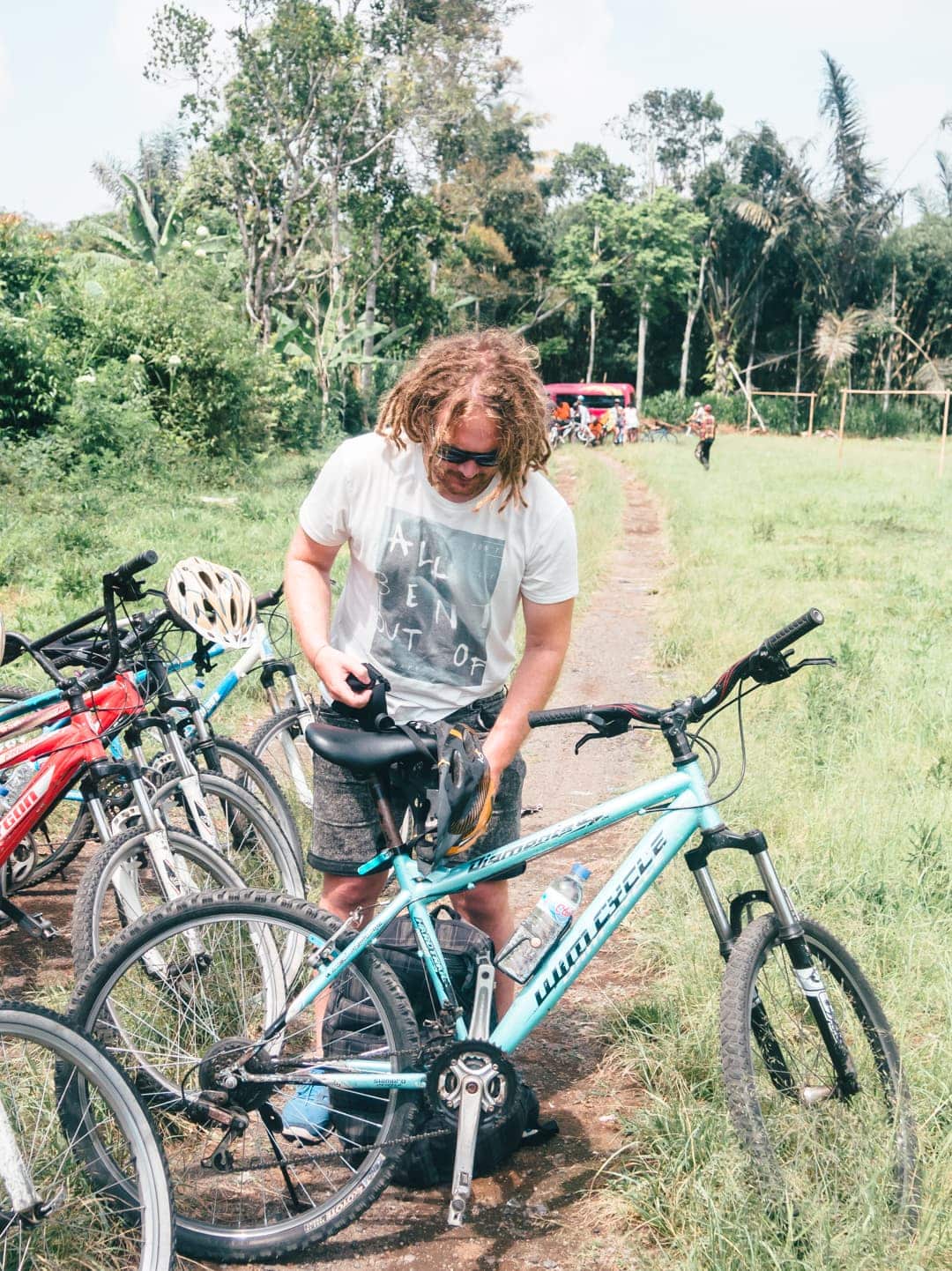 Best time to go cycling in Bali
The best time to join a cycling tour in Bali is during the dry season, which runs from May to September. During this time, the weather is warm and sunny, with little to no rainfall, making it perfect for outdoor activities like cycling.
While you can cycle in Bali all year round, the rainy season, which runs from October to March, can make it a bit more challenging. Heavy rainfall can lead to flooding and muddy roads, which can make cycling difficult and even dangerous.
It's worth noting that Bali can get quite busy during the peak tourist season, which runs from June to August (and during Christmas). This means that roads can get congested, particularly in popular tourist areas like Canggu, Ubud and Seminyak.
If you're looking for a quieter time to cycle, consider visiting during the shoulder seasons of February-April (which is normally when I would advise you to visit Bali) and September-October. During these months, the weather is still great for cycling, though sometimes a little humid, but there are fewer crowds.
Bali cycling tour itinerary
Our English-speaking guide Putu and his uncle picked us up bright and early at 7:45 am from our homestay in Ubud. (By the way, we spent 4 days in Ubud this time and it was the perfect amount of time to experience all the highlights, including a day trip.)
Putu was smiling from ear to ear and he seemed genuinely excited to show us around and explain all the different places we drove by. Such a good start to the day.
Breakfast in Kintamani
After picking up the two others joining us for the day we went by car to Kintamani where we had breakfast overlooking the spectacular volcanic caldera of Mt. Batur with its deep crater lake. We got to choose between 5 dishes and I went for the pancakes after several weeks of Mie Goreng and Nasi Goreng.
The bright morning light made it hard to photograph the stunning view, but I guess you can see. Munching on some tasty pancakes to this view was such a great start to the day. It gets a bit chilly so high up in the mountains so be sure to bring a light jacket or cardigan if you tend to get cold.
(I just checked the Jegeg website and it doesn't look like breakfast is included in the tour anymore. Instead, you will get to experience the beautiful Tegalalang Rice Terraces, perfect if you're limited on time in Bali. Love Bali Bike Tours includes both Tegalalang and breakfast in Kintamani.)
Coffee plantation visit
Our next stop was a coffee plantation located a bit further down the mountain. We walked through the magnificent hillside plantation and learned about the history, development and how coffee is made from start to finish. Ulrik even got to roast some coffee beans of his own.
Then it was time to do some tasting. As I'm not a warm beverage drinker (excessive sweater here) I only sipped on the teas after they had cooled down a bit. And boy were they delicious, especially the lemongrass one. I wish I could have had it with ice though.
Towards the end of the plantation tour, we were encouraged to have a look in their gift shop. As I like to buy things during my travels that I can actually use or even better, eat/drink, I picked up a bag of lemongrass tea powder.
I recommend you use the facilities as this is the last toilet you'll see until the end of the tour.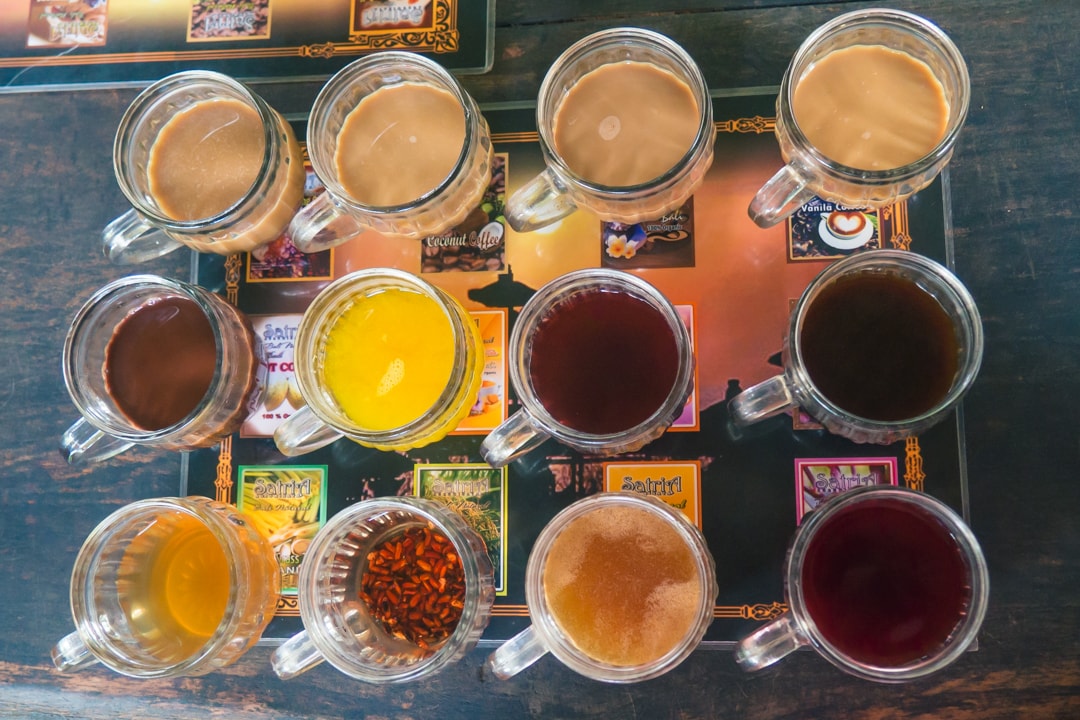 The cycling part of the tour
Next on the agenda was the actual cycling part of the day. We drove back down from the mountain to a grass field where a sea of bikes was lined up. Be sure to get a helmet and bike you feel comfortable on to fully be able to enjoy the 3-hour bike ride. Putu took his time and made sure all four of us were ready to go before he gave us a bottle of water and off we went.
We biked down picturesque palm tree-lined lanes, through traditional villages, past smiling people and more colorful temples than my eager photo-snapping self could handle. After a while, we stopped in a small town square where Putu talked about the Balinese culture, their many different ceremonies and other important traditions. I found it super interesting and asked probably a few too many questions.
The next stop was not as appealing to me and you might understand why if you take a look at the next two photos. Yes, that's right, we stopped at a large spider web with hundreds of spiders!!! One guy thought it was fun and let one of the huge spiders walk on his arm, and Putu put one on his face. Yikes!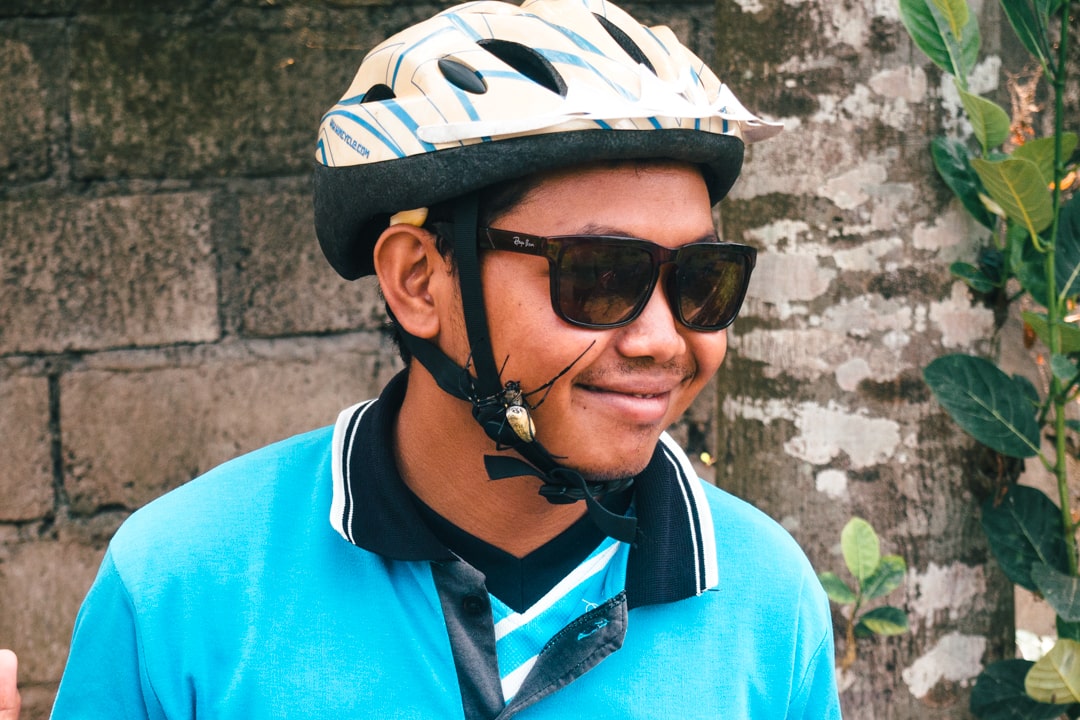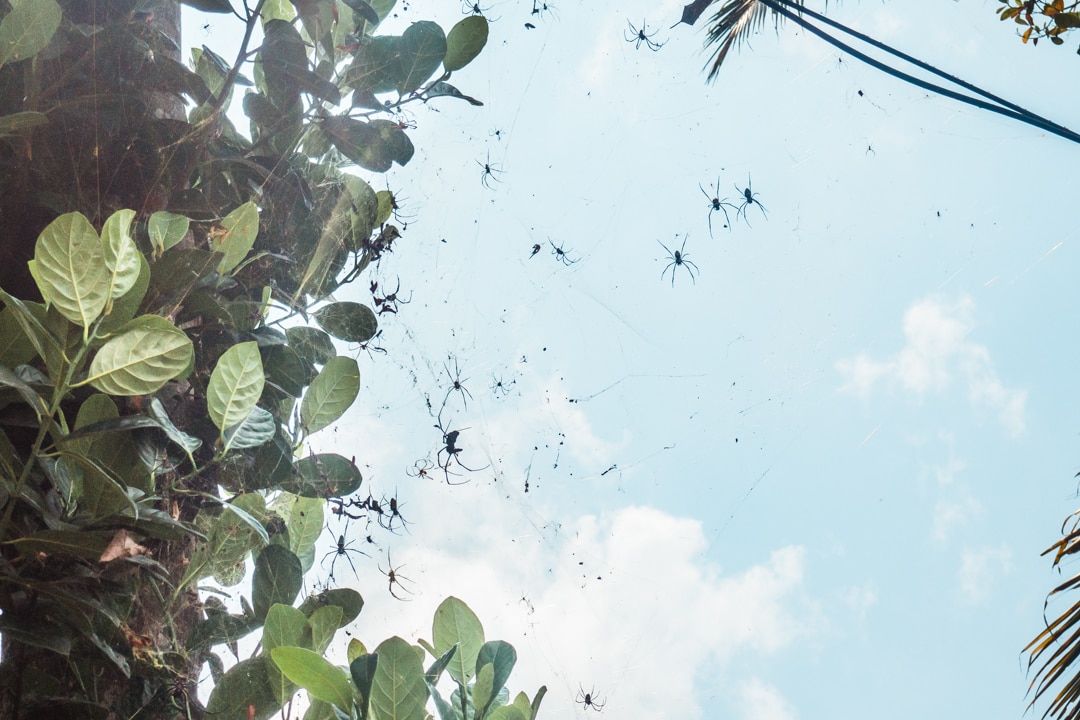 The rice fields
Another fun experience was when we stopped at a rice field and Putu told us the entire process of growing rice. I don't want to sound ignorant but I did not know growing rice was such a lengthy process.
At first, I felt a bit uncomfortable because I wouldn't want some foreigners to stand around staring at me while I was working hard. But Putu assured us that it was okay and after a while, the ladies even encouraged us to take pictures.
They explained that most of the workers you see in the rice fields don't get paid but work for four months to get a cut of the rice they harvest. That's why you won't see many young people in the rice fields anymore. Since Bali has skyrocketed in popularity, more profitable jobs are available so the young generation doesn't want to do such hard manual labor for almost no reward.
After this experience, I will never take a grain of rice for granted again.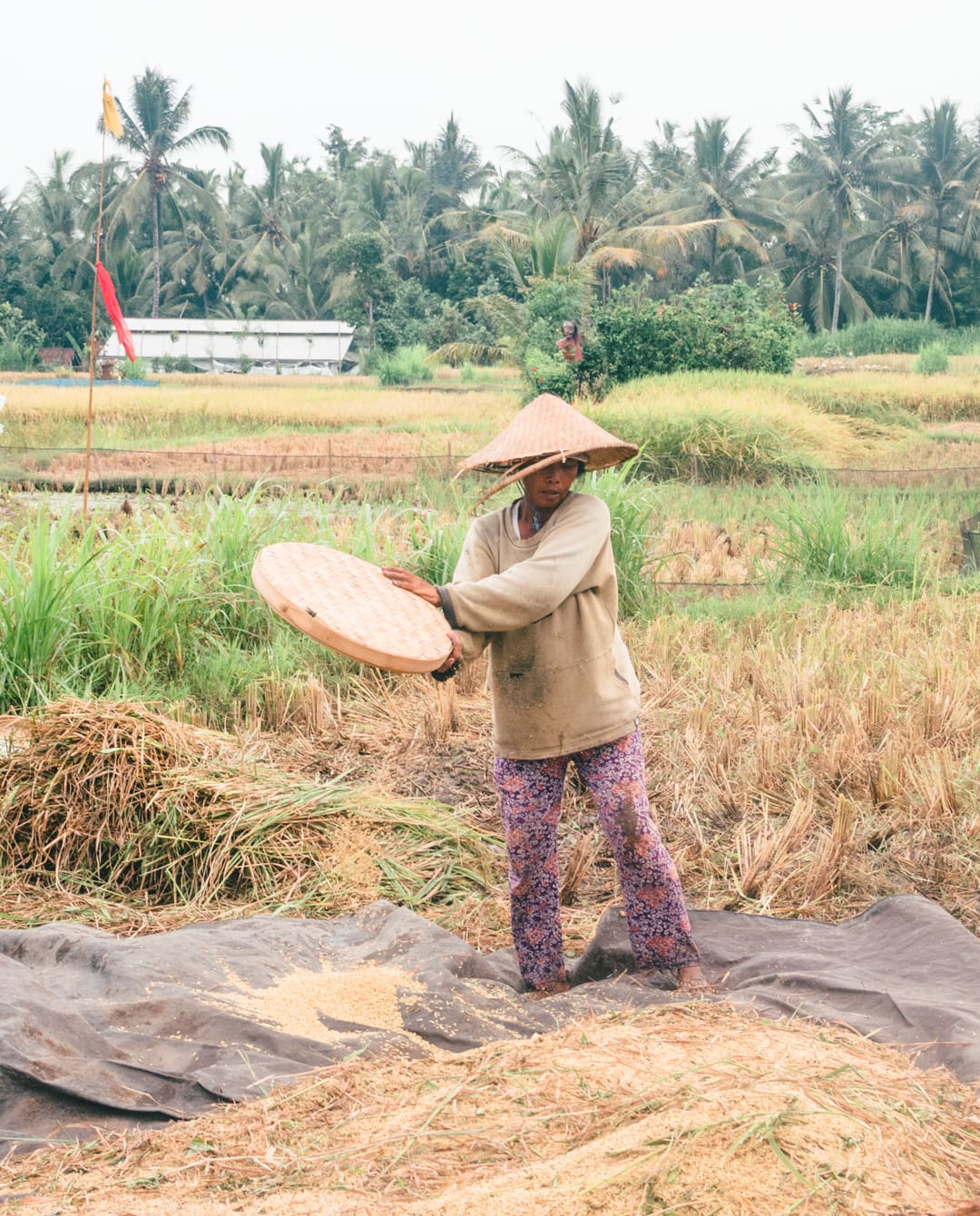 A Balinese feast for lunch
After three hours of exploring Ubud's backcountry, we finished the cycling tour at Putu's family home. Getting to come inside their compound to enjoy a traditional Balinese meal was the best part of the whole day.
Putu's mother and aunts really went all out and served over 10 mouthwatering dishes. We all looked at each other and said at the same time: this is one of the best meals I've ever had! I wish I could come back again just for the food. Yum!
I thought I already was quite knowledgeable about Balinese culture, but we learned so much from Putu and his family. Like the tooth-filing ceremony which marks the transition from childhood to adulthood. I first thought he was kidding and was shocked to learn that most Balinese people actually get their front teeth (canines and incisors) filed down to smooth away the savage aspects of the soul.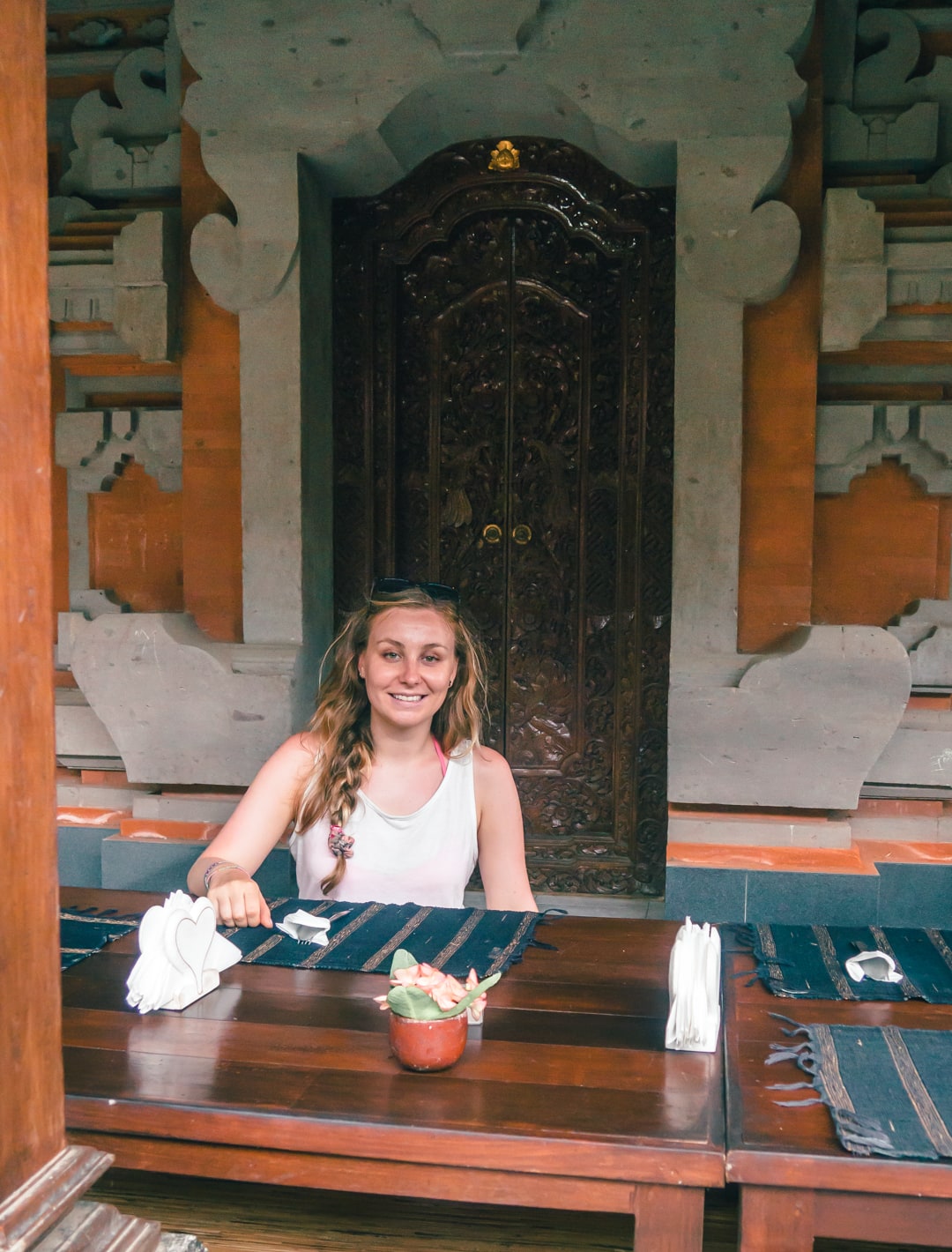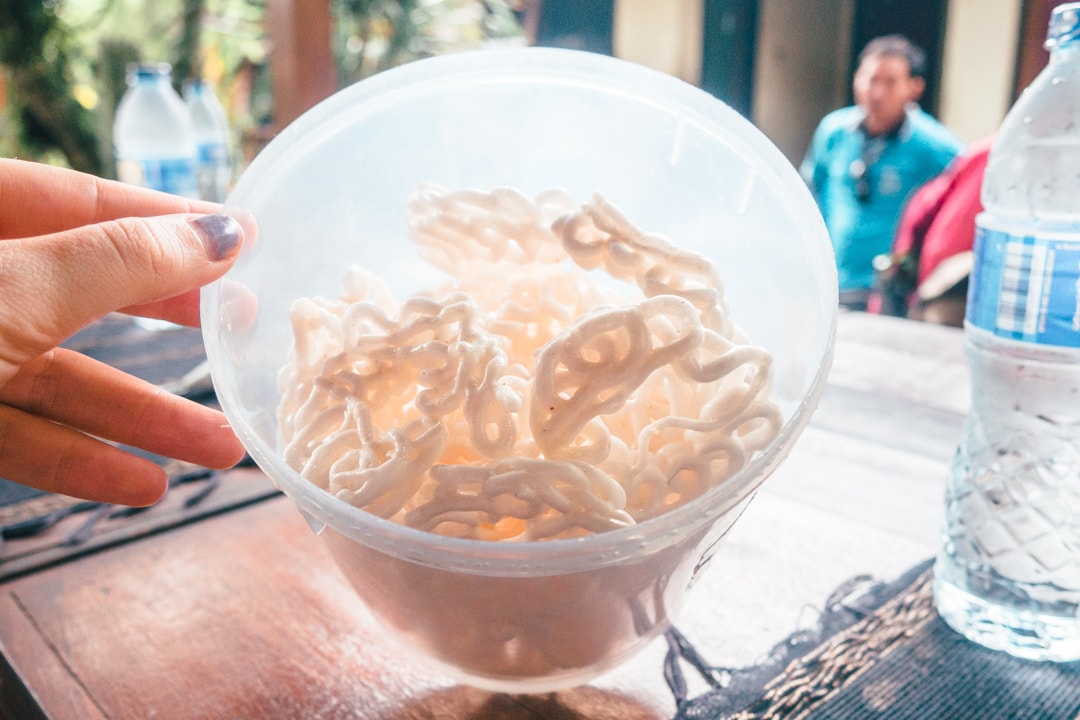 Just before we were about to leave, we received a gift. A beautiful shirt made in the neighboring village. I was surprised that after an amazing day and the most delicious meal, they wanted to give us even more.
Putu explained that since they earned a lot of money from us, they wanted to pay it forward to their neighbors and then give something back to us as a thank-you for choosing them. Gotta love the Balinese people.
I can't possibly see how the day could have turned out any better!
Bali cycling tour safety
We felt safe the whole time as Putu's uncle would drive ahead and stop traffic for us if necessary. So if something were to happen to one of us or we couldn't finish the tour, I'm sure we could just catch a ride back with him.
I felt equally as safe on both tours I mentioned earlier. During the cycling tour with Love Bali Bike Tours, one of the other attendees slipped and fell over the bike while standing completely still during a water break. She only got a few abrasions on her knee and elbow, but within a few minutes, the owner of the company was there and drove her straight to a clinic to get the wounds cleaned.
Skill level needed
Don't worry, you will be able to complete the cycling tour even if you're not in the best shape. The route is mostly downhill apart from a couple of small hills towards the end. You can get off the bike and walk up if you want to, everyone will stop for a water and banana break after the last hill.
I was a little worried beforehand since I hadn't ridden a bike in almost 10 years. But it was not a problem at all.
What to pack for a cycling tour in Bali
When preparing for a cycling tour in Bali, it's important to pack the right gear to ensure a comfortable experience. You don't need much, I packed just a few things in a small, lightweight backpack because I wanted my cameras with me at all times. You also have the option to leave your stuff in the car that follows you during the tour.
Small lightweight backpack: If you want to bring something with you during the cycling part of the tour.
Comfortable clothing: Lightweight and breathable clothing is ideal for a cycling tour in Bali. It does get very hot and humid, so you don't want to wear anything too tight. Just keep in mind that you are visiting local villages, so don't wear hot pants and a bikini top. The Balinese have gotten used to a lot over the years, but they are still modest people, so be respectful. Check out my article about what not to do in Bali.
Sun Protection: Bali is known for its sunny weather, so it's important to protect your skin from harmful UV rays when you're spending a full day in the sun. I always pack high-SPF sunscreen, sunglasses, and a hat to keep me protected from the sun.
Water Bottle: Staying hydrated is crucial on a cycling tour, especially in the hot and humid Bali weather. You will get a complimentary bottle of water, but I recommend bringing your own reusable bottle. There's a huge plastic waste issue in Bali, so please don't add to it. There are so many restaurants and hotels offering free refills these days and you can also get a filtered water bottle.
Camera: Don't forget your camera. I brought my Olympus om-d e-m5 and my GoPro and used both throughout the whole day.
Frequently Asked Questions
What are the best cycling routes in Bali?
Bali offers many cycling routes that cater to different levels of difficulty and scenic views. Some of the popular routes include Kintamani to Ubud, Jatiluwih Rice Terrace, and Mount Batur Sunrise. Each route offers a unique experience that will leave you in awe of Bali's natural beauty.
Are there any recommended cycling tours in Bali?
Yes, there are many cycling tour operators in Bali that offer guided tours with experienced guides. The two operators I recommend are Jegeg Bali Cycling and Love Bali Bike Tours. These operators provide quality bikes, safety equipment, and knowledgeable guides.
What is the cost of a cycling tour in Bali?
The cost of a cycling tour in Bali varies depending on the tour operator, the duration of the tour, and the route. On average, a half-day cycling tour costs between $30-$50.
Is Bali a bike-friendly destination?
Yes and no, I would not say that Bali is generally a bike-friendly destination. The roads are often narrow and chaotic, so it's essential to cycle with caution. If you're a cycling enthusiast you can make your way out of the tourist hubs and find calmer roads up northwest and northeast. However, you rarely see someone ride a bicycle to get around. I have once or twice in Ubud, but most people rent motorbikes. On Nusa Lembongan, however, I'm more likely to rent a bicycle.
Can you cycle in Canggu?
Yes, you can rent a bike in a few places and cycle in Canggu, which is a popular surfing and beach destination. However, it's important to note that Canggu's roads are often very busy, so be careful.
Final thoughts: Best cycling tour in Bali
I can't stress enough how much I think you should include a cycling tour in your Bali Bucket List. Whenever I show people around Bali we always do a cycling tour and I have yet to find someone who didn't enjoy it. It's a great way to get away from the busy tourist hubs and experience the real Bali.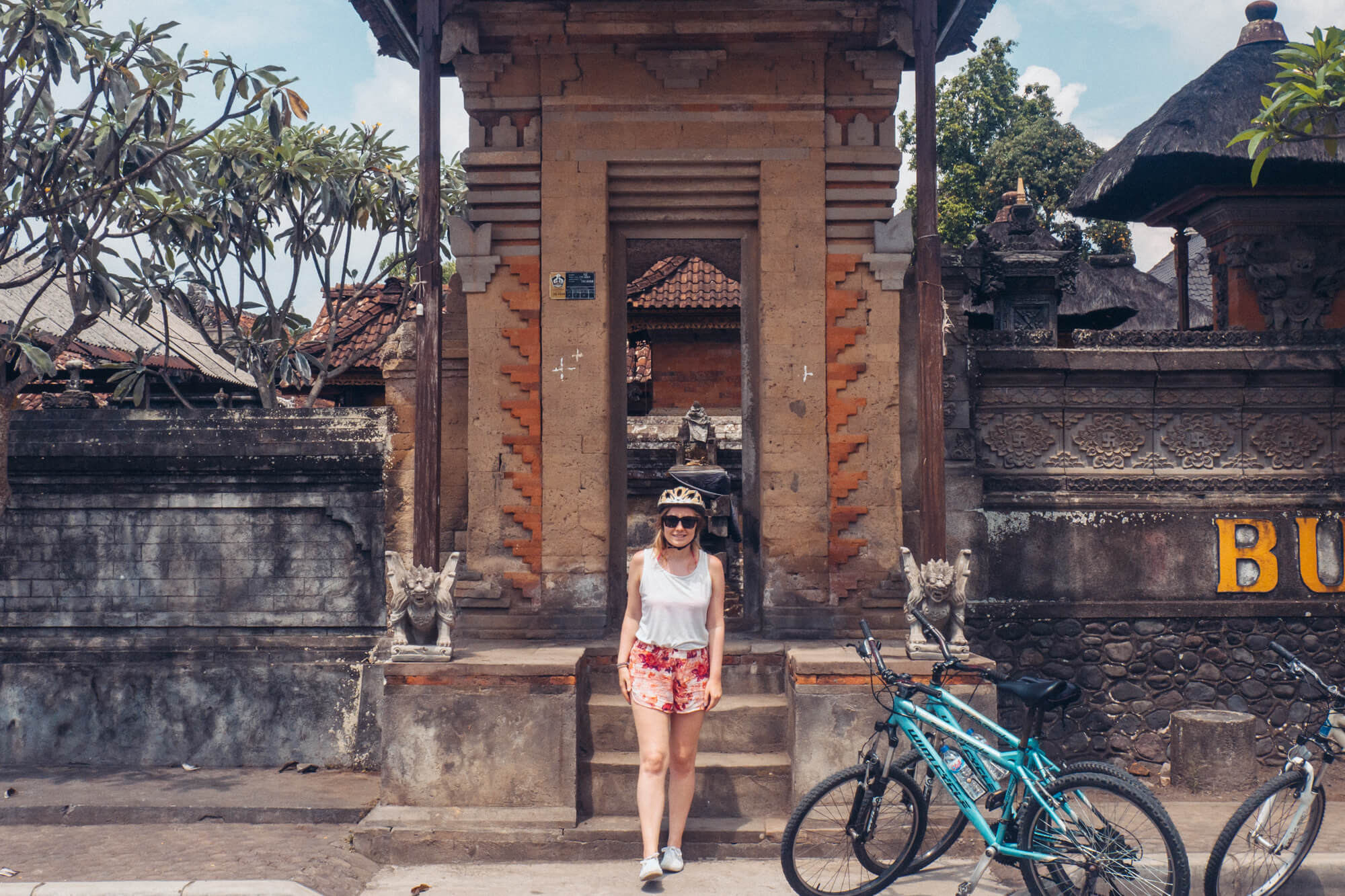 Other popular Bali guides
---
Remember to pin for later 😉