This post may contain affiliate links. I will earn a small commission if you purchase through them, at no extra cost to you.
Tucked away deep in the lush jungle of north Bali you'll find Sekumpul waterfall, one of the most impressive works of nature on the island. When arriving at the parking in Sekumpul village you can actually hear the water roar far away and the surroundings are just so beautiful. Birds chirping, a sea of palm trees illuminated by the morning sun and colorful butterflies everywhere.
The fall stands about 80 meters tall and is actually made up of several smaller cascades. Although not the largest, Sekumpul is one of the most mesmerizing waterfalls I have ever seen and is in my mind an essential stop on any Bali itinerary.
When to visit Sekumpul waterfall
You can visit Sekumpul all year round as there are positives and negatives with each season.
During Bali's rainy season from October to April the falls are at their most powerful, but the water can sometimes be brown because of all the mud and sediment the rain carries with it. And make sure to be careful as the stairs and pathways can get quite slippery and the river you have to cross at the bottom becomes deeper this time of year.
Though not as powerful, the falls are still impressive during the dry season between May and September. It's less humid and you're more likely to have beautiful blue skies which make for some great photo ops. Especially in the early morning light. But a lot of the greenery do get fried/turn brown in the warmer months so the surroundings might not appear as lush in August and September.
My favorite time to visit all the waterfalls in Bali, and the island in general really, is from March to May when the two seasons overlap. This is when you get the best of both worlds!
We booked a driver for a half-day tour and combined our visit to Sekumpul with sunrise over Pinggan Village. I'll talk more about the amazing Pinggan Village in the next post but because we had to be there at sunrise and continued straight to Sekumpul, we got to the falls at 7.30 AM.
I'm very happy we arrived so early because we had time to enjoy the area and shoot some photos in peace before the crowds started rolling in at around 9 AM. The climb back up all the stairs is of course also much easier in the cooler morning air. But remember to bring insect repellent because the mosquitos were very much active even though the sun was shining.
Related post: The ultimate Bali bucket list – 101 awesome things to do
How to get to Sekumpul from north Bali
Sekumpul is easily reached from the north coast towns like Lovina and Singaraja, it will only take about an hour. Public transport in Bali is almost no existing so you'll either have to rent a scooter or hire a driver to take you there. Day trips from north Bali to the waterfalls usually cost somewhere between 500k and 600k.
If you drive by yourself and want to go straight to the main fall search for Sekumpul on Google maps and when you reach the village the parking area is easy to find. If you get lost the locals will point you in the right direction as the waterfalls are their main income. At the entrance, there is a large banner reading "Air Terjun Sekumpul" I think or welcome to Sekumpul. The parking area will be on your left and from there it's a 2/3-kilometer hike down to the main waterfall.
---
If you don't want to arrange your own driver I can recommend this amazing tour! It's a guided walking tour of Sekumpul and it also includes a stop at Pura Ulun Danu Bratan – One of the most picturesque temples in Bali.
---
From Ubud or Seminyak
Even though it's easier to get to Sekumpul Waterfall from north Bali, I'm guessing most of you will be based in either Ubud or Canggu/Seminyak. As I mentioned above we combined our visit to Sekumpul with sunrise over Pinggan Village while staying in Seminyak. We left at 3.45 am to get there before sunrise and it was so nice to be the only ones on the road. Driving from Seminyak to Kintamani took under 2 hours while the return trip with all the traffic took more like a 3-4 hour.
I definitely recommend getting a driver so you don't spend most of the day lost on the windy steep roads of north Bali. Trust me, driving a scooter and trying to navigate at the same time usually takes a lot longer than you'd think. We paid 1 million for a full-day tour to Sekumpul and Pinggan and I couldn't be happier with our choice.
If you arrive later in the day and want to explore all the falls, using the Lemukih Waterfall entrance might be your best bet. The drive from south Bali is shorter and there are usually way fewer people there as it is little known.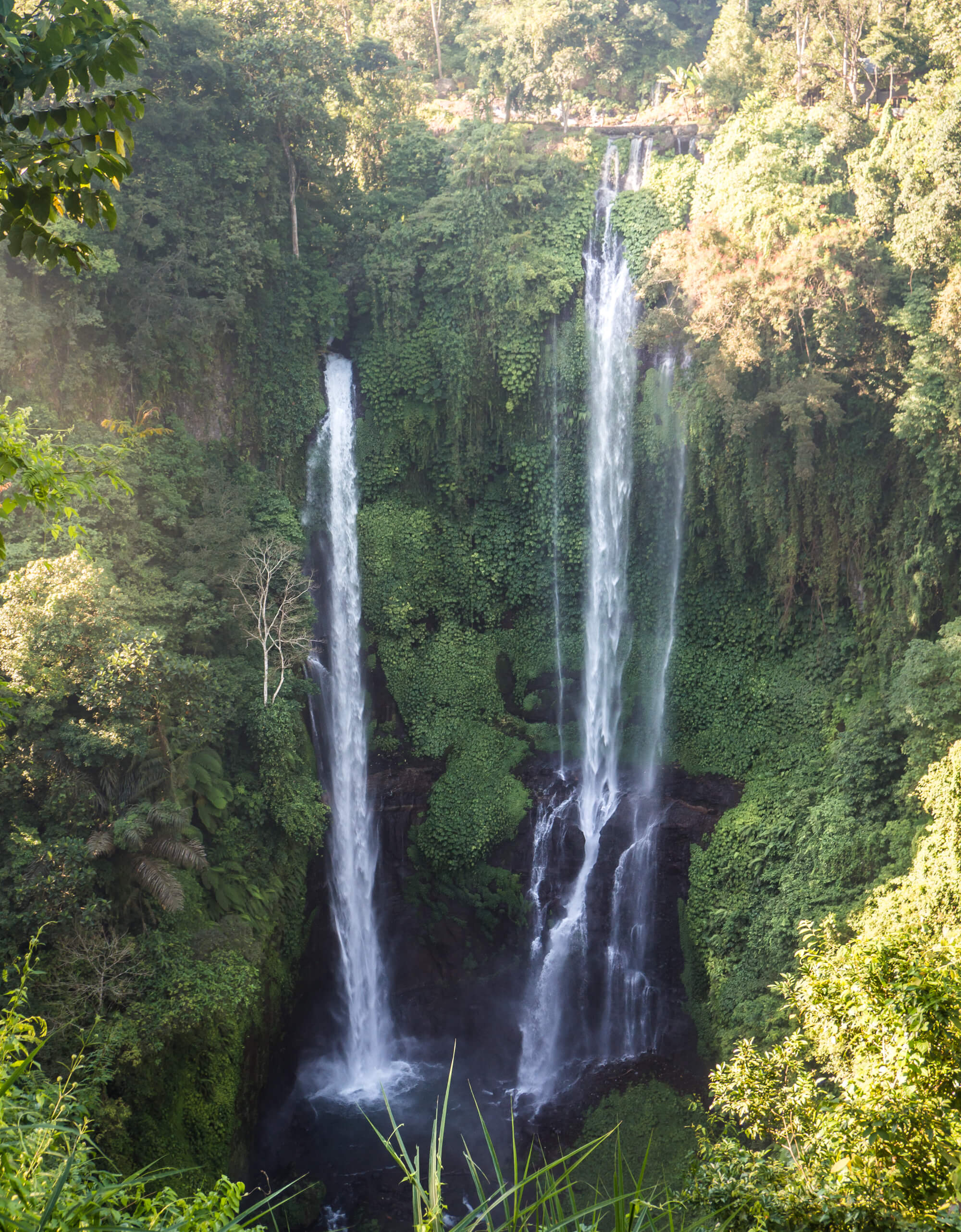 Scams to avoid
If you drive by yourself remember to avoid all the signs that say "Sekumpul Registration". These do not actually lead to the waterfall. Just look for the banner I talked about earlier.
Right after the parking area, there is a little shack where they sell guided tours, including lunch, coffee tastings, etc. The cheapest one is 100k and they go all the way up to 300k if I remember correctly. At first, I thought these packages were mandatory and I guess that's what they want you to think. But this is not the ticket booth, you'll find that a lot closer to the waterfall. It's not really a scam per se, as they will take you to the waterfall but you'll end up paying A LOT more than you have to.
Even though the guides are not mandatory, I probably would negotiate a guide without all the other stuff if I were to visit during the wet season. Especially if I wanted to see all the falls in the area, as I know some of them are harder to get to when the rivers are at their most powerful.
Related post: Jatiluwih Rice Terraces & Yeh Hoo Waterfall
The hike down to Sekumpul waterfall
The paved path to the waterfall is easy to follow from the parking area. Although it's steep and a bit of a workout, you will be able to do it even if you're not in the best shape. You'll pass several warungs on your way down, some of which offer the most amazing views from their rooftops. So definitely stop for a cold drink before you leave. Both the food and drinks here were surprisingly cheap. I had a big plate of Mie Goreng and an iced lemon tea which only cost me 40k.
The entrance fee to Sekumpul waterfall is 20k / $1.4 per person which you pay in a ticket booth towards the end of the path just before you reach the stairs.
I have to warn you, both my mum and I were very frightened by some dogs living close to the ticket booth. They were barking and barking so loud and seemed quite aggressive. The locals told us not to worry but we both found the experience to be very scary. So much so that we paid 20k to be driven back up after we finished exploring the waterfall. And I have to state that I'm a dog lover and very used to stray dogs. I haven't been frightened by dogs in Bali like this before.
After a couple of steps, there is a small path on your left from which you get the most beautiful view of the falls. That's where I shot the photo with me in it as you can see above. If there's already someone occupying that spot, don't worry, there's another viewpoint a little further down. We were lucky enough to have both viewpoints all to ourselves as we got there before 8 am as I mentioned above.
Once you're satisfied with your photos, continue to the bottom of the stairs. A narrow bridge takes you across the river and from there the path to the left continues for five minutes to the main falls and the right path leads to the additional waterfalls. Keep in mind that even though there's a bridge you will have to get your feet wet to reach the pool at the bottom of the fall. And even more river crossings are necessary if you want to explore the other waterfalls.
I've heard so many great things about Lemukih waterfall as well so if you have the time definitely continue the hike further into the valley. It's supposed to take about 30 minutes to reach the other falls. I'm so sad we didn't have the energy to do it at the time. We were just too beat from several days of climbing the stairs at the beaches on the south coast.
Related post: The top 5 best beaches in Bali you shouldn't miss!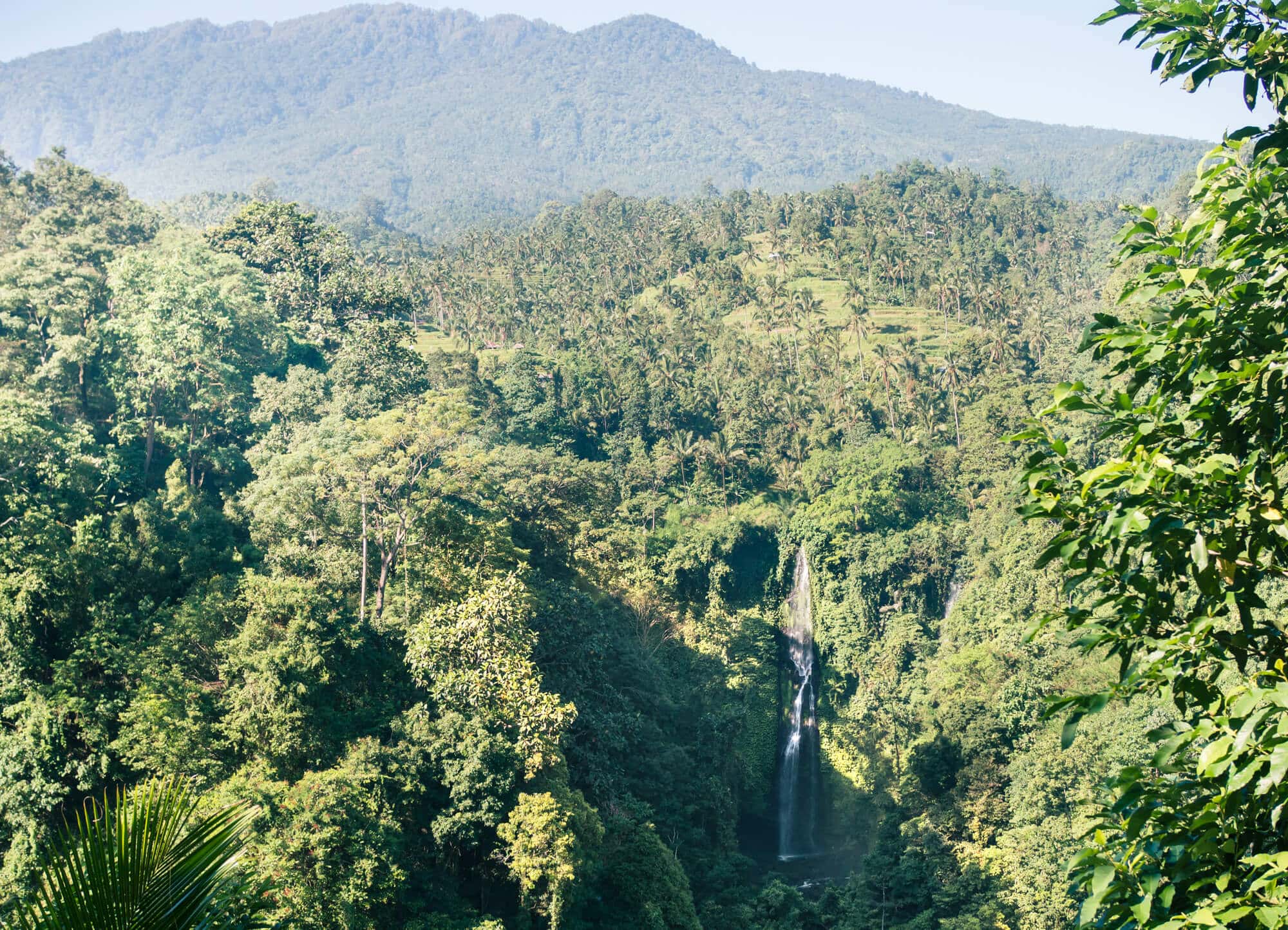 Other waterfalls in north Bali worth visiting
While Sekumpul is my favorite waterfall in Bali there are a lot more falls worth visiting close by. Banyumala is almost equally as beautiful and it does not receive as many visitors as Sekumpul, so be sure to check that out as well if you decide to go on a day trip. Others worth mentioning are NungNung and GitGit waterfall. A little further south you'll find NungNung, Tibumana and Tukad Cepung Waterfall which is located inside a cave. So definitely go chasing waterfalls in Bali!
Related post: Top 11 awesome things to do in East Bali
Have you been to Sekumpul Waterfall in Bali?
Remember to pin for later 😉