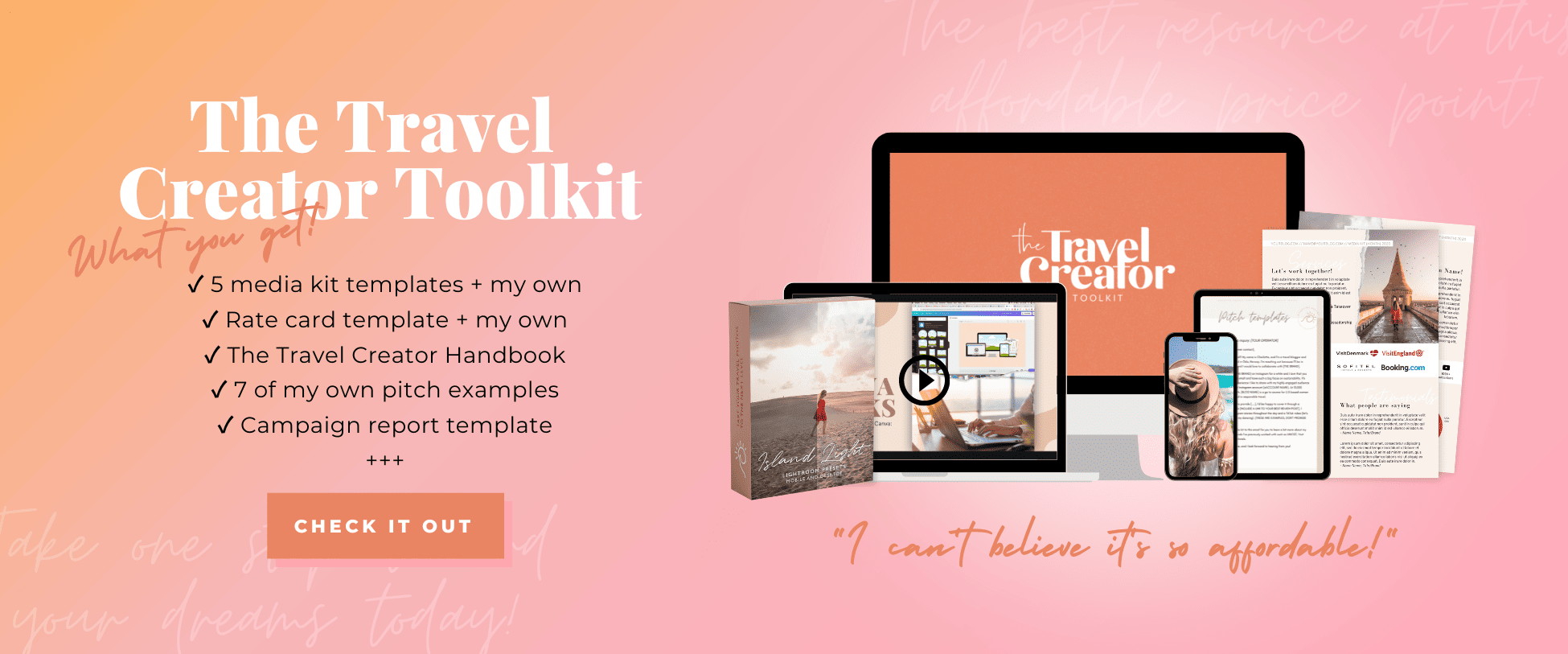 This post may contain affiliate links. I will earn a small commission if you purchase through them, at no extra cost to you.
READY TO BOOK AN EAST BALI GETAWAY? Then you're in the right place!
Often overlooked in favor of tourist hubs like Seminyak, Canggu and Ubud, East Bali is a true gem. It is a must on any Bali itinerary if you want to get away for a quiet night or two amongst lush rice fields, volcanoes and ancient temples.
Although many of East Bali's attractions have skyrocketed in popularity in recent years, there are still peaceful havens waiting to be explored.
My favorite thing to do in East Bali is to rent a scooter and just drive around on the backroads for hours and marvel at the beautiful landscape. Then, of course, stop for some mie goreng or nasi campur at a roadside warung and chat with the locals about what the island used to be like. Ah, the good life!
🌟 Remember to always get insurance before you travel to Bali or anywhere else. Safetywing is an affordable subscription travel insurance that you can purchase even after departure. You can read my complete SafetyWing review here.
How to get to East Bali
The easiest way to get to East Bali is to hire a private driver. Ask your accommodation to arrange a driver for you (everyone in Bali knows a driver) or book a driver in advance to make the experience as smooth as possible.
I usually book this driver, which is really a 10-hour customizable tour. Just tell your driver where you want to go. You won't find a more affordable driver in Bali!
You can also rent a motorbike for around 75,000 IDR per day and drive by yourself. However, I only recommend driving by yourself if you're comfortable on a scooter/motorbike, as some of the roads in Bali can be a bit rough. Read more about renting a scooter in Bali in my things not to do in Bali guide.
East Bali two-day tour
Limited on time? If you would rather have someone else organize everything for you, I recommend this popular two-day East Bali highlights tour. Discover white and black sand beaches, impressive water palaces and the famous Gates of Heaven at Pura Lempuyang.
The tour includes:
Entrance fees
A professional guide
1 night at an ocean-view hotel, including breakfast
A private air-conditioned vehicle and driver
Parking and toll fees
Water
🌟 Check price and availability here >> Two-Day East Island Tour
Other popular East Bali tours
Top 11 things to do in East Bali
1. Pura Lempuyang
Pura Penataran Agung Lempuyang is a Hindu temple located at the foot of Mount Lempuyang in the beautiful Karangasem Regency. It is one of the "six sanctuaries of the world", which refers to the six holiest places of worship in Bali. According to Balinese beliefs, they are meant to provide spiritual balance to the island.
The places of worship around Mount Lempuyang, which actually includes an entire 7 temples, are believed to be older than the majority of other Hindu temples in Bali. If you have the time, I highly recommend going on a hike to explore all 7 temples, which will take about 4 hours. This place is so special it is definitely worth the time and effort. You should snap a photo of the map at the entrance so you can keep track of where you are at all times.
These days most people know about Pura Lempuyang through that iconic Instagram photo of the Gates of Heaven with a reflection in front of it. I hate to burst the bubble but that effect is achieved with the use of a mirror. There's a local guy that will take the photo for you, in exchange for a little tip of course.
But if you want that shot you have to get there early or prepare to wait in line for a while. Sometimes hours. This is without a doubt the most popular attraction in East Bali.
🌟 My top pick >> Experience Bali's most magical temples with a private driver/guide
---
2. Taman Ujung Water Palace
Taman Ujung, which loosely translates to "the garden on the far end", tells a tale of a bygone era when the Karangasem Regency was a rich and powerful kingdom. It was built as an addition to the Royal Palace along with the more touristy Tirta Gangga, as a place to welcome important visitors from neighboring countries. Today the water palace is still owned by a royal but has been opened up for the public to enjoy.
Wandering through the beautifully manicured gardens of Taman Ujung early in the morning is one of my favorite things to do in East Bali. The vast property boasts several large pools, colorful flowers, impressive palm trees and historic structures set against the mighty Mount Agung and the eastern shoreline in the background.
We got there a little past 7 am at had the whole place to ourselves, except for a few locals doing their morning workout. The entrance fee was 50,000 IDR and if you want to fly your drone you have to pay an additional 500,000 IDR.
---
3. Tukad Cepung Waterfall
Tukad Cepung Waterfall is without a doubt one of the most spectacular places I've been anywhere in the world. This waterfall is located inside a cave and you have to walk down a few hundred stairs to reach it. But I promise you, it is worth the effort.
I would normally advise you to visit a Bali waterfall early in the morning just as the sun comes up, but here you have to time it if you want the full experience with the rays of light you see above. And since the water accumulates inside the cave, it can get really deep during the rainy season.
So for that reason, I would not recommend visiting Tukad Cepung during periods of heavy rain. We visited in late March around 11.30 am and it was perfect timing. Not too many people and the light was incredible.
Keep in mind that you will have to walk through some water and there are several smaller cascades of water flowing down the cave walls. So you will more than likely get wet. There are some warungs and cafés along the path so you can sit down and enjoy a cold coconut on your way back up.
Best of Bali Waterfalls Tour
You can visit Tukad Cepung Waterfall as part of this very popular tour that also includes Tibumana and Tegenungan Waterfalls. To round off your day you'll also be served a traditional Balinese lunch in a local warung. Don't miss this one!
🌟 Check price and availability >> Best of Bali Waterfalls Tour
---

4. Pura Besakih – The Mother Temple
Perched high up on the side of Mount Agung, you'll find the holiest and largest Hindu temple in Bali. Pura Besakih is a vast complex of over 80 separate temples and shrines, with the largest and most important being Pura Penataran Agung.
For the Balinese, visiting Pura Besakih is a truly special pilgrimage. It is the only temple on the island open to every caste group.
In the early 1960s, Mount Agung erupted several times which resulted in the death of around 1,700 people. However, for some strange reason, the lava flows missed Pura Besakih by mere meters. The Balinese people saw it as a miracle and a sign from the gods that they wished to demonstrate their power but not destroy the monument the Balinese had built in their honor.
So as you can probably tell, Pura Besakih is one of the most special places you can visit in Bali. Not only is the temple stunning in itself but the high location offers spectacular views across the beautiful countryside with rice fields, rolling hills and rivers.
---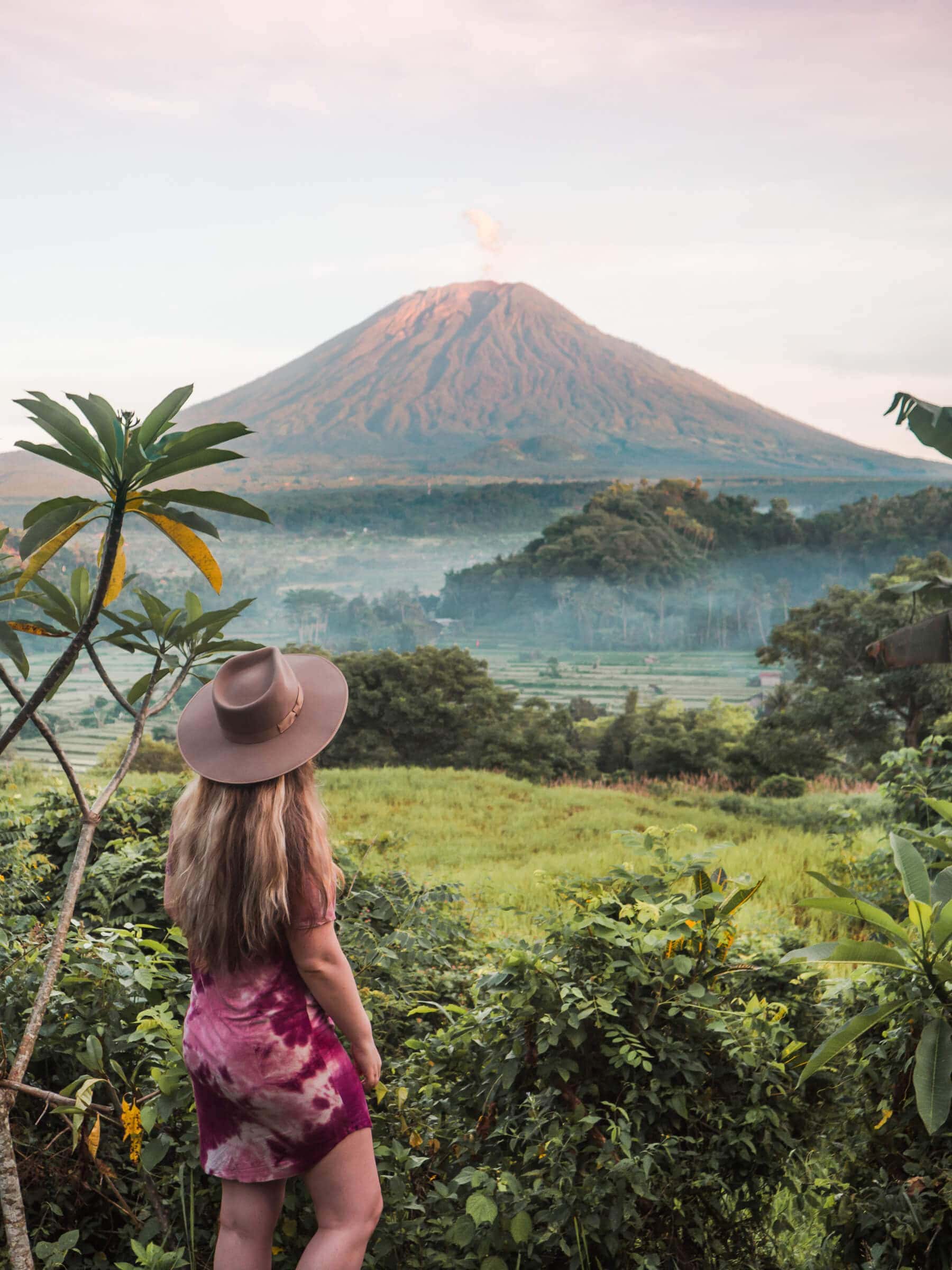 5. Bukit Cinta
I have quite a few favorite viewpoints in Bali, in fact, I throw the word favorite around a lot. A bit too much some would say. I just can't help myself, in Bali you'll find incredible beauty around every corner. Like Pinggan Village for sunrise and Karang Boma Cliff for sunset, just to name a few.
And in East Bali, one of the best viewpoints has to be Bukit Cinta. As the sun rises, Mount Agung glows in a pinkish-orange hew and a layer of mist covering the rice fields slowly dissolves which makes the whole experience feel so magical. A totally free attraction that will leave you speechless.
We went there two mornings in a row while staying in East Bali and they both felt totally different. And the day after we left, Mount Agung erupted. As you can see in the photo above, smoke was already coming out while we were there.
---
6. Dusun Kuning Waterfall
I decided to include Dusun Kuning Waterfall in this post, although it is located in central Bali, about 45 minutes east of Ubud. If you're doing a day trip, you could start with Dusun Kuning, then continue 30 minutes northeast to Tukad Cepung and finish the day at either Pura Besakih or in Sidemen Village. They are all located pretty close to each other and are a great introduction to East Bali if you only have one day to spare.
As with most waterfalls in Bali, you have to walk for about 15-20 minutes down to the waterfall from the car park. But there is so much beauty to look at along the way, so it's just part of the experience.
The waterfall itself is tall and made up of two cascades. There's a pool below where you can cool off and even a few small rock pools to take a dip in. And the best part is that this is not one of the most popular waterfalls on the island, so we have only encountered around 3-4 other people when we've been there. Definitely one of my favorite waterfalls in Bali.
---
7. Candidasa Lotus Lagoon
I've already talked about the old resort town of Candidasa in my Bali island guide, but I thought this beautiful Lotus Lagoon deserved a mention of its own. It is probably the most iconic attraction in Candidasa and its location right next to the main road makes it really easy to access.
The 1000 m2 lagoon is filled with gorgeous pink and white lotuses and has a small garden island in the middle. It's the perfect place to sit down and relax for a little under the shade of the Frangipani trees.
Just across the road from the Lotus Lagoon lies Pura Candidasa, a 12th-century temple dedicated to the Hindu god Shiva and the goddess of fertility, Hariti. A tip is to walk up the stair for an even better view of the lagoon and on a clear day, you can also see Nusa Penida island on the horizon.
🌟 I recommend >> Explore Candidasa as part of this exciting East Bali Full-Day tour
---
8. Sacred Canyon of Sukawati
Beji Guwang Hidden Canyon is one of the few attractions in East Bali that are still relatively unknown. It is located further south than all the other attractions I mention in this post, just 30 minutes northeast of Denpasar.
The strangely beautiful ravine has been created over thousands of years by the powerful water that flows through during the rainy season. The canyon is considered to be sacred by the locals in the surrounding villages and there is a temple close by with a holy water spring.
No matter when you decide to visit the sacred canyon, you should prepare to get wet as the water can be chest-deep even during the dry season. It is best to walk barefoot or in water shoes and to wear a swimsuit under a shorts and t-shirt. And if you want to get some shots of this incredible place, you should bring protective gear for your camera.
Entrance fee
The entrance fee to Hidden Canyon depends on how many people you are in your group:
1 person 200.000 IDR
2 people 300.000 IDR
3-4 people 400.000 IDR
The entrance fee includes a local guide, changing room with shower, towel, mineral water and the use of a locker.
Guided canyon tour
You also have the option to visit as part of a tour. This Hidden Canyon, Waterfall & Temples full-day tour includes both the Sacred Canyon and my favorite temple in Bali, Gunung Kawi. You will also get to experience Goa Gajah Cave and Tegenungan Waterfall, four major Bali highlights in one day!
🌟 Check price & availability here >> Hidden Canyon, Waterfall & Temples tour
---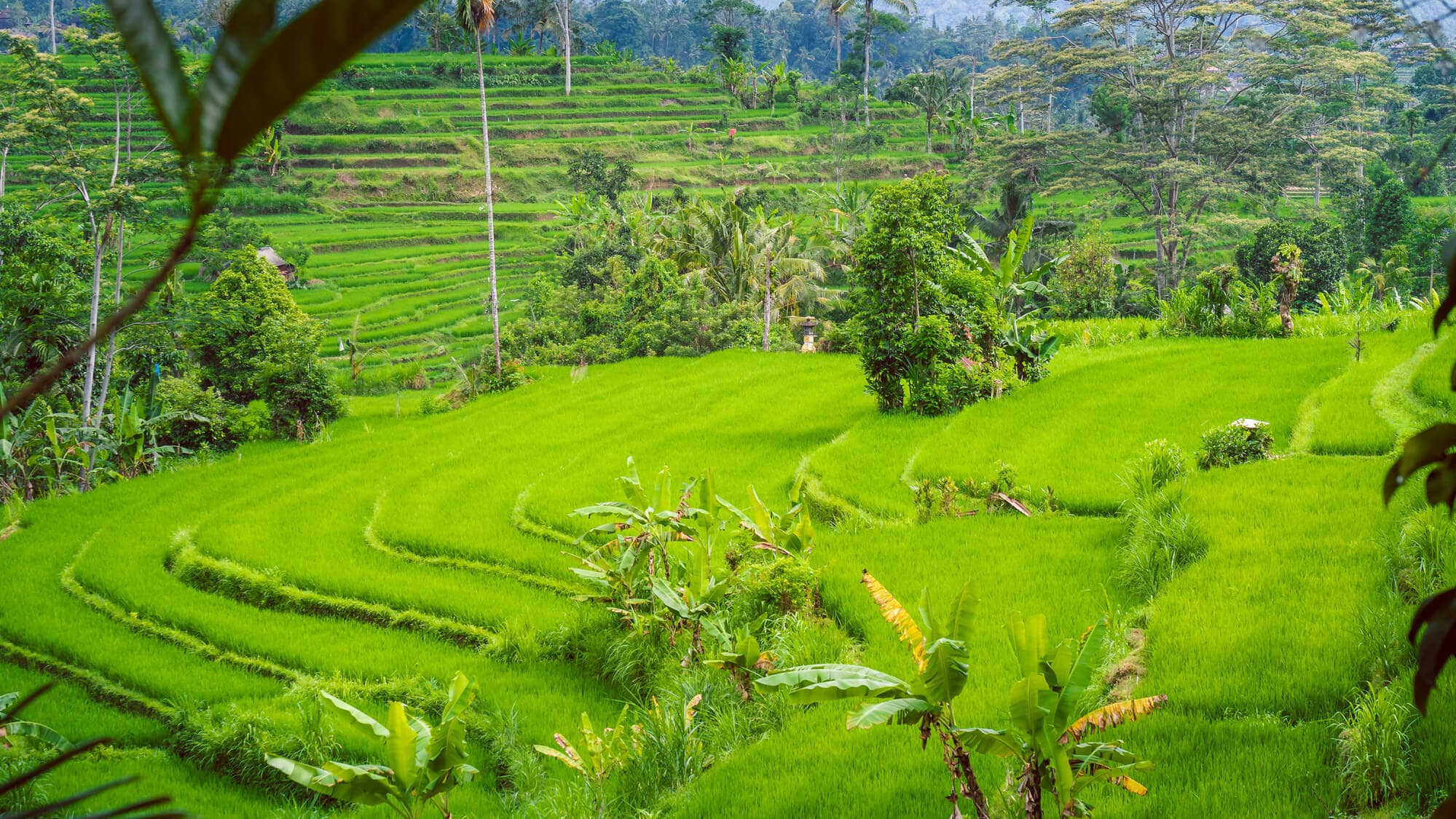 9. Sidemen Village
Sidemen Village is East Bali's answer to Jatiluwih Rice Terraces in the west and the famous Tegalalang Rice Terrace north of Ubud. Lush green rice fields for as long as the eye can see, still farmed today as they have been for centuries.
Sidemen is a great place to experience the "real Bali" and enjoy the slower side of island life. Join a guided trek of the rice terraces, a bicycle tour through the village or just explore on your own.
In addition to the natural beauty, Sidemen is also one of Bali's weaving hotspots. So if you're interested in learning about traditional Endek or Songket weaving, make sure to visit one of the local weaving factories.
The textiles are beautiful and the perfect souvenir to bring with you home. I have bought several over the years and made them into pillows which I always get compliments on.
🌟 Check price & availability here >> Experience the incredible Sidemen Village
---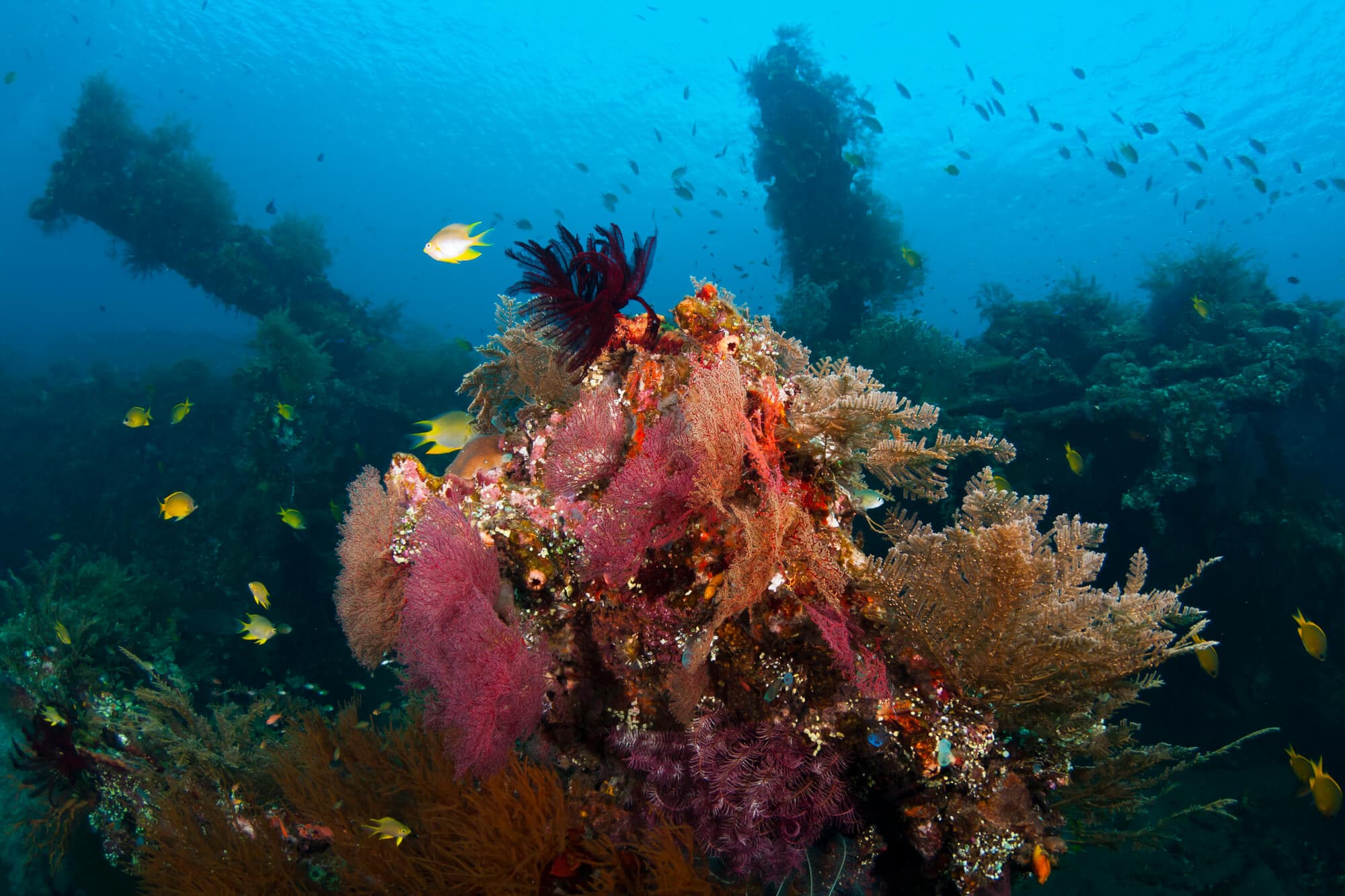 10. Diving in Amed and Tulamben
On the northeast coast, Amed and Tulamben attract divers from all over the world. Both are old fishing villages with traditional Jukung boats lining the black sandy shore. It is, however, the underwater world that makes this area so special. Colorful corals, fishes in all shapes and sizes, turtles and of course the famous USAT Liberty shipwreck.
The American warship was torpedoed by the Japanese back in 1942, in the midst of WWII. It was towed back to Bali from the Lombok Strait in hopes of saving it. However, it was taking on so much water that it was just left on the beach.
Today the 120-meter-long shipwreck lies between 8 and 30 meters below the surface, just 50 meters offshore. Which makes it one of the most accessible shipwrecks to dive in the world.
East Bali dive tours 🌟🌟🌟🌟🌟
Tulamben Bay beginner dive experience – Learn the basics of scuba diving and take a shallow dive with an instructor in Tulamben Bay. The dive counts as credit towards a PADI Open Water Diver course. Experience blue-spotted stingrays, octopus, scorpionfish, moray eel and many more beautiful species up close.
3-Day PADI Open Water Diving Course – Receive your PADI diving certificate in only 3 days. Enjoy ocean dives in the Blue Lagoon at Padang Bai and Tulamben, where you'll get to experience the USAT Liberty shipwreck.
Amed snorkeling trip – Spend a day in paradise, exploring shipwrecks and other snorkel spots off the east coast of Bali. Visit the Japanese Shipwreck Point, Amed Beach, Lipah Bay and Vienna Beach where you can snorkel in between a variety of reef fish, coral and other marine life.
---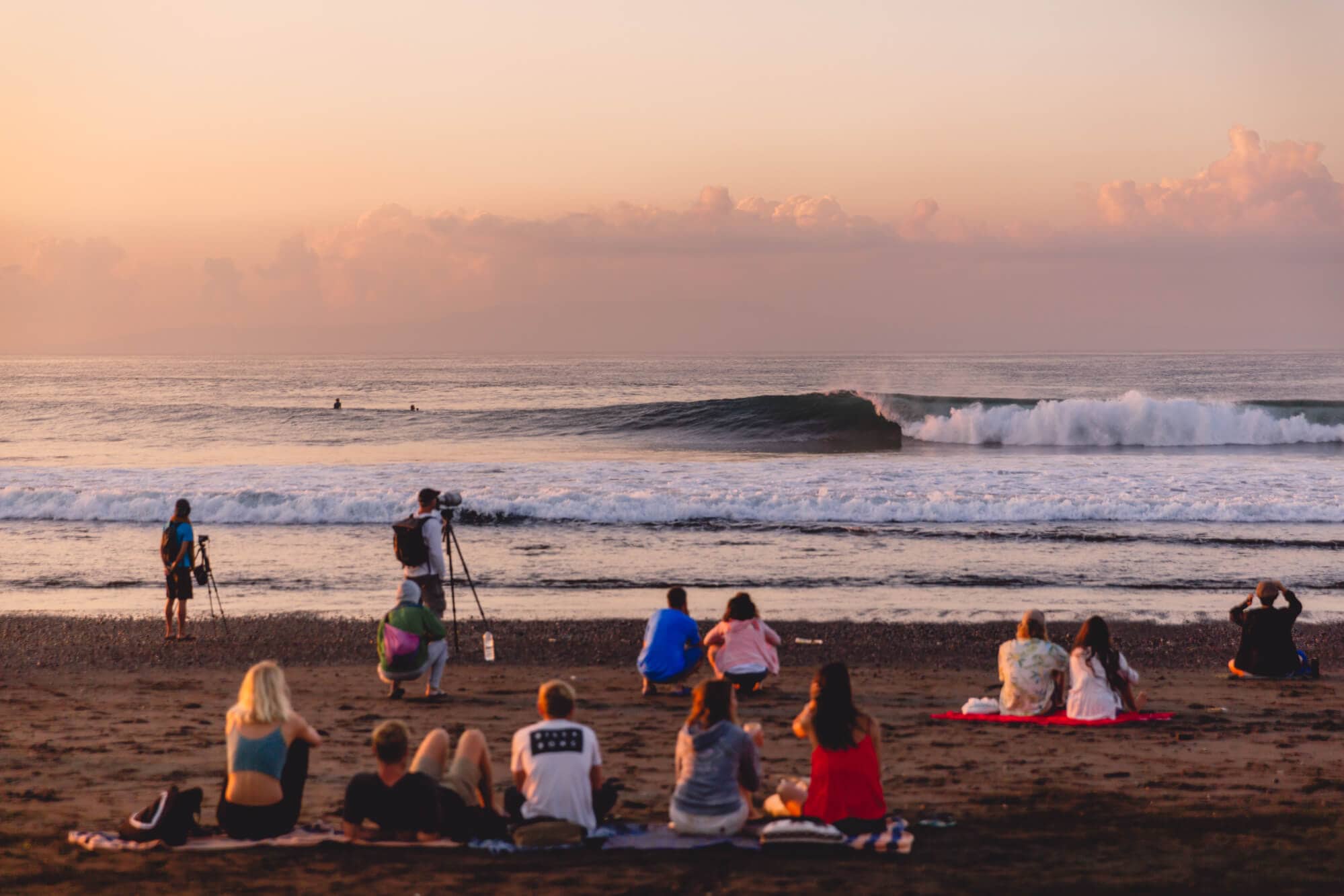 11. Surfing Keramas
Once only surfed by locals and travelers in the know, Keramas has over the last few years become one of the most popular waves in Bali. The fast-barrelling right-hander is best suited for experienced surfers as it breaks just 50 meters offshore over a shallow section of the reef.
I've seen more than one bad injury here. If the main break gets too crowded, there are several other great waves close by. And as with every surf spot in Bali, remember to respect the locals.
Keramas is home to an annual World Surf League event that can be fun to experience even if you're not a surfer yourself. Hanging out at Komune Beach Club is super fun all year round as all the action happens right in front of their pool.
Komune also offers the opportunity to surf at night or early in the morning under powerful floodlights. They only allow 6 surfers in the water at a time, so it can be a good way to experience the break without the crowds.
Where to stay in East Bali
During our most recent visit to East Bali, we stayed at a place called Kubu Carik Bungalows. Not only was it the most affordable few nights of that trip, but also one of the most gorgeous places we've ever stayed in Bali. So you should definitely check it out!
🌟 Kubu Carik Bungalows – One of the best-kept secrets in East Bali. Check out my full Kubu Carik Bungalows review here.
🌋 Villa di Bias – You have to see the view from these highly-rated budget villas! It doesn't get much better. One of the villas even has a private pool. And some of East Bali's best attractions, like Tirta Gangga, Bukit Cinta and Pura Lempuyang, are only a short drive away.
🌴 Shunyata Villas Bali – This award-winning Eco-Luxury Resort sits on a secluded cliff, far away from the hustle and bustle of south Bali. Enjoy a private ocean-view pool villa, healthy gourmet food, yoga, meditation and holistic spa treatments. I can't wait to experience this place!
My most popular Bali guides
---
I hope this post has inspired you to visit East Bali!
Remember to pin for later 😉